WHO: Warwick Andrews

WHAT: 1947 Fargo 
What The Owner Had to Say About Their Ride: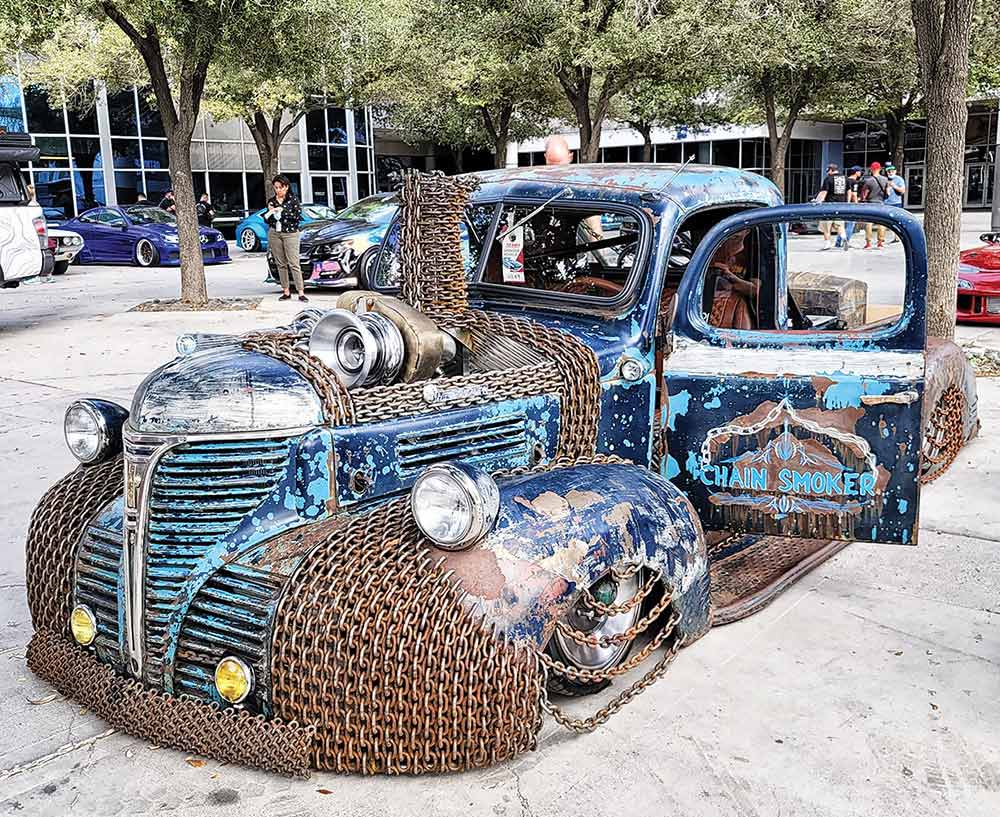 Chain Smoker is a 1947 Fargo reclaimed from a Canadian field with original matching patina on every panel and no body filler. Owner Warwick Andrews sculpted its chain body panels using design cues from Art Deco era cars mixed with modern day Rat Rods. 12v 6BT Cummins diesel crate engine built with only high performance aftermarket parts and machine work. Compound turbo setup, 74mm turbo feeding nasty 96mm. NV4500 manual transmission with stage 6 clutch. Boxed frame with inner tube frame and full interior cage. 14" rear c-notch, four link rear with Watts link. Chain widebody built using 300ft+ of chain from a 1940's decommissioned elevator (600ft overall). During a burnout, smoke plumes through the rear widebody chains while simultaneously rolling out the exhaust stack into its surrounding chains, which is when the name Chain Smoker truly comes into play.
---
WHO: Don Hess
WHAT: 2002 LB7
What The Owner Had to Say About Their Ride: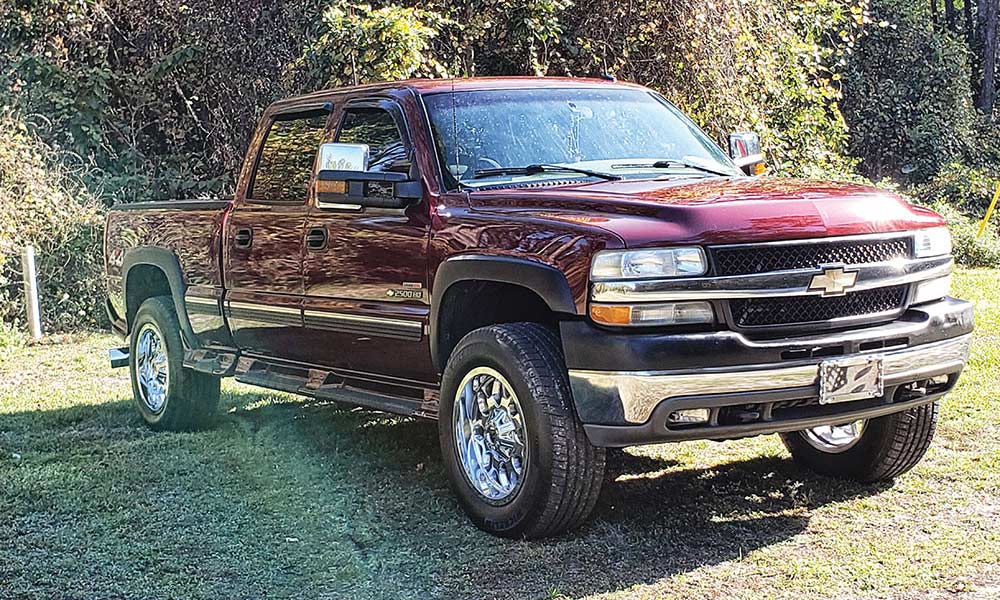 2002 2500HD LB7 I bought new, it only has 120000 easy miles on her. I've put on 295/60/20 wheels, level kit, Banks air cleaner, Jake brake, Hypertech programmer, sun pro gauges, 2015 tow mirrors, backup camera, touch screen radio, amp sub woofer, weather-tech floor mats, roll and lock tonneau, lines and more. I love this truck best truck I have ever owned. I am 62 years old and plan on keeping it till I die.
---
WHO: TYLER MORGAN
WHAT: 2004 Ram 
What The Owner Had to Say About Their Ride:
2004 Dodge Ram 2500 Cummins 6 speed running a bds 8" long arm lift with custom ladder bars, custom bumpers and grill, fiberwerx fenders and box sides. 40×15.5r20 nitto mud grapplers on 20×14 XD hoss 2's. Backed up by some goodies under the hood like snow performance water/meth injection, industrial injection turbo and injectors with supporting mods, fass lift pump, pac brake exhaust brake. Tinted 5% sides and back with brow on windshield!
---
WHO: Collin Reese
WHAT: 1986 GMC 
What The Owner Had to Say About Their Ride:
1986 GMC single wheel one ton with a LML Duramax swap. Engine is a fully built Freedom racing engine running a S366/488 compound turbo setup.
---
WHO: Cody Fordahl
WHAT: 1972 F250
What The Owner Had to Say About Their Ride:
1972 Ford F-250 ranger xlt, 7.3 Powerstroke conversion with zf5 transmission, hydroboost, custom front mount intercooler, 4" exhaust, stand-alone harness with hydra tuned by Brian Jelich, all work done by Fordahl Bilt
---
WHO: Kurt McLucas
WHAT: 2012 F250 
What The Owner Had to Say About Their Ride: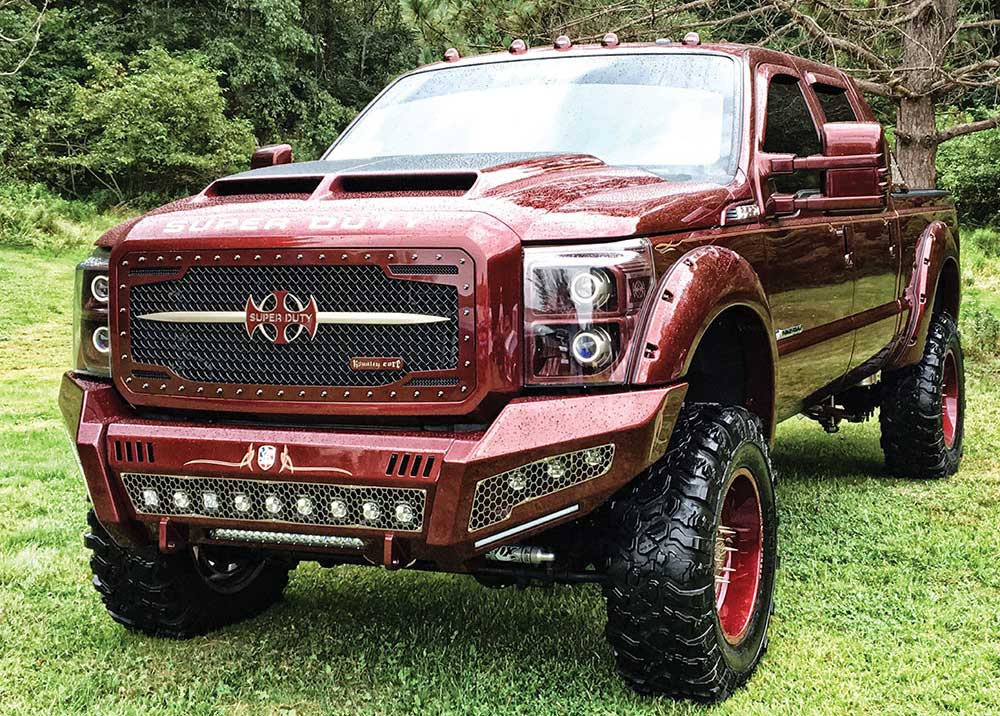 2012 Ford F250 Lariat, w/21730 miles, Bought new, Tuned, 6" BDS 4-link lift w/FOX 2.5 coilovers, FOX 2.0 shocks, Road Armor bumpers, Specialty Forged 20" custom wheels w/Pit Bull ROCKER XOR 37" tires, ALEA leather interior, FASS fuel system, No Limit Fabriacation/PSP products, AMP steps. Was originally a 2-tone.
---
WHO: Nathan Cleave
WHAT: 2015 Silverado 
What The Owner Had to Say About Their Ride:
2015 Chevrolet Silverado 2500HD, 6.6L LML Duramax. S369sxe WC Fab kit, 100% over Exergy injectors, Exergy 10mm CP3 pump. Stage 2 Transmission by Randys Transmission. 1074 Suncoast converter. Fully wrapped in 3m satin dark grey vinyl. Traction bars, race brakes, lift pump/sump, with many more supporting mods. Best 1/4 mile ET 11.86 @186KM/H on stock internals. I bought this truck brand new in 2015 and it has slowly turned into my race truck ever since.
---
WHO: Kevin borough
WHAT: 3rd Gen Ram 
What The Owner Had to Say About Their Ride:
Self-Built 800hp sleeper that has a full Carli Performance Dominator kit to boogie off-road and an interior sound system to rival the best. One owner, 90k on the odometer and built by my father and I to race at the track, which are some of the best memories of garage time I have!
---
WHO: DAWSON KOMANT
WHAT: 2004.5 GMC 
What The Owner Had to Say About Their Ride:
I'm 22 years old from BC, Canada, and I built this truck by myself in the garage. It's a 2004.5 GMC Sierra 2500HD. I went frame off on this truck, and powder coated every single piece of the undercarriage in a gold metallic gloss orange, with black accents. It has a 9" McGaughys lift, with 26×14 AF Draco\'s and 40/15.50 Fuel Grippers. There's a ton of custom touches on this truck, such as the wrap, grille, trac bars and more. The interior is one of a kind with custom blue leather and a ton of other one off touches. I put my heart and soul into creating the truck of my dreams, and also achieved my life goal of attending SEMA with it.
---
WHO: Rodney siefke
WHAT: 1971 F350 
What The Owner Had to Say About Their Ride:
71 f-350.crew cab. Was originally a 2 wheel drive. 4×4 conversion done using suspension from a 97 Dodge 4/4 ton. Engine is out of a 93 Ford bus, transmission is a 700 r4 with a Sunnex Smart drum assembly with a billet input shaft. Transfer case adapter is a slightly modified piece from an nv4500 mated to a 241 dld housing with a 241 c input hub , planetary. And main shaft With the did basket with the Torrington bearings from the c, basket so it would work on the c shaft. Built completely by myself in my garage. Including paint.
---
Submit your ride! At DieselWorldMag.com
---