When Ron Carlson was young he was into the mini-truck scene and owned a tricked-out Datsun. That was in the late 1970s. While his passion for trucks has grown in the time since, it seems that his trucks have grown as well. He's had lots of trucks over the years, but you could just about get his old mini into the bed of his new ride, this 2013 Chevrolet 2500HD Duramax.
Ron's new Duramax was originally owned by a young fan of diesel pickups, and one who loved to tinker with them, Erik Dunigan of Flushing, Michigan. Dunigan bought it brand new off the lot, and he, much like Carlson in his younger days, wanted to turn it into something other than the stocker it was.
The first thing Dunigan did was to add a 7.5-inch Rough Country X Series suspension lift kit. Since he loved to drive in the rough country around the Michigan hills, Dunigan went with a set of heavy-duty Fox racing shocks. He had Auto Pride Collision in Mount Morris, Michigan, paint the suspension pieces a blazing red before installing them, and the result is one that makes this truck stand out from the rest.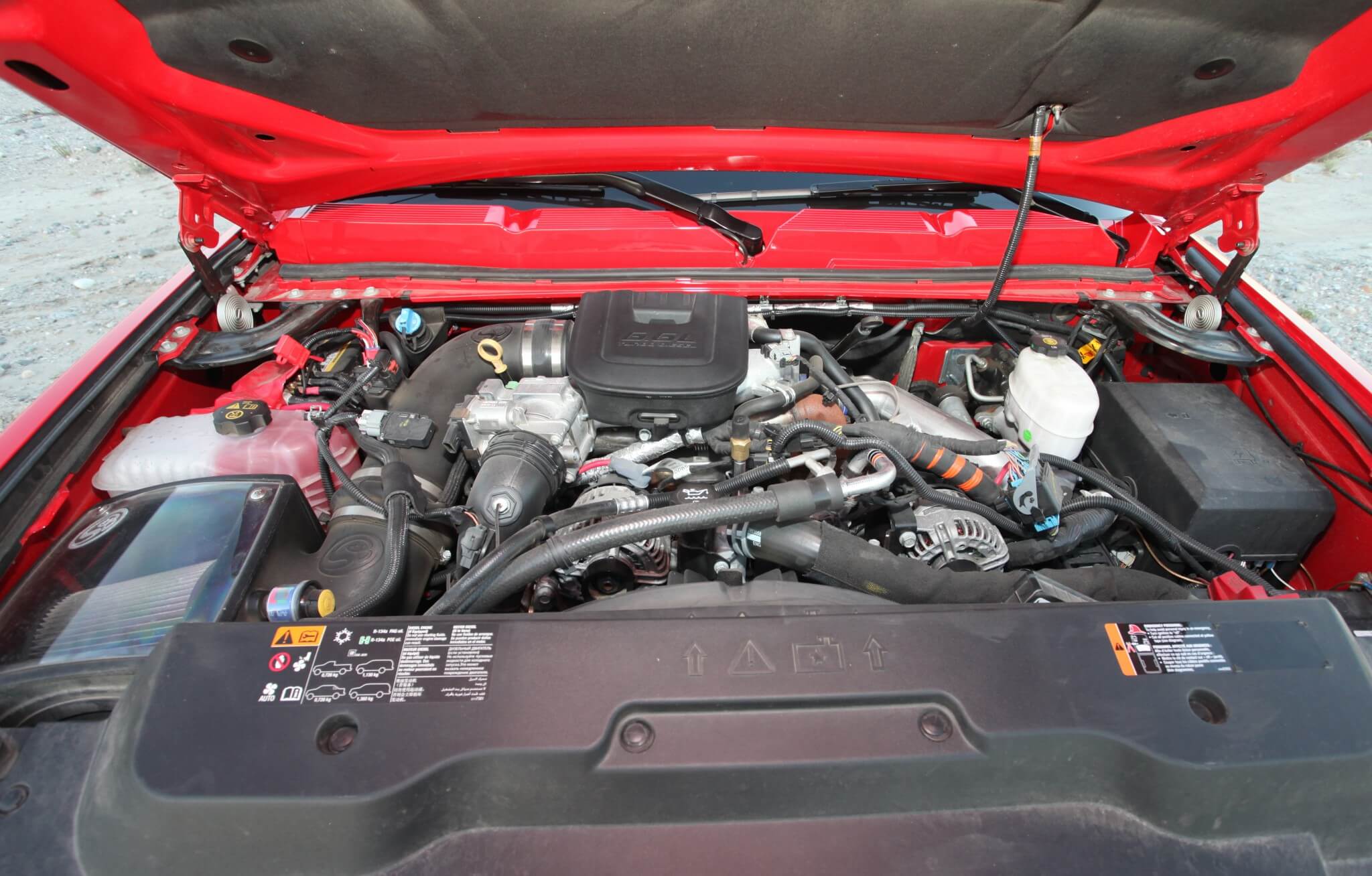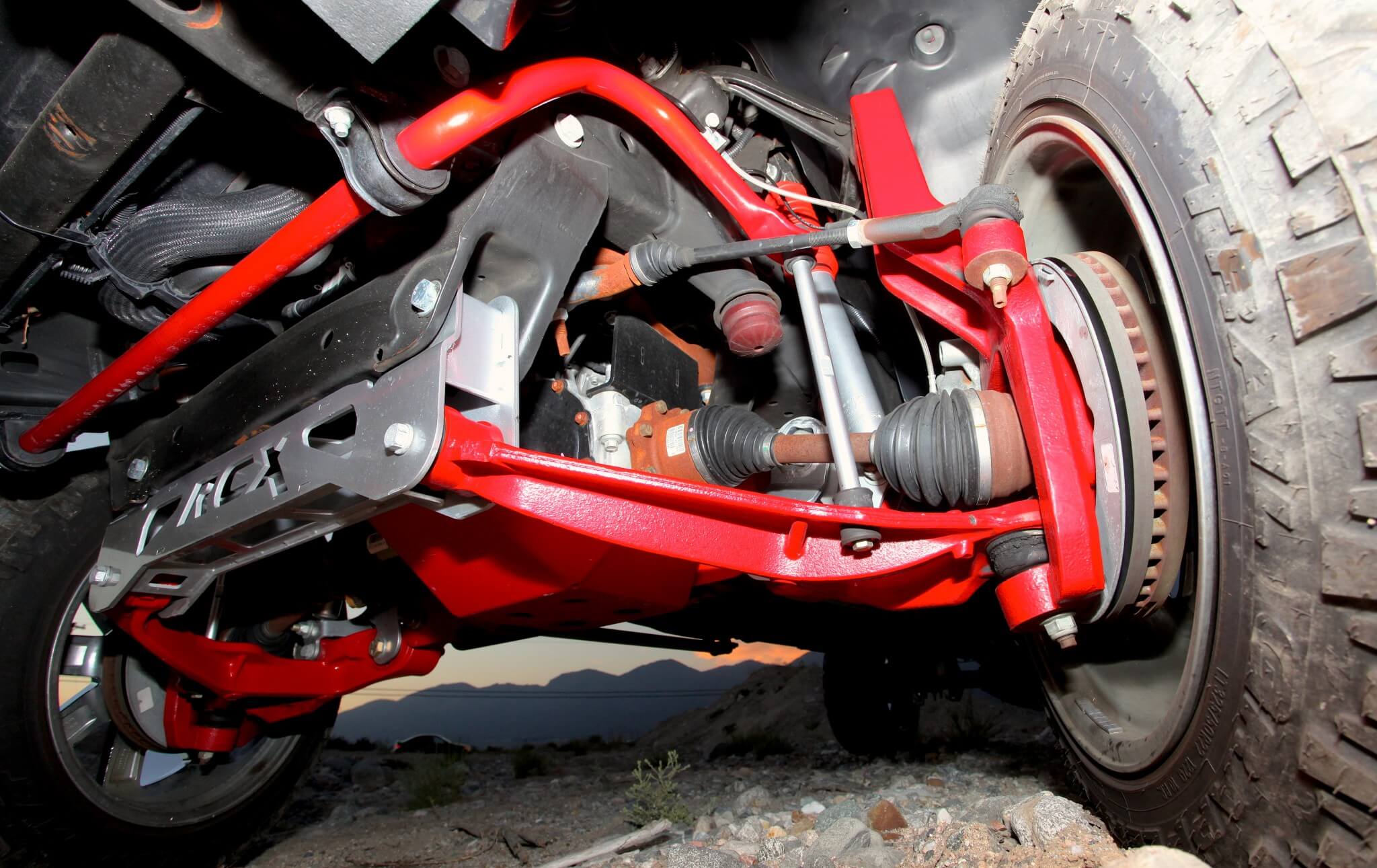 Adding to the standout feel of the Chevy, the truck was equipped with huge 22×14 chrome Moto Metal 962 wheels. Featuring eight spokes to go along with those eight lugs, the Moto Metals were polished to perfection and are strong enough for any off-roading that the truck might see.
Nitto Trail Grappler tires (35×13.50×22) make sure the truck can get up any hill or trail and then back down again. These tires have a wicked pattern that tackles rocks and mud with ease, while still working well and with low noise on the road.
Other upgrades were made to the truck to increase power. This was desirable for towing and to make sure that the big Chevy had no trouble making it up all of those Michigan hills. The truck has been equipped with the "big three" of diesel performance items: an intake, tuner and exhaust. Those, along with a few other items, ensure that the 6.6 LML Duramax has all the power that it's capable of without getting too deep into the engine internals.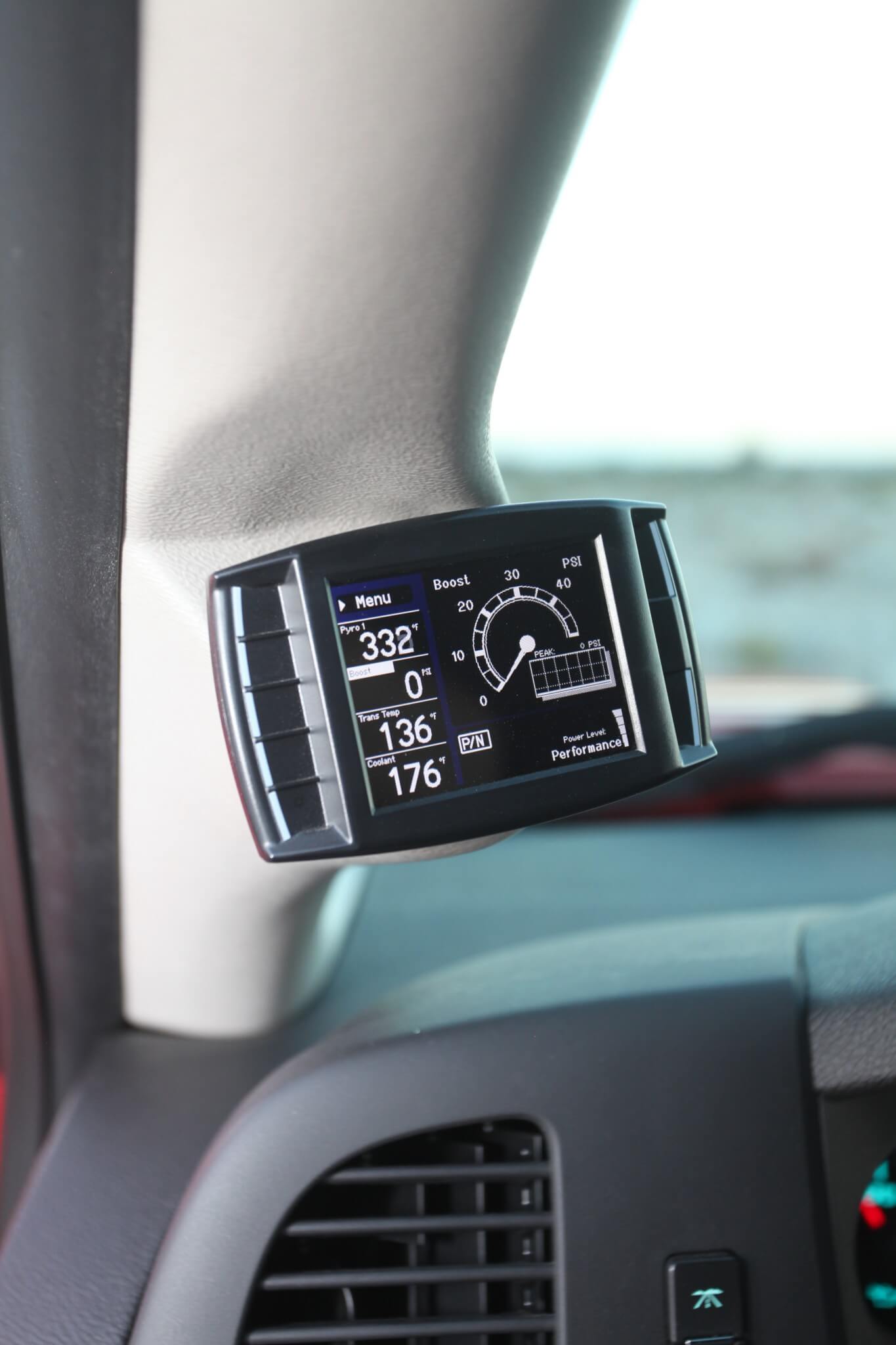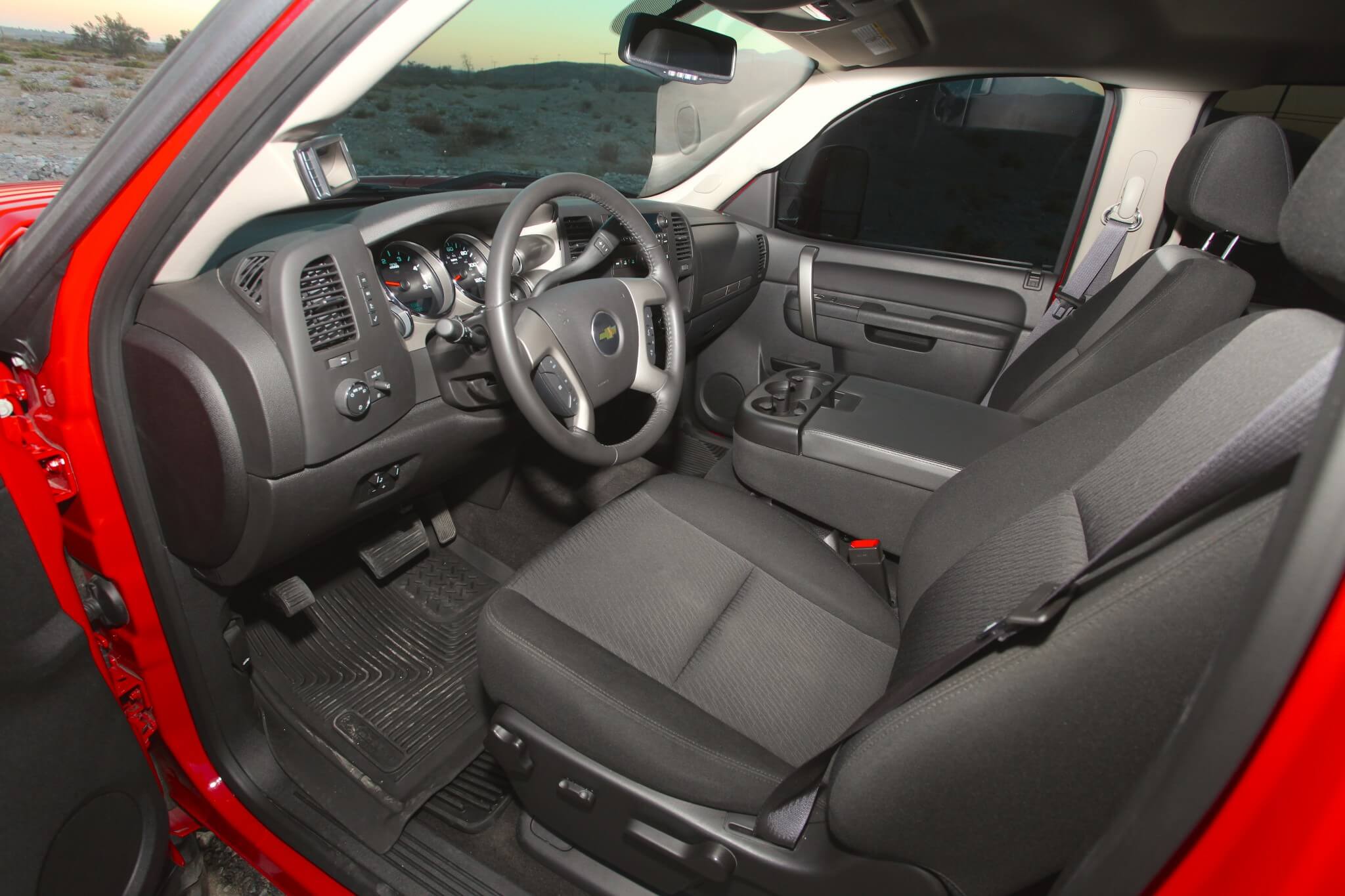 A big increase in airflow was accomplished with the addition of an S&B intake, while tweaking the computer to give the Duramax an increase in fuel was accomplished with an H&S Mini Maxx Race Tuner. Mounted in an A-pillar mount, The Mini Maxx allows easy changing of power levels and transmission tuning, as well as other things, all at the tip of a finger.
One item that's not finger sized is the 5-inch stainless steel MBRP exhaust system. Consisting of a straight pipe that concludes with a center dump on the rear axle, the system is finished off with a gigantic chromed tip. At 8×18, the MBRP unit could easily be a replacement for an engine nozzle of a Saturn V rocket, but it sure looks great hanging down just aft of the axle.
An AirDog 2 fuel/air lift pump is also used to make sure that when Carlson does start pushing buttons on his Mini Maxx to give his Duramax more fuel, that fuel is as clean of air and vapor as possible. The AirDog 2 lift pump, along with the other performance items, makes the Duramax as powerful, efficient and reliable as possible. The result is that it's now putting out an estimated 500 horses.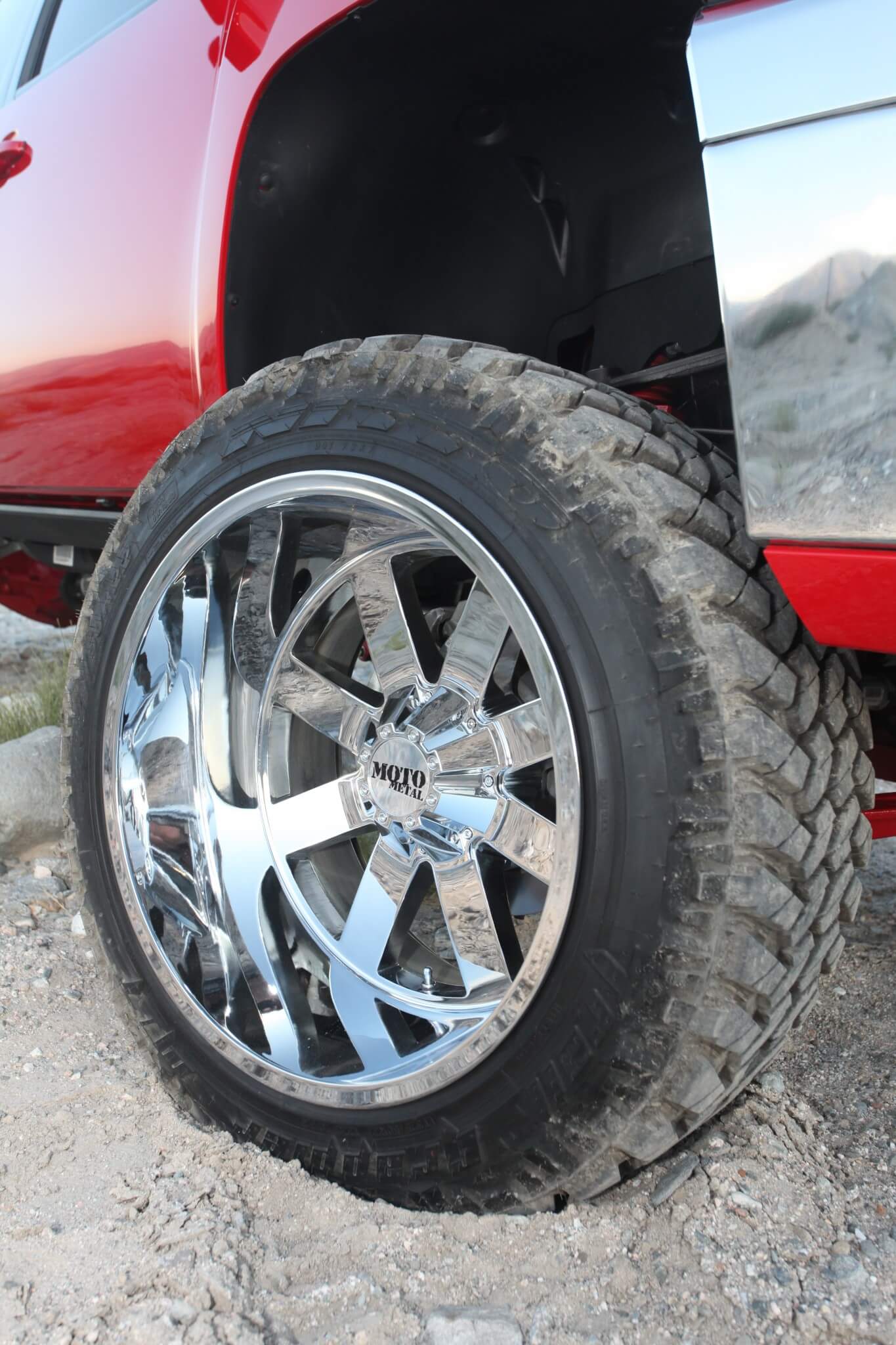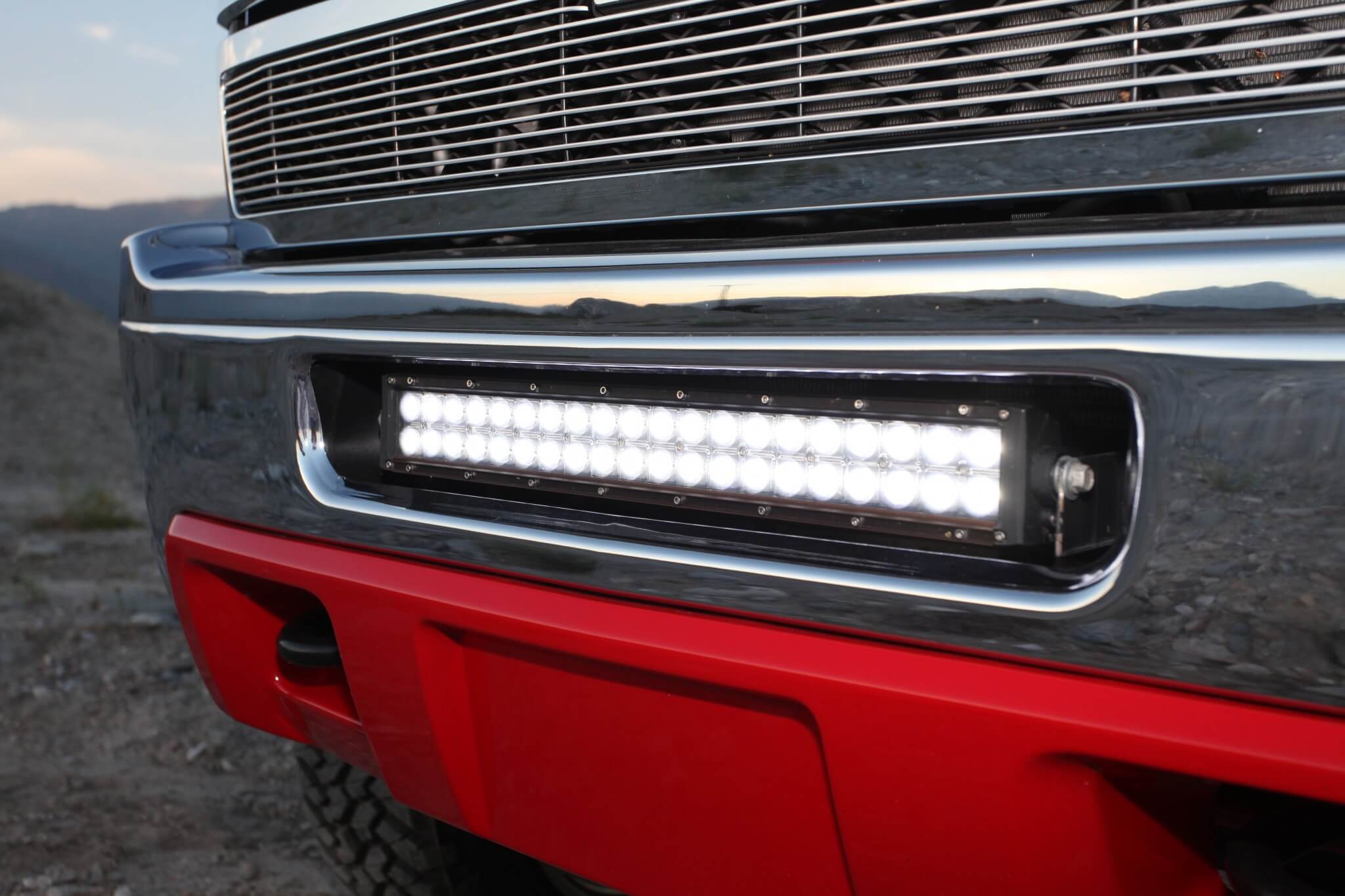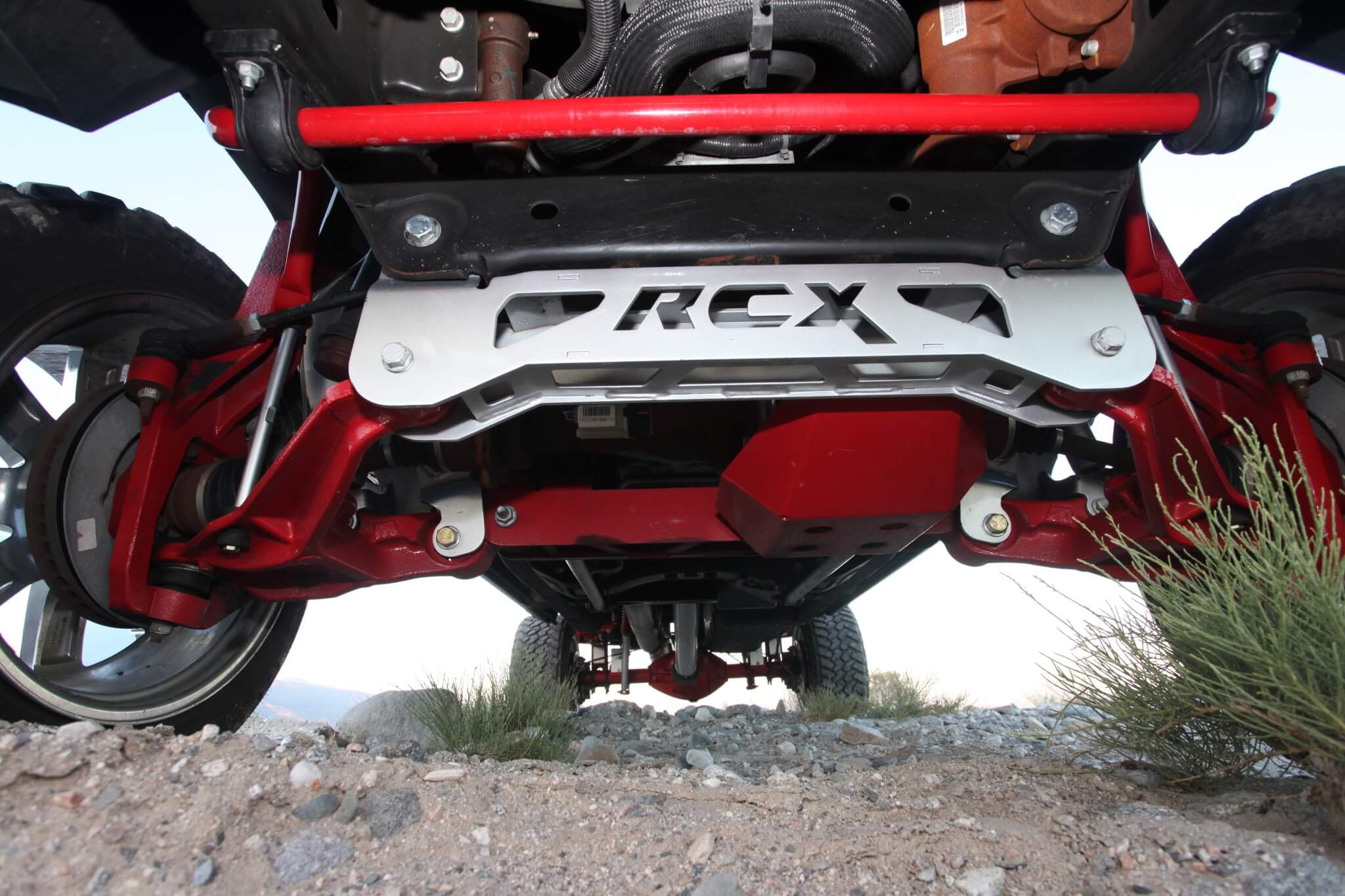 All of which Carlson needs in his truck as he not only uses it as a work truck (well, sort of), but also uses it to pull his boat out to the river and as a trailer when he goes hunting and camping. Carlson, who owns a plaster business, is an outdoors type of guy, and the added power that the performance pieces give his Chevy is well used for work hauling too.
Given that the Chevy is pretty plush from the factory, no other modification was made to the interior other than adding the Mini Maxx tuner to the A-pillar, but that didn't mean the exterior didn't see a few upgrades.
All the rough plastic on the bumpers, door handles, mirrors and hood vents was sanded down smooth and painted red to match the truck. As with the suspension pieces, Auto Pride Collision painted all of the exterior trim pieces. A set of Amp Research steps make getting into and out of the now towering Chevy a lot easier.
With much of the towing to out of the way areas being done at night, a Rigid 6-inch light bar was added to the grille area while a set of HIDs have replaced the stock headlights.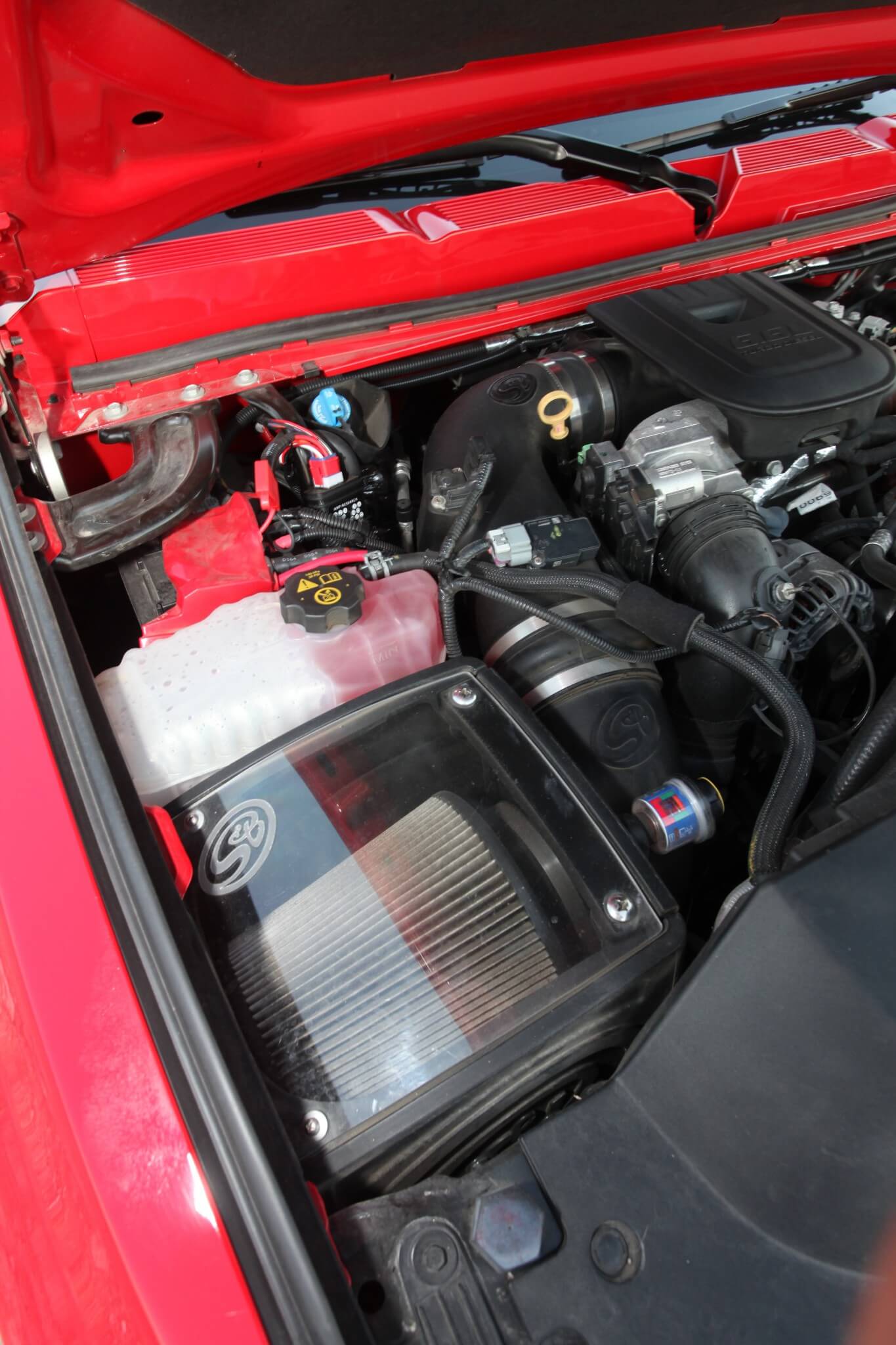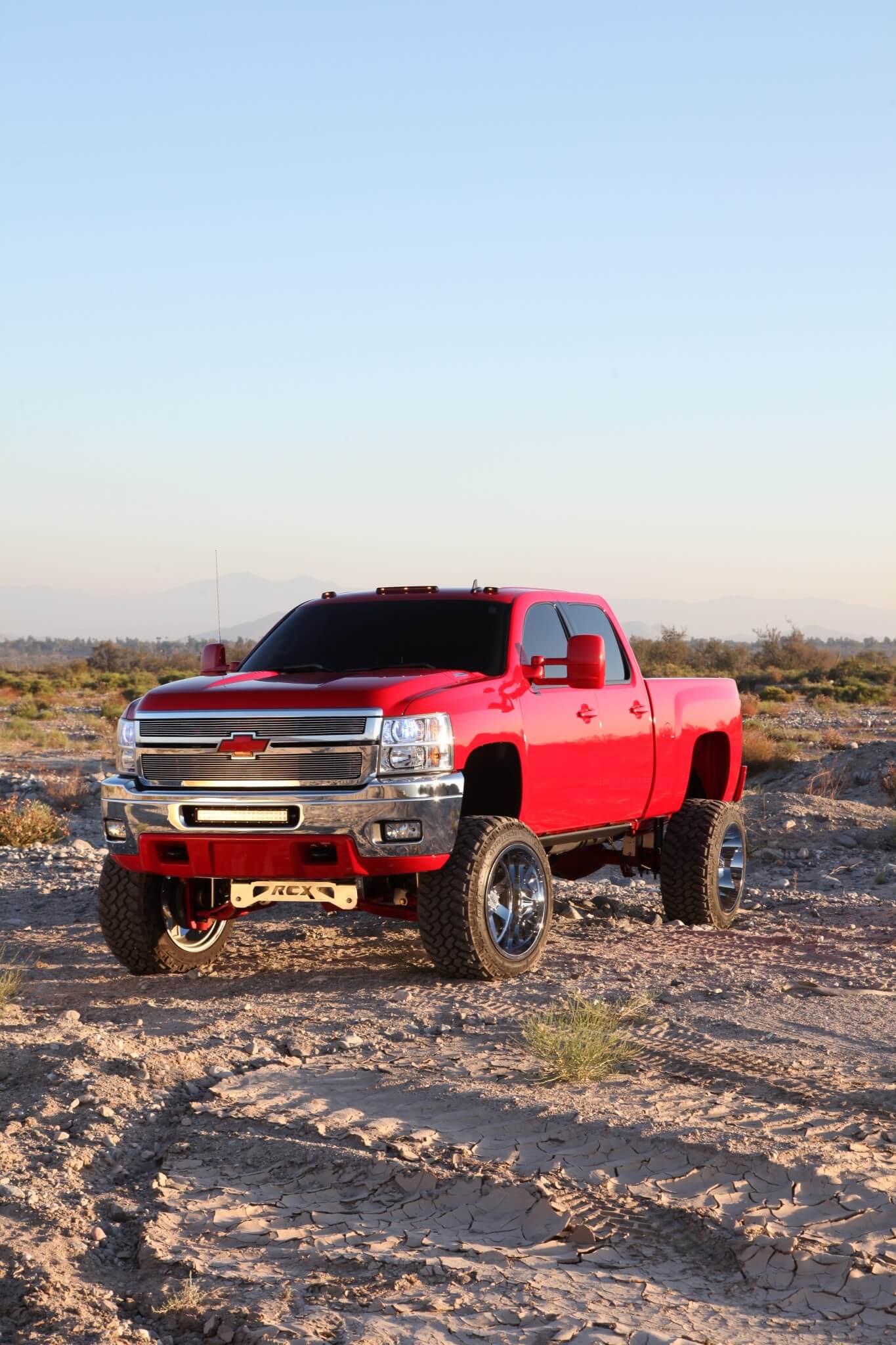 You may have been wondering why a truck that was built by a young man with a passion came to be owned by an older truck fan. Well, it seems that just as he completed the truck, Dunigan married and he and his young bride became parents.
With other priorities on hand, Dunigan put the Chevy up for sale. Carlson was so enamored by what he saw that he went to Michigan to buy the truck and drove it home.
Carlson says that he empathizes with Dunigan. It seemed that a long time ago he had to sell his prized Datsun mini-truck for much the same reason. Being young, Dunigan has a lot of time ahead of him to find another truck that he can call his own, but in the meanwhile, Carlson says that he'll take good care of the Chevy. And he'll have a good time doing it too. DW