No matter the sport, enthusiasts will always seek out a competitive edge. In motorsports, even the slightest advantage can put you a step ahead of the pack. So what do you do once you've maxed out your setup, aren't interested in running nitrous, yet still want a little something extra? One of the easiest ways to squeeze more power out of your parts combination is to pour a high performance fuel or additive in the tank. But how do you choose the right fuel to run, or the best additive to mix in?
After picking the minds of several successful truck pullers and drag racers in the diesel industry, we decided to test Scheid Diesel's high output fuel and Powermist Racing Fuel's Nitro-XD additive in two independent tests. However, instead of testing these products on some mega-horsepower sled puller or a 10-second screamer, we ran them in a daily driven, 550hp street truck. While our gains may not mirror the results you could see on a high horsepower, all-out competition application, our test proves that both products can increase horsepower on milder builds.
HIGH OUTPUT DIESEL
With dozens of competitive truck pullers running Scheid Diesel's high output diesel fuel, it didn't take a lot of searching to decide which fuel we wanted to test. In the Illinois Tractor Pulling Association alone, nearly every 3.0 Class competitor uses it. It is advertised as a competition-ready, premium blend of off-road diesel.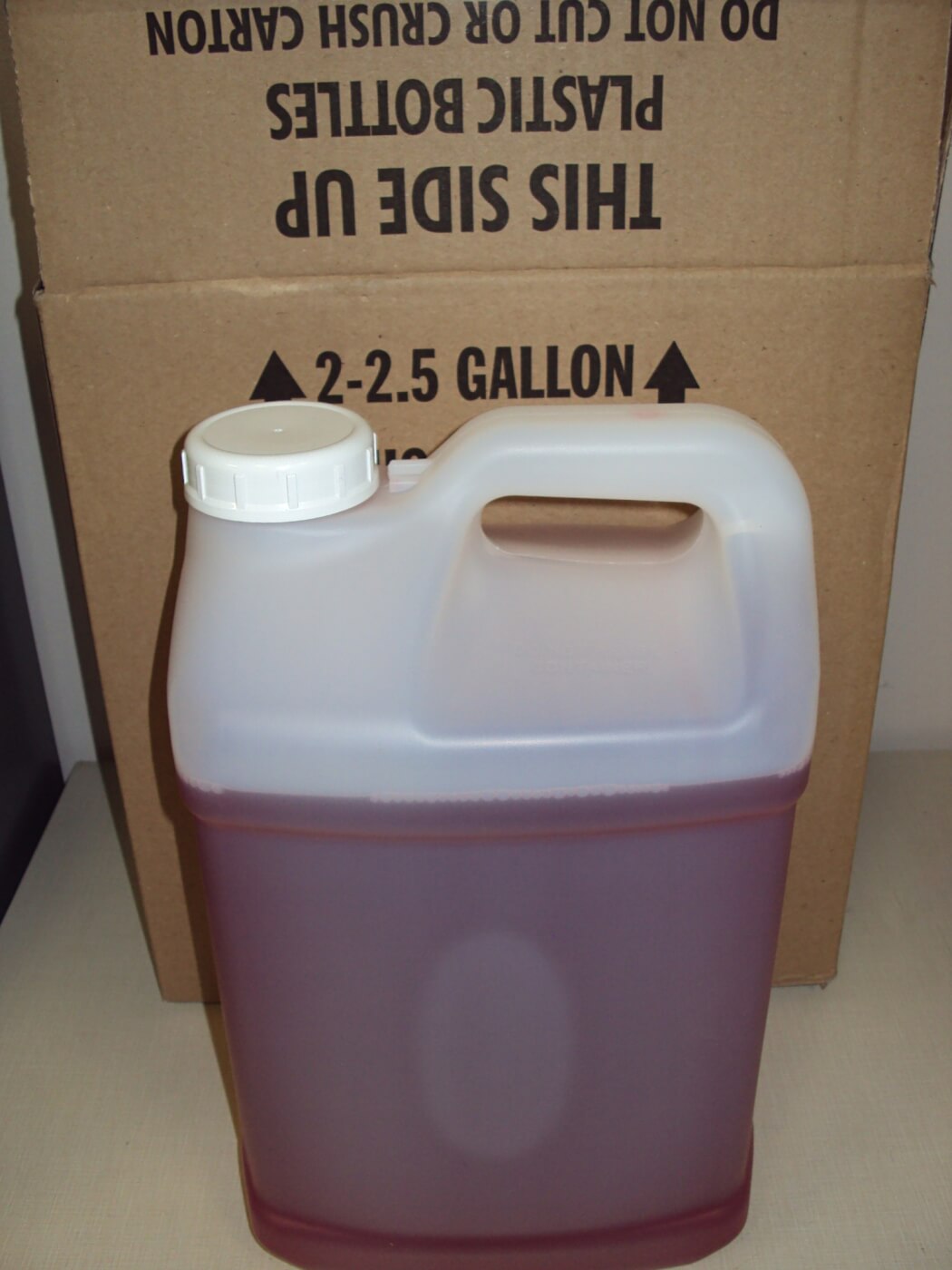 POTENTIAL HORSEPOWER GAINS
While the Scheid fuel is said to add up to 30 additional horsepower in high performance, mechanically injected diesel mills (engines we're guessing are in the 1,500 to 2,500hp range), we were anxious to see if any gains could be had on a street truck making roughly a third of that power. However, and because it would not have been cost-effective to fill the entire tank full of the high output fuel, we purchased two 2½-gallon jugs and performed our testing exclusively on the chassis dyno.
DYNO TESTING
To measure rear-wheel horsepower, we strapped our test mule to a load-cell, SuperFlow chassis dyno owned by Randall's Performance in Gladstone, Illinois. To eliminate as many variables as possible, we ran each test the same way: all pulls consisted of a 35% load being placed on the truck, the runs starting at 50 mph, ending at 80 mph, and being performed with the truck's four-speed automatic in Third gear (direct) and the torque converter locked.
PUMP DIESEL
Prior to adding the high output fuel to the tank, we made several dyno pulls on the pump diesel we arrived on. The highest peak numbers achieved were 533 hp and 915 lb-ft of torque. Boost checked in at 43-44 psi during each test.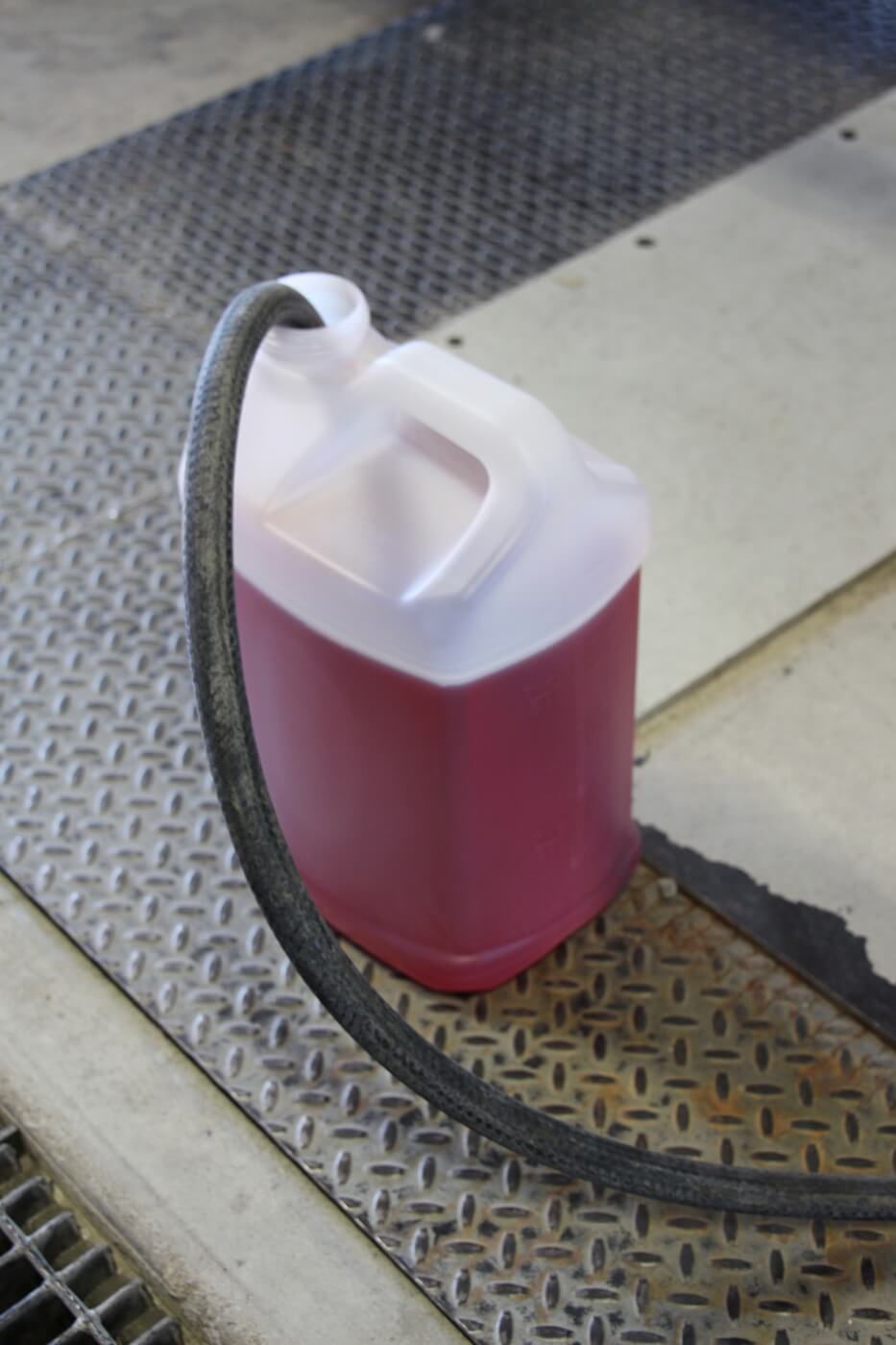 +9 HP, 15 LB-FT
After a short cool down period, the truck was fired up and the high output fuel was tested. Our first observation was that the truck was now producing 47 psi of boost. After three consistent dyno pulls, with horsepower increasing each time, a maximum of 542 hp and 930 lb-ft was achieved. And, as you can see from the overlaid dyno graph image, the horsepower and torque gains parallel the pump diesel curve below it. Horsepower doesn't simply spike at 3,200 rpm—the gains exist across the entire rpm range.
NO TUNING CHANGES
Many enthusiasts believe that altering tuning, be it mechanically or electronically depending on your application, can yield far superior gains when running Scheid's high output fuel. We don't doubt this theory, but it should be noted here that we made no tuning changes during testing. Our goal was to see if simply running a more efficient fuel through the engine would lead to more power. It did.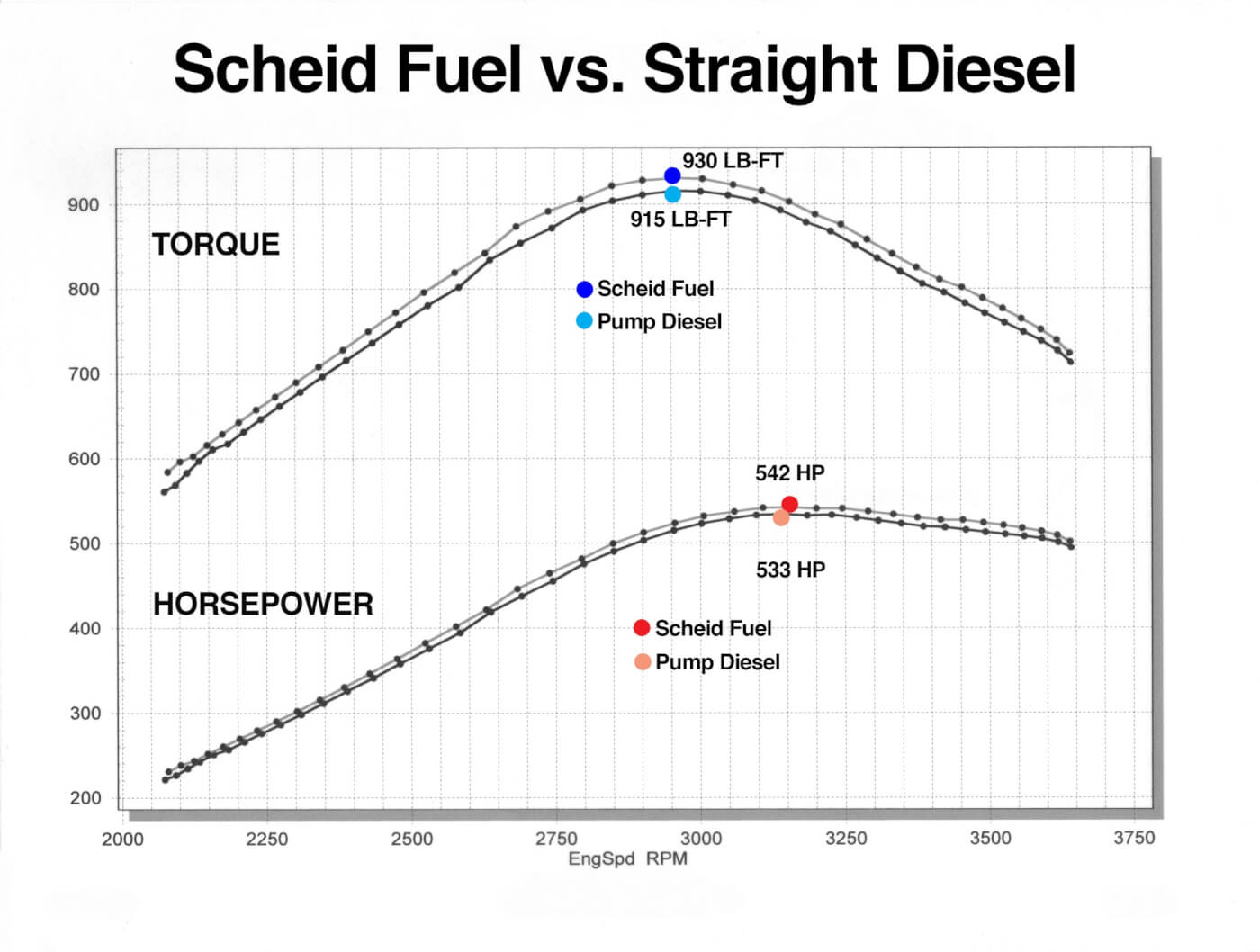 NITRO-XD ADDITIVE
While the Scheid name carries with it instant credibility, the fuel additive we chose to test came from a source that was unfamiliar to us at the time. But after a few successful drag racers mentioned an additive called Nitro-XD, made by Powermist Racing Fuels, we decided to give it a look. One competitor in particular swore by the stuff and assured us it would make a noticeable difference.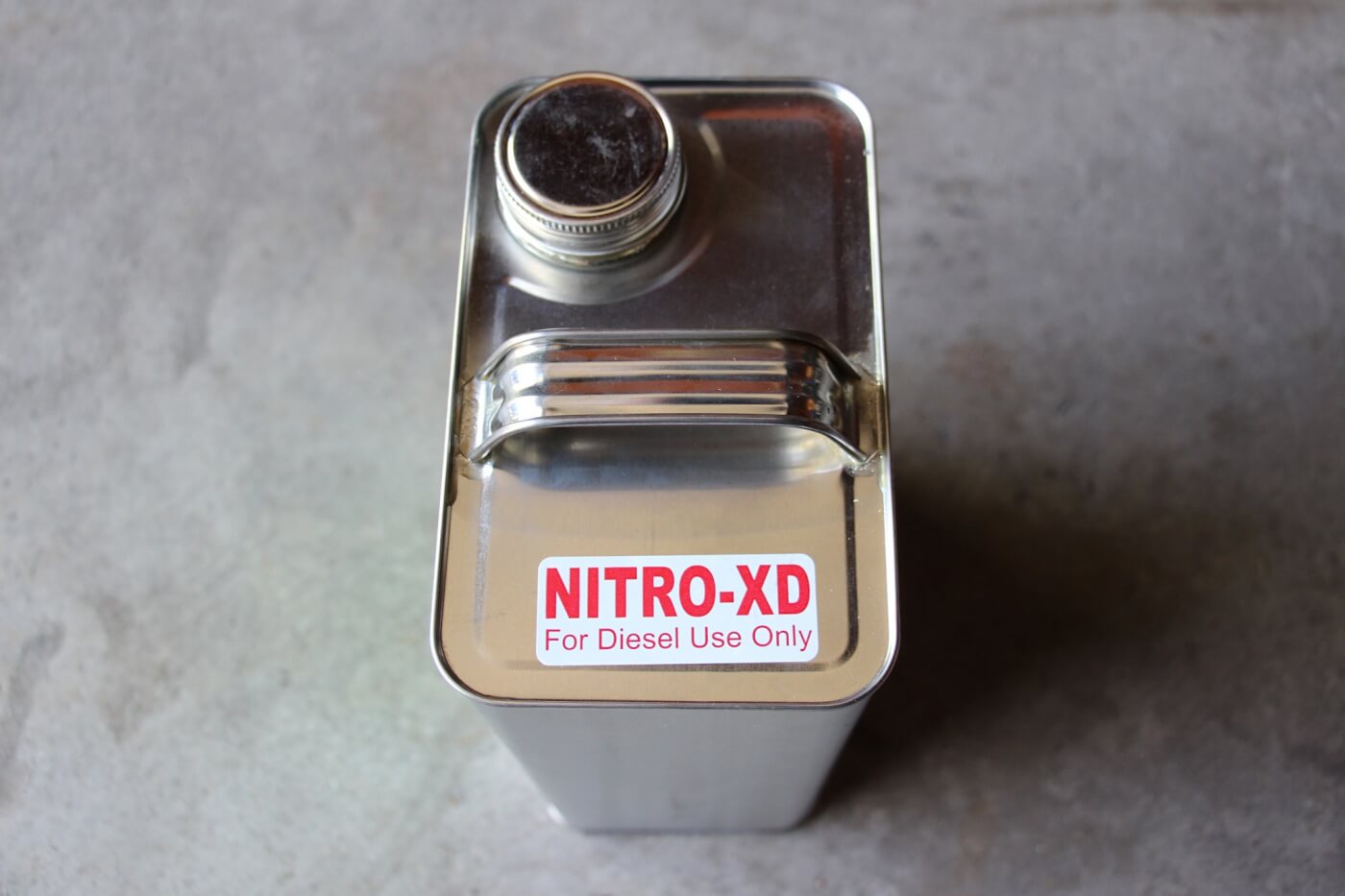 WHY IT ADDS POWER
For obvious proprietary reasons, the folks at Powermist Racing Fuels didn't reveal any specific ingredients within the Nitro-XD formula. However, they did tell us the key to why its additive works so well: a unique combination of oxygenating ethers (contrary to some beliefs in the diesel industry, there is no nitromethane in Nitro-XD). This effectively makes the additive an oxygen extender, which is to say it carries more air into the cylinders. While the added oxygen is enough to increase horsepower on its own (what our test results show), adding more fuel along with it can increase horsepower even further.
MORE TORQUE
In addition to making more peak horsepower, Nitro-XD enables most engines to begin producing torque at a slightly lower rpm than an engine running solely on diesel fuel. This may explain the increase in 60-foot times we experienced in our drag strip testing. According to Rick Fales, owner of Powermist Racing Fuels, the additive rearranges the torque curve and you come up through the lower engine speeds quicker. "Basically, it changes the rate of acceleration in real time," Fales told us.
DRAGSTRIP TESTING
Instead of testing the Nitro-XD on the chassis dyno, we took our test truck to the local eighth-mile dragstrip. We got started by making two passes on pump fuel. From there, one quart of Nitro-XD was added (5% mixture) and two more passes were made. Then, we poured another quart of Nitro-XD into the tank (roughly a 10% mixture) and made two final passes. In an attempt to eliminate as many variables as possible, we tried to launch the truck the same way on each pass. Locked in 4-High, we shallow staged the truck, built 9 psi of boost, and left on the last illuminated amber of a Sportsman tree.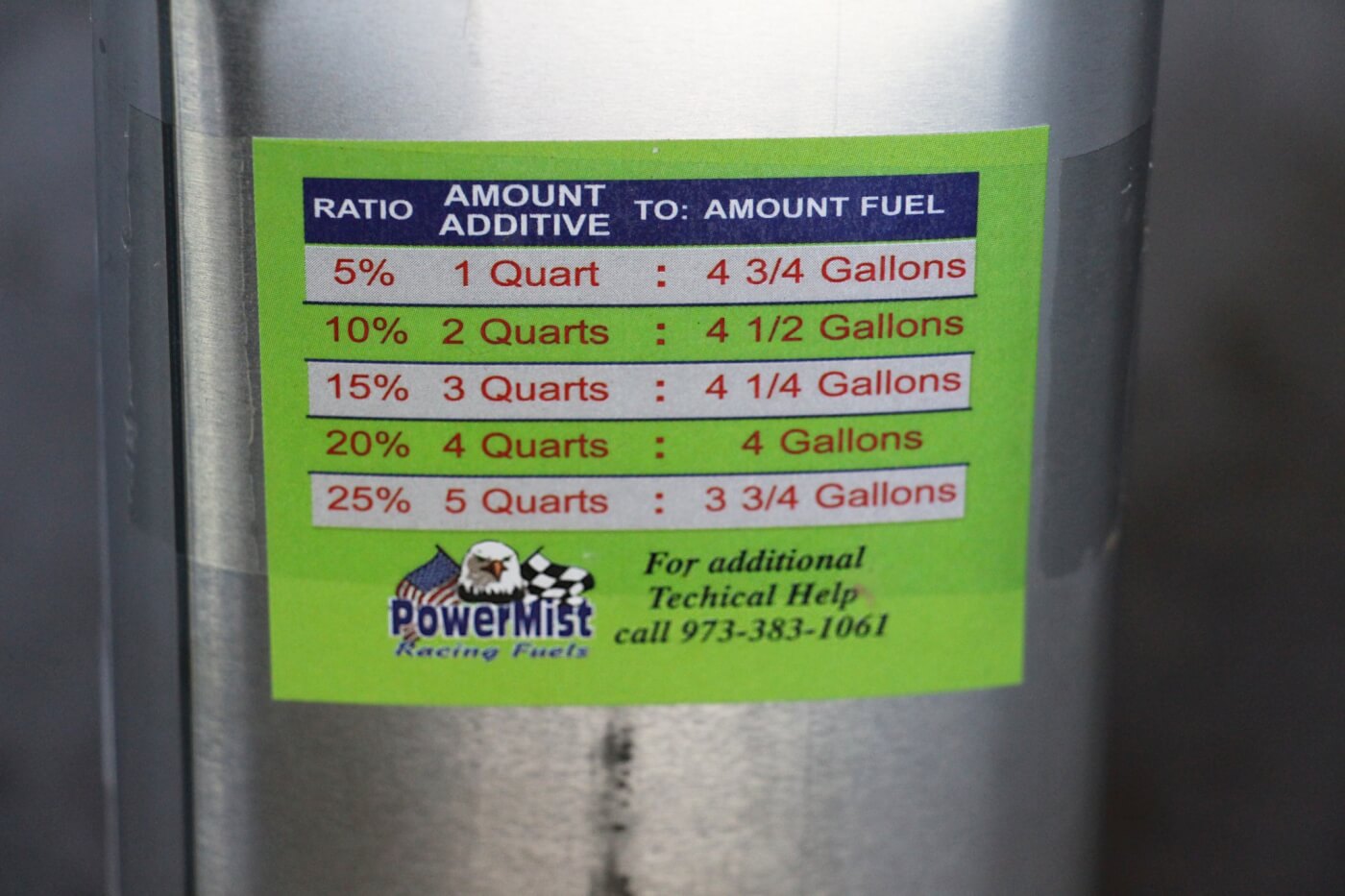 QUICKER AND QUICKER
After making back-to-back 8.24-second eighth-mile runs on pump diesel, we felt our launching method was consistent enough to begin testing the Nitro-XD. Although no real seat of the pants change was felt, the first quart of Nitro-XD knocked 0.06-seconds off of our eighth-mile elapsed time. Then, a second quart yielded the same result: another 0.06-seconds quicker than that. And, judging by our half-tenth increase in 60-foot times between the 5% and 10% mixtures (1.83 seconds vs. 1.78 seconds), it helps legitimize the theory that Nitro-XD provides more low-end torque.
After backing up the 8.12-second run, we were convinced the additive had something to do with shaving 0.12 seconds off of our original time(s). But that isn't the whole story. Further proof that we were making more horsepower on Nitro-XD came when the truck began to run faster trap speeds, on a consistent basis. While 0.42 more mph might not seem like much, in a 7,000-pound truck, that translates into an 8-to-10hp gain at the wheels. By our calculations, the 10% mixture of Nitro-XD added between 8 hp (based on the mph increase) and 24 hp (based on the 0.12-second drop in E.T.).
AFFORDABLE ADVANTAGE
When it boils down to it, you have to decide if it's worth it to delve into trying different fuels and additives to give you that little something extra. By the time taxes and shipping costs were added in, we had $90.09 in the Scheid Diesel high output fuel and $95.00 in the Nitro-XD. All said and done, that $185.09 showed a 9 hp gain on the dyno, and then improved our eighth-mile elapsed time by 0.12 seconds. These gains, while minor, were also achieved without any tuning tweaks whatsoever. To us, that's a reasonable price when you consider we didn't have to upgrade injectors or turbos—or risk hurting the engine by bumping up timing. We simply increased the quality of fuel the engine was ingesting, made more power, and went faster.
We'll admit that gaining a tenth of a second might not sound like much in the eighth-mile, but it could be the difference between a truck that runs 12.1's or 11.9's in the quarter-mile. That's big in our book. If you're looking for an edge in competition—be it that little something extra at the drag strip, an added punch at the dyno day, or even an extra foot or two in the dirt—either of these two products can get you there. DW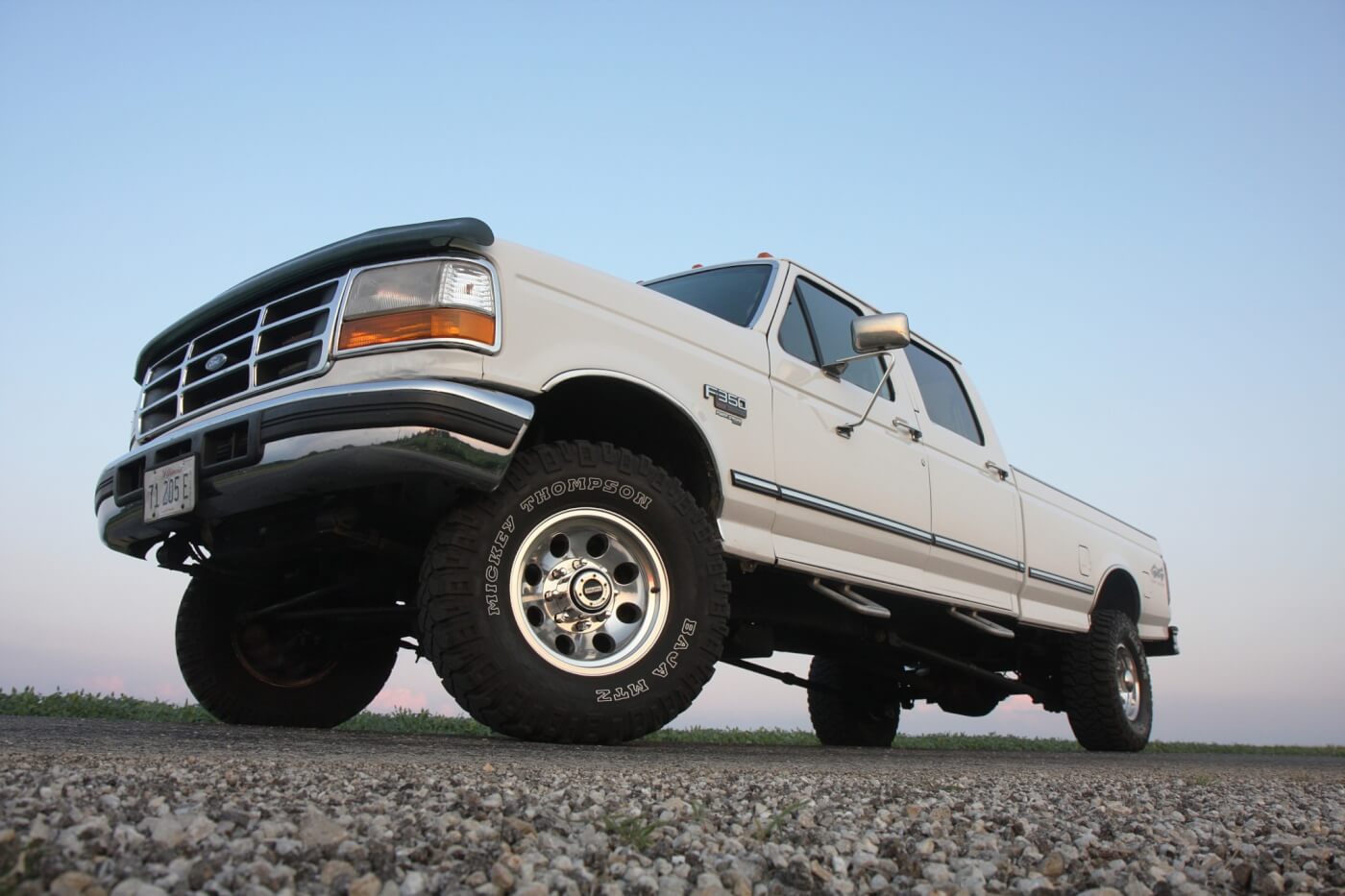 SOURCES:
No Wear Racing (Nitro-XD Dealer) . 610.360.8705 . NoWearRacing.com
Powermist Racing Fuels . 973.383.1061 . PowerMist.com
Randall's Performance . 309.627.2500 . RandallsPerf.com
Scheid Diesel (High Output Fuel) . 800.669.1593 . ScheidDiesel.com