4BT Basics And Performance Options
The popularity of diesel-powered vehicles here in the U.S. has really jumped in a positive direction in recent years. More and more manufacturers are starting to offer all-new diesel powerplants in half-ton trucks, cars and midsize SUVs—the introduction of a 3.0L diesel in the new Ram 1500 trucks, an EcoDiesel in the latest Chevrolet Cruze passenger car and there's even been talk of a 4.5L Duramax coming down the pipeline. With the big car builders starting to offer diesel upgrades from the standard gas powerplants, there must be legitimate reasoning.
Maybe it's better highway fuel efficiency and the giant increase in torque offered by a diesel engine. In reality, it's probably an attempt at meeting ever-increasing CAFÉ (corporate average fuel economy) numbers. Either way, these smaller V-6 and four-cylinder engines will be sticking around. But back in the day, it was Cummins that developed their own small diesel engine market with the 3.9L 4BT.
4BT History
The 4BT—which stands for four-cylinder, B-series, Turbocharged—was used mostly in midsize box trucks, agricultural equipment and small industrial vehicles, and is basically a smaller version of the popular 5.9L 12V Cummins found in the 1989-98 Dodge trucks. The 4BT shares virtually all its parts with its big brother the 6BT; i.e., pistons, connecting rods, injectors and valve train design.
Obviously, the major internal difference comes from the lack of two cylinders, which means two less journals on the crankshaft, a shorter camshaft, two less pistons in the injection pump, etc. But even these pieces are the same as the 6BT, just in an inline four-cylinder version. Because of these similarities, the 4BT Cummins has an extremely strong aftermarket, since many 5.9L 12V performance parts can be used in the smaller 3.9L engine. This, paired with the somewhat compact size of the 4BT, makes it a great candidate as a transplant engine for just about any vehicle. We've seen 4BTs in everything from Jeeps to old school rat rods. The simplicity of the mechanical injection system also helps make it an easy swap, as there's little to no wiring or electronics required.
Since the engine was originally developed for industrial applications, big horsepower wasn't a major concern and the 239-cid motor most commonly came from the factory at around 105 hp @ 2,300 rpm and 265 lb/ft of torque at 1,600 rpm. But these numbers can vary up to as much as 150 hp depending on the application it was installed in.
The 4BT engine weighs in at around 750-780 lbs, which is heavier than most of the gas engines it would be replacing in a conversion project, but much lighter than the six-cylinder 6BTversion. The inline-four also offers a fairly compact size at just 30.6 inches long and 37.7 inches tall, helping with space constraints. The engines came with a few different injection pump systems, but the P7100 is, by far, the most popular, since it's capable of producing larger amounts of fuel and more easily modified by the aftermarket to help increase power outputs.
Performance Mods
As previously mentioned, the 4BT can easily be modified to produce higher than stock power levels when outfitted with the P7100 (P-pump). Fueling mods can be taken to the same extremes as with the 5.9L 12V Cummins; 12mm and 13mm pumps with laser-cut delivery valves, hi-rev governor springs, full-travel rack plugs along with modified injectors can all be used in the 4BT platform. Obviously, to go along with major fuel upgrades, common cylinder head and turbocharger upgrades would be required. But the aftermarket already has most of that covered as well with head studs, better valve springs, larger valves, and even performance exhaust manifolds and camshafts that are being built for the four-cylinder diesel. While these upgrades can take the 4BT to all-new levels, one thing that needs to be mentioned is that because of its lack of cylinders and nearly identical operating rpm range, each piston is going to undergo a combustion cycle much sooner than that of a 6BT Cummins, so things like camshaft profiles and pump timing become critical for maximum efficiency at higher horsepower levels.
ACD Stroker Kit
Like any engine platform, it's a known fact that more cubic inches generally means more power and there's only so much a 239-cid motor will be capable of, at least safely and efficiently. With this in mind, ACD Engines of Salt Lake City, Utah, has developed what they refer to as a "Stroker Kit" that will take the 4BT to all-new performance heights.
Also known locally as "All Cummins Engines," ACD has been a full-line Cummins dealer for more than 20 years, specializing in midrange and industrial engines. They offer virtually everything Cummins—new or remanufactured engines, new genuine Cummins parts, used engines and even salvage parts. Since they deal in nothing but Cummins, anyone looking for that hard-to-find part can most likely call ACD and find they'll have it in stock or at least know where to get one. Through their years of experience, they've become extremely well versed on the 4BT platform and have the conversion process down to a fine science, inserting the small Cummins engine into Jeeps, small SUVs, pickups and even a mid-'50s ambulance.
In the search for more power, owner Robby Pederson began development of a Stroker Kit that would increase the length of stroke and add some additional cubic inches to the inline-four diesel. In the gas world, Stroker engines are nothing new, as the GM small-block 383 Stroker engines have been around for nearly 35 years. The 383 is built by using a standard GM 350-cid engine block with a modified 400-cid crankshaft, which changes how far the piston travels.
New Rods and Pistons
Not looking to do so much crankshaft work, as the factory 4BT crankshaft is a robust piece, Pederson opted for an all-new piston and connecting rod design to gain that additional stroke he was after. A factory 4BT engine runs a 4.02-inch bore with a 4.72-inch stroke; this is how we come to a 239-cubic-inch motor. The new parts from ACD will allow the overall piston bore to expand to a 4.402-inch and a much longer 5.430-inch stroke is used, which will effectively take engine output to 333 cubic inches, or 5.46-liters, almost that of the 5.9L 12V Cummins.
Knowing that the clientele for such a kit would be after extreme power levels, only the best materials were used to be sure the ACD Stroker Kit would stand up to high-boost and high-cylinder pressures. Rather than use standard-cast pistons, like the stock units, ACD went with a much stronger forged piston design that offers a different bowl design to improve the air/fuel swirl effect, helping create a more efficient burn in the combustion chamber. The piston design also has a much shorter overall height, along with the wrist pin location being moved closer to the deck; this is where most of the additional stroke comes from.
To match the new piston, connecting rods had to be developed, which were made from billet 4340, like those being used in all the high-horsepower diesel engines. The new H-beam rod design is not only stronger than a factory connecting rod, but it also has a much smaller wrist pin journal, which will only work with the ACD piston. While the pistons and rods are the true heart to the Stroker Kit, ACD has also developed a host of 4BT parts to go along with them to ensure the true peak performance can be met. Specific camshaft profiles have been designed, along with custom cylinder head work, and even 4BT-specific adjustable injection pump timing gears. The short time between injection events on the four-cylinder engine require a little different engineering of these parts than that of a six-cylinder Cummins, and ACD thinks they've developed the perfect pieces to help turn your run-of-the-mill 105-hp 4BT into a tire-shredding 800-hp monster.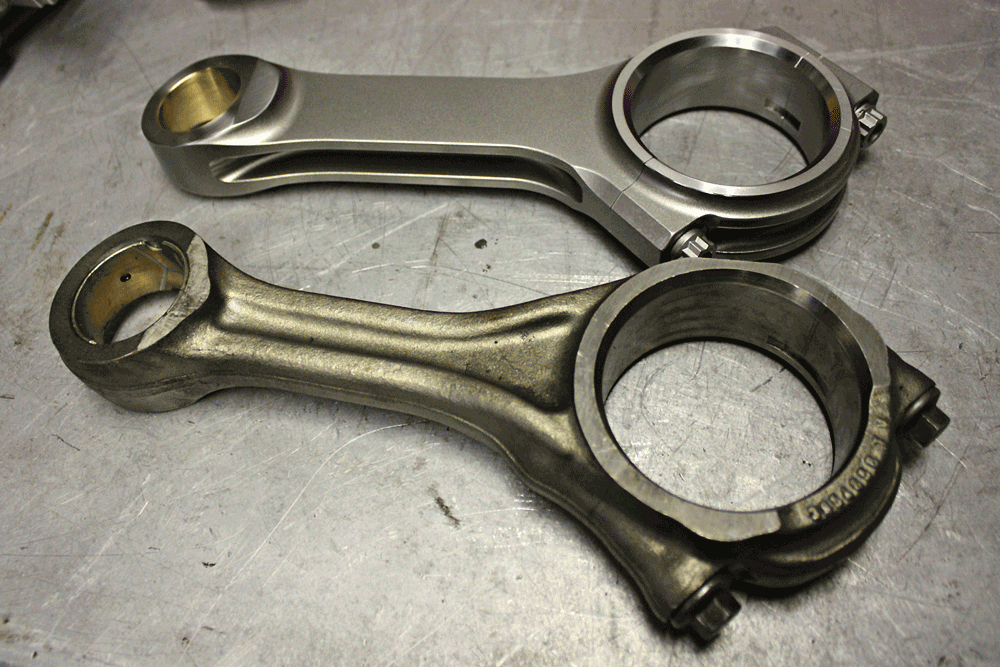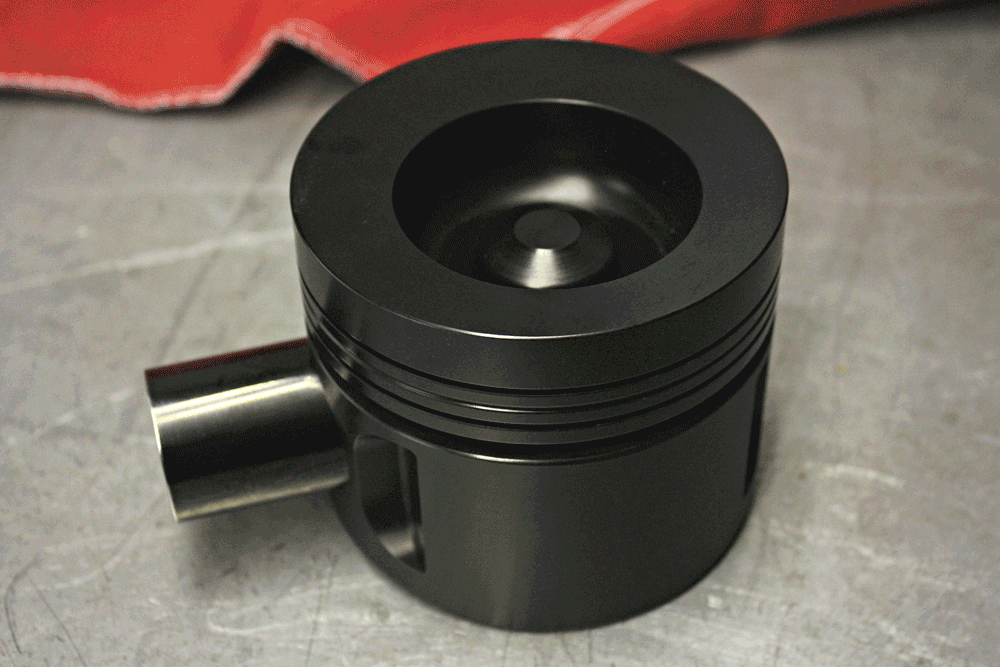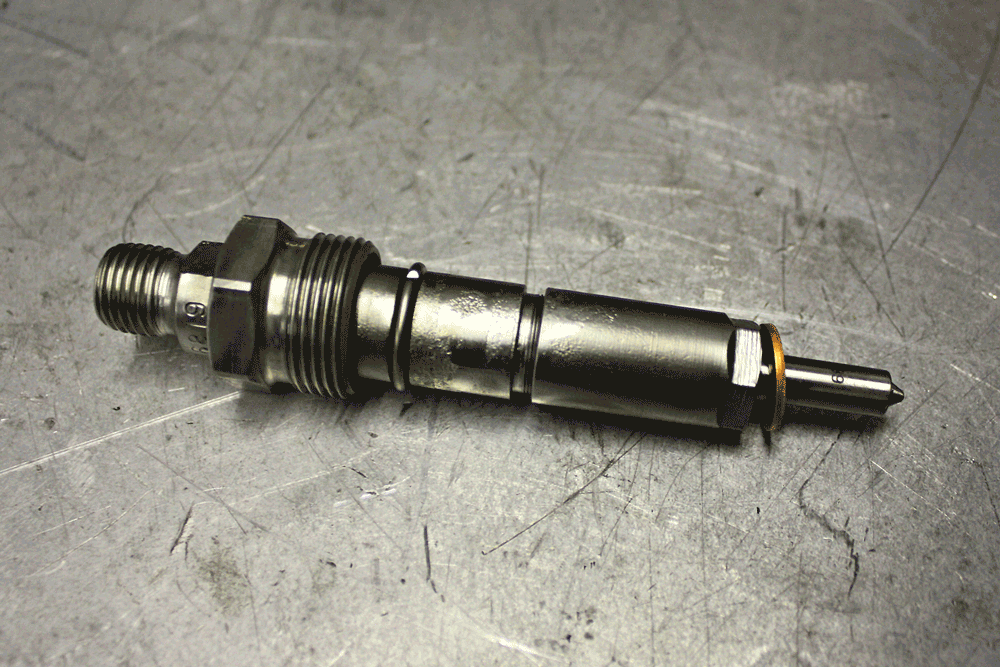 ACD will soon be installing this completely built 4BT engine into their shop vehicle, a H1 Hummer Army body sitting on the chassis from a Dodge Ram 2500. The Stroker 4BT will help push fully built axles, custom suspension and drivetrain sitting on 40-inch tires down the road. We'll be sure to do a complete write-up on the project when it's up and running in another issue of Diesel World.
ACD Engines understands that the complete Stroker Kit may be more than most 4BT project vehicles will need, so they have an array of 4BT-specific products that can do everything from help increase power to just improving fuel mileage and engine efficiency. They also carry a full line of custom brackets and conversion pieces that may help your conversion or transplant project go a little easier. DW
4BT Land Cruiser Conversion
The team at ACD Engines has made 4BT conversions their specialty and had this 1992 Toyota Land Cruiser up on the rack while we were shooting photos of their new 4BT Stroker Kit. The owner of the Land Cruiser wanted more pep than the factory gas engine could offer, but didn't want to sacrifice fuel mileage, making it the perfect candidate for a mildly upgraded 3.9L Cummins.
Knowing that major horsepower and torque would be needed and looking to keep things budget friendly, they opted for the less common and slightly cheaper VE injection pump series motor, versus the more popular and easily modified P7100 injection pump model. The VE pump working with custom ACD injectors and camshaft should bring power output up from the original 105 hp to a more user-friendly 200 hp. While this may not sound like much, the low-end torque of the 4BT backed by the NV4500 five-speed manual transmission (from the 1994-2001 Dodge Ram truck) will make for a great daily driver and off-road combination. On this particular build, ACD will also be able to retain the factory A/C and heating system, and were even able to add an intercooler system behind the grille. ACD and the vehicle's owner are hoping this package nets a consistent 25-30 mpg.
SOURCE:
ACD Engines
877-506-8667
www.acdengines.com