Truck of the Week

"Candy Corn"
10-Second 2nd-Gen
As proof that diesel performance is alive, well, and thriving out on the West Coast, we give you Oregon native, Randall Johnson's P-pumped, 24-valve second-gen. His 4-valve, 5.9L Cummins-powered regular cab Dodge has been fitted with a worked over 160hp P7100, made possible thanks to a P-pump conversion kit from Scheid Diesel, and packs compound turbos. A recent trip through the quarter-mile yielded a 10.64 at 127 mph, along with a 1.53-second 60-foot. At Siskiyou Dieselfest 2018, Johnson's second-gen, nicknamed "Candy Corn" for obvious reasons, also produced a nitrous-assisted 962-rwhp while strapped to the chassis dyno.
Events

TS Performance Shootout
Bowling Green, KY
The Outlaw Diesel Super Series schedule brought drag racing action to Bowling Green Kentucky's Beech Bend Raceway over the weekend. As for the Pro Dragster class, Wade Moody's Duramax-powered rail would set a new eighth-mile record thanks to a blazing 4.11-second pass at 176.14 mph (the rail would also run a 4.12 at 178.05 mph on Day 2). Other highlights included the Save the Racks Pro Mod S10, piloted by Firepunk Diesel's Larson Miller, going 4.77 at 152 mph after already having become the number one qualifier on its 4.84 at 146 mph pass. In Pro Street, Lavon Miller and the Firepunk team would nab the number one qualifier position with a 5.03 at 143 mph, and the Stainless Diesel Dodge would make its fastest pass to date: a 5.27 at 137 mph.
New Pro Mod Record

More From TS / ODSS
Another 4-second pass, another record set at the TS Performance Shootout… It sure didn't take long for Ben Shadday's 3,500-pound Dodge to rocket to the top of the Pro Mod ranks. After blowing the tires off in the final round back in April (at the Rudy's Diesel Season Opener), Shadday's single turbo'd, 6.8L common-rail Cummins-powered '06 Ram didn't break traction this time. Not only would he take home First Place in Pro Mod at Bowling Green, he would set a new Pro Mod class record with his 4.71-second run at 155.33 mph.
The next Outlaw Diesel Super Series Race is July 27th at Crossville Dragway in Crossville Tennessee. We'll be there, you should too!
East Coast Sled Pulling

Meadville, Pennsylvania
As part of the Crawford Fairgrounds' "Diesel Dayz" event in Meadville, Pennsylvania, Full Pull Productions treated spectators to 2.5, Run What Ya Brung, and Smooth Bore 3.6 class action over the weekend. Some 21 trucks would hook to the sled in 2.5, with Bill Daufen inching out the rest of the competition with his "Double Trouble" Chevrolet Silverado. In the Smooth Bore 3.6 category (formerly Open 2.6), seven trucks turned out to compete. Bill Albert's "On the Hunt" second-gen would take the win, while Nick Shearer and Luke Hindman's "Joint Custody" Dodge wound up Second, and Brian Robbins' "Night Train" 7.3L (HEUI) powered Ford (pictured) finished a close Third.
Wagler Diesel Competition

Lyons, Indiana
One of the most anticipated events of the summer, the 4th annual Wagler Diesel Competition is coming this Friday and Saturday. Held at Wagler Motorsports Park in Lyons, Indiana, as always, there will be drag racing, truck pulls, a dyno competition, and a show 'n shine. At the drag strip, classes will consist of a Diesel vs. Gas shootout, big tire, small tire, Outlaw 5.90 Index, 6.70 Index, and 7.70 Index (Street Fighter). With $7,500 winner take all money on the line in the big tire class (and the Outlaw Truck pull class offering the same), the Wagler event is bound to bring out some pretty stiff competition.
Highlights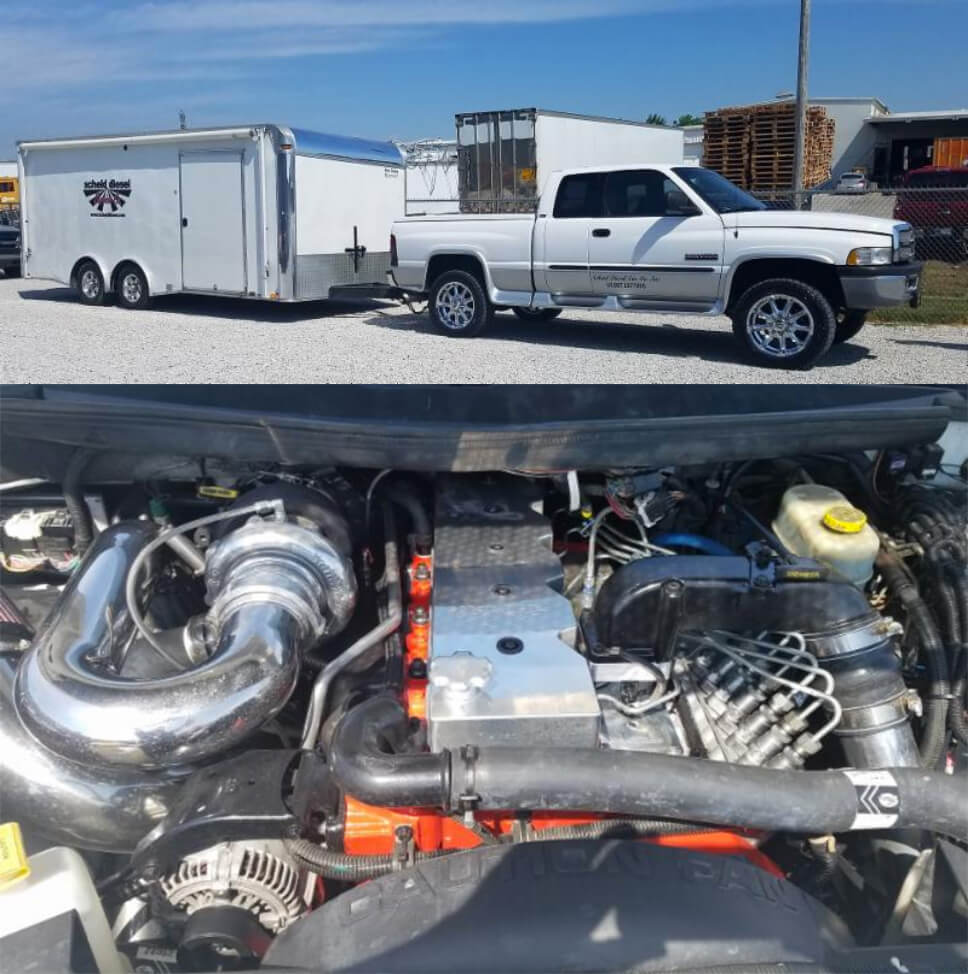 Old-School
Scheid's Company Truck
Instead of using a brand-new truck to tote its vendor trailer to events, the folks at Scheid Diesel decided to build a tow-rig for utmost reliability, but that could also showcase many of the performance products the company offers. Starting with a 143,000-mile '01 Dodge Ram 2500, Scheid's P7100 conversion kit was put to use, along with a Scheid 12mm P-pump, stainless 0.078 lines, 40hp injectors, BD AFC spring kit, 125-gph FASS fuel supply system, and a billet-aluminum front cover. The 24-valve head was fitted with heavy-duty springs, machined to accept fire rings and 14mm ARP studs, and a billet-aluminum valve cover was also added. An S300/S400 compound turbo arrangement provides boost, a Mishimoto intercooler and radiator help keep EGT and coolant temp down, and a Scheid-built 47RE with a DPC triple disc converter sends power to the ground.
Parts Rack

Ranch ICON
Truck Cap
Ranch Fiberglass, a division of LTA Manufacturing LLC, recently introduced the all-new Ranch ICON fiberglass truck cap. The new model features an all glass rear door and frameless side windows, which offers the ICON a sleek, almost SUV-like appearance. Standard features include a paint-matched rear door fiberglass skirt at the base of the door, LED interior dome light and third brake light for optimum visibility, the customer's choice of a front picture or sliding window, and carpeted interior lining. Each cap is paint matched with an automotive finish from Axalta Coating Systems, and comes with a limited lifetime warranty on paint and structure.