HARRINGTON DIESEL 6.0L POWER STROKE T4 TURBO KIT
Historically, the 6.0L Power Stroke has been one of the more problematic diesel powerplants due to a few design issues, but with the right parts and consistent maintenance, it's more than capable of doing the things most truck owners ask of their rigs. Injector failures, leaking head gaskets, broken EGR coolers—these are all common repair items on the 2003-2007 Ford diesel, but those are all things that can be improved thanks to the vast array of aftermarket options for the 6-liter.
Similarly, something that has affected just about every diesel (Power Stroke, Duramax, Cummins) since their introduction in the mid-2000s is the variable geometry turbocharger. While their super-cool technology and overall functionality works extremely well when new, as the mileage racks up it's not uncommon to see soot buildup and normal parts wear affecting performance within a VGT turbo.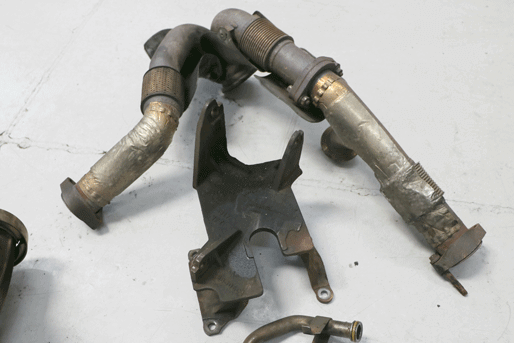 The variable geometry turbo can be a great thing and perform well in a daily driver and towing application. By using adjustable vanes on the exhaust side of the turbocharger, the truck's computer will open or close those vanes based on multiple variables like throttle percentage, boost, and engine rpm to change the overall ratio of the exhaust housing for quick low-end response and strong top-end power. You get the best of both worlds by running a small, responsive turbo at light throttle and the airflow you need to make peak power at heavy throttle.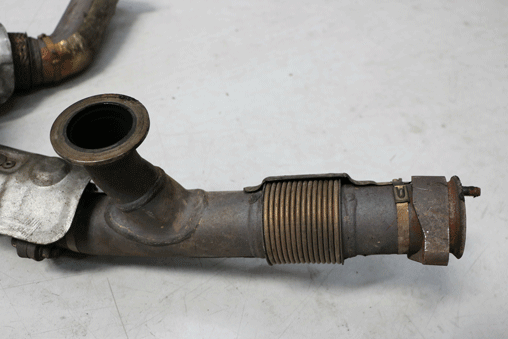 In the case of the 6.0L Power Stroke, the factory VGT came from Garrett and is a well-engineered turbocharger, but all those moving parts will wear with time, or can start to stick from soot build-up and the constant heat cycles from heavy use and abuse. A vane position sensor, oil control solenoid, unison ring and the vanes themselves are all parts that can experience issues over time and start to affect turbocharger performance. These issues can reduce engine power, increase EGTs and just make the truck less responsive and tough to drive. It'd be easy to swap a worn-out stocker with another, but with time and mileage, you may start to run into the same issues further down the road. But there are other options out there—non- VGT options.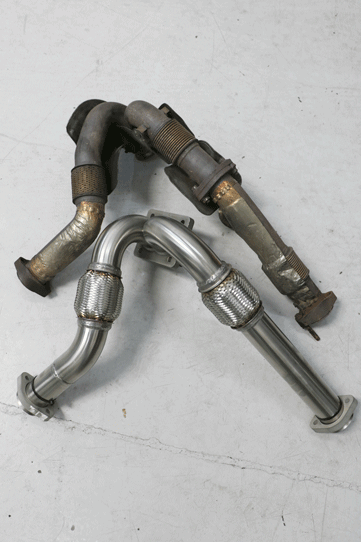 HARRINGTON DIESEL T4 CONVERSION KIT
The complete non-VGT conversion kit from Harrington Diesel is actually quite simple and there aren't a lot of pieces required to get that factory variable geometry turbo replaced with something a bit simpler in design. Fully TIG-welded 304 stainless steel up-pipes and a turbo pedestal for a new Borg Warner S300 SX-E turbocharger are the main parts to the kit, but Harrington also includes professional grade oil feed and drain lines with OEM Ford O-rings for a leak free seal. You won't need to worry about trying to save your rusted out original up-pipe bolts, as the kit has new Ford bolts included.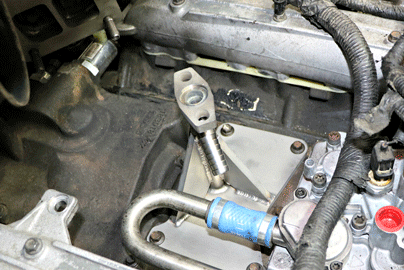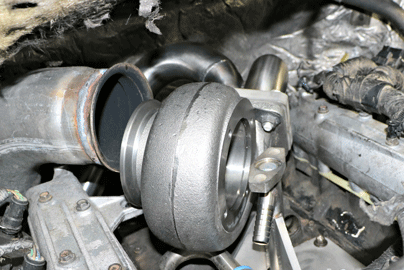 Since the factory up-pipes are prone to failure on the passenger-side lower pipe, where the bellows can crack and leak over time, Harrington uses a higher strength stainless bellows that will allow for more fl ex and expansion under higher horsepower and heavy towing applications. The company claims it has yet to replace a failed bellows in the hundreds of kits out on the road.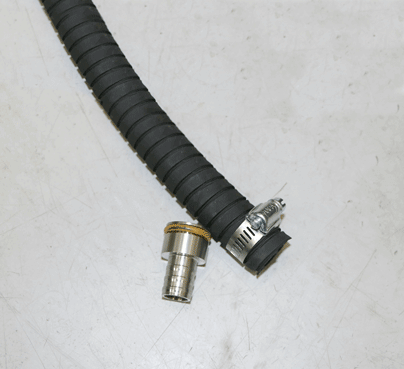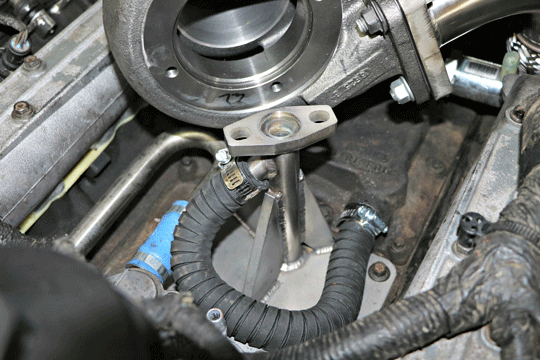 The supplied turbo pedestal will bolt directly in place of the OEM unit using the factory hardware, and it's well thought out design makes installing the oil drain line easy while allowing the new turbocharger to sit perfectly in place on the engine block so the factory style intake, intercooler piping and even the exhaust downpipe can be re-used. No need to buy an exhaust or intake specific for this turbo conversion, which can also save you time on the install and save you on labor expense if you're paying a shop to do the installation for you.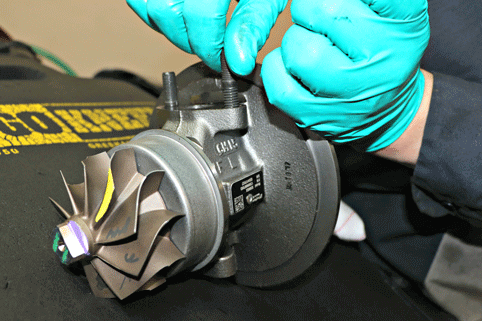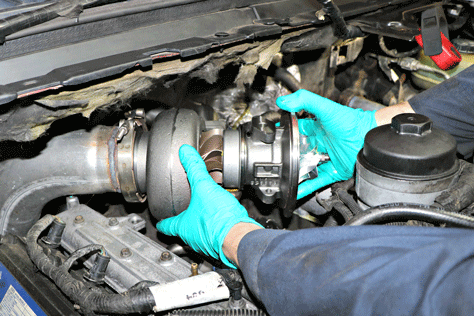 S300 SX-E TURBOCHARGER
For the turbocharger, the latest BorgWarner S300 SX-E platform makes the perfect fi t for the 6.0L Power Stroke and offers a few advantages over the factory VGT unit. The SX-E can be purchased in varying sizes to fit your specific driving needs. The platform uses BorgWarner's latest Forged Mill compressor wheel technology, which is one of the strongest, highest flowing designs available in turbochargers today. The 7-blade compressor wheel offers a broad powerband and low surge points when paired with the right turbine wheel size for your application. A 360-degree thrust bearing aids in longevity in a high boost application (35-45 psi) and the latest compressor cover design offers a more efficient charge of air to reach the engine for a more efficient burn in the combustion chamber. In the 6.0L Power Stroke, the largest 69mm S300 SX-E will supply enough air to support over 700 hp while still offering good street manners as long as the right injector and tuning combination is chosen to go with it. While 700 hp is a bit on the extreme side of things,the smaller 62mm and 63mm versions can offer great towing performance with easier EGT control when compared to the factory variable geometry turbo. Since the 6.0L has always been known to be a little "laggier" or slower to respond to driver input, it's good to keep in mind that a bigger turbo doesn't always equal better. Making sure you get the right size turbo for your needs is key to getting the best performing truck possible.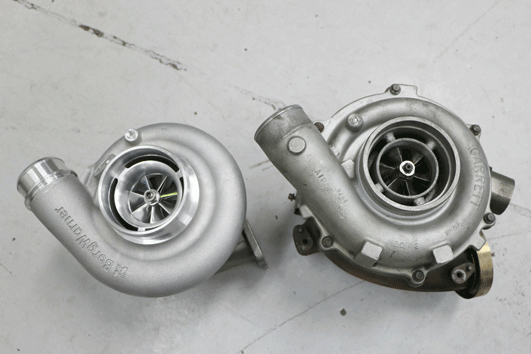 On this build, the 2003 manual transmission truck is still running stock injectors with basic intake, exhaust and SCT tuning. This truck is used weekly to tow heavy through the higher elevations of the Rocky Mountains, so Harrington Diesel worked with High Tech Turbo out of Salt Lake City to build something specific for the truck owner. HT Turbo spec'd out the 62mm compressor, since it'd be more than enough air for stock injectors, but they opted to go to the 73mm turbine wheel over the smaller the 68mm wheel, which would've offered slightly better off-throttle response. The 73mm turbine wheel will be better at controlling EGTs and exhaust backpressure at the upper rpm range and allow a little room to grow should some 155cc or 175cc injectors ever be installed. With that larger turbine wheel at 4,500+ feet elevation, a custom machined .83 A/R exhaust housing was bolted onto the turbo to keep as much low end as possible, offering a little better spool-up compared to the more popular .91 A/R turbine housing.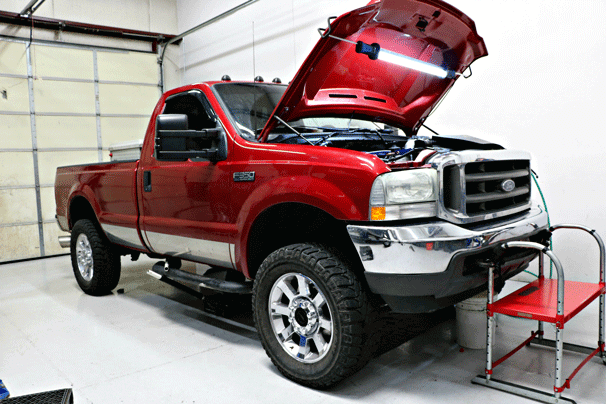 RESULTS
Once the swap was completed, the truck needed to get a quick ECM retune. Since the VGT sensors were no longer being used, those parameters would need to be turned off in the computer to keep it from tossing check engine lights and throwing all sorts of codes. The right custom tune built specific for your modifications and turbo size will also ensure the best turbo performance and drivability. If you're not already running an SCT tuner or custom tuning from an experienced 6.0L Power Stroke tuning shop, Harrington Diesel can also get you the custom files you'll need.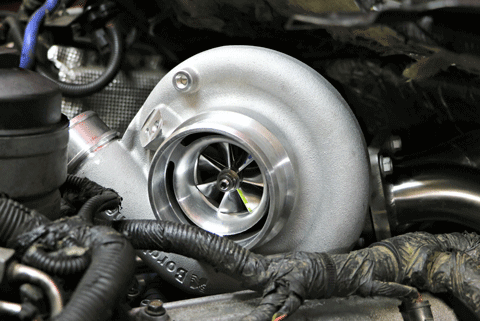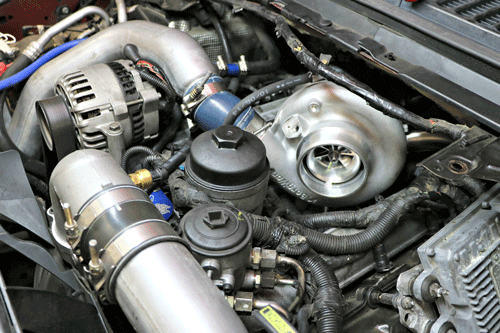 With the new tunes downloaded and after idling the truck for a bit to make sure the up-pipes were sealed and there were no oil or coolant leaks, it was time for that first test drive. After taking it easy for a few miles while the engine came up to temperature, we could already feel how completely different the powerband felt than that of the non-VGT turbo. Along with the much throatier exhaust note, this 62mm came up on boost extremely quickly and actually put out less smoke. Light throttle driving around town showed a significant improvement from the driver seat; the truck just felt like it was accelerating easier. On the Extreme tune, a wide-open throttle run while rowing through the gears, the pyrometer would easily touch 1,600 degrees with the stock turbo. But the new SX-E reaches around 1,325 degrees and holds steady no matter how long you stay in the throttle. Towing a heavy fifth wheel trailer, the owner tells us he's now pulling big grades in 5th and even 6th gear, where he used to have to drop to 4th to keep the EGTs under control. He's been extremely happy with the new turbocharger's performance and says his mind is at ease knowing there are less moving parts to fail and a more durable turbo and up-pipe setup under the hood. DW
SOURCE
HARRINGTON DIESEL PERFORMANCE
814.462.4092
HIGH TECH TURBO
801.304.0700
HTTurbo.com