Chevy recently announced its new Colorado will be offered with a Duramax diesel. Not a 6.6L D-max, but a 2.8L 4-cylinder. Sure, that will still be cool and fuel efficient, but what if there was a 6.6L D-max-powered Colorado? Well, thanks to Enrique Gonzales of Miami, Florida, there is one.
"I want to be different. I want something that nobody else has."
Enrique doesn't like doing things the way everyone else does them; he likes doing things the way no one does them. The Puerto Rican-born Miami resident isn't one to follow trends, and his business The Diesel Shop (TDS) and the work that it produces, reflects that.
Enrique wasn't always a diesel specialist. He worked in a Mustang performance shop in the 1990s, and even built some of the first 7-second Mustangs. By the early 2000s, he made the transition to being a tech in a diesel performance shop for a few years before venturing out on his own and forming TDS. He and his wife Arlette run the business along with their three sons, Jesus, Jose, and Jorge.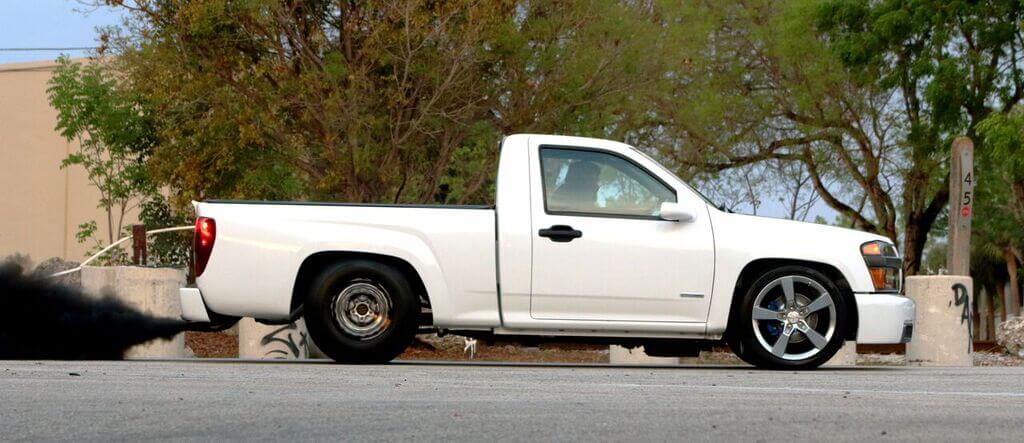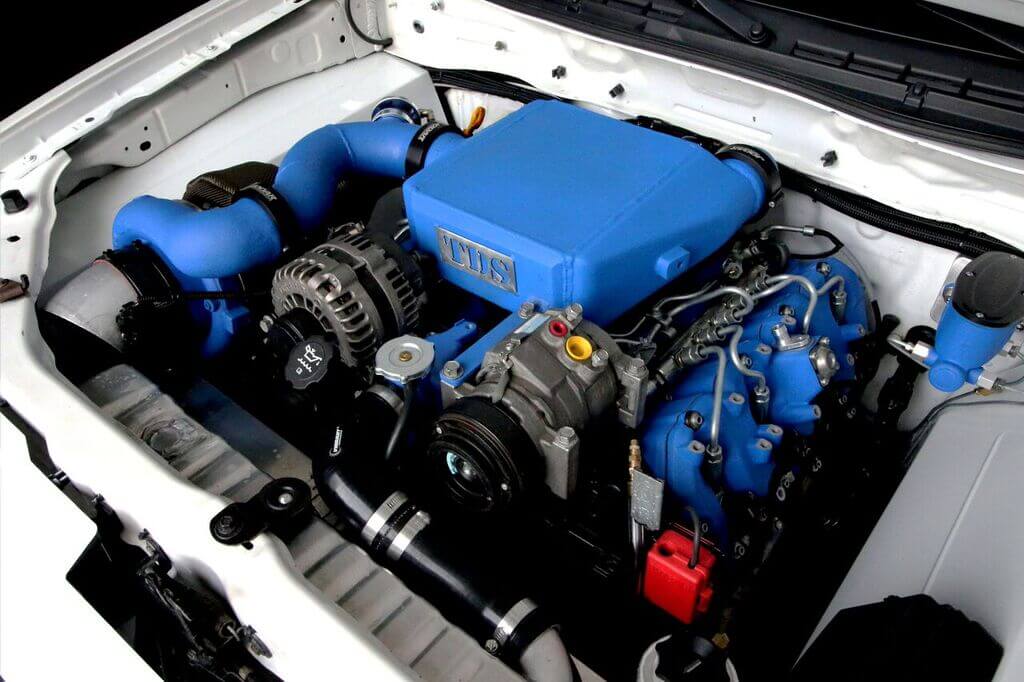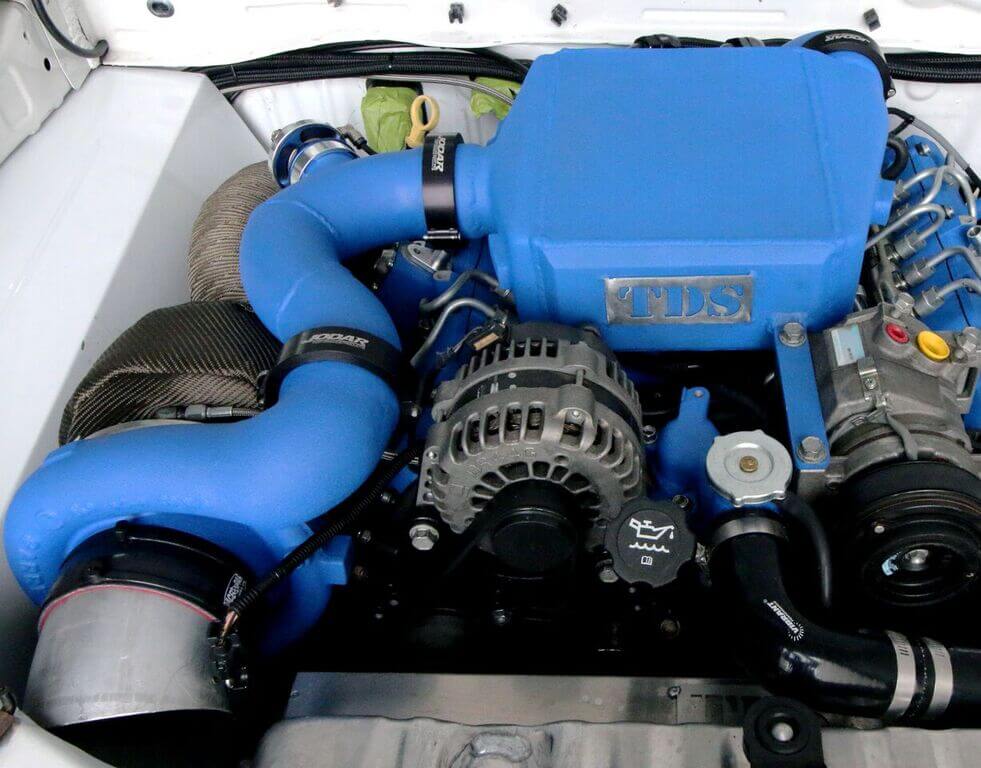 "I want to be different. I want something that nobody else has," Enrique tells us of his tastes. Different he is. To match his charming personality and passion for diesel performance is his masterpiece build, the D-max Colorado. Enrique wanted a shop truck to represent what The Diesel Shop was all about. The answer: a diesel-powered mid-size truck that could be daily driven, but could also be raced or showed—a triple threat. Most importantly, it is like nothing anybody else has.
THE BUILD BEGAN
"I brought a wrecked Silverado and salvaged the Duramax and Allison transmission," he says of how the build got started. "And I knew I wanted to put it in a Colorado." So he waited until the right one came along and scooped up an old Comcast service truck at the auction that had a blown engine. That was only two years ago.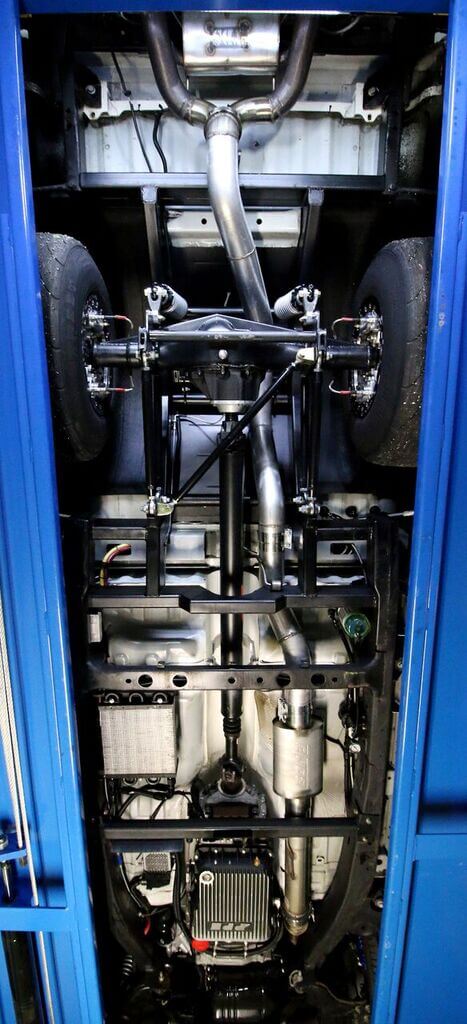 Enrique wasted no time fitting the LBZ D-max between the fenders of the Colorado. He did most of the fab work himself, fitting the engine, transmission, suspension, and controls. The back-half and tubs were done by the Chassis Shop in Miami, and Enrique did the rest. He custom-made dual fuel tanks that fit around the tubs, mounted a 9-inch rear-end, and made a custom transmission tunnel to house the huge Allison transmission.
Under the hood, he fitted the stock, long-block Duramax with custom hot and cold turbo piping and a custom intake plenum. He replaced the stock turbo with a Garrett 82mm GTX4202R ceramic ball bearing turbo. Then, in true Enrique style, he had Miami Power powdercoat the components Smurf Blue, just to be different. He cleaned up the rest of the engine bay with custom inner fenders.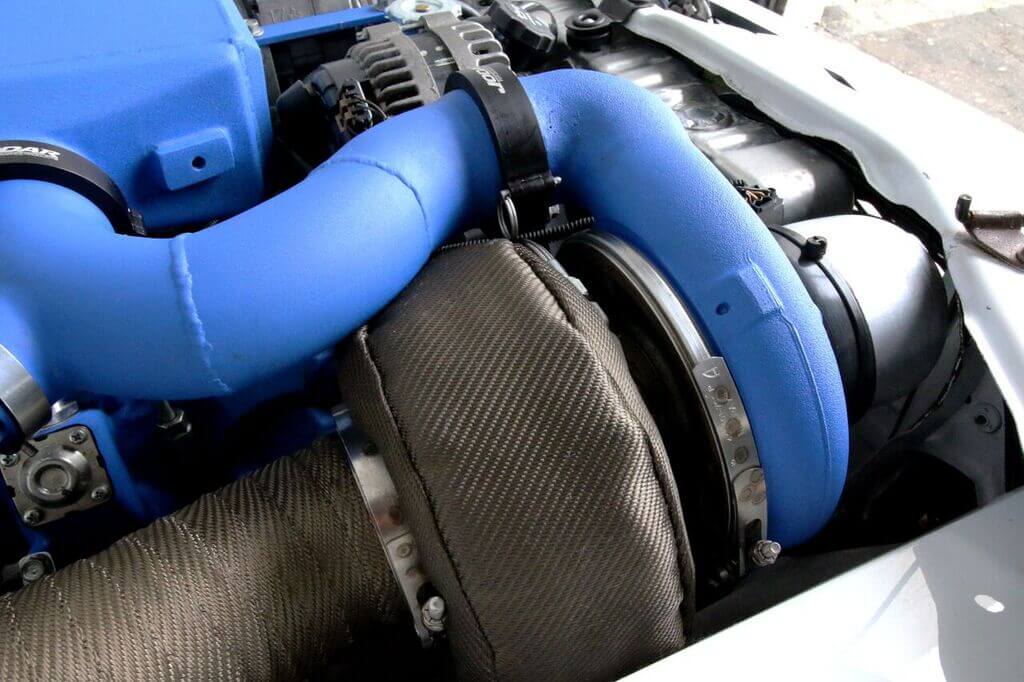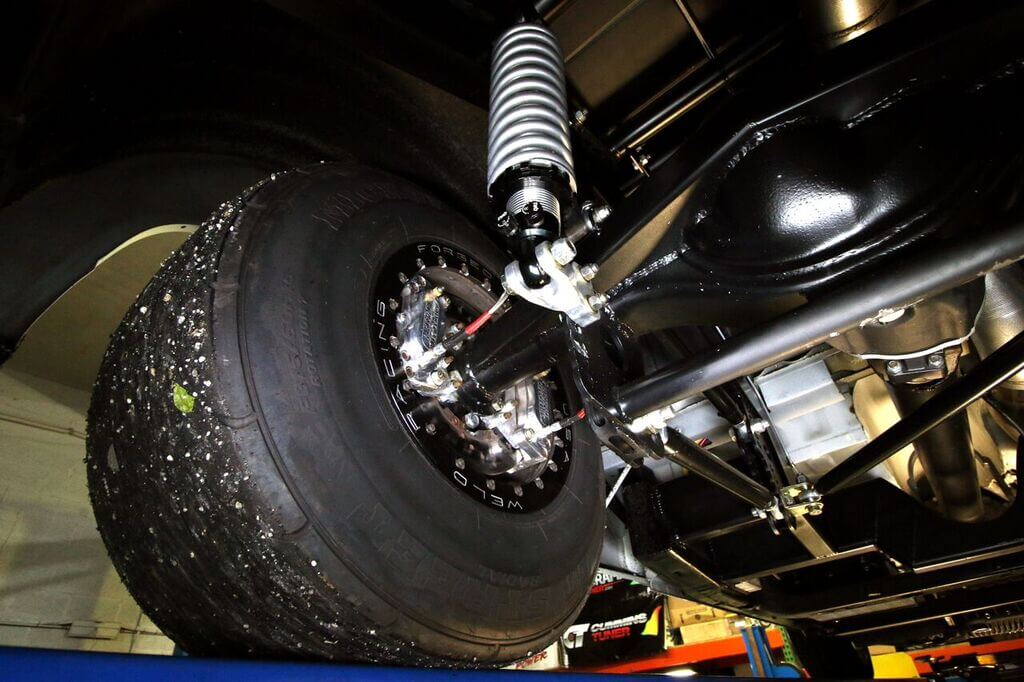 CHASSIS WORK
The engine bay isn't the only place you'll find Enrique's handiwork. The underside of the truck is just as clean. It features dual Aerospace Components calipers in rear, Corvette brakes in front, a Wilwood master cylinder, and custom brake lines throughout. The fuel system starts at the custom tanks in the bed and is fed through custom lines and powered by a single marine-style pump.
The 9-inch features Strange Engineering components, an iron center section, 40-spline axles, and a secret gear ratio. It's held up by double-adjustable QA-1 coilovers. Similar singe-adjustable QA-1s reside in the front. It rolls on Camaro SS wheels in the front and Weld Racing wheels wrapped in 315mm Mickey Thompson Drag Radials in the rear.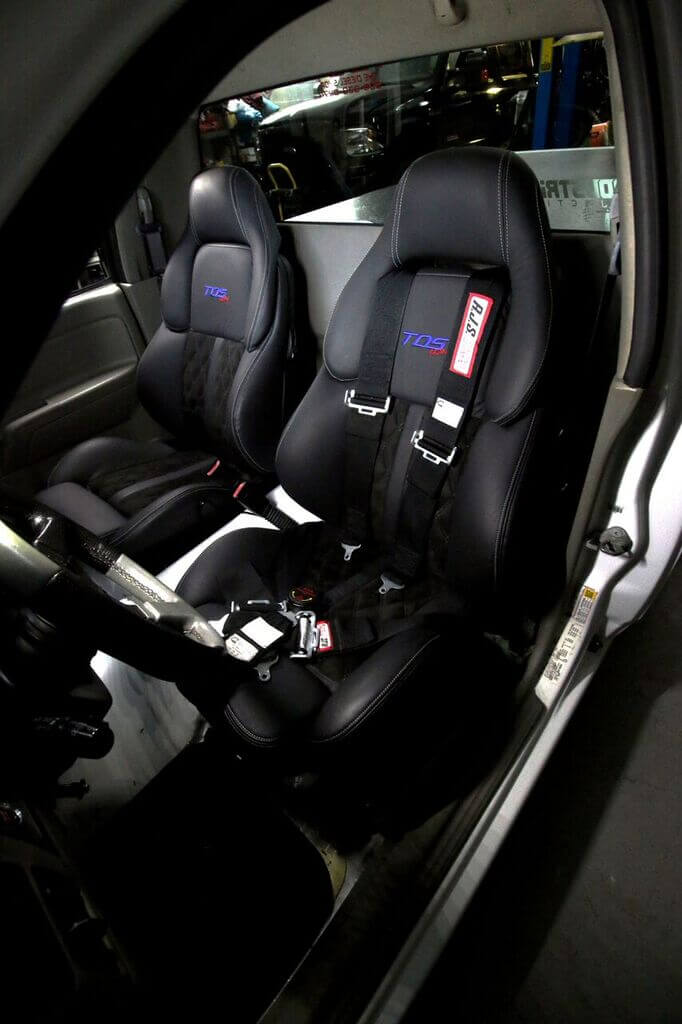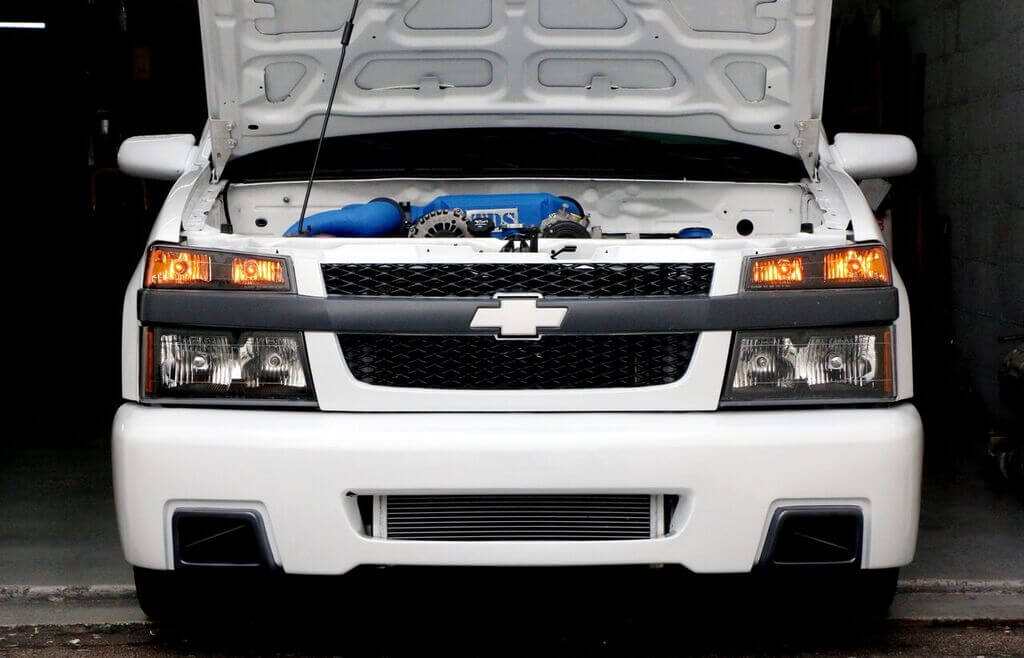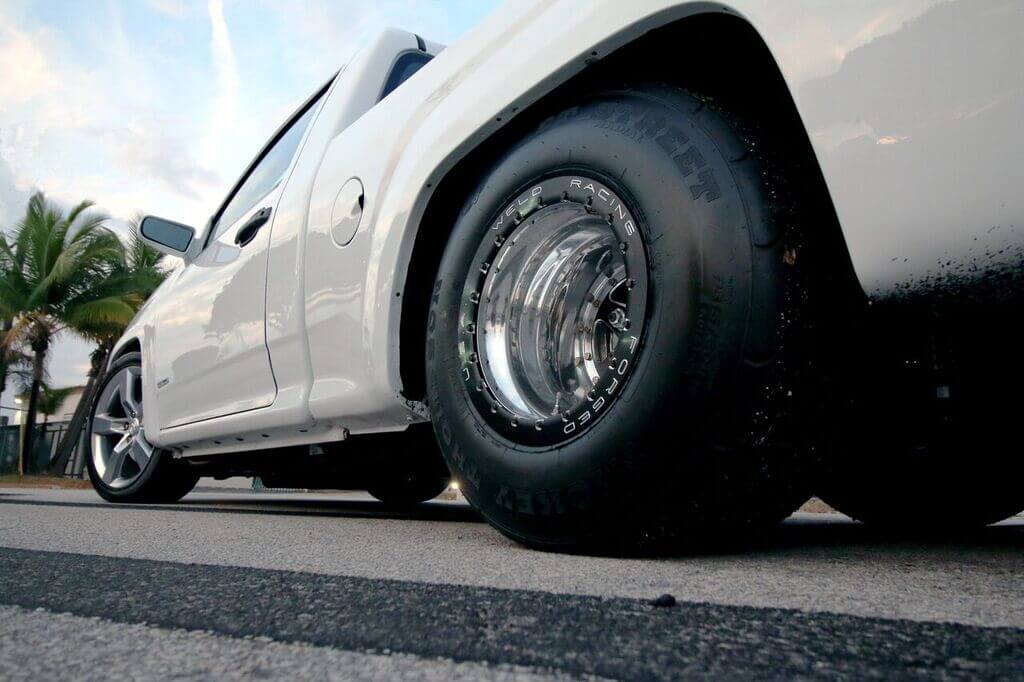 EVERYTHING ELSE
The level of craftsmanship is second to none, and continues to the interior. Enrique selected a pair of BMW M3 seats and had them custom upholstered with leather and TDS Racing logos. He added a Grant GT steering wheel and the shifter out of a 2500HD to complement the Allison trans.
"Enrique even has his sights set on participating in a standing mile event. And he doesn't just want to participate; he wants to go 200 mph!"
The Colorado has already proven itself a worthy daily driver. With a fresh coat of arctic white paint, it doesn't do badly as a show queen, either. Cruising surface streets or sitting in a show lot are not where the Colorado is at home; the track is its promised land, and it has just begun to make its mark there.
Just before this issue went to print, Enrique attended his first big event with the Colorado, which has become an Internet sensation in recent months. It drew quite a lot of attention from admirers and haters alike. Nevertheless, he took the event win with a best run of 6.7 at 108 mph in the 1/8-mile.
Enrique even has his sights set on participating in a standing mile event. He doesn't just want to participate; he wants to go 200 mph—a lofty goal for a 4,550-pound ex-cable repair truck. Enrique, however, is the man that can do it.
It seems the story on Enrique's Duramax-powered Colorado has just begun. Just like the truck itself, Enrique's story is unfolding as well. Like the Colorado, he too was once just another face in the crowd. But with experience, hard work, a supportive family, and a taste for the unusual, he has risen above the competition. He's not finished, nor is his little Colorado.
He's preparing now to tear the truck back down and rebuild it faster and safer. The Chassis Shop is adding a parachute and a rollcage that will be legal to 7.50 in the quarter mile. Meanwhile, Enrique is going to tear down the engine and add beefed-up internals that will be able to handle much more boost. He also has plans to put the nitrous tank that is already mounted in the bed to good use.
As you could have already guessed, he's not going with an expected twin-turbo setup or multiple injection pumps—he's going to do it with a big single turbo and one pump. You know, just to be different. DW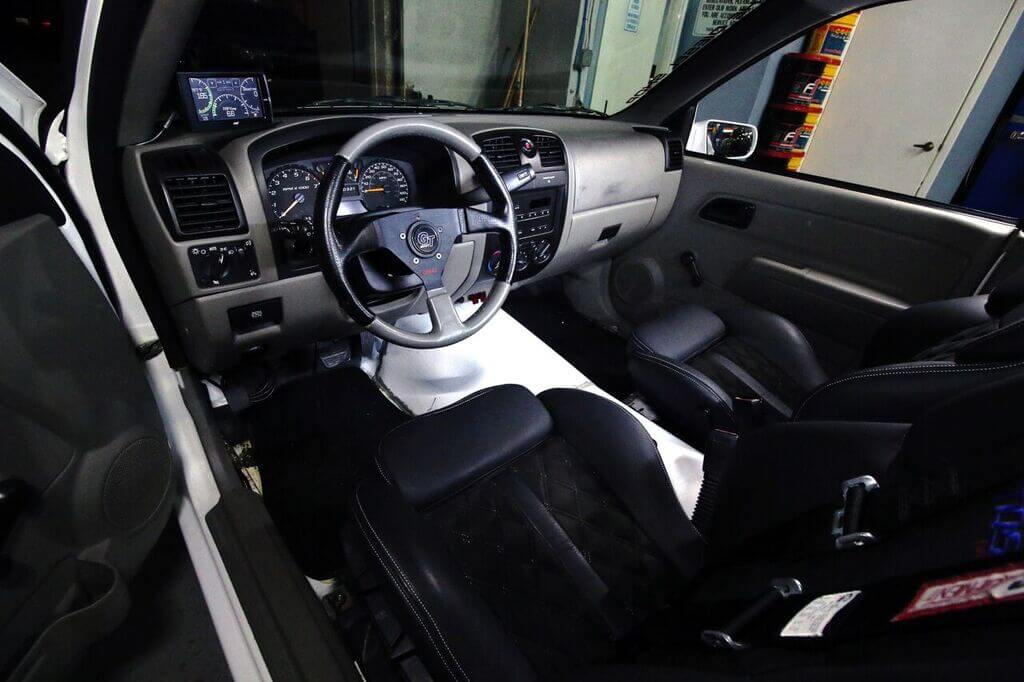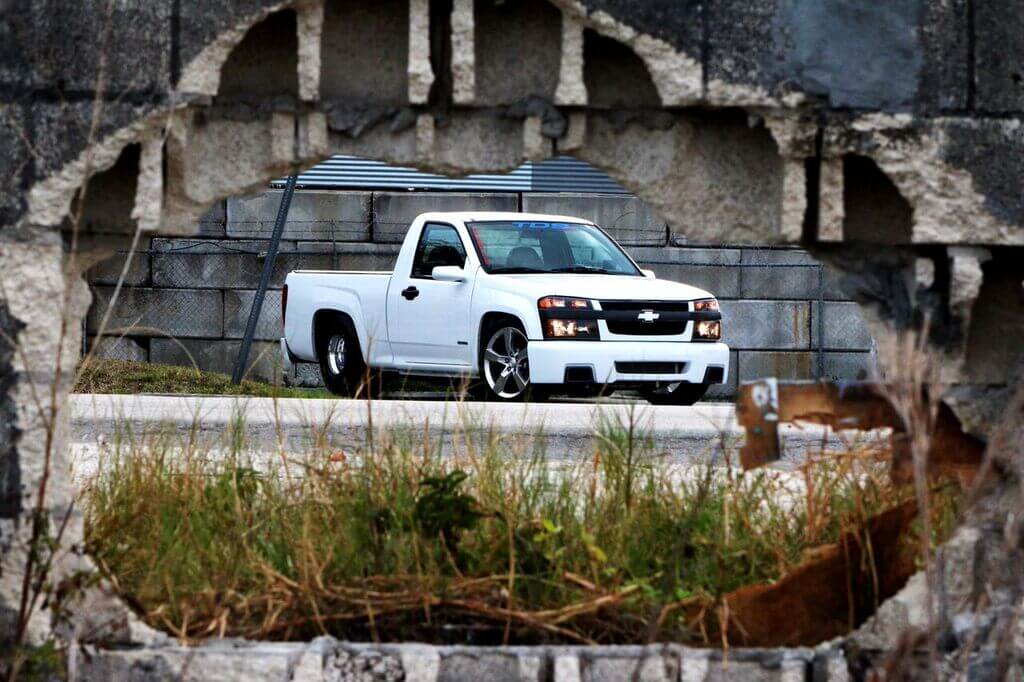 Build Sheet
2006 Chevrolet Colorado
Engine: 6.6L Duramax
15-over injector nozzles by Industrial Injection
Custom intake and turbo piping
Custom exhaust with Borla muffler
Borg Warner GTX4202R 82mm ceramic ball-bearing turbo
Custom tune by Duramaxtuner.com
Powdercoating by Miami Powder
Transmission: Stock Allison
Remote cooler
Suspension: QA-1 coilovers
Wheels: Camaro SS front
Weld 15×10 rear
Tires: 315/60R15 Mickey Thompson Drag Radials rear
Brakes: Corvette front
Aerospace Components rear
Wilwood manual master cylinder
Rearend: Ford 9-inch
Strange iron differential
Strange 40-spline axles
Interior: BMW M3 seats (custom upholstered)
Source
THE DIESEL SHOP
786.452.1978