HISTORIC WWII SHIP WITH A HISTORIC CATERPILLAR ENGINE
The Caterpillar Tractor Company wasn't the first American engine maker to offer a diesel, but their engines set an industry mark for power, economy and practicality. Caterpillar was the first in America to apply diesel power to a production tractor in the form of the legendary 1931 Cat 60. It's not a stretch to say Cat's D9900 diesel quickly powered Caterpillar to a leading position in engine manufacturing and the Cat 60 did the same thing for their crawler line.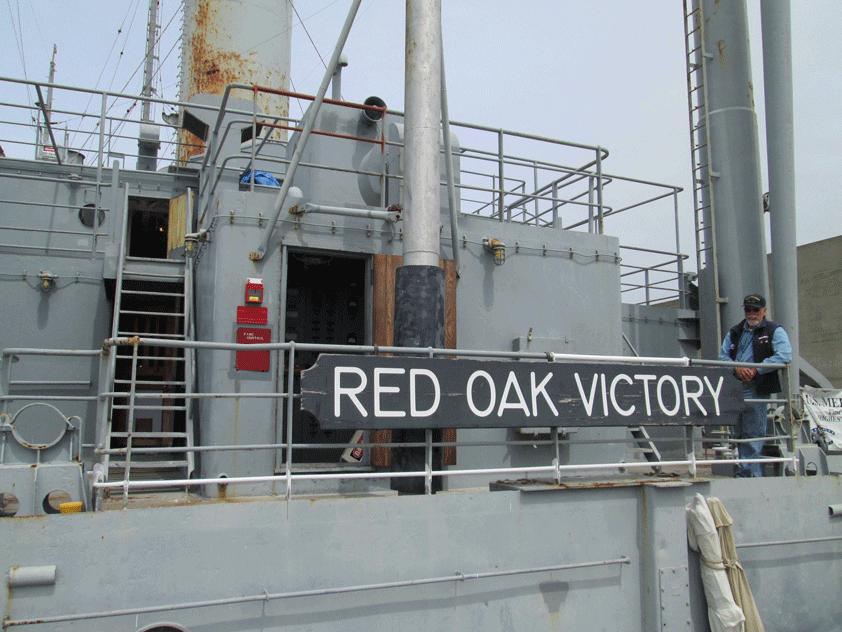 Before those first D9900s were brokenin, the father of Cat's diesels, Art Rosen, had the design teams working on new diesels for an expanded line of crawler tractors. That new line eventually included the 1938 D2, Cat's first small diesel tractor. The D3400 diesel was developed especially for it, along with the 3400G gasoline derivative, and both were also installed into the 212 motor grader. The D3400 goes down in history as the smallest diesel engine Caterpillar has ever mass-produced.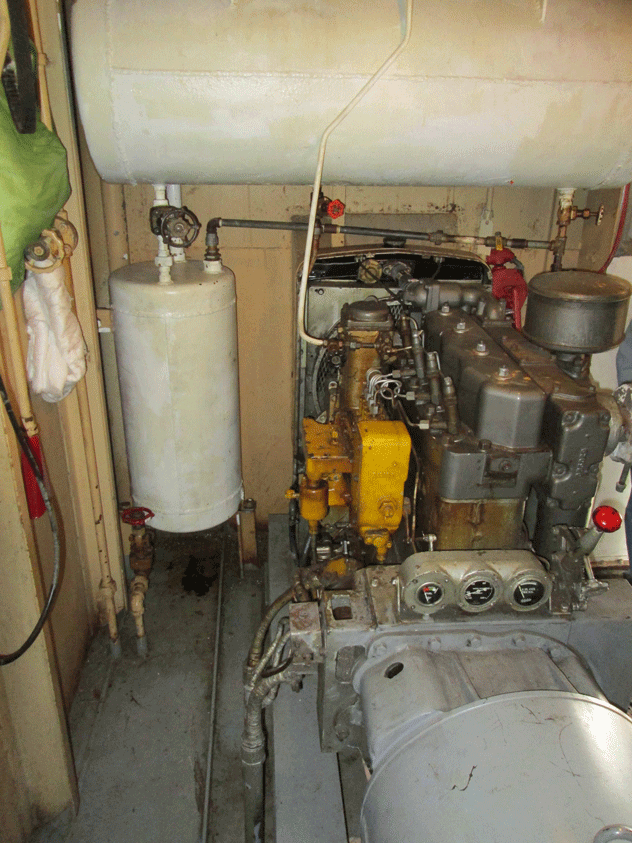 Starting in March of 1939, industrial power units with the D3400 were introduced, as well as a marine propulsion version. At nearly the same time, Cat added it to their generator line as the 34-15 Diesel Electric Set, sold in relatively large numbers into 1947. With the engine running at 1,200 rpm (making 25 hp and 128 lb-ft), it produced 15 KW (kilowatts) polyphase or 13 KW single phase, both at 60 cycles. Mounted on a skid and weighing 3,030 pounds, it was portable and versatile. Properly serviced 34-15 gensets could, and did, run for decades without major work. The D3400 engine was a wet-sleeve, indirect-injected, four-cylinder diesel displacing 221 cubic inches from a 3.75-inch bore and a 5-inch stroke. The crankshaft was supported by five main bearings and the highest no-load rating listed was 1,525 rpm, with a peak power rating of 35 hp at 1,500 rpm. Those higher rpm intermittent ratings were seen on the D2 crawler and 212 grader or the marine propulsion engines. Generator continuous ratings ranged from 25 to 31.5 hp from 1,200 to 1,440 rpm.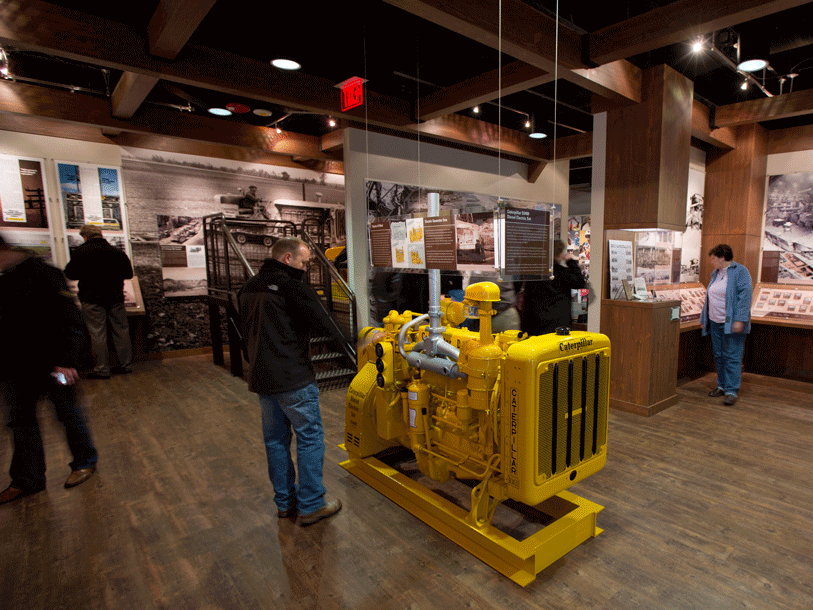 The Cat D3400 Goes to War
The war dominated American industry through the first half of the 1940s and, of course, the D2 crawler and 212 grader joined up and went to war wearing OD paint. So did the 34-15 generator sets and many other Cat products. Less known are the Cat D3400 engines that went to the Navy and Merchant Marine for installation into ships as backup generators. We discovered a Cat D3400 aboard the SS Red Oak Victory (see sidebar), a World War II cargo ship that served both the U.S. Navy and the Merchant Marine. It's original to the ship and drives a 15 KW, 240-volt DC (Direct Current) generator that was, and still is, used as backup power.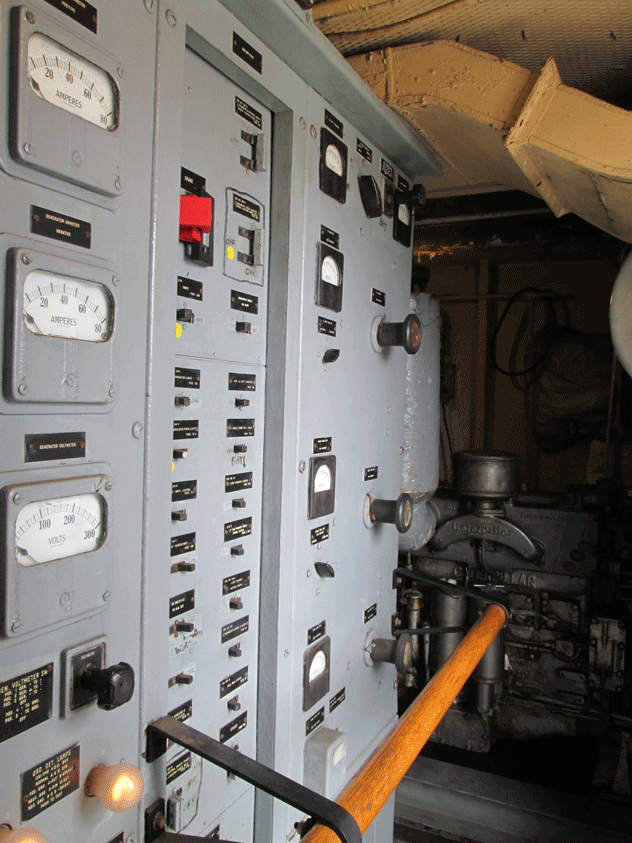 Cat Evolution
The D3400 engine was produced from 1938 into 1947, with 19,161 built for the D2 tractor, 1,797 for the 212 grader, 6,047 for generators and power units, and 216 as marine propulsion units. Additionally, 2,492 3400G gasoline engines were produced from 1938-42 and were among the last gas engines Cat built. Starting in 1947, the D311 series engines (251ci), replaced the D3400 and became Cat's smallest diesel. The D311 had dimensions and architecture similar to the D3400, but a larger bore, a crossflow head and more power (57 hp @ 2,000 rpm).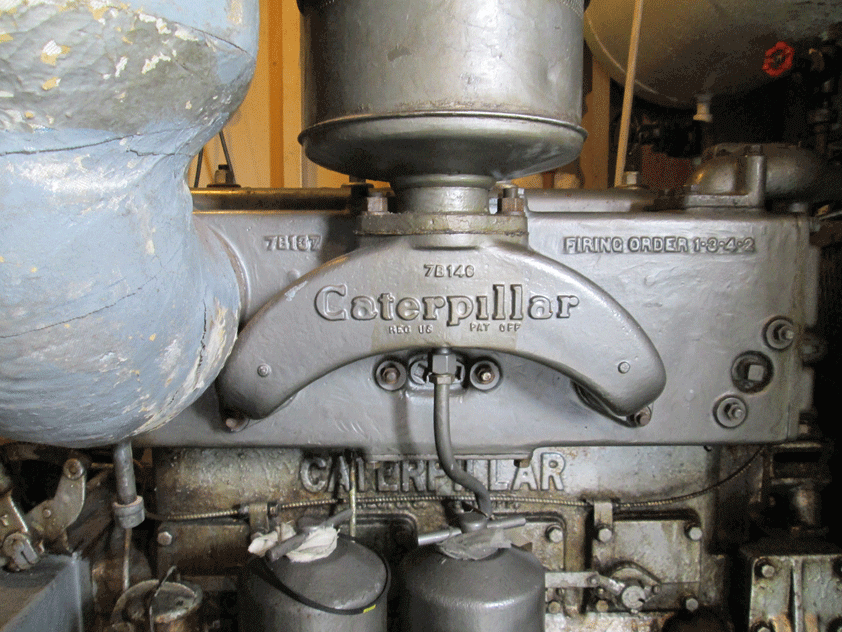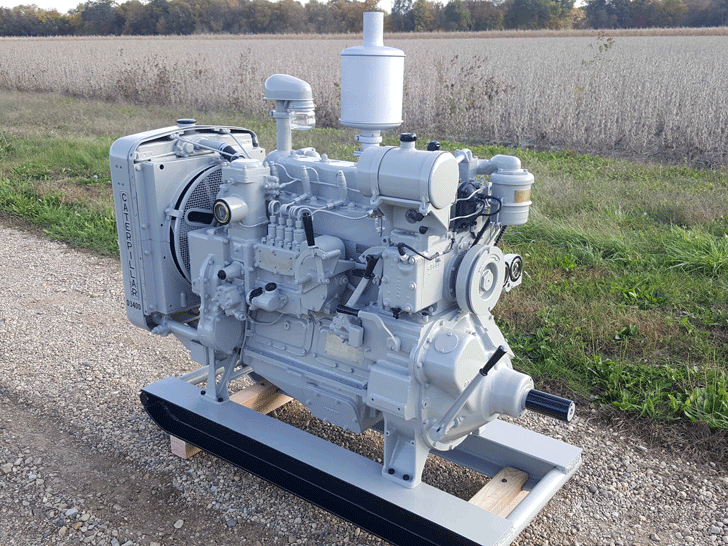 By the end of the 1930s more than a third of Caterpillar's income came from diesel engine sales and it just went up from there. Postwar, Caterpillar increased its line engine offerings and is still a leading manufacturer of diesels known worldwide. DW
SOURCES
ACMOC-ANTIQUE CATERPILLAR MACHINERY OWNER CLUB
ACMOC.org
DOUG OBERHELMAN CATERPILLAR VISITORS CENTER
Caterpillar.com/en/company/ visitors-center.html
SS RED OAK VICTORY
HISTORY YOU CAN TOUCH
Red Oak Victory was one of 543 Victory ships built for World War II, 142 of them built at Kaiser's Permanente Metals Corporation shipyard in Richmond, California, just a stone's throw from where she lives today as a museum ship. The hull was laid down as a VC2-S-AP2 design on September 9, 1944. She was launched on November 7, and commissioned into the U.S. Navy as USS Red Oak Victory, AK-235, on December 5. She served as an ammunition ship in the Pacific Theater to the end of the war and was decommissioned as a Navy ship in 1946.
Still owned by the U.S. Maritime Commission, she started a new life in 1947 as the SS Red Oak Victory and was leased to various shipping companies though much of the 1950s before being laid up again in 1957. She last emerged from storage in the mid-1960s to be used by the Military Sea Transport Service from 1966 to '68 ferrying military supplies from the West Coast to Vietnam, Japan and the Philippines. In 1968 she was placed back in long-term storage at the National Defense Reserve Fleet in Suisun Bay, California, and never worked again.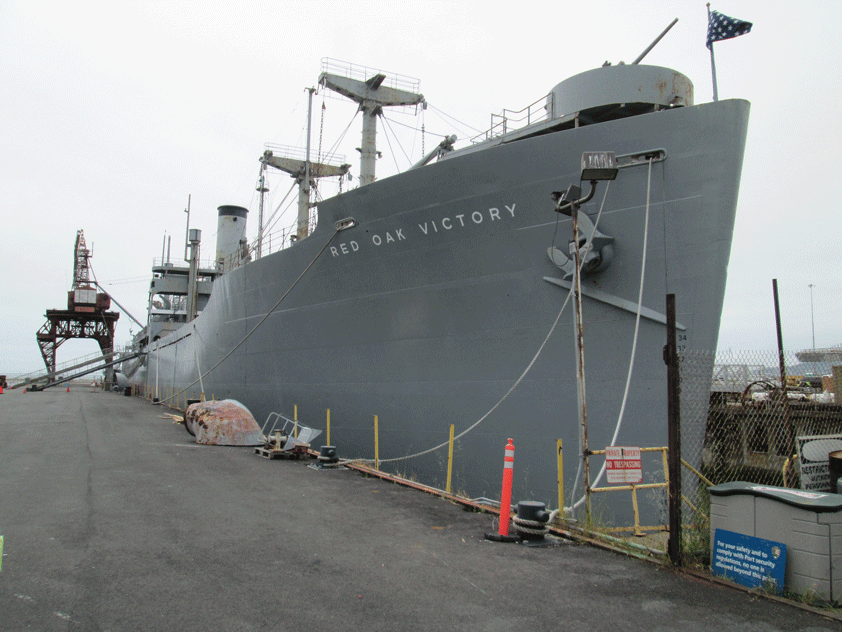 By 1993, like many other obsolete ships in the Reserve Fleet, Red Oak Victory was facing a final voyage to the scrapper. The Richmond Museum Association understood her significance and sought to have her saved as a museum ship. In 1996, Congress passed legislation turning her over to the Richmond Museum of History. In 1998, she was moved to the Richmond waterfront and has been undergoing a gradual restoration ever since.
Red Oak Victory is 455 feet long, 62 feet wide, and draws 29 feet of water with a full 10,850-ton load. Power comes from a 6,000hp Westinghouse steam turbine fed by two Babcock & Wilcox boilers that produce 525 psi steam pressure at 750 degrees. Normal top speed was 15.5 knots (17.8 mph), but according to her current Chief Engineer she could be boosted to 17 knots with a few tweaks. When she carried weaponry, she had a 5-inch/38-caliber dual-purpose gun on the stern, a 3-inch/50-caliber dual-purpose gun on the bow, and eight 20mm anti-aircraft auto cannons in various mounts around the ship.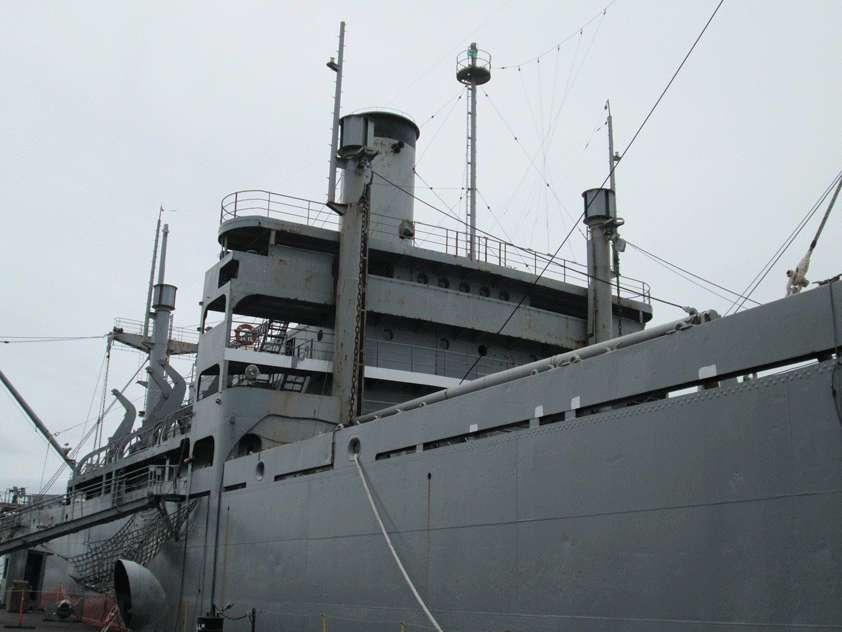 Because she spent a relatively short time in operation, according to Chief Engineer Greg Blasquez, Red Oak Victory is in great mechanical condition and is now near to being ready to sail again. Though there are no Victory ships known to still be in commercial service, some of Red Oak Victory's sister ships are sailing as museum ships, including the Lane Victory in Los Angeles and the American Victory in Tampa, Florida. Red Oak Victory is open to visitors at her berth on Point Potrero at 1337 Canal Street, Richmond, California, very near the Rosie the Riveter Museum and the old Richmond Ford Factory.