1957 Oliver Super 77 Hi-Crop: Ollie With A Lift
Hi-Crop, High Clearance, High-Clear, HC… whatever name the manufacturer chose for them, tractors with extra clearance for taller crops have been part of the farming landscape almost from the beginning of the motorized era. Their primary use is in vegetable farming or tall crops like sugar cane and cotton. They were more common in the days when crops had to be cultivated (weeds removed mechanically versus with chemicals) but they're still built to this day for a few specialized jobs.
Back in the day, the typical Hi-Crop tractor featured dropped front spindles or a bow-shaped axle and drop housings on the final drive in back. Often these features were combined with taller, narrower tires. Other high-clearance tractors used special super-tall wheel and tires as the sole modification with internal gearing changes to compensate for the tire size.
Typically, the number of Hi-Crop tractors built by any manufacturer was very low, with a substantial price premium. In some cases, a farmer could buy a kit or the individual parts to convert a standard-height tractor. Today, those low production numbers make Hi-Crop tractors of any color among the most collectible of any brand or model. It also makes for the production of fakes, so due diligence is required when paying high dollars for one of these rare tractors.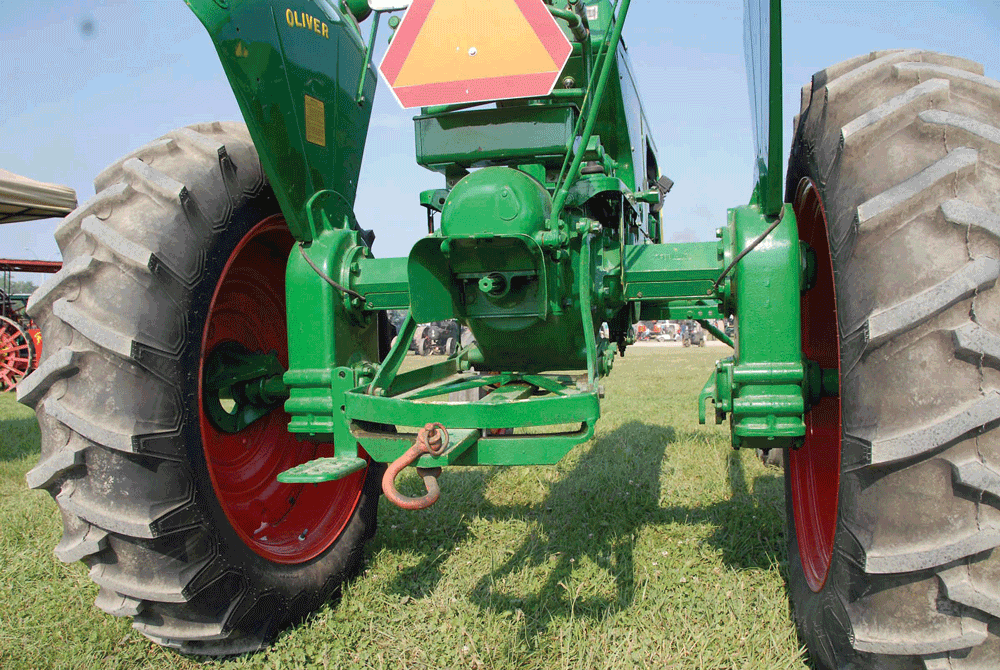 Oliver's Super Series tractors emerged for 1955 as a follow-on to the very successful styled Fleetline series tractors that had debuted in 1948. Those Fleetline tractors were so stylish that the most popular models, the 66, 77 and 88, were dubbed "The Three Beauties." The Super Series carried on with the wonderful styling but without the engine covers that had marked the Fleetlines. The line continued with the Super 66, Super 77, Super 88 and Super 99 (the 99 wasn't originally a styled Fleetline tractor) but a Super 55 was added right away and a Super 44 was added at the end of the 1955-1958 Super run.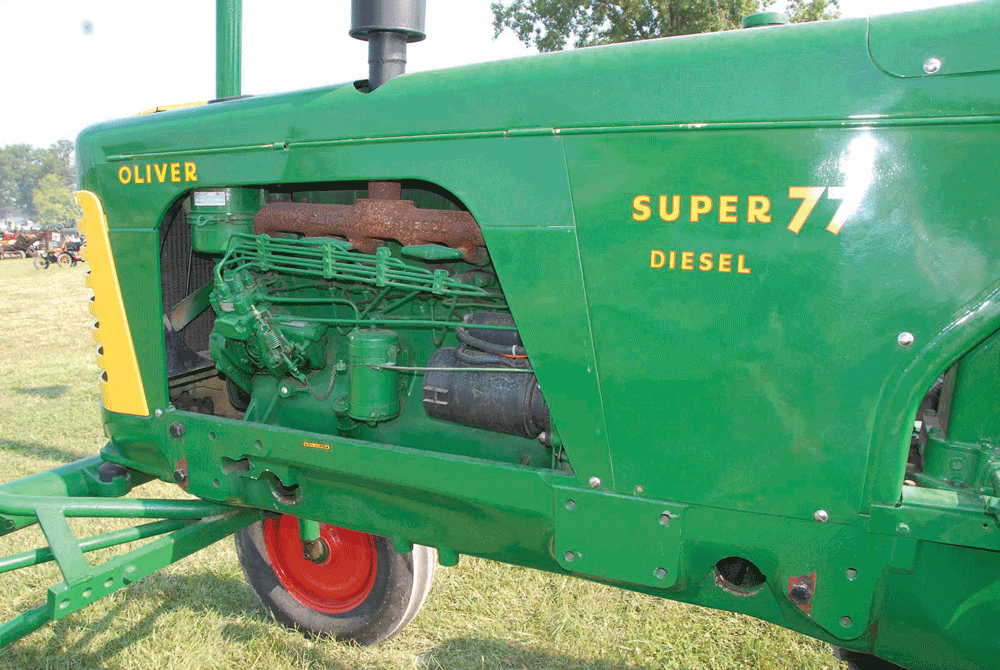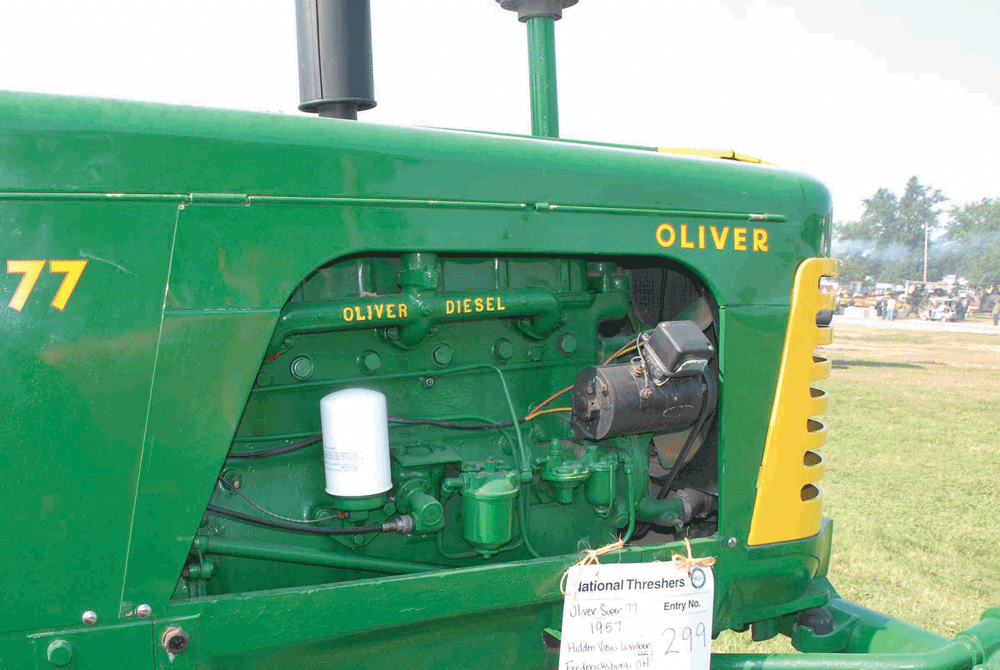 The big news for the Super line was the larger engines, both gas and diesel. The Oliver-Waukesha engines were all bumped in displacement and power. For the Super 77, the engine displacement was bumped from 194 to 216 cid via a bore increase from 3.125 to 3.5 inches. As a natural part of the bore increase, the compression increased from 15.75:1 to 16:1. The bore and compression ratio increase, along with some tuning, resulted in a power increase from 36 to 44 belt horsepower and a drawbar power increase from 31 to 38 hp.
Oliver also made a few small equipment changes, such as adding a boss in the cast frame for a front weight bracket. A new option was power steering, which cost a whopping $200. The final drives were beefed up with stronger axle shafts and bull gears. One major styling alteration was a change in wheel color from red to green—something Oliver fans of the era balked at enough that in 1957, Oliver began painting them red again.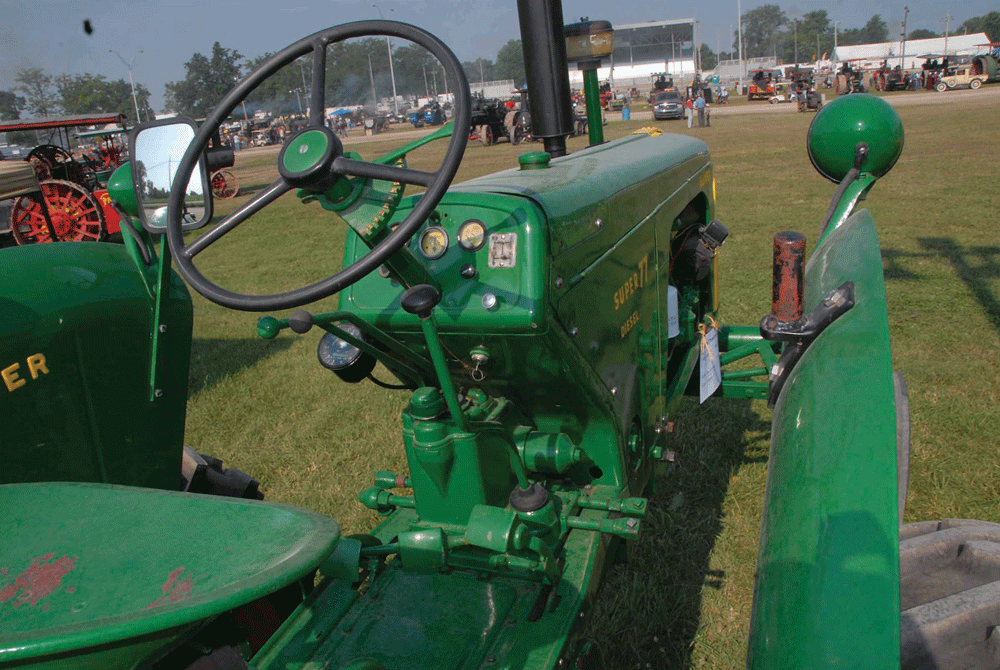 The Super 77 came as a rowcrop model (narrow or adjustable-width front and adjustable rear track), a standard model (no adjustable tracks, bigger tires) and an orchard model (special tin on a low-profile tractor). Like many other manufacturers, Oliver also offered a Hi-Crop option in their more popular lines. A Super 77 Hi-Crop diesel cost  $3,967 in 1955 (about $34,600 in 2014 dollars), which was a considerable premium over the $2,820 price of a Super 77 Row Crop diesel.
The diesels used in the Oliver Supers came from partly from Waukesha, with whom Oliver had a long-standing relationship, and partly from Oliver, who cast some of the components and dictated the design. The engineers at Oliver were particularly fond of the Lanova Power-Cell combustion chamber. Waukesha used a swirl-type indirect injection combustion chamber but was willing to build a hybrid engine for Oliver. In essence, the Waukesha's 185 series' lower end was combined with a specially designed head employing the Lanova combustion chamber. Oliver cast the head, and sometimes the block; Waukesha machined and assembled the engine, tuned it, and built a few other parts special to it.
The Lanova Power Cell had been developed and patented by Fritz Land in Germany during the 1920s. Land and partner Albert Wielichand formed the Lanova Company in 1930, building diesels and licensing the technology. The name came from a combination of "Lan," from the designer's name, and "Nova," Latin for new. We've talked about the Lanova Power Cell before in Tractor Talk so we won't go into detail again, but the design resulted in a smooth, quiet and economical diesel that was easy on the lower end (call it a "slow-burn" diesel) but one that's not readily "tweakable," did not like high rpms and was not very suitable for turbocharging once that technology became readily available. It was a decent cold starter, by the standards of the day, and was one of the earliest direct-start diesels for tractors. It was a fine design for the era but soon was outpaced by the relentless march of diesel technology.
This Hi-Crop Oliver is part of Sam Hershberger's small collection of vintage tractors. It was shot at the 2014 National Threshers Association show at Wauseon, Ohio. It's extremely rare; unfortunately, neither we nor Sam know how rare, as we have not been able to locate any verifiable production numbers for Hi-Crop Super 77D tractors. The commonly seen estimates range from 25 to 110 built from 1955 to 1958, but don't hold us to those numbers. We're told the gasoline-powered Hi-Crops are more common and there may have been as many as 2,000 77 and Super 77 Hi-Crops built of all types. Suffice it to say that a Super 77D Hi-Crop is very rare and approaching the category of "Oliver Unobtainium." There may only be as few as 10 left. Prices currently run in the $26,000-$40,000 range based on the few comps we found. DW