ATS Diesel's Gauntlet Challenge
Every year across the country, countless diesels hit the dyno in search of more power. The most extreme Fords, Rams, and Chevys are capable of well over 1,000 horsepower, but most are scattered across the country. But what if trucks from Utah, Arizona, Idaho, Colorado, and even Canada were all in the same spot, on the same day to run on the same dyno? What if there was money on the line?
Well, there's no hoping or wishing: this event is a reality thanks to the folks at ATS Diesel in Arvada, Colorado. There was an outside dyno with a number of single turbo and twin turbo classes, a vendor's row, and some killer diesel show trucks from Diesel Sellerz, Welderup, and Premier Performance. The real news however was the big shootout for bragging rights on ATS' inside dyno.
Now in its second year, ATS' Gauntlet Challenge is a high stakes, winner-take-all dyno challenge, with a steep $500 buy-in to weed out the Internet braggarts from the actual competitors. Even so, 9 trucks stepped up with the cash for the Challenge, making it a $4,500 pot to the winner.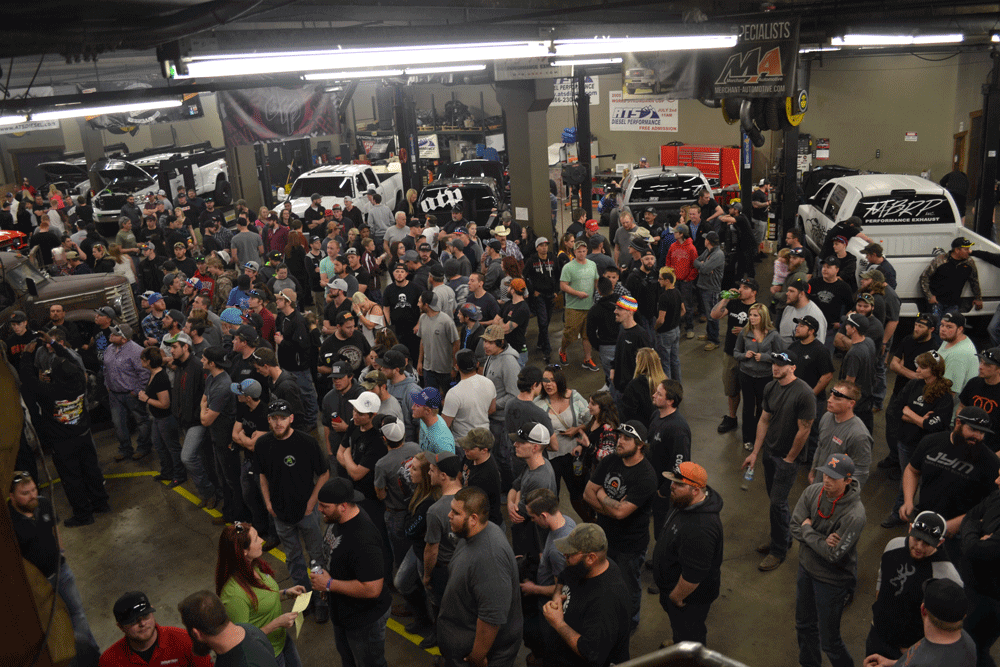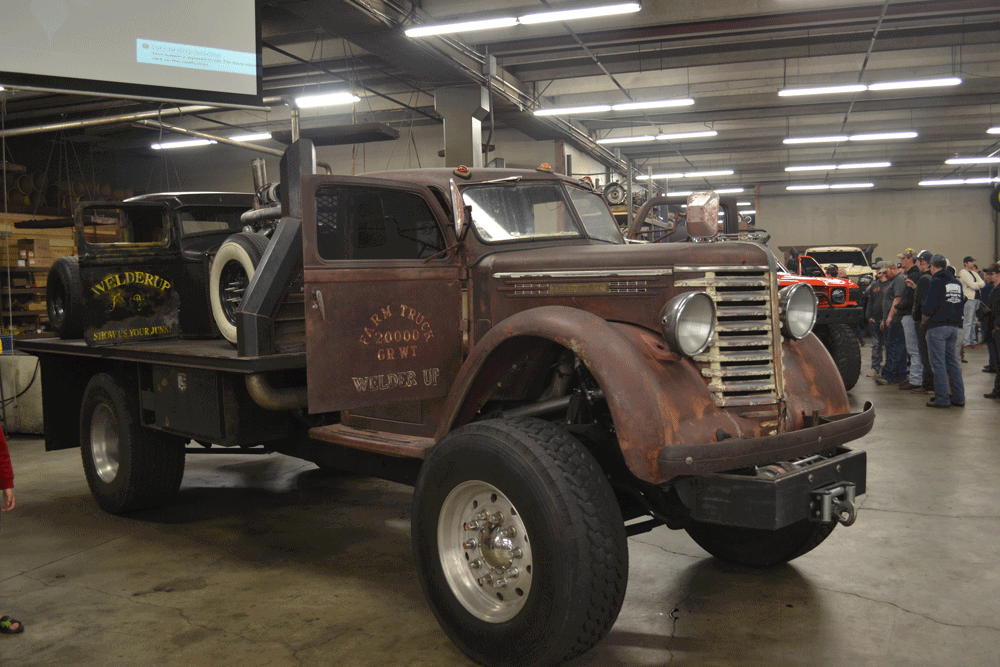 With both pride and money on the line, there were no shortcuts to power in the field, as virtually every truck in the competition had twin or triple-turbo powerplants, along with healthy doses of nitrous oxide. With last year's winner James Brendle in attendance with his Duramax-powered Chevy, and dyno legend Shawn Baca making the trip in his newly-built "Shredder 2" Dodge Ram, it was sure to be one heck of a show, and Diesel World was there to give you the scoop on what it takes to make 1,000, 1,500, or even 2,000 hp! DW
FIRST PLACE: Shawn Baca
At first, we thought it was our imagination that the dyno room was filling up, but that wasn't the case…it was Shawn Baca's turn on the dyno with his 2,000-horsepower powerplant, that had recently been replanted in a new chassis. With two to three times as many spectators as most other trucks (and all of them armed with cell phones) the Internet sensation didn't disappoint as the beast screamed to 5,000 rpm on the dyno. With triple CP3s and triple 106mm turbos, one of Shawn's competitors James Brendle summed it up: this guy's on a different level than us. With a horsepower reading on 1,944 hp and torque rotating in at 3,140 lb-ft., there wasn't really much left to say about Shawn Baca, other than that day at ATS, he truly was king of the dyno.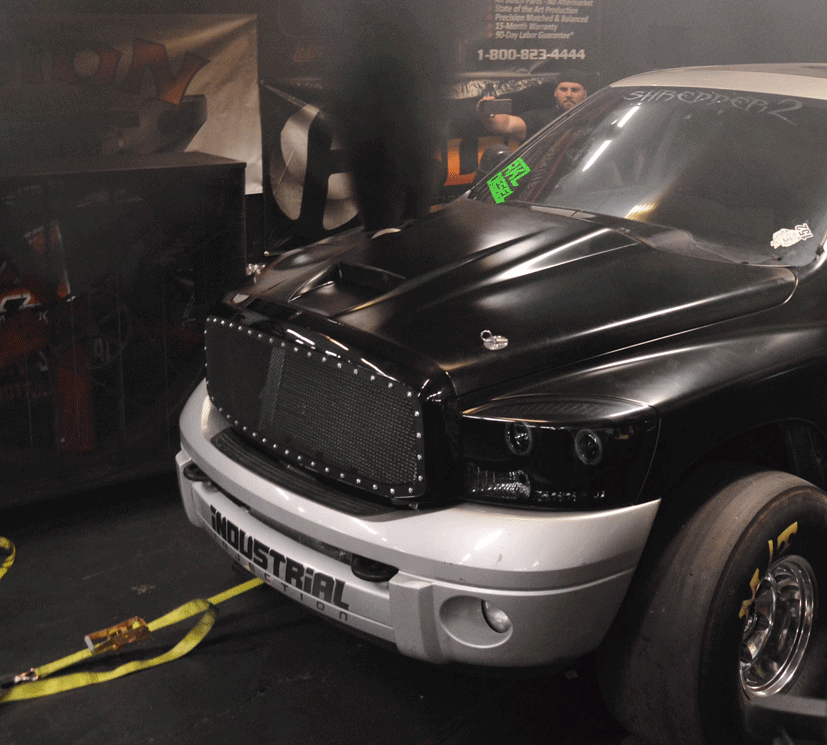 Who: Shawn Baca
What: '06 Dodge Ram 2500
Engine: 5.9L Cummins, Industrial Injection Race longblock, Industrial Injection Triple CP3 pumps, King Cobra injectors, Starlite Diesel Tuning, Triple 106mm Garrett GTX5541 turbochargers, custom air-to-water intercooler
Horsepower: 1,994.3 hp
Torque: 3,140.0 lb-ft
Total: 5,134.3
SECOND PLACE: Tyler Mize
The first Cummins-powered Dodge to hit the rollers, we were interested to see what was done to the 5.9L Cummins to strengthen it for the Challenge. "Uhhh, it's stock?" was the interesting reply from Tyler. Bought just a few weeks before the event, Tyler came to ATS waving the Canadian flag, and with a stock block, crankshaft, rods, pistons, and head. He did have time to stick a stage 4 Diesel Pros camshaft into the engine, along with ARP head studs. The fuel and induction systems looked a lot like the Duramax engines before him, with a 67mm turbo over an 88mm unit, along with twin CP3 pumps and a bunch of nitrous. When we heard the nitrous hit early, we figured it was show up or blow up time for Tyler, and amazingly the stock engine held together for a 1,323 hp dyno pull, along with a ridiculous 2,618 lb-ft of torque.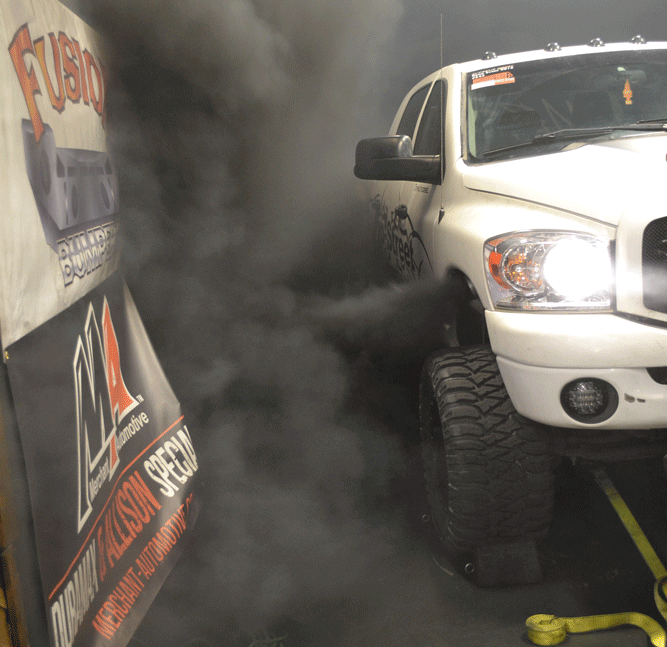 Who: Tyler Mize
What: '07 Dodge Ram 3500
Engine: 6.7L Cummins, ARP head studs, Stage 4 Colt camshaft, FASS fuel system, dual CP3 pumps, 67.7mm and 88mm compound turbochargers, custom 400-hp nitrous system
Horsepower: 1,323.6 hp
Torque: 2,618.1 lb-ft
Total: 3,941.7
THIRD PLACE: Shawn Aksamit
Shawn Aksamit is definitely someone who isn't afraid to travel, as evidenced by him driving the truck all the way from Arizona for the competition—with a trailer. The big dually Dodge looked to be a threat on the dyno, with a huge set of Dynomite Diesel Performance Super Mental injectors, and big and bigger ATS Aurora 5000 and 8000 turbochargers. The '09 had laid down more than 1,400 a few days before, and that was without the nitrous. Unfortunately, in the shootout, Shawn was a couple hundred horsepower down for an undiagnosed reason, but nitrous helped him gain some of it back, with an impressive 1,476 horsepower and 2,104 lb-ft of torque. What's even more impressive is that he drove off the dyno in one piece, and then back to Arizona!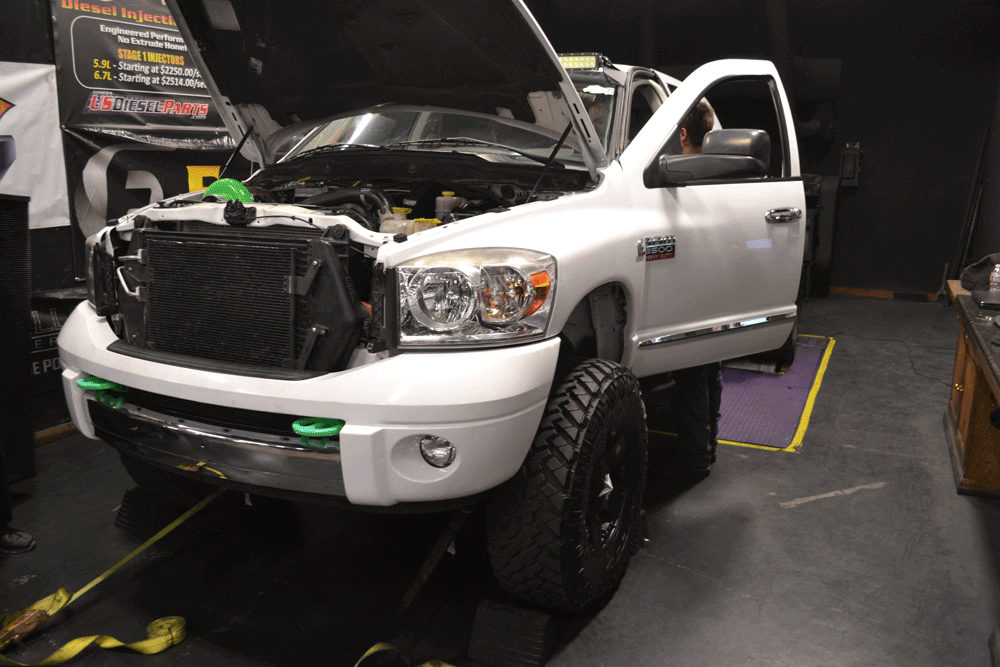 Who: Shawn Aksamit
What: '09 Dodge Ram 3500
Engine: 6.7L Cummins, Industrial Injection Gorilla Girdle, Carrillo rods, Colt cam, ARP 625 studs with fire-rings, Twin FASS 220gph pumps, 12mm Exergy Engineering stroker pumps, Dynomite Diesel Performance Super Mental injectors, ATS Aurora 5000/8000 compound setup, ATS custom tuning
Horsepower: 1,476.0
Torque: 2,104.6
Total: 3,580.6
FOURTH PLACE: Chris Rosscup 
Since last year, Chris had rebuilt his engine, added a third CP3 pump, and upgraded his turbochargers to a large-by-huge 83mm and 105mm compound setup. On his first couple dyno runs, Chris made well over 1,100 horsepower, indicating he wasn't anyone to trifle with. For his final pass, Chris armed the twin nozzle nitrous system, and sprayed to a whopping 1,314 horsepower, along with 2,230 lb-ft of torque. Chris was the first truck on the dyno, and with a total score of 3,544, Chris set the bar high for the remaining competitors.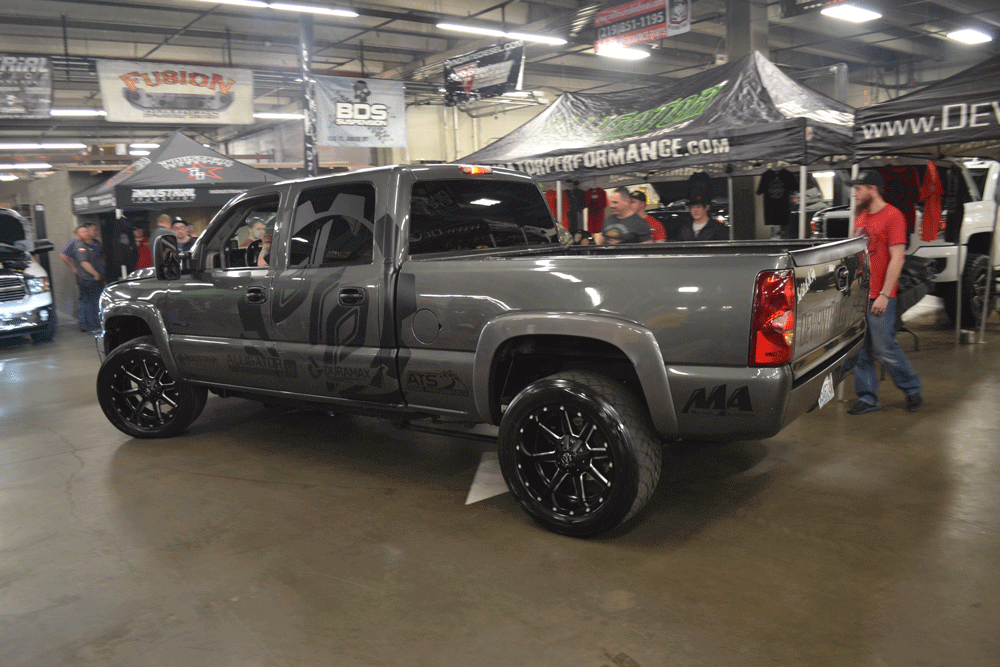 Who: Chris Rosscup
What: '02 Chevy Silverado 2500HD
Engine: 6.6L Duramax, Custom Auto dowels and main caps, Empire Diesel camshaft, ARP head studs, Twin FASS 260gph pumps, triple 85-percent over Industrial Injection CP3 pumps and Cobra injectors, 83mm/105mm custom turbo setup with Mishimoto intercooler.
Horsepower: 1,314.3
Torque: 2,230.3
Total: 3,544.6
FIFTH PLACE: Kelsie Epp
Kelsie Epp made the trip all the way from Canada down to ATS with her awesome triple turbo Duramax-powered GMC. She had just dynoed the rig at a little north of 1,000 horsepower before she left, so she knew she was bringing a knife to a gunfight, but at least it was a pretty sharp knife. Kelsie had also added nitrous into the mix, but problems with activation on the dyno still left her with enough Wheaties for an 1,180 horsepower pull, along with 2,114 lb-ft of torque.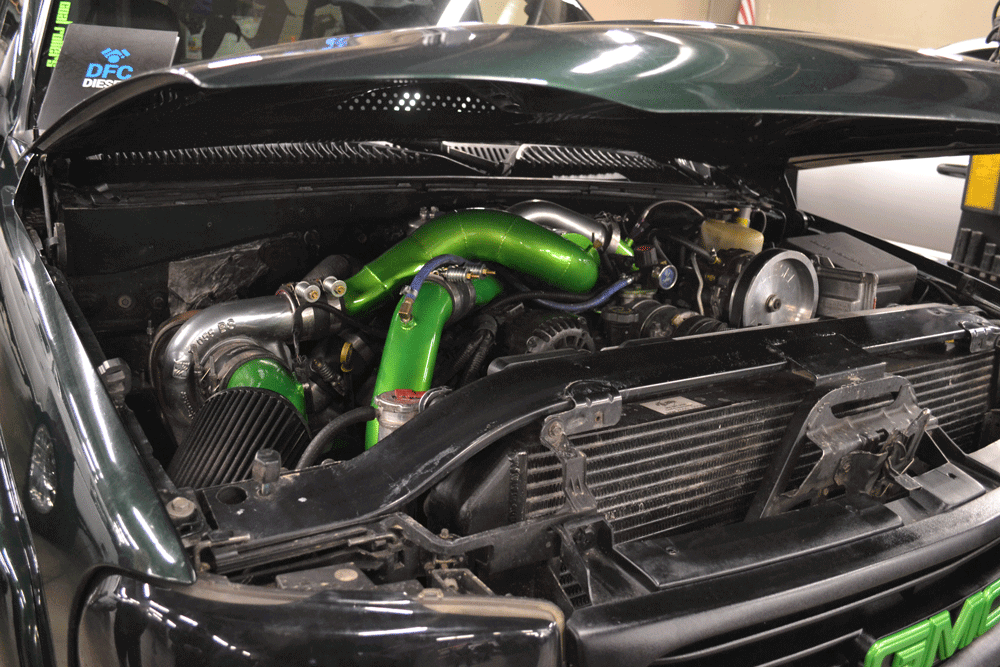 Who: Kelsie Epp, Dawson Creek, BC, Canada
What: '02 GMC Sierra 2500
Engine: 6.6L Duramax, FASS 260, Dual CP3 pumps, 200-percent over Dynomite Diesel Performance injectors, 72mm Batmowheel turbo over twin 66mm turbos, EFILive tuning, custom nitrous system
Horsepower: 1,180.9
Torque: 2,114.2
Total: 3,295.1
SIXTH PLACE: Jim Swift
With one of the most legitimate daily drivers of the group, Jim Swift admitted he entered the challenge mainly just for the fun of it. What made his truck different from the rest of the group was that it still retained its variable geometry turbocharger, a 72mm unit from Danville Performance. With a warm up "tow tune" dyno pull of 740 horsepower, the big tune put down 1,099 horsepower and an impressive 2,071 lb-ft, proving that the VGT was doing its thing. Jim credits White Knuckles garage for the impressive build.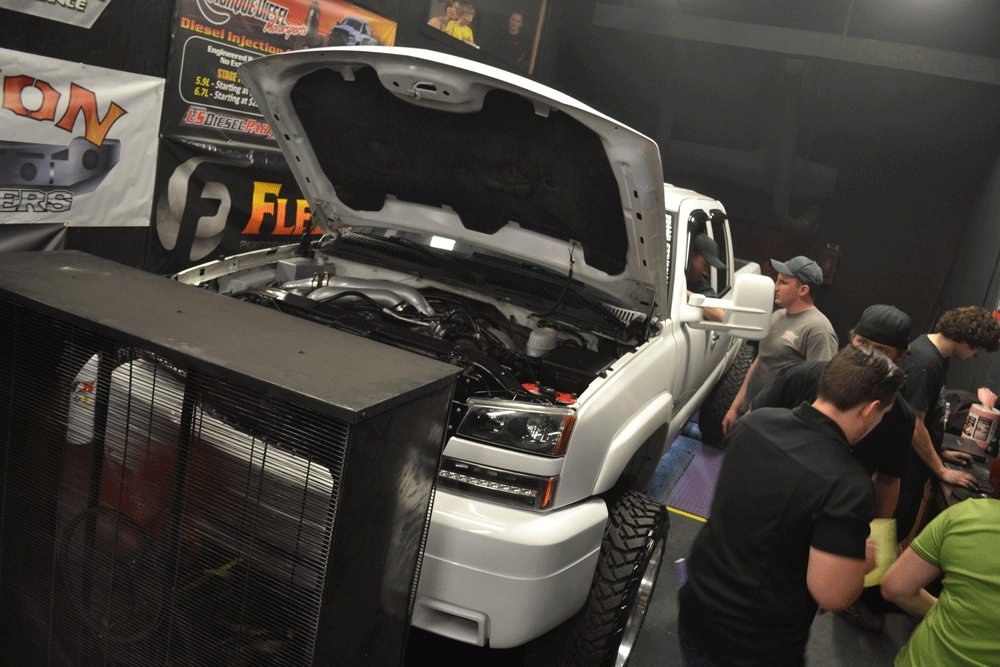 Who: Jim Swift
What: '05 Silverado 2500HD
Engine: 6.6L Duramax, SoCal Diesel longblock with Carrillo rods, Mahle pistons, and Stage 2 heads, Dual FASS lift pumps, PPE Dual Fuelers with 100-percent over Industrial Injection injectors, 72mm/83mm compound turbo kit by HSP Diesel
Horsepower: 1,099.7 hp
Torque: 2,071.5 lb-ft
Total: 3,171.2
SEVENTH PLACE: Cory Chomos
Cory's Duramax with its monster 118mm atmospheric turbos was one of those "should have, could have" hard luck cases. Cory never got a clean run on the dyno, with the truck either downshifting or struggling to spool. Although it still cranked out an impressive 1,180 hp, virtually the same as Kelsie Epp's triple turbo truck. The LML's torque was far lower however, registering 1,859 lb-ft, bumping him down to Seventh Place. Look for Cory to get his truck sorted out soon, and put down some 1,500-plus horsepower dyno numbers.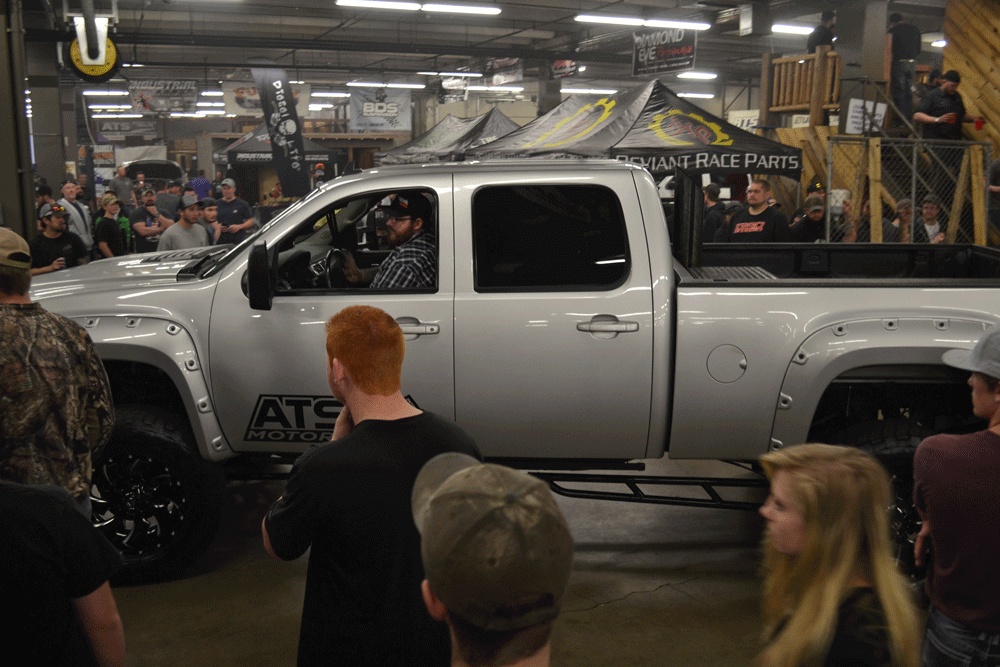 Who: Cory Chomos
What: '11 GMC Sierra 2500HD
Engine: 6.6L Duramax, girdled block with ARP hardware, LBZ crankshaft, Carrillo connecting rods, Arias pistons, Wagler Racing camshaft, fire-ringed heads, Wagler Racing cylinder heads, twin 12mm Exergy Engineering stroker CP3's, 400-percent over S&S Motorsport injectors, Aurora 5000 over Precision Turbo 118mm, Custom Auto intercooler
Horsepower: 1,180.6 hp
Torque: 1,859.3 lb-ft
Total: 3,039.9
EIGHTH PLACE: Dan Madden
We've seen Dan hover in the 700-hp range the last few years, so we expected that he had stepped it up for the challenge—and he did! With an Industrial Injection race engine, twin CP3 pumps, and insanely drivable 62mm and 83mm turbochargers, Dan's Duramax Chevy was no slouch, nearly cracking the 1,000 horsepower mark with a pull of 947 horsepower and 1,723 lb-ft of torque. With a combined score of 2,670, Dan's numbers were especially impressive considering his turbo setup and lack of nitrous oxide.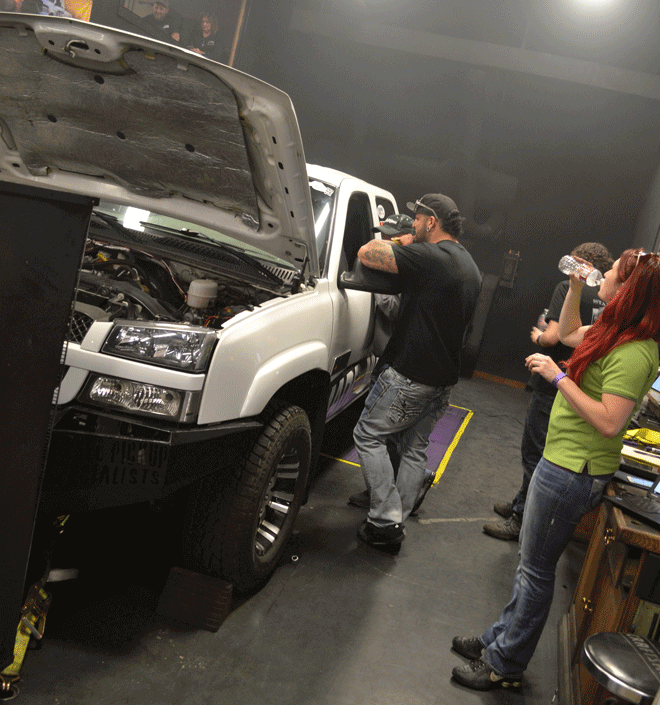 Who: Dan Madden
What: '03 Chevy 2500HD
Engine: 6.6L Duramax, Industrial Injection race engine with Carrillo rods and ported and fire-ringed heads, FASS 225gph lift pump, twin CP3 pumps, 50-percent over injectors, 62mm/80mm compound turbochargers
Horsepower: 947.2 hp
Torque: 1,723.4 lb-ft
Total: 2,670.6
NINTH PLACE: James Brendle
Last year's winner James Brendle knew he really needed to step things up this year to stay with the crowd, and improve he did. More nitrous and a triple CP3 configuration meant that he'd be stretching the diesel fuel to air ratio as far as he could to make his engine more efficient, and he'd also be bringing in the nitrous pretty early to up the torque number. The anticipation was high, as smoke and the sounds of a screaming Duramax filled the dyno room….for a brief moment. One monster "BANG!" later, a shower of metal hit the ground, and James was out of the competition. Power was 1,400 rwhp and climbing when the Duramax let go, giving James the well-deserved carnage award for 2016.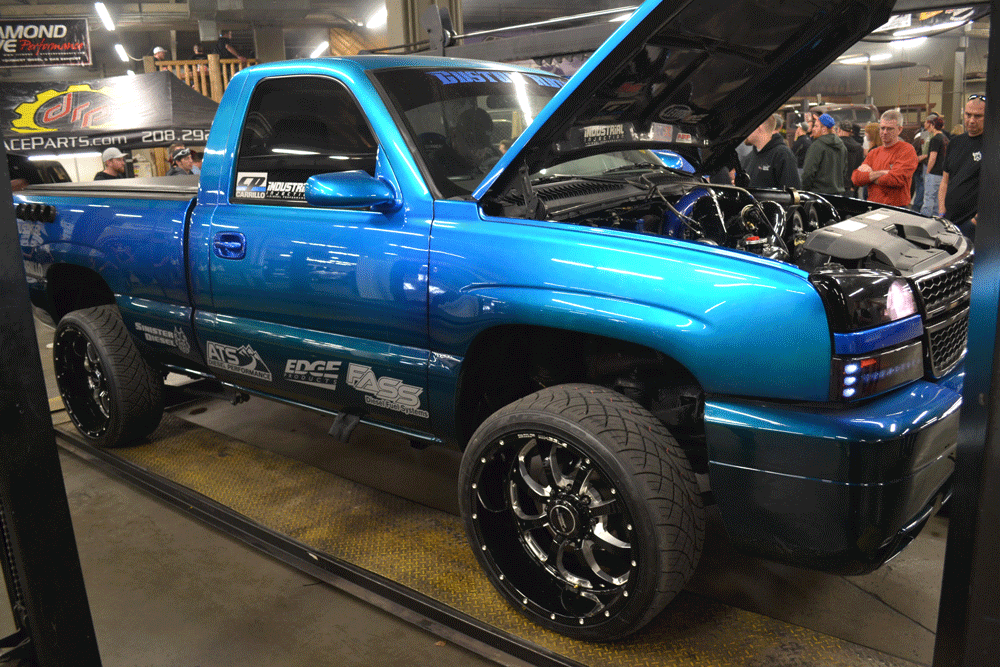 Who: James Brendle
What: '06 Chevy 2500HD
Engine: 6.6L Duramax, Carrillo rods, pistons, ARP 625 studs, Industrial Injection Triple CP3 pumps and Cobra injectors, Garrett GT45/55 compound setup, custom nitrous injection system
Horsepower: 1,432.4 hp
Torque: 2,266.8 lb-ft
Total: DQ (couldn't drive off dyno)
NORTHWEST DYNO CIRCUIT RESULTS


Stock Ford: Carl Edelman, 694 hp

Stock Dodge:
Manuel Perez 570 hp
Stock Duramax:
Matt Davis 487 hp
Small Single:
Trent Hibberd 731 hp
Large Single:
Salvador Pena 712 hp
Small Twin:
Rick Engh 815 hp
Large Twin:
Aaron Nones 986 hp
Unlimited:
Kelsie Epp 1,368 hp

Sources:
ATS Diesel
ATSDiesel.com

Northwest Dyno Circuit
NorthwestDynoCircuit.com