A '95 F-250 Packing a Solid Axle, Built 7.3L, and 600-Plus HP
It was a truck Steven Giordano had seen listed on his local Craigslist for weeks. It had a 7.3L Power Stroke, low miles, the body was in great shape, and the price was right…but it was purple. "A purple truck? No way!" he reasoned. Then finally, he caved. "I told myself: I'm just gonna go look at it and that's it—but it was love at first sight." He brought the 150,000-mile, two-tone '95 F-250 Super Cab home and promptly installed a chip. Over the next six years, Steven performed a Dana 60 swap after grenading the Dana 50 TTB, ditched the ZF-5 in favor of a built E4OD, and progressively ramped up power to 400 hp, then 500 hp, and finally 600 hp.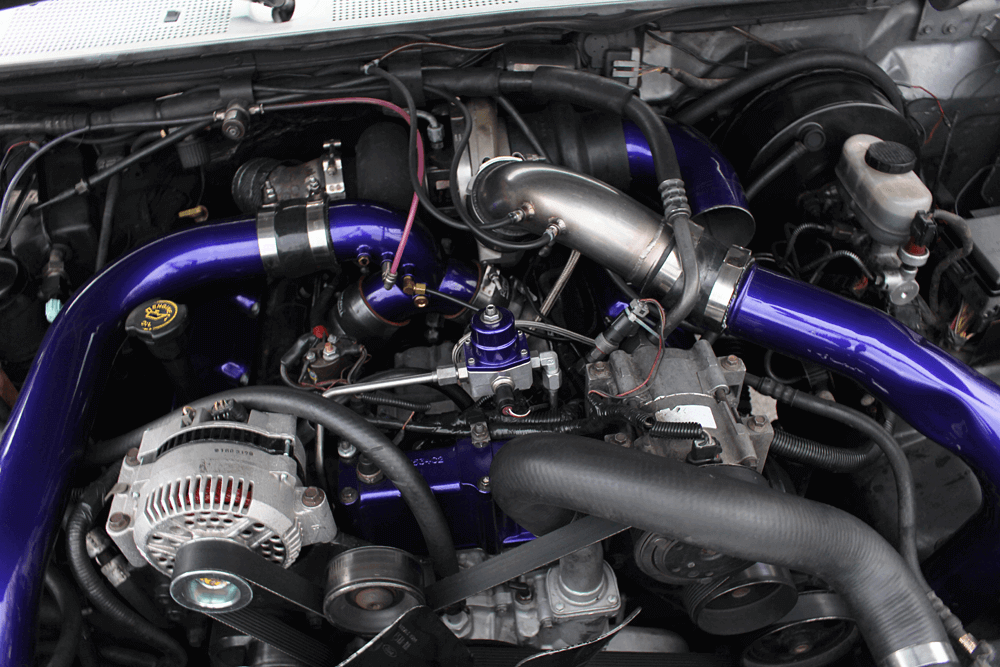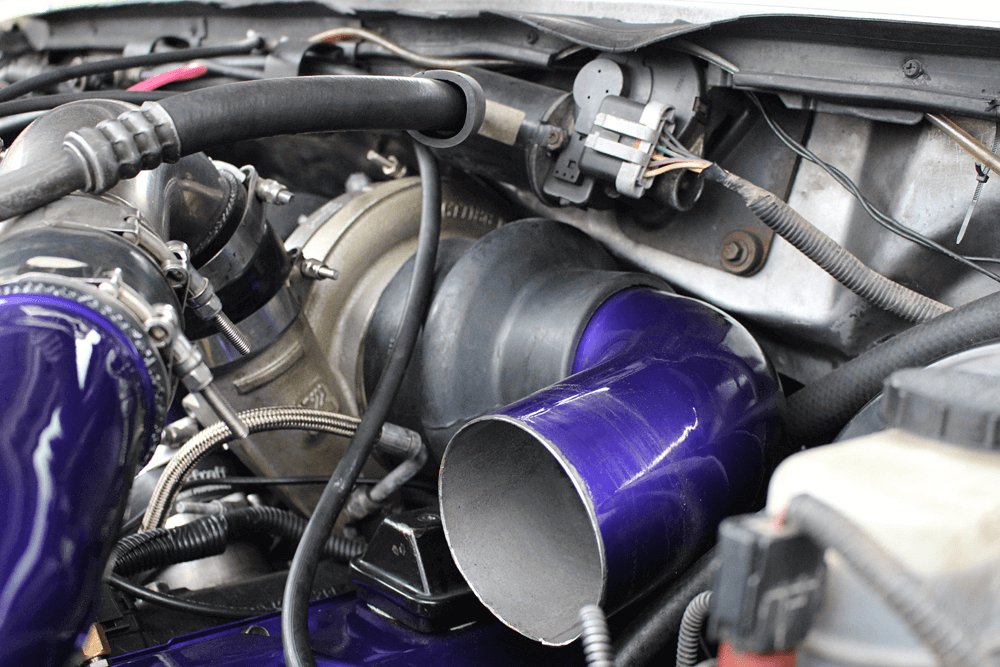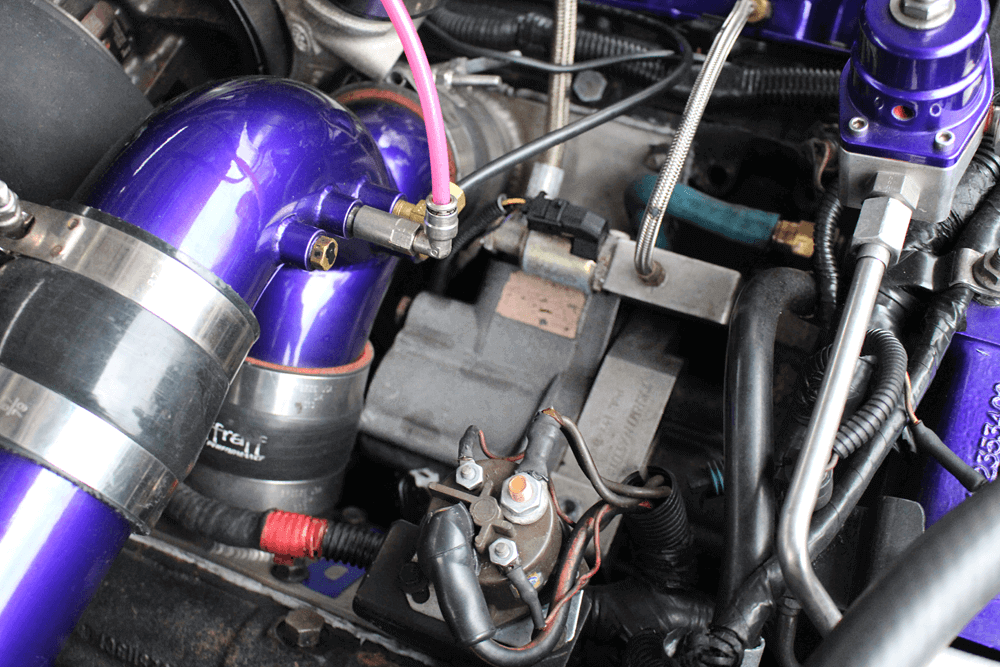 Girdle, Rods and Studs
Somewhere in the 600hp range, Steven noticed a drop in compression by way of a bent factory forged-steel connecting rod. While some folks would be discouraged by this type of failure, Steven was eager to tear into the 20-year-old engine and fix the 7.3L's weak links. Reusing the factory block, the water jackets were half-filled with Hard Blok and the cylinders were bored to accept 0.020-inch over factory-replacement Mahle pistons. To limit main cap walk, a girdle was added, while H-beam Carrillo rods replaced the stockers. Aside from the addition of beehive valve springs and being clamped to the block via ARP studs, the factory heads were left alone.
Dual HPOP's and Big Hybrids
Opting for what are arguably the largest HEUI injectors you can run without compromising the 7.3L's streetability, Steven went with a set of 350/200 hybrids from Full Force Diesel. The hybrids see plenty of high-pressure oil volume thanks to a dual HPOP system from Terminatior Engineering, which employs two factory 15-degree pumps. A homemade fuel system—complete with a Beans Diesel Performance sump, Fuelab Prodigy pump, dual feed to the heads, and an Irate Diesel Performance regulated return—takes care of fuel supply.
T4 Turbo Mount and S472 SX-E
The job of cleaning up the healthy hybrids is left in the hands of a BorgWarner S472 SX-E. Despite its 72mm compressor wheel (which is capable of flowing more than 1,500 cfm), 87mm turbine, and 1.10 A/R exhaust housing, Steven tells us his 7.3L spools the big charger extremely well. A complete T4 turbo mounting system from Irate Diesel Performance makes the S472 appear right at home in the lifter valley. At full song, it sends 55 psi through an intercooler sourced from a 6.0L Power Stroke.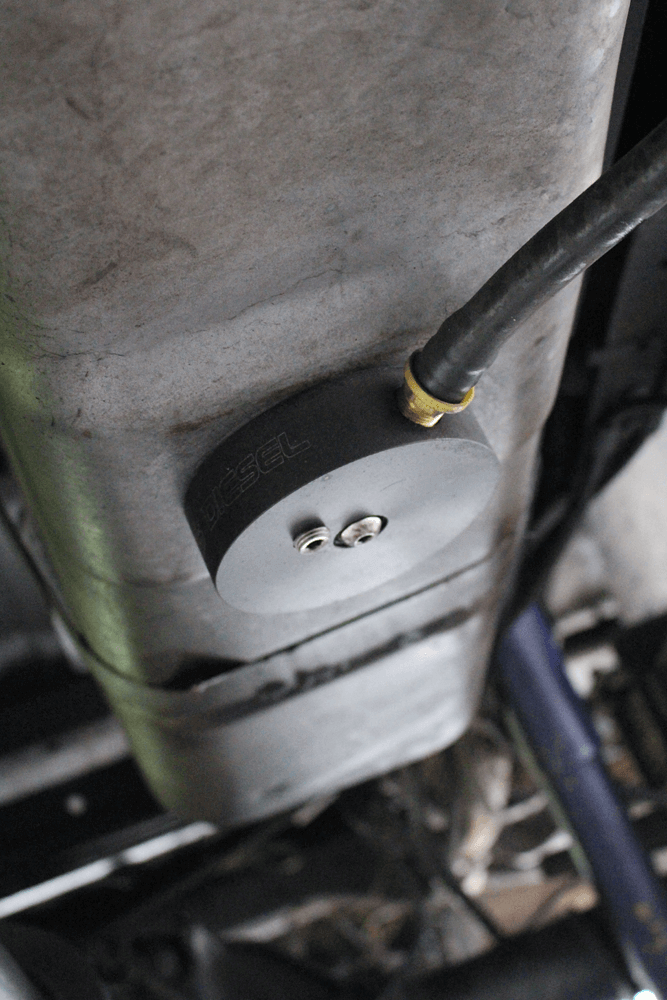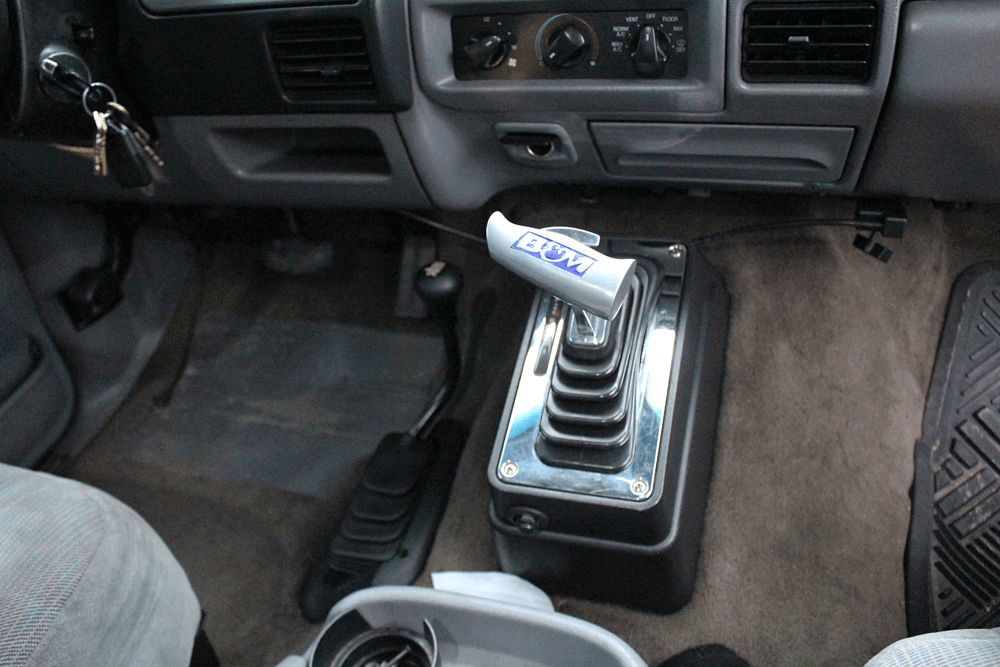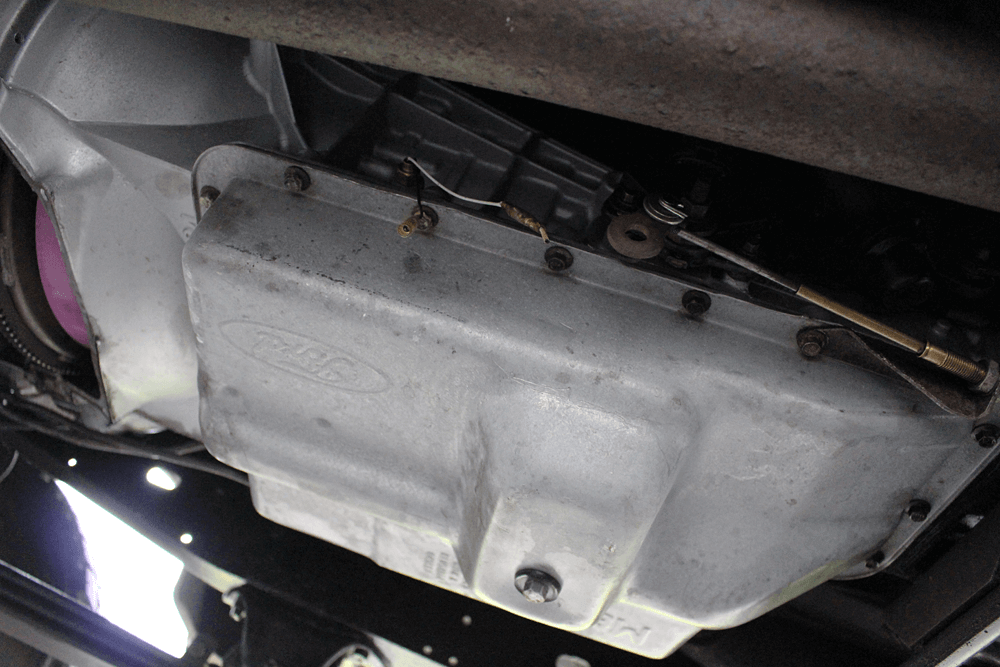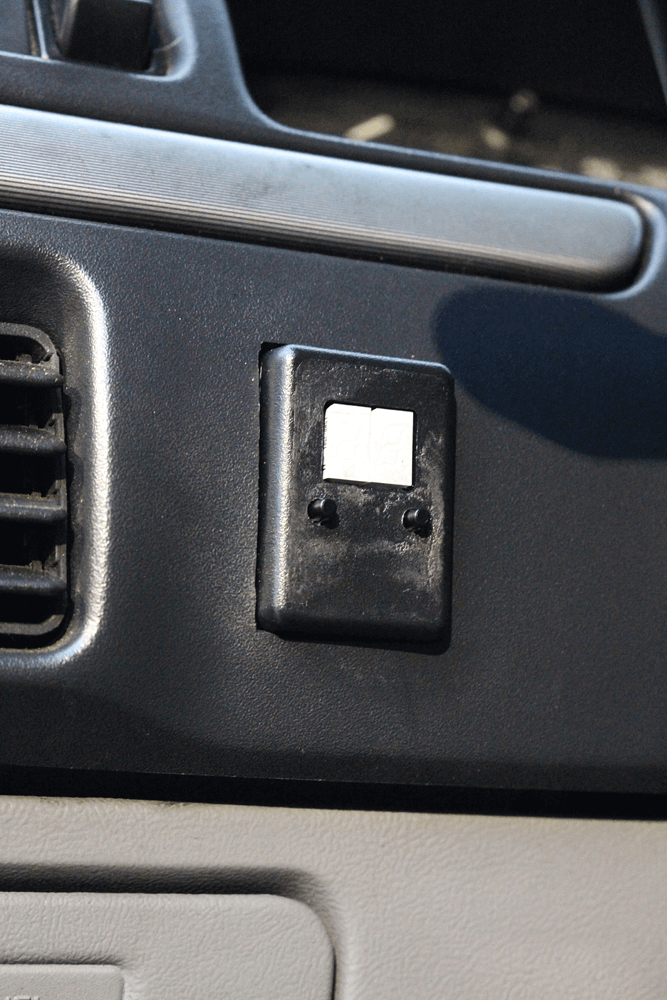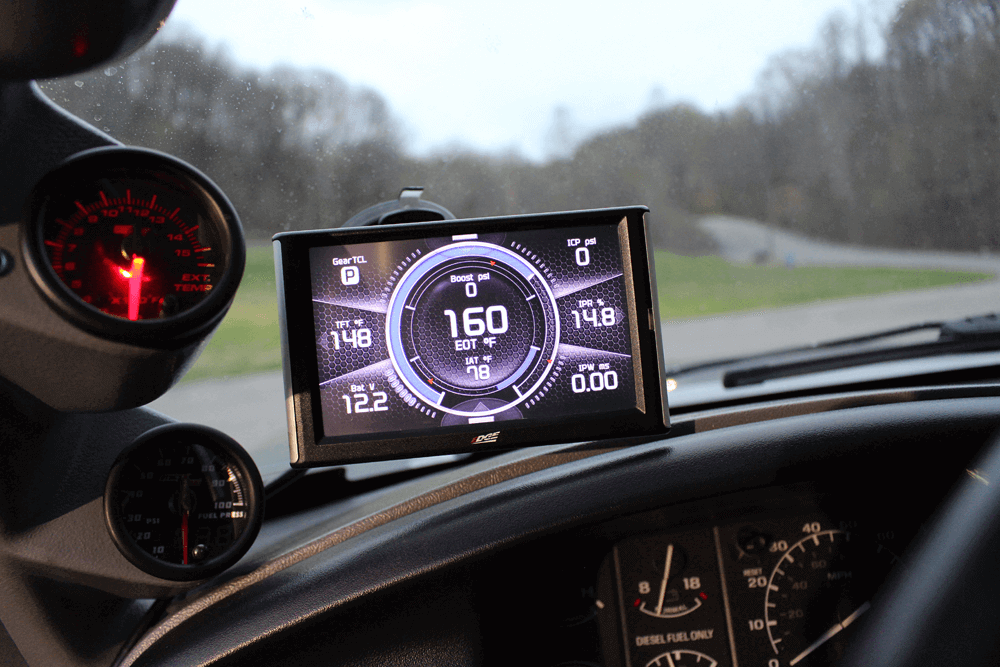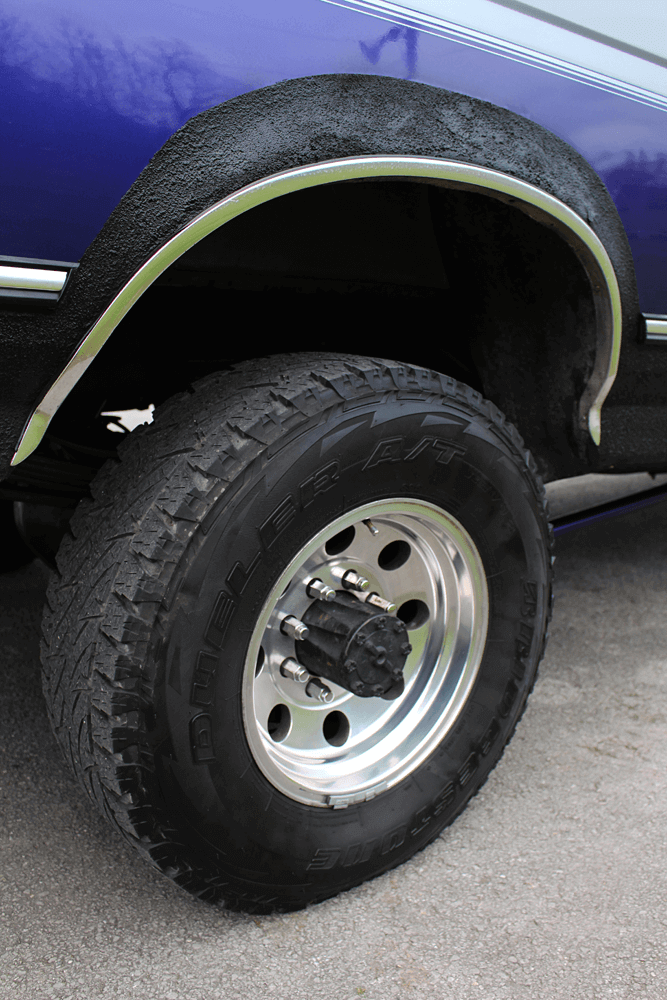 Built Trans and Custom Tuning
When the time came to scrap the ZF-5 in favor of an automatic, no punches were pulled. Steven picked up the phone and contacted Brian's Truck Shop for one of its renowned E4OD transmissions. The fortified four-speed entails all the BTS fixings, including a 300M input shaft and the venerable triple disc Stallion torque converter from Precision Industries. Custom PCM tuning from SDK Performance dials everything in, and tunes are available on the fly thanks to a Power Hungry Performance Hydra Chip.
The 10-Second Swap
With more than 600 hp on tap and 700 hp on the table with the use of a single stage ZEX nitrous system, Steven's F-250 was running hard. However, some birds aren't meant to be caged. Last fall, with a goal of running mid 10's and keeping the truck 100-percent streetable, Steven bid farewell to the 7.3L and dropped a common-rail Cummins into place. It was a tough decision, but one that he felt had to be made in order to reach his objective in the most affordable manner possible. Now, with the truck still tipping the scales at a trim 6,800 pounds, it turns out 875-rwhp—and that's before the nitrous is activated. While Steven's purple OBS Ford is no longer Power Stroke powered, we guarantee it will continue to turn heads wherever it goes. After all, there's nothing quite like watching a 23-year-old truck dominate at the track, or out on the street.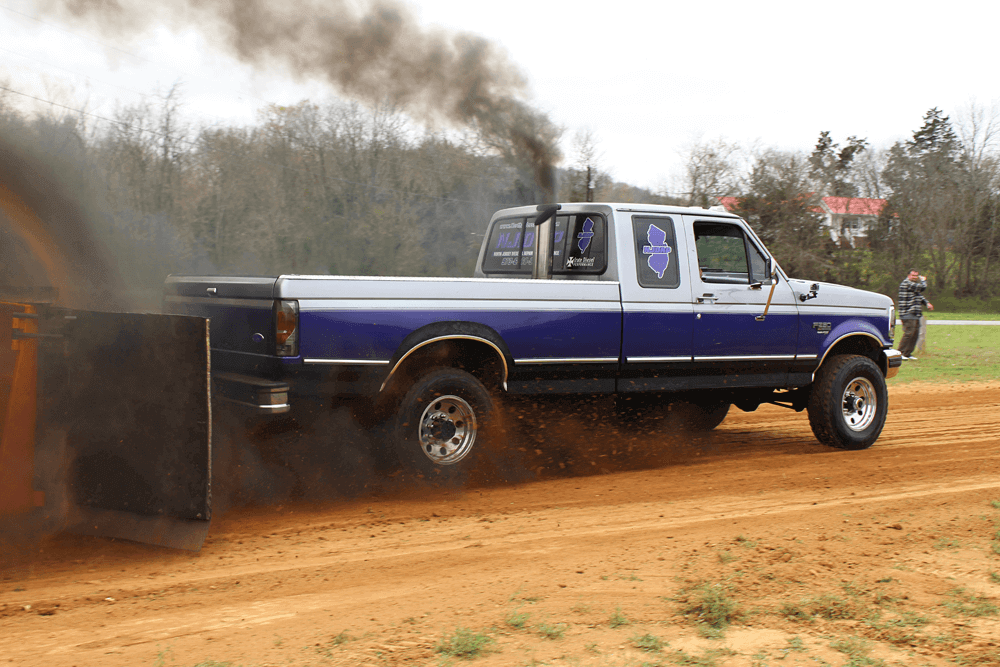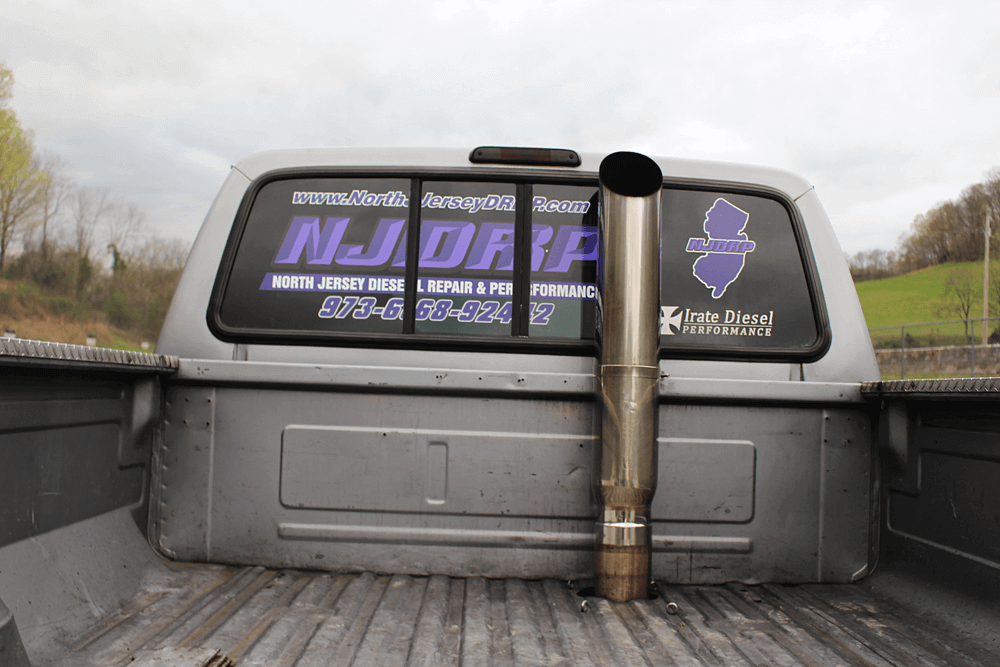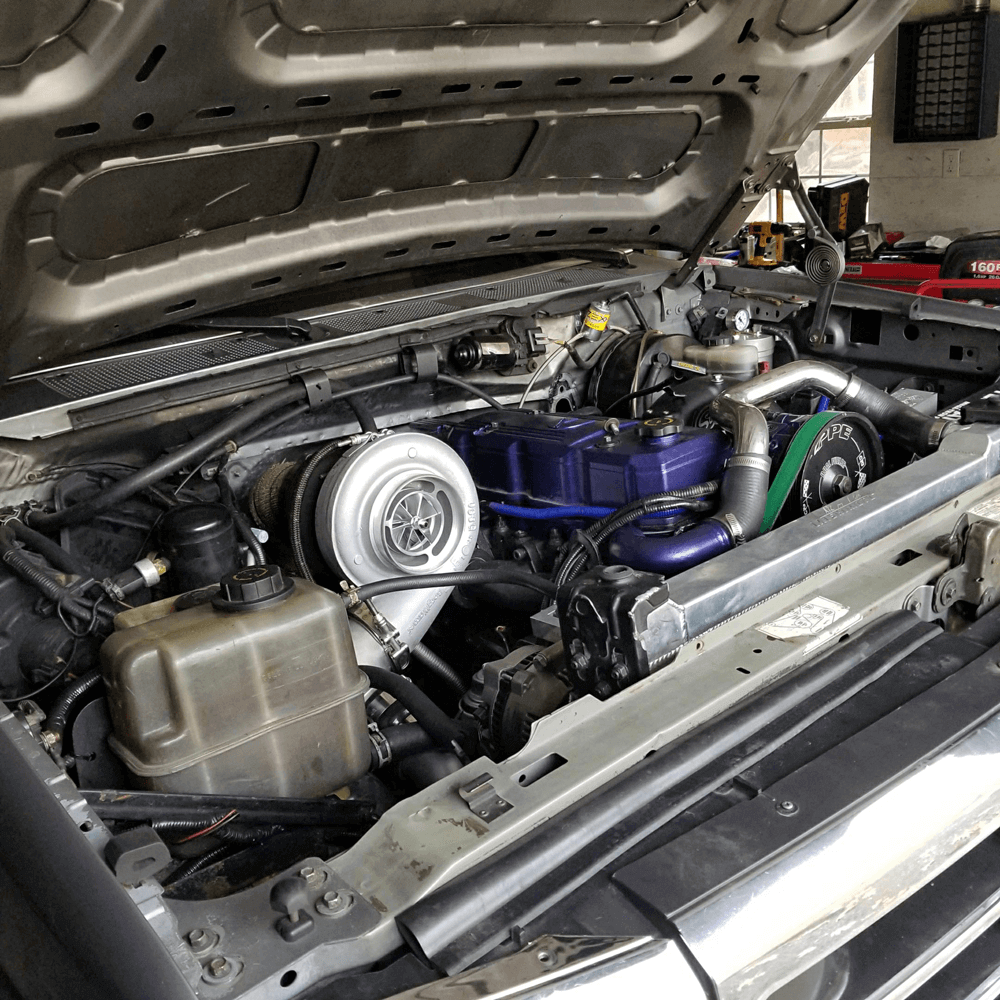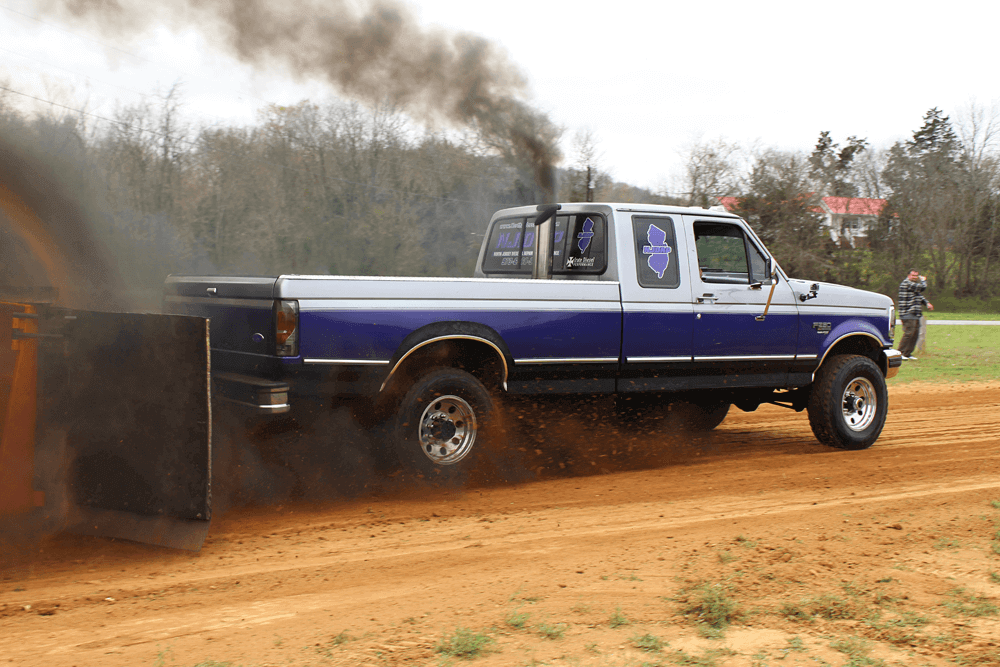 [divider]Specifications[/divider]
1995 Ford F-250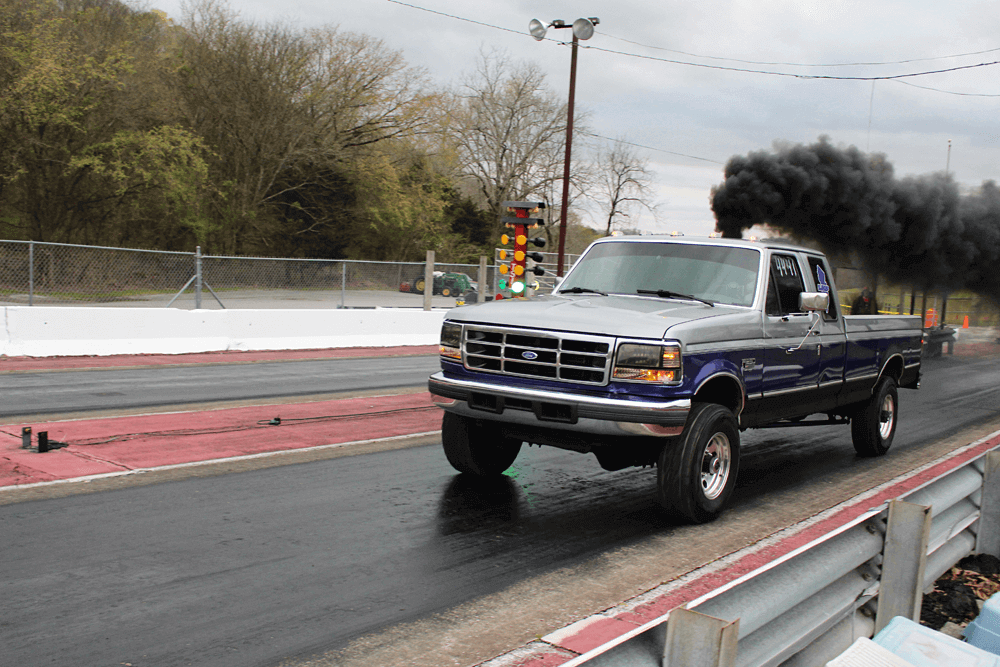 Owner: Steven Giordano
Hometown: East Stroudsburg, Pennsylvania
Odometer: 215,000 miles
Engine: 7.3L Power Stroke with half-filled block, crankcase girdle, ARP main studs, Carrillo forged H-beam rods, Mahle cast-aluminum 0.020 over pistons, Swamps Diesel Performance Stage 2 beehive valve springs, Smith Brothers 4130 chromoly pushrods, ARP head studs
Fuel: Full Force Diesel 350/200 hybrid injectors, homemade low-pressure system with Fuelab Prodigy pump, Irate Diesel Performance regulated return, Aeromotive adjustable regulator, Beans Diesel Performance sump
Oil: Terminator Engineering dual HPOP system with 15-degree high-pressure oil pumps
Air: BorgWarner S472 SX-E, Irate Diesel Performance T4 turbo mounting system, factory 6.0L Power Stroke intercooler
iNJECTABLES: Single stage ZEX system with 0.087 jet
Tuning: SDK Performance custom tuning via Power Hungry Performance Hydra Chip
Transmission: Brian's Truck Shop E4OD with 300M input shaft, Precision Industries triple disc Stallion converter, Elite Diesel Engineering 4340 billet-steel flex plate
Horsepower: 695 hp (dyno, nitrous), 620 hp (dyno, fuel)
Torque: 1,225 lb-ft (dyno, nitrous)
Tires: 265/75R16 Bridgestone Dueler A/T
Wheels: 16×8-inch Eagle Alloy
Axles/Suspension: Front Dana 60 swap, 3.55 gears, custom traction bars with 1.5-inch O.D. tubing and heim joints from Barnes 4wdto its stock-like appearance. At the track however, the smallish (31.5-inch) all terrains don't always provide the best traction when trying to launch the truck.