Although it was once thought to be light years away from matching what the Cummins and Duramax brought to the table, recent times have shown that the Power Stroke has begun to close the performance gap against its adversaries. At the drag strip and on the dyno, Blue Ovals are more competitive now than they've ever been. But who's the fastest of the fast? And exactly who owns the most powerful Ford trucks in the country? With the help of ElitePowerStrokes.com, a site that maintains an up-to-date list (at time of posting) of the heaviest hitters in the Power Stroke world, we decided to profile the top five Fords in quarter-mile, eighth-mile, and chassis dyno competition.
It might be surprising for some to learn that highly prevalent, common-rail technology doesn't dominate every category. Thanks to vast technological improvements taking place in HEUI (and mechanical) injection over the past five years, the 7.3L and especially the 6.0L Power Stroke are regularly being revisited and treated as viable performance platforms—and that's reflected in the extraordinary group of vehicles you'll find below. From P-pumped 7.3Ls to high-powered 6.0Ls that are still oil-fired, and common-rail 6.4L and 6.7Ls knocking on the door of 2,000 hp, this one-of-a-kind list is about as diverse as it gets.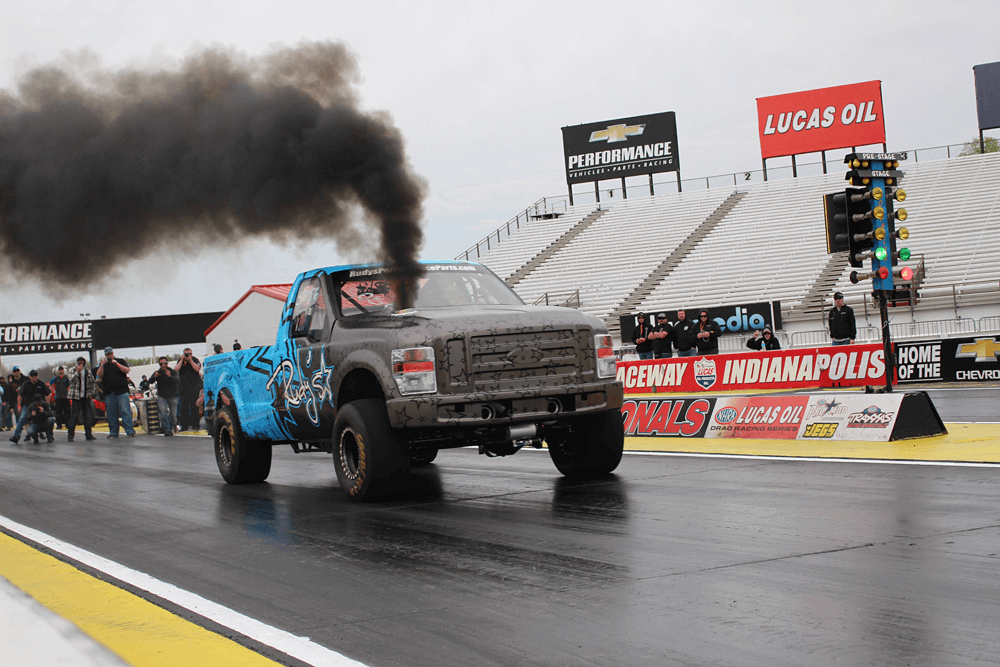 Quarter-Mile Kings

(*Fuel and/or Nitrous)
1. Matt Kubik:

7.60 at 192 MPH
Matt Kubik's fourth-generation Mustang came out swinging in 2017 and we expect it to dip deeper into the 7s over the course of the 2018 racing season. The big-tire pony car sports a P-pumped 7.3L V8 (more on that below), a tube chassis, a fiberglass body, and tips the scales at 3,300 pounds—light for a diesel drag racer but still hefty by Mustang standards. A three-speed and overdriven Bruno's Automotive-built Lenco transmission with a Neal Chance 12-inch lockup converter has proven effective, reliable, and provided additional weight savings.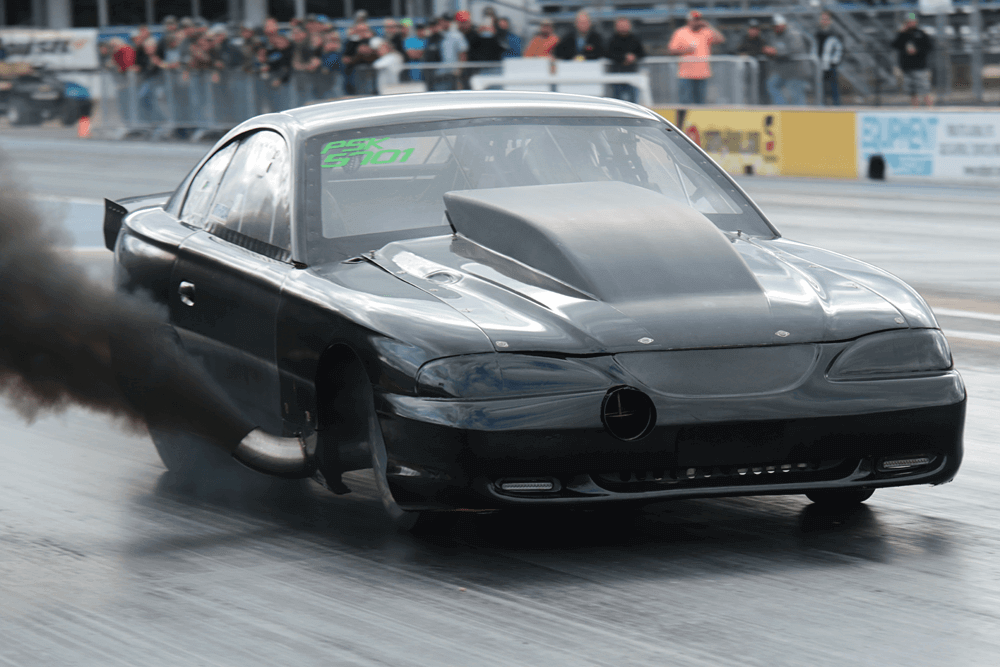 P-pumped 7.3L, 150 psi of Boost
Everyone loves a P-pumped mechanical 7.3L and Kubik has taken one further than anyone else as far as diesel drag racing is concerned. The compacted graphite iron (CGI) block, connecting rods, low-compression pistons, ported factory heads with billet rockers, competition pushrods and valve springs were all sourced from Hypermax Engineering—along with the front cover that provides for the use of an inline 8-cylinder Bosch P-pump. The injectors are modified 8.3L Cummins pieces equipped with 5x.025 nozzles, and a sizeable compound turbo arrangement consists of a Hypermax 4.1-inch atmospheric charger feeding an 88mm Garrett GTX5533R Gen 2 high-pressure unit. EGT is kept in check thanks to a direct-port water injection system.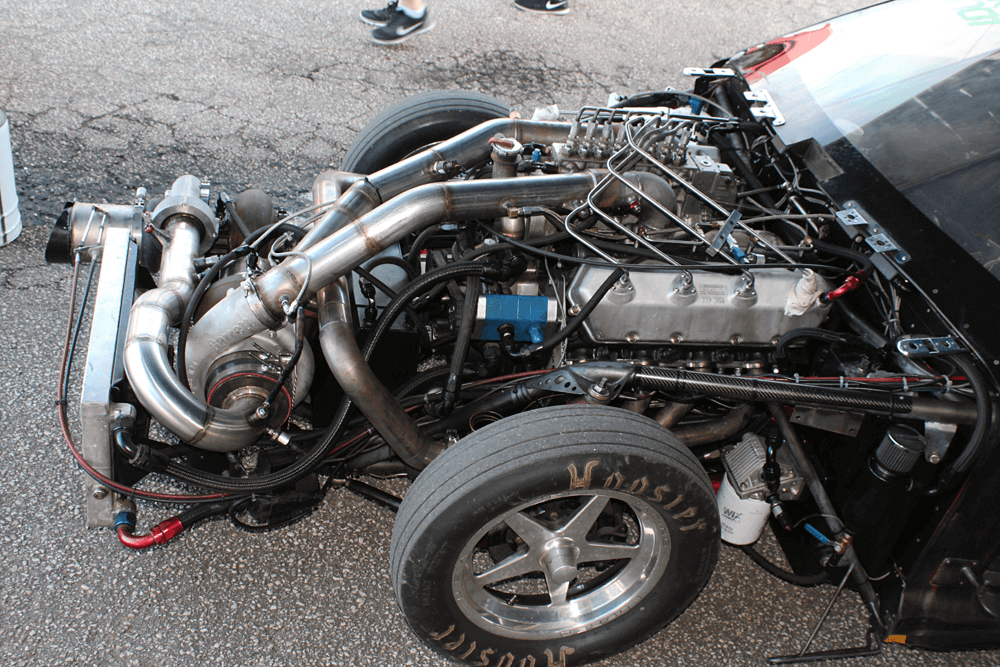 2. Dan Snyder:
8.43 at 170 MPH
When you weigh less than 2,500 pounds, the power-to-weight ratio is definitely on your side. On top of that, you can get away with running a lot less horsepower while still setting records. No one knows that better than veteran drag racer Dan Snyder. His one-of-a-kind 6.7L rail has seen mid-8s with very little effort. After a conservative launch (20 psi of boost), a modest 1.35-second 60-foot was obtained on his 8.43 pass. It's safe to assume that (at the very least) the rail has a low 8 in it as it currently sits. Roughly 850 rwhp was all that was needed to go 170 mph.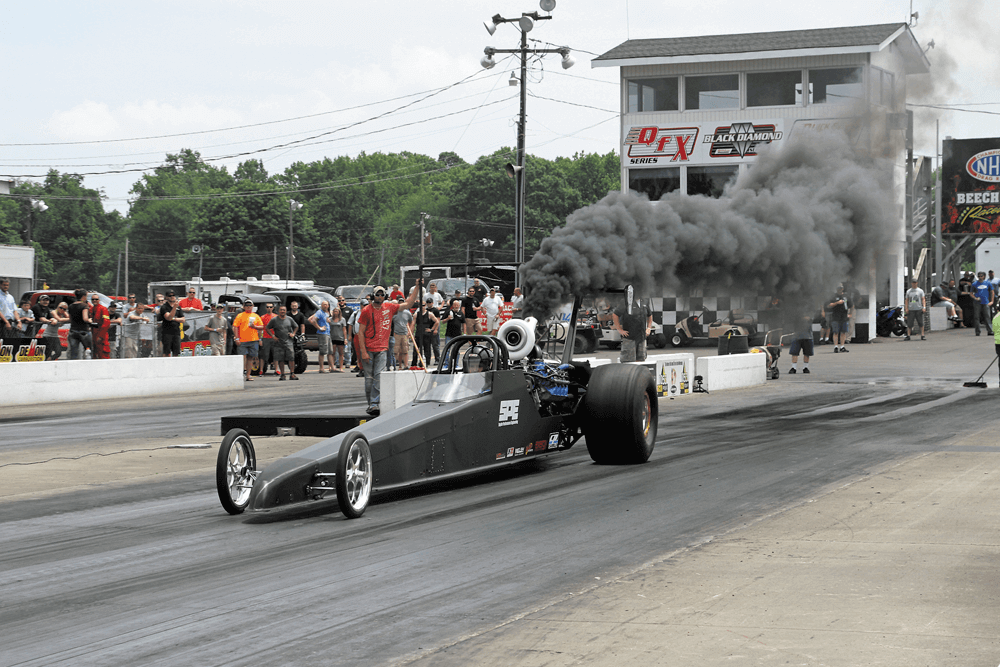 3. Matt Kubik:
9.36 at 153 MPH
We don't come across a lot of diesel-powered Rangers, let alone wheels-up, back-halved ones running 9s, but we're sure glad this one exists. Obtained in 2011 (with a blown 6.0L engine already in place), Matt Kubik went to work making the truck his own. The rear axle is a narrowed 10.5-inch Sterling out of a Super Duty and sports a pinion brake. Shifts are handled via a 4R100 from Brian's Truck Shop (BTS), and are commanded by a Powertrain Control Solutions transmission controller. In addition to going 9.36 at 153 mph, the Ranger has also been to 6.03 at 118 mph in the eighth, which still stands as the sixth-fastest eighth-mile pass made by a Power Stroke.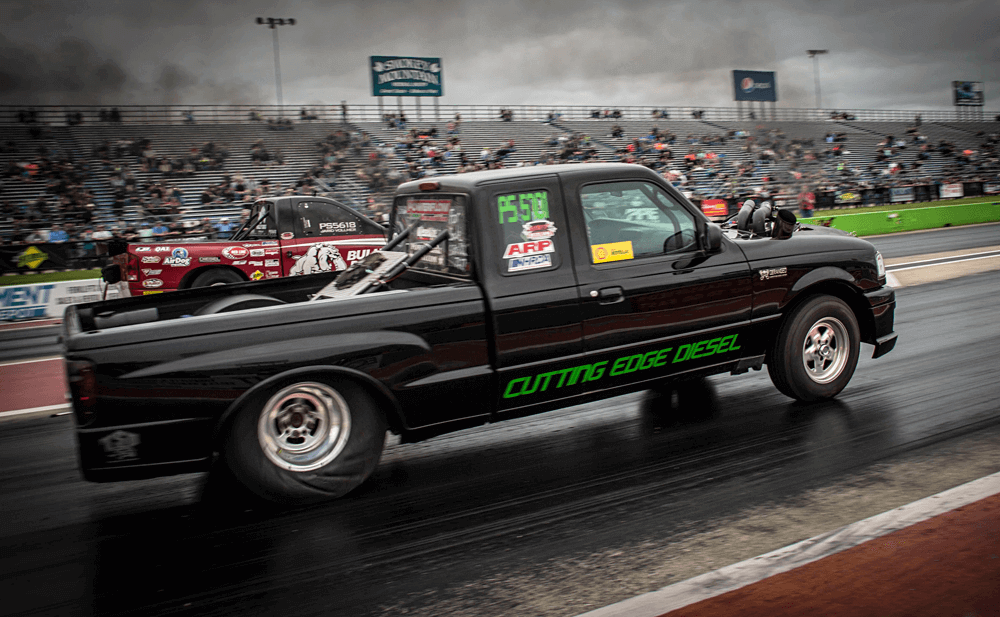 All the Fixin's
Hypermax rods, River City Diesel pushrods and valve springs, Thumper 2 high-pressure oil pump, ProMaxx Performance heads with ARP 625 Custom Age studs, and 500/400 hybrid injectors from Warren Diesel are some of the 6.0L's hard-part and injection system highlights. Boost comes by way of a BorgWarner S591/S471 SX-E combination, with two stages of nitrous on top of that. During a typical pass, Kubik logs 80 psi of boost pressure. SCT PCM tuning comes from Truck Source Diesel, as does the PCS calibration that allows the BTS 4R100 to perform flawlessly. At 4,650 pounds, the all-steel Ranger makes roughly 1,150 rwhp.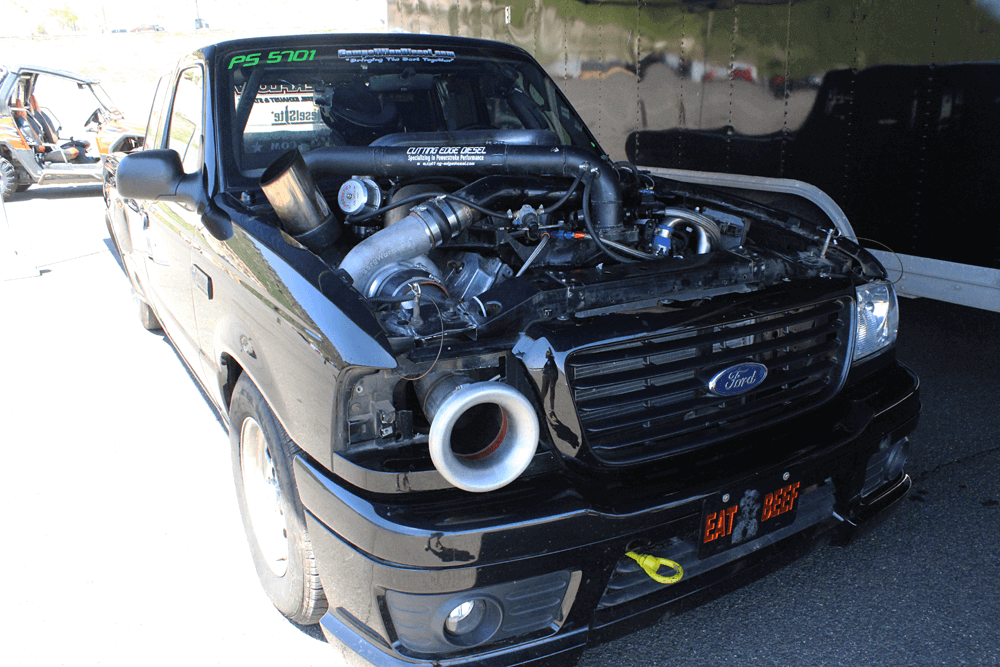 4. Jim Rose:
9.39 at 139 MPH
You might remember this unique little creation from the February 2018 issue ("Power Rail"), where we showcased Jim Rose's long-awaited, compound-turbo, 7.3L-powered altered. Well, we didn't know it at the time, but the 9.39-second pass listed in the feature landed him number 4 on the fastest Power Strokes list. For those who don't remember, we'll recap the article. Some 10 years in the making, Rose's 7.99-second, NHRA-certified, 138-inch wheelbase dragster practically ran 9s right out of the gate—even with conservative tuning. In pushing the car's 2,750 pounds through the quarter mile in 9.39 seconds, less than 550 rwhp was used. But with the potential for at least another 100 to 150 hp left in his setup, Rose's no-frills altered is easily capable of running 8s in the near future.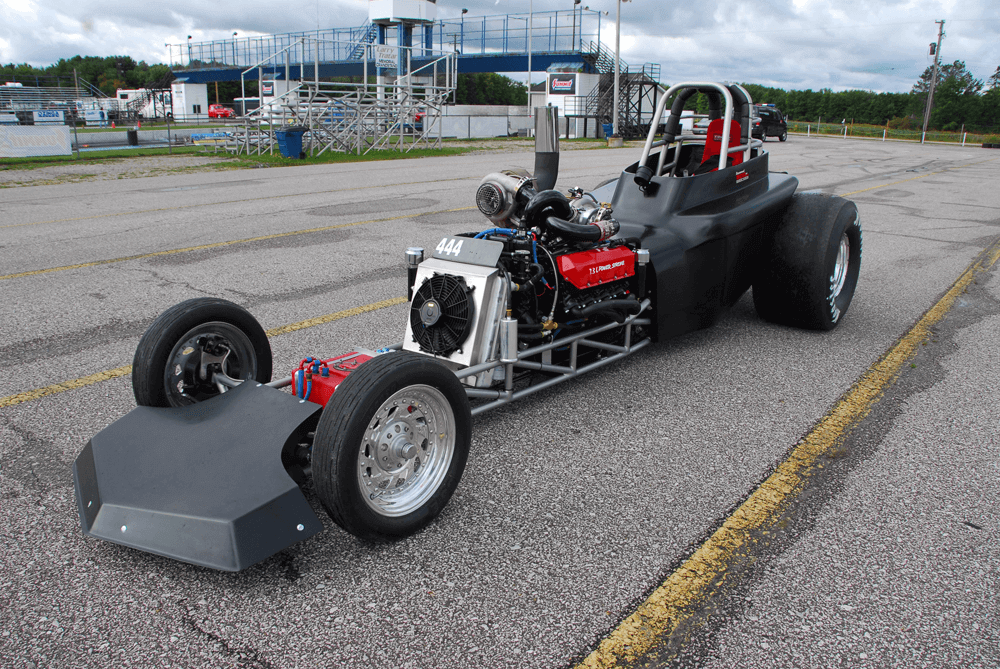 Compound Turbo'd 7.3L
The 7.3L mounted in the tube chassis was built by Carson Stauffer Diesel and—thanks to a girdle with billet main caps, filled block, billet rods and 15:1 Diamond Racing pistons, and fire rings that protrude into both the block and ported heads—it is well suited to handle the 90 psi of boost it sees. Boost production comes in the form of a compound turbo setup using an S488 as the low-pressure/atmosphere charger, and an S467 as the high-pressure/valley turbo (both units being sourced from Barder Turbo Service). The HEUI system gets a serious dose of fuel from a set of Rosewood Diesel Shop 300cc hybrid injectors, while a Dyno Proven Honey Badger SR HPOP provides ample high-pressure oil volume.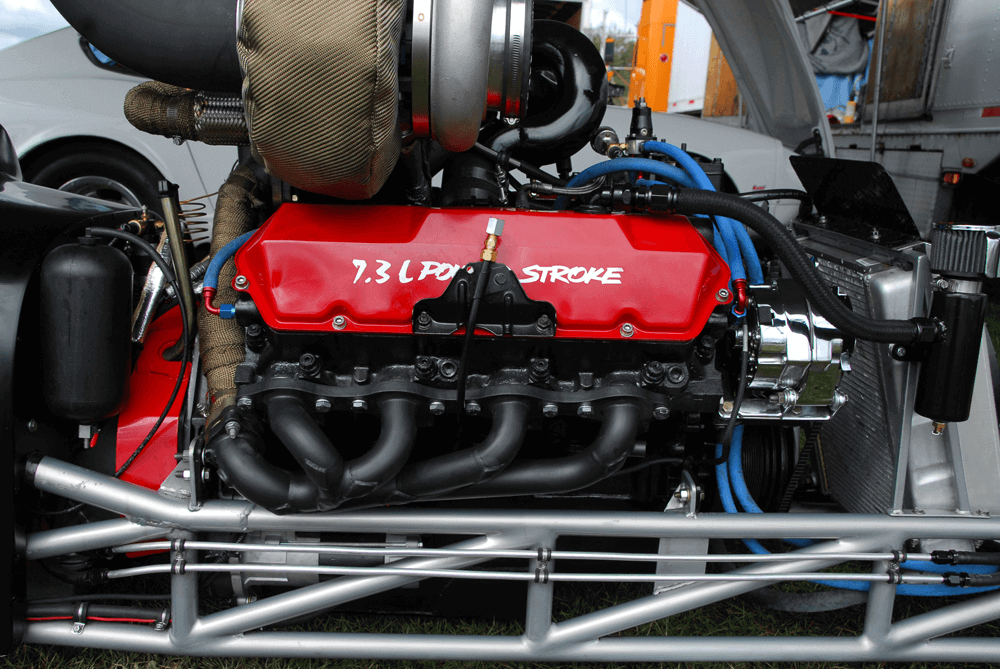 5. Adam Hohrath:
9.54 at 143 MPH
From the same shop that brought us a 9-second, 6.0L-powered Ranger several years prior, this project also stemmed from Adam Hohrath and the First Coast Diesel Performance camp down in Orange Park, Florida. Based on a '97 F-150 that was originally powered by a 4.0L V6, Hohrath and the FCDP crew back-halved it, bolted up a Ford 9-inch, and squeezed a 6.4L/5R110 combination in place. The engine sports Carrillo rods, fly-cut pistons, and a 76mm/95mm compound turbo arrangement from ATS. It's fueled by two belt-driven K16s, 100%-over injectors, and a 220gph FASS system, while being tuned by Innovative Diesel. Other than a 2,800rpm stall triple-disc SunCoast converter, the transmission was left stock due to Hohrath rebuilding the 5R110 every 10 to 15 passes anyway. If this was a fuel-only list, Hohrath's F-150 would rank third, as his 9.54-second pass was achieved on nothing more than good old number 2.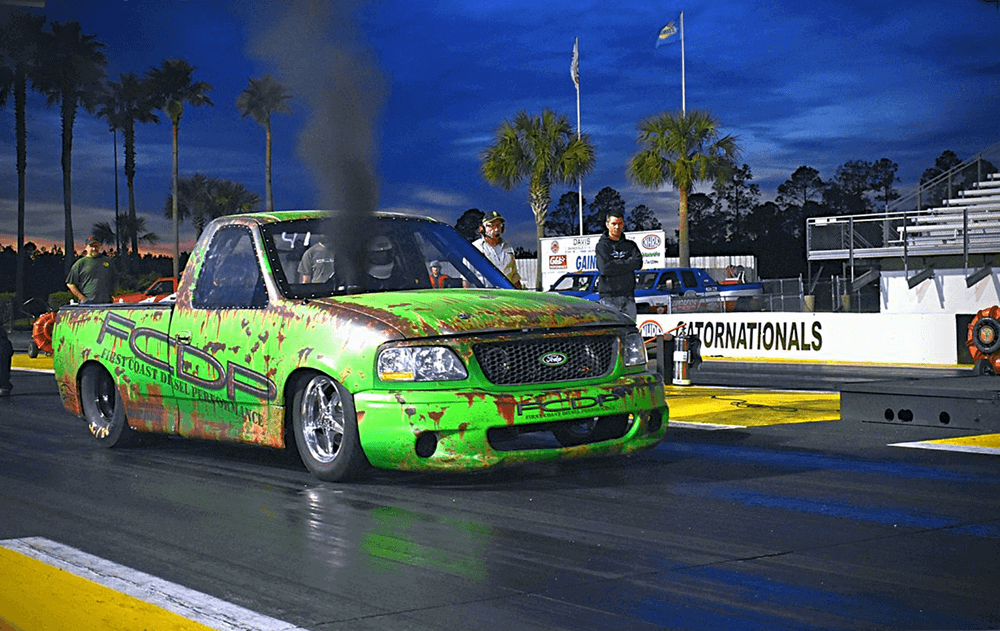 [divider][/divider]
1/8-Mile Eminence

(*Fuel and/or Nitrous)
1. Rawlings Barnes:
4.98 at 140 MPH
Given how matched Rawlings Barnes's Super Duty and Matt Kubik's Mustang appear to be in terms of weight and power, the top spot on the eighth-mile list may change hands a few times over the next few racing seasons. In 2017, both Barnes and Kubik were just beginning to realize the potential of their machines at the end of their racing seasons. As for Barnes, the Rudy's Diesel-sponsored '08 F-250 he pilots has shown a lot of promise. It's light (3,550 pounds), makes use of a proven Rossler TH400/Neal Chance converter transmission combination, and benefits from a 6.4L that's chock full of all the right parts (Carrillo rods, forged Mahle pistons, Elite Diesel Engineering heads)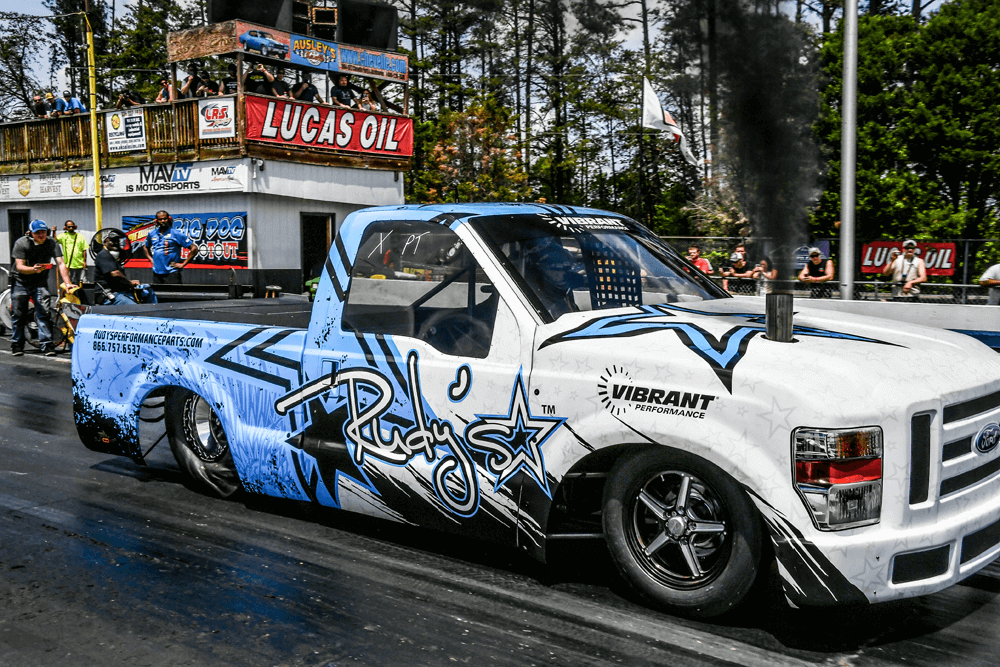 The Proof
Thanks to a breakneck 1.13-second 60-foot, Barnes's F-250 was well on its way to making the record-setting, sub-5-second pass. Based on miles per hour, the truck effectively applied more than 1,300 rwhp to the track on the run, which isn't surprising considering the 6.4L's use of dual K16s, River City Diesel 150%-over injectors, twin 230gph AirDog lift pumps, and a Precision Turbo & Engine S475. With the potential for somewhere around 2,000 rwhp, we may eventually see the truck on the verge of outrunning its 6.50-second NHRA chassis certification. For now, we'll continue to watch it dig deeper and deeper into the 4s.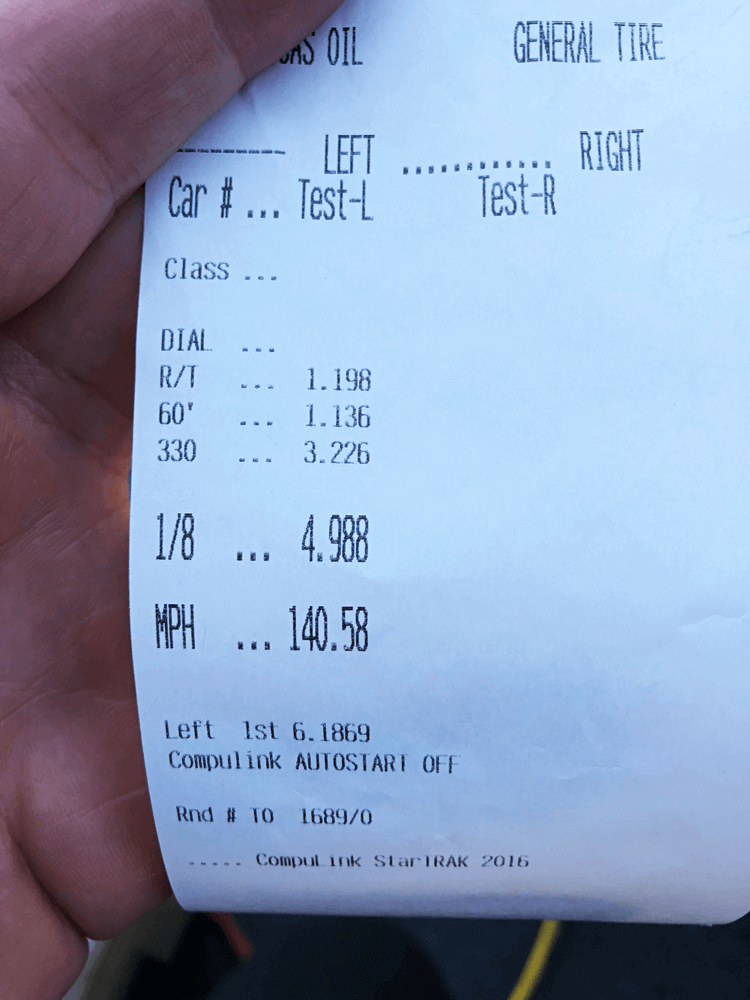 2. Matt Kubik:
5.04 at 154 MPH
On the same 7.60 at 192 mph pass that earned him the honor of quickest quarter-mile Power Stroke, Matt Kubik obtained the second quickest eighth-mile ET. A 1.3-second 60-foot catapulted him to the 5.04-second pass at more than 150 mph. This pass (once again, at 3,300 pounds) means more than 1,600 hp is being applied to the track. In the offseason, Kubik told us the pump was reworked and the injectors were fitted with new nozzles at Scheid Diesel, and that a set of D&J Precision Machine's FSR pistons were also added. Could this mean more power and improved reliability for his P-pumped 7.3L? We don't doubt it.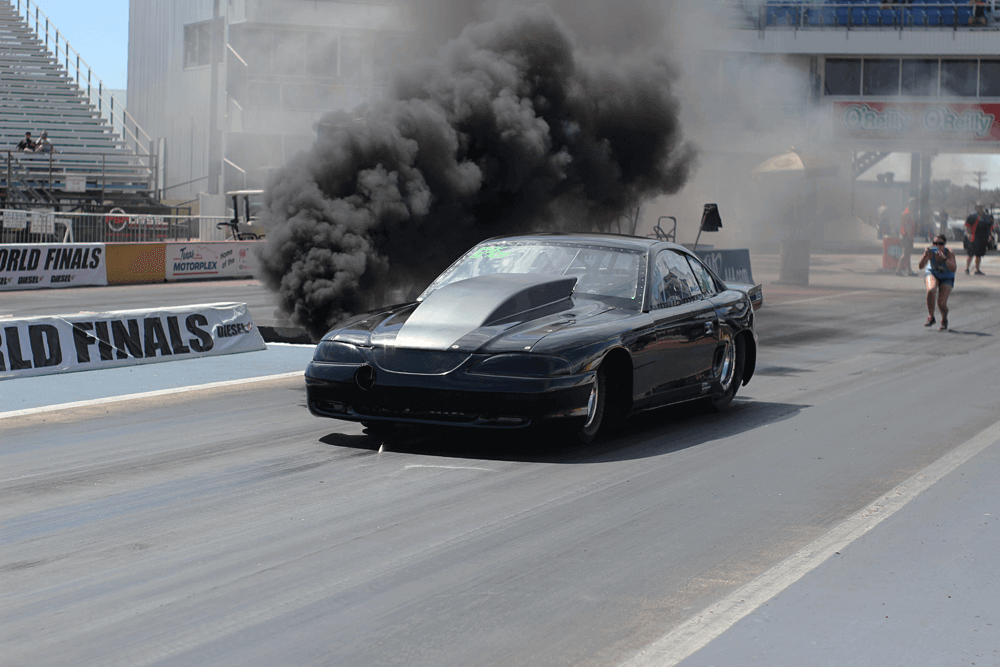 3. Dan Snyder:
5.24 at 140 MPH
Claiming the runner-up spot in the quarter-mile list and third here, Dan Snyder's 6.7L-powered rail returns. On a separate pass from the aforementioned 8.43 it put up in the 1320, a more aggressive launch shaved more than two tenths off of the rail's eighth-mile elapsed time and added 10 mph to its top speed. With one of the more extreme 6.7L Power Strokes we've seen, the block has been filled and fitted with Ontork main (and head) studs, Carrillo rods, Snyder Performance Engineering custom-machined and coated Mahle pistons, and a custom-grind cam from Colt. The ported factory reverse-flow heads were equipped with Snyder Performance Engineering modified rockers, Stage 3 valve springs and treated valves. Big fuel is provided by Exergy Performance in the form of custom injectors, a stroker CP4 and a stroker CP3. The massive 96mm S500 mounted up top is combined with an S475 (along with a two-stage Nitrous Express system), which we're told should be good for 150 psi worth of boost.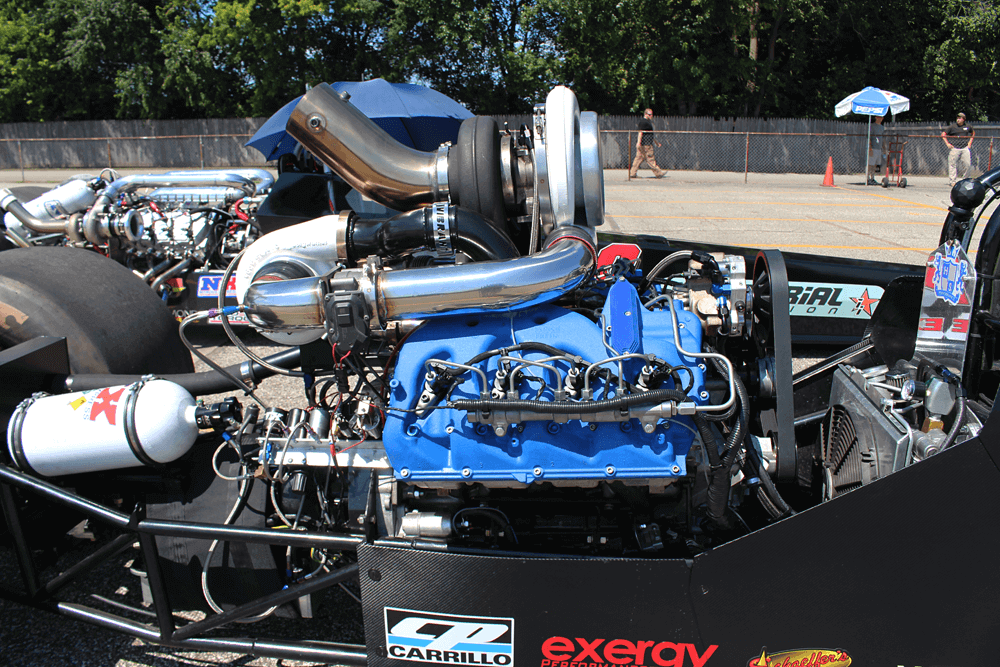 4. Taylor Overcash:
5.93 at 119 MPH
Another 6.4L breaking into the eighth-mile elites club is Taylor Overcash's 4,000-pound standard cab. Put together by MB Diesel Performance, the single turbo'd Super Duty sports a Customs by Bigun chassis, a Twisted Diesel 4R100, Mac-Fab beadlocks and a slick at each corner. The 6.4L also packs Carrillo rods, forged-aluminum pistons, 150%-over injectors, an S476 and a healthy dose of nitrous courtesy of a Nitrous Express system. According to the truck's trap speed, at least 900 rwhp was applied to the track during the blazing 5.93-second pass.
5. Jim Rose:
5.97 at 116 MPH
On the same day he moved into the number 4 spot on the quarter-mile list, Jim Rose also climbed the eighth-mile ladder, beating out Matt Kubik's Ford Ranger that'd previously run a 6.03 at 118 mph. Before power ever makes it to the big Hoosier slicks out back it first passes through a two-speed Powerglide that Rose built himself, complete with a custom bellhousing and billet flywheel adapter and an 1,800rpm stall converter. After that, a narrowed Ford 9-inch out of a 1970s Lincoln takes over. The 9-inch has been treated to a spool, Moser axle shafts and a 3.00:1 ring and pinion.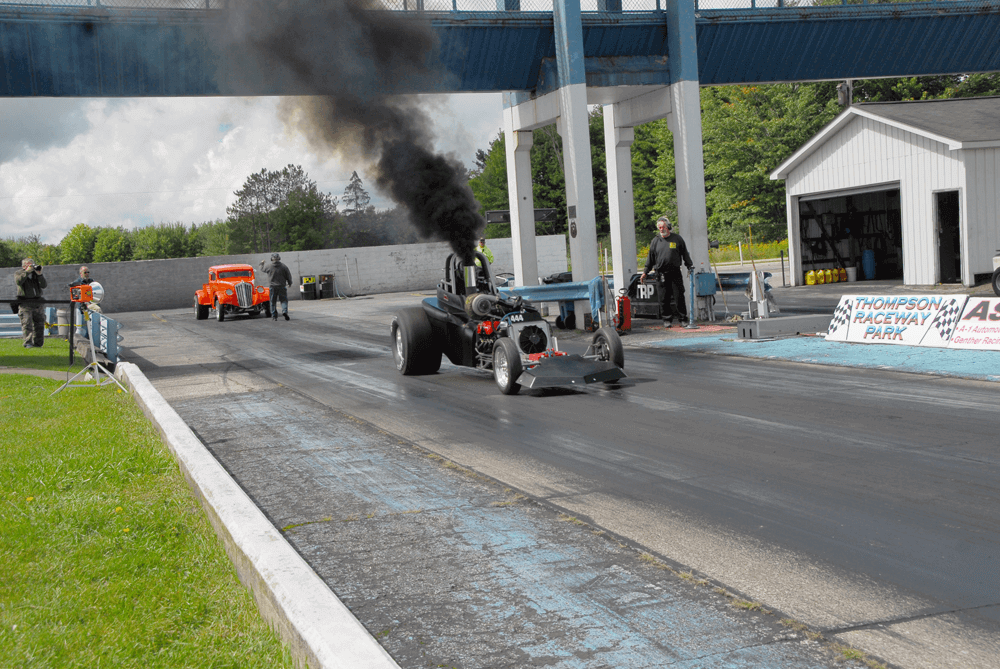 [divider][/divider]
Dyno Dominators
(*Rank determined by adding horsepower and torque)
1. Aaron Rudolf:
1,987 HP/3,005 LB-FT
Since his days of introducing his stock-bottom-end 6.4L to copious amounts of N2O, Aaron Rudolf, owner of Rudy's Diesel Performance, has never been afraid of adding 600, 700, even 800hp worth of nitrous to his '08-10 Fords. At the 2016 Ultimate Callout Challenge, he did just that. After clearing 1,250 rwhp on fuel, he added nearly 750 more horsepower by way of the bottle. The 1,987 hp and 3,005 lb-ft figures were survivable thanks to a Rudy's Diesel competition long block and made possible thanks to a two-stage triple-turbo setup from Maryland Performance Diesel. With engine troubles hindering his dyno efforts at UCC 2017, it will be interesting to see what Rudolf's nasty 6.4L can lay down at UCC 2018.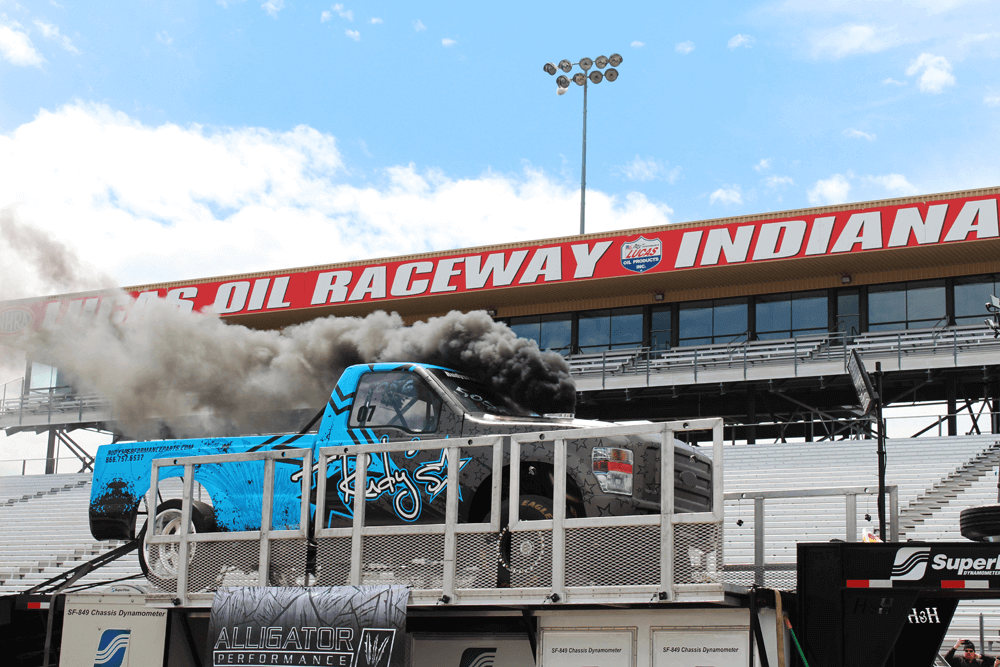 2. Dan Snyder:
1,819 HP/2,948 LB-FT
For one of the highest quality builds we've seen in years, look no further than Dan Snyder's '10 Super Duty. The tube chassis, four-linked, ground-up work of art was put together to compete in the 2017 Ultimate Callout Challenge. Its 6.7L-based engine was stroked to 7.0 liters of displacement, Carrillo rods were added, Exergy Performance provided the massive piezoelectric injectors and stroker injection pumps, and Fuelab kicked in a pair of lift pumps. For air, a trio of S400 turbos are employed. It's worth noting that the 1,819 hp and 2,948 lb-ft Snyder's truck achieved are fuel-only numbers.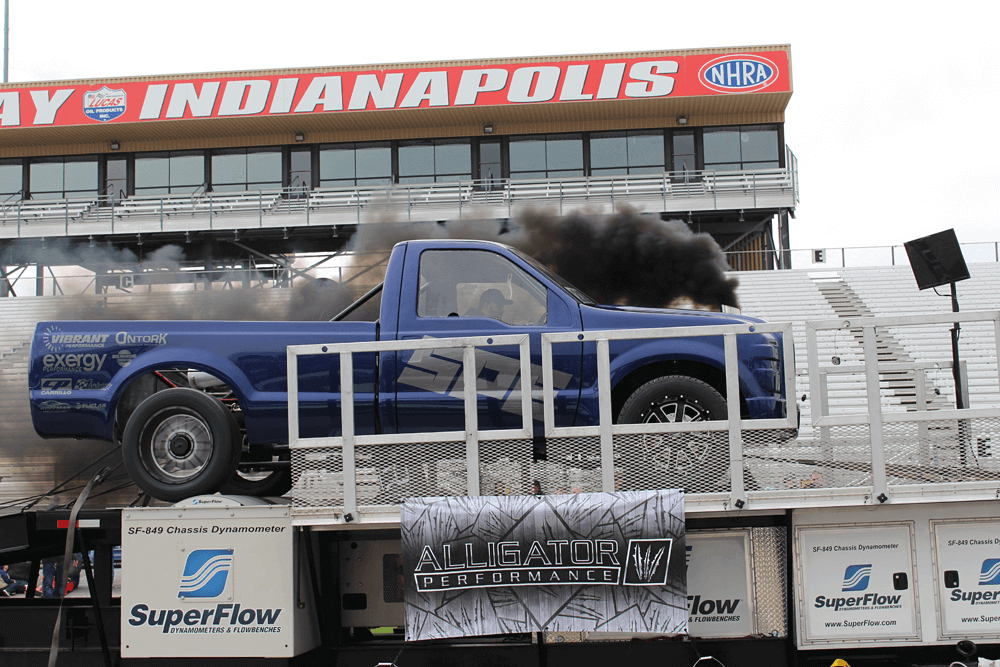 3. Tommy Hassler:
1,621 HP/3,052 LB-FT
It's no secret that the 6.7L Power Stroke is a great platform to make power with. With the proper aftermarket internals, some pretty big numbers can be generated. Take Tommy Hassler of Hassler Diesel for example. His '11 Super Duty cleared 1,600 rwhp and a whopping 3,000 lb-ft of torque on a single S476 turbo. The battle-ready 6.7L swings a set of Carrillo 6.0L rods and River City Diesel cut-and-coated pistons and utilizes a cam from Elite Diesel Engineering. Dual high-pressure pumps and 100%-over injectors fuel the beast, while Maryland Performance Diesel tunes it and a billet Hassler Diesel 6R140 backs it all up.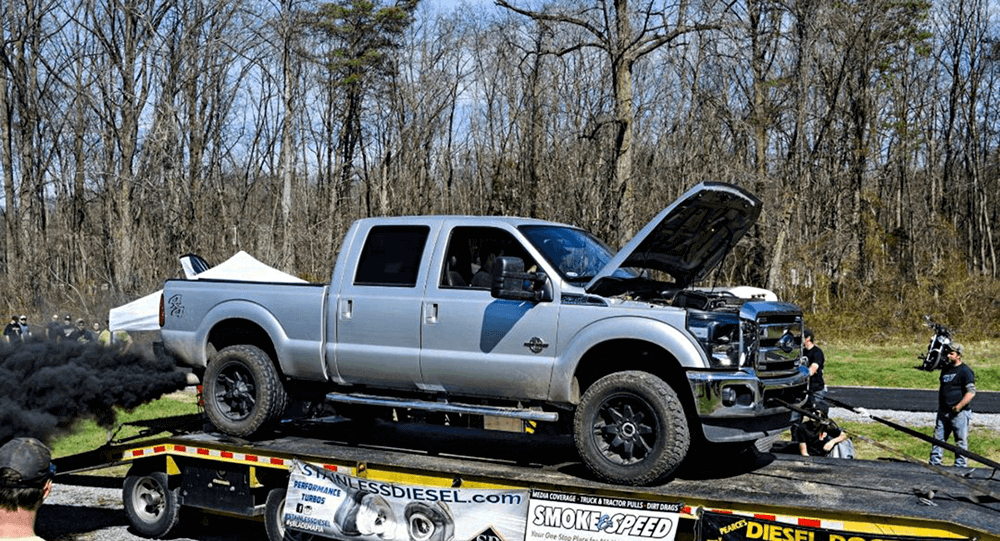 4. Mark Vanadia:
1,497 HP/2,903 LB-FT
Mark Vanadia's '08 F-250 has been to 10.26 at 123 mph, which ranks him 16th on the quarter-mile list, but thanks to a 0.136 jet coupled with a 0.91 jet his progressive Nitrous Express system earned him one of the highest dyno numbers ever achieved by a Power Stroke. The built 6.4L under the hood of Vanadia's 7,000-pound Super Duty was put together at his place of employment, Big Time Kustomz Diesel & Off-Road Performance, and is fueled by a River City Diesel CP3 Dual Fueler kit and 150%-over nozzles. A Barder Turbo Service S476 (mounted via a Maryland Performance Diesel pedestal) with a 96mm turbine wheel provides for awesome top-end power, while dual wastegates help keep the big single alive when all the nitrous hits.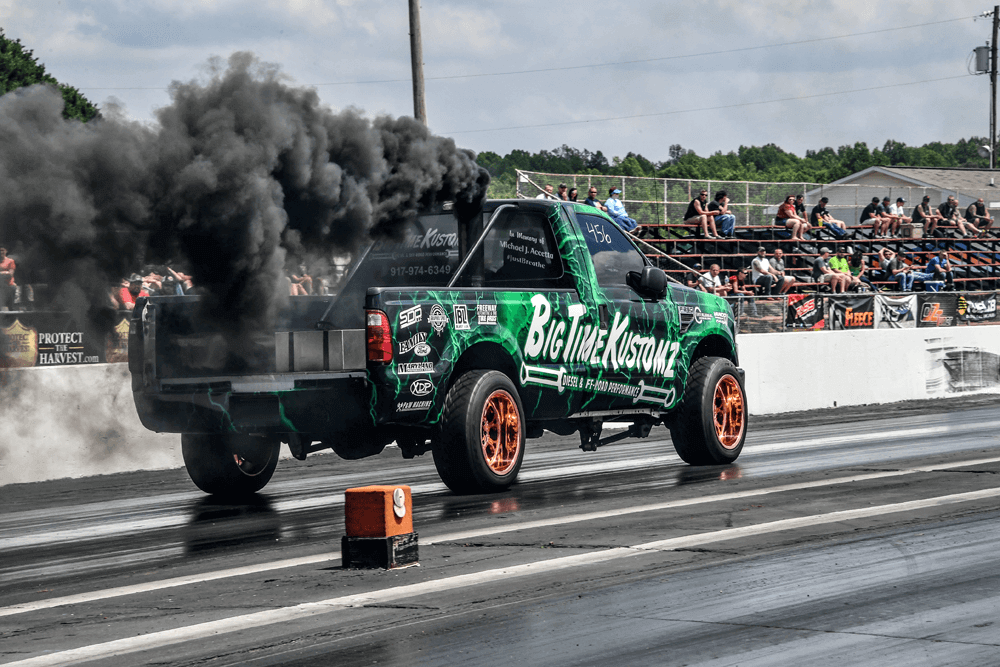 5. Jesse Warren:
1,758 HP/2,532 LB-FT
Given how far Jesse Warren has pushed the 6.0L (and more importantly, its HEUI injection system) in recent years, it should come as no surprise that he made the list. His '06 F-350 has been lighting up chassis dynos for years now, and the 1,758hp figure shown above was made at the 2016 Ultimate Callout Challenge. It's worth mentioning that the hefty crew cab has blazed the eighth-mile to the tune of a 6.21 at 114 mph, which makes it the ninth-fastest Power Stroke through the '660. Warren's nasty 6.0L also currently ranks 12th fastest on the quarter-mile list, having run a 10.05 at 135 mph (at 7,600 pounds) back in 2015.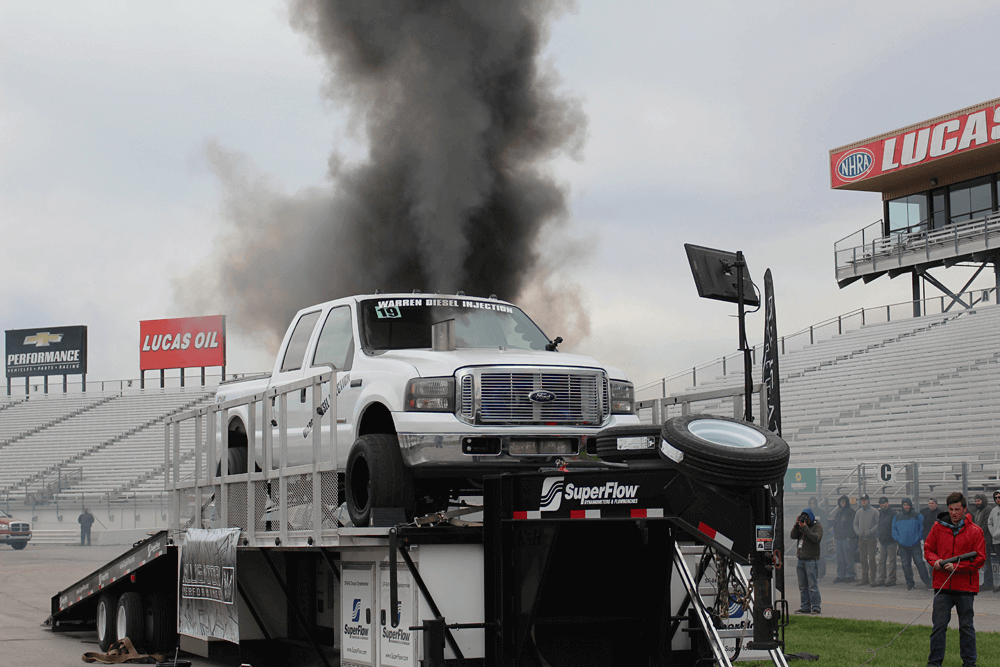 Freak 6.0L
The foundation of the country's most powerful 6.0L begins with a Warren Diesel-assembled long block that makes use of a filled factory block, OEM crank and bed plate, Wagler Competition Products billet rods, custom pistons from Diamond Racing and an extensively ported set of cylinder heads. As for the injection system, Warren built a massive set of injectors that flow 500cc through 400%-over nozzles (i.e., 500/400s), along with his own dual high-pressure oil pump system. A Bullseye Power S475 high-pressure turbo combines with a Holset HX82 with a 4.4-inch compressor wheel to produce triple-digit boost, and a three-stage nitrous system adds even more controlled mayhem to the equation.