Going big has its advantages. Just ask Jason Cade about his 2015 Ram 3500.
With all the right junk in all the right places (mainly the massive dual rear wheels), he nicknamed it "Project Fat Bottom." And up front, it ain't no stick-figure silicone Barbie doll either. Fusion's beefy bumper, enhanced by a gleaming billet grille from T-Rex, gives this Ram a serious head-butting presence. After all, diesel enthusiasts expect their trucks to be brawny. A skinny little pickup just doesn't cut it.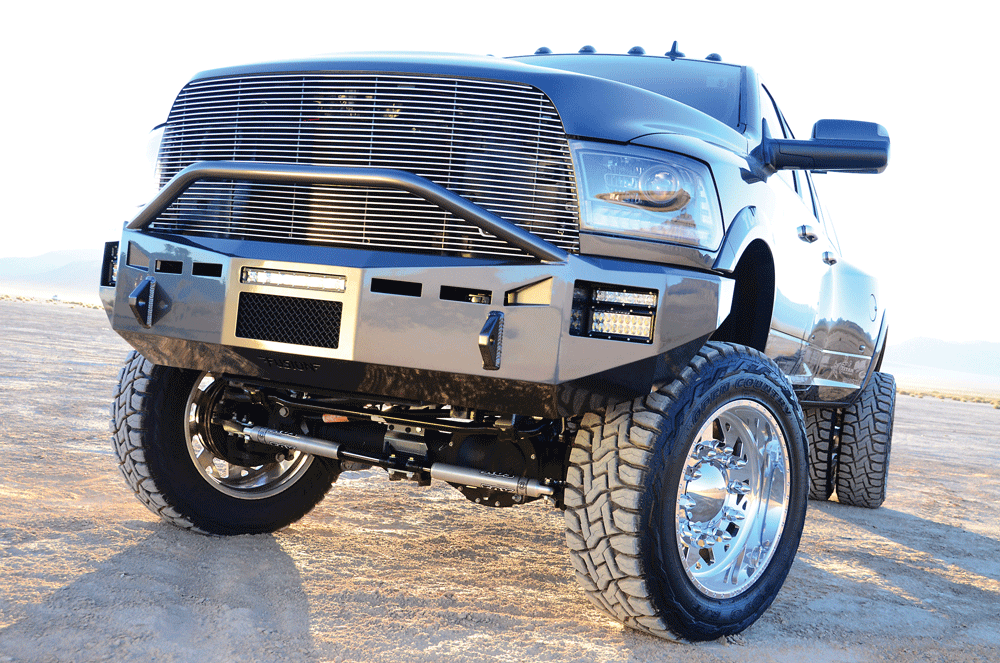 Even so, Cade admits: "Originally the truck was just going to be a very mild, daily-driver tow pig." But he and Jen Hess, his fiancé, decided to put that diesel rumble in the right state of tune for the 2015 SEMA show, partly for personal reasons because there was something special about SEMA that year…
SEMA SPARKS
"Ten years ago I met Jen in Vegas at SEMA 2005," Cade explains. "I built a 2005 Dodge Ram dubbed 'El Negro,' and she had provided sponsorship [through her employer Bully Dog] on a couple trucks that we built that year." As a way of saying thanks, he took her out for dinner after the show. They hit it off and they've been together ever since.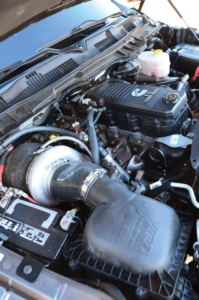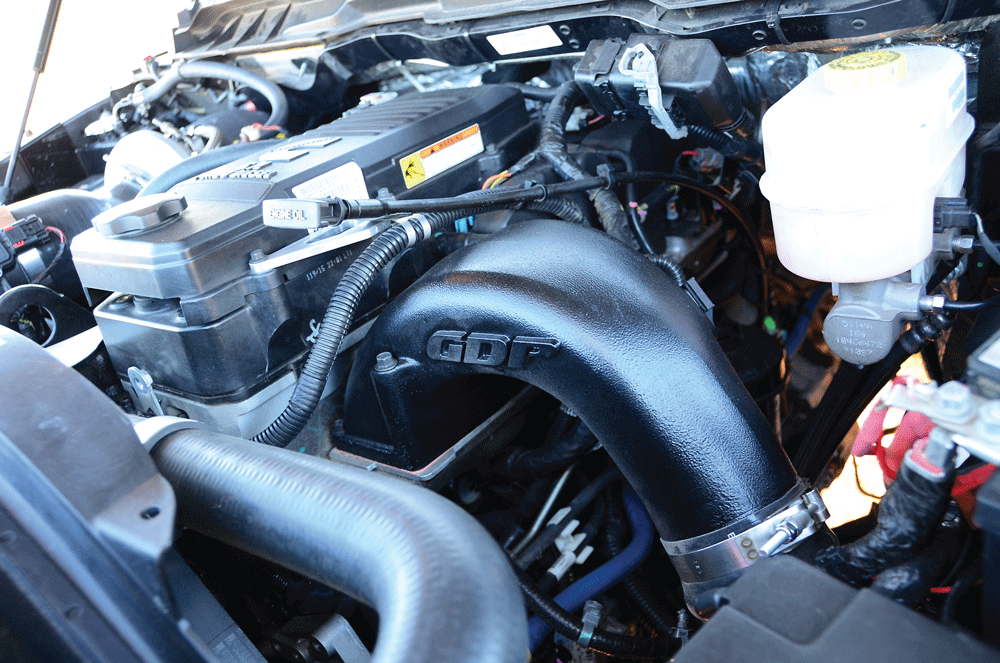 In 2011, Cade's first Ram was totaled, which left a void that numerous other custom builds couldn't fill. With this in mind, they set off to build a similar truck, but on a new platform, this time the 2015 Ram 3500 shown here. They started with a rendering from KEG Media, then teamed up with the guys at PowerTech Diesel in Idaho Falls, Idaho, and put a plan together.
650HP CUMMINS
Although built in only four weeks at PowerTech (with the help of EJ Wyatt, Jeremy Powell, Nick Snarr, Tyler Olsen, Jen Hess, and owner Brent Willsey), the truck received numerous upgrades. The drivetrain mods that make it a reliable 650hp daily driver began with Hardway Performance's compound turbo kit. It utilizes the stock turbo and incorporates an S475, which is a completely bolt-on setup. Glacier Diesel provided intake parts to furnish better airflow. With way more air rushing in, they had to add a bunch more fuel and did so via DDP 50hp injectors. A FASS 150 Titanium Series lift pump ensures steady delivery of clean, air-free diesel.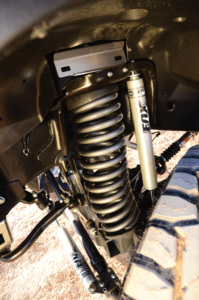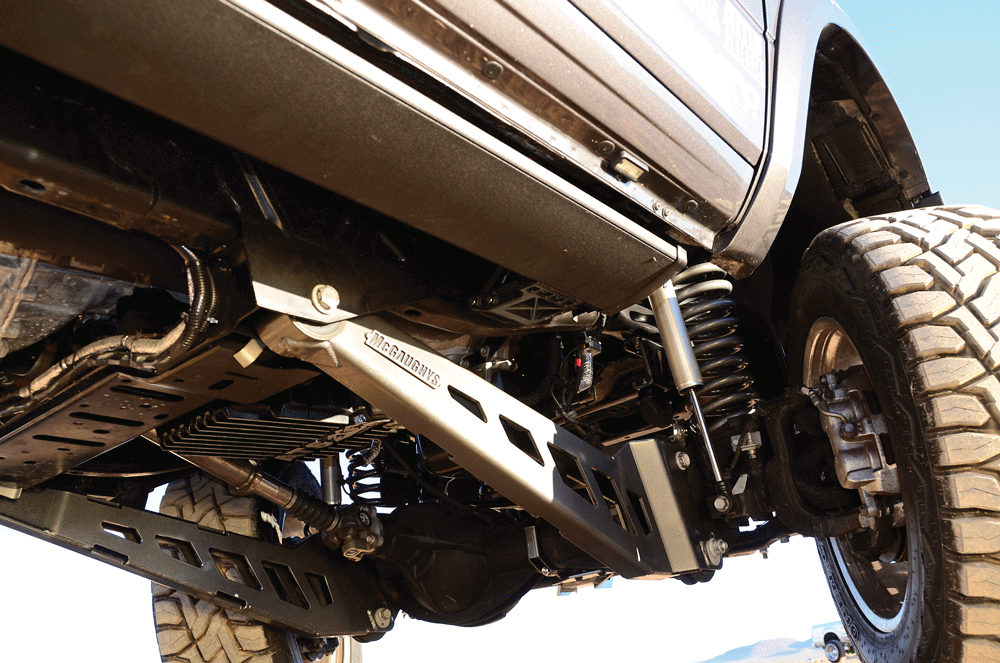 To hold the mill together, ARP Head studs clamp the head in place. Power Tech chief Willsey tuned it via EFILive and a DSP5 switch. An Edge CTS2 keeps tabs on how the engine and drivetrain are doing. Aero Exhaust provided a four-inch stainless muffler for that all-important deep rumbling sound.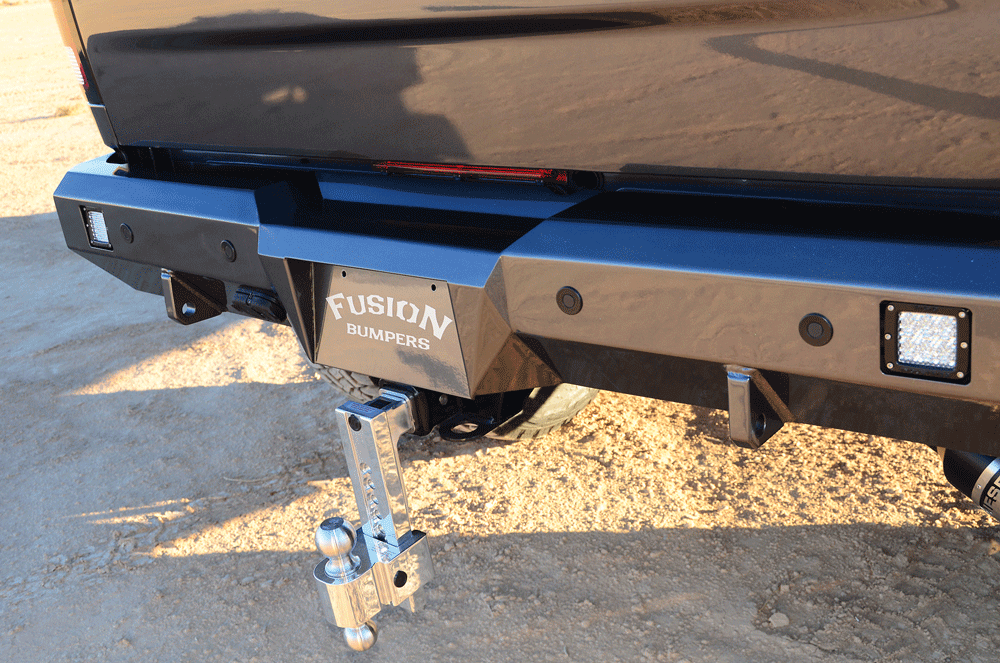 Helping to put the power to the ground is an ATS Co-Pilot, which controls the lockup of the torque converter. During everyday driving, lower settings provide smoother shifts, but for performance driving, the higher settings furnish fullthrottle shifts that are quick and crisp. Due to the extra demands of the drive-train, both the transmission and rear diff were outfitted with larger-capacity covers, also from ATS.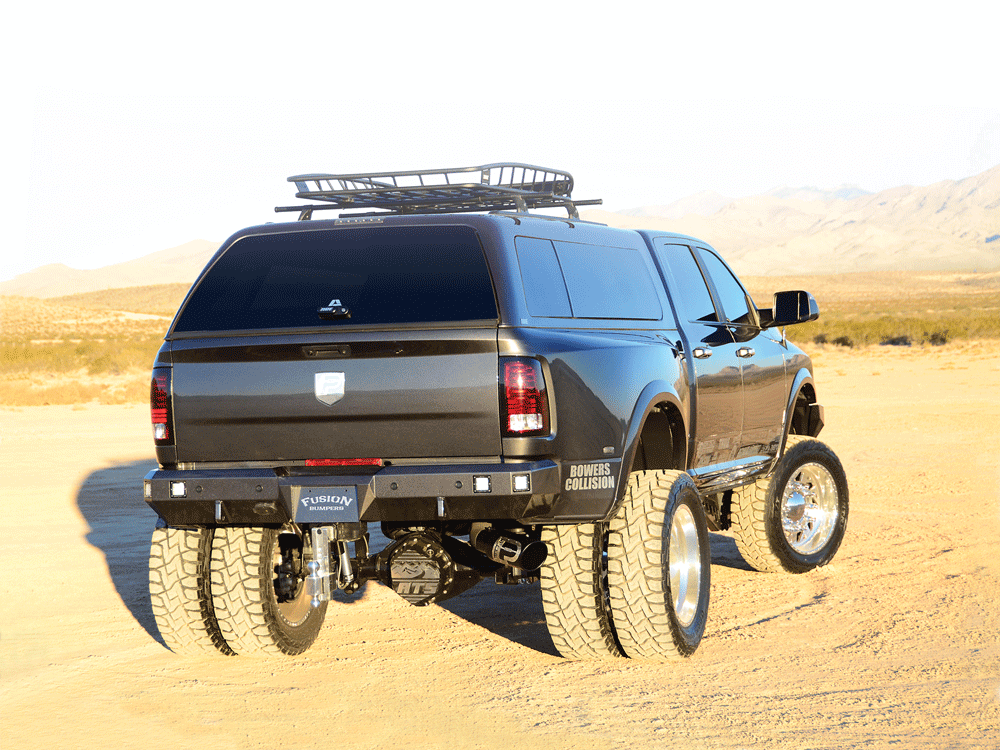 THE UNDERPINNINGS
As for the suspension, Cade worked with McGaughys on a six-inch radius arm lift using Fox Shocks. Dual steering stabilizers were also provided by McGaughys, also fitted with Fox shocks. Preventing axle wrap out back are McGaughys 60- inch traction bars. All of the suspension hard parts were powdercoated in Granite Crystal by Premiere Powder Coating in Rexburg, Idaho. Finally, to make sure the truck would still be able to haul heavy loads safely, Cade installed a set of Firestone Ride-Rite air bags with a Gen II wireless controller.
LOOKIN' GOOD
Fusion Bumpers supplied both front and rear bumpers for the build. The front bumper houses an array of illumination from Rigid Industries, including sets of both SR and E2 lights that help to set off that massive billet T-Rex grille. At the rear there are two sets of Dually D2 units, also provided by Rigid Industries.
Originally, the bumpers were sent off to be powdercoated with a colormatched powder. That didn't quite work out, so Cade had minimal time to come up with a solution. Bowers Collision out of Blackfoot, Idaho, stepped up to the plate to paint the bumpers and mirrors and hit a home run to save the build.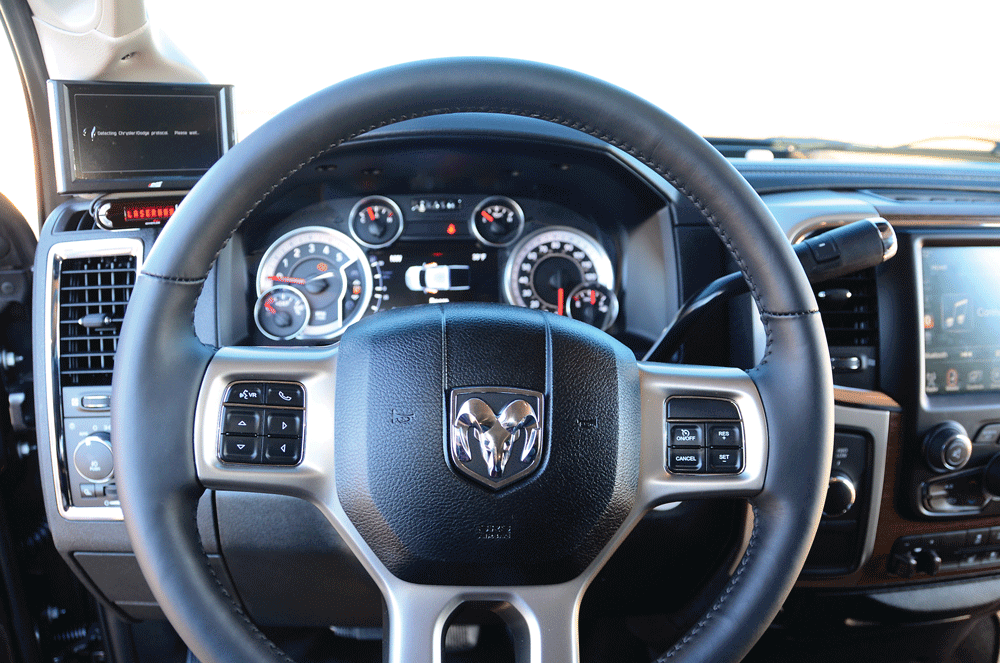 In the meantime, the headlights were sent off to RetroShop LLC where they received RGBWA switchback LED boards courtesy of Diode Dynamics, along with some custom color matching. The taillights were also custom color-matched and smoked by RetroShop. Edge Products' EAS power switch system controls the Rigid Lighting array.
"This made for a clean install as we only had to run one wire through the firewall to power the switches," Cade points out. The Whistler Group provided an installable radar detector and dash cam with a remote control panel, and the radar/laser sensors were mounted in the front and rear bumpers so they would stay out of sight while remaining totally functional.
GETTIN' LOUD
Other electronics upgrades include improvements to the stock stereo system. A couple JL 10W3s speakers in custom enclosures, built by Ryan Reid from CarToys in Tacoma, Washington, are located under the rear seat. A 900-watt, XD6001V2 amp powers the subs.
For a different kind of music, air horns from HornBlasters were installed to trumpet an astounding safety warning. On-board air was also provided by Horn- Blasters via a five-gallon tank and VIAIR compressor which feeds the horns as well as the Ride-Rite air bags.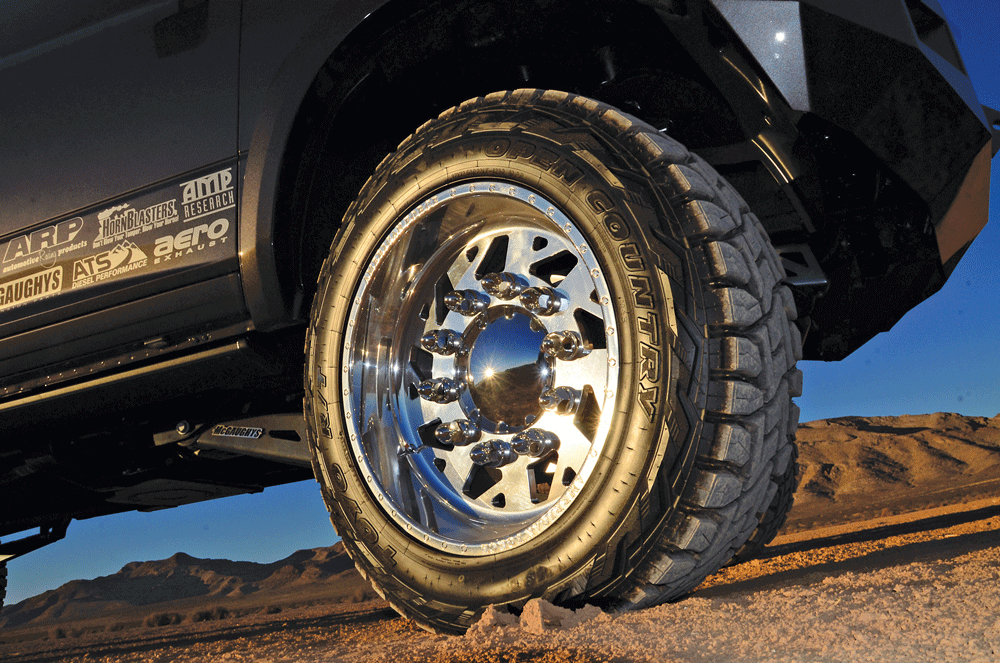 A.R.E. Accessories provided the ZSeries shell to top off the original design concept. On top of that, Thule provided a Canyon Roof Rack for extra storage. To finish off the cargo area, BedRug furnished it with a carpeted bed liner. Fastway Trailer added a 10-inch aluminum adjustable hitch with internal locks and stainless steel balls. To make getting in and out of the elevated cabin easier, AMP Research supplied Powersteps that automatically deploy when the doors open.
The rig rolls on 22-inch American Force Super Dually Series Man O' War wheels, wrapped in Toyo RT 37×12.50R22 rubber. To facilitate those long hauls from Idaho, Titan Tanks also partnered up on this build and provided a 55-gallon replacement tank that fits in the stock location. "We were able to make the 700-mile trip to SEMA without having to stop for fuel," Cade testifies.
Fusion Bumpers displayed the truck in its booth, where all eyes were on the Granite Crystal paint job and voluptuous proportions. DW