When the zombies attacked in the film Resident Evil, one of the commandoes uttered a familiar phrase, "It's time to lock and load." While this expression usually means getting a weapon ready for a fierce battle, especially to avoid getting zombified, it has a broader sense of setting up something for intense activity.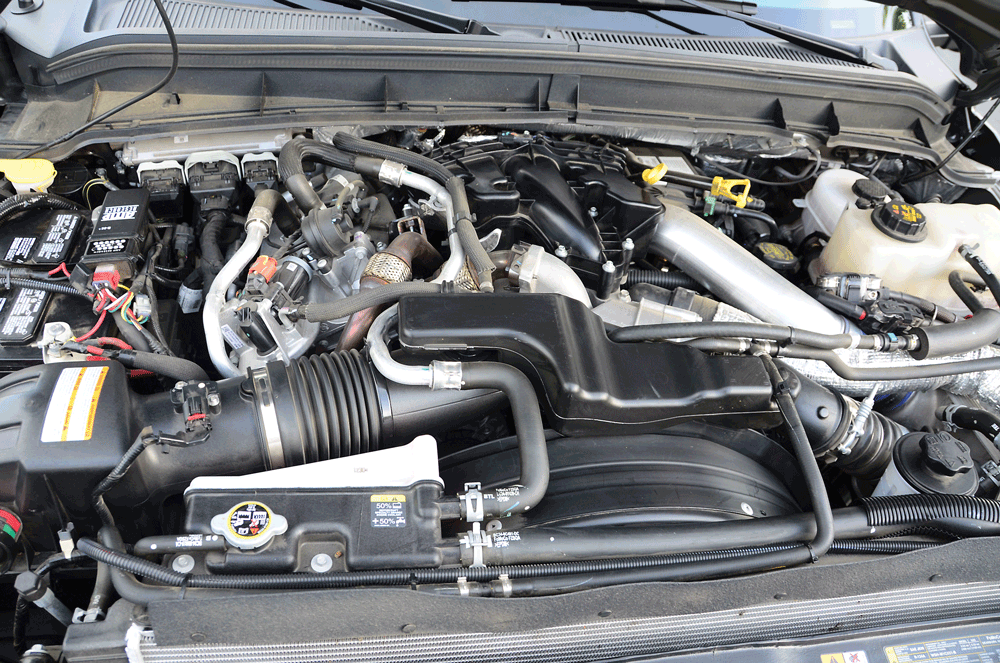 That's exactly what Jerome Cato had in mind with his 2013 F-350. He previously owned a 2008 F-250, but wanted to take things to whole new level of style, sound and performance. Although he's a software expert by day, when he's not pecking on a keyboard he has all sorts of stuff to tow, including a boat (a 29-foot express cruiser) and two muscle cars (1969 Camaro and 1970 Chevelle), plus a dump trailer, too, now that he has to landscape a nine-acre parcel in the Norcal foothills. Of course, there's simply no substitute for a high-caliber diesel dually when it comes to towing and hauling. (Or mowing down a pack of zombies, for that matter.)
Why couldn't Cato be content with just an everyday rig? Well, if you handle all kinds of cool machines for both work and play, it only makes sense to trick out your tow rig too. And there was another motivation: "I wanted to build a truck that was different from any other truck in the Sacramento region," Cato explains.
"I dislike having a vehicle like someone else."
To achieve that, the Folsom (California) Ford dealer where he purchased the truck recommended seeing Justin Pearson, manager of the local 4Wheel Parts store in Sacramento, California. While this chain of stores is mostly known for installing suspension lifts and other off-road components, it also supplies plenty of stuff for the street.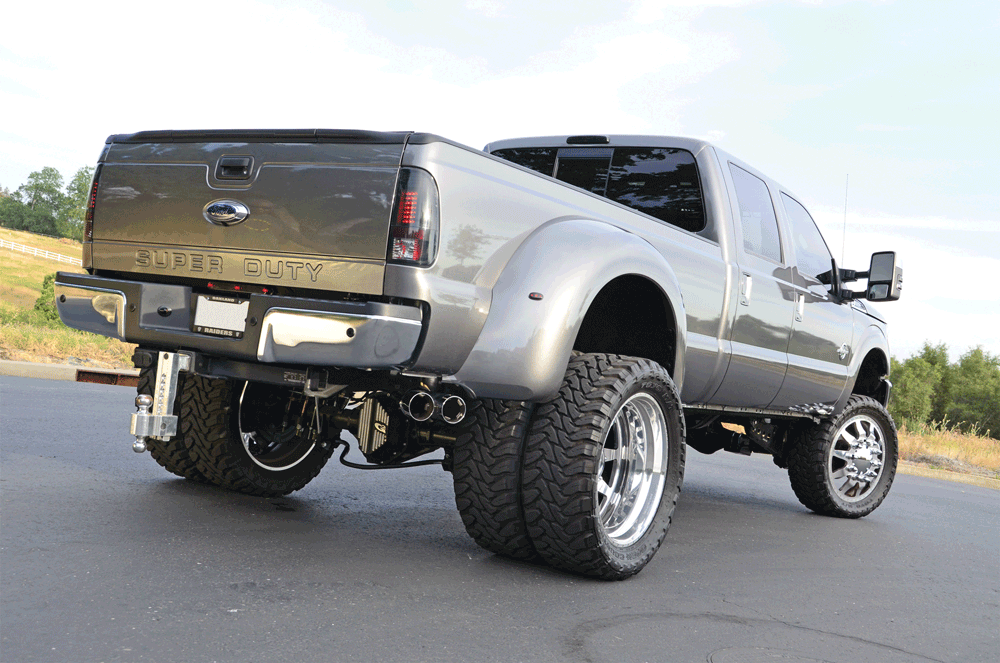 That includes the equipment for building up this pavement-pounder, which has a Fabtech 8-inch lift with a drop Pitman arm, adjustable track bar and dual hoops for Fox 2.0 reservoir shocks, plus twin steering stabilizers. In addition, a pair of Fabtech radius bars up front maintains the factory caster, so the steering knuckles don't have to be rotated after lifting the suspension.
At the rear are lift blocks secured with U-bolts and leaf springs with a steeper arch. Pearson points out that aftermarket leaves on a lifted suspension are typically lighter than factory, so they have less load capacity. To compensate, "the main thing is the air bag," he says. Since the truck does a lot of towing, and leveling the suspension is essential for a smooth, even ride, the Airlift system also has a wireless control to adjust the pressure.
What's required to install such an extensive suspension setup? In a word,
"patience." Both Cato and Pearson echoed those sentiments for a few reasons. Patience is necessary not only to achieve the correct fit and finish, but also to get all of the billet brackets and components aligned properly and making sure any raw metal surfaces, such as on the tie-rod ends and steering knuckles, are etched with primer and completely coated with black enamel.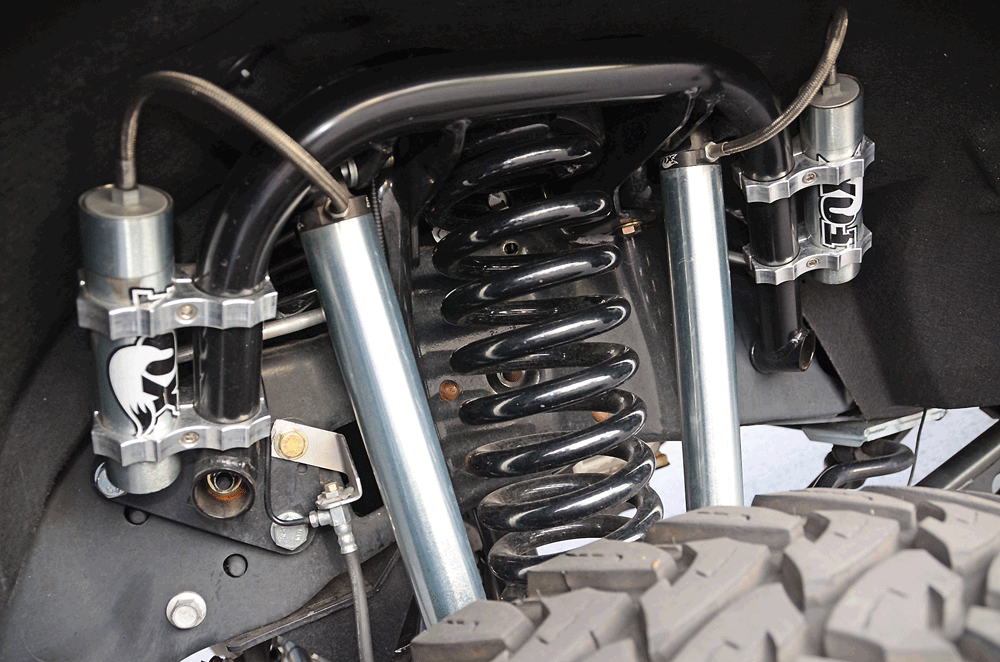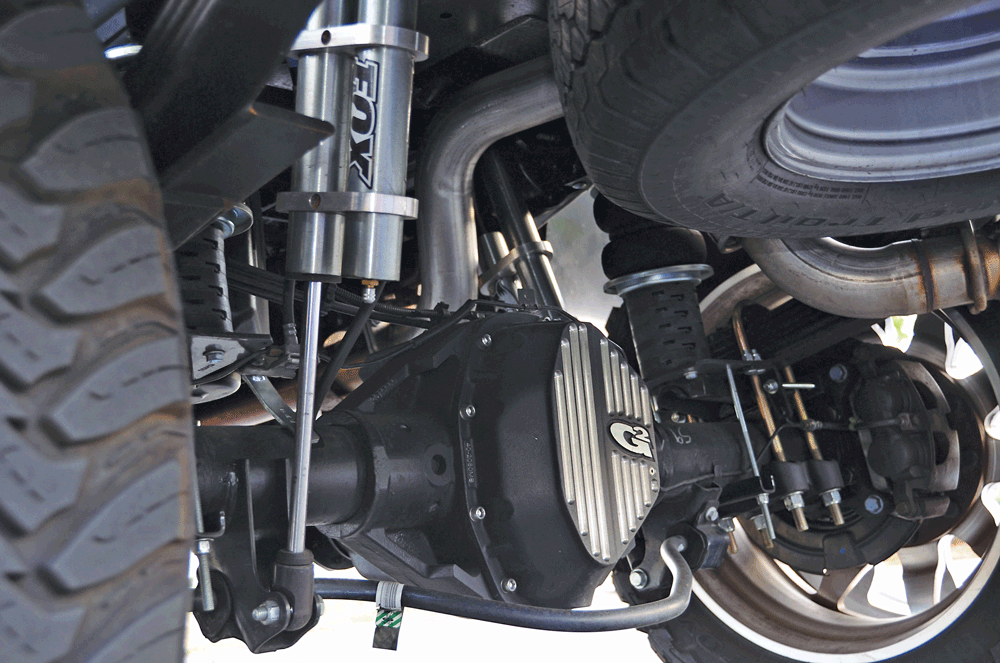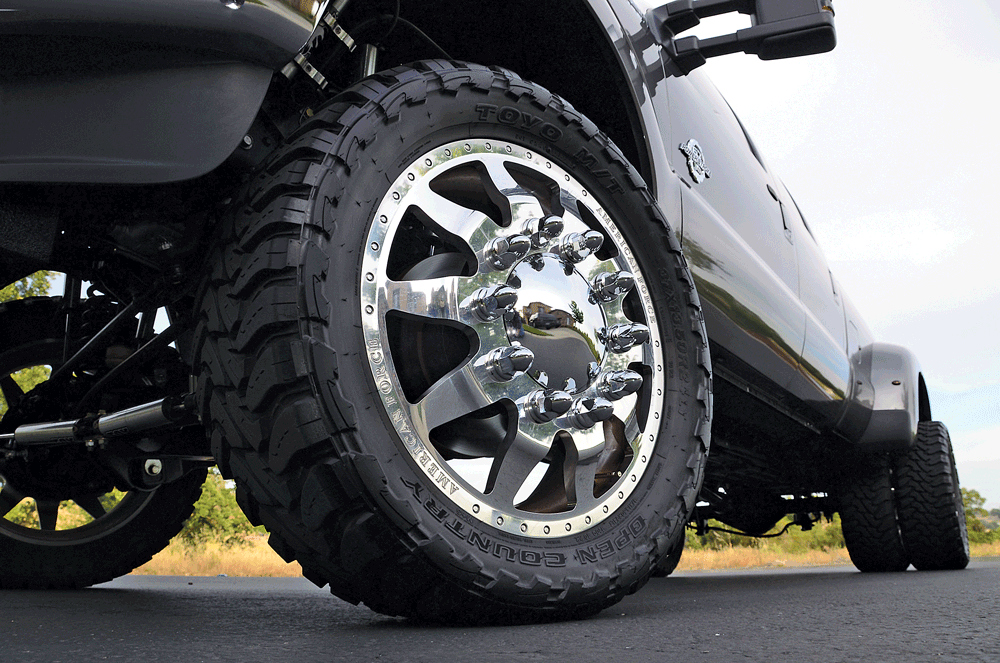 Other upgrades to the underbody include G2 aluminum diff covers, which hold more fluid and have fins to help dissipate heat. They also have an anodized dipstick to check the fluid level and a magnetized drain plug to prevent any stray metal particles from slinging through the gears. The covers are machined as well, with ball-milled grooves that look real spiffy.
For even more visual impact, Cato had the shop throw on a set of massive custom rims, American Force Independents (24×8.25), shod with Toyo Open Country (37×13.5R24). These rims come with adaptor plates (which also require painting) to convert to a 10-lug setup.
As for the offset, "American Force does a pretty good job with correct backspacing," Pearson notes. "They're not too wide, so you have the correct gaps on the sidewall." (Otherwise you'd risk rubbing the rear tires together where they bulge.)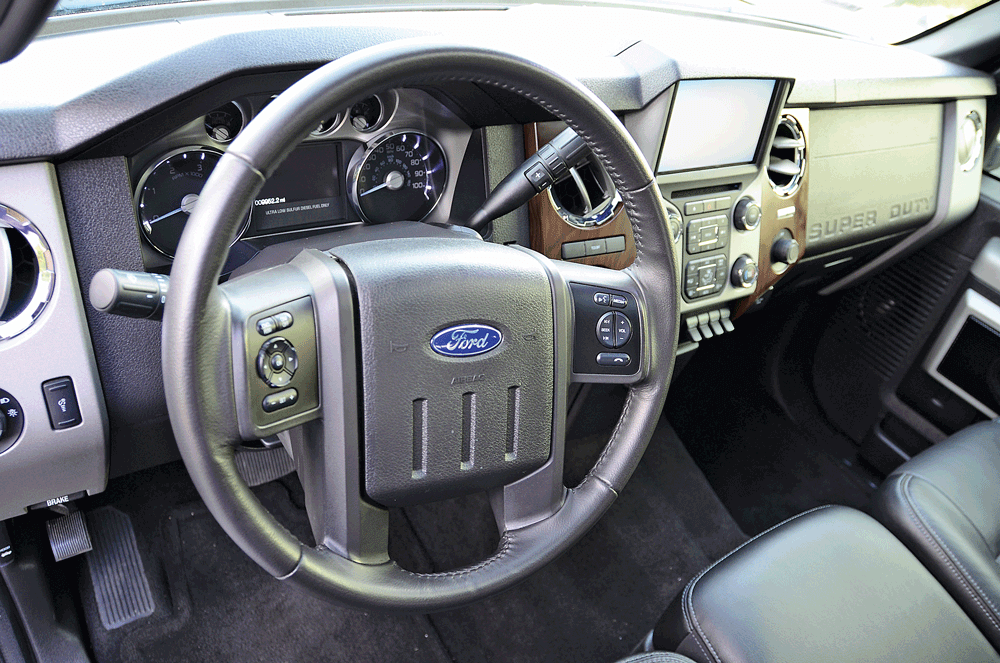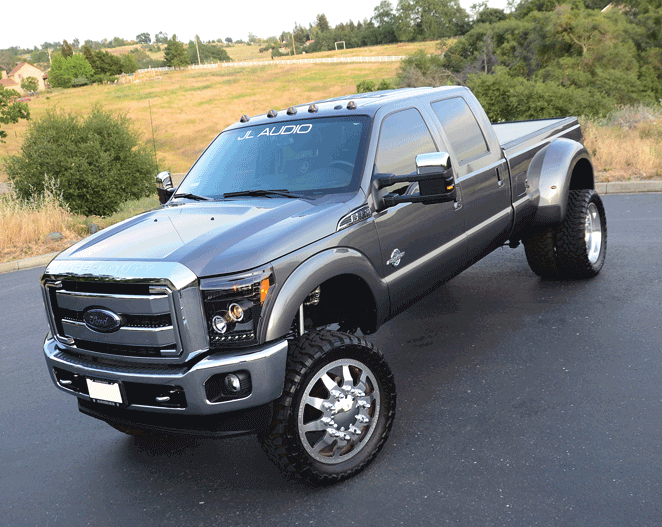 Since Cato has an affinity for gadgets and technology, he added a Pace Edwards electric bed cover, Racesport LEDs and Recon lights. The sound system had to be top notch, so he had Phillip Saunders of Audiosports Inc. in Rancho Cordova, California, build a custom setup, starting with a full liner of foil-backed Dynamat Extreme to deaden any road and engine noise inside the cabin. He also fabricated custom door panels and Rhino-lined fiberglass speaker enclosures, and color matched the rest of the cockpit.
The head unit is a Ford factory setup, so Saunders uses a 6to8 Mosconi digital signal processor, handmade in Italy, which is basically a sophisticated form of equalizer. It's a key component, considering the number of speakers (eight inside, six outside) and the fact that there are two separate sound systems to control.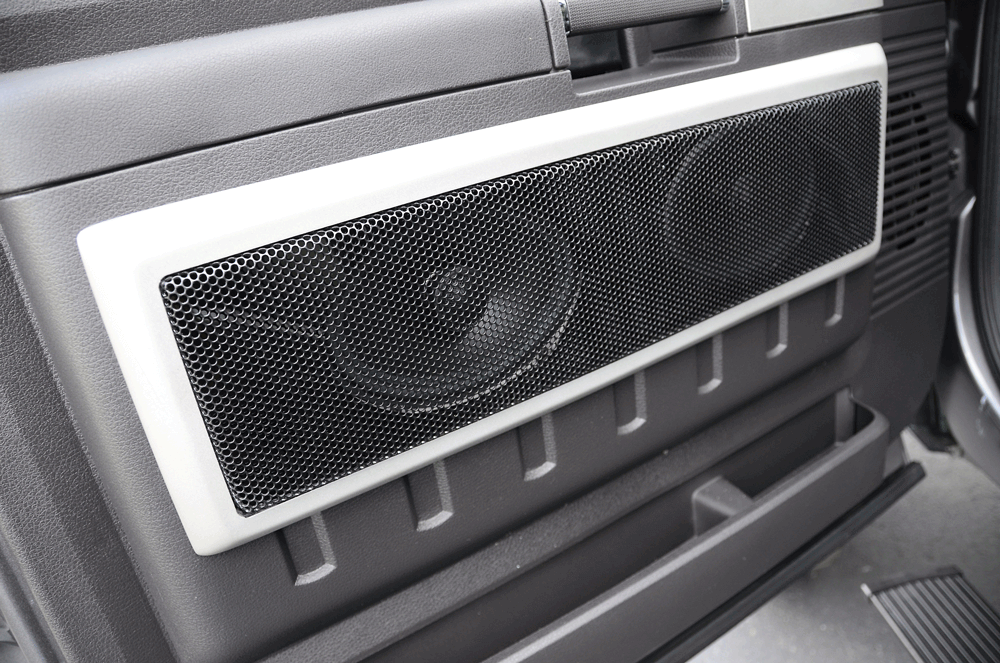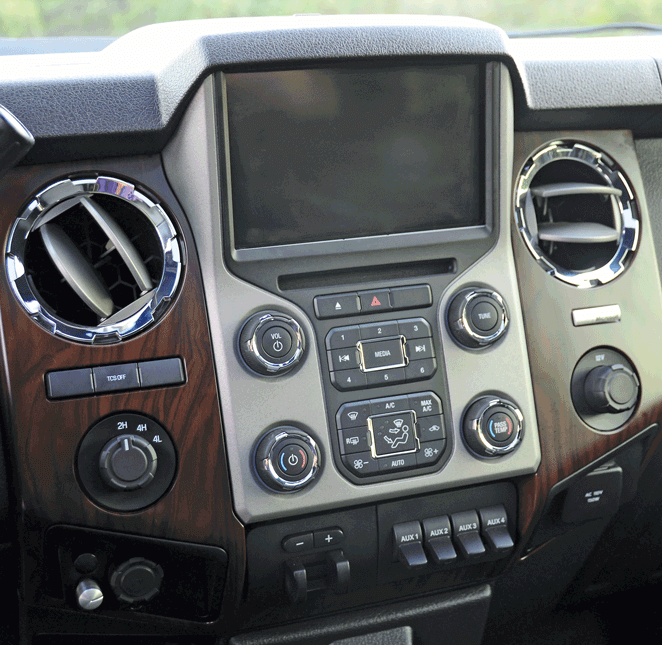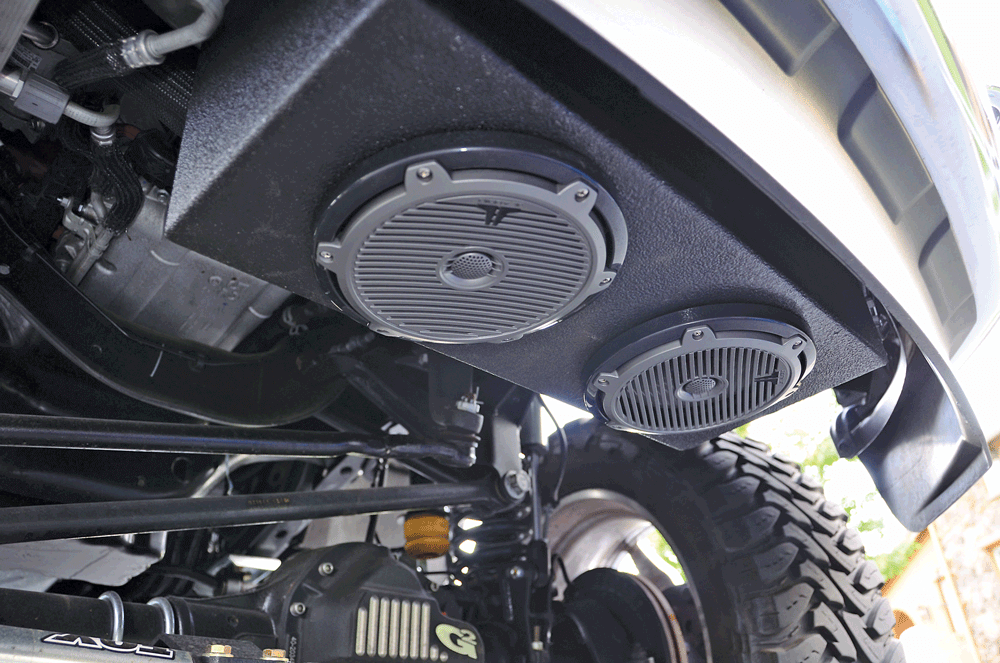 Underneath the rear seat are five separate amps, with a total output of 3,800 watts. Saunders says that's not as much as some "competition-grade" systems, but it's "really loud" and way above average for a daily driver. The entire system, including a Viper remote-start/car alarm with GPS tracking, took about a month to install, and at a total cost amounting to more than twice that of a custom paint job.
The marine-grade, weatherproof speakers are mounted underneath the front and rear bumpers. So whatever life throws at him and his truck, Cato can crank up the volume, stomp the throttle and blast away just about anything. Even zombies. DW