IN-DEPTH LB7 DURAMAX COOLING AND AIRFLOW UPGRADES
If you missed the December 2017 issue of Diesel World Magazine, you'll need to snag a copy to get up to full speed on this build. But for a quick recap, this low mileage 2004 LB7 Duramax, as clean as it appears, needed some repair help. Due mostly to common failure points within the LB7 platform, most LB7's will experience at some point in life, i.e. injectors and head gaskets. The engine showed signs of a minor head gasket leak with a pressurized cooling system, that would blow coolant out of the reservoir while towing. And the factory injectors were shot, diagnosed by the slight grayish/white haze coming out of the tail pipe and some abnormally high injector balance rates on a couple of cylinders. To resolve these issues, a complete head gasket kit and all new OEM spec injectors, injector lines, and injector cups were installed from Merchant Automotive. With the engine torn down that far for repairs, the CP3 fuel injection pump was also replaced with an upgraded Sportsman pump from Exergy Performance, which has some internal modifi cations for better fuel fl ow, especially at higher RPM's.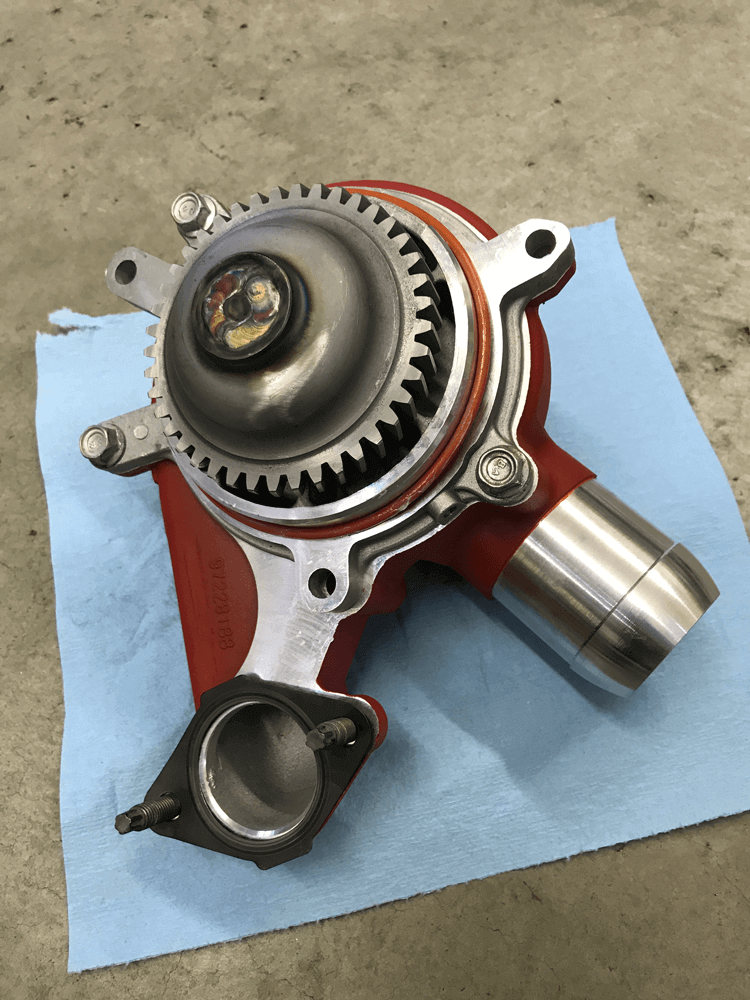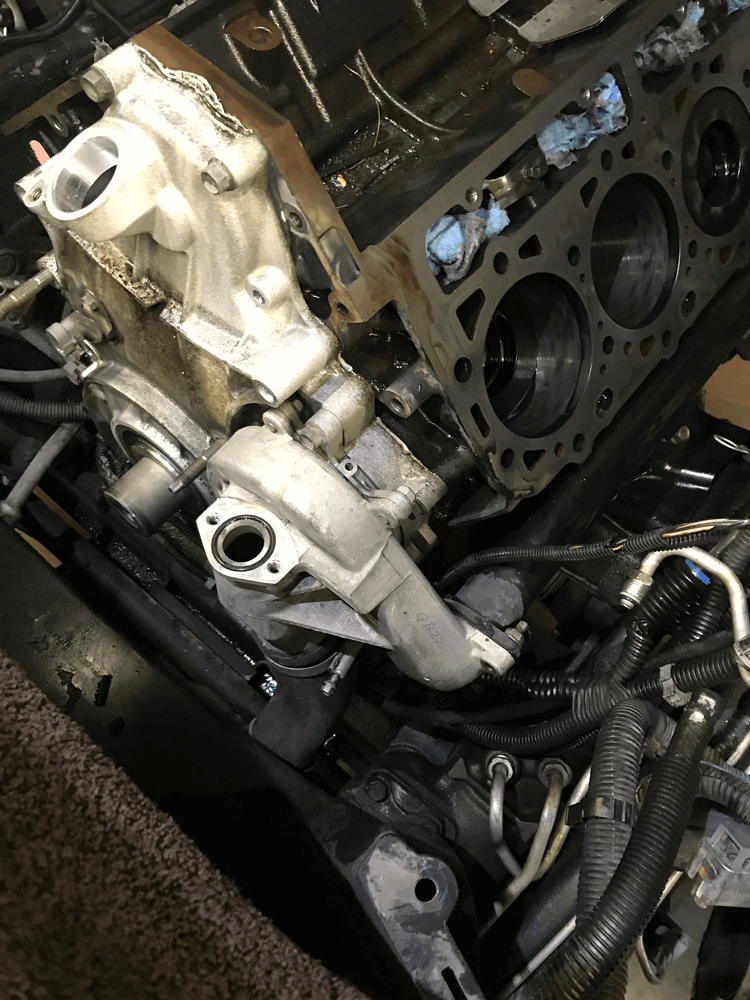 With Part Two of this series, the engine reassembly gets completed and capped off with improvements to the airfl ow side of things, which will complement the new fueling modifi cations perfectly. A new turbocharger, water pump, better fl owing manifolds and up-pipes and some high fl ow charge air piping to fi nish it all off with some style.
Water Pump Replacement Kit
In higher horsepower applications, the Duramax engines water pump has been known for premature failure due to the water impeller and gear spinning on the shaft. When this happens, obviously you lose cooling effi ciency as the water pump can no longer move fl uid through the system effectively. To resolve these issues, the Dmaxstore. com water pump comes TIG welded at the impeller to prevent it from ever walking or spinning on the shaft. The kit also includes a high-quality cast housing powder coated and laser etched for a nice look under the hood. Of course, new OEM O-rings and seals are also included to complete the install.
Max Flow Manifolds
To offer the absolute best turbocharger performance and efficiency, replacing the factory log style exhaust manifolds and restrictive up-pipes was a no brainer. The new Max-Flow system from Dmaxstore.com uses a much better designed manifold with individual runners that enter the common collector to better draw exhaust from the engine, improving flow to the turbine side of the turbocharger by 55 percent. The fabricated up-pipes use 0.120-inch thick 304 stainless steel with an internally sleeved bellow, which offers better strength and flow that the stock pieces would. Improving exhaust flow before the turbocharger without hurting velocity means better spool-up and quicker on-throttle response from the engine, which means better acceleration, lower back pressure, less smoke at low rpm's, and cooler EGTs under load.
WC Fab Piping Package
With the fuel system side of the engine taken care of in the previous part of this build with all new injectors from Merchant Automotive and a Sportsman CP3 pump from Exergy Performance, the charge air system could really benefit from some improvements as well. Wehrli Fabrication (WC Fab) of Sycamore, IL offers everything under the sun when it comes to improving airflow for your Duramax. From a basic intake kits, their unique high flow Y-Bridge system or a complete single and compound turbo kit to fit any drivers use or horsepower goals. WC Fab started building custom hand fabricated piping and turbo kits for Duramax trucks clear back in 2010 and their complete Y-bridge, hot/cold side piping, intake and coolant reservoir was perfect for both better efficiency and cosmetics on this LB7 overhaul. Every piece is engineered, developed, fabricated, and powder coated in-house, it's all test fit on engine stands to ensure your install goes easy with OEM like fitment.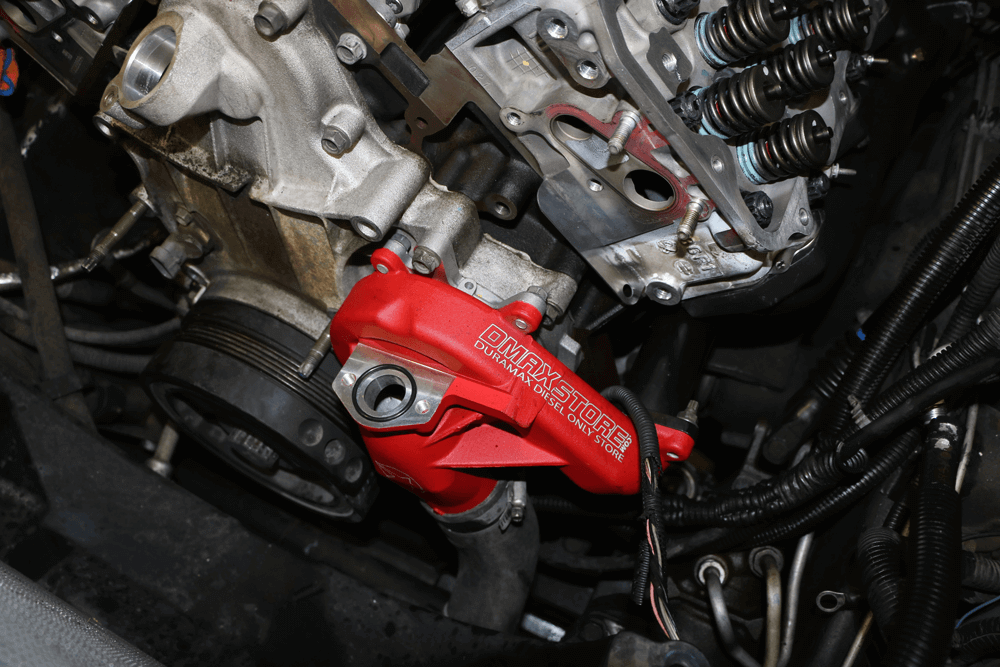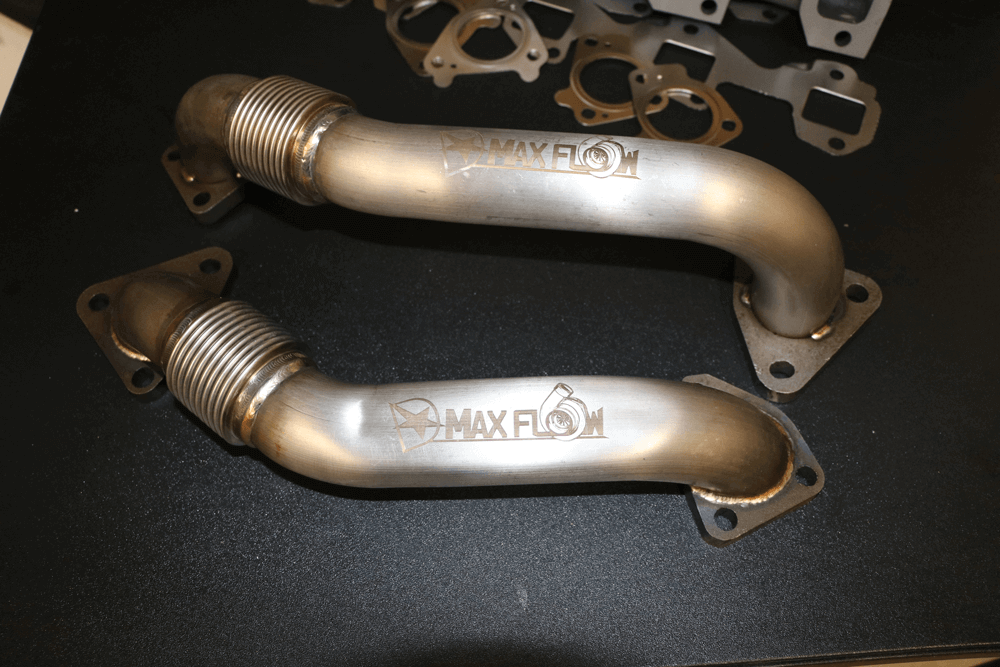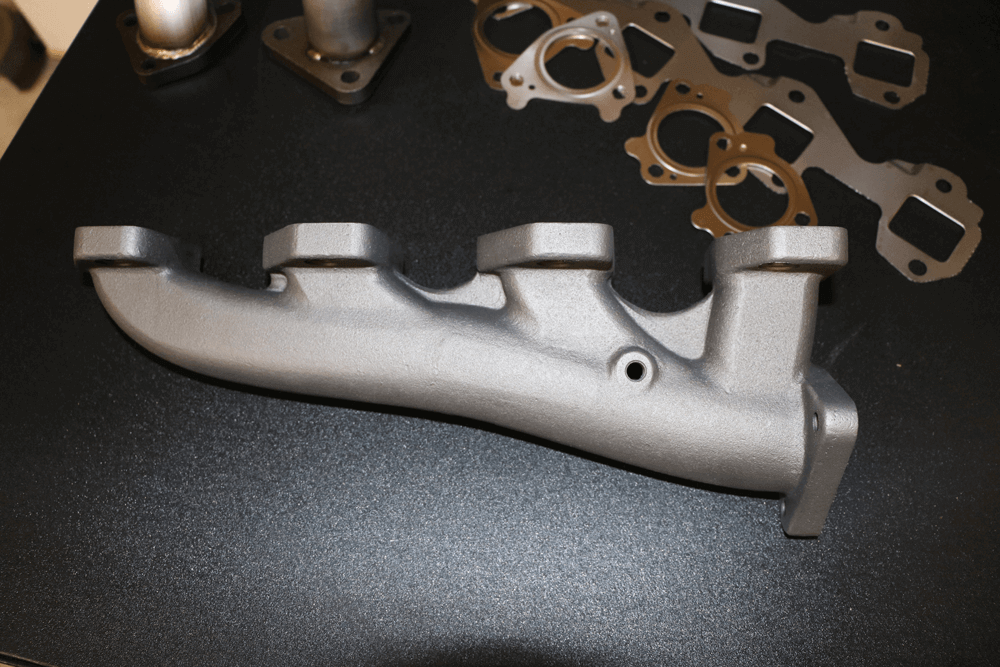 For this build, the stock turbocharger was also replaced with a quick spooling 64.5mm ProMax SX-E from High Tech Turbo, because of its great street manners and towing performance with ability to support 600 rear wheel horsepower. Using the latest Borg Warner S300 SX-E turbocharger platform, the HT Turbo ProMax offers a unique internally waste gated T4 exhaust housing on their cast high flow T4 pedestal to offer optimum turbine flow without sacrificing spool-up and low RPM turbo response. Pushing 550+ horsepower and 35+ psi boost, the larger journal bearings, 360-degree thrust bearing, and a better flowing turbine side make the ProMax SX-E turbocharger more durable than a OEM or modified OEM LB7 turbocharger.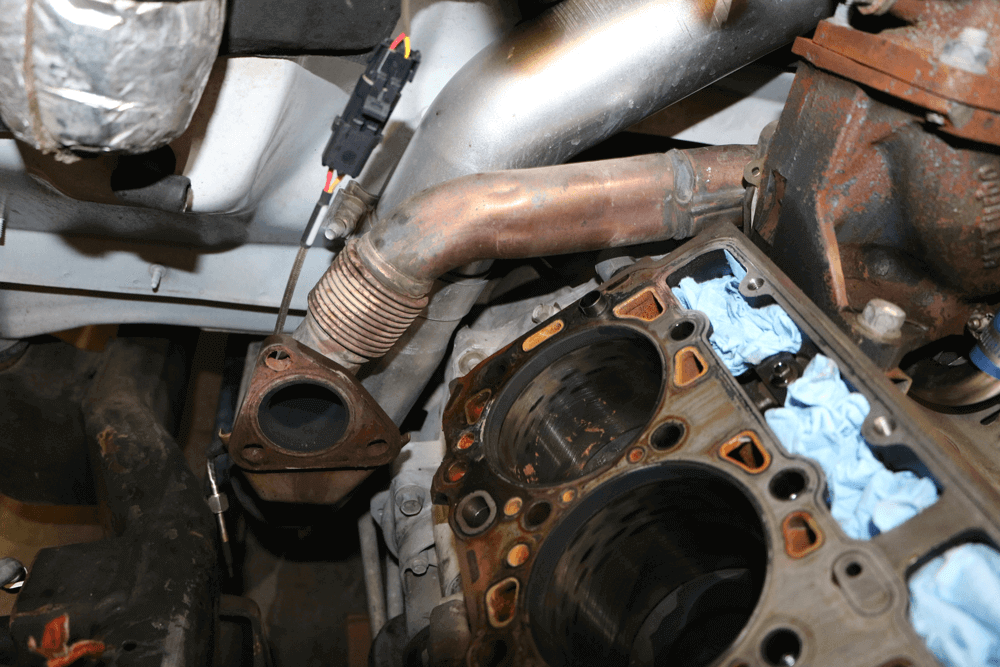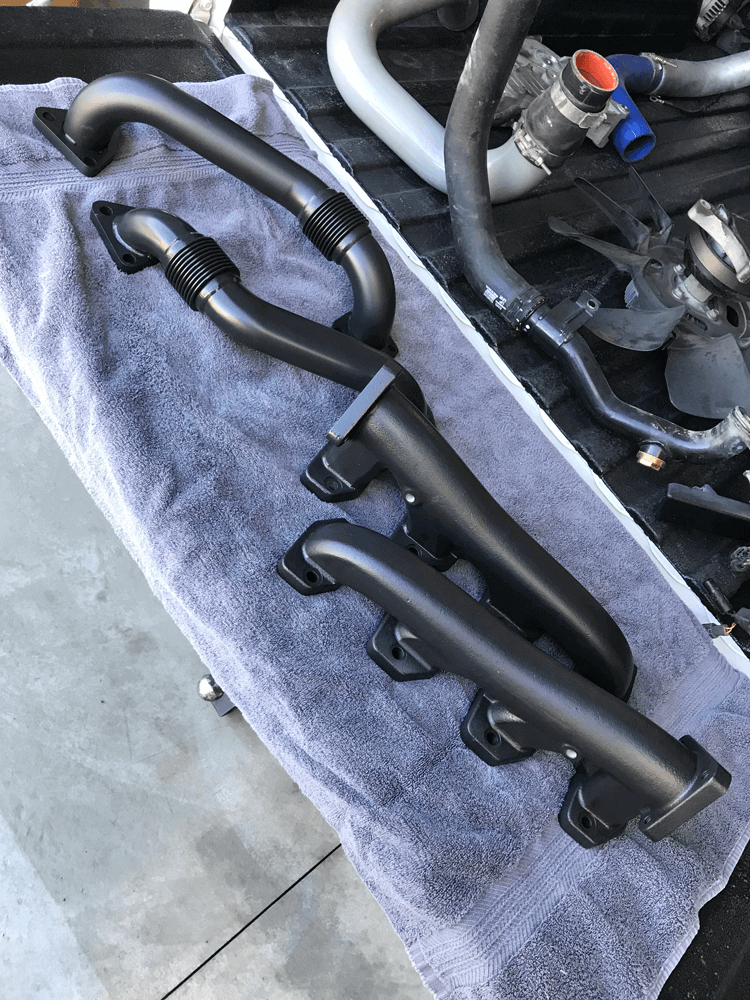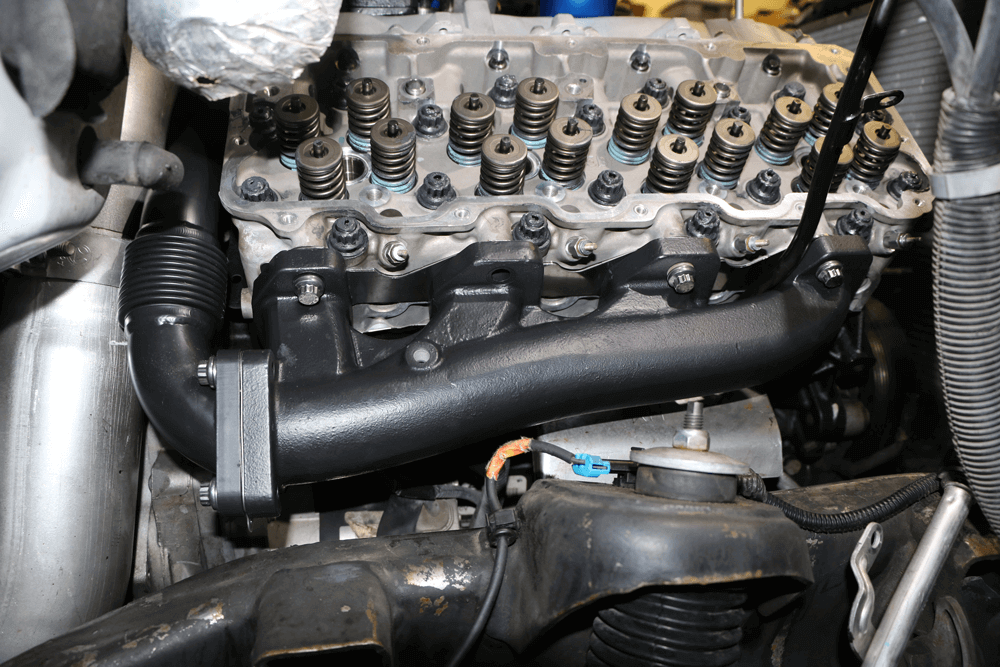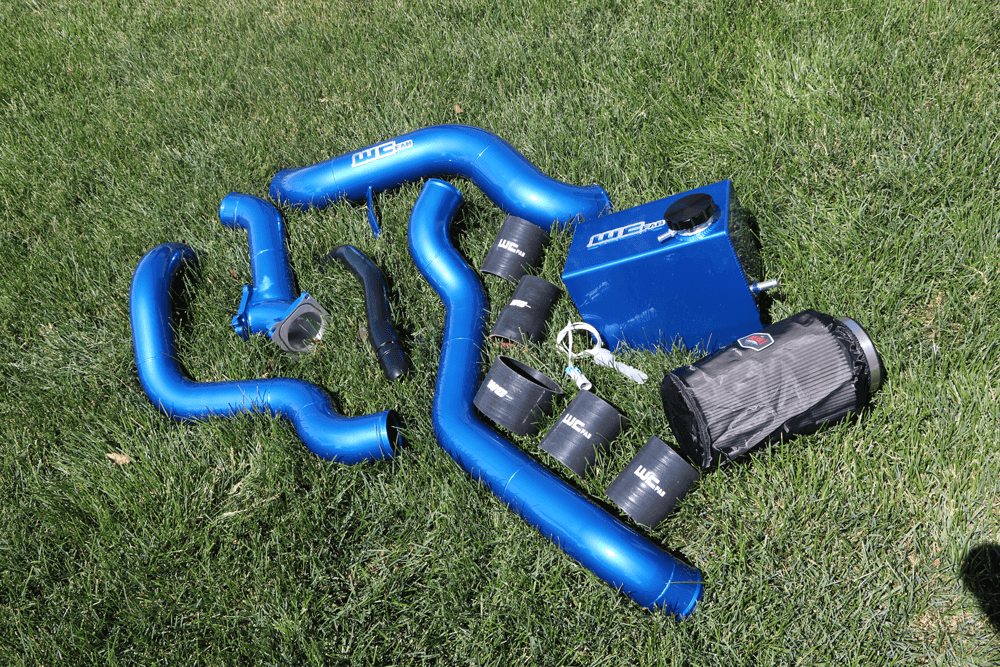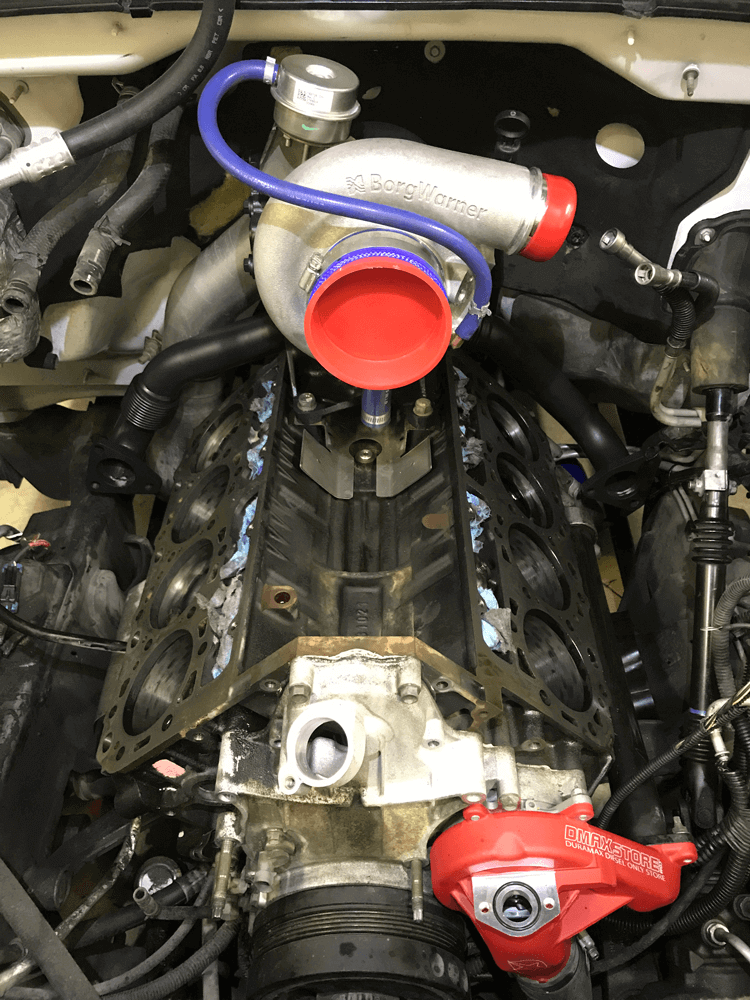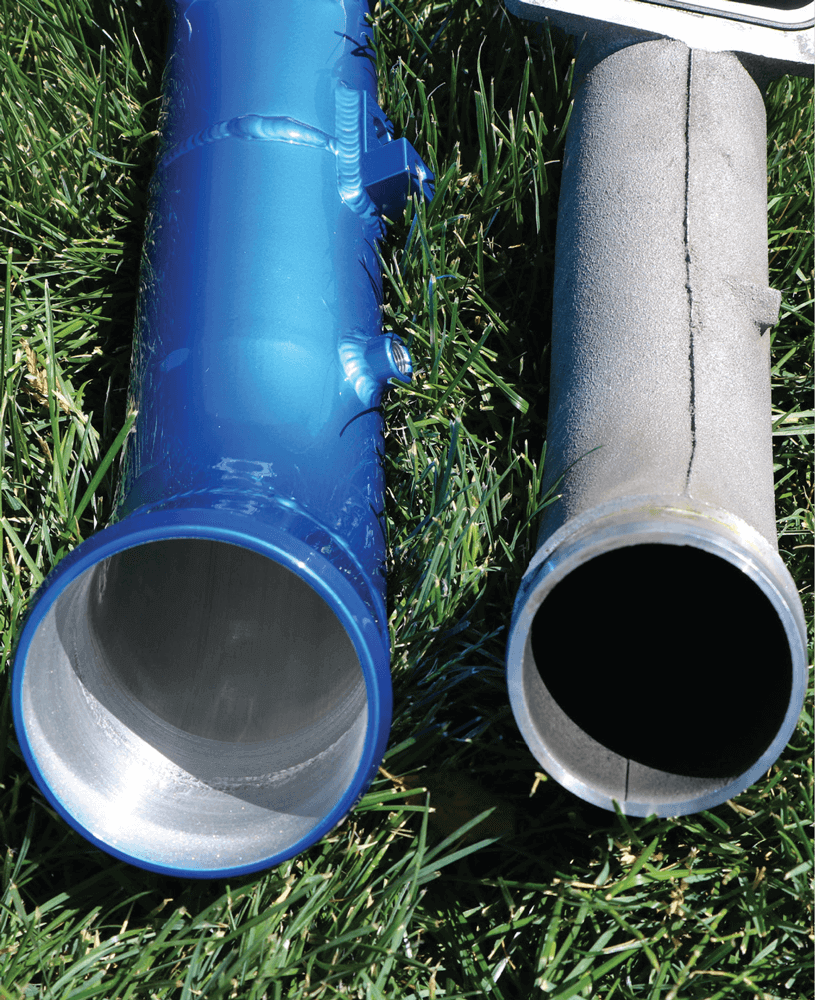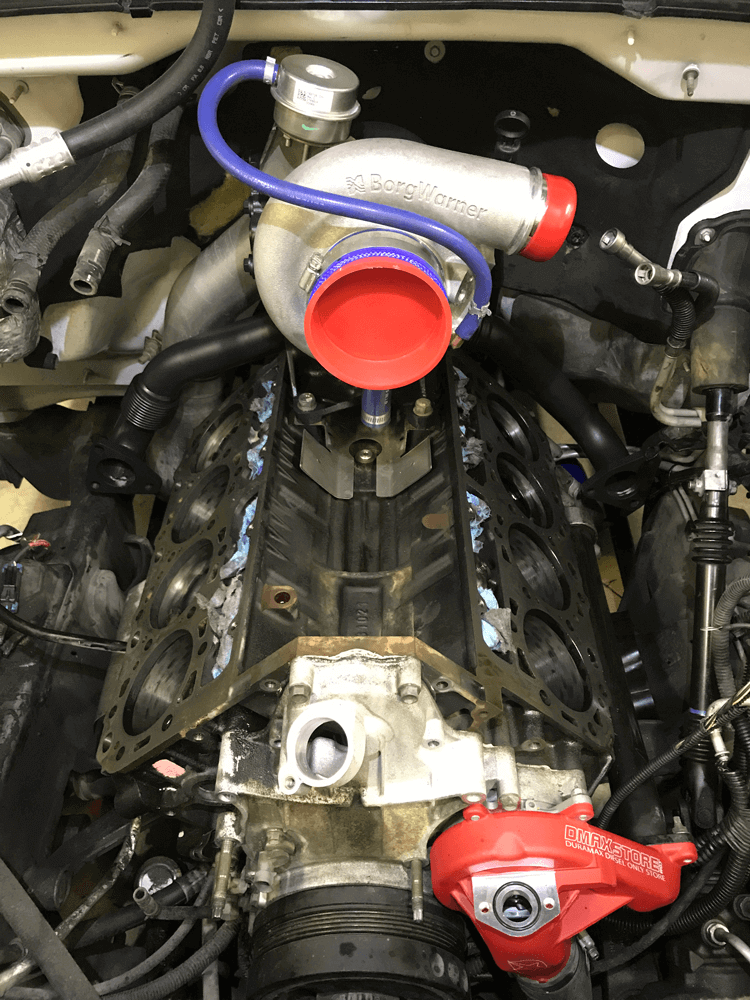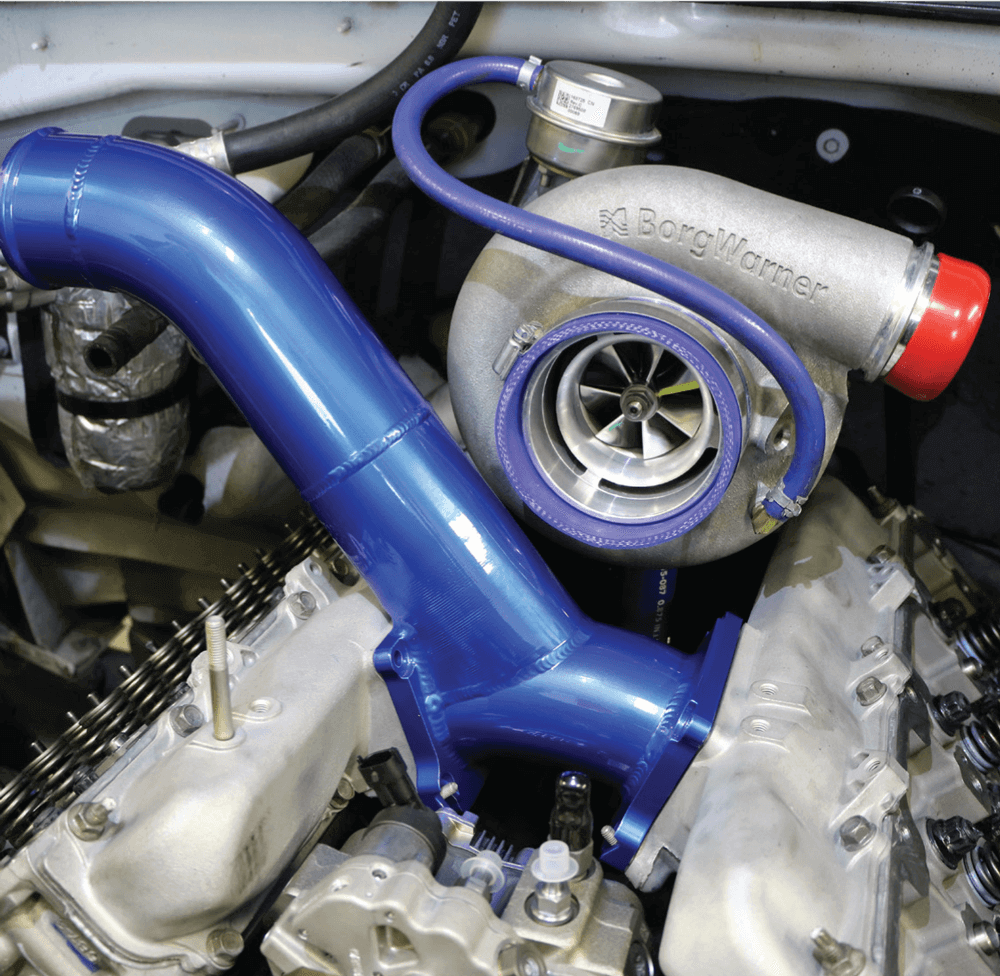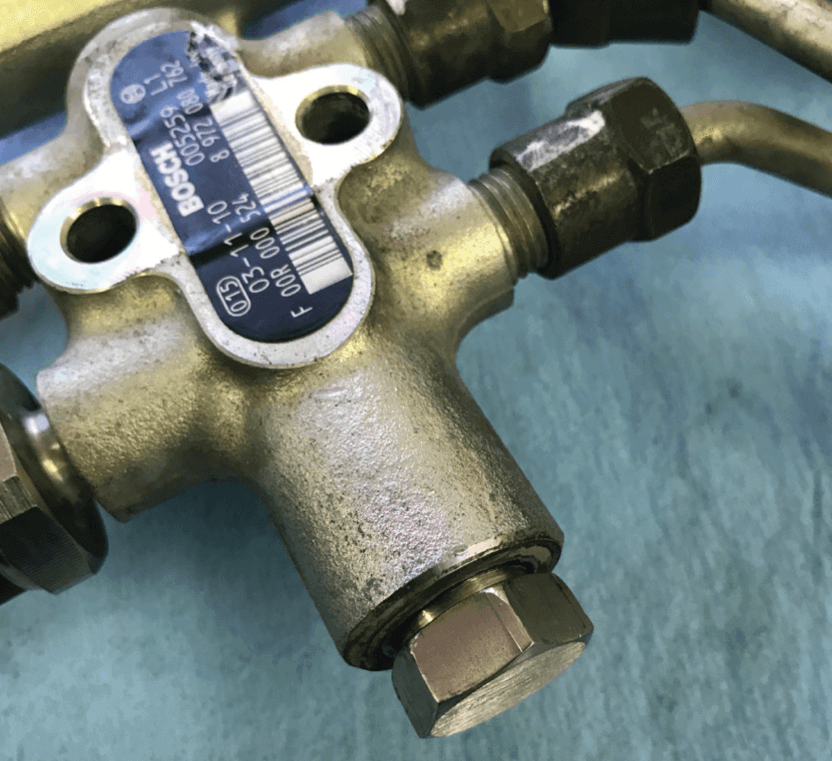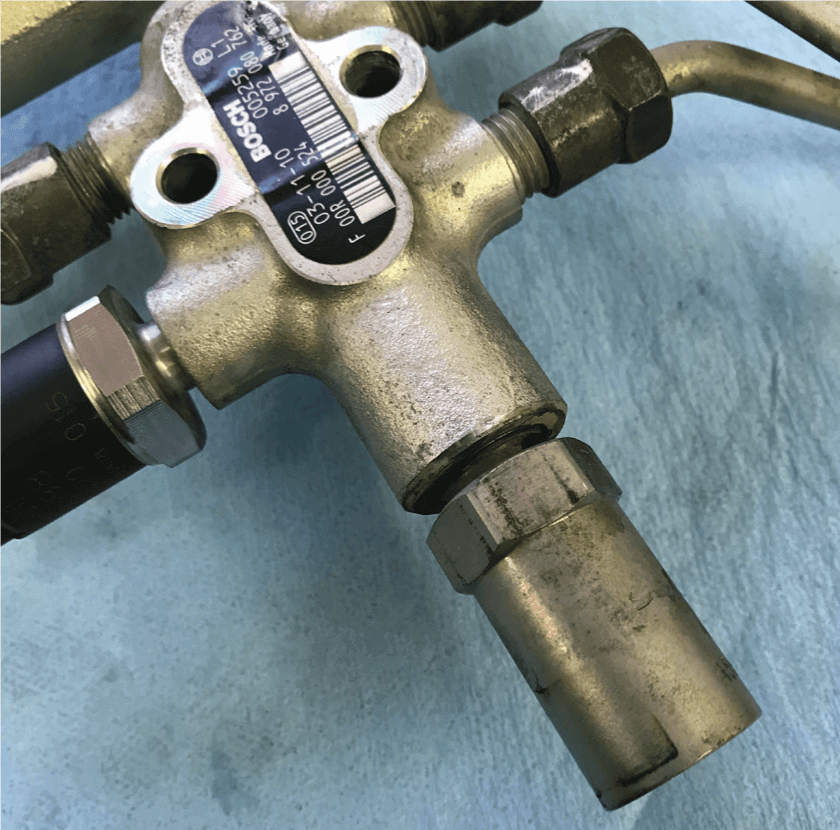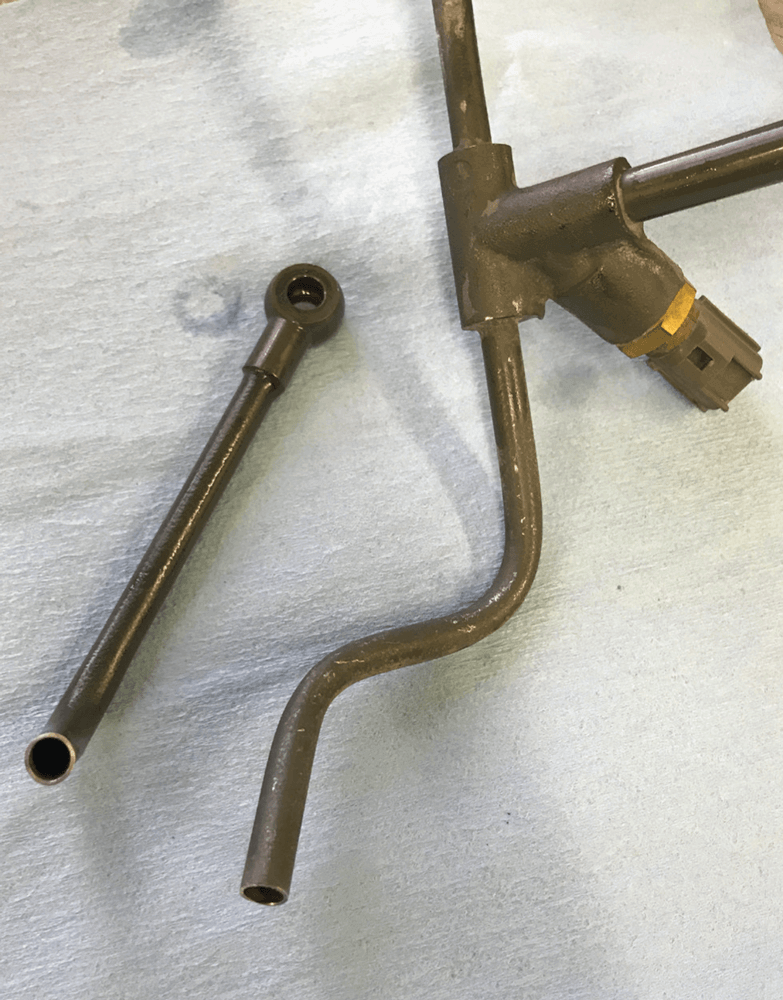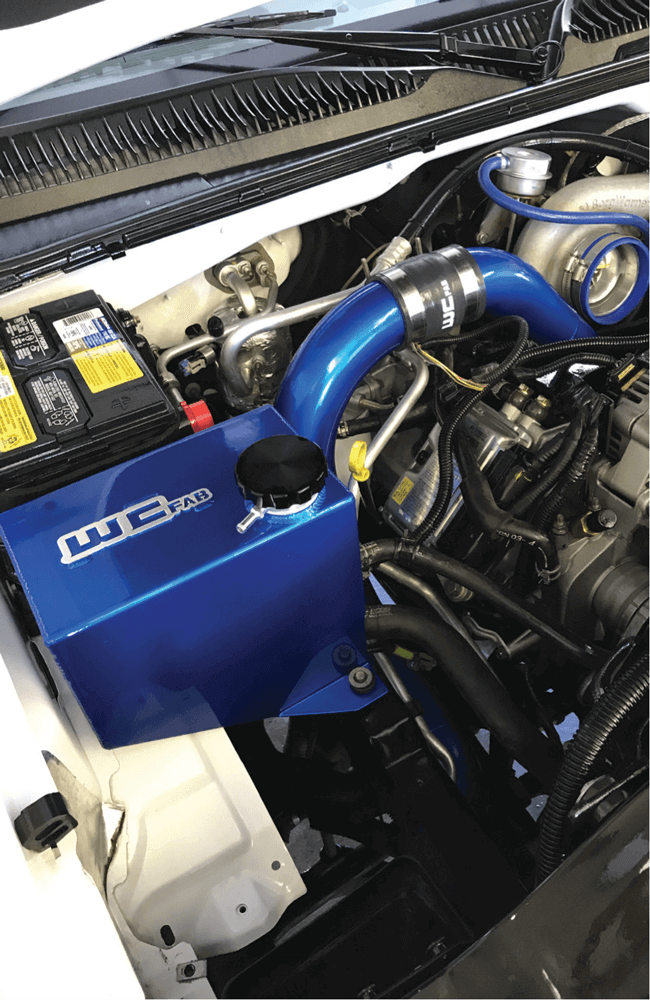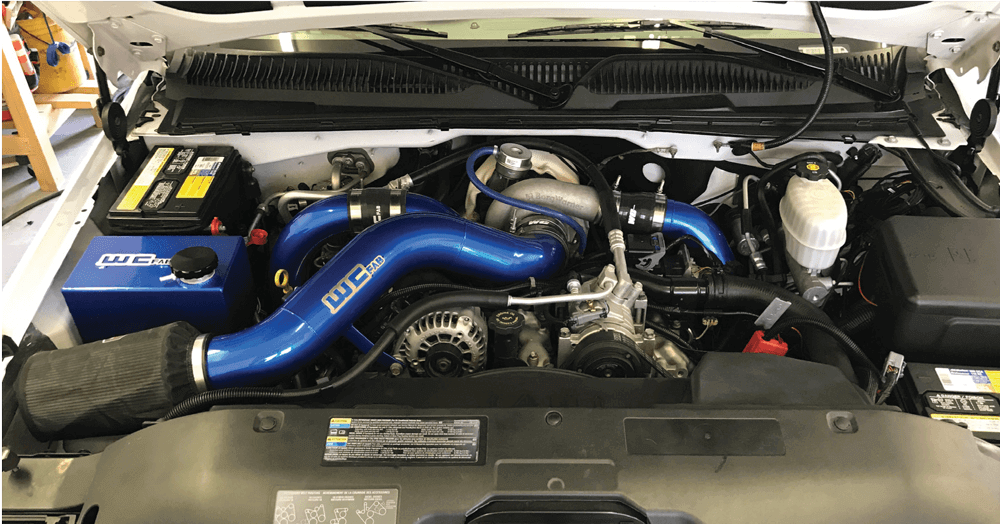 To help get all that extra airflow to the engine the WC Fab piping kit uses mandrel bent high flow 3-inch intercooler pipes along with a super trick high flow 30-inch Y-bridge to eliminate the restrictive factory cast piece. The new Y-bridge will more evenly distribute air to the cylinder heads for a more efficient burn once enters the combustion chamber. The kit also included a massive 4-inch high flow intake system with a cleanable open element filter to ensure that new S300 based turbocharger gets all the clean air it can handle. Since the complete package is powder coated in your choice of color, it'll look great under the hood too. The factory plastic radiator overflow tank was also replaced with a matching fabricated tank, which really helps bring a little show truck bling to a daily driver tow rig.DW
RESULT
Part One and Part Two of this build were done in a home garage, which proves this is something that can be tackled on your own, should you have the proper tools, knowledge, and time. However, with that said, it's still suggested a professional, experienced shop do the head gasket and injector replacement. These two parts of the overhaul take an extreme amount of labor and doing it correctly is going to be critical to the reliability of your engine. Something as simple as the wrong head gasket thickness could cause piston to valve contact leading to major engine failure.
The new Merchant Automotive injectors showed near perfect balance rates on the first initial start-up and the LBZ based Exergy Performance Sportsman CP3 injection pump runs perfectly after a couple tweaks to the ECM tuning from ATP Trucks of Meridian, ID. The different fuel regulator and pump flow will need to be accounted for in the tuning along with a few changes for the new 64.5mm ProMax SX-E turbocharger. Only minor changes were needed to dial in the new set-up, but all of it is key to making this complete package work together for the best performance, mileage and drivability.
After a couple hundred break-in miles, the truck was loaded on the local chassis dyno where Level 3 tune put down an impressive 470hp, with virtually no smoke and just 1,200-degree EGT's, making it the ideal set-up for heavy towing. A quick bump up to the Level 5 Max Effort tune found another 90hp in the engine, making it an official 560hp daily driver/street truck. Again, there was very little smoke once the turbo lit and EGT's are still very manageable at that power level, due mostly to the better flowing Max-Flow manifolds and WC Fab high flow 3-inch piping kit.
This combination of parts proves the LB7 is nowhere near a dead platform, with plenty of strong aftermarket companies still offering great products to improve your trucks overall usability, durability, and performance. While the upfront expense to take care of some of the problematic issues in a high mileage LB7 are there, we're still well below replacement costs for a brand new 2017 Duramax and the dyno has proven we can still outperform the newest OEM's horsepower ratings.