Coming across a clean old body style Ford isn't as easy as it used to be. Twenty-plus years of changing seasons, exposure to salt, and general wear and tear definitely takes its toll on these square bodied beauties. While the 7.3L Power Stroke under the hood might last forever, the rest of the truck usually doesn't keep pace. Still, the affinity for these aging Blue Ovals runs deep. If you're into them, you're really into them. And if you add in a few modern performance upgrades like Hastings Foote did with his '97 F-250, you've got a classic diesel with more than just cosmetic appeal.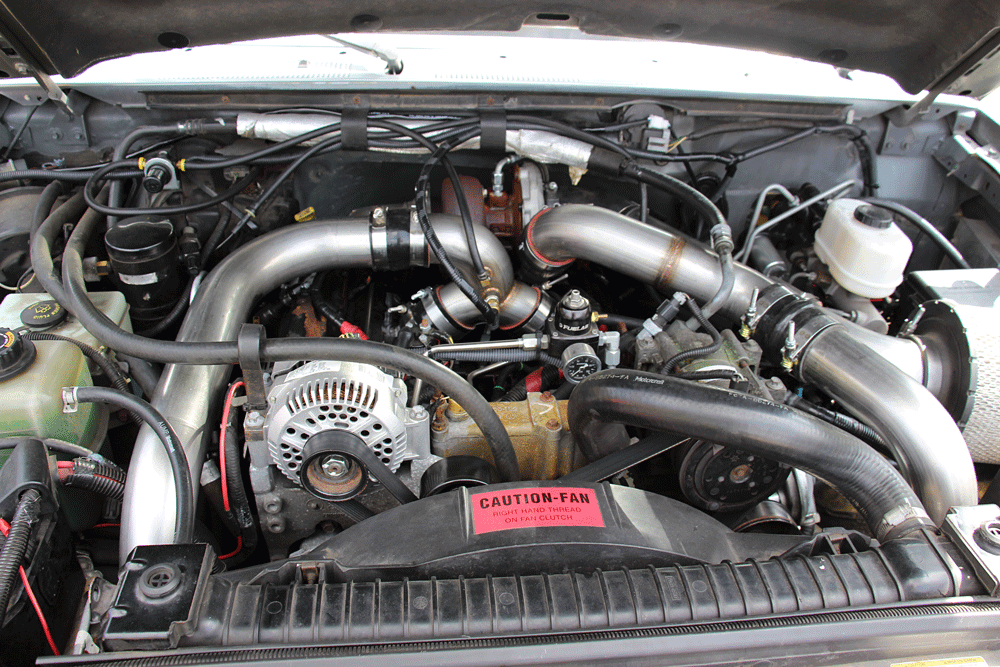 Untouched Long Block
After obtaining the truck five years ago with just 131,000 miles on the odometer, Hastings is yet to break the seal on the low-mile 7.3L. To date, a set of Stage 2 injectors from Rosewood Diesel Shop represent the furthest he's dug into the 444 ci V-8. Keeping the oil side of the injectors happy, and replacing the volume-limited 15-degree factory high-pressure oil pump, is a T500 unit from Terminator Engineering. Ridding the engine of its weak, cam-driven factory lift pump, an electric OBS competition fuel system and regulated return from Irate Diesel Performance handle fuel supply duties. All PCM calibrating is handled by Power Hungry Performance, and Hastings navigates his PHP tunes on the fly via a Hydra Chip.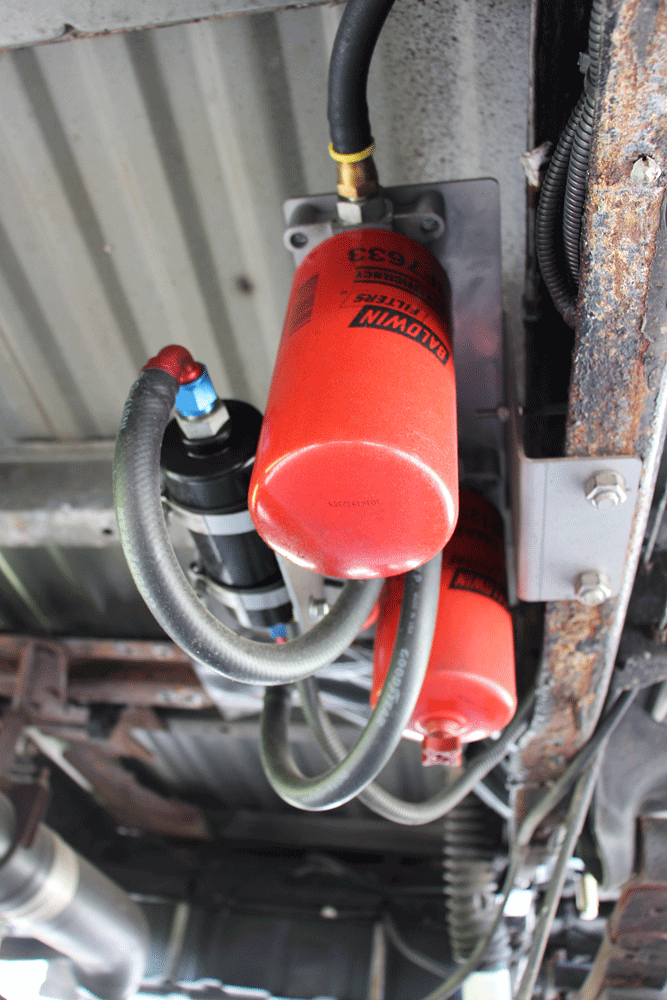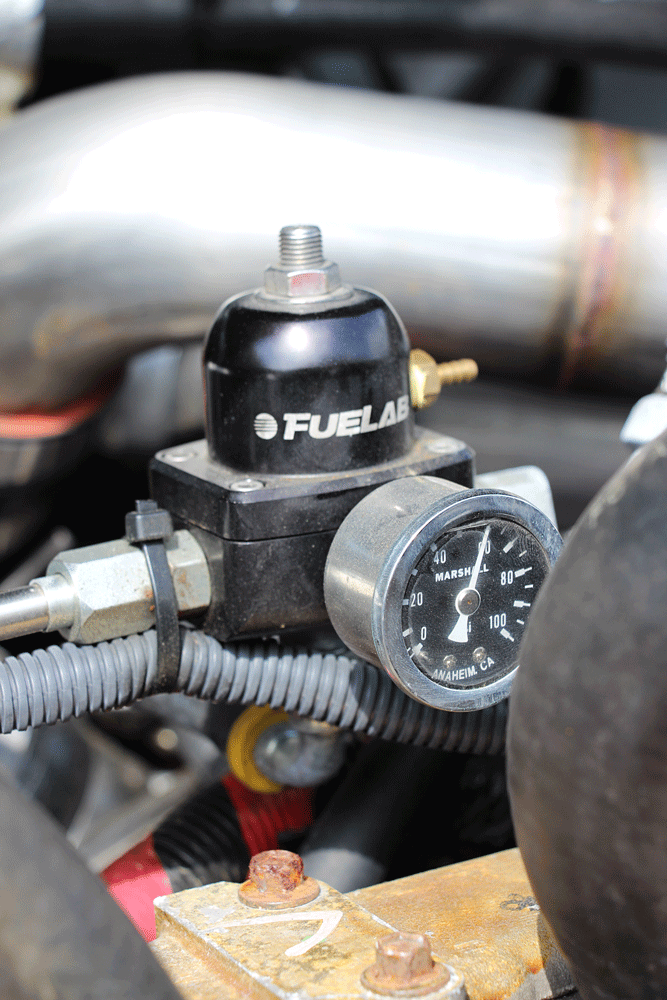 Deep Breaths
Opening up airflow for the 7.3L, a T4 turbo mounting system from Irate Diesel Performance is employed, which essentially allows any T4 flanged charger to be bolted into place. Hastings' turbo of choice is an S366 from BorgWarner, which sends close to 40 psi of boost through an aluminum intercooler from a 7.3L Super Duty application. Aluminum intake plenums with 3-inch diameter inlets, 3-inch intercooler piping and intake Y, and stainless steel up-pipes from Irate Diesel Performance complete the free-flowing air path into (and out of) the engine.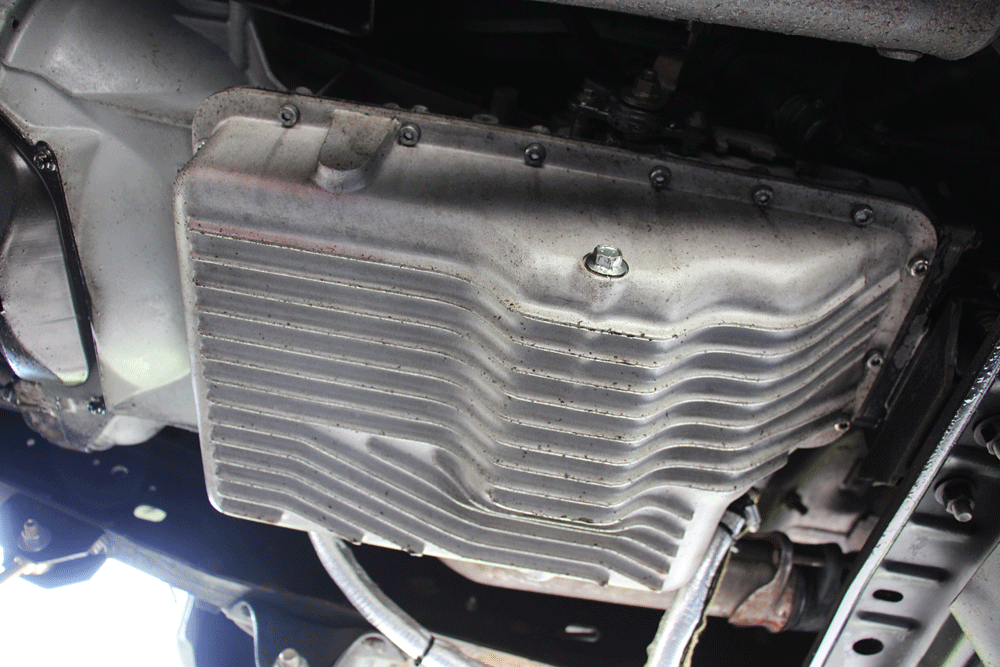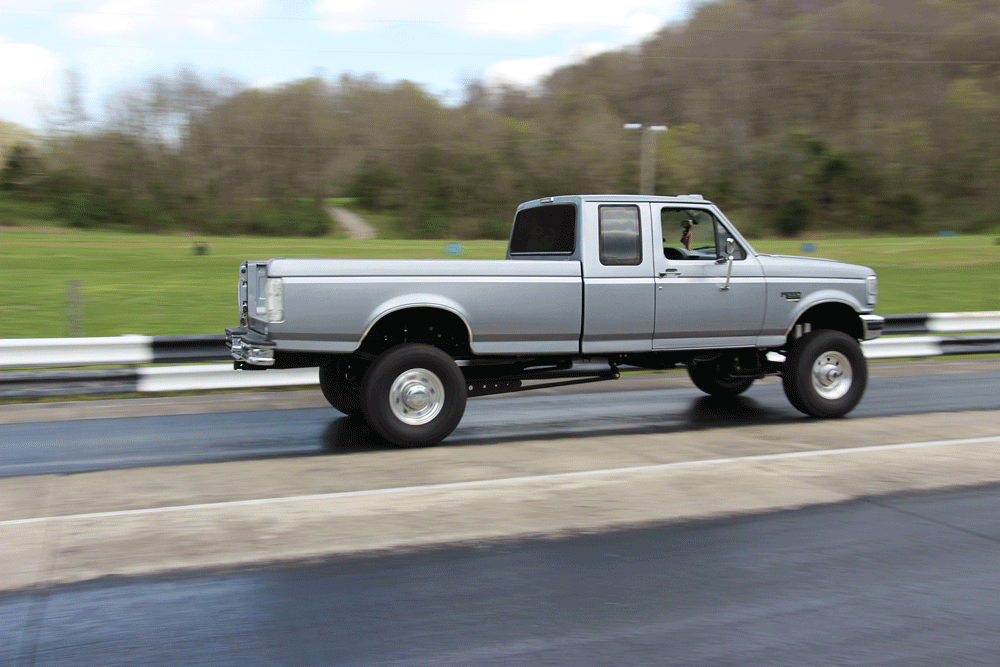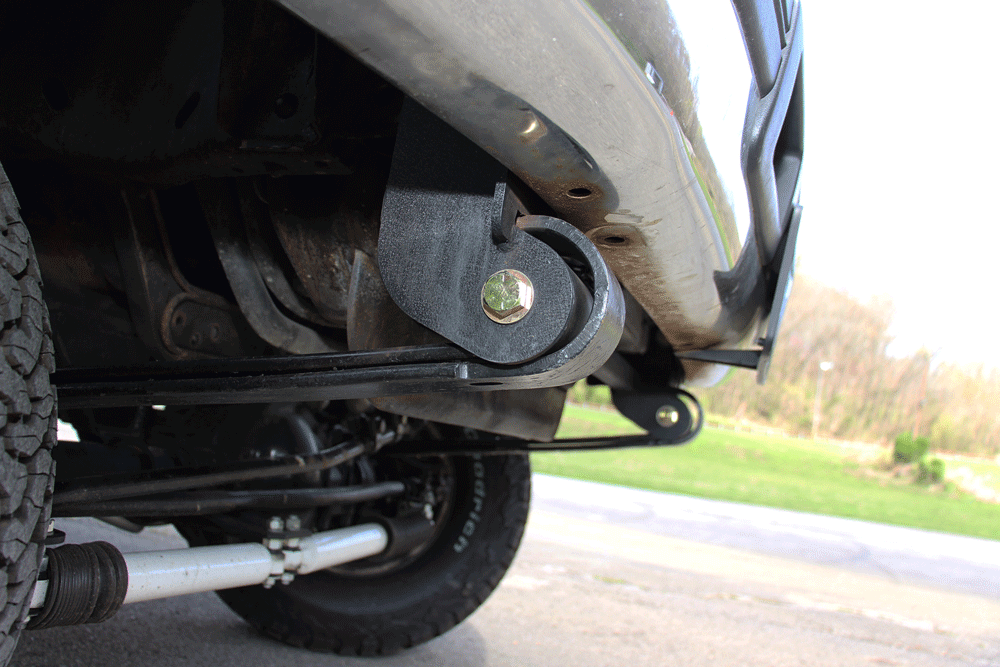 Fortified E4OD
In order to harness the 800 lb-ft of torque the 7.3L would send to the wheels, Hastings turned to his hometown transmission shop, Ray's Automotive, to beef up the E4OD. The four-speed would receive upgraded clutches, a John Wood Automotive valve body, PML deep pan, and was topped off with a PATC triple disc torque converter. To keep the E4OD cool, Hastings installed an Xtruded double stacked transmission cooler from BD Diesel. For competition purposes, a manual lock up controller built by 7.3L guru Matt Maier is utilized.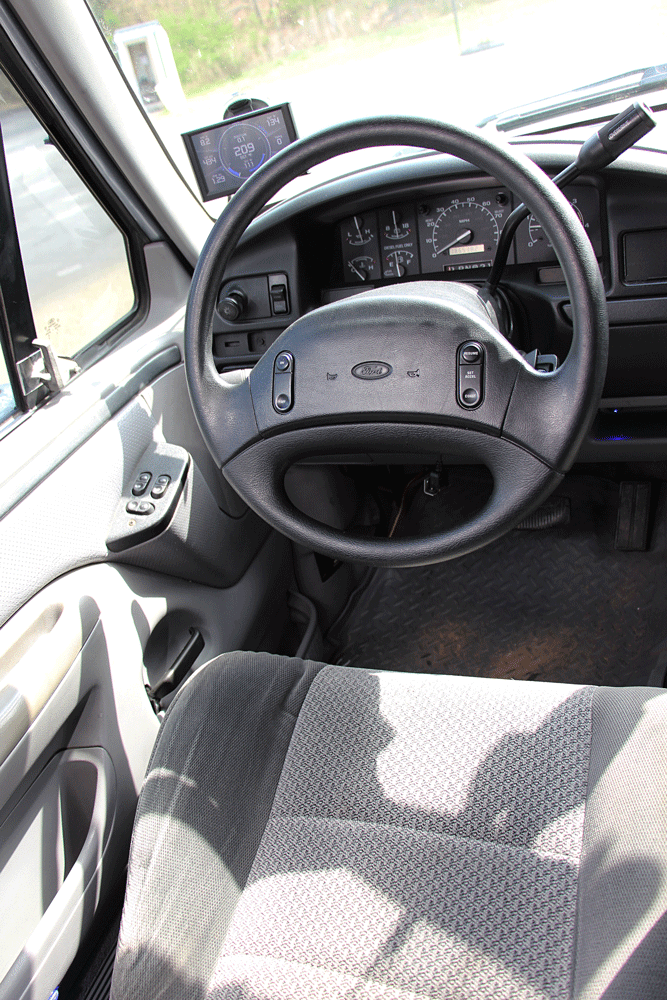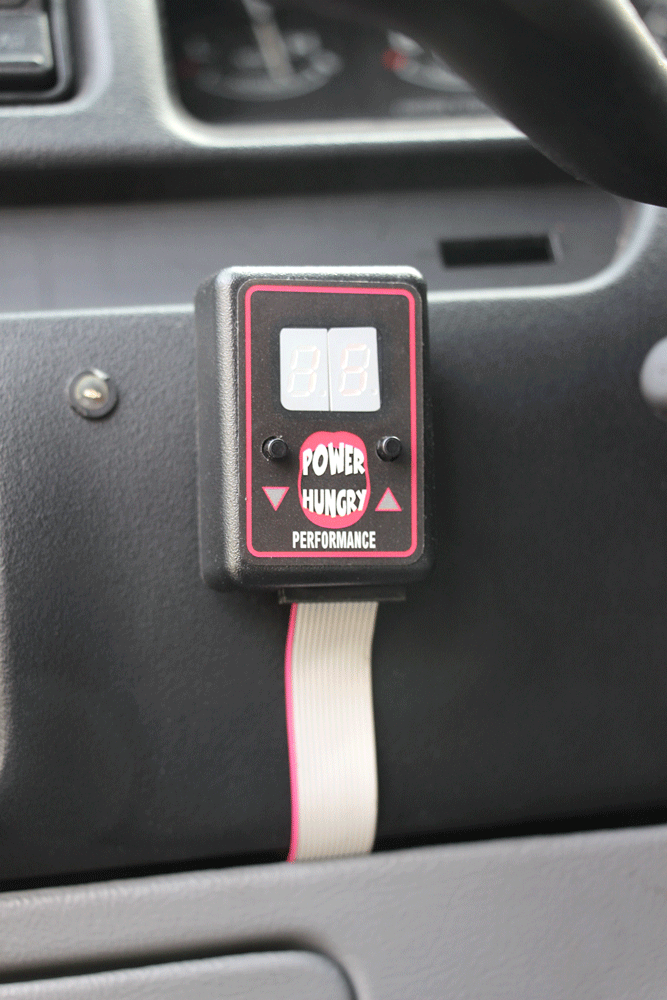 Solid Axle Conversion
With just one pass under his belt at the drag strip—and the original Dana 50 TTB incurring plenty of damage—it wasn't hard for Hastings to decide to replace it with a solid axle. Sourcing a Kingpin Dana 60 from an '89 F-350, he would perform the swap himself and never look back. Hastings later improved the truck's front end ride quality by installing a reverse shackle kit from Precision Metal Fabrication (PMF).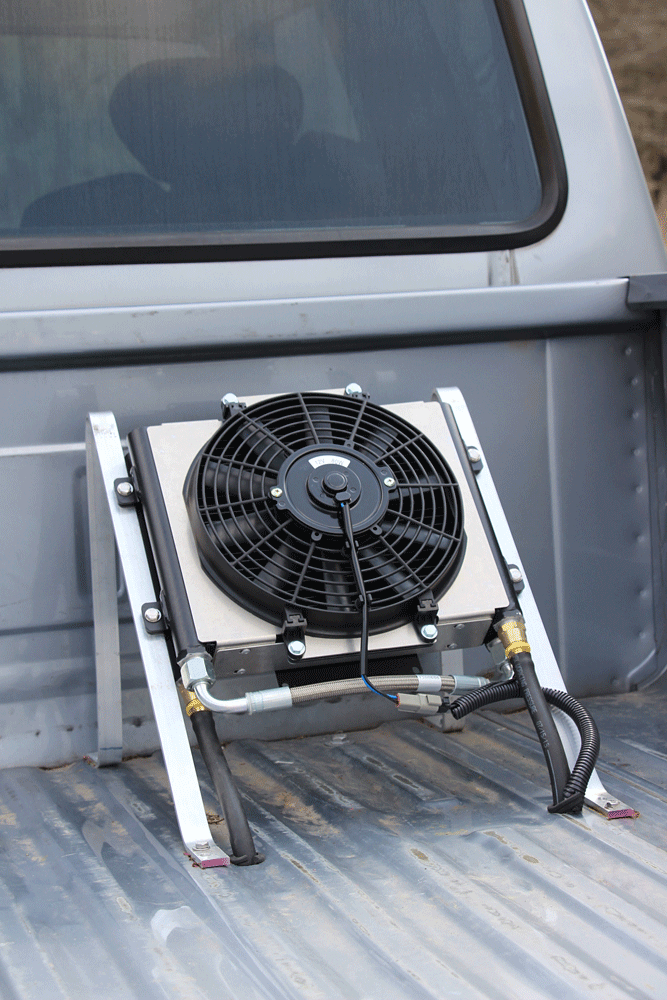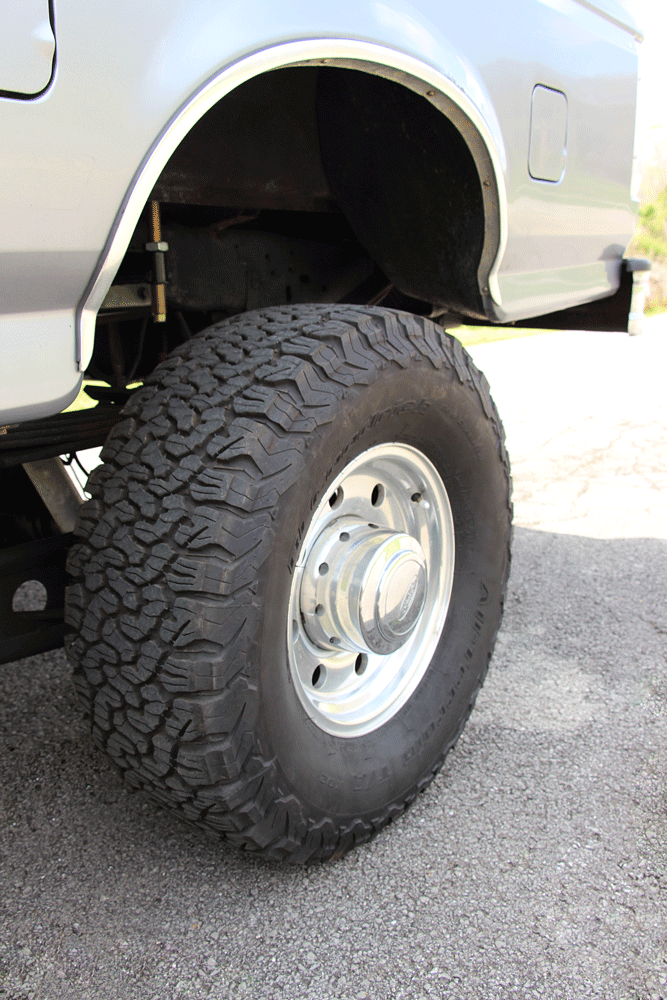 Big Things To Come
While a lot of enthusiasts tend to shy away from pursuing horsepower with a 7.3L, Hastings enjoys the challenge. "They are such a natural underdog," he told us. "They have a lot of shortcomings [with HEUI, the stock turbo, and the E4OD], so you have to know when and where to modify them to make them better." With a clean-burning, 450hp being made on a relatively tight budget, we'd say he's done a good job living up to that line. But with plans to add bigger injectors and an S400 over the winter, he might just have an entirely different animal on his hands come spring. DW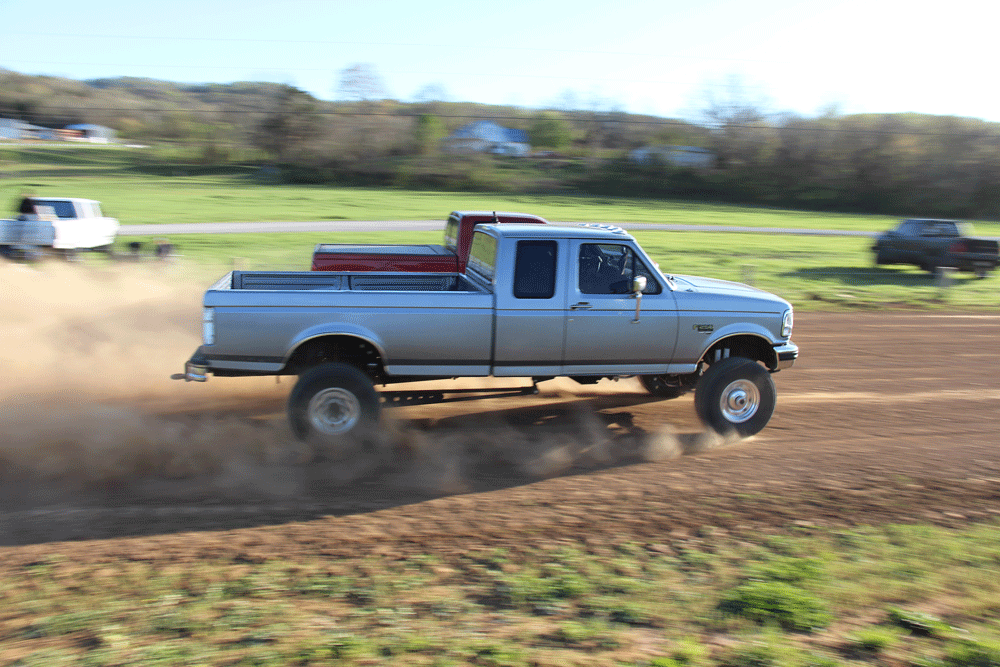 Specs
Year/Make/Model: 1997 Ford F-250
Owner: Hastings Foote
Hometown: Culpeper, Virginia
Odometer: 141,800 miles
Engine: 7.3L Power Stroke
Fuel/Oil: Rosewood Diesel Shop Stage 2 160/80 injectors, Irate Diesel Performance OBS competition fuel system, Irate Diesel Performance regulated return, Terminator Engineering T500 high-pressure oil pump
Turbo/Air: BorgWarner S366 with Irate Diesel Performance T4 turbo mount, 304 stainless steel bellowed up-pipes, intercooler pipes, 3-inch aluminum intake plenums, aluminum 7.3L Super Duty intercooler
Tuning: Power Hungry Performance via Hydra Chip
Transmission: E4OD automatic built by Ray's Automotive with PATC triple disc torque converter, manual lock up controller, John Wood Automotive valve body, PML deep pan, BD Diesel Xtruded Double Stacked transmission cooler
Horsepower: 450-rwhp (est.)
Torque: 850 lb-ft (est.)
Tires: BFGoodrich All Terrain T/A 305/70R16
Wheels: Factory 16×7-inch Alcoa
Suspension/Steering: Precision Metal Fabrication (PMF) reverse shackle kit and traction bars, Dirty Hooker Diesel adjustable bump stops
Axles: Kingpin Dana 60 front axle, 3.55 gears