Off-Roading Made Easy
From home garage to respected industry player, Weapons Grade Fabrication (WGF) has elevated the truck rack game. The company designs and manufactures vehicle-specific racks that follow the roofline, body contours and bed shape perfectly, creating an extremely functional and aesthetically appealing design. WGF launched at the SEMA Show 2015 with this 2004 Dodge Ram 2500 build.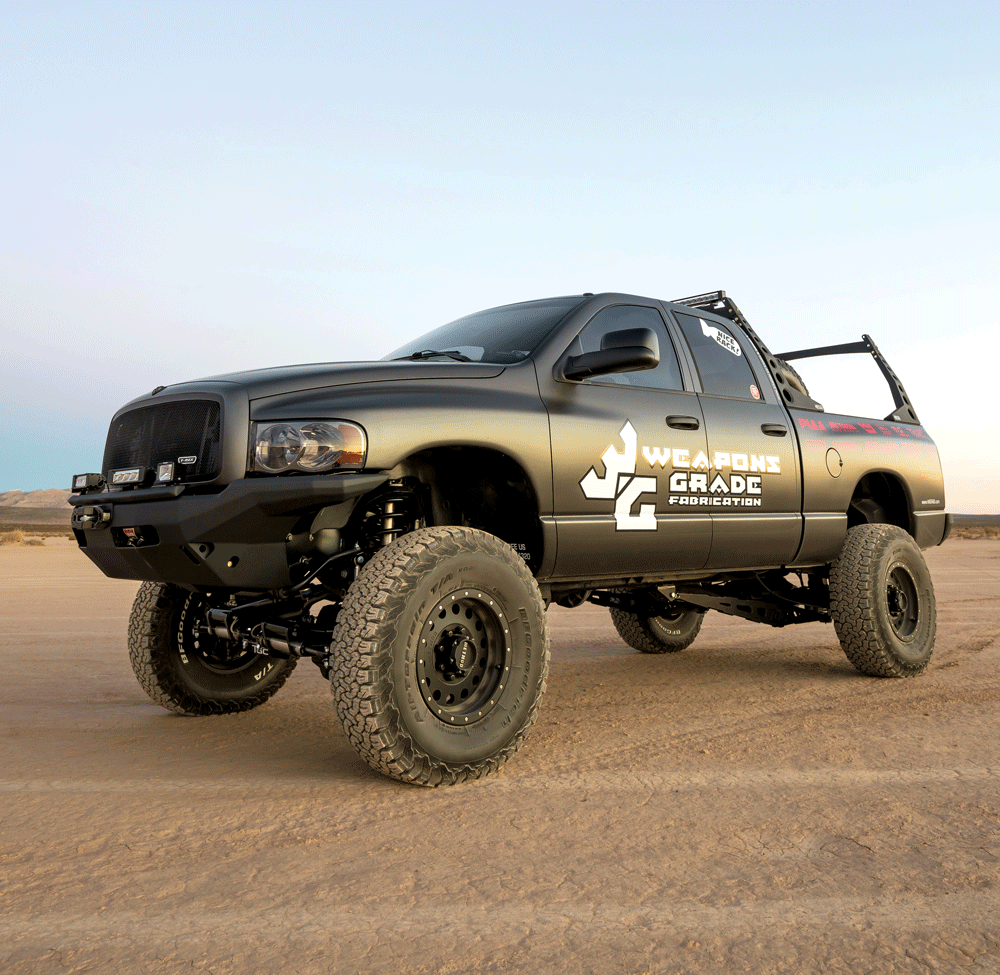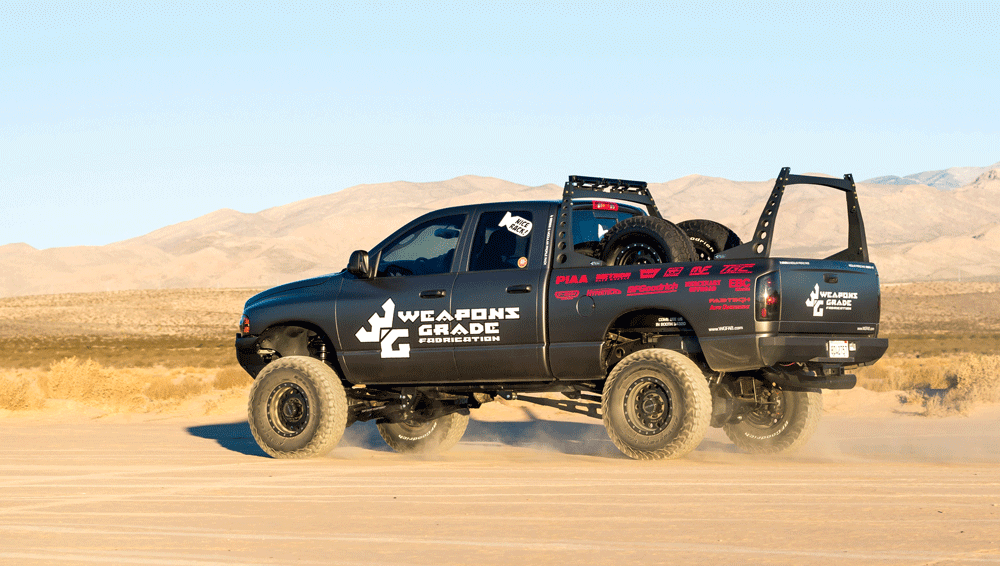 WGF was founded by Greg Marankie, who has been a designer and fabricator for more than 20 years, as a way to bring his skills to market in a unique way. His personal truck became the test bed for his products and was built over a 4-month period, with the help of his brother Gary, into this quality SEMA show truck in 2015.
Marankie bought the truck in 2006, when he was specifically looking for a 6-speed manual 5.9 Cummins to be used as a daily driver and weekend toy hauler towing his family's travel trailer. It is still used today as a daily driver and has become the primary showpiece for WGF, along with his wife's Toyota Tacoma. "Use what you have" is a great motto for getting a small business rolling.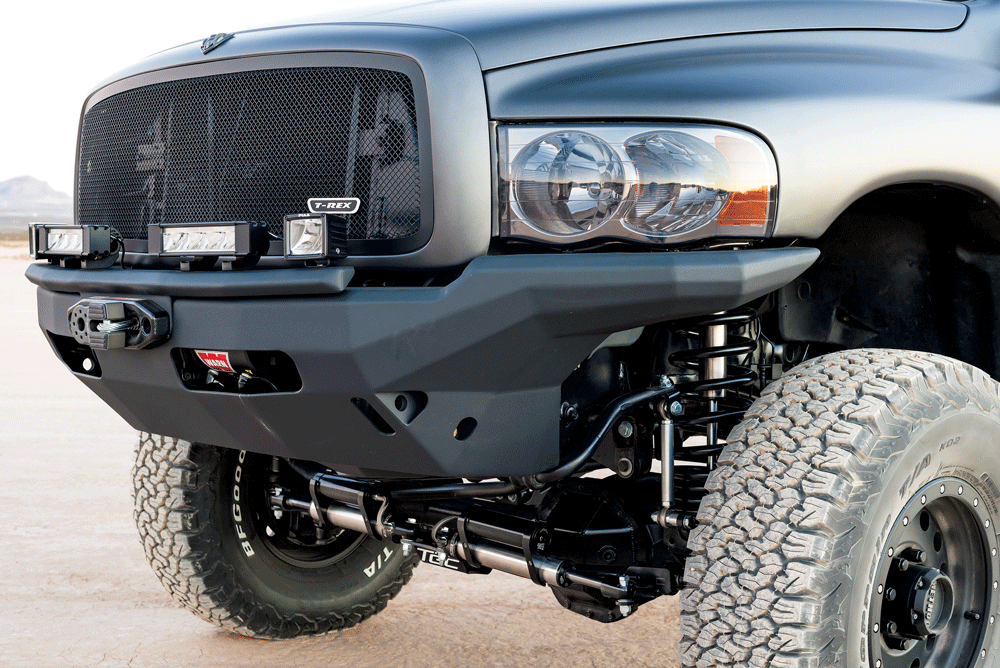 Every aspect of this 2004 Dodge pickup has been modified, from the radio antenna delete all the way to the full custom rack system. Of course, the rack system is the centerpiece of this build, since it's what WGF is all about. The build showcases a WGF Series 1 rack on the passenger side and a Series 2 on the driver's side, with a full custom WGF dual spare tire rack in the bed.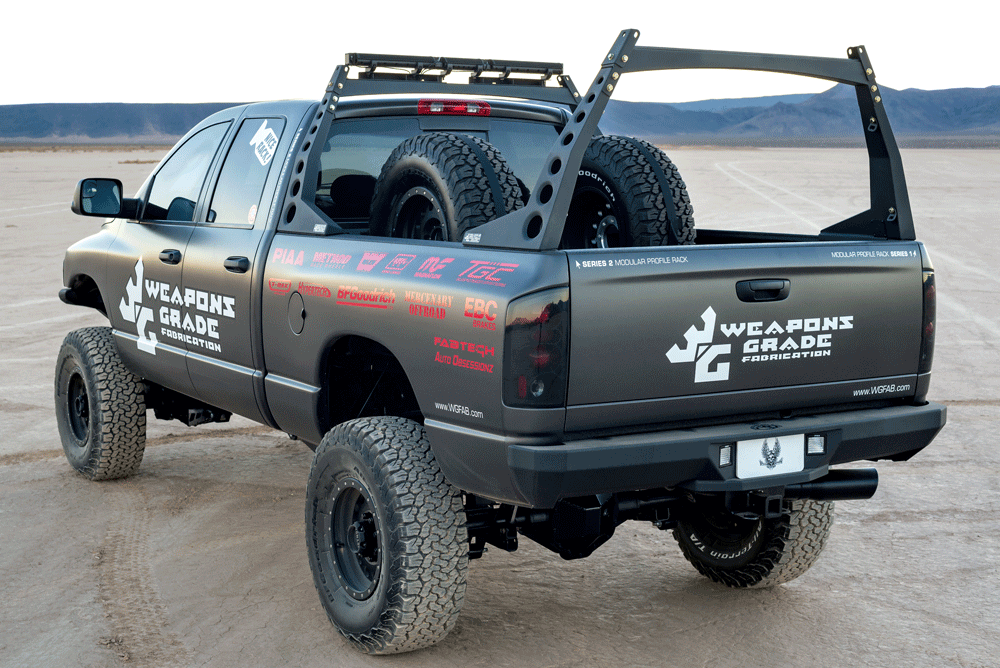 The truck's stance is accomplished with TGC progressive 6-inch lift coils, TGC progressive leaf spring packs, rear air bags and TGC traction bars. The ride is plush, no matter the terrain, thanks to the 2.25-inch remote reservoir FabTech DirtLogic shocks.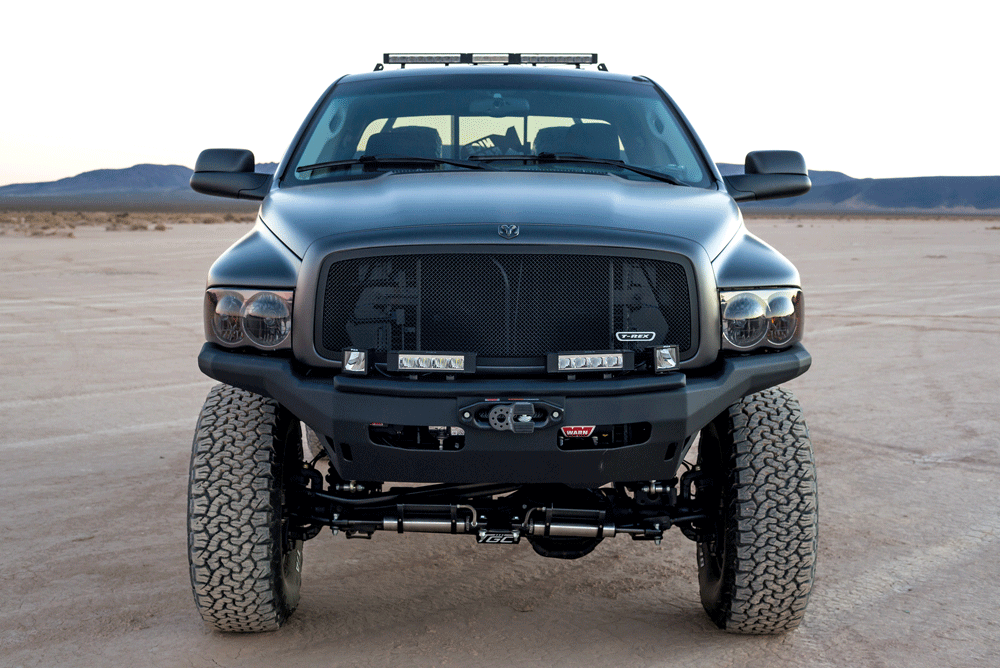 The truck rolls on Method Hole 17×9-inch matte black wheels wrapped in 37×12.5×17 BFG AT KO2 tires. With the bigger tires and wheels comes the need for a Hypertech speedo calibrator to keep the gauges reading accurately. Stopping those big wheels and tires is a big job requiring an upgraded brake system, which now utilizes EBC slotted and drilled rotors and Extra Stuff pads. Keeping those big wheels and the rest of the truck pointed where you want to go is no small job but also no issue with the use of a TGC steering brace and dual 2.25-inch FabTech DirtLogic steering stabilizers.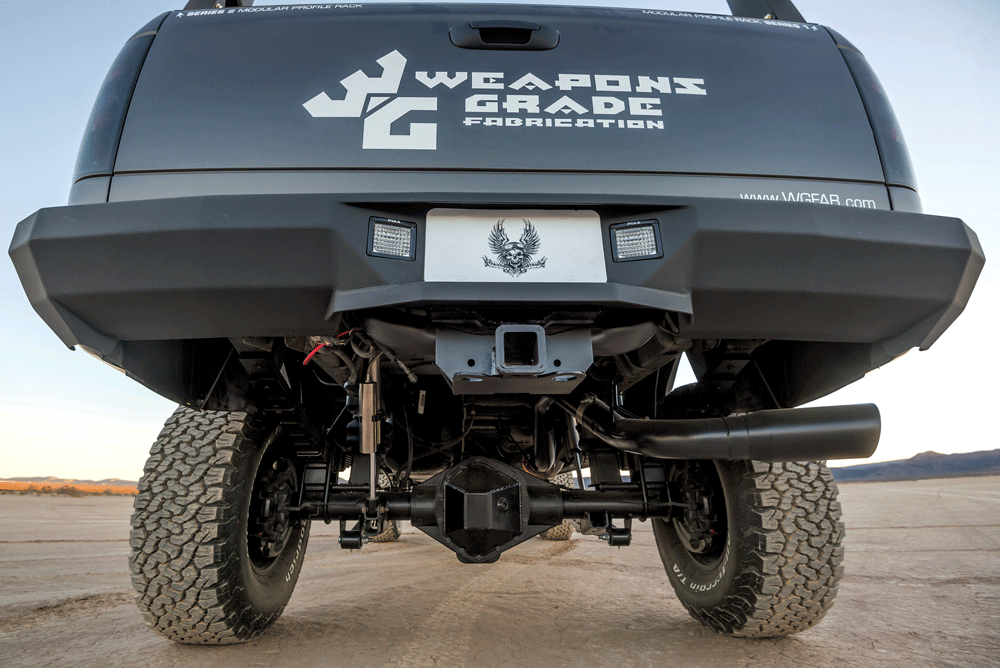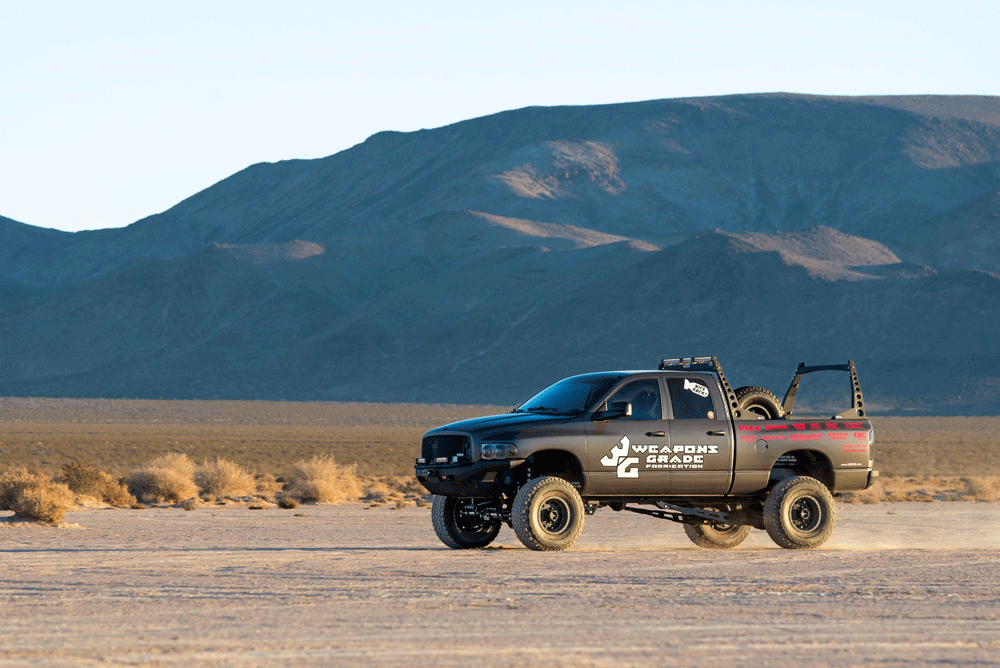 Marankie takes lighting seriously and has utilized a wide range of high-end lighting solutions on this build. The headlights have been upgraded with units from VIP Moto Z, and the taillights with units from Spyder. The rest of the vehicle lighting is comprised of a variety of the latest offerings from PIAA, with rack-mounted light bars and cube-style lights mounted on and in both the front and rear bumpers.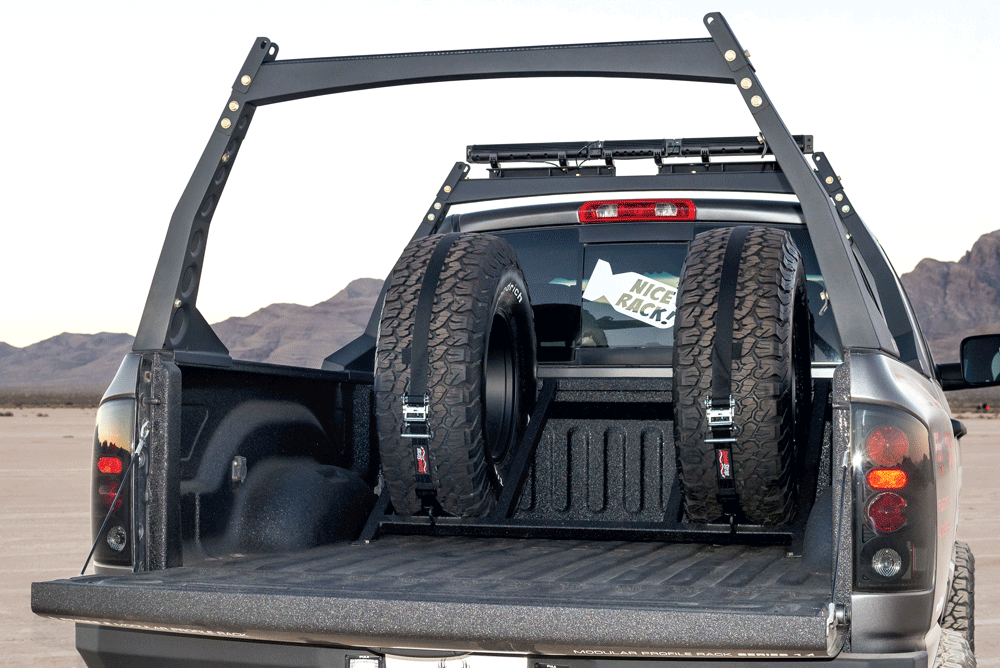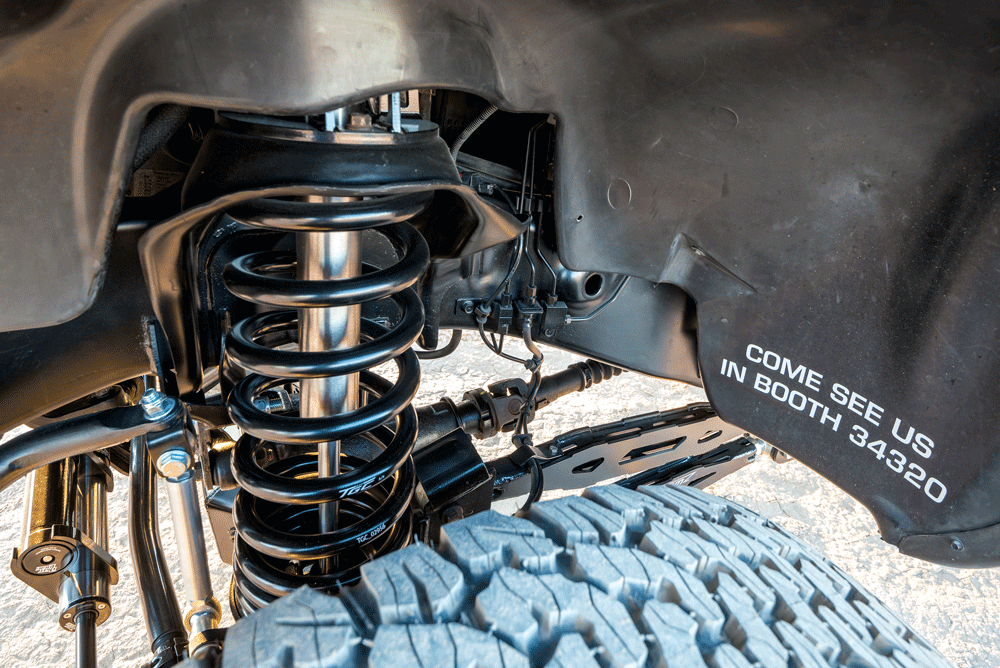 Under the hood lies a larger air intake and Super Start Extreme batteries. The engine also breathes easy with a 4-inch stainless steel Magnaflow exhaust. If for some reason you don't want to hear the hum of the 5.9L Cummins, you can crank up the aftermarket stereo, which utilizes a Panasonic head unit and six Kicker speakers.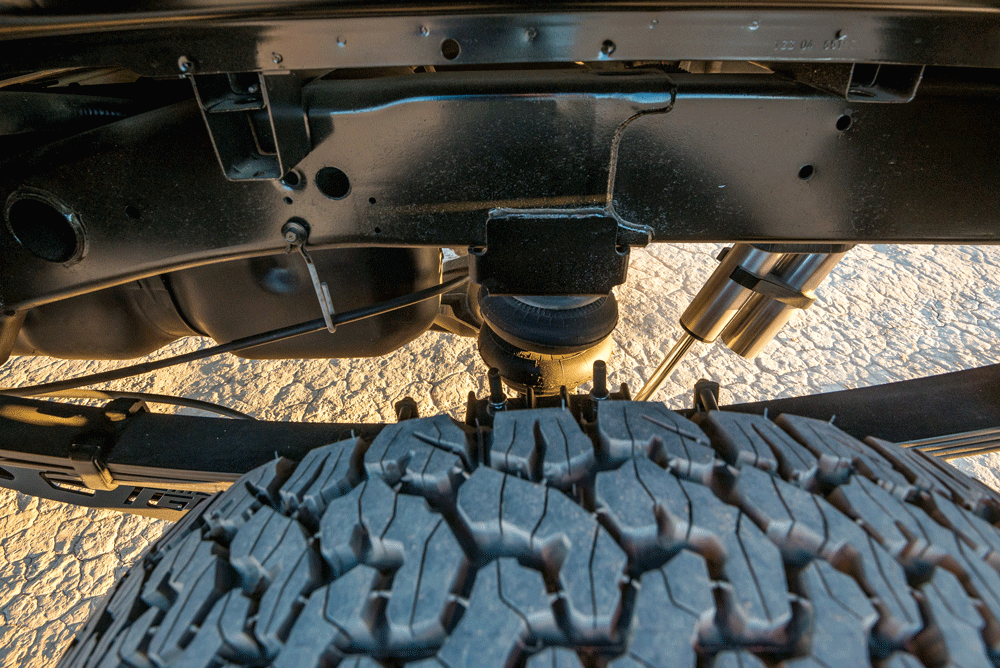 The Weapons Grade Dodge is designed for show and go, and by "go" we mean go anywhere. It has factory 4WD with 3.73 gears and a limited-slip rear locker. Aggressive, burly Mercenary Offroad front and rear bumpers provide improved entry and departure angles, while also offering quality recovery points. The front bumper houses a Warn VR12 winch, with Warn hawse fairlead and Factor 55 FlatLink. While it's unlikely that this well-equipped off-road beast would get stuck, it's nice to know it has the tools to get itself unstuck.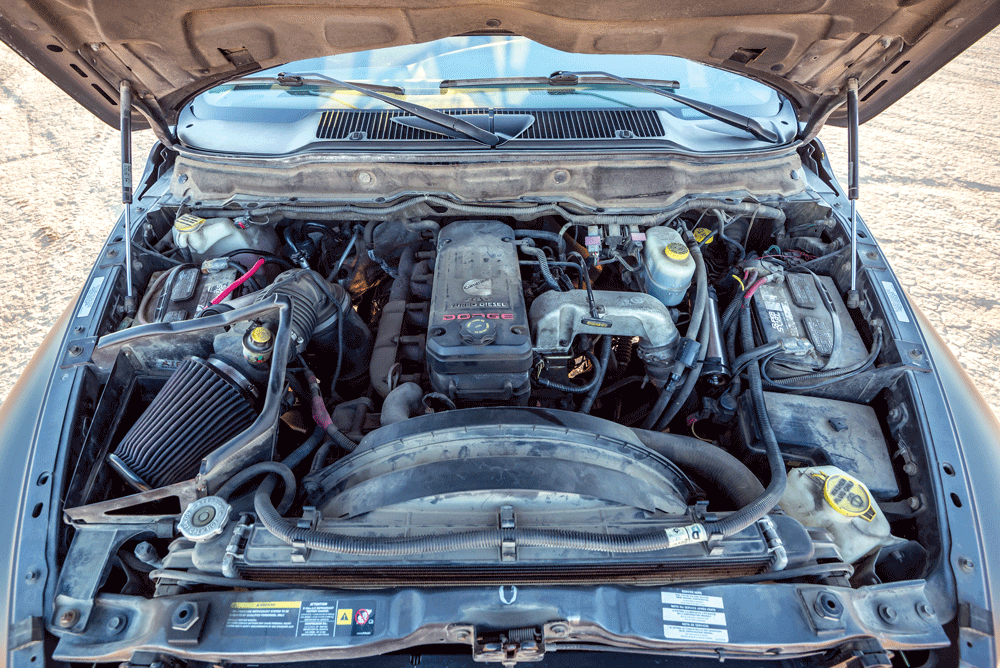 A quality build like this wouldn't be complete without a custom paint job, and the Weapons Grade Dodge does not disappoint with its Mineral Gray and Egg Shell Clear paint by JR customs in Camarillo, Calif. It also has a color-matched T-Rex "Upper Class" grille insert that helps refine the clean front end aesthetic. To add a level of durability and tough looks, the WGF rack systems and truck bed have also been Rhino lined.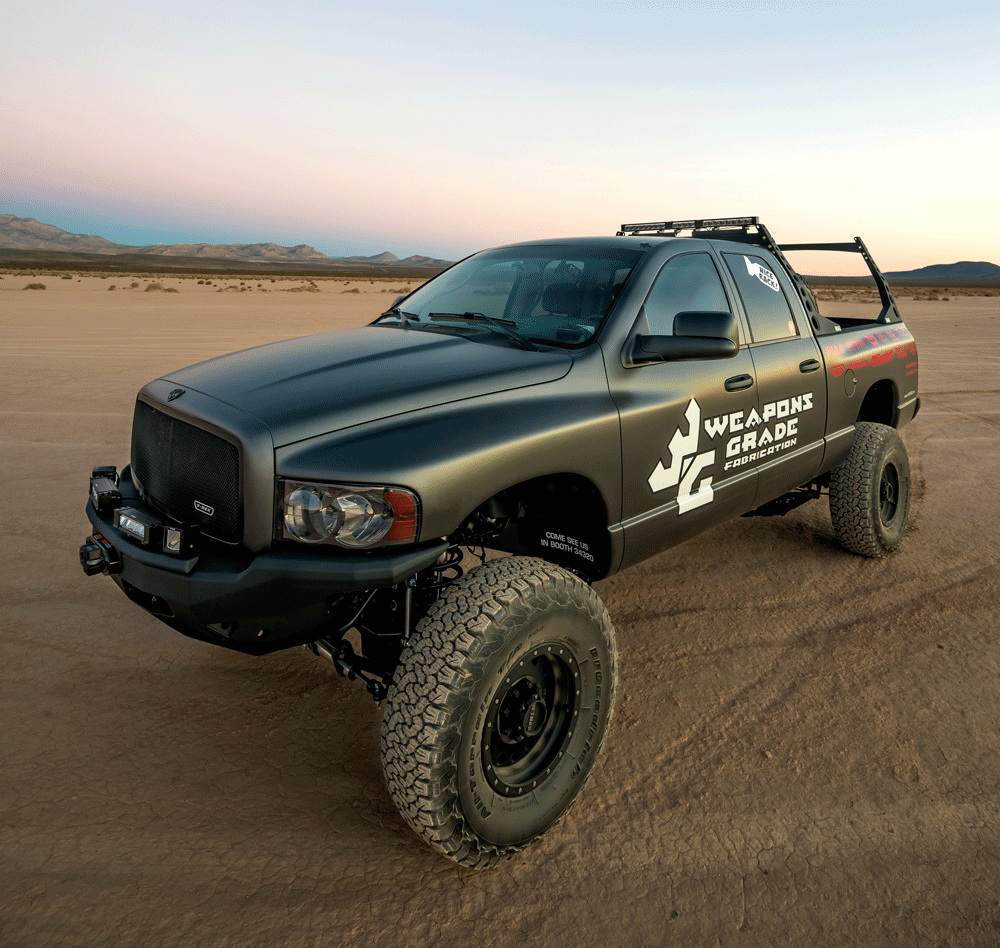 This build is an overall huge success, as it acts as a daily ride, weekend tow rig, company showpiece and all-around head turner. In the end, it has over $15,000 in upgrades, with Marankie investing more than $46,000 into the build. Even with a curb weight of about 7,500 pounds this beast is still able to get 17 mpg.
The Weapons Grade Dodge made a repeat appearance at SEMA in 2016, but with little in the way of changes. Some new WGF rack systems were showcased, newer, more aggressive tires were mounted, and a brighter more eye-catching lime green graphics package was applied. The truck remains Marankie's daily driver, but now gets a lot more attention, is more fun to drive, and continues to be a test bed for WGF rack systems. DW