Is this Double 5.9L Cummins Pickup the World's First?
"You know I did some math before building this thing," laughs Jody Mollet, the brain behind this twin-Cummins creation. Ever since it surfaced on the Internet after Scheid's 2016 Extravaganza, he has been overrun with both questions and criticisms. He goes on: "I didn't know for sure if it will work or not, but isn't that kind of the point…to try something nobody's done before?" Mollet concedes that the elephant in the room is the weight question; a lot of folks won't install one Cummins because of weight, and he has two. "The front axle is rated at 3,200 pounds, so we're pretty much maxing it out," he notes. "But in theory it should work."
Before he started work on this twin- Cummins project through his shop, Plowboys Diesel, Mollet sorted through a few different candidates for the swap. A first-generation Dodge wasn't wide enough for two engines, so in the end Mollet went with a classic, a '70 D200. "Although it looks sort of stock, that's just a trick," he says. The frame was built out of 2×4-inch and 2×6-inch 0.187-inch-wall tubing, with a radius-arm front suspension up front and a triangulated four-link out back. "We know the suspension needed a lot of weight-handling capability, so airbags made their way to all four corners to handle the heft," Mollet says.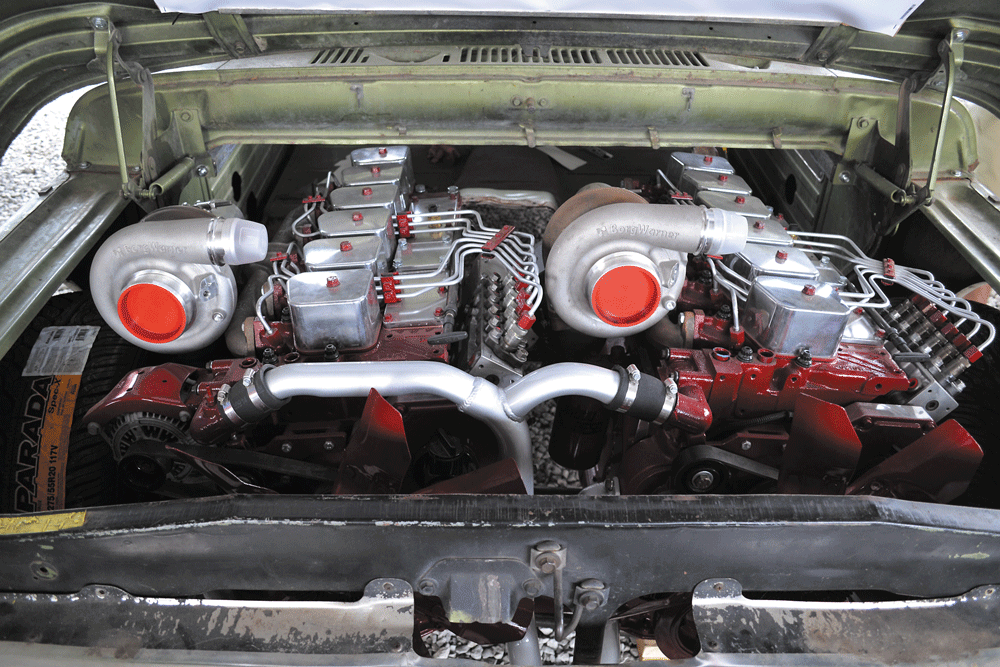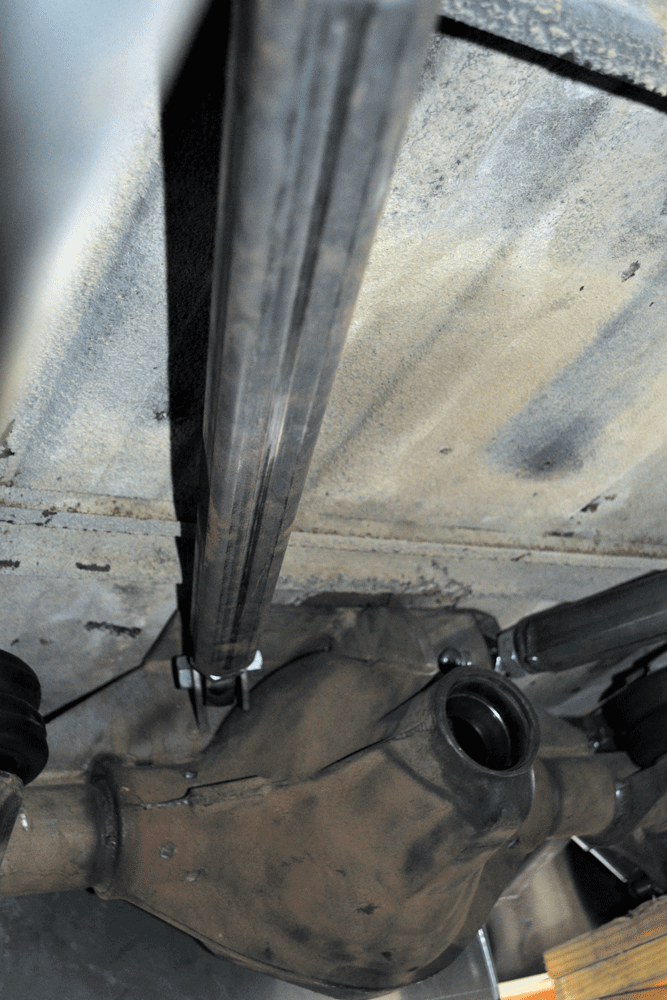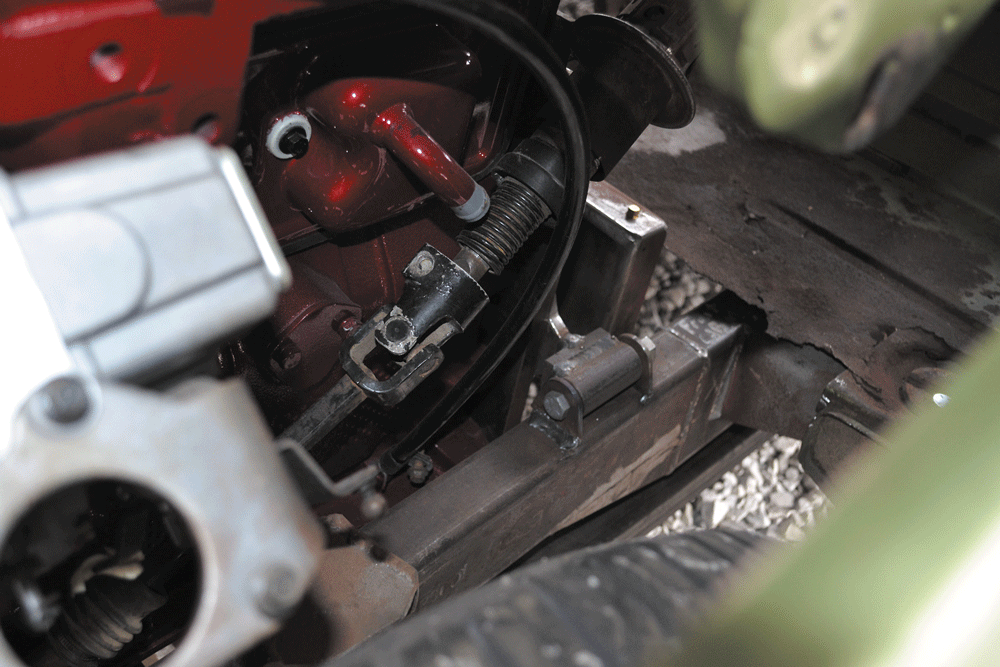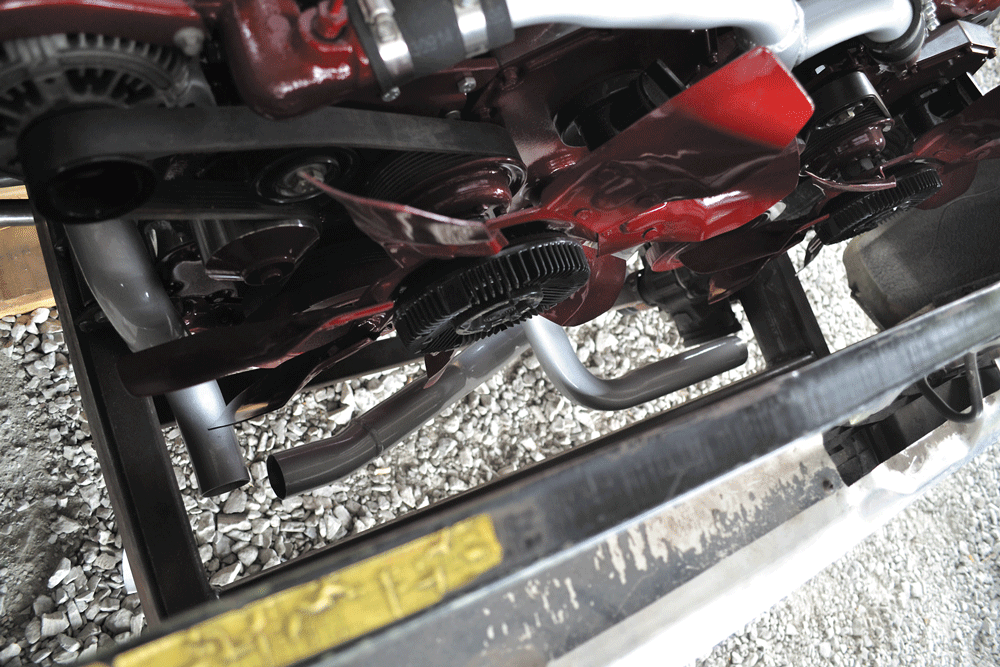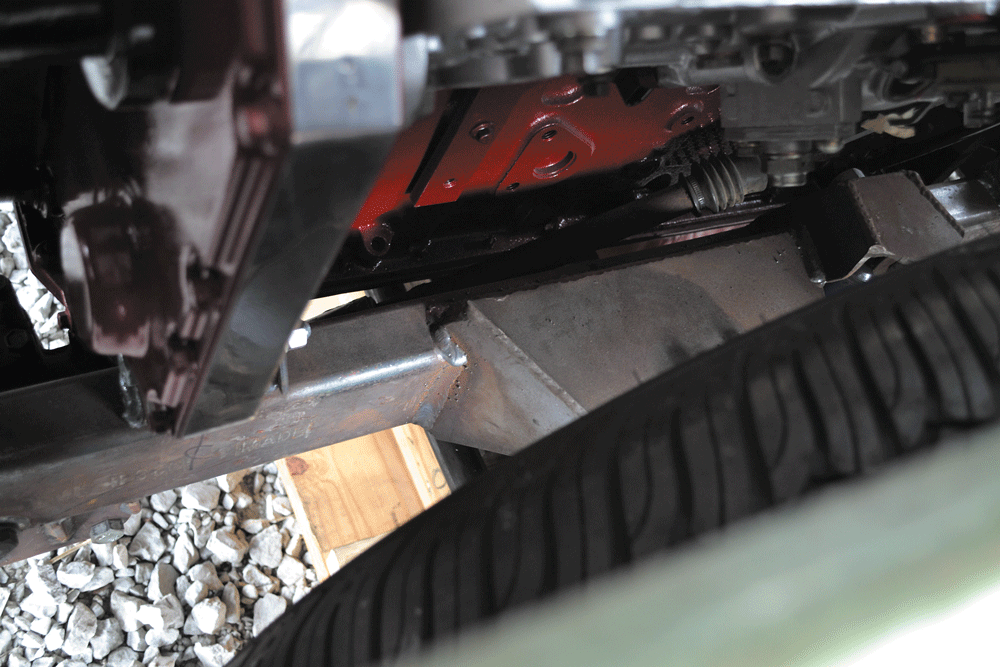 Other than the weight, the other main concern was joining the two engines together and sending the power to the rear wheels. From twin transmissions to multiple rear ends, there were myriad possibilities; ultimately, Mollet decided on a single stout transmission and a single rear end. That still left the trouble of joining the Cummins engines together, which was when he sought out Modern Machine in Van Buren, Indiana. Modern built a combining box for the Cummins engines, much like those found on multi-engine pulling tractors. The combining box uses a drive that ends in a single Cummins-style crank-shaft end that will bolt to a triple-disc converter and manual valve body Dodge 47RH transmission.
The twin engines are 5.9L Cummins 12-valves, which can be found in '94-98 Dodges. Mollet's aren't stock however, as both engines have ARP head studs, a fire-ringed head from Quality Machine, and a pump, turbos, and injectors from Area Diesel. Mollet estimates that the twin powerplants will be in the 650- 750hp range (each), giving a total power output of 1,300 to 1,500 horsepower along with about 2,000 lb-ft of torque. "I know there are more powerful trucks out there," he says, "but that amount of horsepower ought to move the truck down the road pretty well."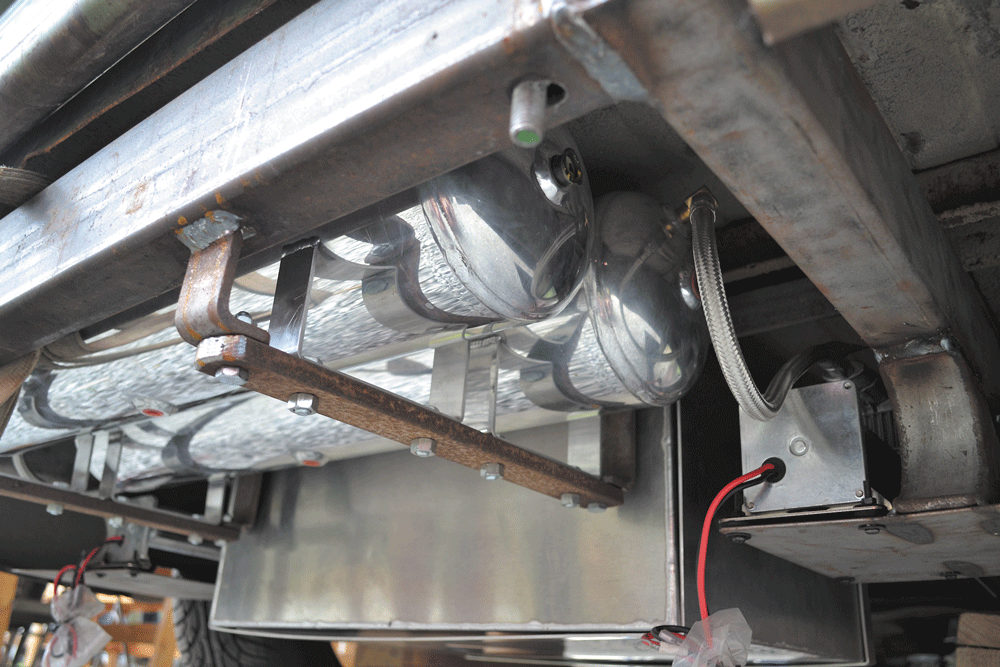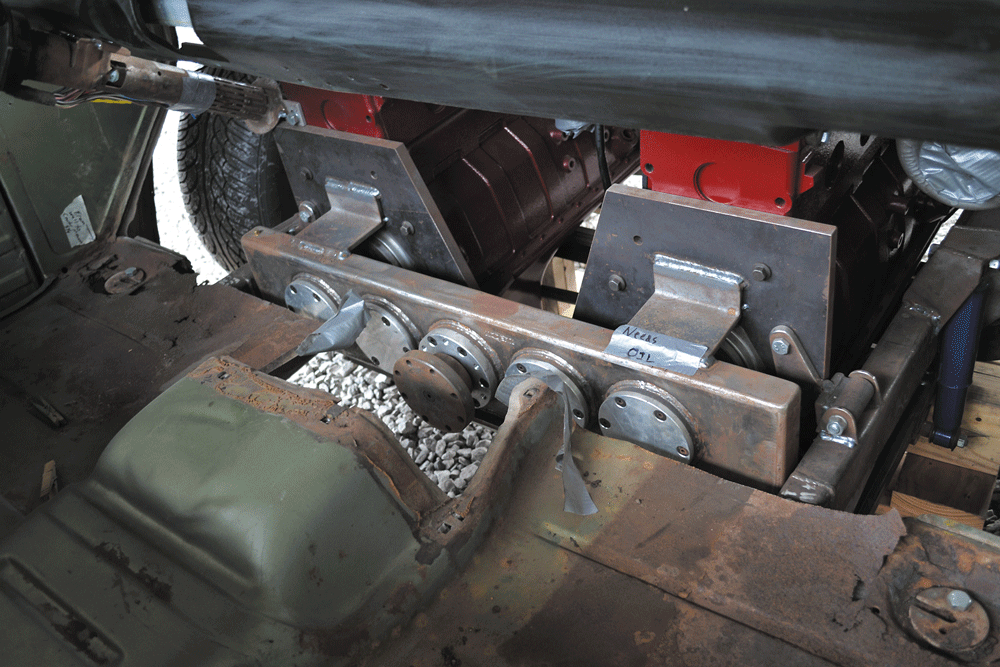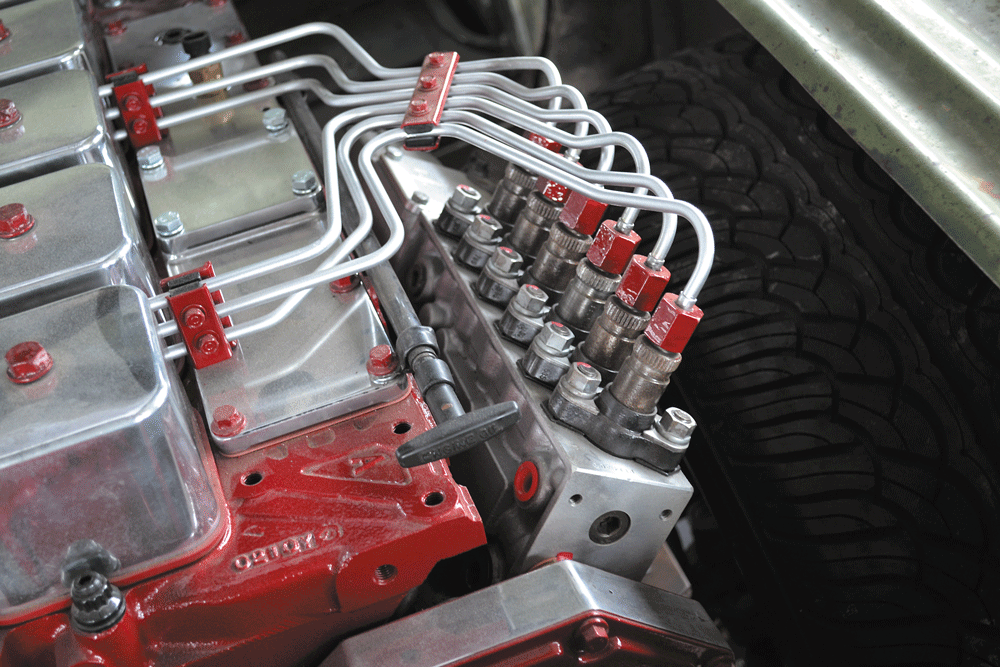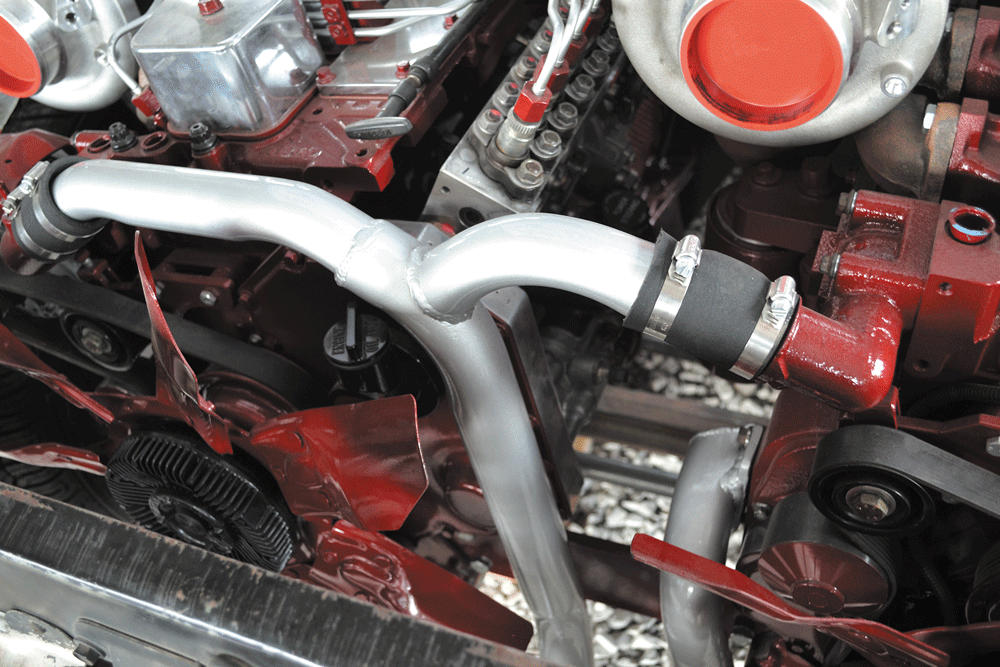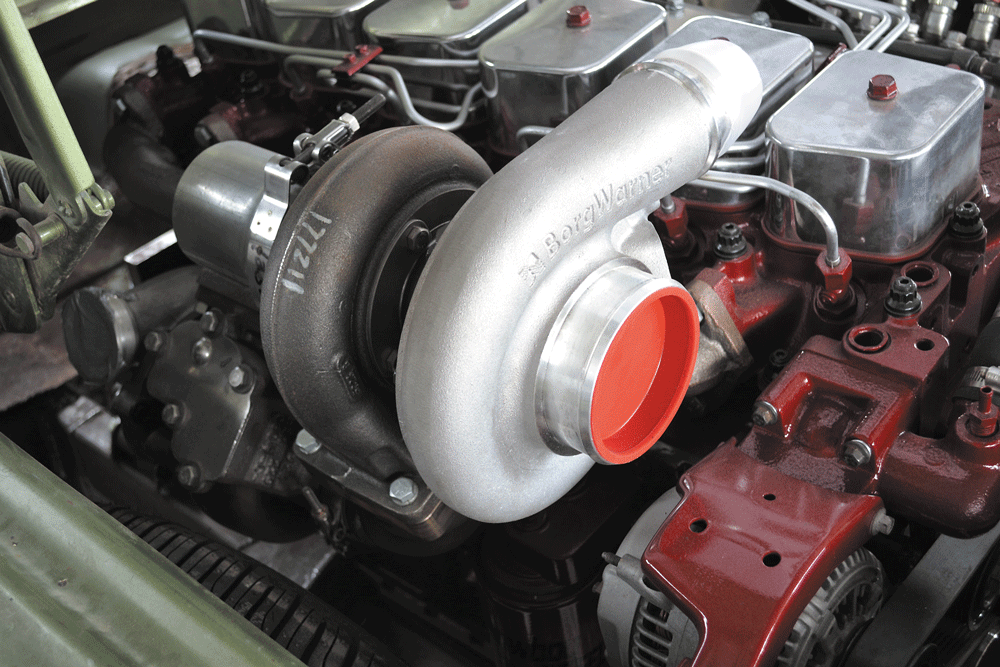 Mollet is honest about his project being far from complete. "I do have goals, and one of them is for it to be running and driving by the end of the year," he says. "It's not like your local parts catalog has a 'twin-engine truck' section, so sometimes it goes slower than I'd like." Whenever it's finally completed, he will definitely have a show-stopping ride unlike any other. In a world where more and more trucks are built from off-the-shelf parts, it's truly interesting to see an enthusiast take a completely different path. Our hats are off to Mollet's dare-to-bedifferent attitude, and we look forward to seeing his progress in the future. DW