A 1958 Ford F-100 with a 5.9L CR Cummins and Allison Transmission
Rat Rods are something extremely popular in the hot rod market these days and doing a diesel conversion on some old rusted-out vintage chassis just makes it that much cooler in our opinion. But for Holden Jung, a professional horse trainer in Bountiful, Utah, growing up around the farm and ranch lifestyle allowed him to put his own redneck flare on this 1958 F-100 rat rod build.
Jung developed a love for old hot rods and custom car fabrication in his early teens working at his uncle's repair shop. With a little experience under his belt, Jung went to work at Weaver Customs in nearby West Jordan. Known as a high-end hot rod shop, Weaver Customs has produced some the most impressive diesel-powered builds we've ever seen. On his own time, Jung converted his personal 1986 Ford F-250 with a 12-valve Cummins and really started to get attached to the diesel performance market. He later helped his parents convert their Ford F-450, which originally had a 6.0L Power Stroke, to a less problematic common-rail Cummins backed with an Allison transmission.
After a few years at Weaver, Jung mentioned to his boss, Randy Weaver, that his grandma had this 1958 Ford F-100 just sitting out behind the house in a hay field, and he'd remembered shooting the windows out of it with his BB gun as a young kid. Weaver had mentioned that the short bed, big back window Fords were sought after by hot rod guys, and it could make a killer restoration project. Jung sat on those words for a bit and soon asked his grandma about the old Ford. She couldn't remember the whole story on the truck, but was certain it had been sitting there untouched for close to 30 years and told Holden he could have it if he could figure out how to get it out of the pasture.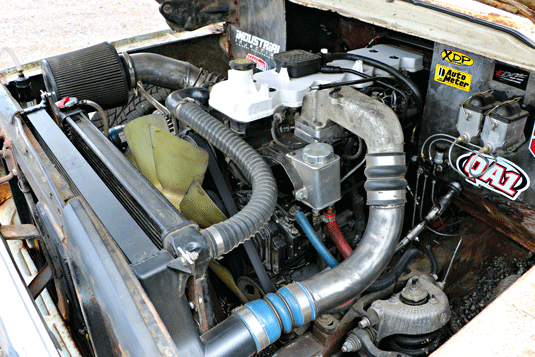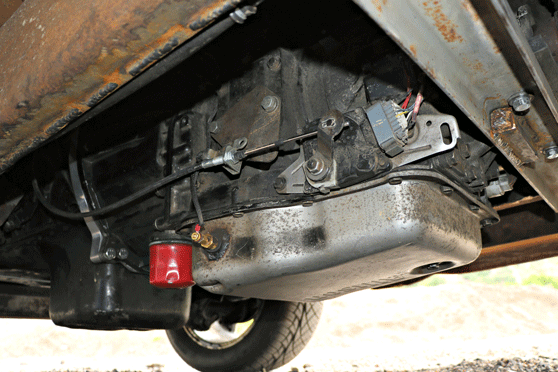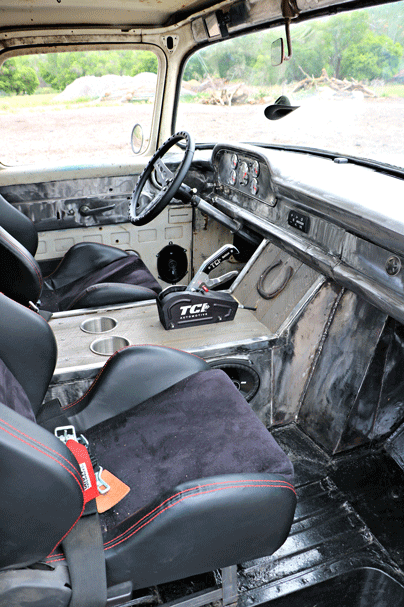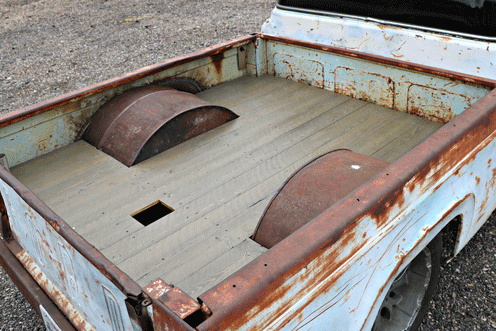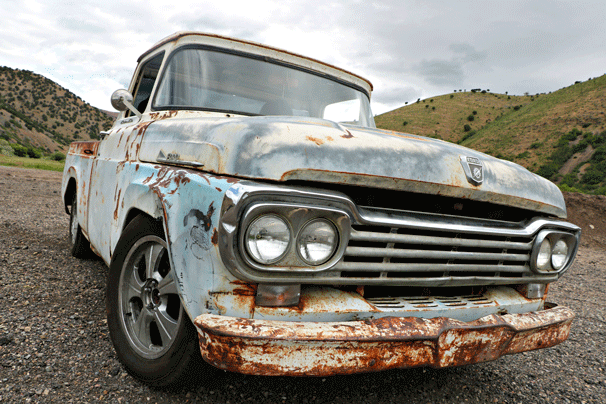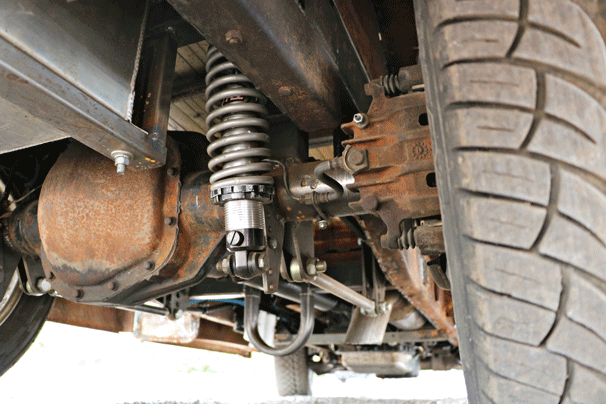 The next weekend, with the help of a couple buddies and an old tractor, the F-100 was dragged from its resting place and into the barn where they could work at getting it back up, running and roadworthy. The original plan was to put a new fuel-injected gas motor in it, but Jung's parents had just retired their F-450 Fummins from heavy hauling and he realized that powerplant would be perfect for the build. After some smooth talking, he convinced his parents to let him pull the motor and trans to put in the F-100 chassis—and the real work began.
Before putting a bunch of horsepower and torque into the 50-yearold truck, the frame was fully boxed to reduce fatigue and chassis twist and a complete front end from a 2006 Ford Crown Victoria was modified to fit under the front. This offered a great ride with modern power steering, independent coil-overs, and room for some 255/55R18 tires. For the rear suspension, Jung fabricated a complete 4-link assembly with adjustable QA1 coil-over shocks and a narrowed Ford 10.5 rear axle. The axle was narrowed up so it fit under the F-100 body and kept the 305/50R20 Nitto 420 tires under the bedsides. The narrowed axle also leaves enough room for some massive slicks and wide wheels when the time comes to get the truck to a drag strip. For braking, the factory Crown Vic calipers and pads up front and Ford Super Duty calipers and pads out back are fed by a dual master cylinder Wilwood brake system.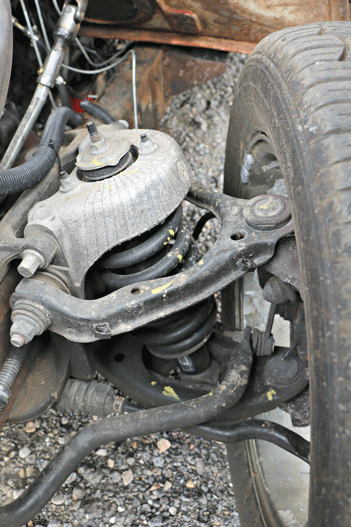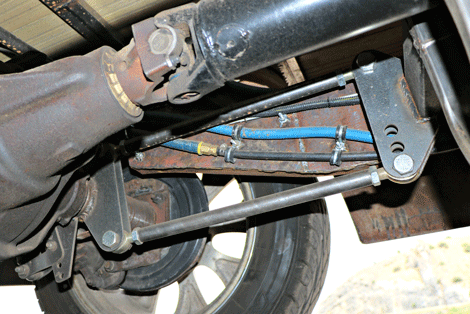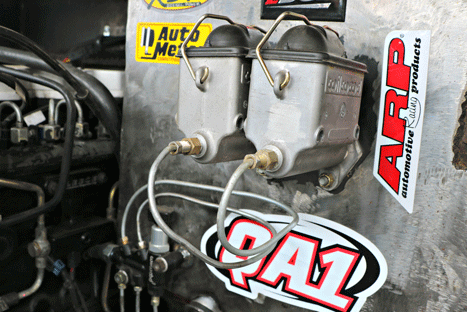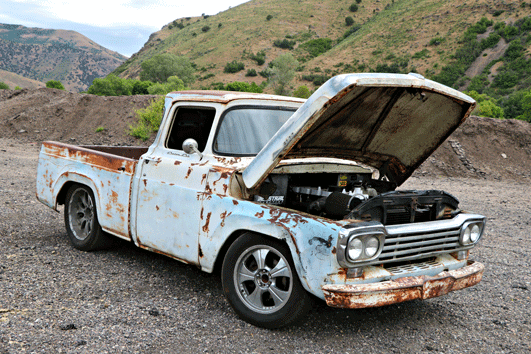 With some custom motor mounts and a hand-fabricated transmission crossmember, the 2005 5.9L Cummins engine and 5-speed Allison transmission were bolted into the chassis. There was a ton of cutting and massaging required to get that big motor and trans to clear the cab, and a custom firewall and transmission tunnel had to be fabricated to make it all fit. But with some planning and time, it all worked out great. The Cummins engine is attached to the Allison transmission with a kit from DeStroked; it includes a bellhousing adapter plate, flywheel, wiring harness and complete transmission controller. Jung had to build the shift linkage himself and uses a TCI Outlaw ratchet shifter in the cab to select gears from the driver seat. GRS Drivelines built the custom driveshaft to connect the Allison transmission to the Ford rear axle.
The heart of this little beast is that 5.9L Common Rail Cummins engine, which remains all stock internally. Jung did plan ahead and installed a set of ARP head studs with the higher boost levels and abuse he knew he'd soon be throwing at it in mind. For fueling, an Airdog 150gph lift pump feeds an 85% over CP3 injection pump and 180hp injectors from Industrial Injection. For airflow, an Industrial Injection Silver 69 turbocharger feeds boost through an intercooler off a 7.3L Power Stroke. The intercooler piping was all custom fabbed, along with the simple 4-inch intake. The engine was wired with a Painless Performance 5.9L wiring harness and is tuned with a Smarty S06 programmer. Tuning has been left in the lower settings in hopes of keeping that stock 5-speed Allison alive until Jung can afford to fully build it with a triple-disc torque converter and better clutches.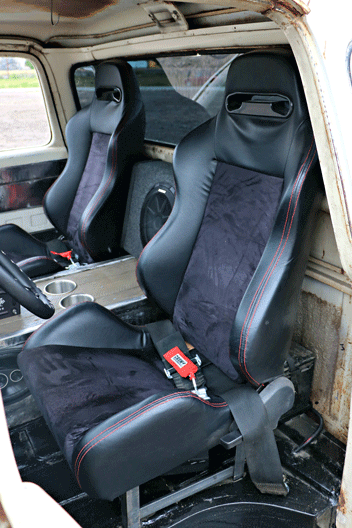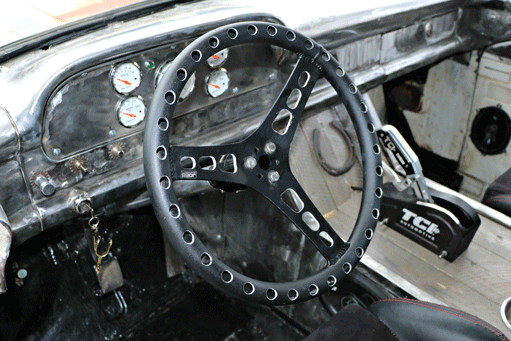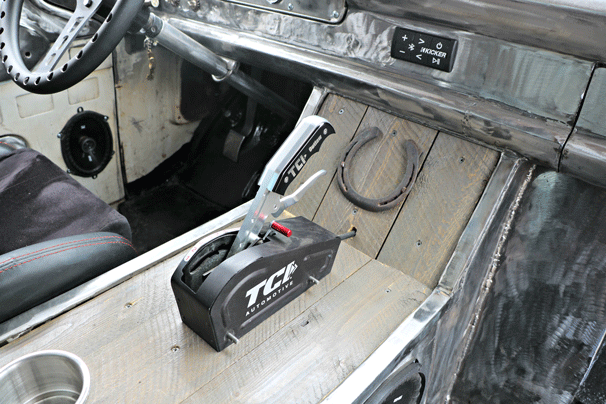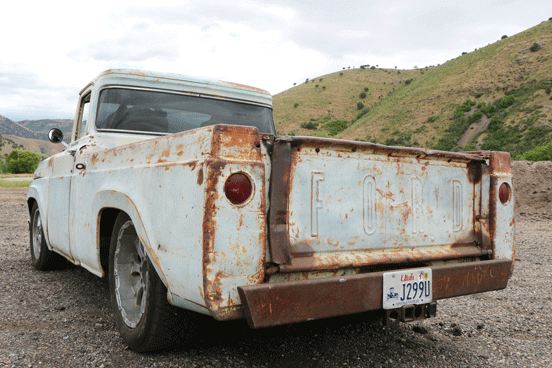 Inside the cab, Jung has done quite a bit of work to give the truck a race-inspired Redneck Rat Rod feel. Rowels off some old spurs were used for washers around the switches on the dash and an old worn horseshoe is fitted to the center console for good luck. The complete console and transmission tunnel was hand-fabricated and some old barn wood was used to cover it all; the same wood was also used in the bed for a paneled floor. The stereo system was installed using a Kicker 40PXiBT50.2 two-channel amp controller, along with Kicker 6x8s for the doors, Kicker 6x9s for the center console, and a Kicker 10-inch subwoofer between the seats. The suede racing seats were installed using brackets Jung built himself, and Crow lap belts keep occupants snug. The dash is filled with AutoMeter Arctic White gauges and an Edge CTS2 Insight monitor is used to watch the other engine and transmission vitals like boost, EGT and transmission temperature.
The project took Jung around three years to complete to driving form, but he says it's far from over. As a newlywed, his budget has been pushed far enough, so the truck will sit as-is for a while and make for a fun little street truck. His build plans include beefing up that Allison transmission, fabricating a compound turbo kit, adding some massive rear tires, and pushing the motor to its maximum potential at 1,000+ horsepower. With the current setup, the little F-100 put down 495-hp on the Superflow Chassis dyno at a recent Northwest Dyno Circuit event, which seems to be more than enough to scoot this little shorty around town. Jung says he's had a blast building the truck and is extremely happy with how it's turning out. His main goal was to build something fun to drive that was different from anything else around, and while rat rods are becoming more popular, this F-100 Redneck Rat Rod is definitely something new and unique. DW