Super Stock diesel trucks have gotten downright crazy over the last several years. With somewhere around 3,000 hp being the norm now, these tiltbody, tube chassis earth pounders are nothing less than exhilarating to watch. And now that they're making more power than any track can hold, it's become a driver's game more than anything else.
Reading the track, picking the right line, smoothly pouring on the power, and applying that power at precisely the right time all have to be executed perfectly if you want to win. With hopes of becoming one of the Super Stock class's elite drivers, Cody Hastings, owner of the Against the Grain Ram you see here, has sought out the expertise of former champion Shane Kellogg and industry legend Van Haisley over the course of the last two seasons—and it's beginning to pay off.
THE SUPER B Hastings'
Ram relies on the same proven engine package that's bolstered a handful of drivers to the top of the Super Stock ranks: the venerable "Super B" Cummins built by Haisley Machine. The lled, sleeved, deck plated 6.7L block is furnished with a factory crank (secured via girdle and 14mm main studs), billetsteel rods, and low-compression forged-aluminum pistons. The hard parts that allow the Super B to breathe consist of a high-lift roller cam, extensively ported 12-valve competition head from Hamilton Cams, and a ZZ Custom Fabrication stainless steel individual runner intake manifold.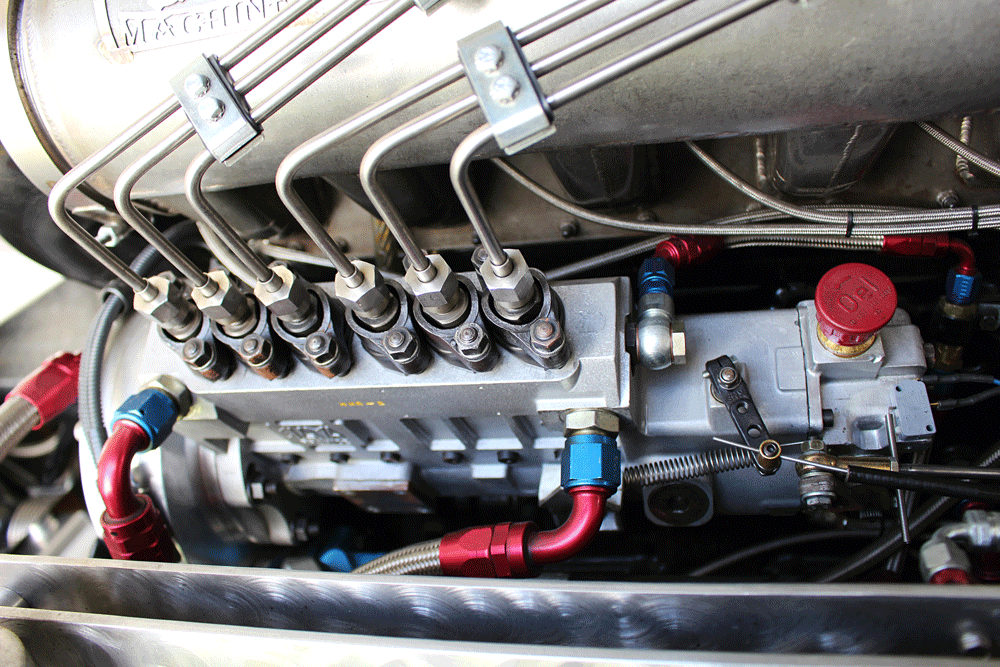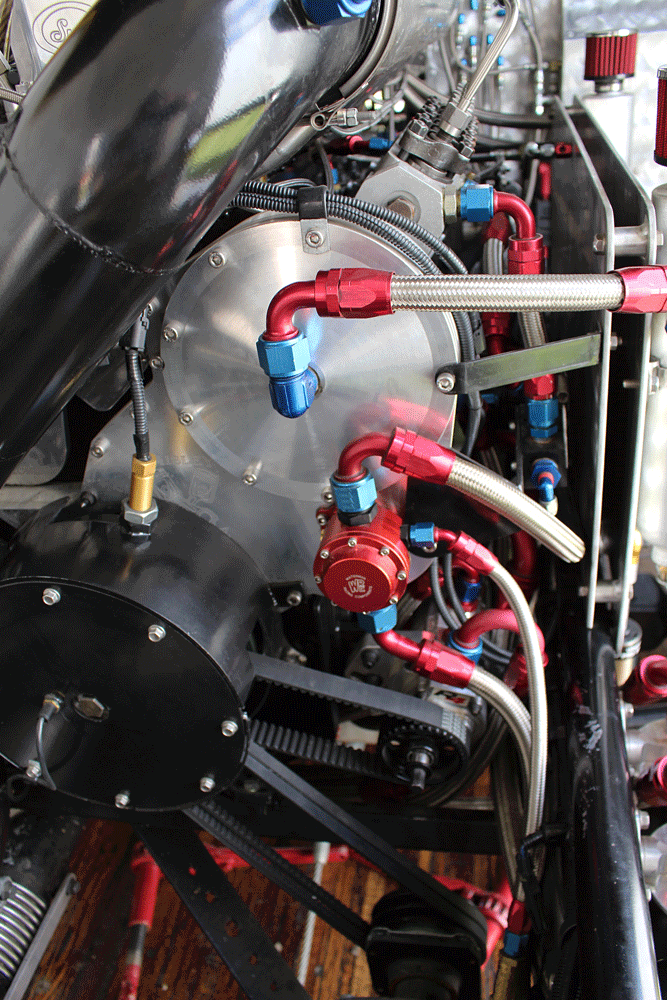 TRIPLE-TURBO WHIRLWIND
Three turbos, arranged in a two-stage configuration, combine to produce 130 psi of boost. Twin HC5A Holset-based chargers from Columbus Diesel Supply act as one large atmospheric (low-pressure) unit, while a ball-bearing turbo gets things started at the exhaust manifold. For uncompromised reliability, the turbos have their own dedicated dry sump oiling system. A four-core water-to-air intercooler from Precision Turbo & Engine cools off the superheated intake air on its way into the engine.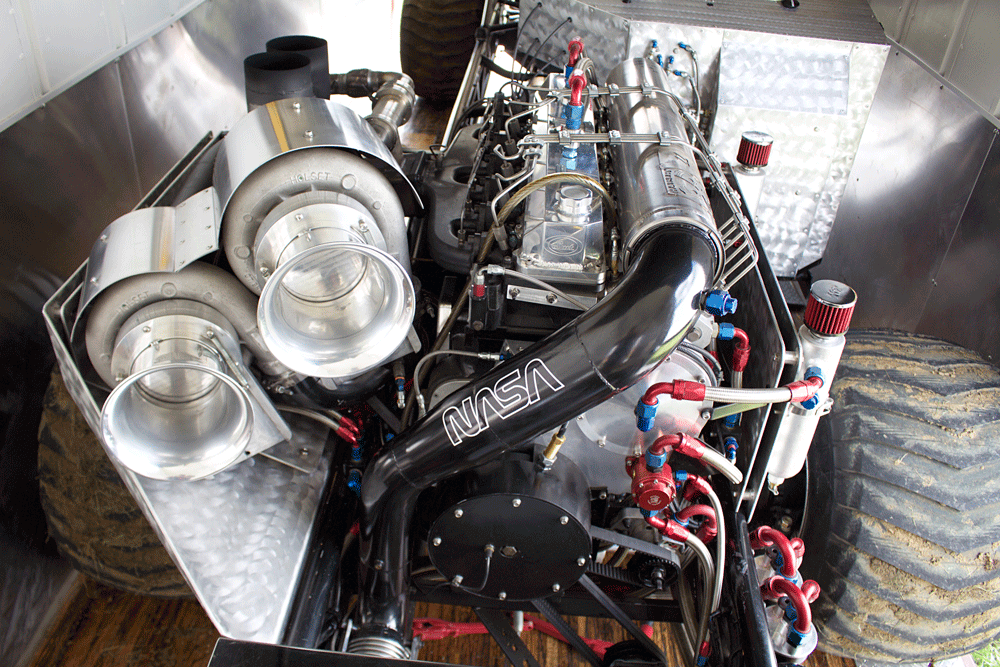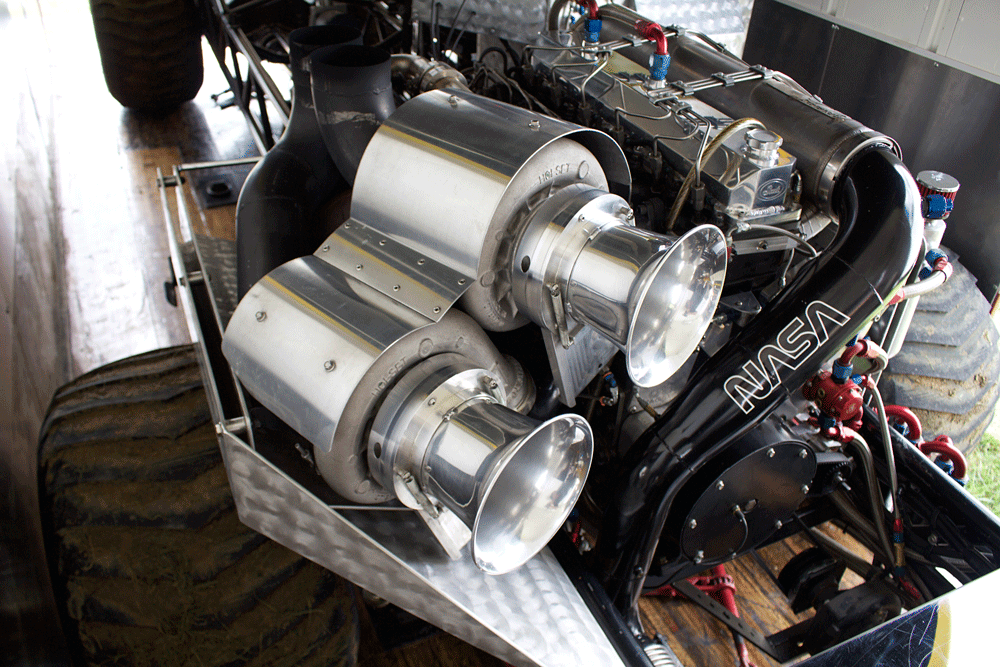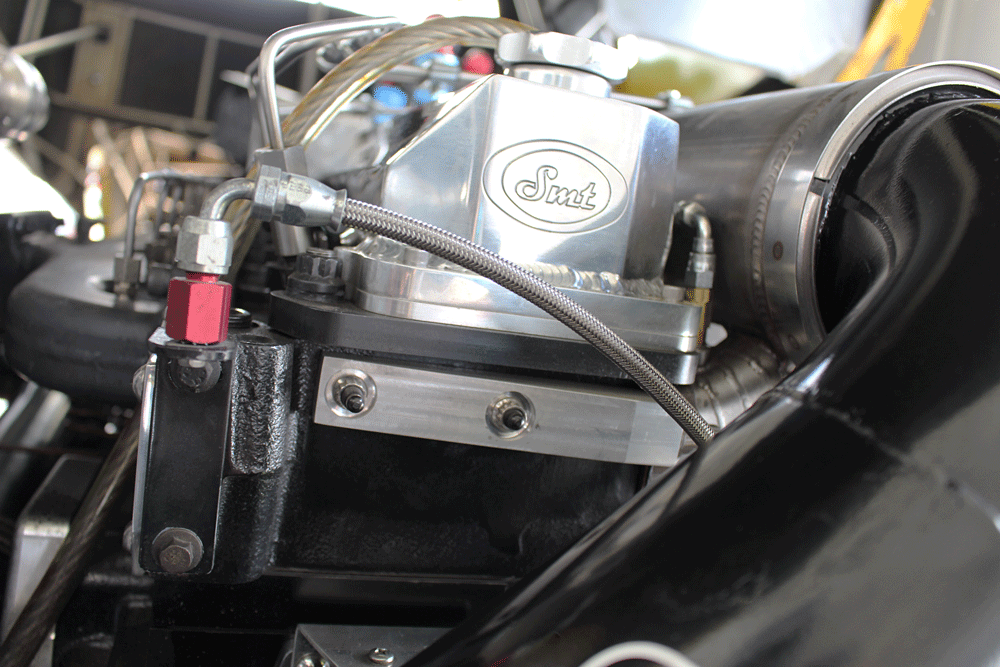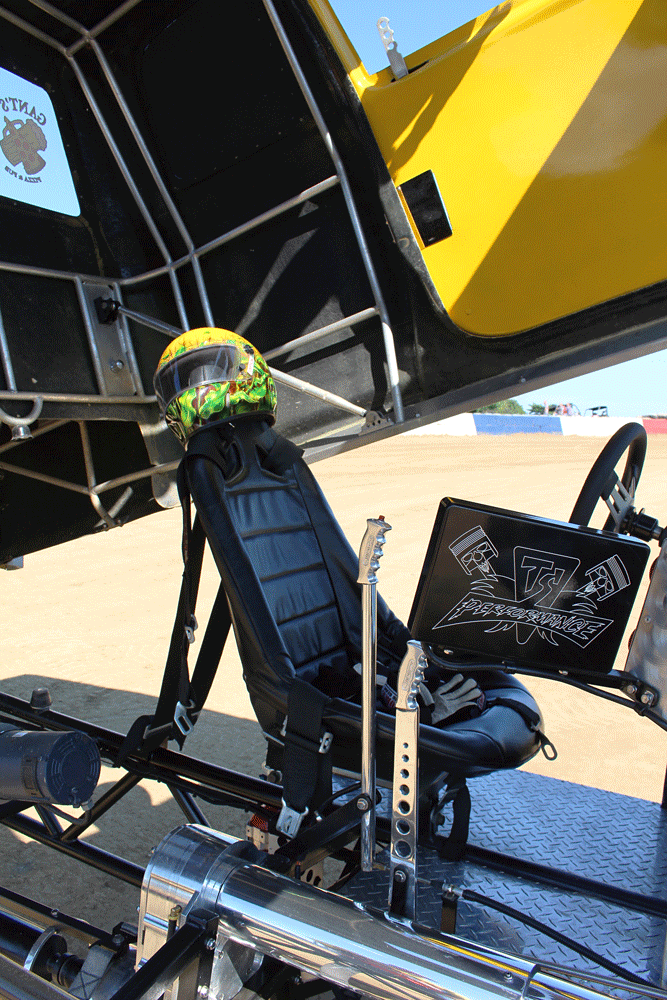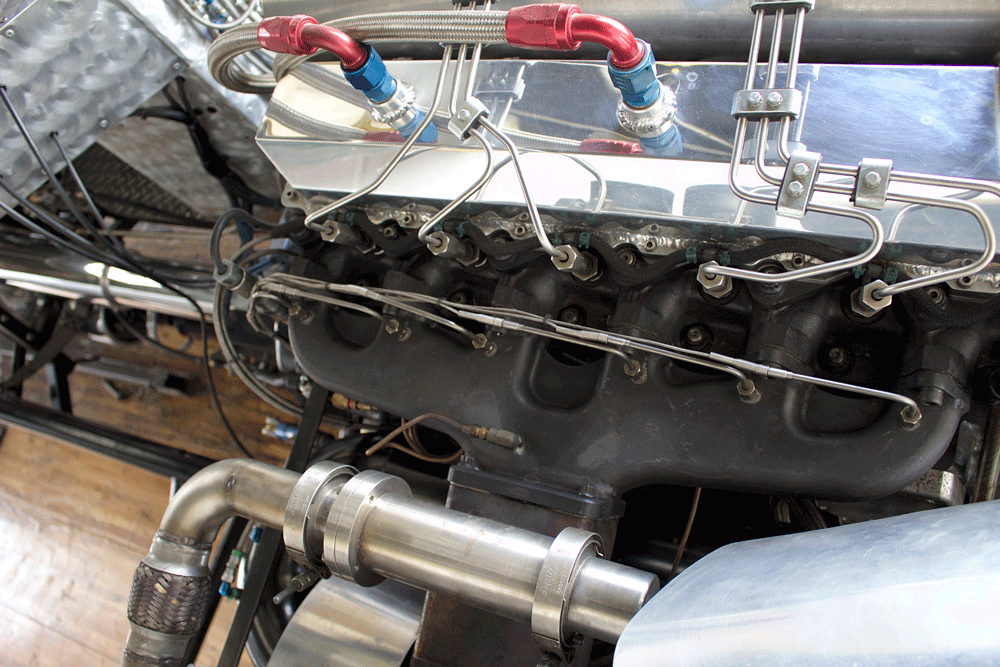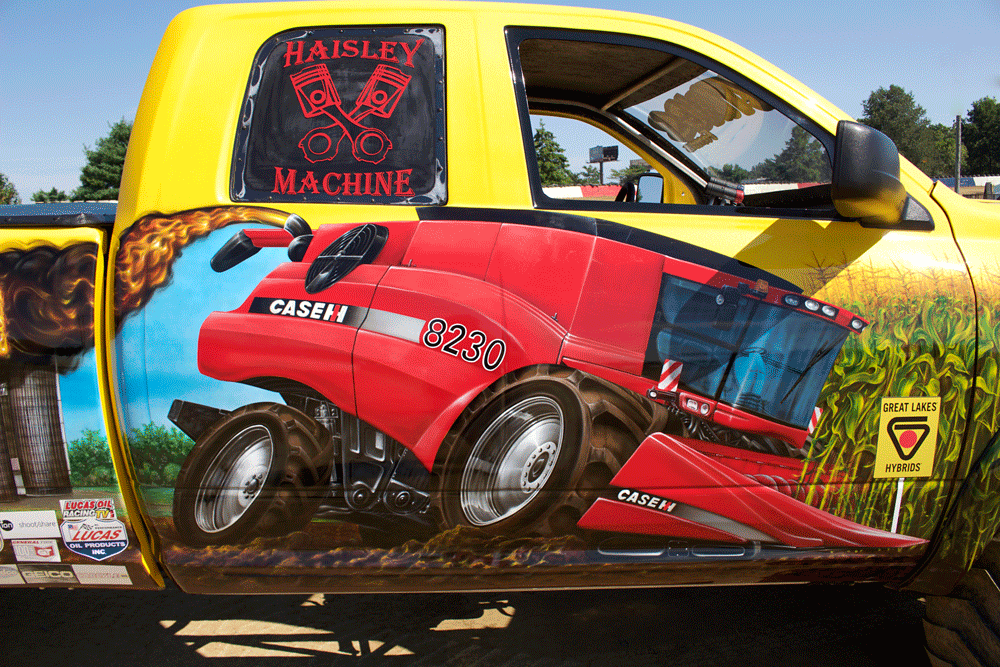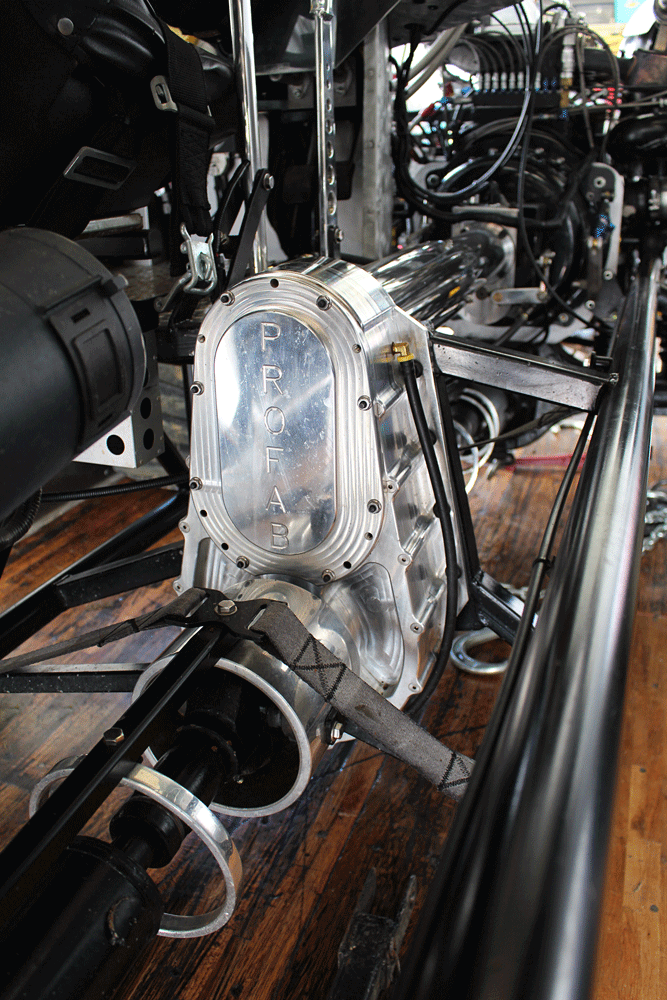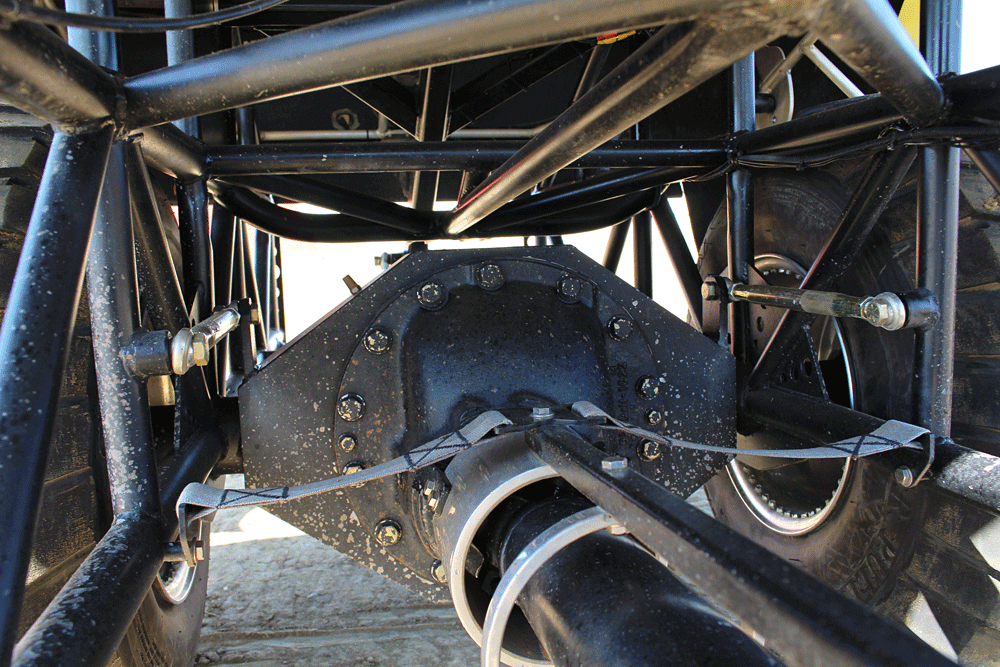 LARGE VOLUME, QUICK INJECTION
The wild fuel system on the Super B incorporates some of the most exotic components in the diesel industry. With its ability to inject massive amounts of fuel in a very short time window, a 16mm Sigma injection pump is employed. And after being supplied 85 psi worth of fuel pressure courtesy of a gear-driven Waterman fuel pump, the Sigma feeds six DT466-style triple-feed injectors from Columbus Diesel Supply. All told, the engine produces more than 3,000 hp and 3,500 lb-ft of torque.
INDESTRUCTIBLE DRIVELINE
In case you were wondering, the truck's driveline is more than capable of coping with the stresses dished out by the 3,000hp Cummins. Power transfer begins with a 4-disc, Haisley-spec'd Molinari Racing Products clutch, and is backed by a Pro Fab Machine one-speed Reverser transmission and quick-change transfer case. Done-up Rockwell SQHD (rear) and F106 (front) axles close the deal in getting power to all four wheels.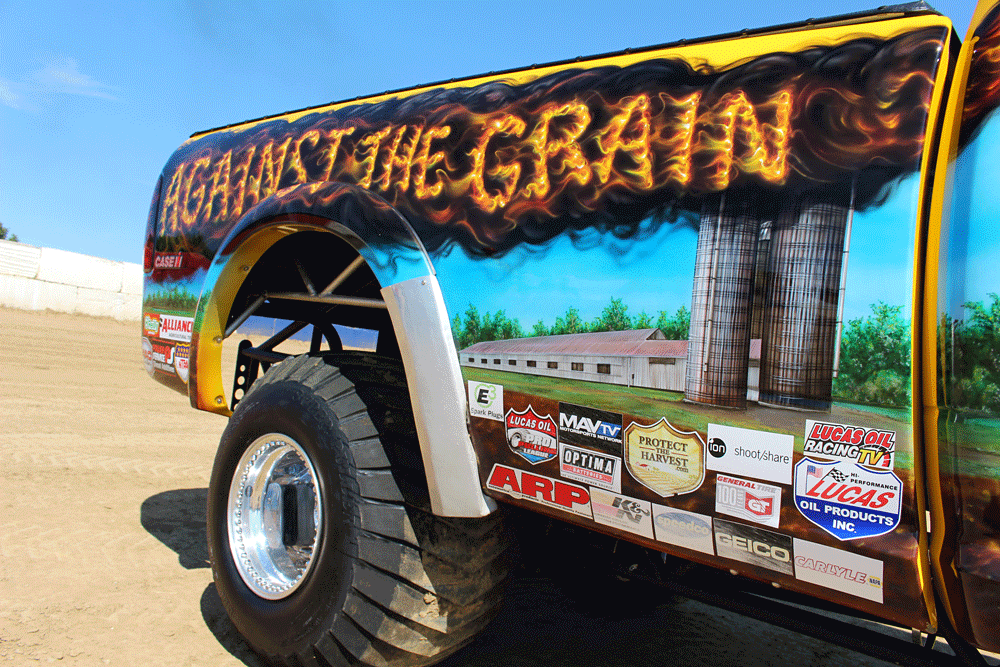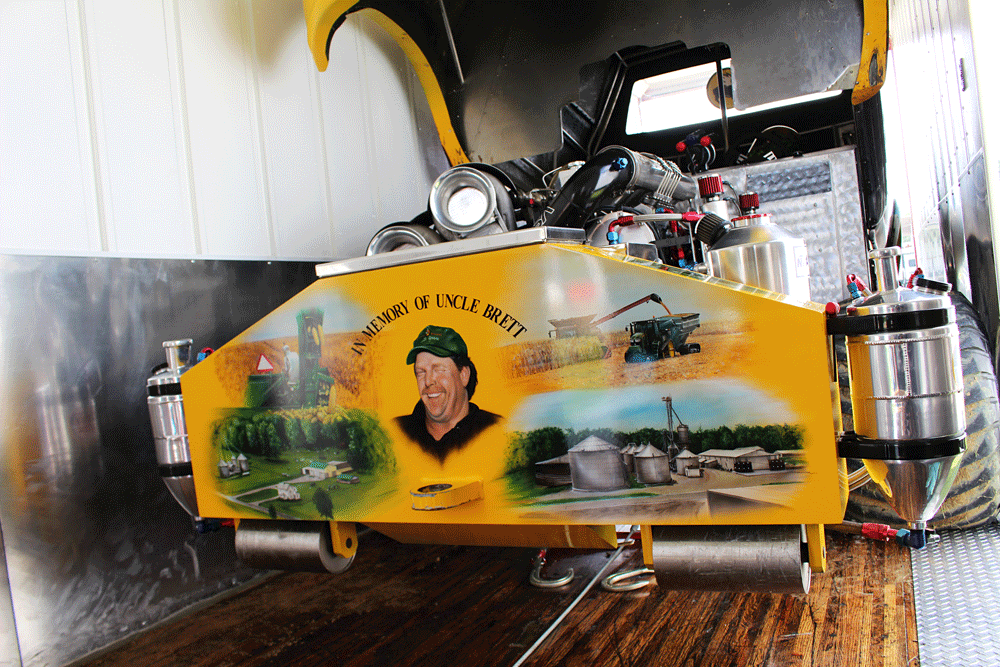 A rookie in the Super Stock class, Hastings knows that more seat time will yield better consistency in the years ahead. As he grows more comfortable behind the wheel—and continues to tap into the vast knowledge base provided by Shane Kellogg and Van Haisley—wins will start to come his way. We think it's only a matter of time before this truck becomes a consistent front-runner in diesel's most prestigious pulling class. DW
SPECICATION
2010 DODGE RAM
OWNER: Cody Hastings
HOMETOWN: Ashville, OH
ENGINE: 6.4L "Super B" Cummins built by Haisley Machine
BLOCK: Concrete lled, sleeved with re rings, deckplated 6.7L block with crankcase girdle, 14mm ARP main studs, stock 6.7L crank, billet-steel connecting rods, forged-aluminum low-compression pistons, high-lift billet-steel roller cam
HEAD: Hamilton Cams cast (and lled) 12-valve head with Haisley-spec'd porting, oversize intake and exhaust valves, roller rockers, competition valve springs and pushrods, 14mm ARP head studs
FUEL: Columbus Diesel Supply 16mm Sigma injection pump, Columbus Diesel Supply triple-feed, 5-hole, DT466- based injectors, 0.120-inch stainless steel injection lines, 700gph gear-driven Waterman lift pump
AIR: Two-stage turbocharger arrangement with two Columbus Diesel Supply HC5A-based Holset turbos, one ball-bearing Holset manifold turbo with wastegate, ZZ Custom Fabrication stainless steel individual runner intake manifold, T6 ange Steed Speed exhaust manifold COOLING: Precision Turbo & Engine four-core water-toair intercooler, 10-nozzle EGT and boost-triggered waterinjection system
TRANSMISSION: Pro Fab Machine one-speed Reverser and Quick-change transfer case with 4-disc Haisley Machine/Molinari Racing Products clutch
HORSEPOWER: 3,000+ hp (engine dyno)
TORQUE: 3,500+ lb-ft (engine dyno)
TIRES: 34×18.0x15 Dick Cepek Giant Pullers (front), 34×18.0x15 Pitbull Super Pullers (rear)
WHEELS: 15×18-inch Real Racing Wheels
BODY: 2010 Ram Quad Cab from GTS Fiberglass & Design
FRAME: 2-inch diameter, 0.125-inch wall tube chassis built by Barker Machine
AXLES: Rear Rockwell SQHD with SCS solid axleshafts, SCS spool, Barker Machine fabricated axle housing and 6.17 ring and pinion, front F106 with military steering knuckles, Detroit locker, solid 2.5-inch axleshafts, 6.17 ring and pinion.