Big Blue The First: Ford 6000
As the 1950s came to a close, Ford's investment in the manufacture of agricultural equipment worldwide was bigger than ever and growing. With the exception of the English Fordson Major, sold in small numbers in the U.S., they had no big tractors and no six-cylinder tractors at all. That was about to change.
A project to build a big Ford tractor with six-cylinder power began in late 1957. Beyond that laudable goal, they wanted to include the new 10-speed Select-o-Speed power-shift transmission… which would be an industry first for a big tractor. Though Ford in England had some six-cylinder diesels (not in tractors), it was decreed that the engineers should take Ford's light truck and passenger car 223-cid six and make it into a diesel, as well as converting the gas version to a tractor powerplant.
What emerged in late 1960 was the Ford 6000. It was a big 7,500-pound tractor with a 242-cid diesel. Very shortly, a 223-cid gasser was on the options list as well.
Performance and output were similar between the gas and diesel, though fuel diesel economy was better (5.1 gph vs. 6.5 gph at full power). They were a departure for Ford because they were built on a frame rather than using a unit construction where the engine block was part of the structure. Given the light truck and car origins of the engine, why is not difficult to guess at.
"The hydraulic system of the 6000 was way ahead. It featured an accumulator (later upgraded to two) that stored hydraulic power so the engine didn't have to drive a dead-headed hydraulic pump, something
Ford claimed cost 10 hp."
The 6000 was offered in rowcrop configuration with a dual or single wheel narrow front, adjustable wide front or a wheatland fixed wide front available. It had a very advanced draft control system with a dual range PTO, where the 540-rpm PTO could be operated at an economical 1,750 rpm for light loads but at 2,230 rpm for high-draw situations. The system also included a 1,000-rpm PTO.
The hydraulic system of the 6000 was way ahead. It featured an accumulator (later upgraded to two) that stored hydraulic power so the engine didn't have to drive a dead-headed hydraulic pump, something Ford claimed cost 10 hp. The pump worked only enough to keep the accumulator charged.
The 242-cid diesel was all new and based on Ford's four main bearing 223 gasser, which had been in service with Ford in cars, light trucks and industrial applications since the early '50s. The diesel's bore was the same 3.62-inch as the gasser, but the stroke was increased from 3.6 to 3.9 inches. It was a DI engine and injection came from a Simms inline pump with a compression ratio of 16.5:1.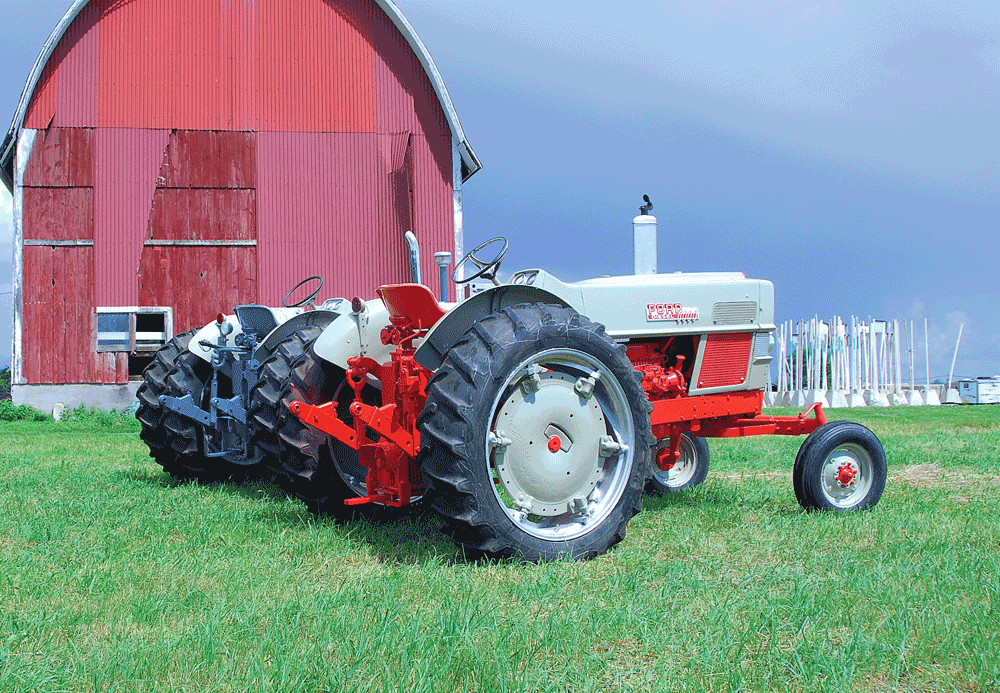 The power steering, power disk brakes and Rest-o-Ride rubber torsion seat made the tractor driver-friendly for the era. What was totally unique in the market was the Select-o-Speed planetary transmission—a true power-shift trans. We've covered this trans in earlier Tractor Talk installments. The Selec-o-Speed used four planetary gears in line, with bands, servos and clutch packs on three. A valve block tied into the shift quadrant allowed the operator to shift between all 10 gear ratios without a clutch. There was no torque converter, and for close and slow work, an inching pedal allowed the operator to move the tractor incrementally.
The Select-o-Speed was available in other Ford tractors but the 6000 version was beefier and had a direct-drive clutch instead of the sprags used in the smaller tractors. The tractor had 10 speeds plus two reverse, but the shift between fourth and fifth was notoriously hard, earning it the nickname "Jerk-o-Matic." Prudent drivers slowed or stopped to shift between these gears.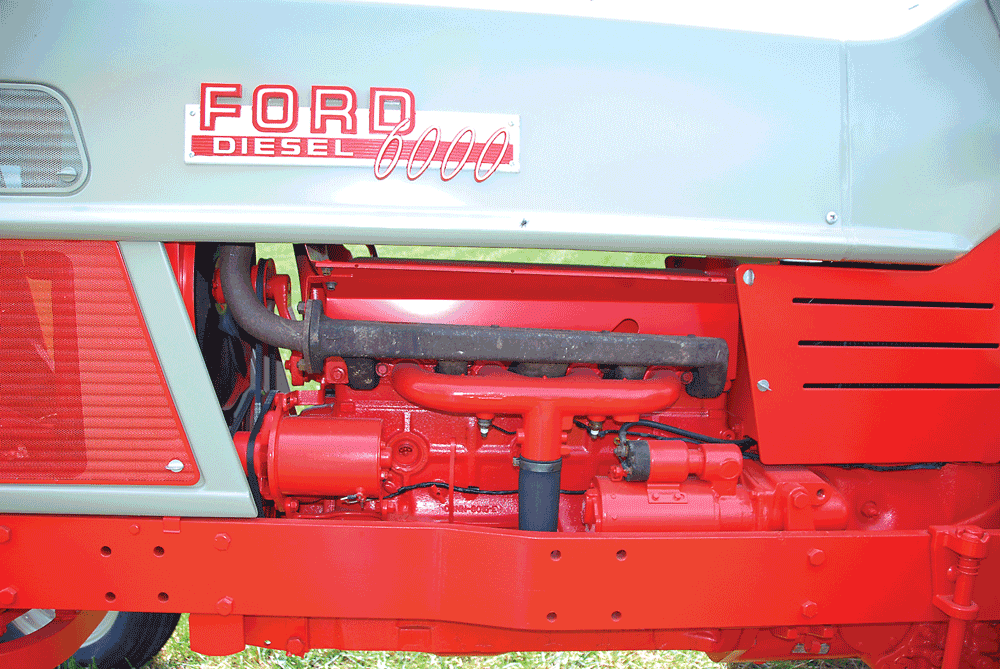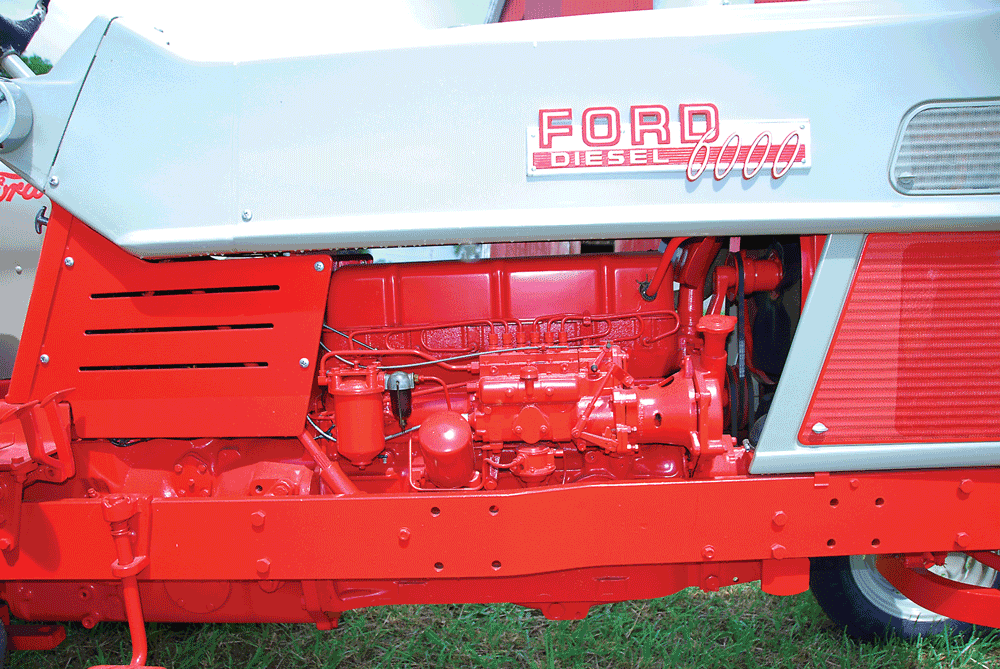 As often happens in big companies, in the rush to get the new-and-whizbang on sale, marketing often wants to debut before the engineering folks do. In the 6000's case, the marketing folks put the tractor on sale before engineering considered it ready for prime time and trouble ensued. It was not as drastic and widespread as some similar events had been with other companies, but it was bad enough.
The four main block was not stout enough to hold a diesel crankshaft in place (even a billet crank) and allowed too much flex under heavy loads so bearings failed or the crankshaft broke. The trans had some minor issues that mostly related to maintenance and operator error. The four-five shift, for example, had a tendency to break stuff if the engine was really wailing when it was shifted. The final drive trouble related mostly to wheel retention. The wheel hubs tended to work loose and strip out the single Woodruff key on the axle. The hydraulics had some leaks and didn't quite live up to the sales pitches.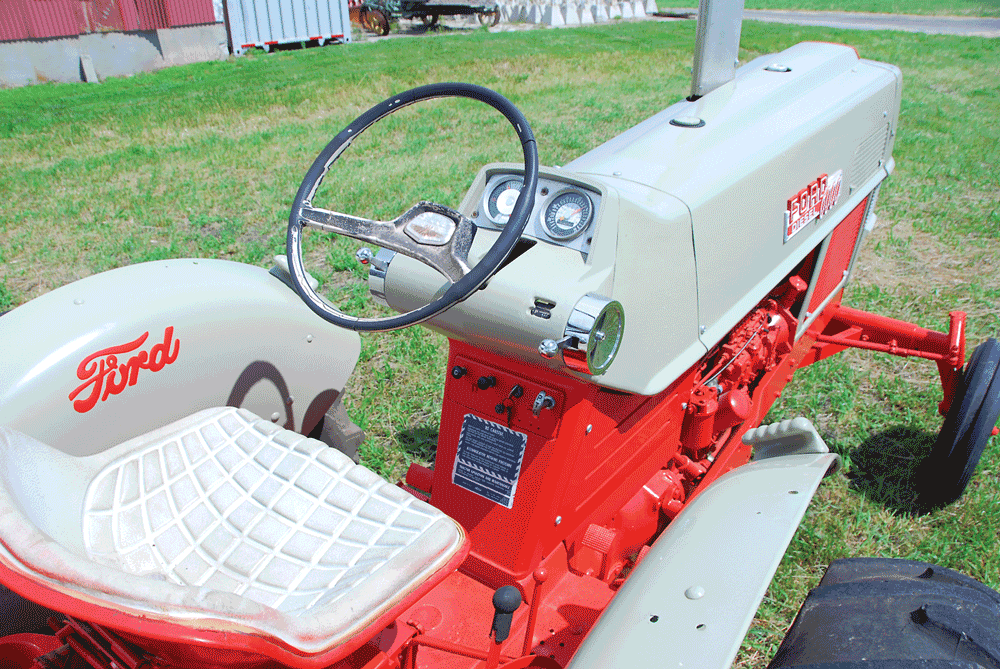 The cures came rapidly as did field fix kits. These included a new engine with a stouter block, fixes for the trans, an upgrade to the axles and hubs, and the installation of a second accumulator to the hydraulics. In '62, Ford decided it was better to stand up and just call back all the tractors to be factory rebuilt. A farmer could bring his red and gray Ford 6000, swap over his tires and drive away with a new/updated Ford blue and gray tractor. Most red 6000s were rebuilt but a few non-upgraded ones still exist. From a point in 1962, all 6000s from the factory, new or rebuilt, had all the upgrades and were all blue and gray… Ford's new color scheme.
The 6000 continued into '65 when it got more upgrades and minor styling changes to become the Commander 6000. The styling changes included a new grille, a decal rather than a plastic hood-side badge and a different steering wheel. Mechanical changes included a third engine block upgrade, minor rear hub upgrades and a change in final drive gearing. The Commander 6000 was supposed to be built through 1966 and be replaced by the new 8000. Delays in bringing the 8000 to production inspired Ford to resume production of 6000s for about three months in early 1967 so dealers could still have a "big" Ford in the showroom. These final 6000s even had a few upgrades, such as an improved power steering system.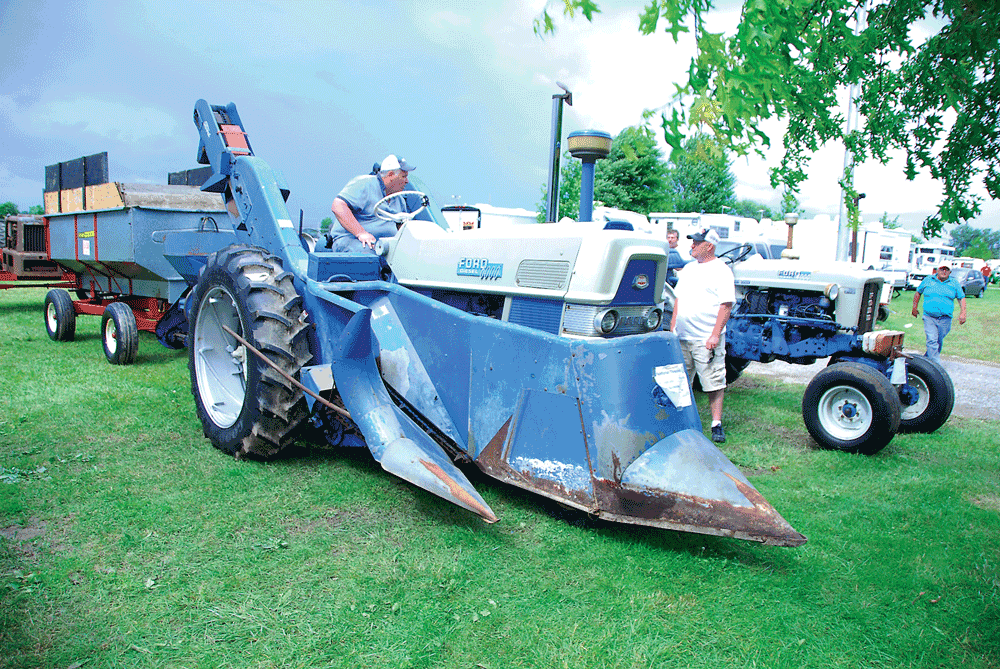 The owner of the blue tractor in this story, Roger Clark, ran a Ford tractor dealership with his father from '58 to '70 and says the Ford compared well to the Deere 4010, and IH 706 and 656, and beat the contemporary IH 560 all to heck. Like many tractors that had teething disabilities, it had trouble overcoming the bad rep. The Select-o-Speed put it into a class by itself for many years and that added to the hard knocks some farmers gave it. Still, it was a big advance in tractor technology and the tractor served a large number of farmers very well for decades.
Today, the 6000 is a rising star in the collectible tractor world. Some of its more unusual parts are a little scarce, but there seem to be enough available to support the collectors. It's difficult to establish how many were originally built from '61 to '67 because Ford's serial numbers didn't change according to the various models. DW
Typical Specifications:
1961 Ford 6000 Diesel
Engine: I-6, DI, NA
Displacement: 242 cid
Bore and stroke: 3.62×3.90 inches
*Rated PTO power: 66.17 hp @ 2,400
*Rated drawbar power: 59.24 hp @ 2,399 Compression ratio: 16.5:1
Transmission: 10-speed Select-o-Speed
Weight: 7405 lbs
WHEELBASE: 95 inches
FUEL CAPACITY: 26 gallons
Tires: Front: 6.50-16, Rear: 15.5-38
*Fuel consumption: 5.189 gph @ max power
*Drawbar pull: 7245 lbs @ max ballast
*Top speed: 18.2 mph
* As Rated by Nebraska Tractor Test 783
SOURCE
Ford/Fordson Collectors Association
http://www.ford-fordson.org/events.htm