BIG BUD 'NUFF SAID!
We've talked a lot over the years about how the big, high-powered tractors evolved. Nowhere were they needed more than in the plains states, where you could run for miles making just one row. Farms comprising thousands of acres needed tractors that could take big bites and for that you needed bulk and power. By the 1960s, as costs rose and profits stagnated, the need became acute.
Wagner
Tractor manufacturers responded, one of the first being Wagner who started building big, powerful, articulated tractors in the early '50s. By the '60s, they weren't the only ones in that game, but Wagner has a direct connection to the legendary Big Bud tractors, a brand that is generally spoken about in awestruck tones. Havre, Montana (pronounce locally as "Hayver") was home to a big Wagner dealership privately owned by Willie Hensler and the dealership had done very well for many years. That dealership came to a screaming halt when Wagner made an ill-fated deal to build rebadged tractors for John Deere.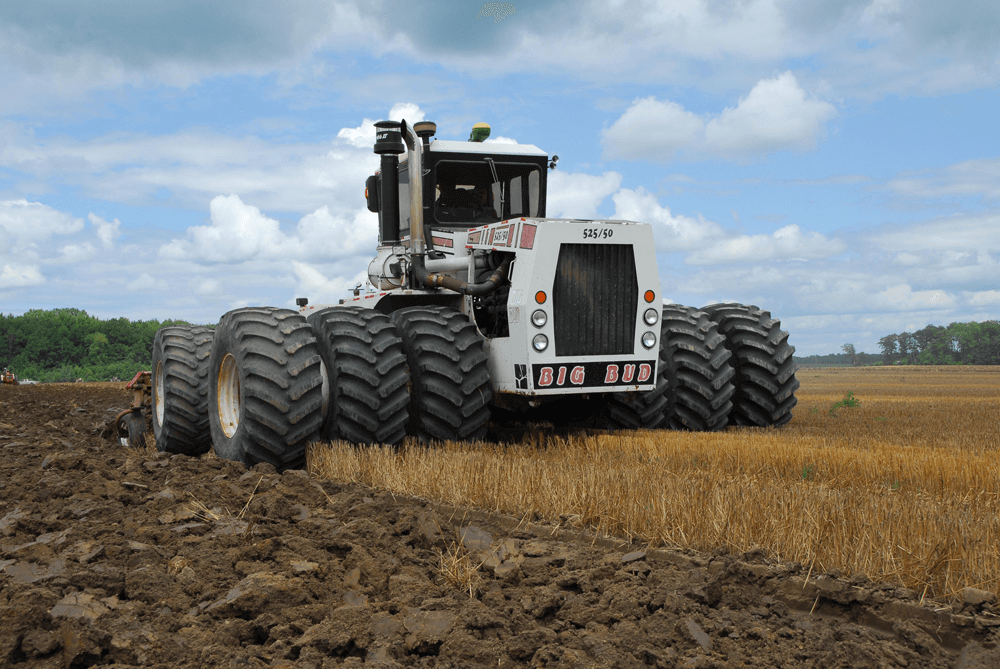 The contract was for 100 tractors, a number that would have helped the financially ailing Wagner a great deal. Unfortunately, the deal locked up the total production of Wagner's two most popular tractors, the WA-14 and WA-17 and prevented Wagner from marketing a competing tractor for fi ve years. This effectively killed Hensler's dealership by cutting off the supply of new tractors. Those 100 rebadged tractors might have been a life-saving deal for Wagner had everything gone as planned but as it happened, fewer than 100 were actually sold and Wagner soon faded away.
Namesake
Hensler was desperate, but smart. The dealership had already been repowering Wagner tractors with bigger engines for existing owners and his service manager, "Big" Bud Nelson, was integral to that. Nelson partnered with him to create Northern Manufacturing Company in 1969 and began a major program to take existing Wagners and rebuild them from the ground up, replacing all the powertrain components and creating a new tractor brand called Big Bud, after the gearhead most responsible for building them. The intended market was to be the same as they had always serviced, Montana.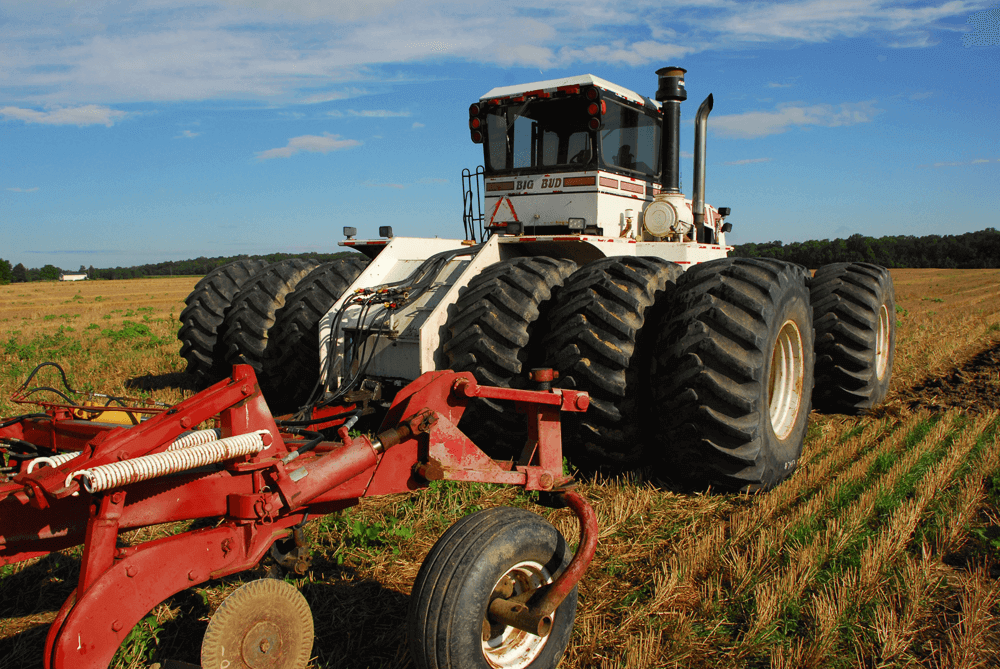 The first true Big Bud was called the model HN250 the "H" for Hensler, the "N" for Nelson and 250 being the rated engine power. It had a lot of Wagner parts, such as the cab and frame, but the powertrain was new and it was powered by a Cummins NT855 six. Northern Manufacturing adopted Imron White as their official Big Bud color. They included a tilt cab feature for easy access to the engine and powertrain for maintenance or repair. By the end of 1974, Northern Manufacturing was building 12-15 units per year at up to $60,000 per unit and the HN line continued with many variations until another big change came to Big Bud.
Bigger and Better Things
In the mid '70s, Hensler and Nelson began looking for quieter lives, so at the beginning of 1975 a successful Havre businessman, Ron Harmon, purchased Northern Manufacturing. Harmon had big ideas and began a top-to-bottom restructuring designed to put Big Bud tractors on the map outside Montana. This included a new sales and marketing group. Almost right away the KT line was introduced featuring the big 450 hp KTA1150 Cummins with a powertrain to match. Several variations of the HN line were introduced, including an uprated 310 hp 855 ci option. In 1976, a new 30,000-square foot manufacturing facility was built, with the old Wagner dealership used as a sales and repair facility only. Sales were good enough to prompt a model line revision and the Series 2 models were introduced in the middle of 1977 with larger cabs and more improvements.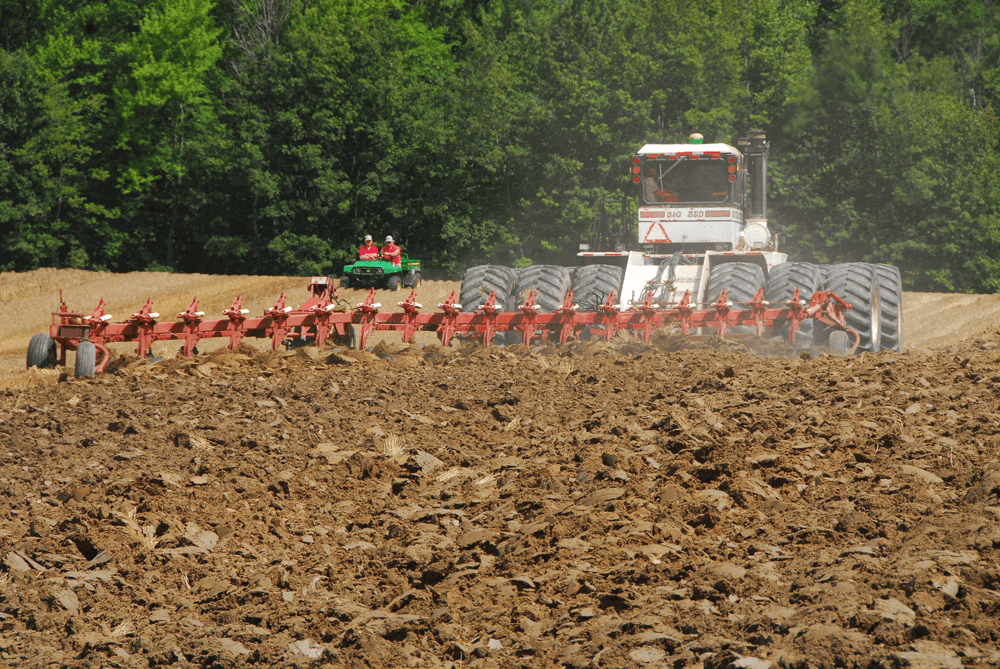 When 1978 rolled around, it marked a big moment for Big Bud and the tractor industry in general. That year, Big Bud introduced the biggest tractor in the world, the 16V-747. Powered by a Detroit V16 diesel, the behemoth was rated at 760 horsepower and began working on a farm near Bakersfield, California. The specially-ordered tractor proved reliable and sturdy, so power was eventually bumped to 900 horsepower and the biggest Big Bud continued to delight, amaze and blow away the tractor world. This tractor later returned to Montana and is still at work today. It was the only of its kind built, though Bug Bud built some tractors with V12 Detroits.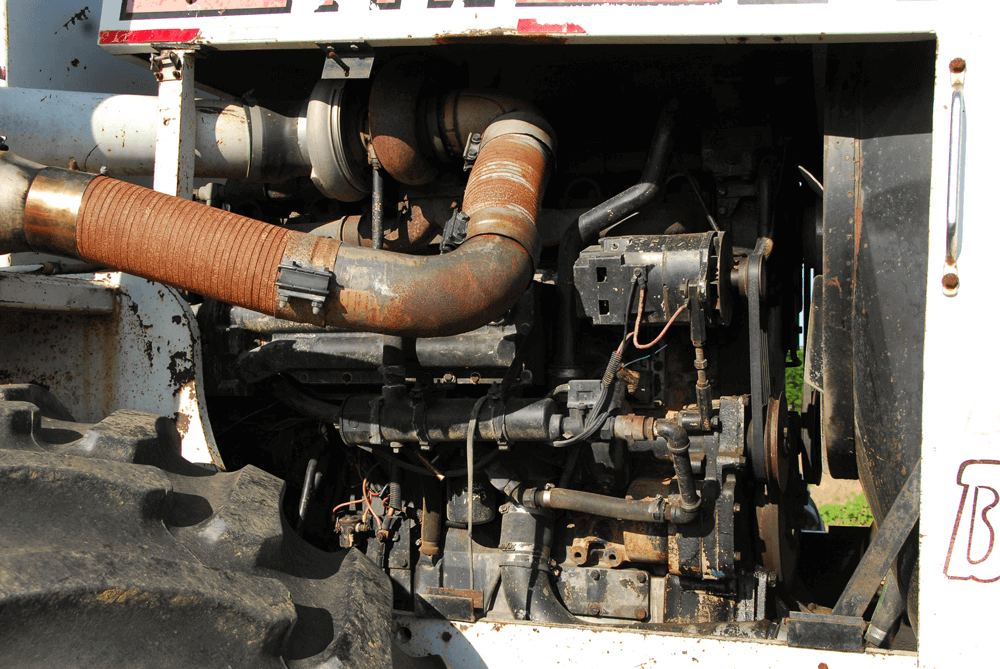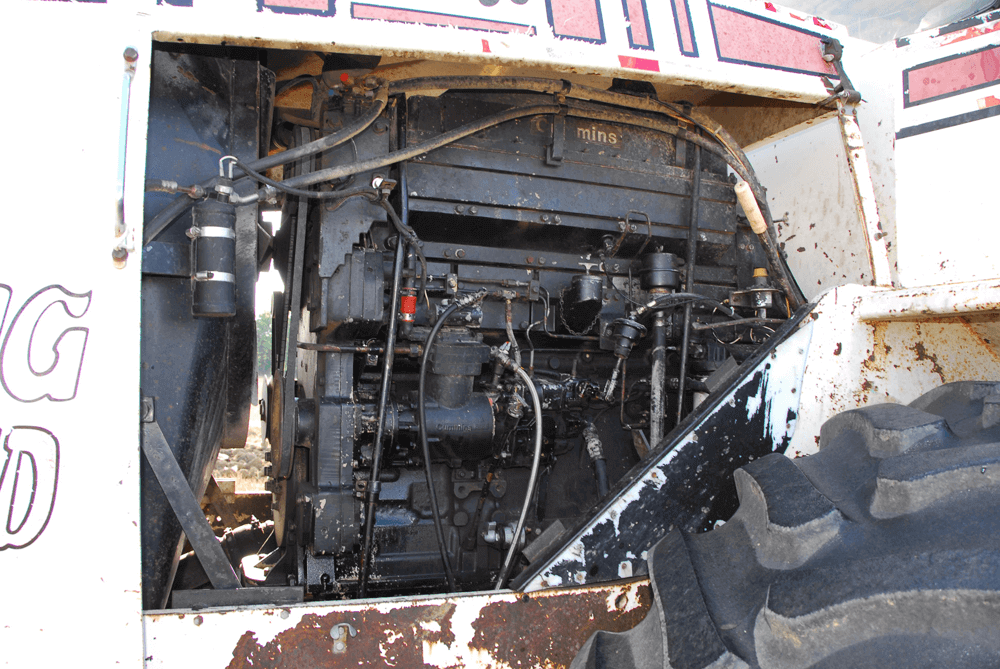 The 16V-747 brought so much recognition to Northern Manufacturing that Harmon reckoned a name change was in order. Northern Manufacturing became Big Bud Tractors Incorporated. The 16V-747 also heralded the introduction of the Series 3 tractors, which featured even more improvements, better standardization and new model designations. The frames were intensely beefed and redesigned to accept a variety of engines without major changes so the available engines then expanded beyond Cummins.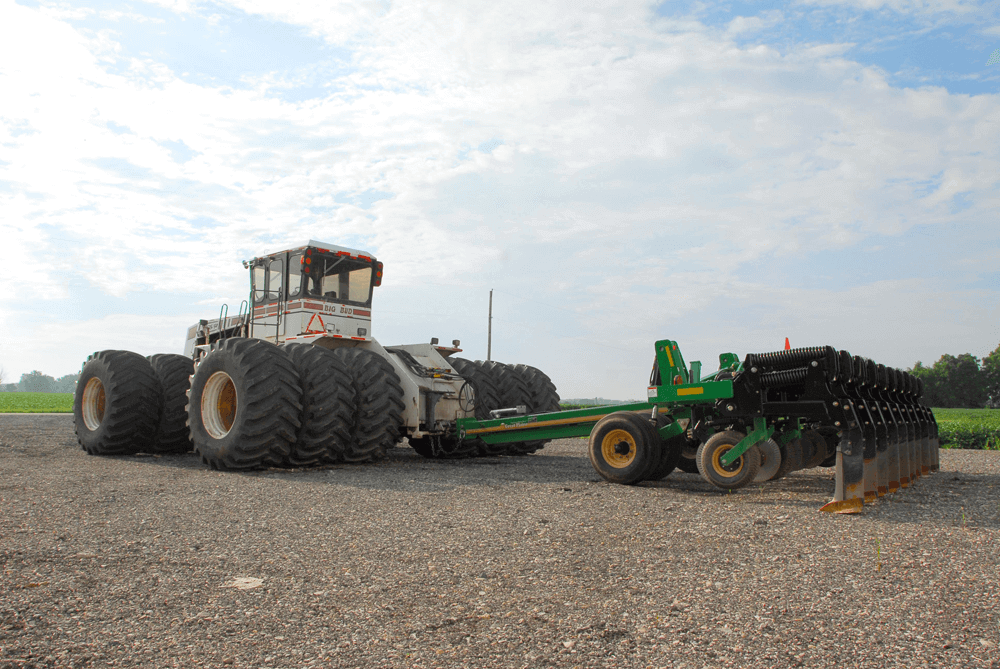 In '78, the dark clouds roiled in. Big Bud began using the beefy Twin Disc line of transmissions, which were generally considered the most bulletproof and advanced line of tractor gearboxes there were. They still are, but there was a hiccup in late 1978. The new electronically-controlled Twin Disc units of the era exhibited a fatal flaw that required an upgrade. The upgrade was done to existing tractors and to new gearboxes coming off the line… but it didn't work, and into 1979, Big Bud was forced to stop production when transmissions and parts failed to arrive. They ended up with a yard full of tractors waiting for gearboxes. This situation dragged on and led to upheavals at Big Bud through the '80s, including lawsuits, new partners and Chapter 11 bankruptcy. All the while, tractors continued to trickle out of the factory in spurts. Though Series 4 tractors were introduced in 1986, production was only 21 units over four years. Big Bud ceased building new tractors in 1990, with a total of 518 tractors built in 21 years of production. Harmon now runs Big Equipment Company, a new company that specializes in rebuilding Big Buds, and other large tractors.
Changing Direction
Big Buds were built mainly for ag use but quite a few were built for, or later converted to, construction use. This is common for all the large articulated tractors, which are commonly seen pulling scrapers and land levelers. Big Buds are most commonly seen with Cummins engines, most commonly the MTA855 or KT or KTA 1150. As mentioned, starting with series 3s, Big Bud made a point to offer other engines. Not many buyers took them up on that, but the production lists show a fair number of Detroits, mostly 8V92s, a few 12V92s and a single 16V92. In the Series 4 era, there were a handful of Cat 3406s installed, a few Komatsus and a single Deutz. It isn't clear how many Big Buds have survived but by many reports, most have. They are built on a virtually indestructible chassis that is upgradable. Quite a number have gone overseas as well. They are too useful to be collector tractors but quite a number are working collector tractors.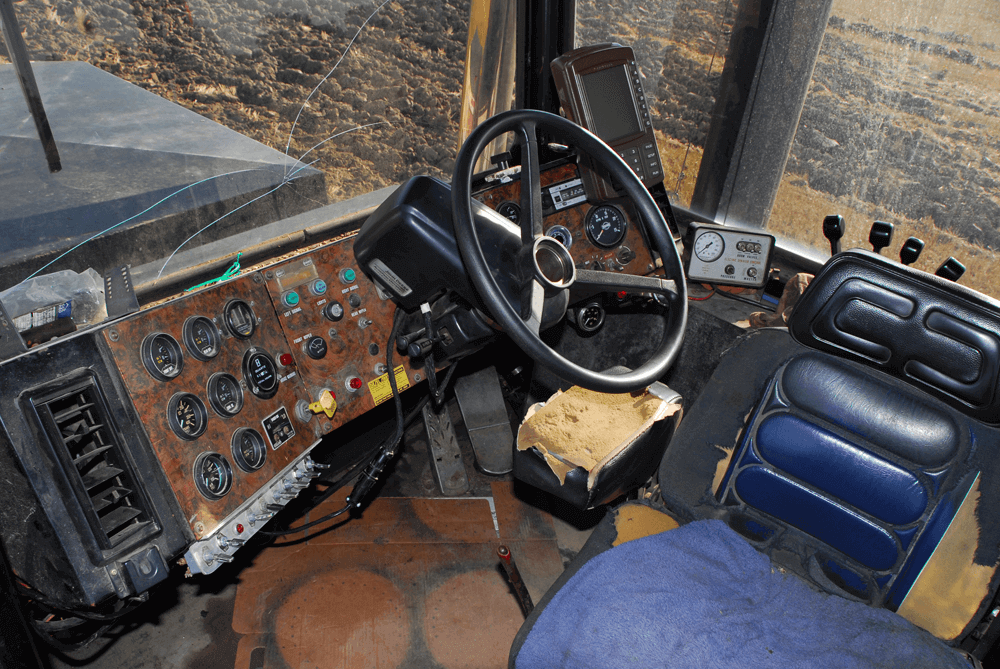 Among the more popular and numerous Big Bud's models was the 525/50 Series 3, with 150 built. In 1980, the list price was $143,000 and they can sell for close to that nearly 40 years later. It featured the KTA1150C six from Cummins, rated at 525 hp from the factory. The model designation, 525/50 reflects the factory flywheel power, 525 hp, and the 50 is the code for the Twin Disc TD-91-2610 9-speed transmission. Axles were massive Clark D-75830 planetary units. Many used the Big Bud–designed Cruiser Cab and some later models used an outsidesourced ROPS cab. Options varied by year, but in '80 included a 6-speed Twin Disc TD-92-2609 gearbox, a few chrome goodies, a built-in refrigerator, rear view TV system and Dickey-John crop monitoring system.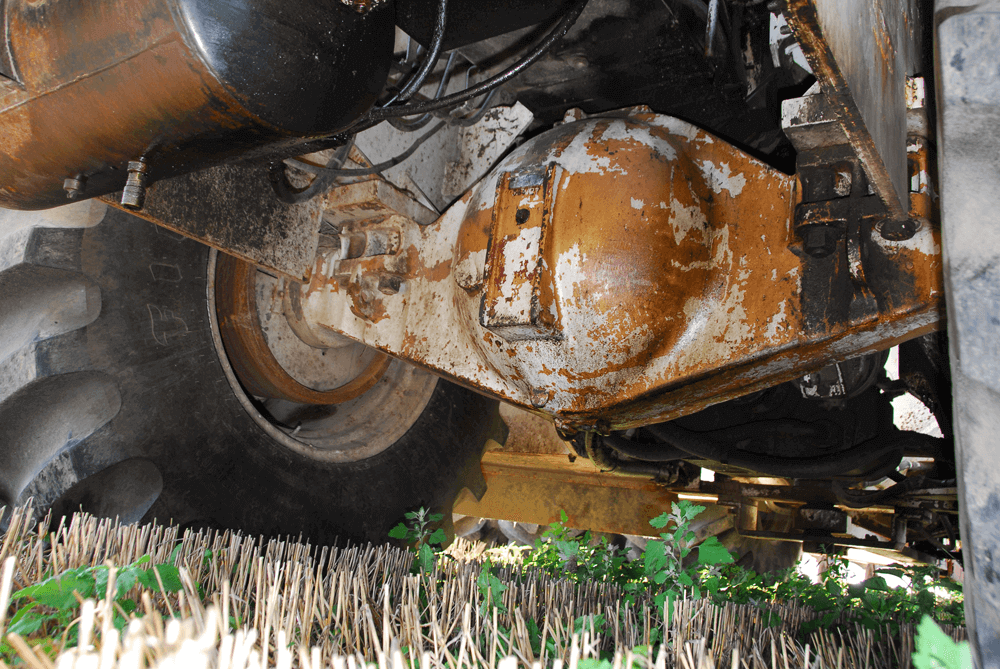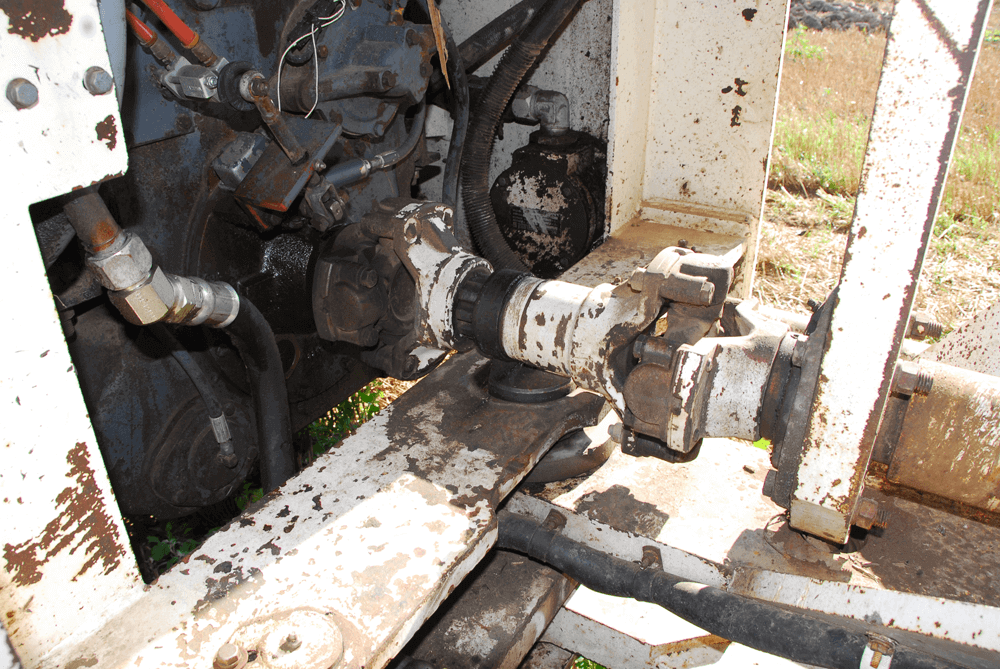 Daren Meyers, who farms about 1,200 acres near West Unity, Ohio, owns the 1980 Big Bud 525/50 you see here. He's owned it since 2014, having purchased it from a farmer in North Dakota. It's one of a very few Big Buds in Ohio. Daren knows of only four at this moment in time. Though shown here with a moldboard plow, it's primary use is to operate a 10 shank subsoiler. Daron's tractor was shot at the 2017 Alvordton, Ohio, Plow Days that happens annually in mid-August. It's put on as a local fundraiser by the Alvordton, Ohio Volunteer Fire Department who sets out a killer chicken barbeque dinner.
SOURCE
ALVORDTON PLOW DAYS
 www.facebook.com/ events/307942549661987
TYPICAL SPECIFICATIONS: 1980 BIG BUD 525/50 SERIES 3
ENGINE: 6-cylinder inline, Cummins KTA-1150-C
DISPLACEMENT: 1150 ci
BORE & STROKE: 6.25 c 6.25 in.
FLYWHEEL HORSEPOWER: 525 hp @ 2100 rpm
FLYWHEEL TORQUE: 1575 lbs-ft @ 1500
*RATED DRAWBAR POWER: 421.5 hp @ 2100 rpm
COMPRESSION RATIO: 15:1
TRANSMISSION: 9-speed, Twin Disc TD-92-2610
TIRES: 30.5 x 32 duals
*FUEL CONSUMPTION: 27.3 gph @ full power
*DRAWBAR PULL: 42,216 lbs. @ 9.2% slip
WEIGHT: 60,000 lbs. (w/std. ballasted tires)
FUEL CAPACITY: 550 gal.
*TOP SPEED: 20.25 mph *As Rated by Nebraska Tractor