When you're in show business, passion for your art is a basic requirement, and you have to be dedicated to grow that passion every day. Brothers Dustin and Brandon Naivar know this better than most, because they've taken their passion for great trucks and their talent for creative metalwork and welded the two together to form Showtime Metal Works. The result of their passion, dedication, and talent speaks for itself.
Second-Generation Craftsmen
Dustin and Brandon grew up around the steel fabrication business, because their dad was in the trade. The young men started spending their childhood around welders and metal fab equipment almost as soon as they could walk. In addition to a love of metalworking, the Naivar brothers also developed an interest in 4×4 trucks—the taller the better.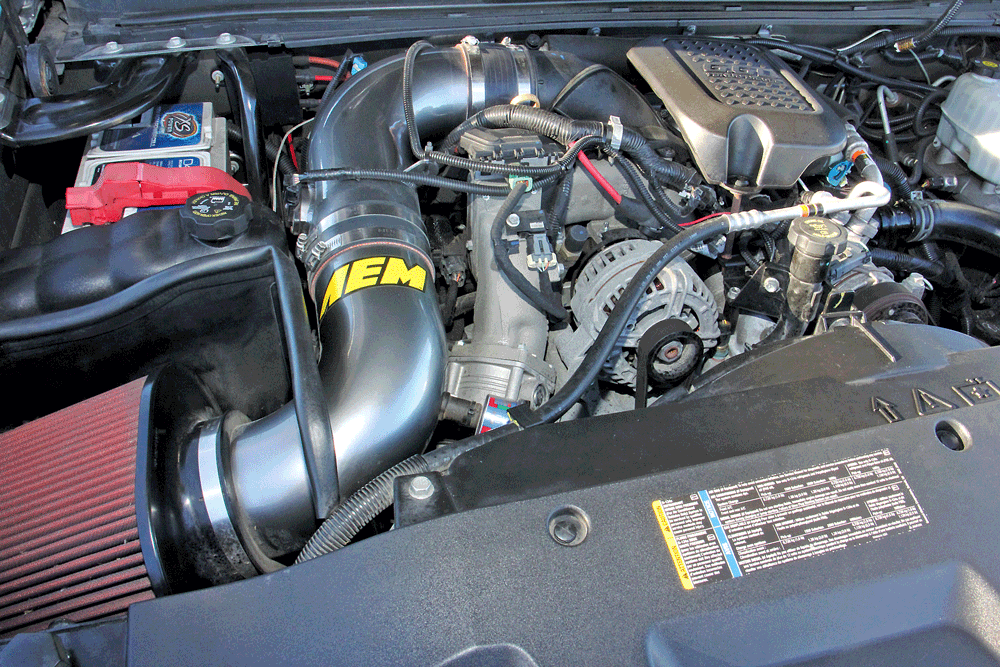 "Building the best in lifted trucks became the brothers' driving mission and they began preparing and taking their own trucks to shows across their home state of Texas."
Building the best in lifted trucks became the brothers' driving mission and they began preparing and taking their own trucks to shows across their home state of Texas. Eventually this hobby progressed into a business and they made the big jump in opening Showtime Metal Works. Now it's their life's work to build the best possible trucks for themselves and their customers, every day.
Putting the Max in Duramax
Dustin's latest personal truck is a 2010 Chevy Silverado 3500 DRW 4×4, powered by a Duramax diesel. As a dedicated Bowtie man, Dustin has built two previous custom trucks for his own use. The first was a 2007 Silverado 1500 4×4 and the second was a 2007 Silverado 2500HD SRW, also Duramax diesel powered. You might say it's been a journey to this particular destination.
Dustin's reliable Duramax breathes in through an AEM cold air intake, and then a Garrett 61MM turbo pumps up the boost to an eye-popping 32 psi. Fuel is fed to the engine by an AirDog 165 fuel pump and air separation setup that provides 165 gallons a minute of fuel flow, at a constant 8-10 psi.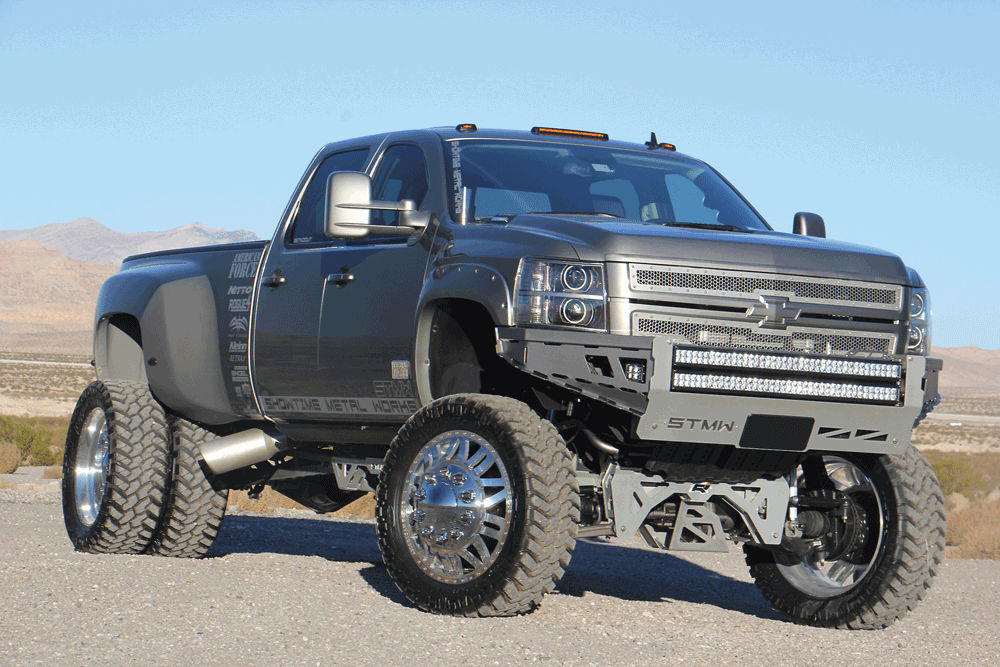 The exhaust begins with 5-inch downpipes, connected to a 5-inch Flo~Pro exhaust system. The exhaust dumps just ahead of the rear axle, through a 5-to-8-inch step-up, MBPR exhaust tip.
To further maximize power, Dustin selected an EFILive tuner to tweak the fuel delivery for a balance of maximum performance and reasonable economy. He also added a DSP5 unit from EFILive to allow himself to switch between five user-defined tunes on the fly. All the custom tuning was performed by Dirty's House of Diesel, right in Dustin's hometown of Taylor, Texas.
Dustin tells us the power is up to around 900 lb-ft and 500 horsepower at around 3,700 rpm. To keep this beast of an engine alive, Dustin chose a Fluidyne oil cooler to help keep temps down. Dustin swears by Lucas oil products to keep temps down and extend overall service life in every truck he owns.
RUGGED on the Underside
All that fantastic engine torque is transferred through the stock Allison 1000, six-speed automatic to the stock NP263 transfer case. The Allison has been upgraded to a deep pan and external cooler from PPE. The T-case is still in stock trim and the 2.72:1 low range is just right for Dustin's needs. Power is sent to the stock rear axle that sports custom Yukon 4:88-1 gearing, a PPE diff cover and the stock LSD. The front axle was also upgraded to 4:88-1 gearing from Yukon. Power hits the pavement, or dirt, via six Nitto Trail Grappler tires in 38×13.50R24. These are mounted on American Force 24-inch Scope wheels.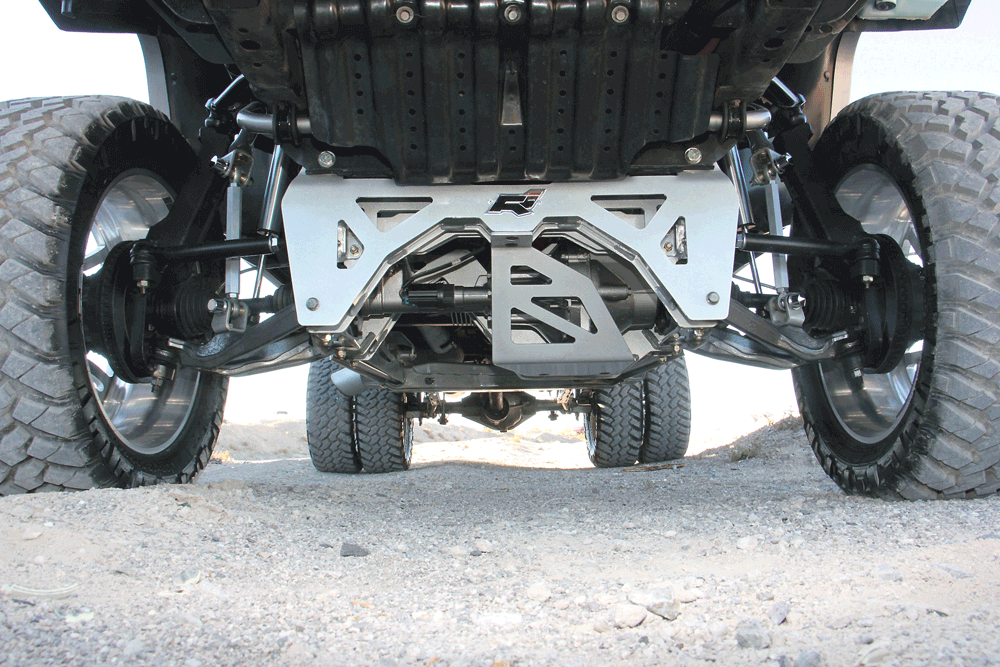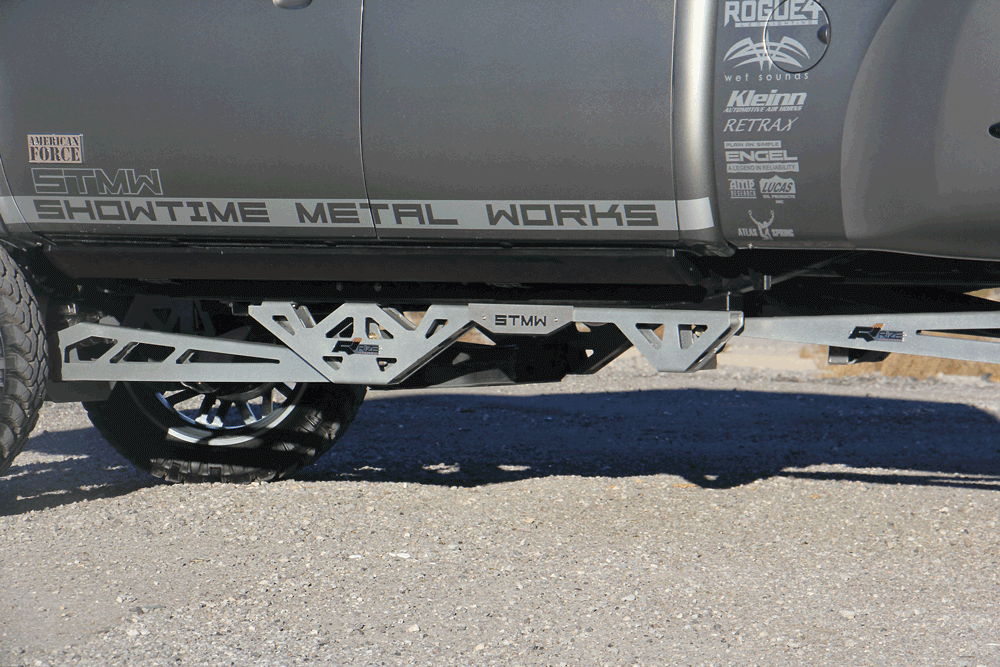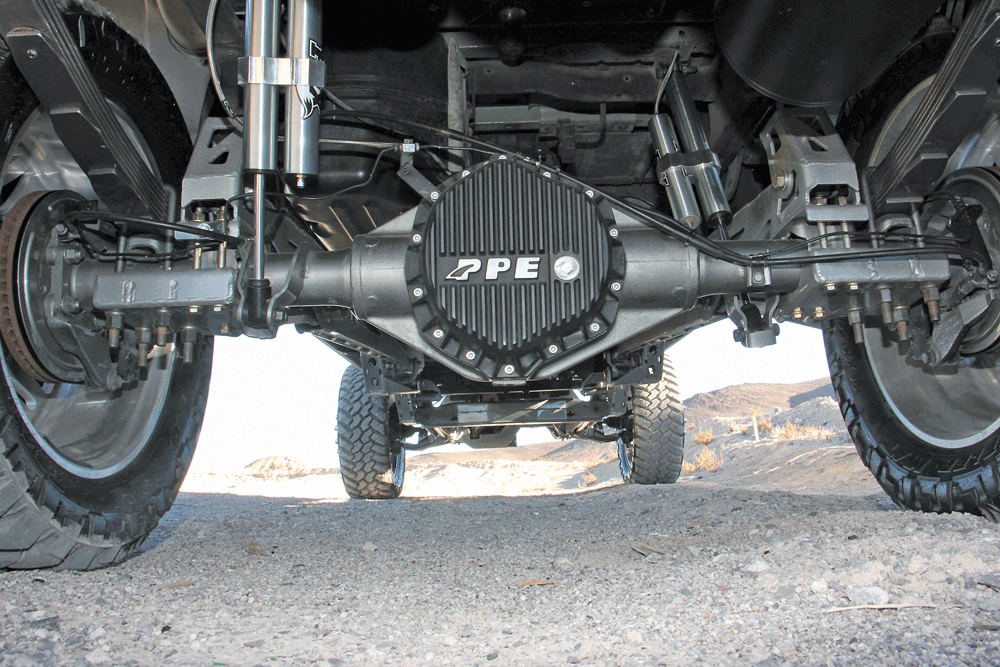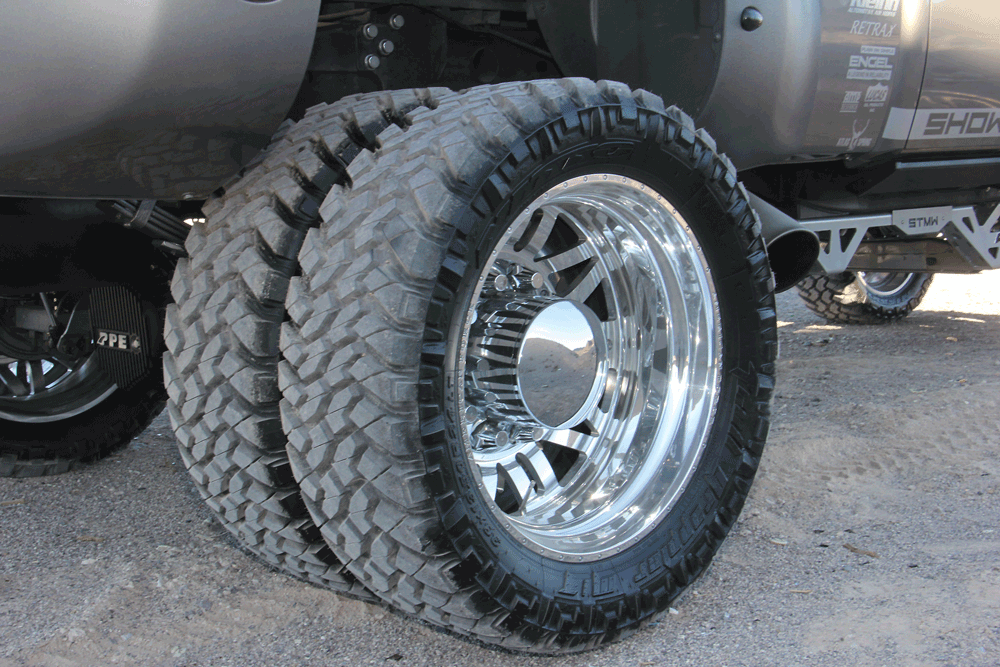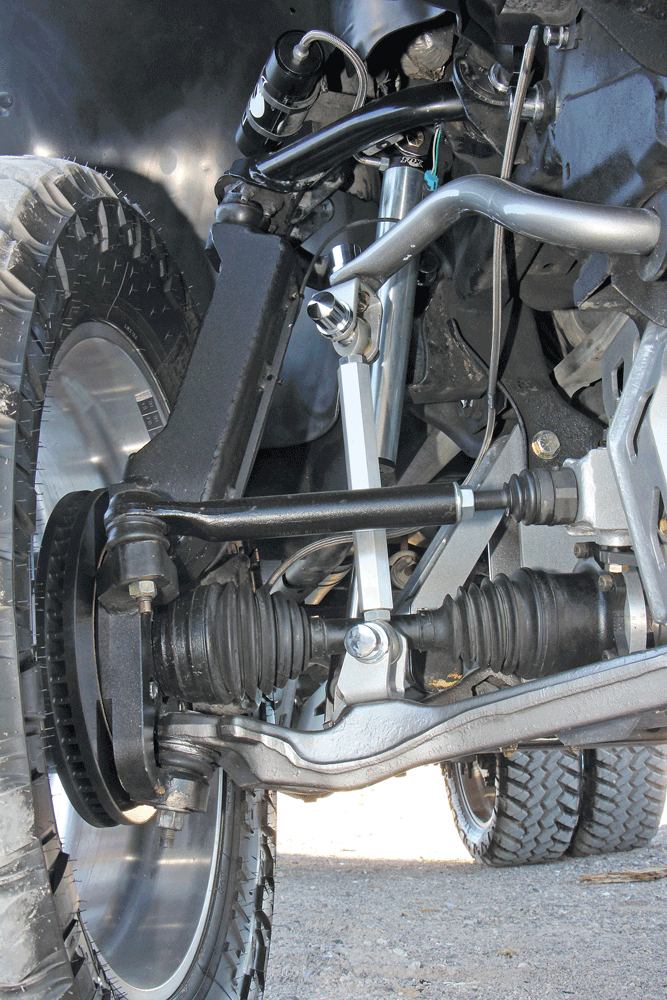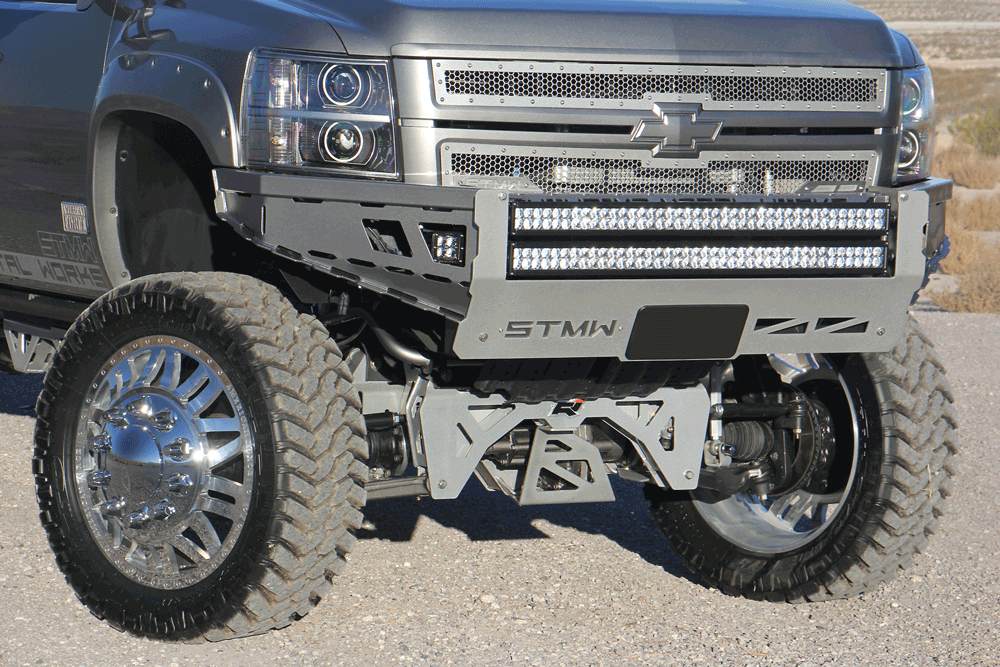 "Dustin works hard to keep Showtime at the forefront of truck technology, and this truck proves the results."
This truck sports a 10-12 inch Rize Industries suspension, remote-reservoir Fox 2.0 shocks and tubular upper control arms. The rear driveshaft is stock, but the front was upgraded to a dual-CV setup. In addition, longer, braided stainless steel brake lines ensure that full suspension travel won't tug at the brake system. Rize heavy-duty tie-rods and traction bars round out the suspension upgrades.
TOUGH On Top
On the exterior, the stock grille shell has been color-matched to the truck's no-nonsense Graystone Metallic. Dustin and Brandon created the STMW (Showtime Metal Works) two-piece grille insert. The front fender flares are made by EGR, then painted to match the body and complement the stock rear dually fenders.
The bumpers also showcase the best from STMW. These steel teeth are unique and strong. The front bumper sports two Rogue4 40-Inch Delta Series, double-row LED light bars. Each of these torches puts out enough light for driving off the grid, even on moonless nights.
The rear STMW bumper sports two 6-inch LED lights. These are great for backing up at night, hooking up a trailer, or just for setting up camp. The stock headlamps have been upgraded to LED units from PlainAndSimple.com, with the STMW logo etched into them.
Other body-related upgrades include a spray-in bedliner, Retax bed cover, and AMP Research retractable sidesteps. The door handles and side mirrors have also been painted to match the body. Asid Graphic did the vinyl work.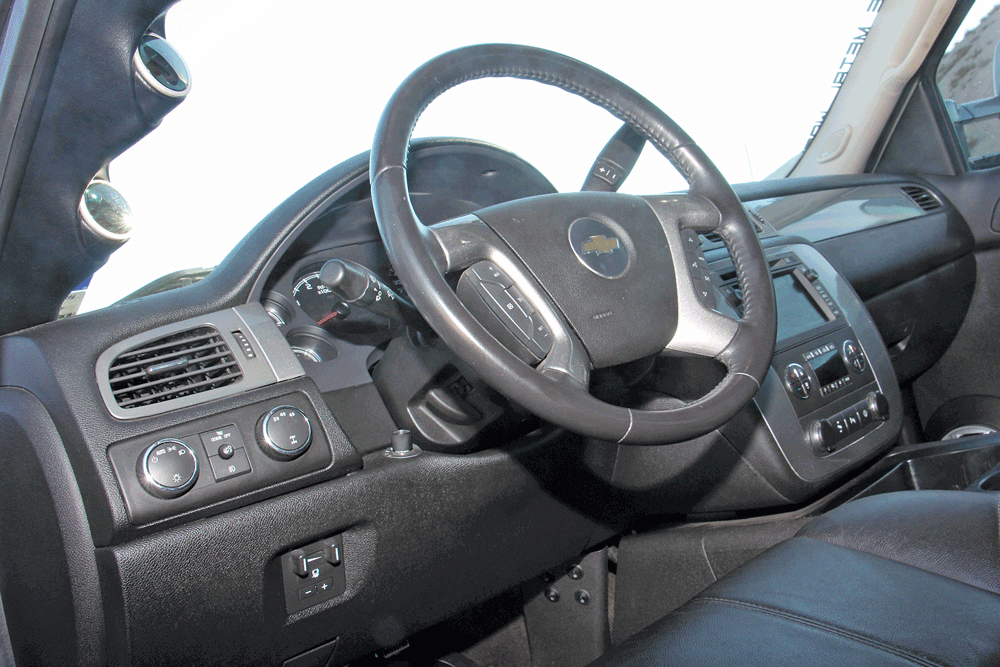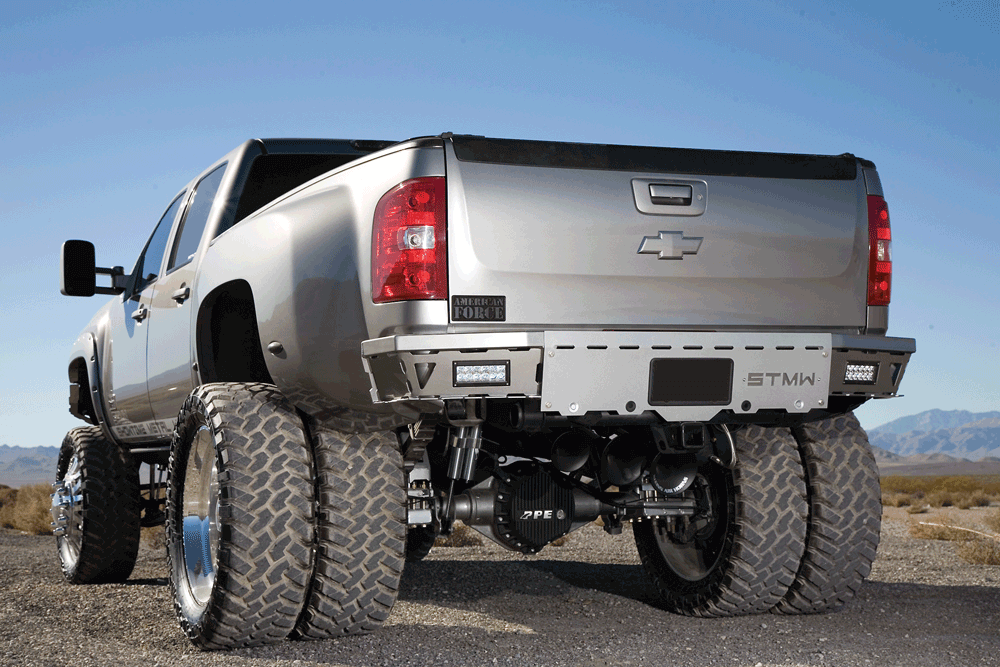 Taking a look inside the interior, the seats are black leather and the trim pieces have all been color-matched to the exterior. An A-pillar mount houses Pro-Sport oil temp, water temp and EGT gauges. Wet Sounds 6-inch speakers in the door and center console boost the sounds from the factory stereo and GPS navigation head unit. The factory sub and tweeters were retained. A final interior touch is a set of cool LED dome and map lights, which are whiter and brighter than the stock bulbs.
Dustin works hard to keep Showtime at the forefront of truck technology, and this truck proves the results, but it also shows that he knows how to play hard. Driving a show-winning truck as your daily driver is even better when it's your work truck too. But then, a serious passion for trucks is a tradition in the Naivar family. Dad may have started things off, but Dustin and his brother Brandon have taken it to a whole new level. DW