ALLIGATOR PERFORMANCE DYNO, DIRT DRAGS AND SLED PULL
NASCAR fans dream of attending the Daytona 500, football fans want to see the Super Bowl from inside the stadium, and NHRA fans dream of seeing and feeling the rush of Top Fuel running four wide from the fence. But if you're a fan of everything diesel in the West, Alligator Performance's Hunting for Horsepower event in Coeur d'Alene, Idaho, should be your chart topper. This past September the Alligator crew hosted their annual dyno, dirt drag and sled pull event with record success. With more than 4,500 spectators moving through the gates for the one-day event, the sunup-to-sundown diesel fun was exactly what you'd expect from such a great group of guys.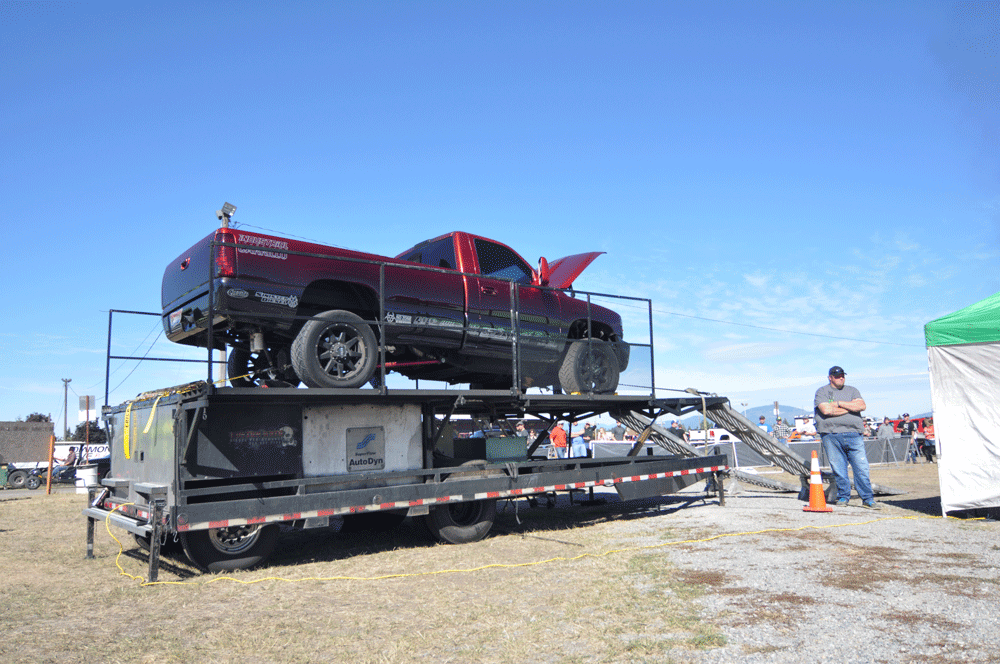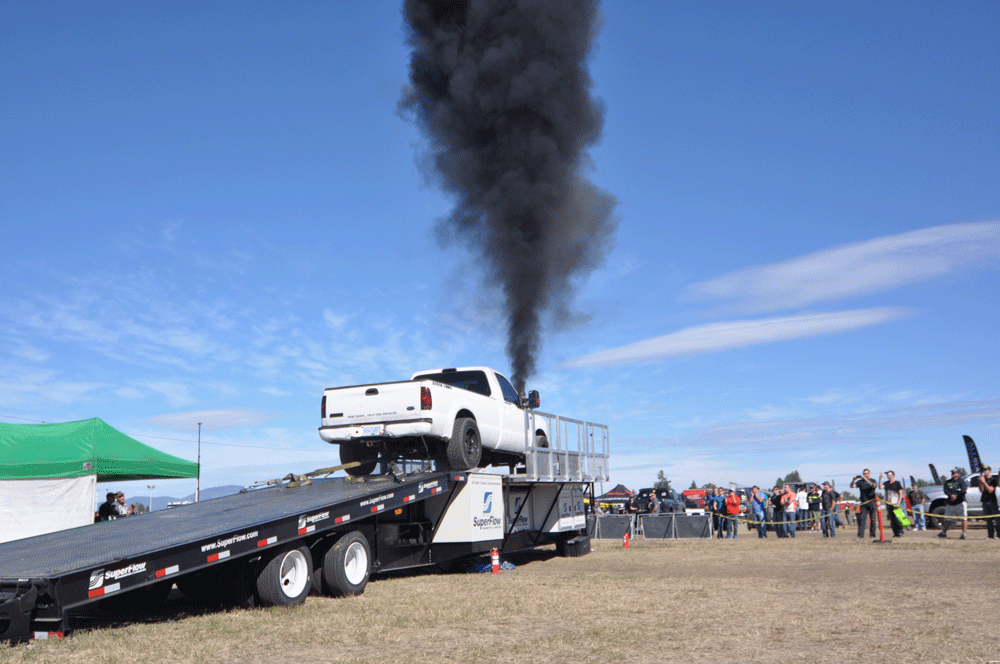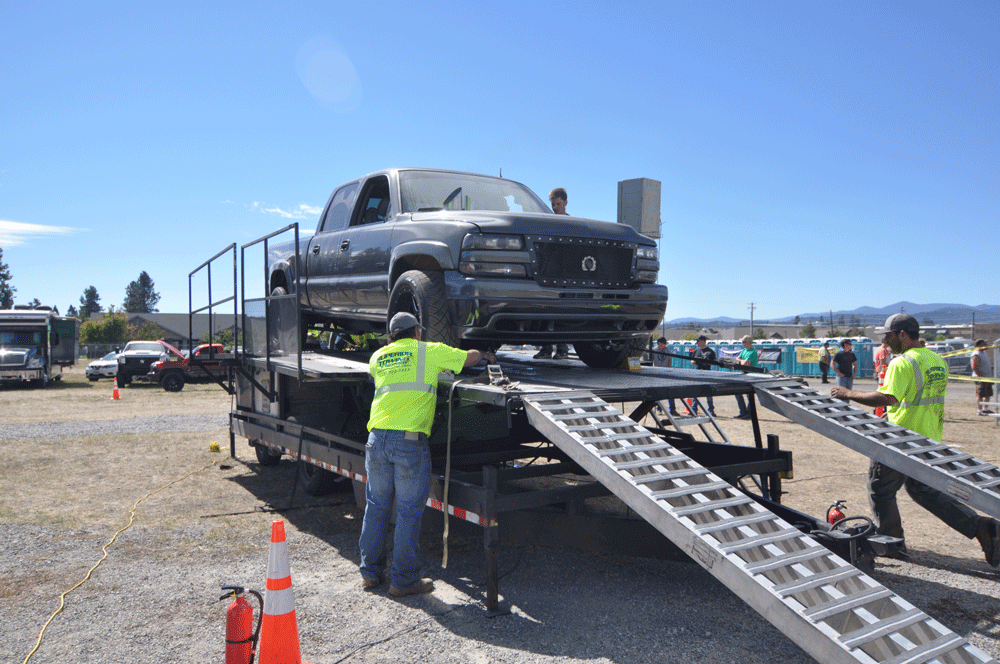 Thanks to the help of Dynomite Diesel, the event's title sponsor, Northwest Dyno Circuit and the Northwest Truck Pullers association, more than 160 trucks were run on the two portable chassis dynos, putting down more than 60,000 total horsepower on the day. The dirt drag event was just the organizers' second year of trying it and the competitors ended the day smiling ear-to-ear. Something about 4×4 boosted launches on dirt with trucks sliding sideways down a 300-foot track just sets your heart pumping. There were 50 trucks competing in the drags with classes for Snowmobile, ATV, UTV, Gas Truck, Stock Diesel, Modified Single Diesel, Compound Diesel, and Unlimited. Sled pulling was put on by the Northwest Truck Pull crew and had 60 entries in Work Stock Light, Work Stock Heavy, 2.5, 2.6, 3.0 and Exhibition classes.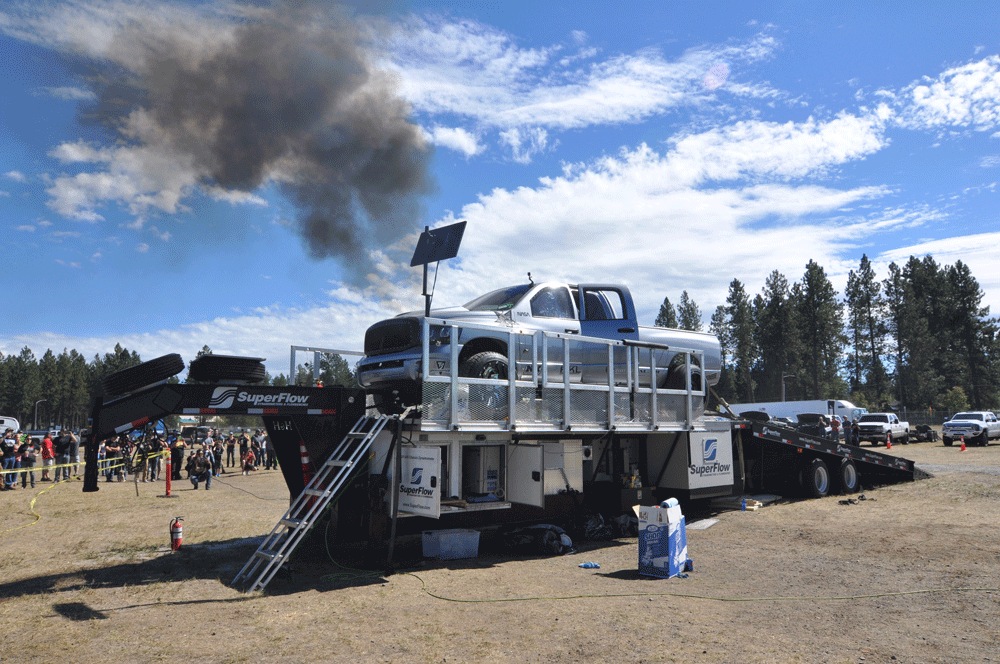 Notables on the day's events were the 2,142 hp run by Shawn Baca's nasty common rail Cummins. Cam Hulse of Adrenaline Performance put down the second biggest number of the day with a 1,460hp run in a regular cab LBZ Duramax. Sled pulling action was close in most classes, with only a few feet separating the top prize money winners. One of the strongest running trucks in its class was the 2.5 Inducer entry piloted by Kimberly Eaton-Roth, who put 60 feet on the secondplace truck. Chris Rosscup of Deviant Race Parts did extremely well in the dirt drag event and had his hands full trying to keep all 1,100 hp of his LB7 Duramax planted to the dirt.
With both dynos running all day long and the dirt drags and sled pulls run morning and night, there wasn't much downtime, but spectators and competitors were able to enjoy an expansive vendor alley with displays and the latest and greatest performance products around to oogle over. Coeur d'Alene is an incredibly beautiful place to visit just about any time of the year, so you may want to clear next September on your calendar and be sure to attend the 2017 Hunting for Horsepower event. DW
SOURCE
ALLIGATOR PERFORMANCE
866.255.7212
AlligatorPerformance.com
NORTHWEST DYNO CIRCUIT
435.772.5255
NorthwestDynoCircuit.com
NORTHWEST TRUCK PULLS
NWTruckPulls.com