Chris Begley of Riverside, California, has been building custom off-road machines for more than two decades. A welder by trade, his fab shop Luxury Prerunners builds high-end offroad rigs that bring together form and function. From roll cages and suspensions to full vehicle overhauls, Begley and his team of fabricators build long travel race trucks, tube chassis buggies, and even the occasional VW Baja Bug.
THE LOBSTER WAGON
A few years back, Begley was in the market for a new daily commuter to go to and from the shop and haul his family around. While most would expect him to build a late-model prerunner stuffed full of modern creature comforts and the latest technology, Begley went retro, overhauling a 1990 Dodge Ram D250 Cummins 4×4 from the ground up. The truck had been passed down from his father and had nearly 350,000 miles on the motor. At that point in time it was collecting dust in his driveway, so Begley decided to breathe new life into this family heirloom.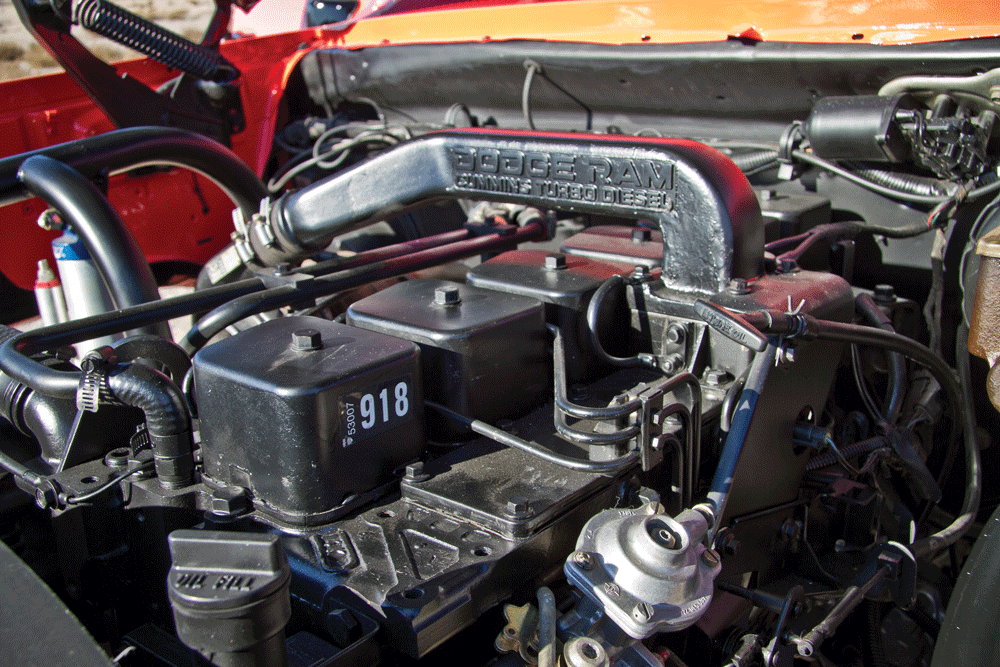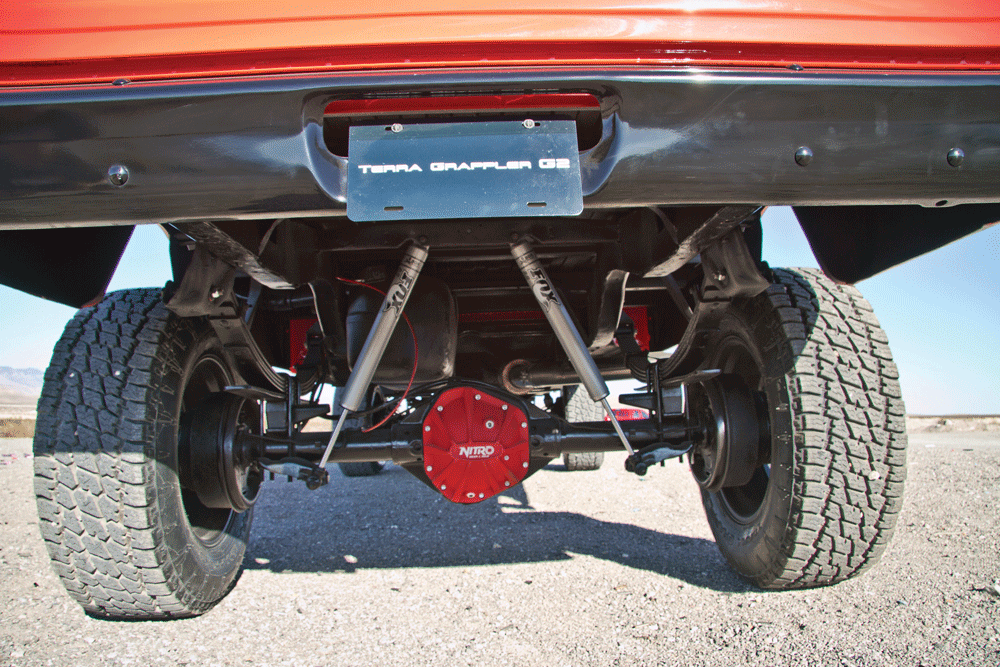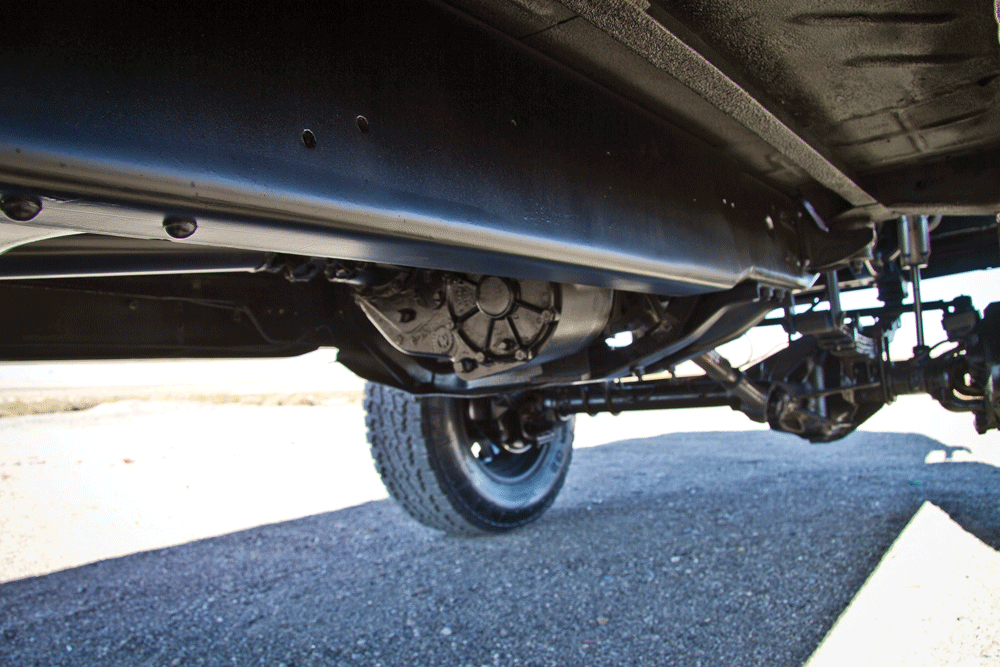 First problem: The truck was a single cab, so hauling his family of five around would be a tight squeeze on the factory bench. Begley started out hunting the local online trading posts for a Ramcharger body in decent shape before coming across a crew cab '84 Dodge Ram dually 2wd pickup that was being parted out. $500 later, he had the cab and chassis in tow back to his shop where they got to work turning it into a custom crew cab Cummins capable of all his day-to-day needs.
THE CONVERSION
Dodge never offered a 1st gen crew cab Cummins truck; the crew cabs were phased out in 1985 and the 5.9L Cummins wasn't introduced until 1989. While there were a few ways to go about the conversion Being a fabricator, Begley wanted to use the best parts from both trucks. After stripping both down to rolling chassis, careful measurements were taken and the frames were cut. The front chassis belonged to his 1990 to utilize the 5.9L Cummins and 4wd. The rear came from the 1984, using the longer frame section to accommodate the crew cab and long bed. The two frames were overlapped and welded inside and out before being boxed in for extra rigidity. With the crew cab fi tted and the bed reinstalled, the next step was cleaning up the body panels that had been plagued with waves and ripples throughout the sheet metal. With the help of Shawn Hengstebeck, the body panels were straightened out and prepped for paint.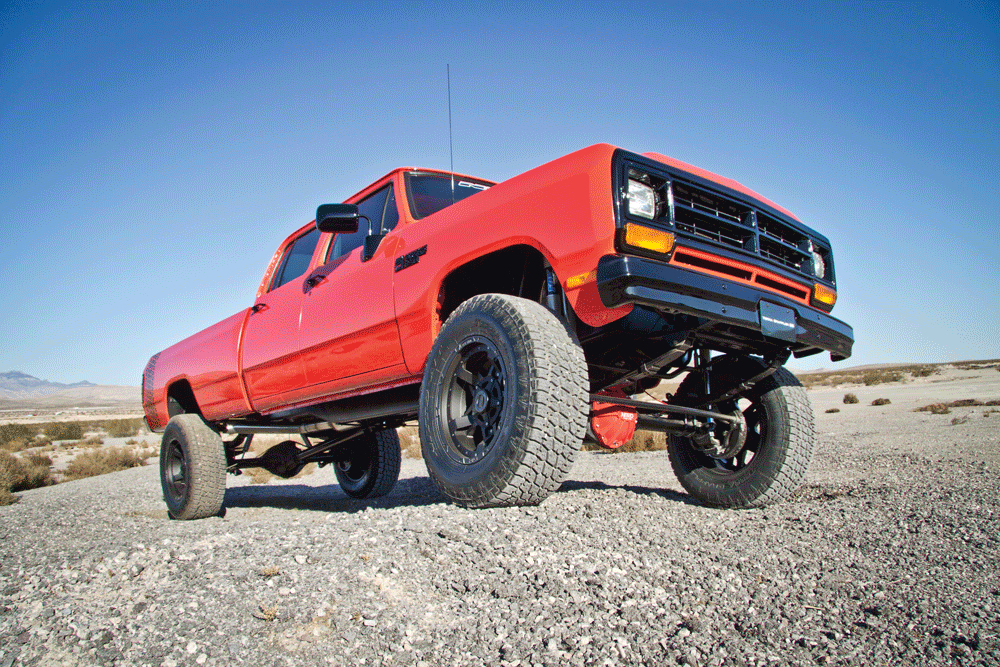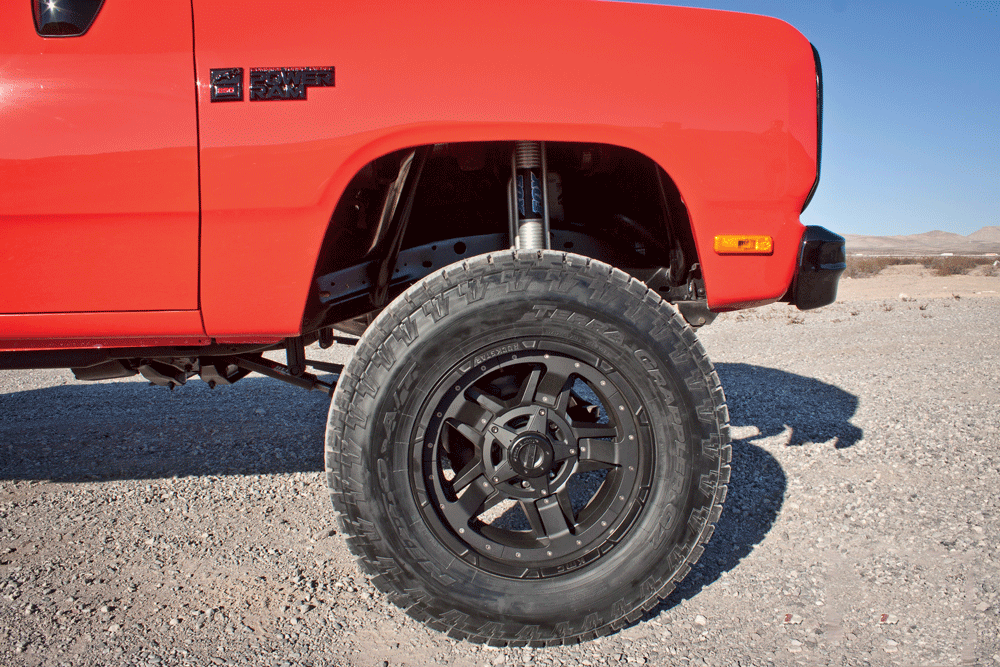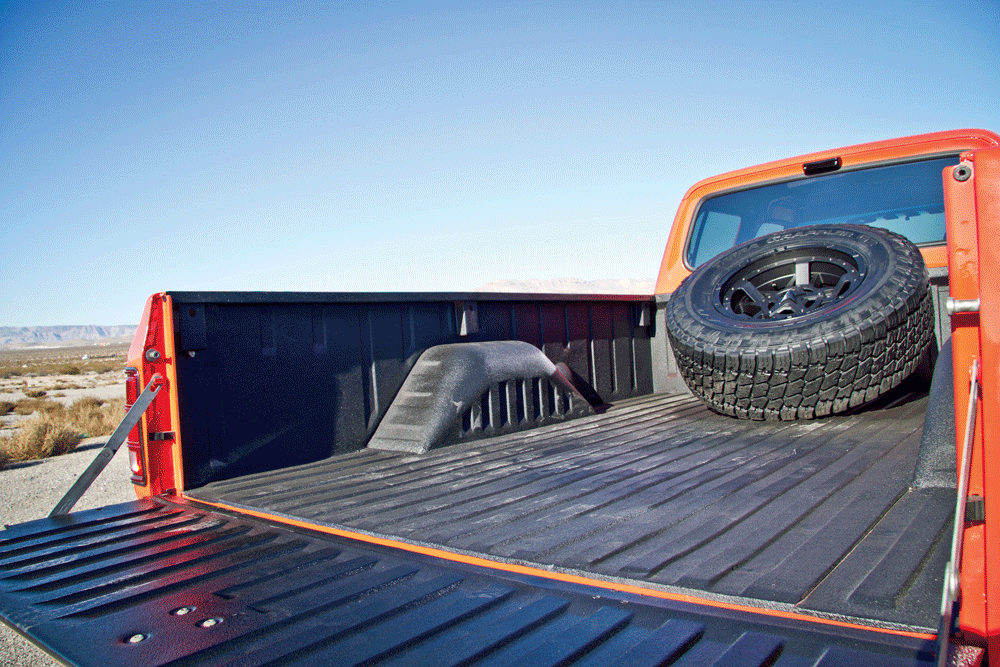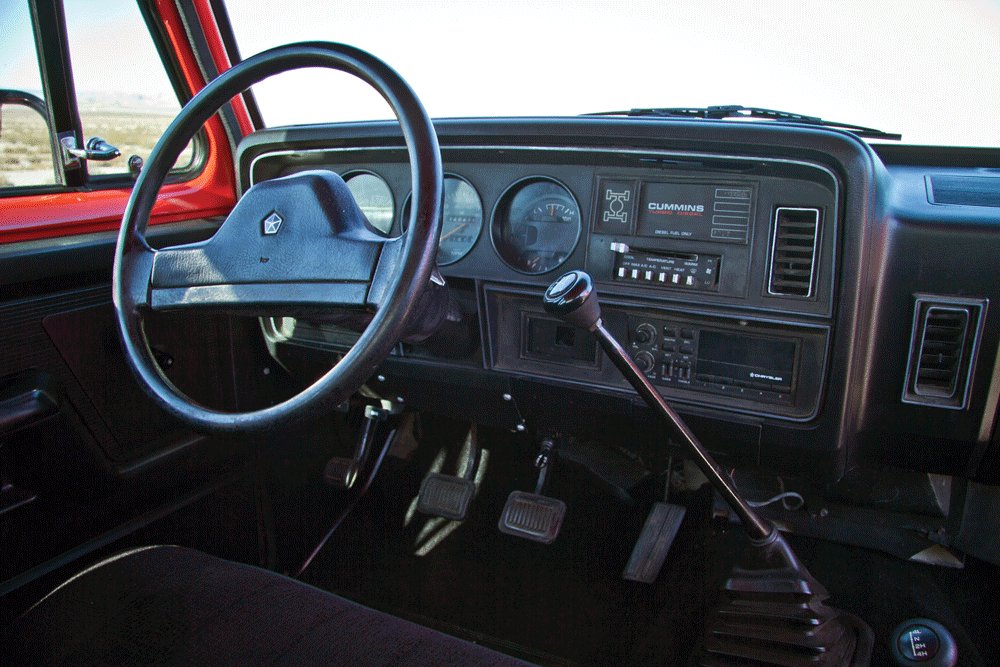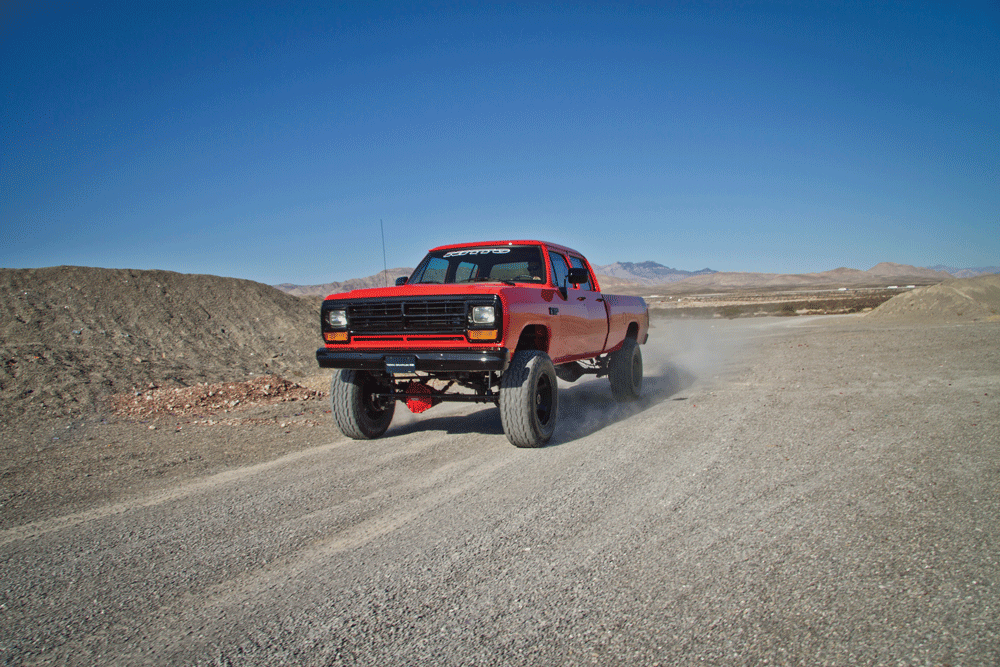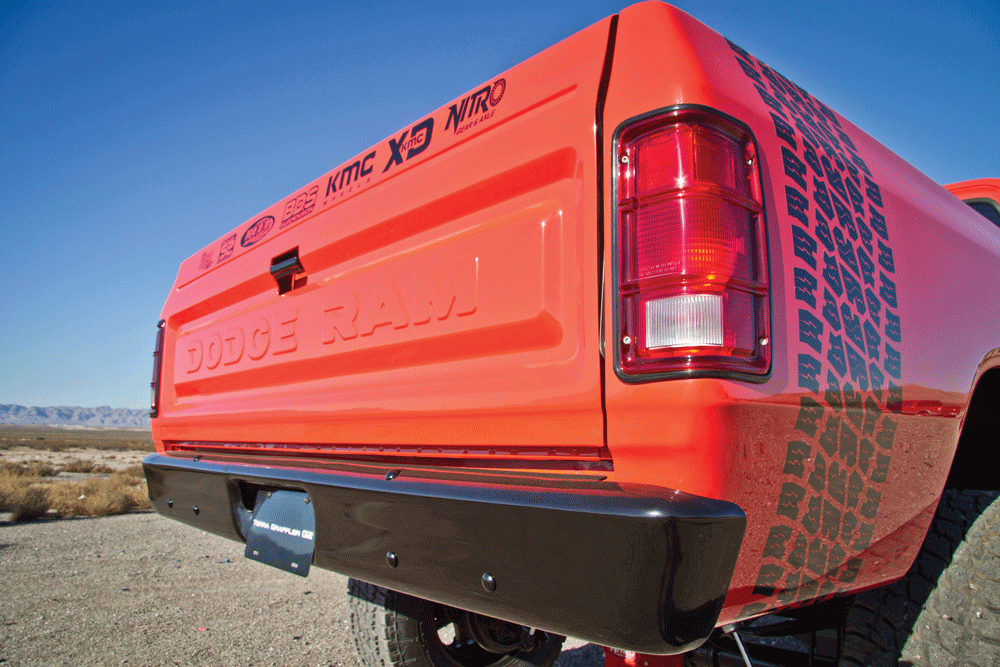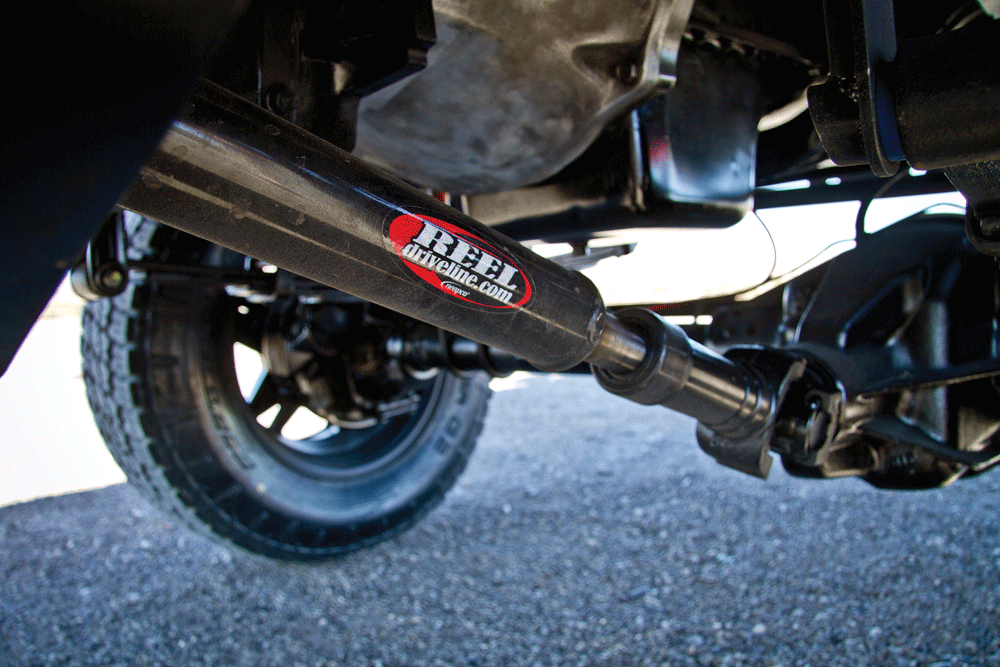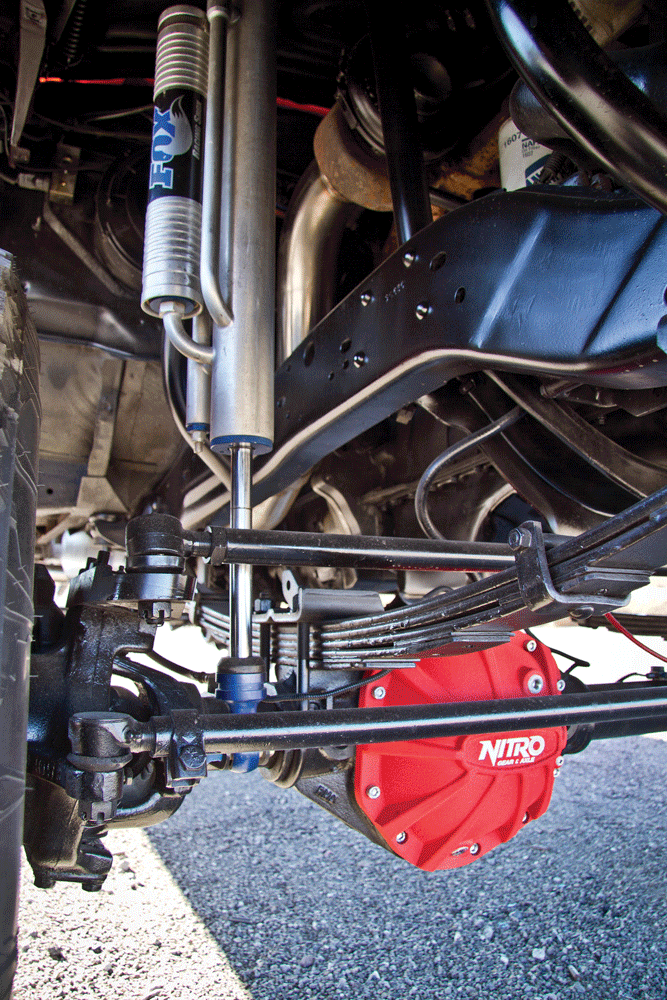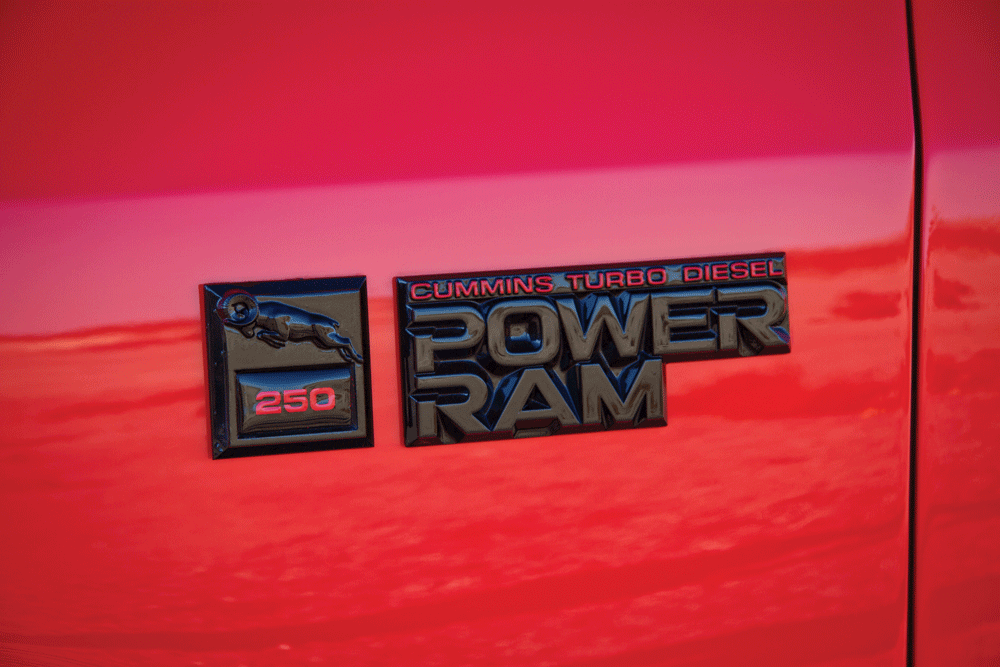 The front fenders were opened up for extra tire clearance. One and a half inches were sectioned out of the front and backside of the fenders and reattached to retain the factory fender contour. The extra 3 inches of clearance allows room for the 37- inch meats to be fi tted with the BDS lift kit. For primer and paint, Begley turned to Matt Hutcheson Design to lay down the Lobster Red color, a factory Mopar option on the late-model Jeeps. The chrome bumpers, grille, mirrors and trim were refi nished in gloss black. Inside, the interior was kept clean and simple. With roll-up windows and a manual transmission, this truck is full of old school cool factor without all the late-model fl uff. The front and rear benches were reupholstered in black to match the fresh black paint on the dash and door panels. A layer of Dynomat coats the fl oorboards underneath of the new black carpeting to fi nish off the interior for a factory showroom new look. In the bed, a DIY spray-on bed liner kit was laid down for extra scuff protection when he's hauling parts and gear around.
RAISING THE BAR
The stock leaf springs served this truck well over the years, but with plans for 37s Begley needed extra altitude. Front and rear BDS 5-inch leaf springs were installed along with custom built shackles to net a total of 6 inches of lift. Up front, a pair of shock hoops were built from 4130 tubing to mount a set of FOX 2.5 triple bypass shocks. In the rear, a pair of FOX 2.0 IFP shocks were added to help control the rear suspension. For steering, Begley upgraded to Off Road Design's crossover steering kit to improve steering angles and strength. With the suspension complete, a set of 37×12.50 Nitto Terra Grappler G2 tires were fitted, mounted up on 20×10 KMC XD Rockstar III wheels. The setup is comfortable for Begley to drive around town and reliable for any on or off-road trips he takes with the family.
FIRST GEN FIVE NINE
Under the classic sheet metal the original 5.9L Cummins diesel is alive and kicking. With roughly 350,000 miles on the odometer, this first gen 5.9L is just getting broken in. Most of the miles on this truck were logged by the Begley family so it has seen its fair share of family memories, back country adventures, and daily commutes. Begley kept the Cummins relatively stock. The 6BT has the stock Bosch VE44 rotary injection pump and Holset turbo. Begley built his own killer dowel pin (KDP) kit to help keep from having any issues down the road with the 12V Cummins. Exhaust comes from RBP with a modified 4-inch side exiting system that dumps just in front of the passenger rear tire. Power is sent back through the Getrag 5-speed manual transmission to the NP205 transfer case. JE Reel driveshafts transfer power to the front kingpin Dana 60 and rear Dana 70. Both axles were fitted with 4.11 gears and Nitro X-treme diff covers. Chris Begley has outdone himself with this build. This super clean crew cab Cummins has tons of cool factor and room for the whole family. We dig the Lobster Wagon. DW