BDS Suspension's Shorty F250 Raptor Hunter
Some trucks are built to look good and turn heads, others are built for performance and capability. In the case of BDS Suspension's latest creation, SD126, this 2017 Super Duty checks all those boxes. From the raptor-esque body styling and long travel suspension to the 42" offroad tires, bright orange paint and custom short wheelbase this truck has it all; ready to turn heads at any truck meet or blaze a trail through the open desert.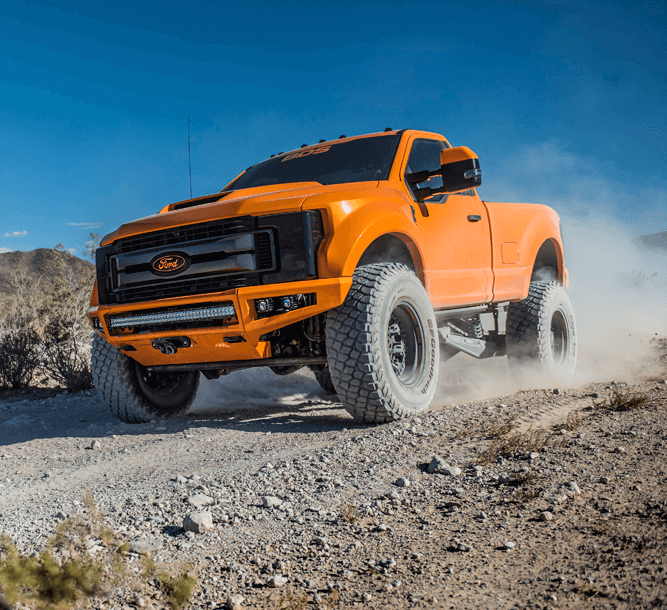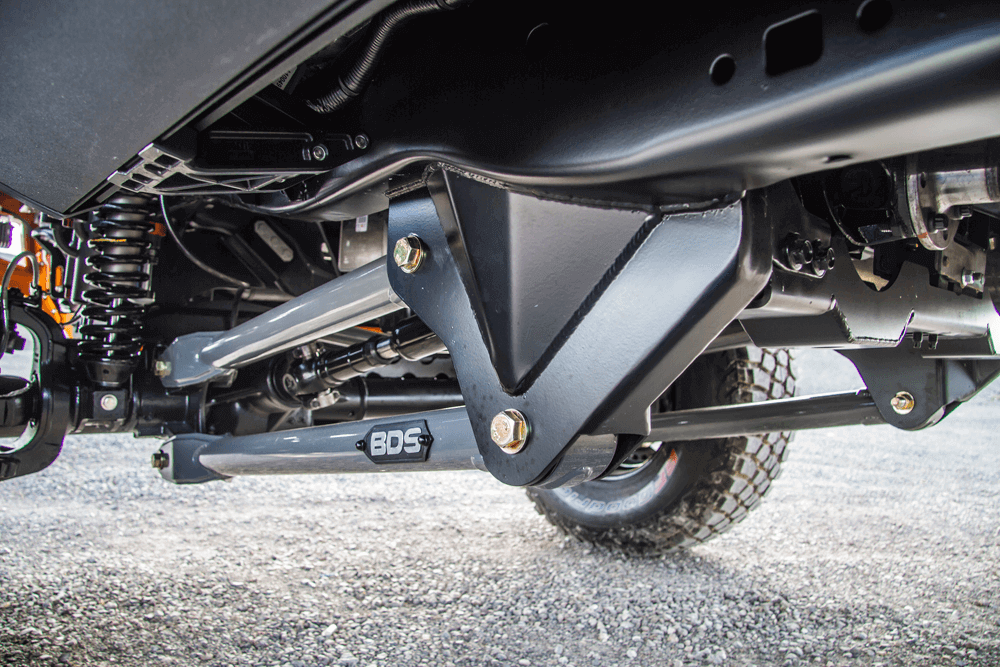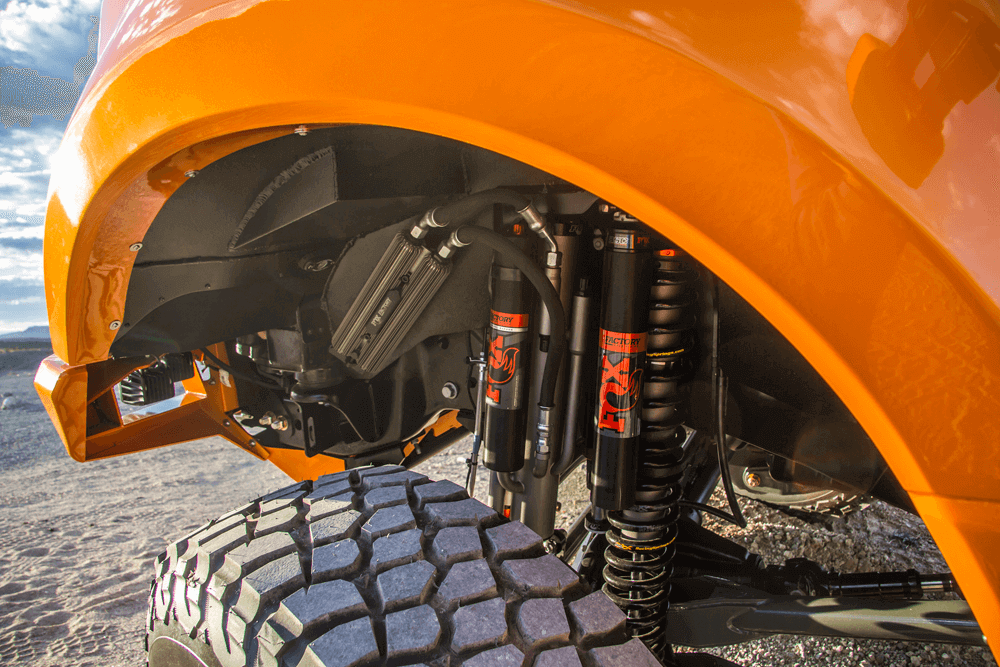 We met up with Carter Reed, Creative Director for BDS to get the low down on Project SD126. "This truck is our chance to show what our engineers are capable of. We wanted to build something cool and unique, but above all functional" said Reed, "we approached Ford with the concept and they loved it, so with Ford's thumbs up we got to work to turn the concept into reality". The build took inspiration from a previous project BDS was involved on, known affectionately as Stubby. Stubby was a bright orange 2001 F350 SCSB built by ROK Industry years ago. The truck was fitted with fiberglass fenders up on 44" Boggers and was one of BDS's most memorable collaborations to date. For this build BDS starting with a brand new 2017 F250 Super Duty SCLB and plans in place to take everything to the next level. With 3 months to complete the overhaul before it needed to arrive in Vegas for Ford's booth at the 2017 SEMA Show the BDS build team went right to work tearing the truck down to a bare frame, removing cab, suspension and powertrain before carving 18" out of the boxed frame rails for a custom 126" ultra short wheelbase Super Duty, hence the name SD126. With the frame shortened and the cab off, BDS took advantage of the accessible frame and removed all factory suspension mounts to make room for the new setup showing off BDS's capabilities along with the offroad racing pedigree of BDS's parent company, FOX Factory.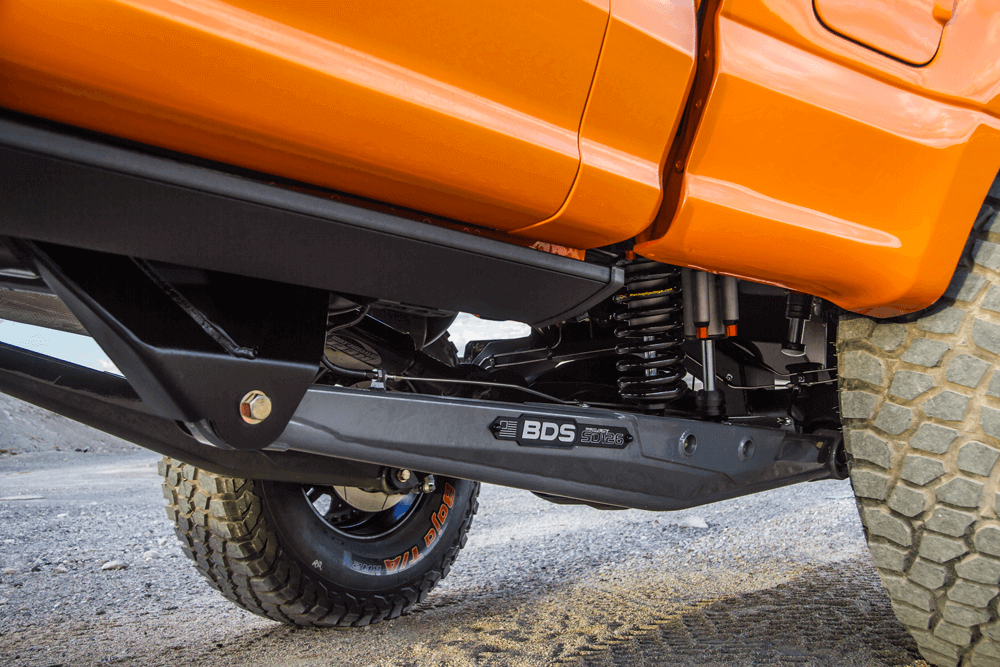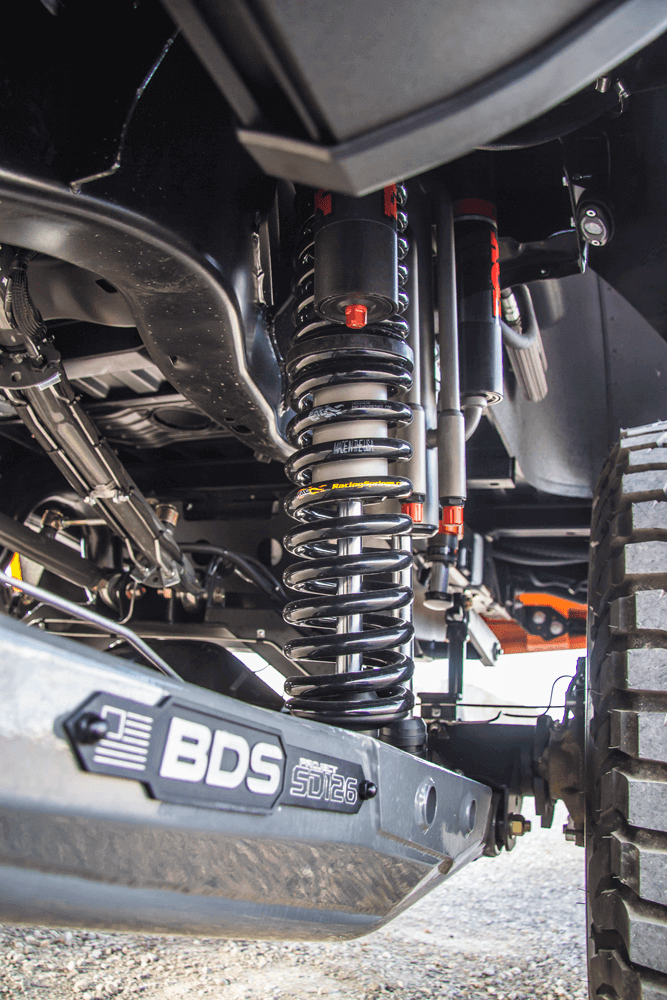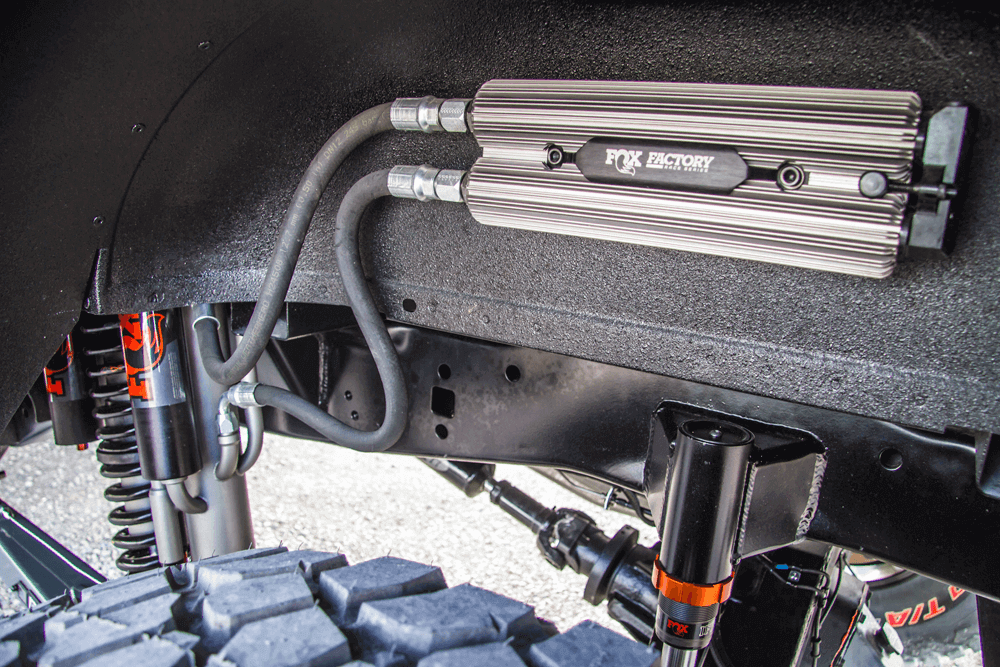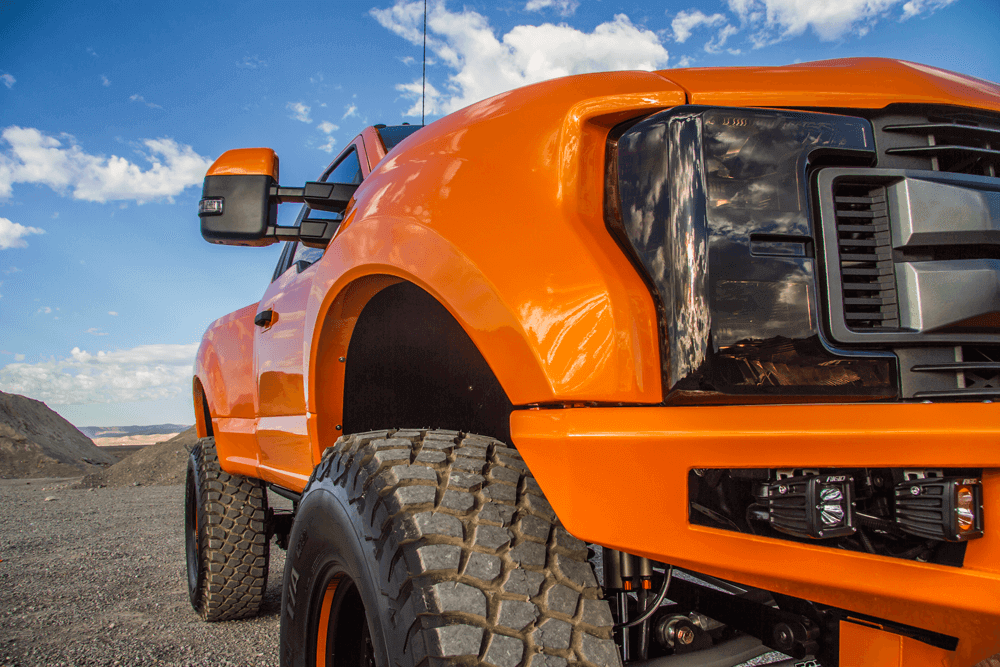 Suspension
Up front the stock coil sprung radius arm suspension was scrapped in favor of a 4-link coilover setup. The 4-link is based off BDS's production 4-link design for the Super Duty, but build from larger 2.5" OD x 0.250 chromoly tubing. The 4-link frame mounts and coilover mounts are built from 0.250" steel, welded to the frame prior to paint for an OE appearance. The truck is fitted with a few of FOX's latest shock options to include 14" travel factory race series 2.5 coilovers featuring piggyback DSC reservoirs and Pac Racing coil springs along with 3.0 factory race series quadruple bypass shocks with the recirculating ECS2 and QAB. FOX 2.0 IFP bump stops are also added to help in the event the truck faces a hard G-out on the trail. A BDS forged drop pitman arm and track bar bracket were installed along with 2" OD x 0.250-wall steering linkage, a FOX ATS stabilizer and a Pac Racing sway bar assembly to keep this truck pointed in the right direction when its charging through the desert. Up front the stock Dana 60 was swapped over to a Dana 60 from a late model F450. In addition to gaining two extra lug nuts, the F450 axle is 3" wider at the inner Cs giving the truck additional clearance for the upgraded suspension components and a 4.30 gear ratio. The front axle is beefed up with a custom truss and heavy duty diff cover and rolls on a set of 42×13.50×20 BF Goodrich KR2 tires on 20×11 Stazworks 2pc Cheyenne 8 steel wheels.
WE WANTED TO BUILD SOMETHING COOL AND UNIQUE, BUT ABOVE ALL FUNCTIONAL
In the rear the stock leafs were pulled out in favor of a rear 4-link with trailing arms. This offers next level performance to soak up the rough stuff and suspension travel for days, well about 20" of travel in the rear according to Reed. The rear arms are built from 2" OD x .25" wall DOM, with the trail arms receiving extra attention in the form of 3/16" laminated steel with mount points for the rear coilovers and shocks to be added. Rear shocks match the front with FOX 2.5 factory race series coilovers with a remote reservoir and 3.0 factory race series quadruple bypass shocks. Both are bolted-in using new frame mounts that required cutting out a portion of the front of the bed for clearance. FOX 2.0 bump stops and a Pac Racing sway bar finish off the rear suspension to position the rear Dana M300 axle also sourced from an F450. The axle was converted over to a SRW setup and the brakes were outboarded to match. New suspension brackets were welded in place and a heavy duty diff cover was fabbed up before bolting the new axle in and routing the brakes lines.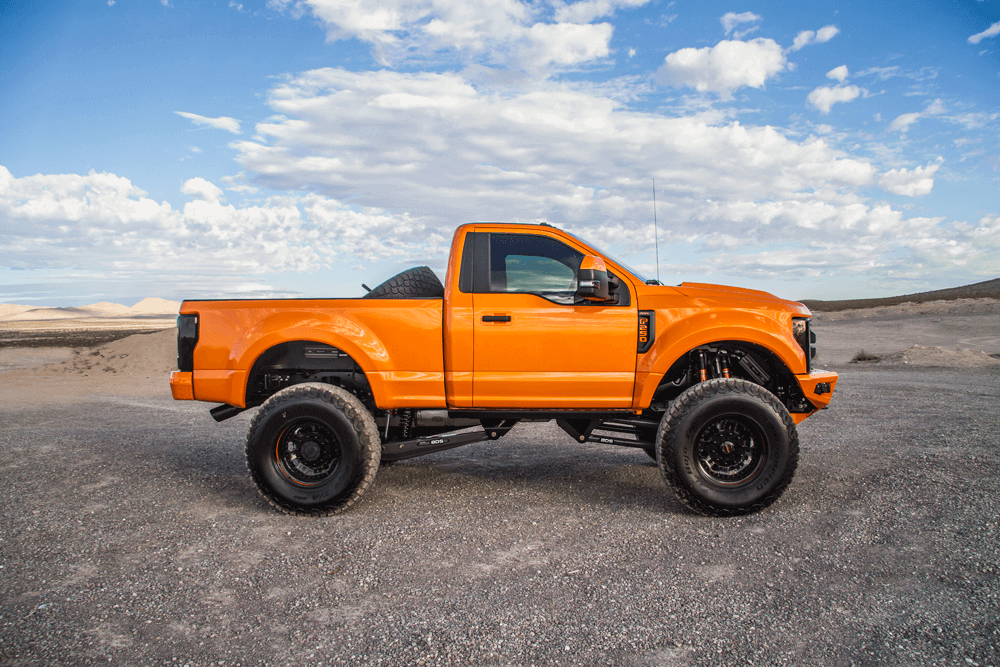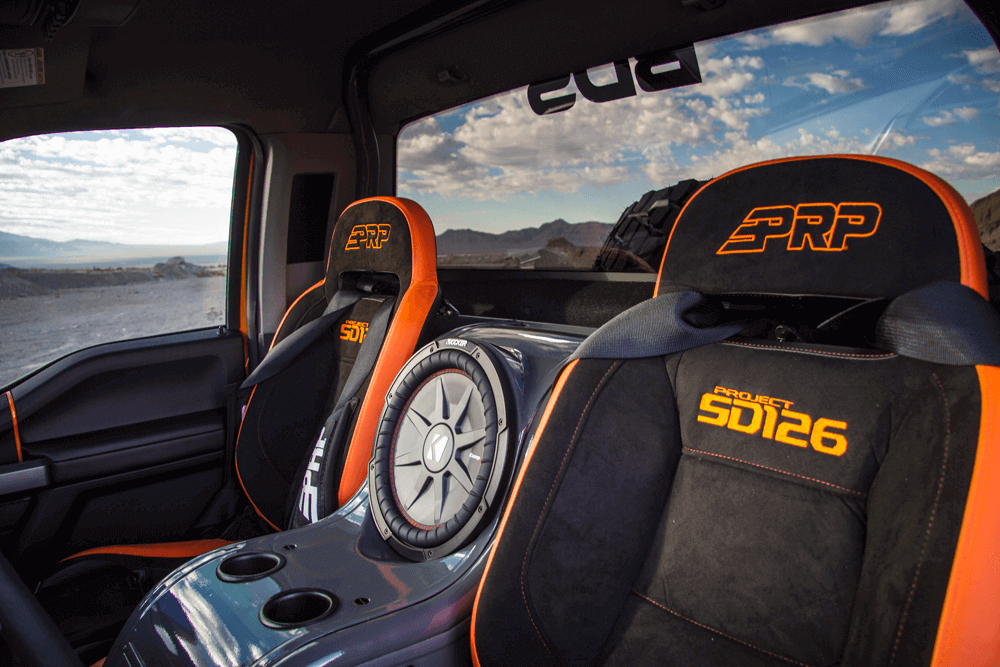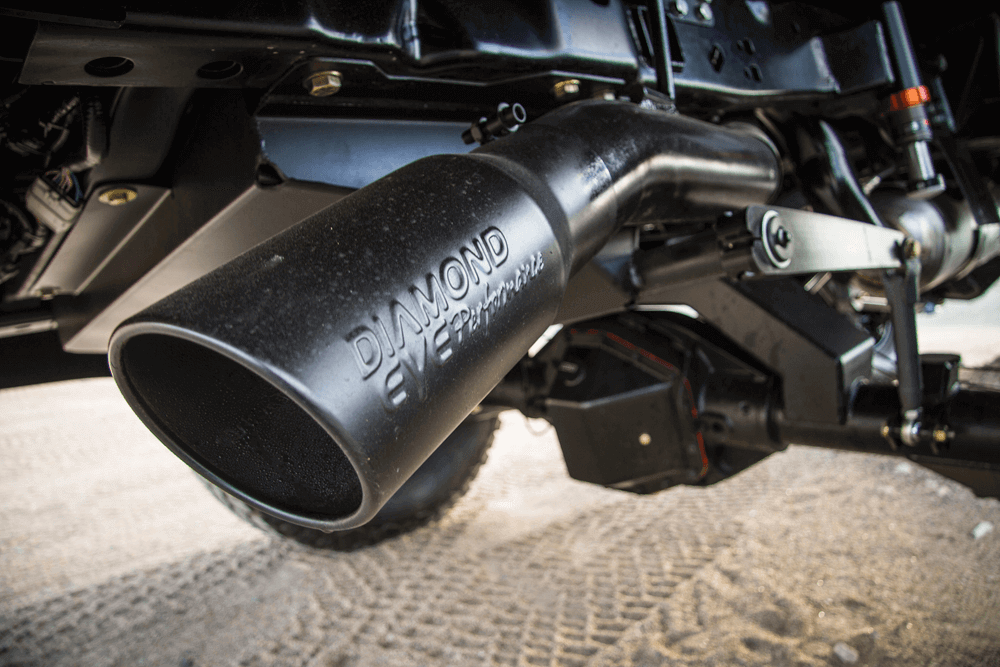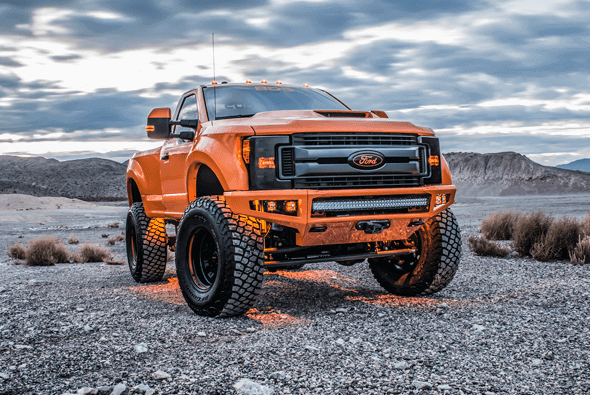 Power-Stroked
Under the menacing RK Sport ram air hood the stock 6.7L Power Stroke lives in relatively stock form (for now). With performance numbers of 440 horsepower and 925 lb/ft of torque stock this truck is no slouch. BDS built on those numbers with an S&B cold air intake to pull cool, clean air in, the EZ Lynk Auto Agent with a mild performance tune and a modified Diamond Eye 4" DFP-back exhaust kit to fit the shortened wheelbase. "It was one of our goals to keep this truck 50-state emissions compliant" explained Reed, "The challenge was we had 18" less to fit it all in". The issue of how to fit the fuel tank, drivetrain, custom suspension and exhaust in was ultimately resolved with a custom built 25-gallon aluminum fuel cell mounted in place of the factory spare tire along with a custom built stainless steel DEF tank. Both are protected by 3/16" steel skid plates. The tail pipe arch is welded directly into the back of the DPF without a muffler to save space. All the necessary sensor bungs were welded in to keep emissions compliance.
Along with the original 6.7L Power Stroke, the original 6R140 Torqshift transmission was reinstalled in stock form along with the SOTF Borg Warner 2-speed transfer case using a BDS t-case indexing ring to improve front driveline angle and a custom machined rear output flange. Power is sent to the front and rear F450 axles through a pair of JE Reel dual cardan driveshafts.
Raptorized
Short wheel base aside, this truck is a stunner, with 6" Mcneil Racing fiberglass fenders and bedsides, RK Sport ram air hood and Rogue Racing bumpers to house the Warn 12,000lb winch and Rigid LED lighting. BDS built custom front and rear inner fenders to match the extra width, allow fitment of the suspension components and give a clean appearance. The end result is a short wheelbase factory level built Raptor Super Duty on steroids. Paint and bodywork were locally calling on Butler Body Shop to prep and paint the frame, body and trim pieces. Located just a few miles away from BDS's Coldwater, MI headquarters Butler Body made quick work of the truck laying down PPG night orange metallic paint along with satin gray and gloss black accents to match the factory trim and tie the color scheme throughout inside and out.
The Cockpit
With the stock bench seat removed, the build team went to work on the cab stripping it down and to fabricate the roll bar / center console combination to house Kicker Audio stereo upgrades, Magellan TRX7 offroad navigation and most importantly to mount the 5-point PRP racing harnesses. Cocooned within the custom tube work are a pair of PRP Enduro Elite reclining seats in black suede with orange vinyl trim and "Project SD126" embroidered into the seat backs.
Where to See More
BDS Suspension is one of those companies that puts their money where their mouth is so to speak, testing their trucks on the trail and pushing the limits to see what they're capable of. Case in point within 24hrs of SEMA finishing up they had SD126 out bombing through the desert whoops near our photoshoot location to see was this new built Super Duty worth somewhere north of $200K was capable of. Even with the initial shock tuning the truck was soaking up 2-3ft whoops at speed with ease, we're excited to see what it'll do out on the trail in Moab this Spring on the Fullsize Invasion, stay tuned for that coverage. Also if you want to see how this truck was built head on over to the BDS website where they have a 6-part build series complete with photos, videos and more throughout the entire build process.
[divider]SPECIFICATIONS[/divider]
2017 FORD F250 SUPER DUTY SCSB
OWNER: BDS Suspension
ENGINE: 6.7L Power Stroke Diesel
S&B Filters Cold Air Intake
EZ Lynk AutoAgent w/ custom tuning
Diamond Eye Performance 4" DPF-back exhaust
DRIVETRAIN: 6R140 Torqshift 6-speed automatic transmission
Borg Warner 44-64 2-speed transfer case w/ BDS indexing ring
JE Reel front and rear driveshafts with custom rear output ange
F450 Dana 60 front axle, custom truss, open diff w/ 4.30 gears,
fabricated diff cover
F450 Dana M300 rear axle, SRW conversion, custom brake
outboard conversion, Willwood 15" drilled rotors, open diff w/ 4.30
gears, fabricated diff cover
FRONT SUSPENSION: BDS 6" 4-link long arm system
FOX 2.5 factory race series coilovers w/ piggyback DSC reservoir
FOX 3.0 factory race series quadruple bypass shocks
FOX 2.0 IFP bump stops
Pac Racing performance sway bar
FOX 2.0 ATS steering stabilizer
REAR SUSPENSION: BDS trailing arm 4-link system
FOX 2.5 factory race series coilovers w/ DSC remote reservoir
FOX 3.0 factory race series quadruple bypass shocks
FOX 2.0 IFP bump stops
Pac Racing performance sway bar
WHEELS & TIRES: 42×13.50 BFGoodrich Baja TA KR2 on 20×11 Stazworks 2pc
Cheyenne 8
EXTERIOR: PPG night orange metallic paint
Rogue Racing enforcer front and revolver rear bumpers
Warn Zeon 12-S winch with Factor 55 fairlead and atlink E
Rigid LEDs, 40" RDS light bar and amber radiance pods
McNeil Racing 6" Fiberglass fenders and bedsides
RK Sport ram air hood
Recon smoked cab, mirror and 3rd brake lights
Amp Research Powersteps
Bed mounted spare tire carrier
25-gallon aluminum fuel cell
INTERIOR: PRP Enduro Elite recliner seats and 5.3 harnesses
Kicker Audio System
Magellan TRX7 offroad GPS on retractable actuator in center
console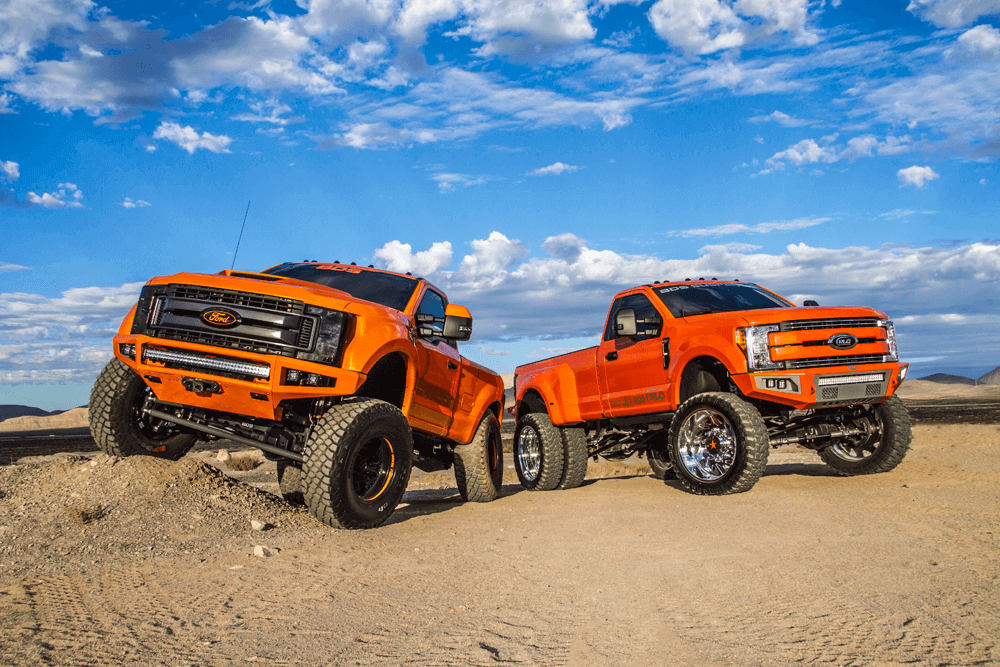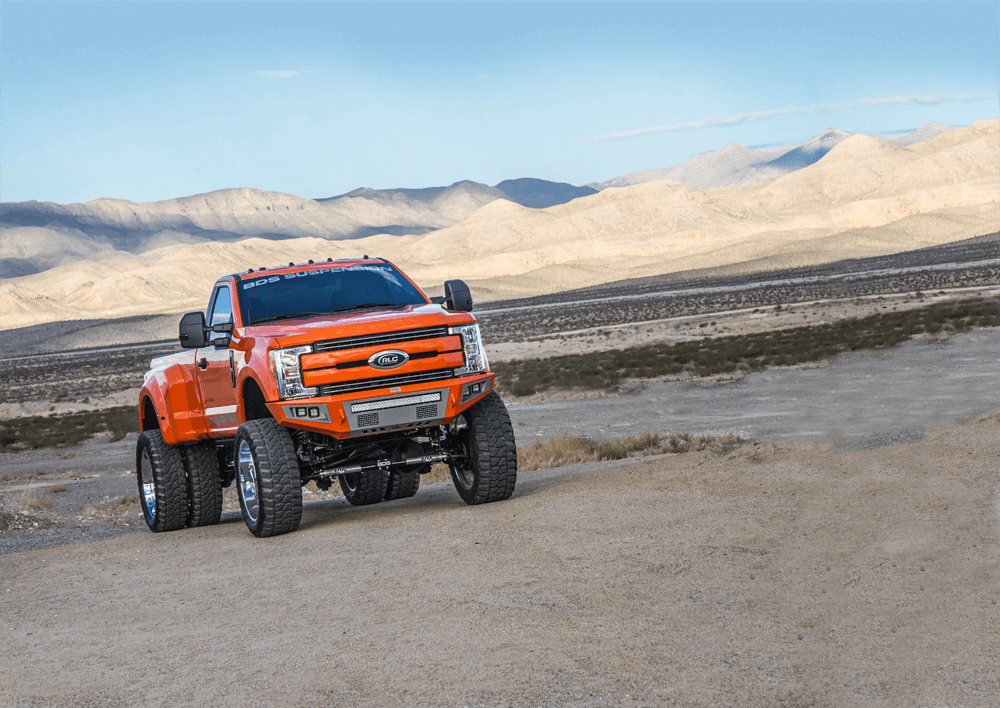 [divider][/divider]
The Traitor
RLC Motorsports' 2017 Ford F350 Super Duty Tow Rig
Anyone that has spent time flipping through the pages of Diesel World or made it out to a Midwest diesel drag event has undoubtedly seen RLC's screaming orange 5.9L Cummins powered drag truck dubbed Orange Crush. Owned by Michael Dalton of RLC Motorsports, the shop has been around for 14 years based in Cookeville, TN. While they cover the gamut of truck mods, suspension work and accessories they have earned a stellar reputation for building some wicked Cummins powered trucks over the years and traditionally they have used RAMs as their tow rigs for shows, races and other daily driver duties. With Orange Crush in need of a new tow rig and the shop in need of a new project to showcase the non-racing customization side of the business Dalton began looking for a new base for a tow-n-show truck. While most would have expected him to jump back into a new RAM build Michael found the 2017 Ford Super Duty too tempting to pass up on and began the search to find a 2017 F350 XLT, SCLB, DRW, 4WD, diesel, with all the options. "Believe it or not that setup is hard to come across" Dalton joked, "I searched for a while to track down the truck before ultimately finding one on a dealer lot in Virginia."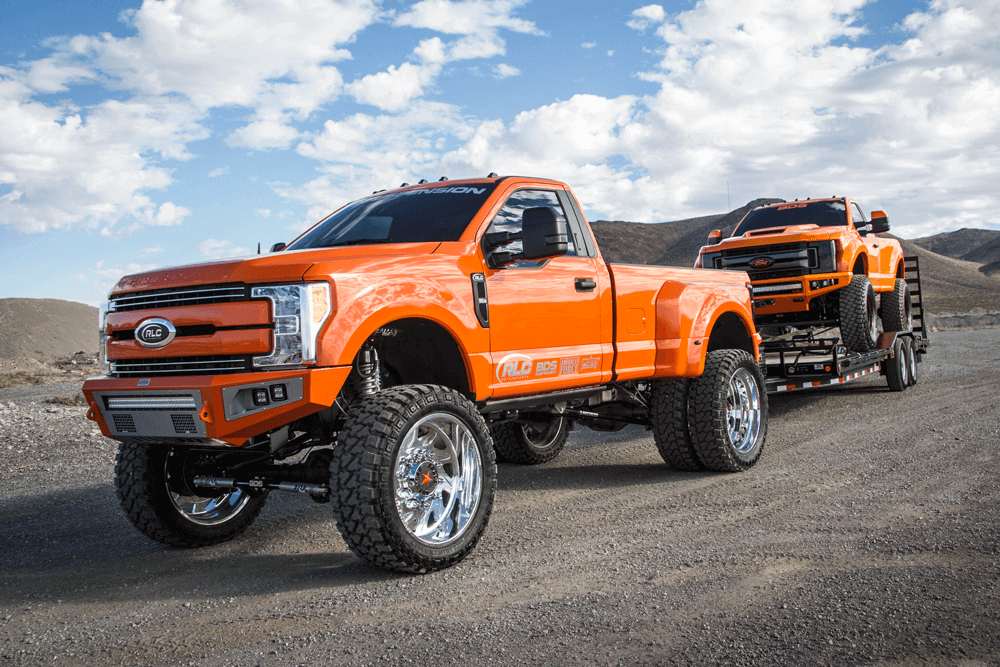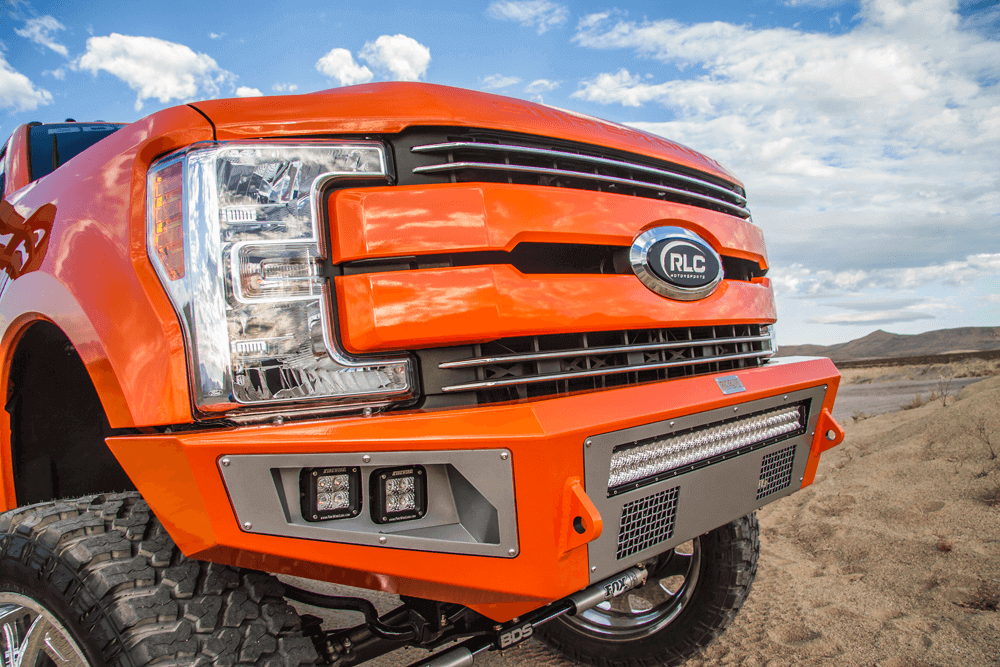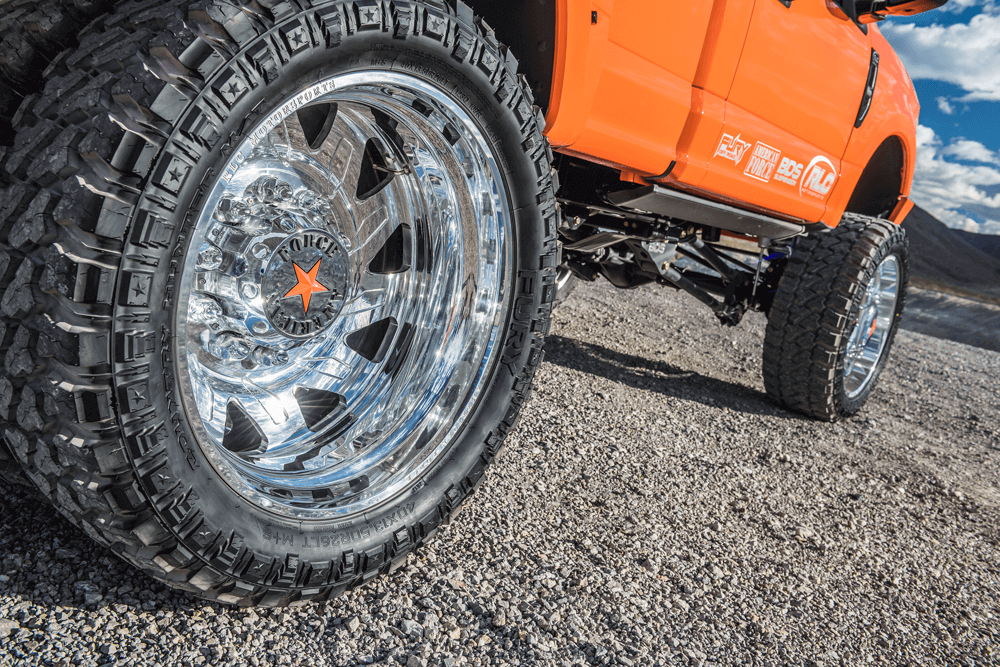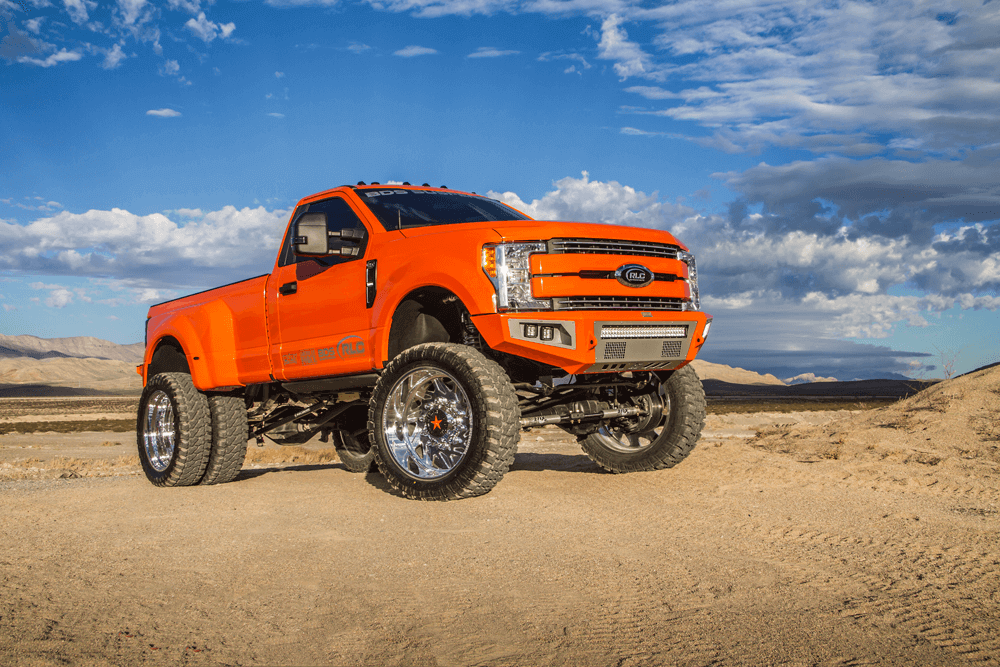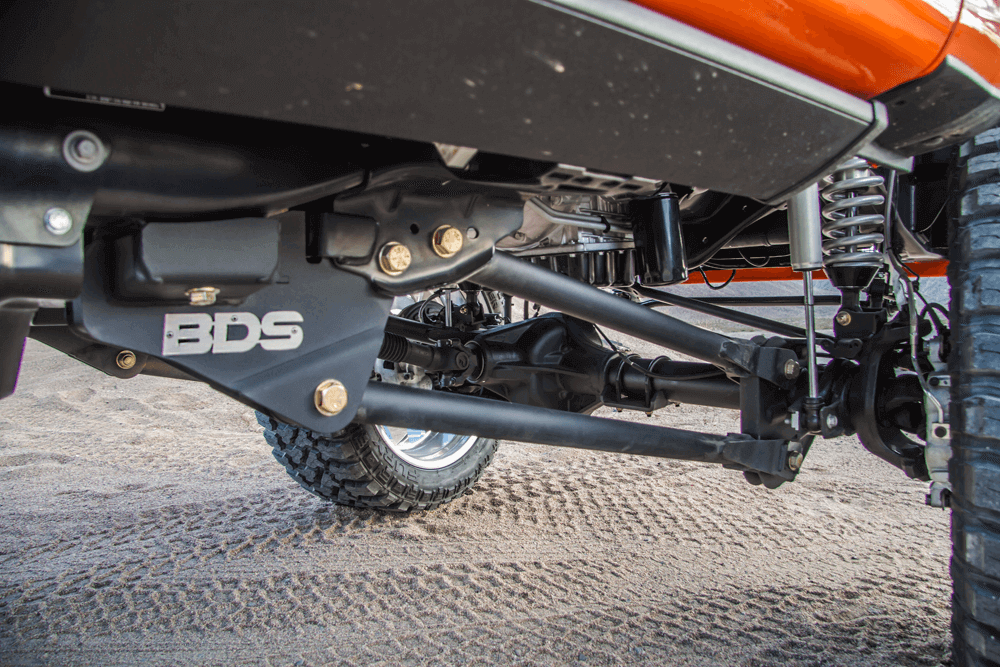 Rewind back a few months prior to a lonely Steakhouse on a Tuesday night when RLC's Dalton was chatting with BDS's Carter Reed about the new BDS project vehicle plans for a bright orange 2017 F250 SCSB diesel he hoped to build for Ford's booth only to find out Dalton had been discussing plans with his employees to build a new F350 dually that seemed ominously similar. Both would be standard cab, diesel powered, 2017 Super Duty trucks with bright orange paint, BDS coilover suspensions and big tires. Where BDS's truck was going to be more trail focused, RLC's truck was going to be built as a tow rig to haul his drag truck. The mention was made how if both trucks came to be how cool it would be to use the dually to tow the F250 around. Fast forward a couple months BDS had a spot available for the truck at SEMA so Dalton scrambled to track down the truck and with no time to spare got started on Project Traitor, a fitting name for a truck going against Dalton's build standards.
The build timeline was a tight one, 12 days in fact from the time the team from RLC tore into the truck to when it hit the road for SEMA. While that can lead to short cuts needing to be made, Dalton said the team worked around the clock and pulled it all together building the F350 into a show quality, fully functional 4WD tow rig in less than 2 weeks. Anyone that has been to the SEMA Show can attest there are a lot of high quality builds on display along with a fair share of poorly planned, incomplete and downright dangerous vehicles that get displayed each year. "Personally I can't stand the Bluetooth driveshafts that have become so popular on show trucks" Dalton remarked, "Do it right or don't do it at all!" Note: "Bluetooth driveshafts" is a reference to the total lack of front driveshafts usually seen on massively lifted show trucks.
Suspension
To get the extra altitude under this aluminum-bodied Super Duty a BDS 8" 4-link coilover system was installed with FOX 2.5 factory series coilovers featuring the DSC reservoirs for compression adjustment. The kit's correct suspension and steering geometry makes this truck ride like a dream on long hauls and uses BDS's transfer case indexing ring to improve driveline angle to allow the factory driveshafts to be reinstalled. In the rear a full replacement BDS leaf spring was added along with FOX 2.0 performance series IFP shocks and a set of Recoil traction bars, also from BDS, to help control axle wrap without binding up the suspension.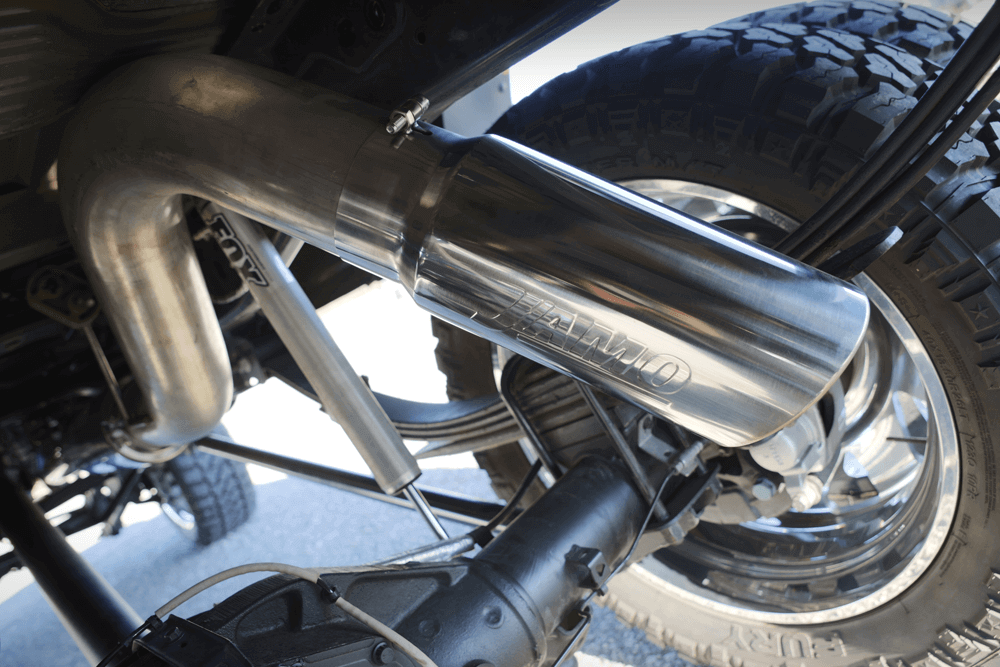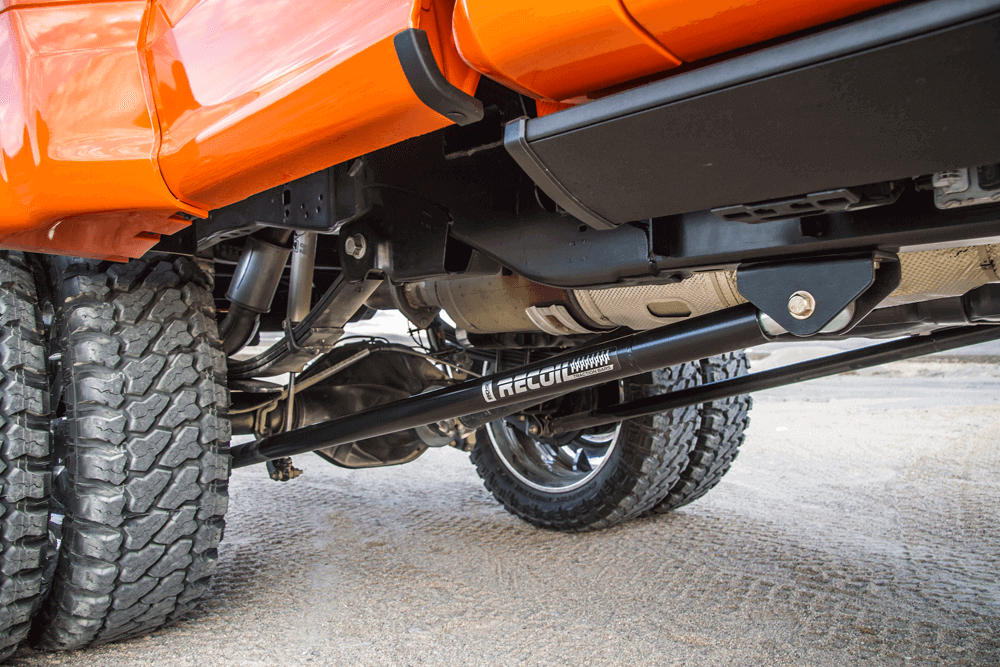 Tires and Wheels
Being this truck will spend most of its life on the road as a tow rig, Dalton wanted a wheel and tire combo with some flash, but also a setup that would be reliable on the road. Up front he went with 40×15.50 Fury Country Hunter M/Ts mounted on 26×12 American Force Pyscho wheels with a 10-lug conversion. Out back, a narrower set of 40×13.50 Fury M/T tires were mounted on 26×8 American Force Pyscho dually wheels also converted over to 10on225mm bolt pattern.
Exterior
While ideally the truck would have been painted orange to match the drag truck and shop colors, unfortunately time wasn't on their side so they turned to Signsmith in Crossville, TN to turn around a complete vinyl wrap color change in a matter of days. The body, grille, bumpers all received the Avery Dennison gloss orange vinyl treatment. Bumpers were sourced from Body Guard, with an A2L low profile bumper up front and a A2 bumper in the rear with silver accent panels. Firewire LED lighting was then added to front and rear bumpers along with Firewire LED headlight bulbs. Front and rear Ford emblems were swapped out for custom RLC badges from Billet Badges Inc to match the custom "RLC Traitor" billet side badges. Smoked mirror lights and 3rd brake lights came from Go Recon and the windows and stock taillights received a layer of tint. Helping ease cab access a set of Amp Research powersteps were added to both sides.
Interior
The interior of this truck builds on Ford's clean, modern design with touchscreen navigation and standard XLT amenities. The 40/20/40 bench has been upgraded with Roadwire black leather and suede seats with custom embroidery. Future plans include a full custom stereo.
Performance
Last, but not least the powertrain. Dalton couldn't leave well enough alone tweaking the stock 6.7L Power Stroke to around 515 horsepower and 975 lb/ft of torque thanks to an EZ Lynk Auto Agent with a tune from Down Right Diesel along with a Jamo Performance 5" stainless steel exhaust system with high-flow muffler. We're sure that Michael Dalton and the RLC Motorsports crew have plenty more planned for the 6.7L Power Stroke, but for now he's ecstatic with how it turned out and we're happy to get to see it in action pulling tow rig duties.
[divider]SPECIFICATIONS[/divider]
2017 FORD F350 SUPER DUTY DRW SCLB
Owner: Michael Dalton of RLC Motorsports
Engine: 6.7L Power Stroke Diesel
EZ Lynk AutoAgent w/ Done Right Diesel tuning
Jamo 5" performance exhaust
515 HP & 975 lb/ft TQ
Suspension: BDS 8" 4-Link long arm system
FOX 2.5 factory series remote reservoir coilovers
FOX 2.0 performance series shocks
BDS GlideRide leaf springs
BDS Recoil traction bars
Wheels & Tires: Front – 40×15.50 Fury Country Hunter M/T on 26×12 American Force Pyscho (polished)
Rear – 40×13.50 Fury Country Hunter M/T on 26×8 American Force Pyscho (polished)
Exterior: Avery Dennison gloss orange vinyl wrap
Body Guard A2L front and A2 rear bumpers
FireWire LEDs, LED headlights, 30" light bar, cubes and rock lights
Custom billet badges from Billet Badges Inc.
Go Recon smoked mirror and 3rd brake lights
AMP Research Powersteps
Bedrug carpeted bed
BedSlide 1000CL tray system
BAK MX4 tonneau cover
Interior: Roadwire custom embroidered leather seats