"Getting the truck to its current, 600hp state didn't happen quickly or easily."
The 7.3L faithful are just about as dyed-in-the-wool as they come. Even with a complex, vastly outdated injection system and plenty of other engine options to make easy horsepower, they've chosen to stick it out with the 444ci, HEUI V8. To these die-hards, the only power plant that matters is Ford's first Power Stroke. For Mike Satkowski, the 7.3L addiction started before he even had a driver's license. At the age of 15, he purchased the '97 F-250 you see here for just $1,500 and got to work making it his own. Eight years later, the truck's horsepower rating has been tripled and it makes frequent 12-second trips through the quarter-mile.
Built for Battle
But getting the truck to its current 600hp state didn't happen quickly, or easily. While some 7.3L owners get by with pushing big power through the stock, forged-rod bottom end for a while, Satkowski wasn't so fortunate. Back when the truck sported 250/100 injectors, the engine met its fate shortly after seeing what kind of power a new, "max effort" tune could lay down on a dyno. "I made 601 hp and then those rods came knocking," he told us. "The engine lasted one more week."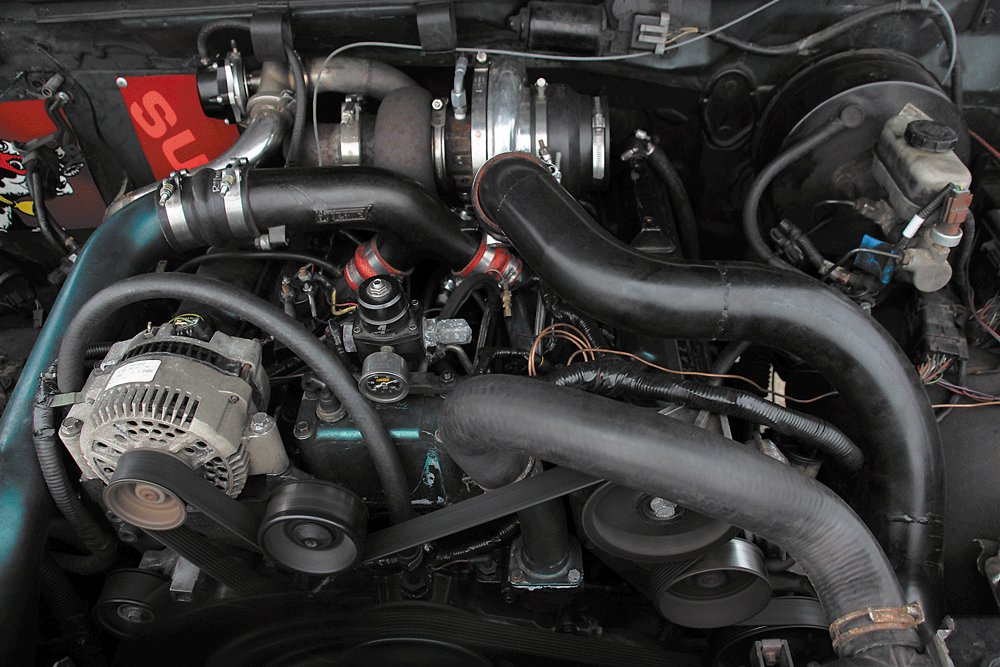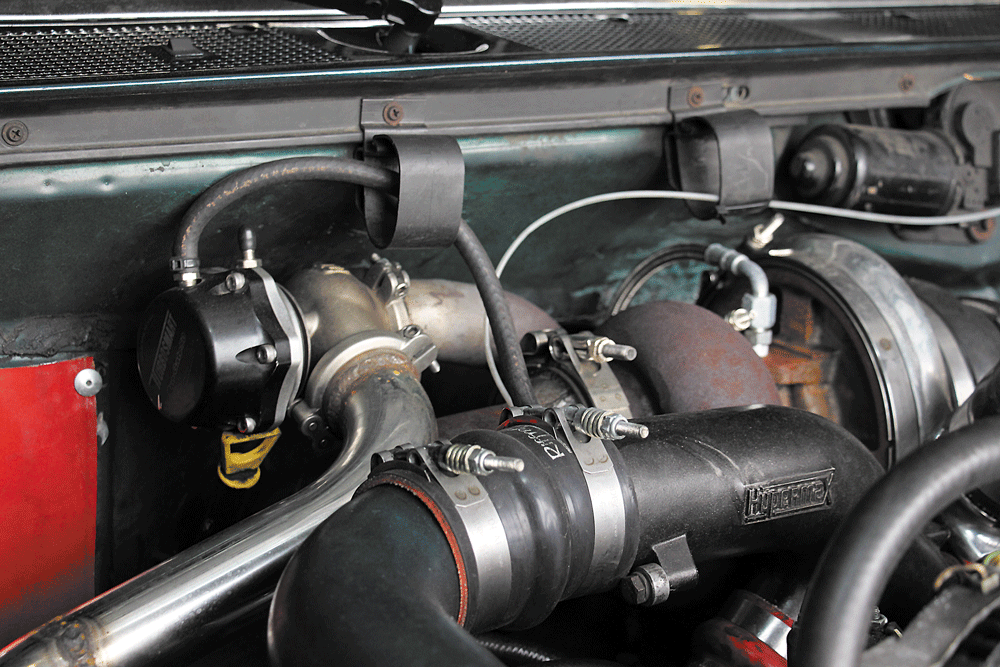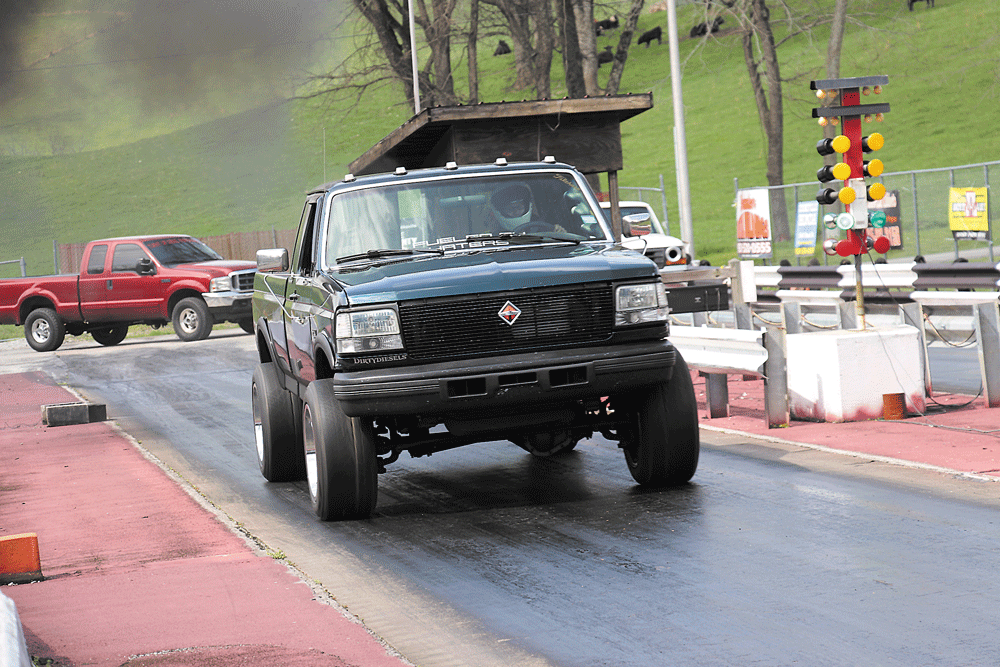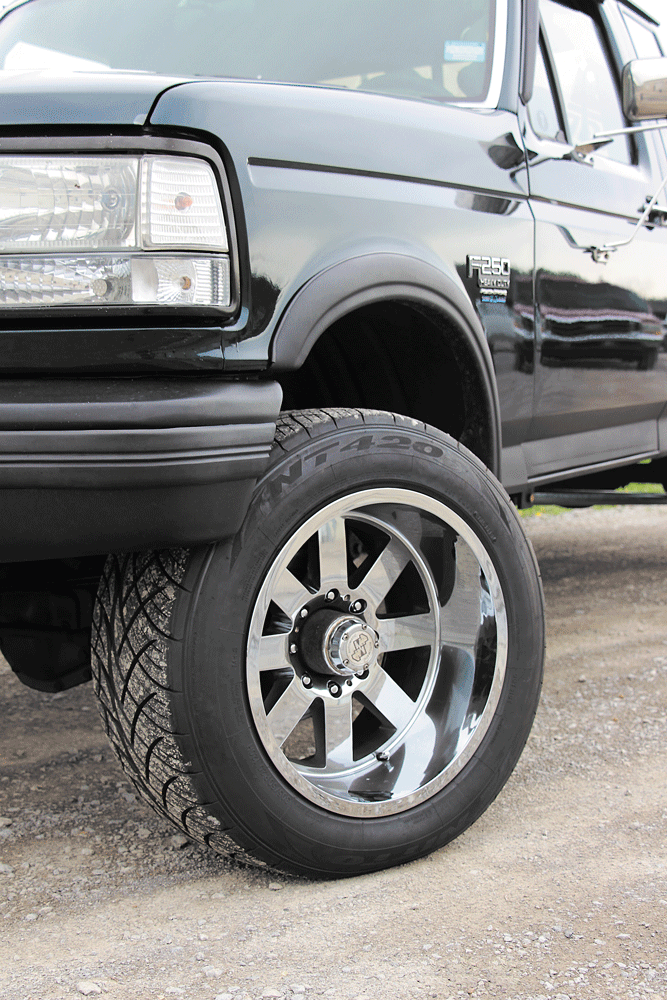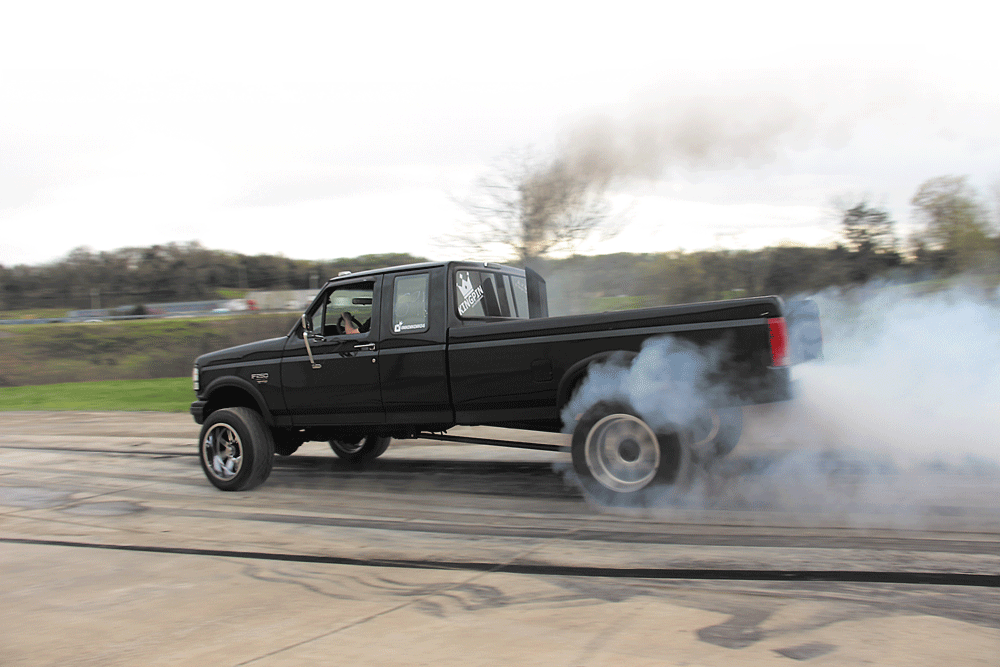 After experiencing such a catastrophic failure, he took no chances when it came time to build the truck's new engine. A balanced rotating assembly features a factory crank that swings eight Carrillo rods and 0.020-inch overbore (de-lipped and coated) pistons inside a '95 model year block. To maintain proper valve control at high boost, the heads were treated to beehive valve springs from Irate Diesel Performance. ARP head studs are tasked with clamping the heads to the block.
300/200s and Supporting Hardware
With the engine built, a set of healthy injectors were selected from Full Force Diesel. The 300cc hybrids push fuel through 200-percent-over nozzles and are fed ample oil volume courtesy of a Stealth SRP1.1 high-pressure oil pump. Fuel supplied to the injectors gets there by way of a homemade system that Satkowski pieced together himself, which initially utilized a Walbro lift pump but now makes use of a Fuelab unit.
5-Blade S468
Breathing through a billet 5-blade Stainless Diesel S468, the engine sees close to 60 psi worth of boost under load. The S400 mounts at the rear of the lifter valley thanks to a T4 mounting kit from Irate Diesel Performance. Keeping EGTs in check is a Hypermax intercooler with a fabricated hot-side pipe (to bolt up to the S468). Uniquely, Satkowski's 7.3L still sports the factory 2-inch diameter inlet intake plenums.
BTS E4OD
As for the transmission, Satkowski went with one of the most trusted names in the industry to bulletproof his E4OD: Brian's Truck Shop. The four-speed slushbox benefits from 300M input, intermediate, and output shafts, uses the proven Precision Industries Stallion triple disc torque converter, and a Derale Performance transmission cooler to keep temperatures in check. To have full control over torque converter lockup, Satkowski installed a manual lockup switch and mounted a toggle on the dash. All PCM tuning is handled by Gearhead Automotive Performance, and six performance files are available on the fly via a TS Performance six-position chip.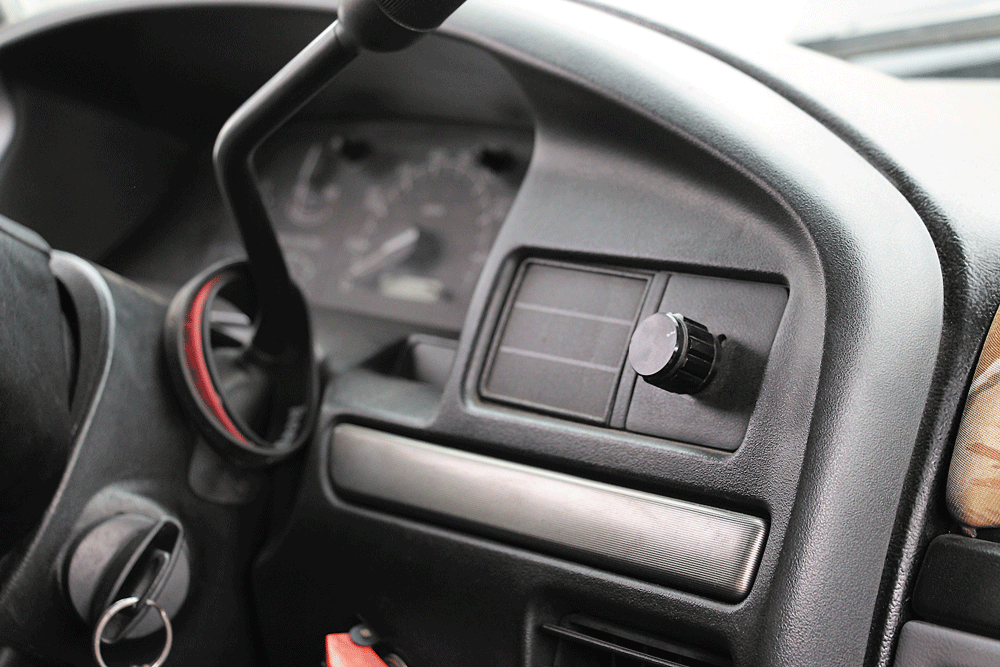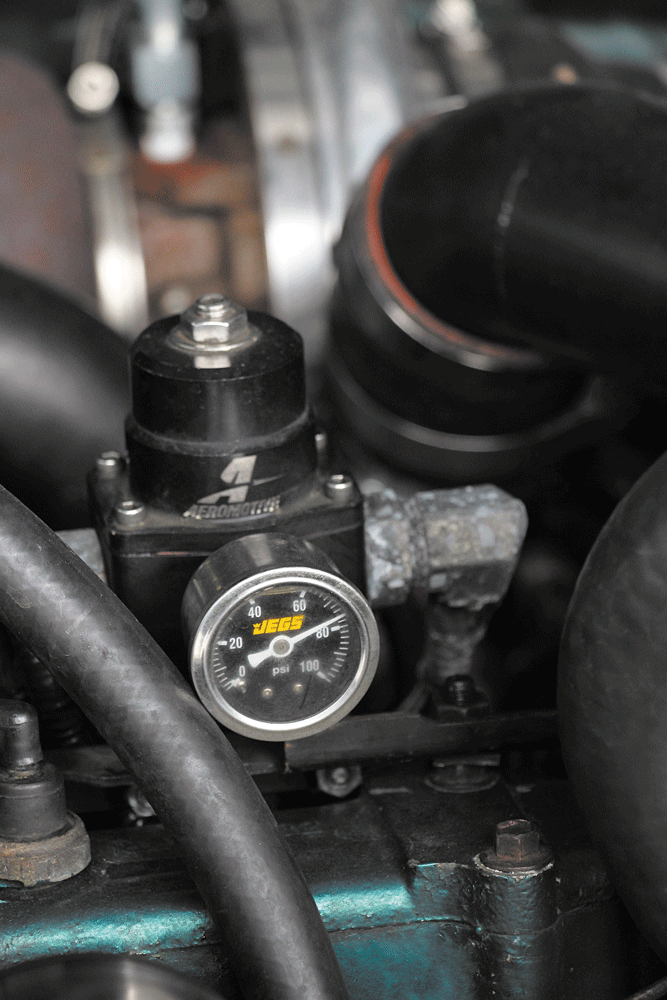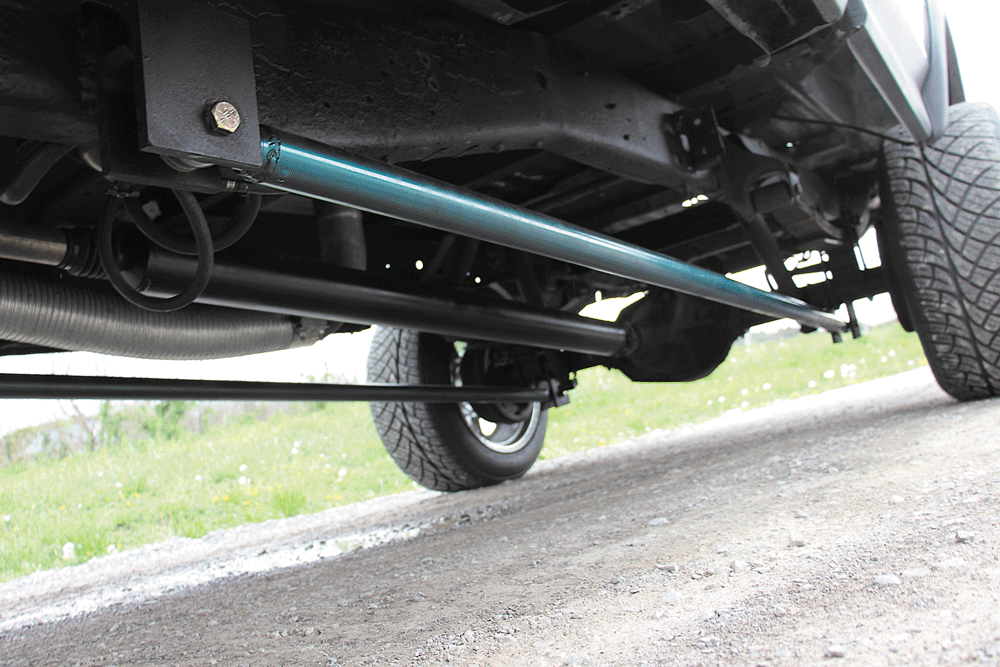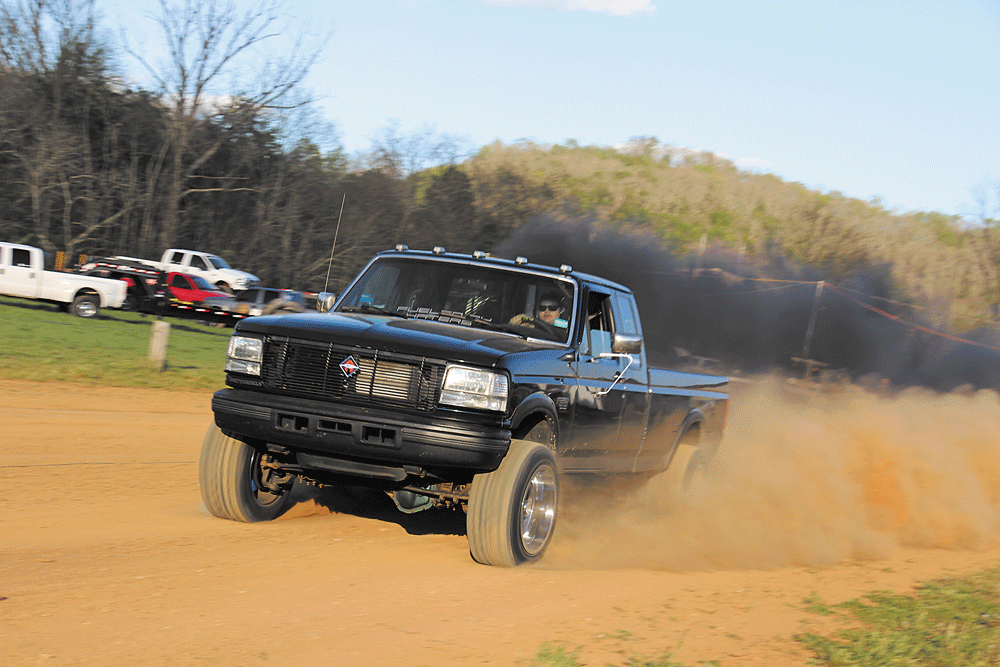 While some obvious big-ticket items had to be purchased in order to get the truck to this point (like transmission and short block machining and assembly), most of the build was conducted on a very reasonable budget. Doing all of the work himself or with the help of friends, Satkowski has saved thousands of dollars. He's also learned a lot about the truck along the way. And not just what makes the engine tick—he knows how to drive it to get the most out of it. The old Ford cuts consistent 1.7-second 60-foot times on its way to 12-second quartermile passes. As for the future, Satkowski plans to upsize the S468's exhaust housing and introduce the engine to a little nitrous for an extra push through the 1320. When that happens, his 20-year-old head-turner should have no problem clicking off mid 11s. DW