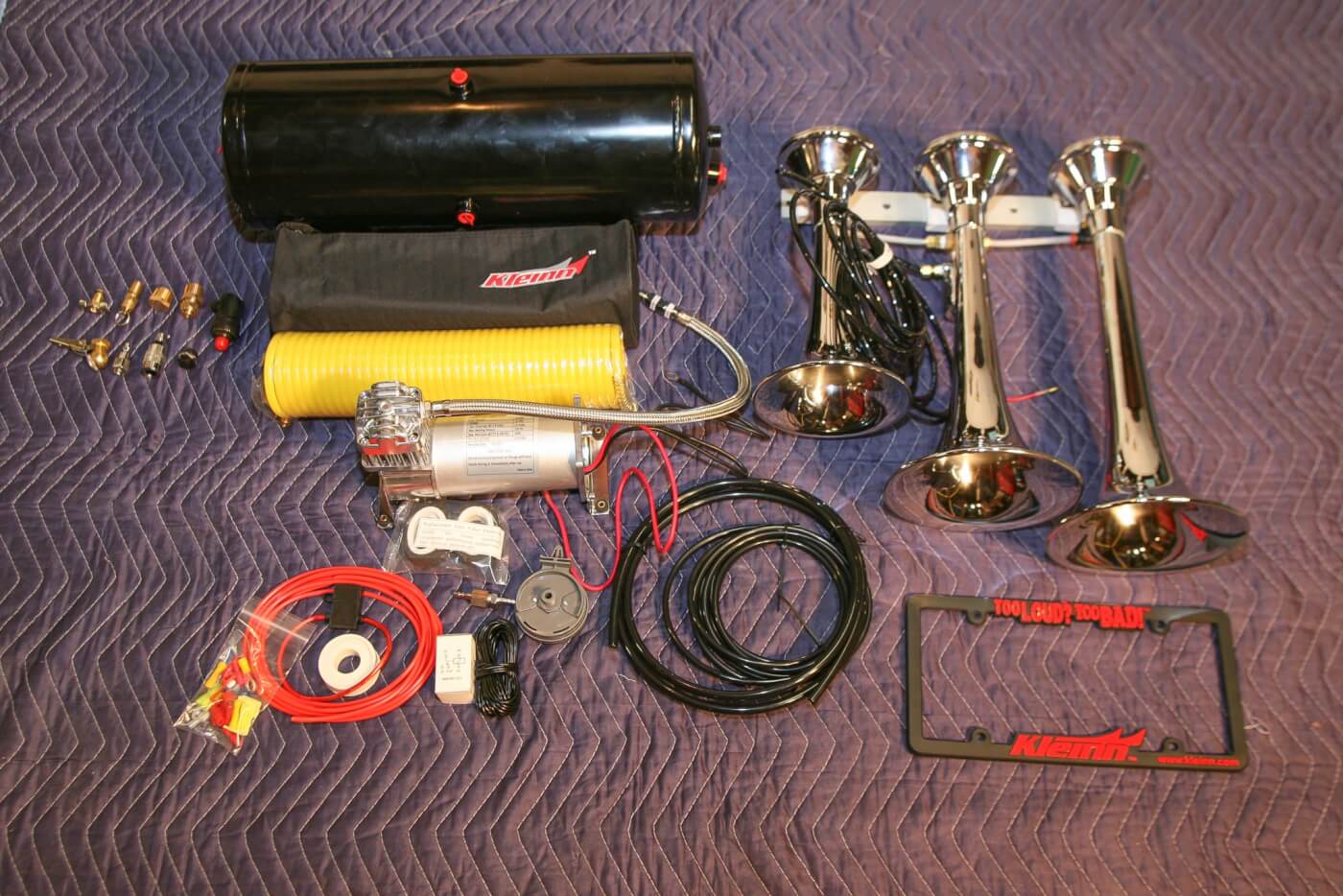 To be honest, we could preach that we needed the Kleinn air horns for safety reasons. Having audible horns no matter the circumstances is far safer than the quiet stock units; and, of course, having an onboard air compressor system is also great for a multitude of reasons.
But the impetus for this story started as nothing more than a desire for horns so loud they'd rival those on a Union Pacific locomotive. Funny thing is, the project quickly turned into a lesson about wants and needs, as we discovered that our Kleinn HK8 Problaster Triple Train Horn Kit was far more than just a loud set of trumpets: it's a complete air system made from seriously high-quality components.
WHAT TO LOOK FOR IN AN ONBOARD AIR SYSTEM
All onboard air systems are not created equal, starting with air compressor units. A key to selecting the right onboard air compressor is its duty cycle. As I'm sure you already know, not all air compressors are meant to continuously run. Instead, many units need to rest for a certain percentage of their operating time in order to cool down. Most compressors are rated on a 10-minute duty cycle, which means an air compressor with a 50-percent duty cycle can run for 5 minutes before it must cool down for another 5 minutes—failing to let the compressor properly cool can significantly cut its longevity.
"The HK8 system comes with the 6350 air compressor kit that utilizes a 150-psi compressor with a 100-percent duty cycle," Martz explained. This means it can run at WOT without problems should you need to air-up multiple tires after some four-wheeling or simply inflate air mattresses and beach balls for a day at the lake.
But an effective onboard air system is much more than a capable air compressor: it's the rest of the supporting system as well. "The size of the air tank, the lines and the quality of the components are all crucial to creating a durable performance air system," Martz said.
Often forgotten components like quality safety check valves, pressure switches, drain cocks, compression fittings, quality electrical components and even the mounting hardware are all equally necessary for a quality kit—all of which can be found in Kleinn's kits.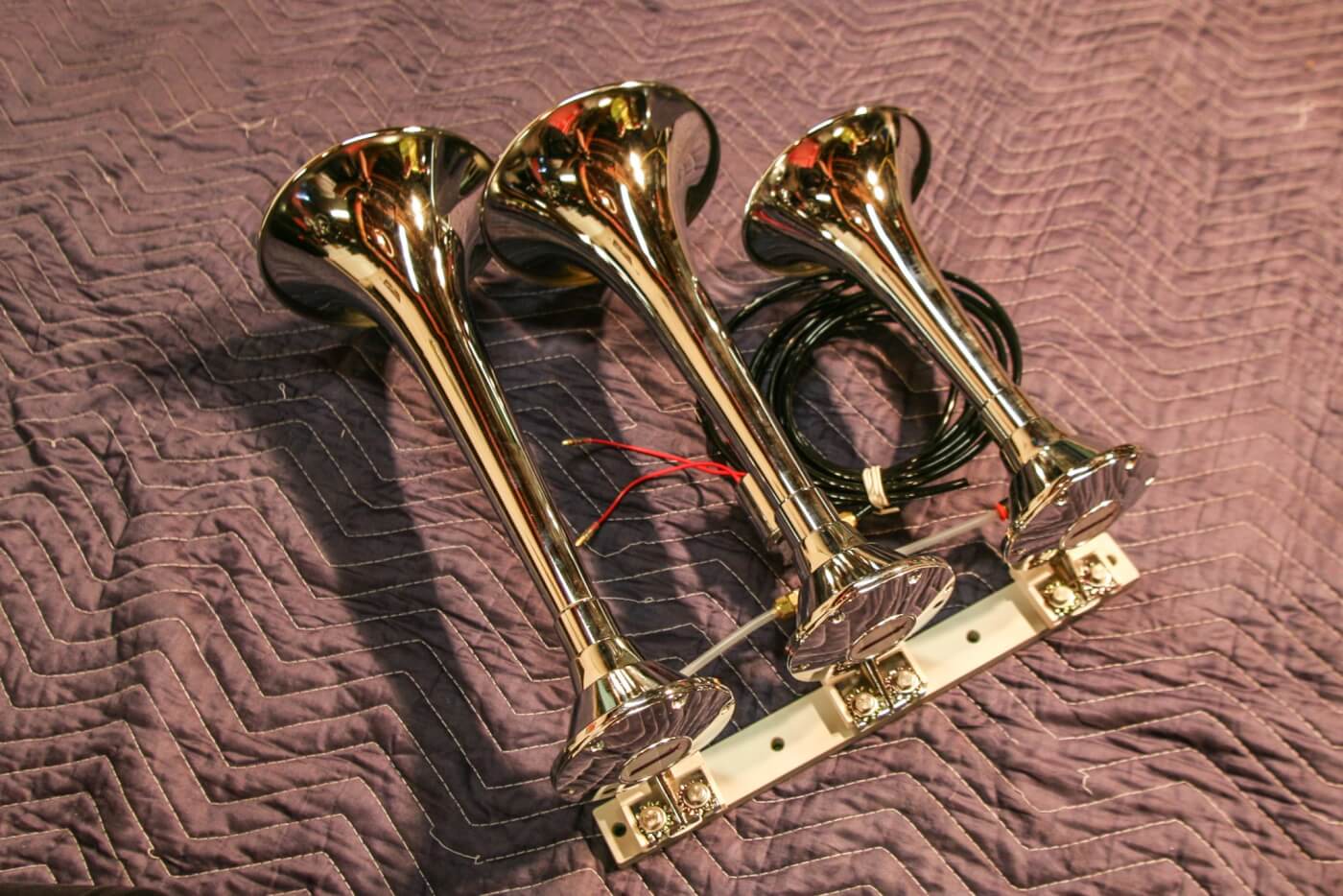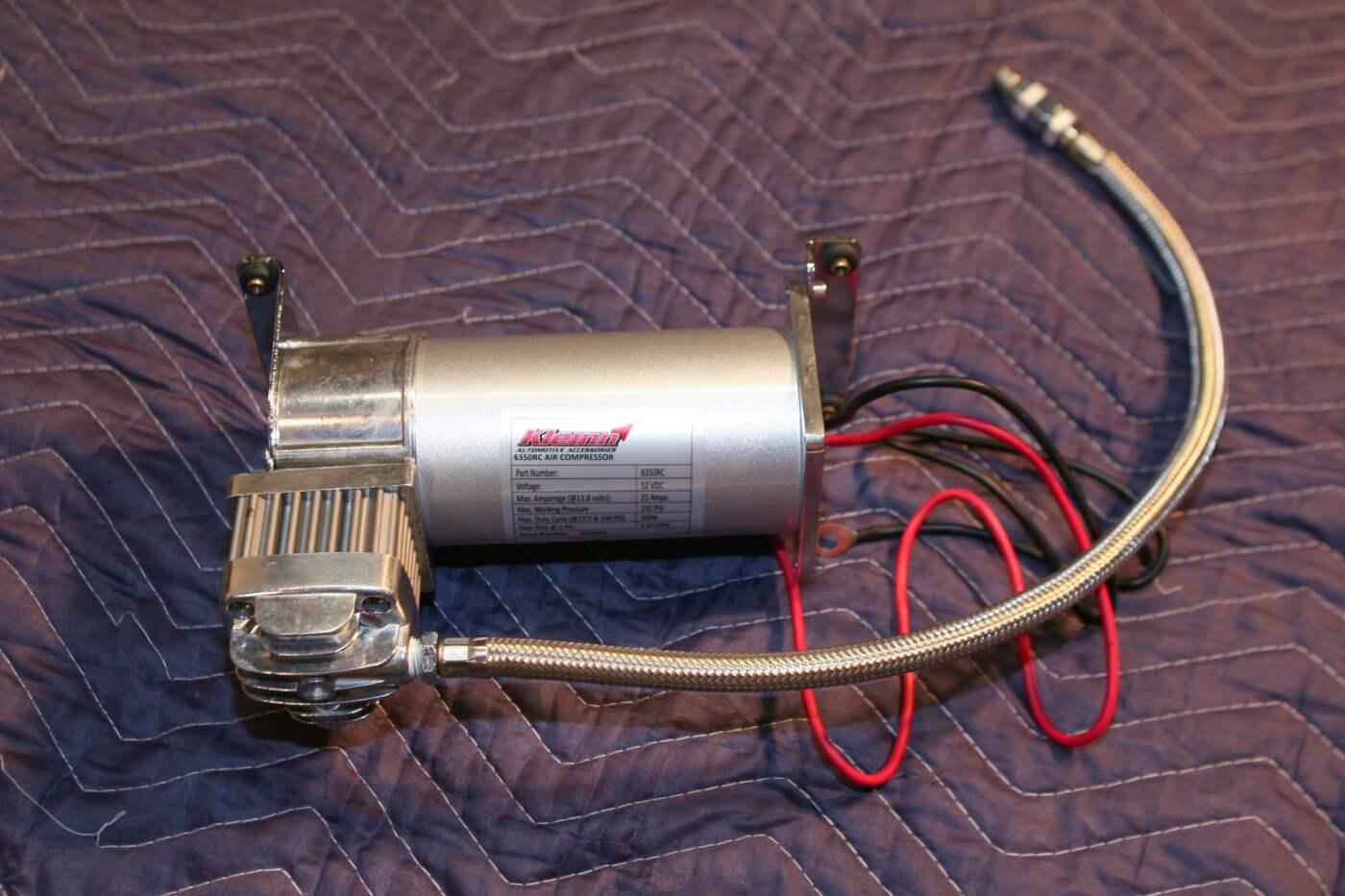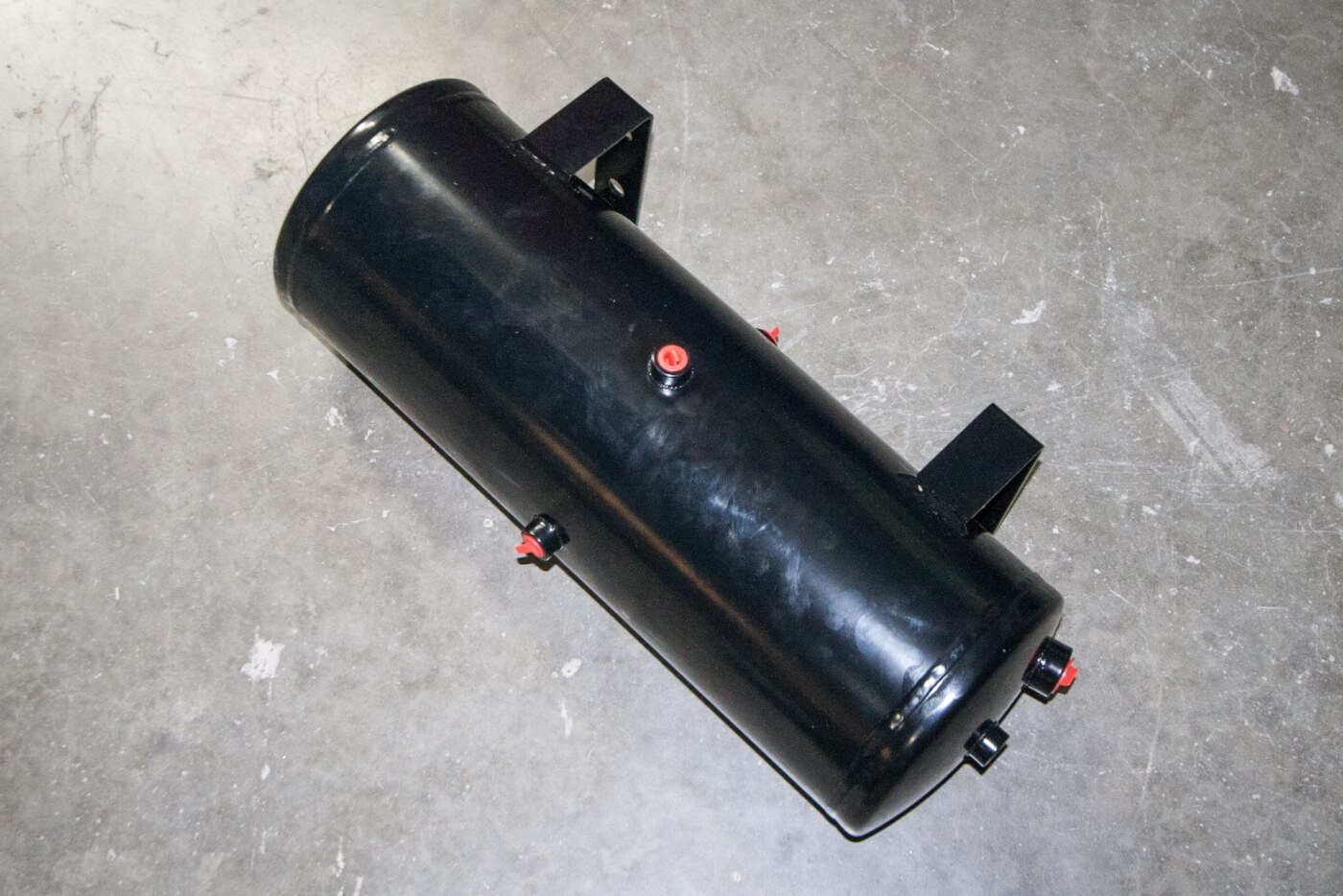 PICKING THE RIGHT HORN SYSTEM FOR YOUR RIG
"Size constraints are something many don't consider when buying horns since the larger kits feature sizeable trumpets along with a large compressor and air tank, which means they won't fit on a smaller vehicle—just like a large truck wouldn't look right with a compact HK1 that would be more at home on a car," Martz said.
When it comes to air horns, the larger the trumpet, the deeper the tone, and the higher the air pressure, the louder the horn.
But it gets even more complicated when you start talking about the number of trumpets: "In order to get the traditional train-horn sound—which coincidentally is different by region since different states use different horns—usually takes three large trumpets," Martz noted. That typical train sound is called a tri-tone, but some prefer a flatter bi-tone that can be equally loud, just of a different octave.
Beyond trumpet size and quantity, you have to consider the build material. Matz offers "spun copper and chrome, spun steel and powder-coated black of ABS plastic construction, since geographic differences and intended use help dictate the trumpet choice."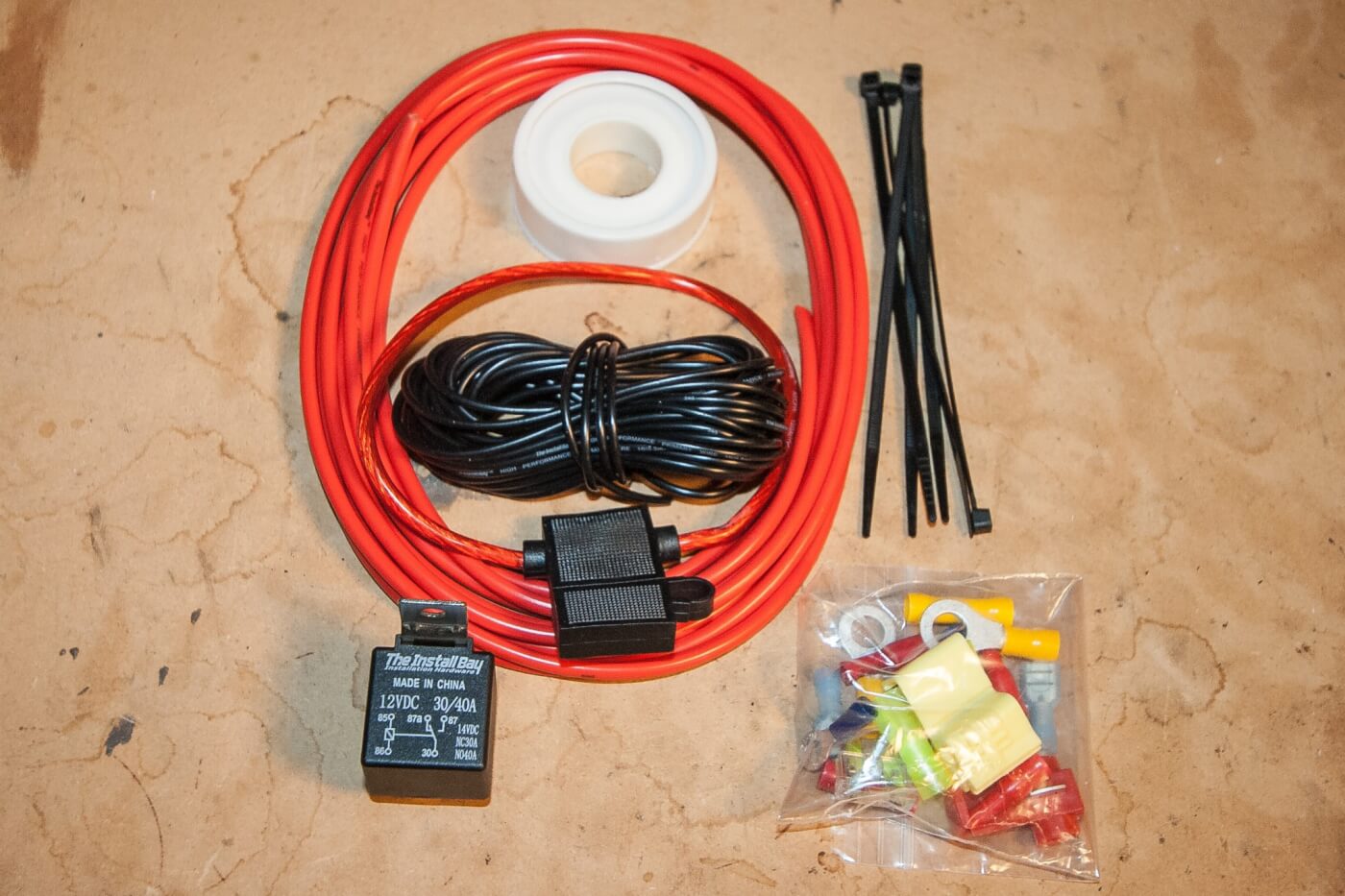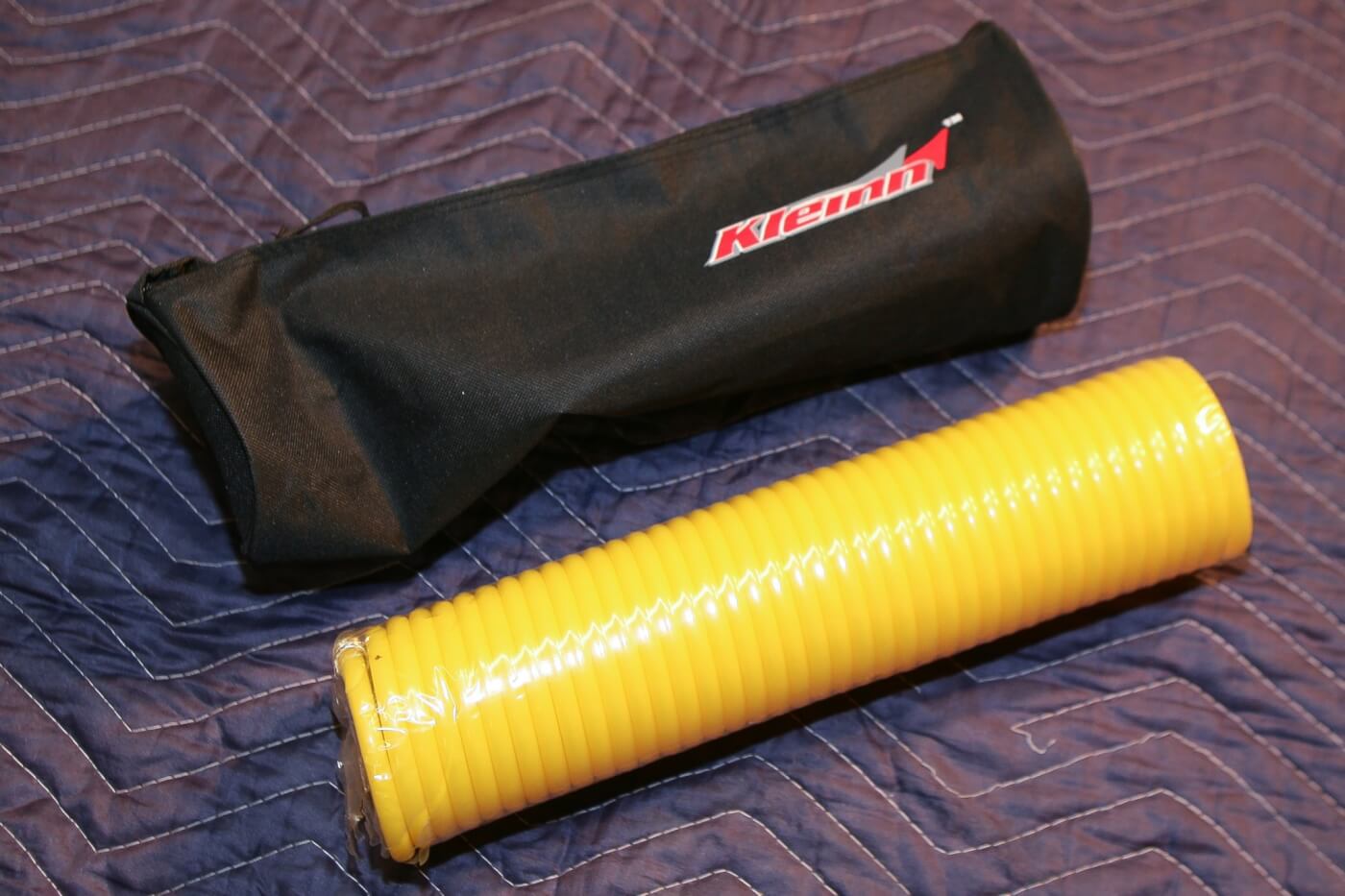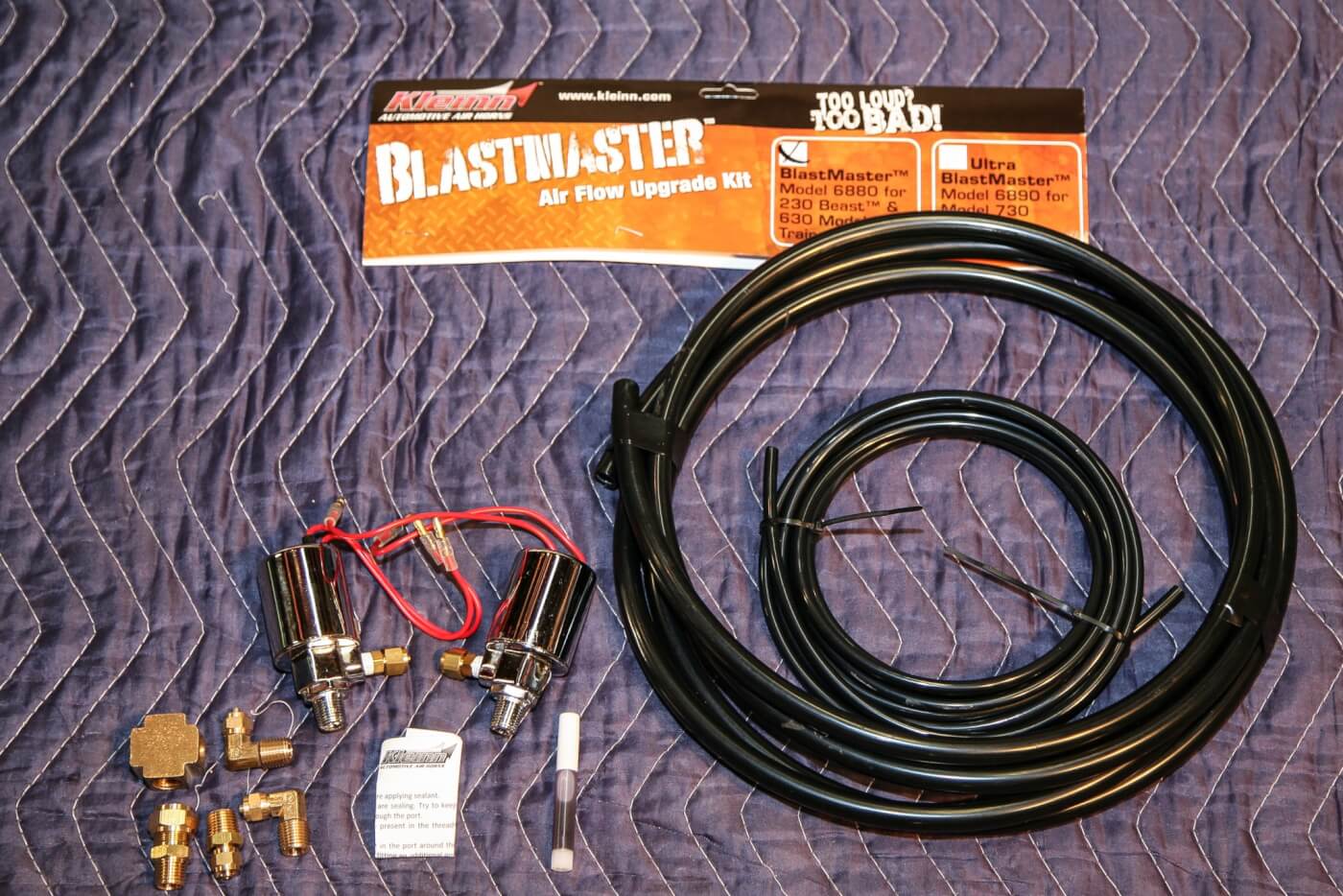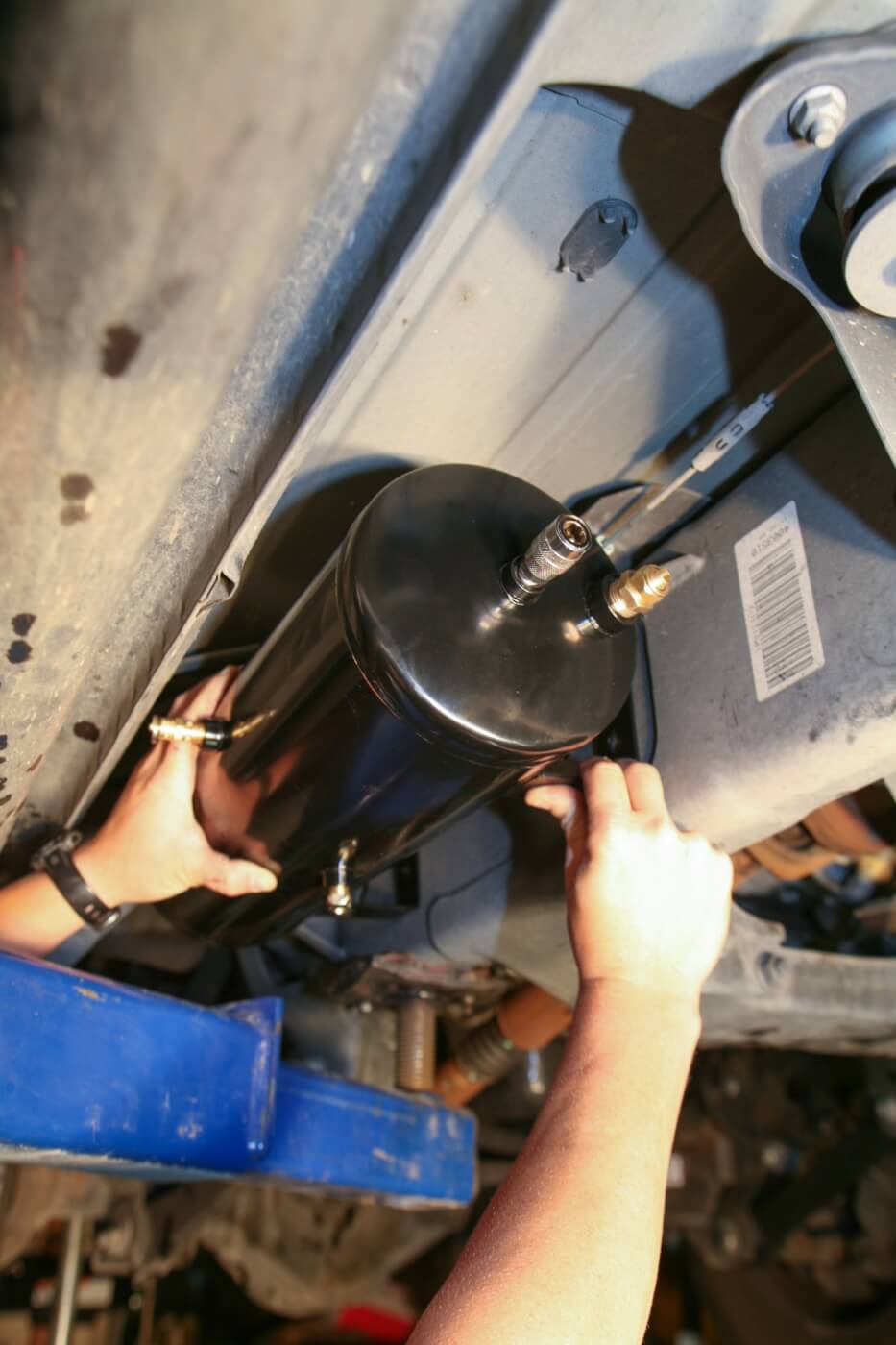 KLEINN HK8 PROBLASTER TRIPLE TRAIN HORN KIT
Welcome to the big leagues—that's all we could think as we unboxed these beasts. According to Kleinn, this is the loudest and nastiest horn there is, plain and simple. It features three spun copper and chrome trumpets that measure 17.5-inches, 15.5-inches, and 11.5-inches.
When paired with the Vortex 4 12v electronic train horn solenoids, the 100-percent duty cycle, 150-psi air compressor, and the 3-gallon air tank, it makes for 154.4 dBs of train-horned music. If that's not enough, the included BlastMaster valve upgrade kit pushes that up to 157 dBs (for reference, a COLT .45 rings in at only 155 dBs.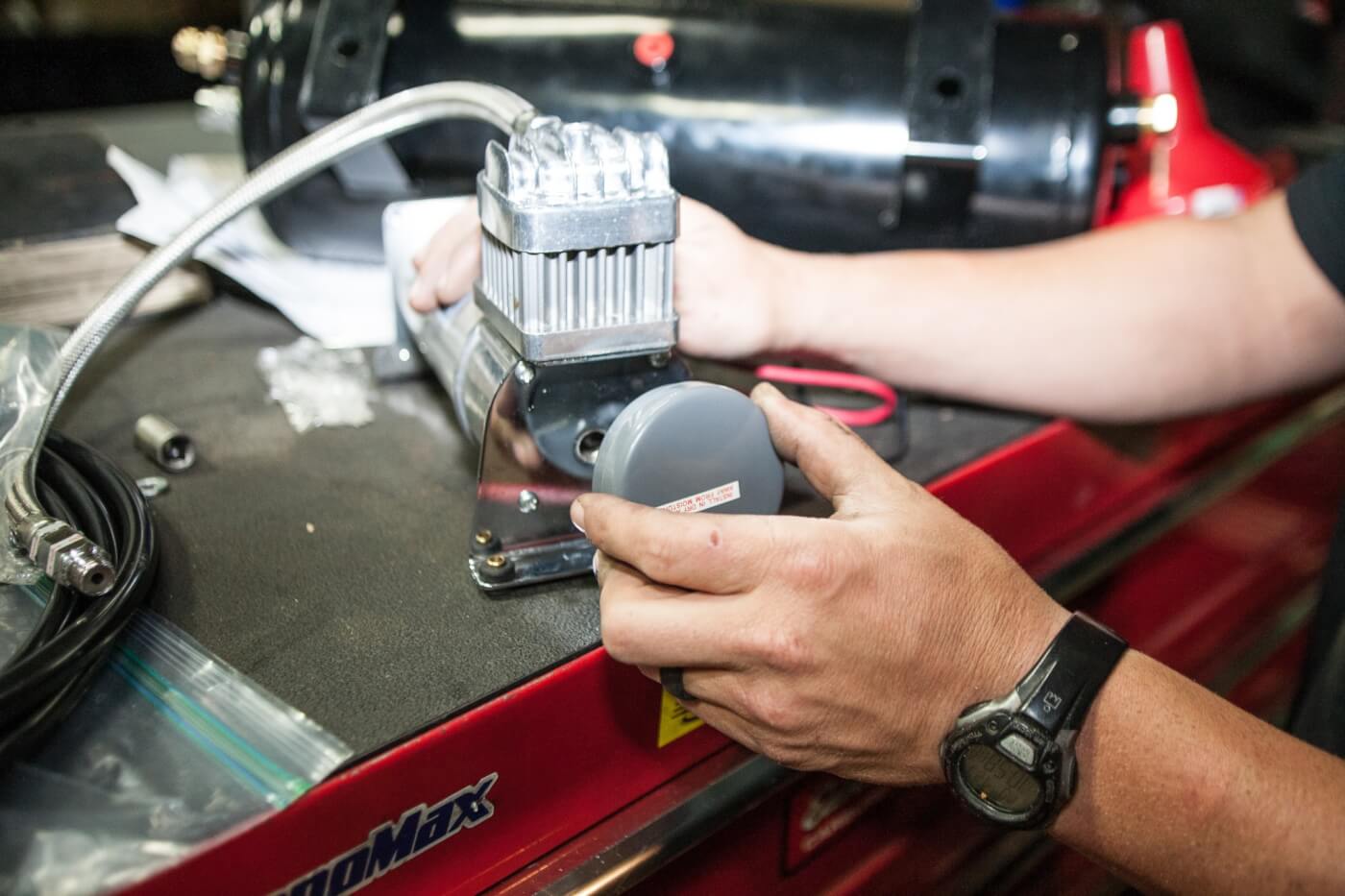 GET READY FOR BLAST-OFF
You're probably wondering how it sounds. It's insanely loud and sounds just as we hoped—like the Union pacific locomotive. But as nice as the horns are, it's the onboard air compressor unit that really puts a smile on our faces.
In fact, within days of installing the unit, we'd already aired up the tires on several vehicles, run some small air tools and inflated an air mattress during a camping trip—hey, we ain't sleeping on the hard ground!
If you've ever considered an onboard air system and a train horn for your truck, you'd be hard pressed to find a higher quality, more complete system than a Kleinn. Just do yourself a favor and mount the button out of reach of your passengers… don't ask us how we know.
Read on as we take this Dodge from a lung-less wimp to a 157 dB monster! DW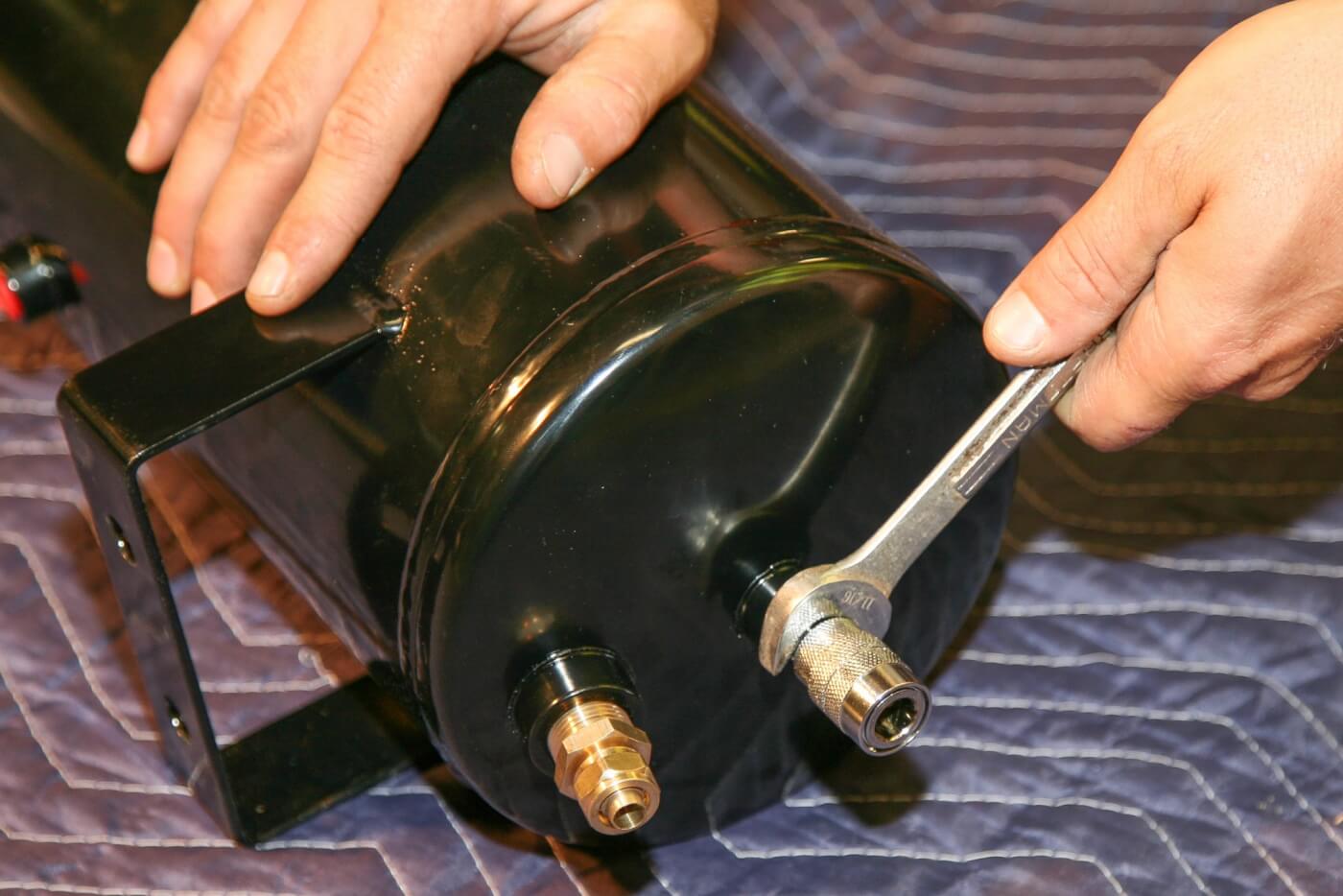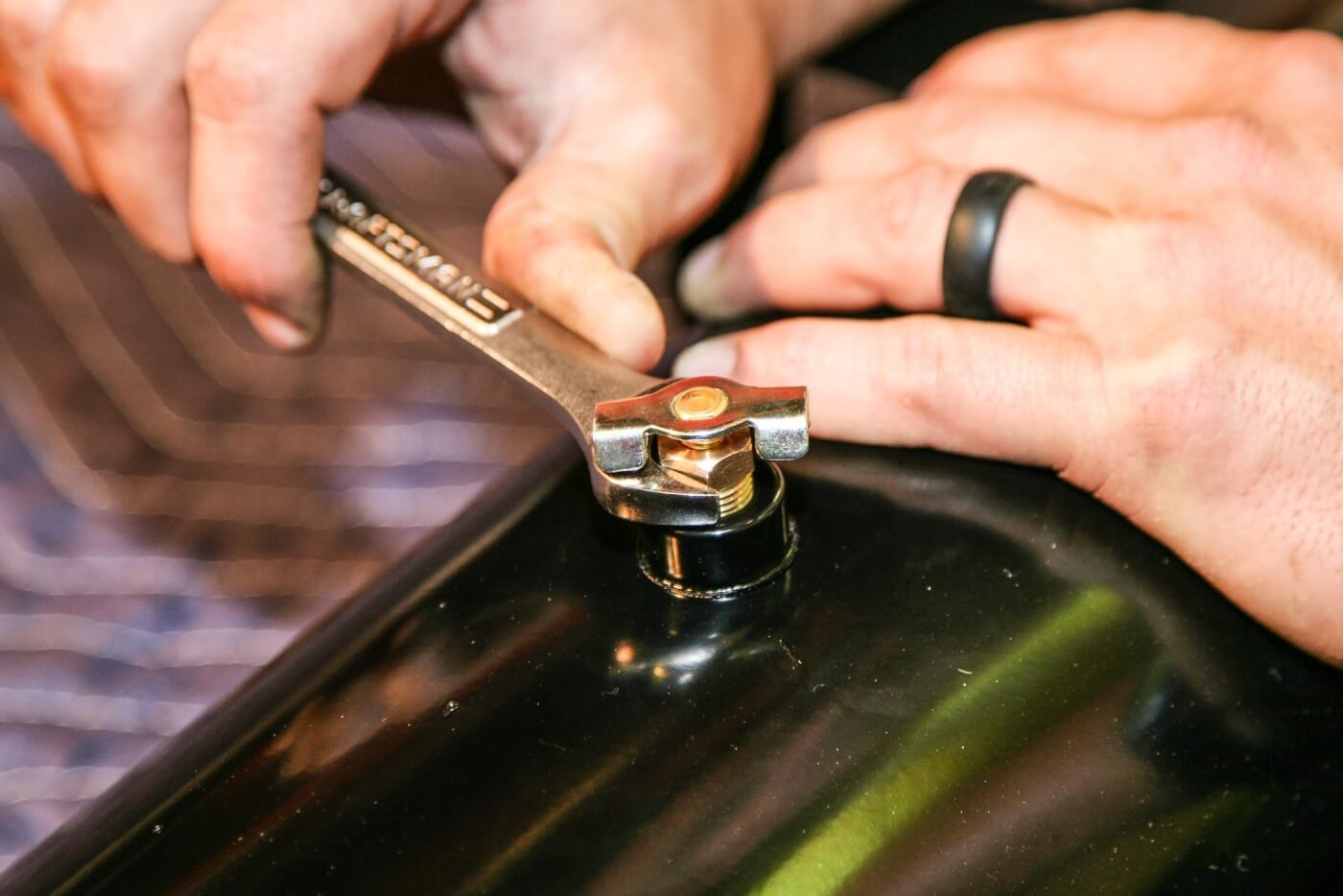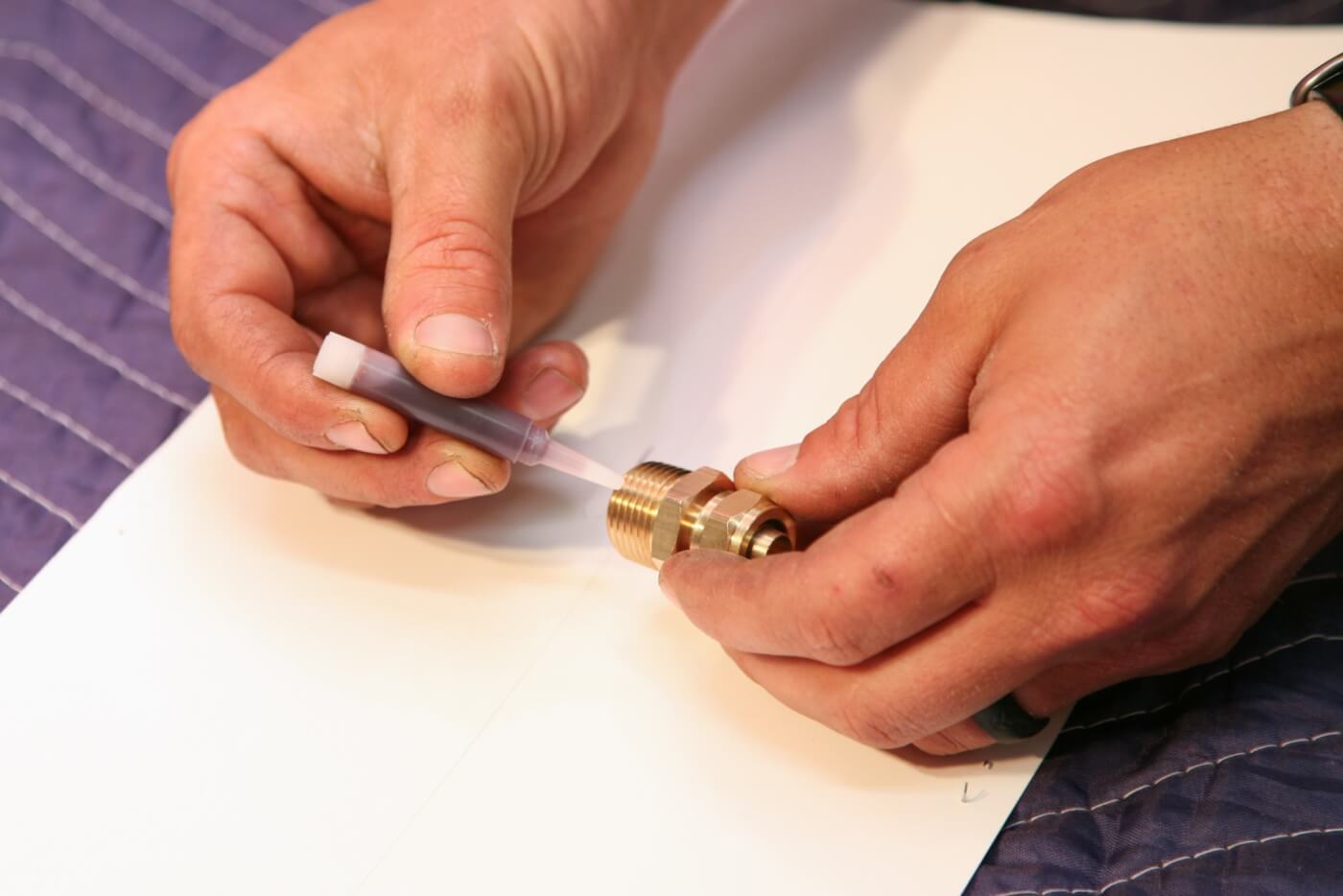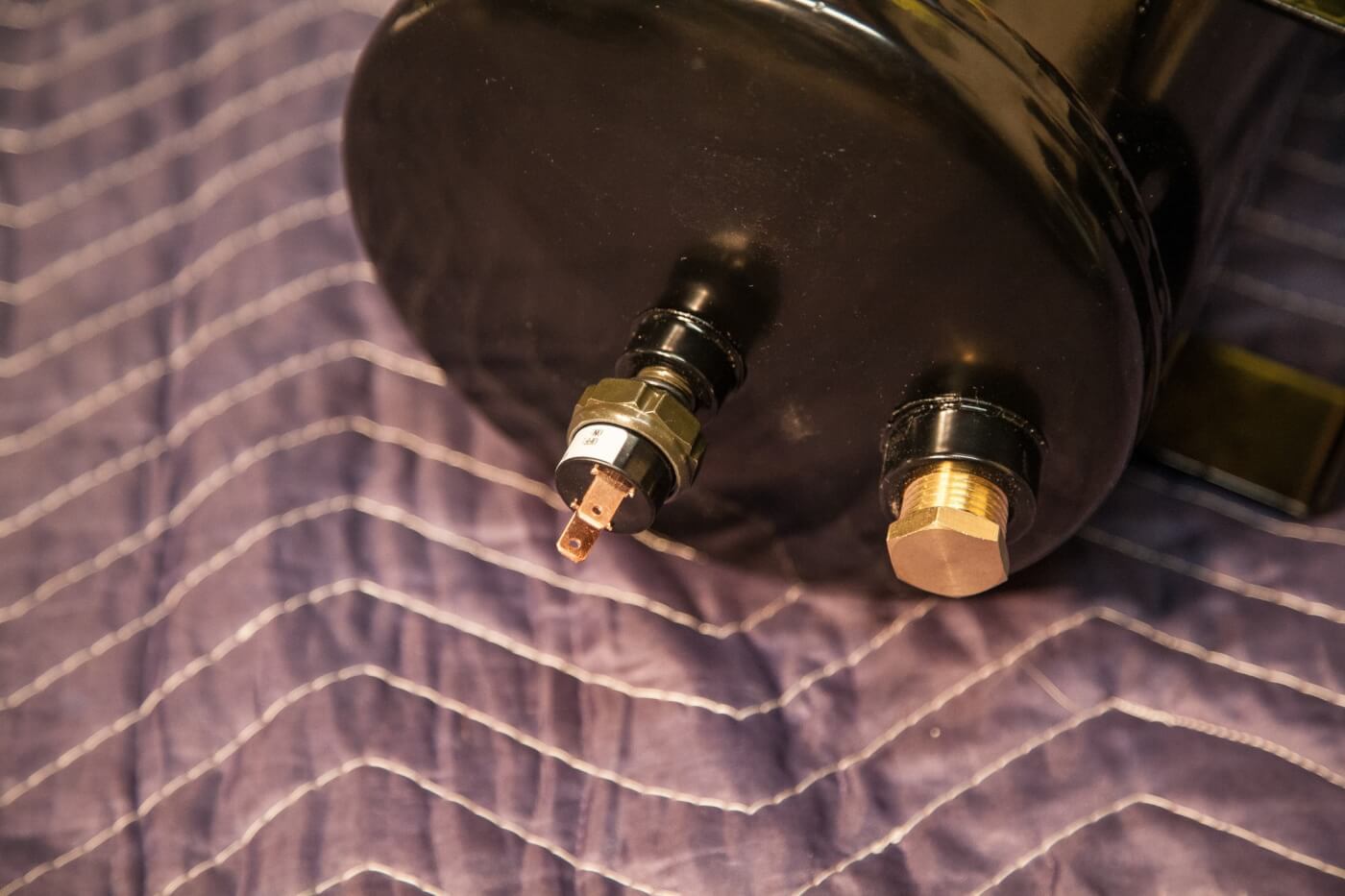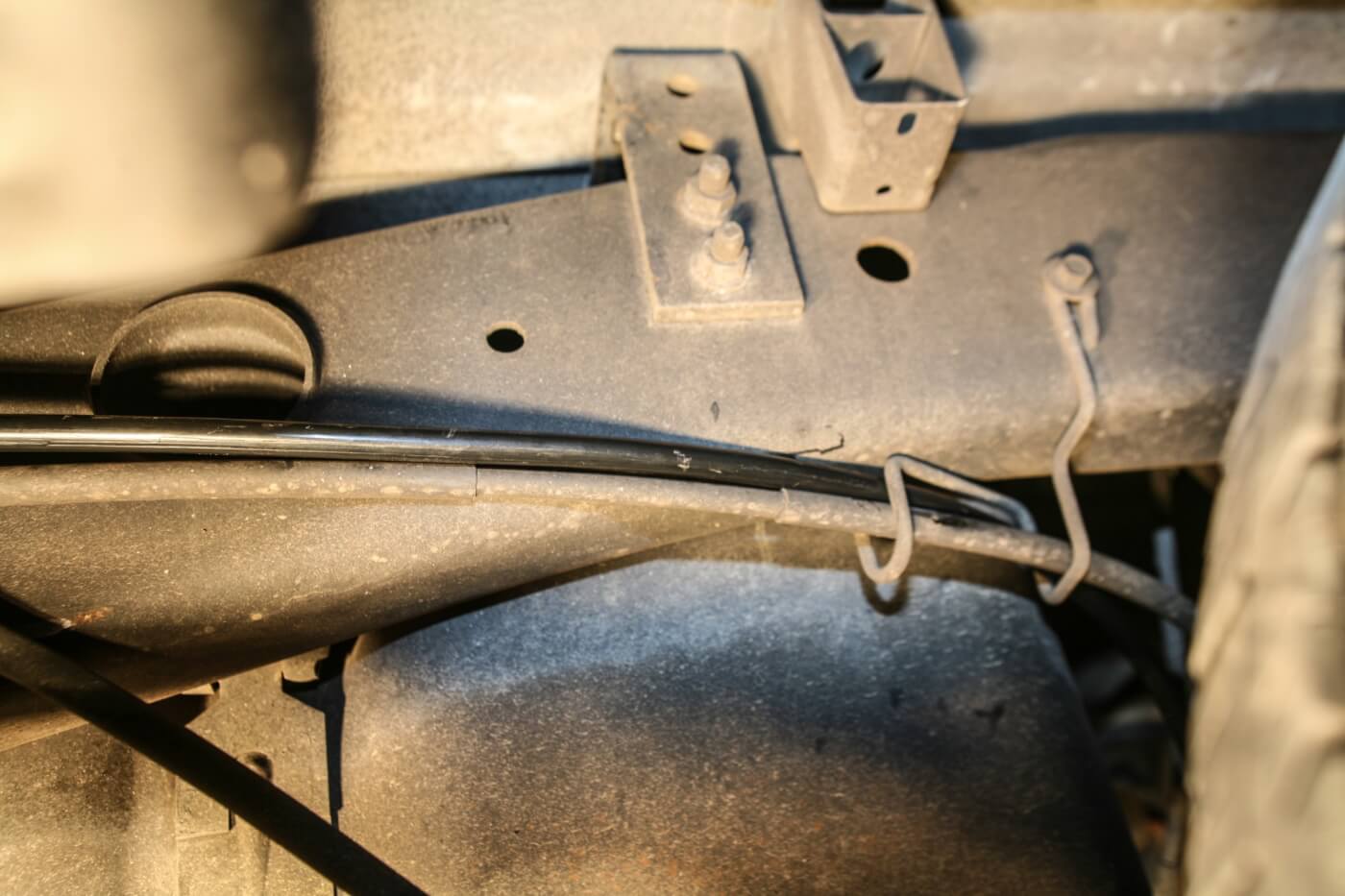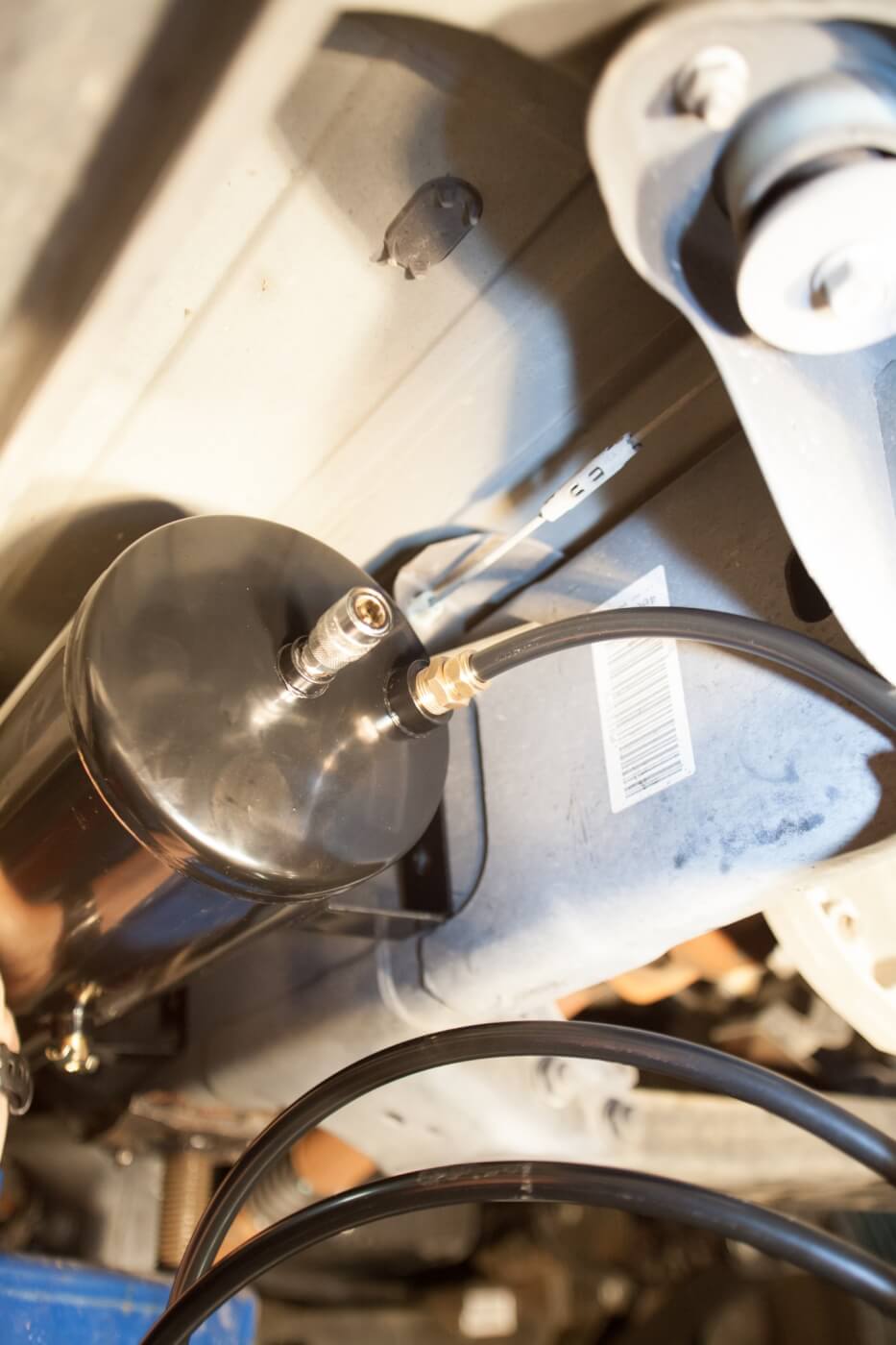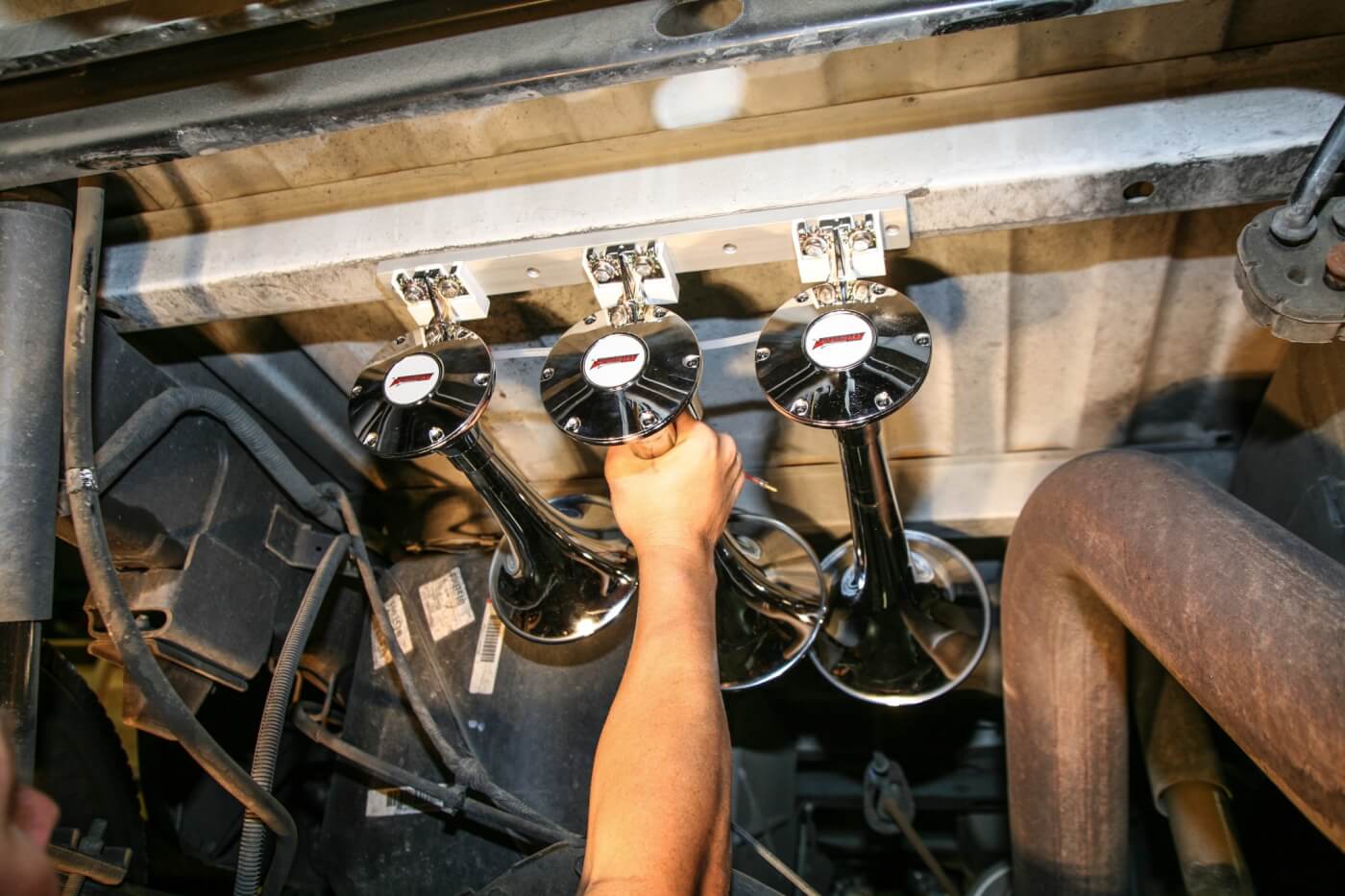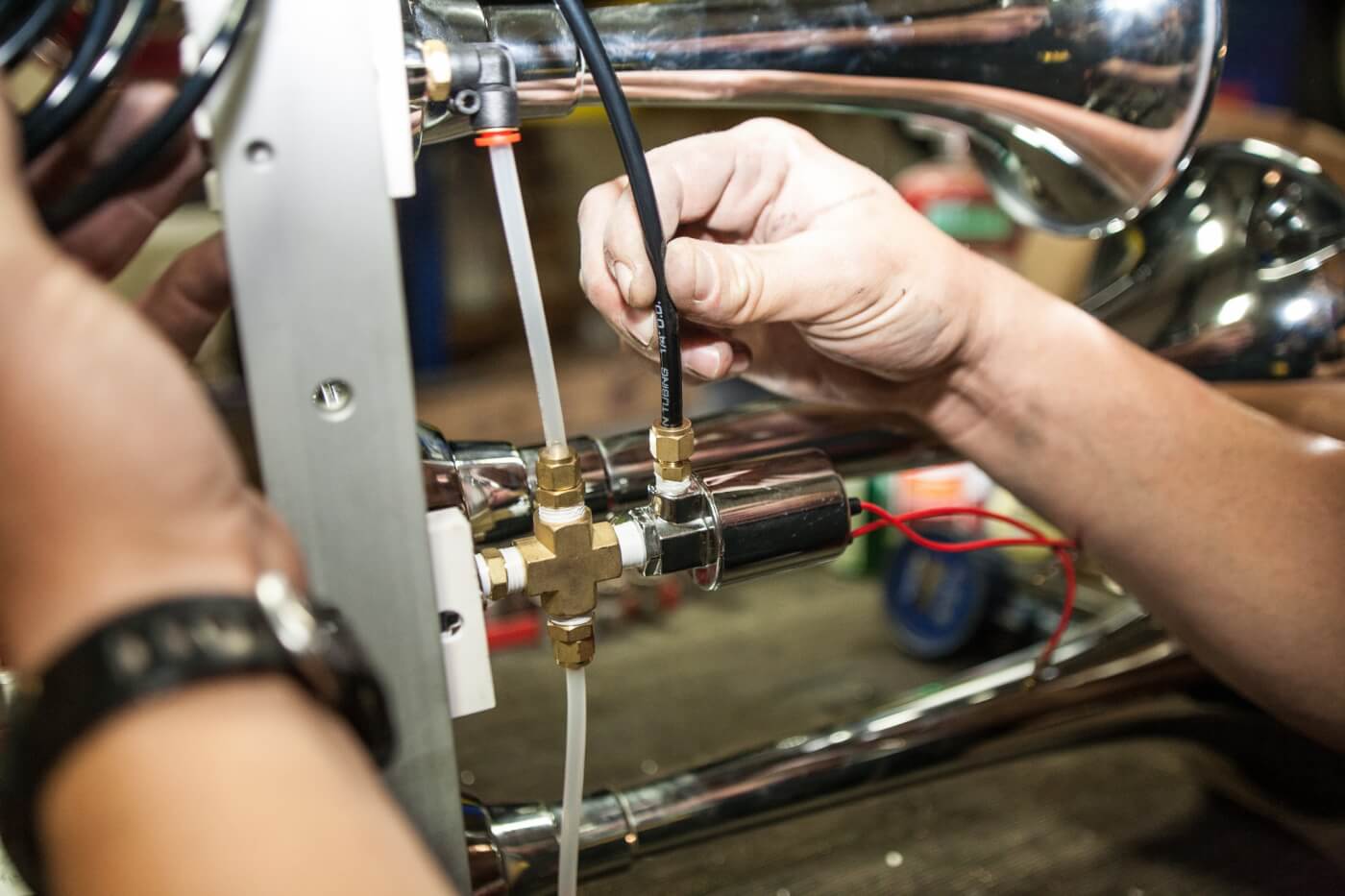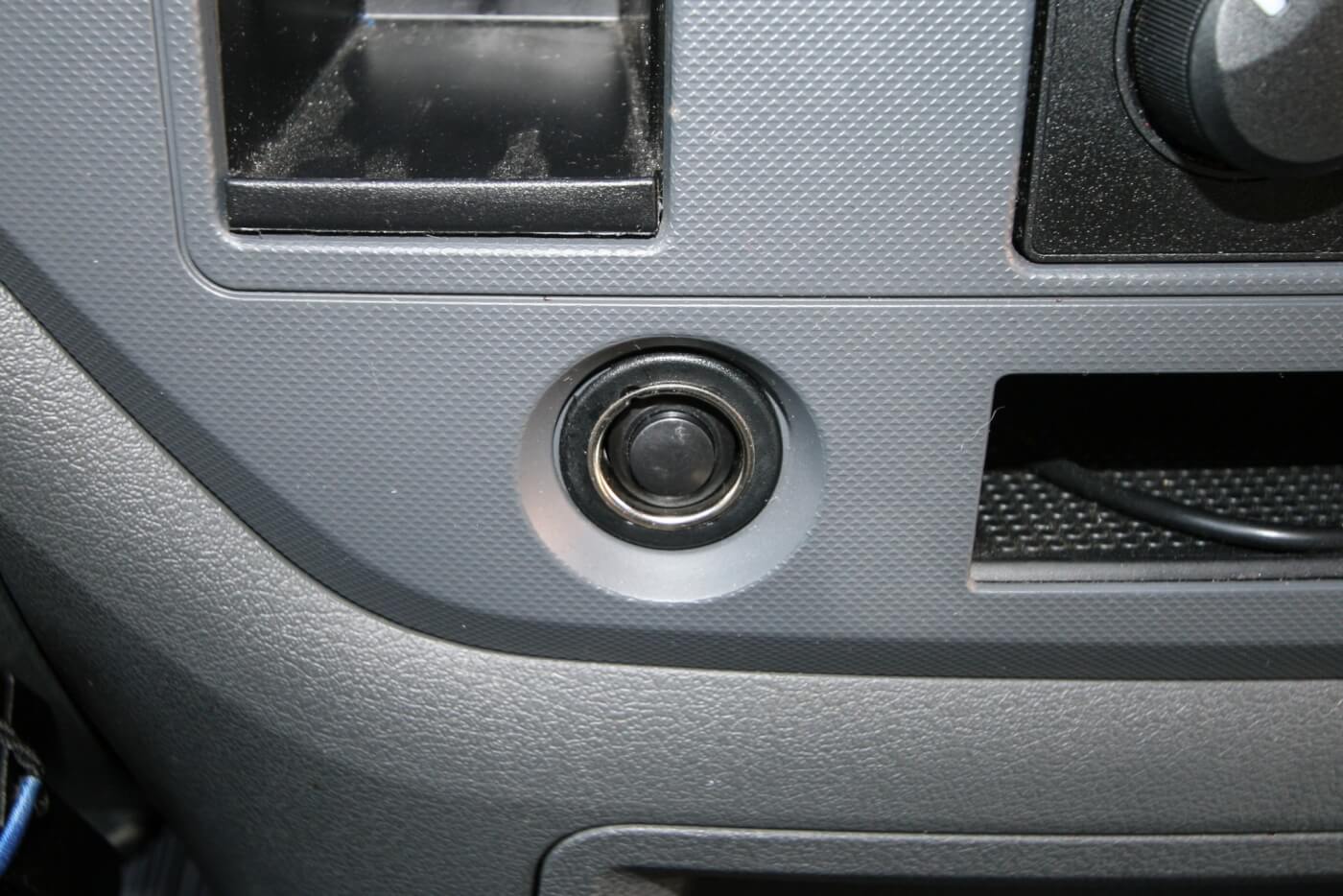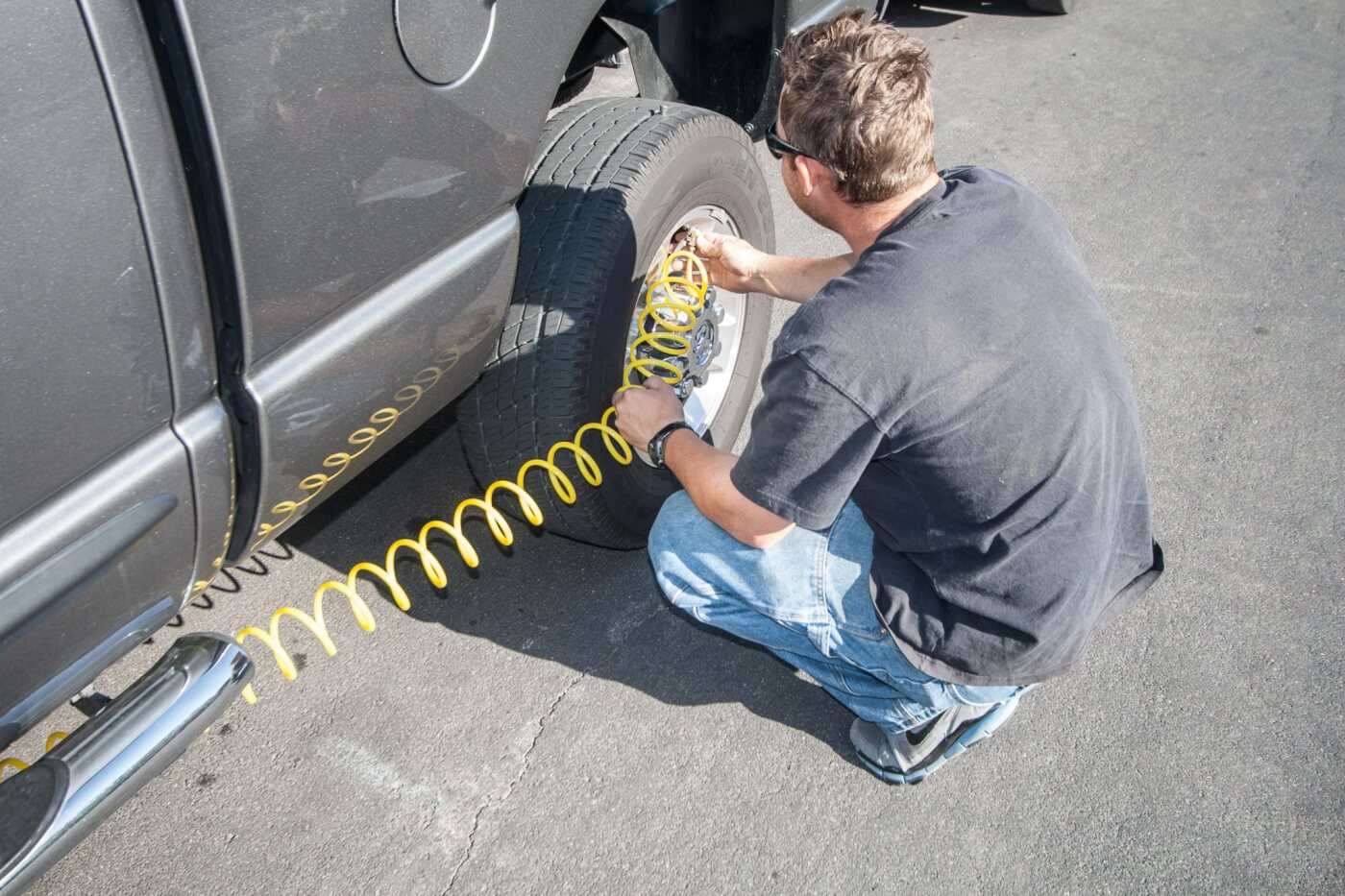 Sources:
Kleinn Automotive Air Horns
520-579-1531
Kleinn.com