Built For Use And Abuse
The High Sierras in Northern California have a reputation for all sorts of stuff, but mild winter weather isn't one of them. A mute monument to the endurance of the Donner Party near Truckee, California, says it all. But when it came time for Ethan Verhoef and a few fellow workers to head over Donner Pass in a heavy snowstorm, he didn't blink. After all, he had already tackled all kinds of lousy conditions in his 2001 Ford F-250, which was set up for real-world, off-road adventures.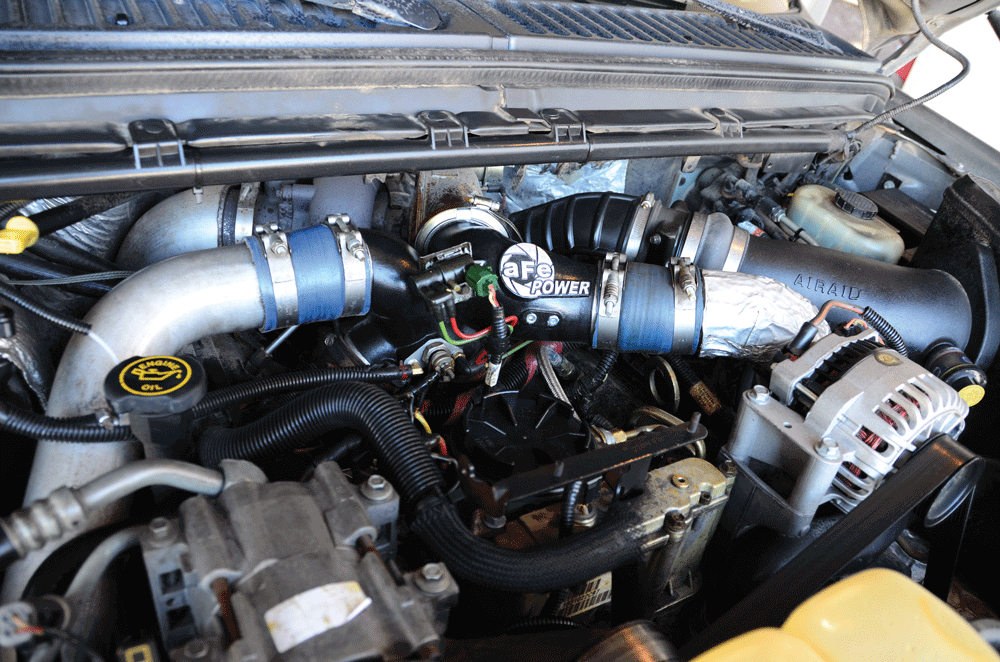 That wasn't always the case, as Verhoef had to pay his dues in other areas of the West and in a petrol pickup. When he lived in Mesa, Arizona, he drove a half-ton Chevy for several years, and used it for towing his Samurai/Geo-based buggy up to Moab, Utah, for off-roading. But it just didn't have the grunt and durability that that he needed on a nine-hour pull of a fully loaded toy hauler.
So Verhoef decided to step up to a diesel, but not just any diesel. He wanted one that could go big, and that meant a Ford Super Duty. From his dozen or so years of experience both working and playing in the off-road community, he knew the Blue Oval's suspension could handle a tall lift better, and without a lot of extra work. The Ford he came across on a website was a Platinum Edition with the coveted 7.3L Power Stroke. He knew he had to have it as soon as he saw its two-tone paint scheme and other extra trim. "I put money down on it before I even had the financing," Verhoef recalls. For all its upscale looks, however, it was still a totally stock rig. "It drove like a log wagon from the factory," he admits.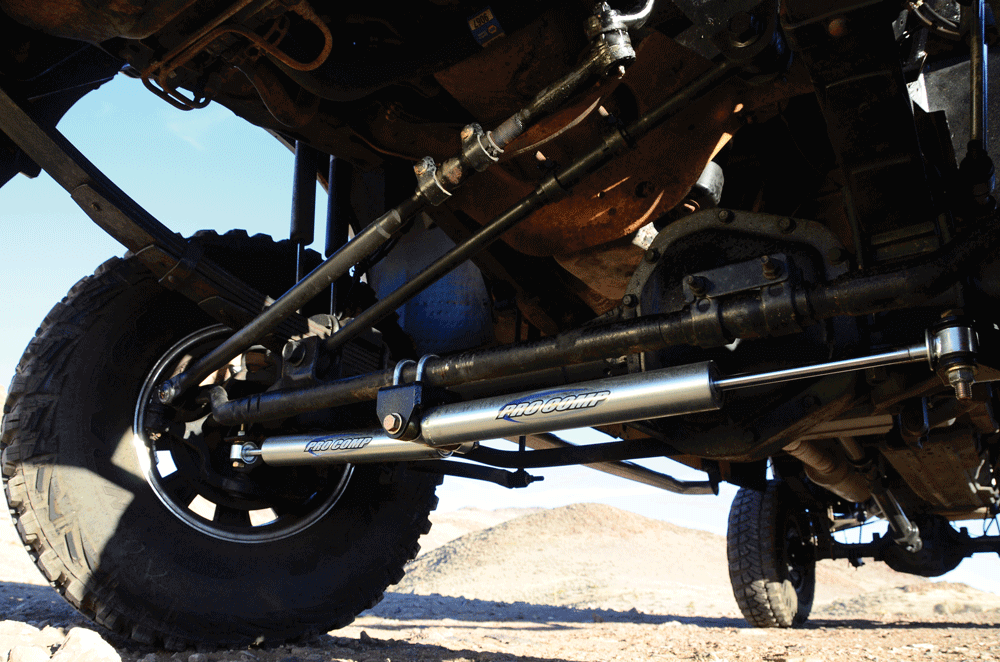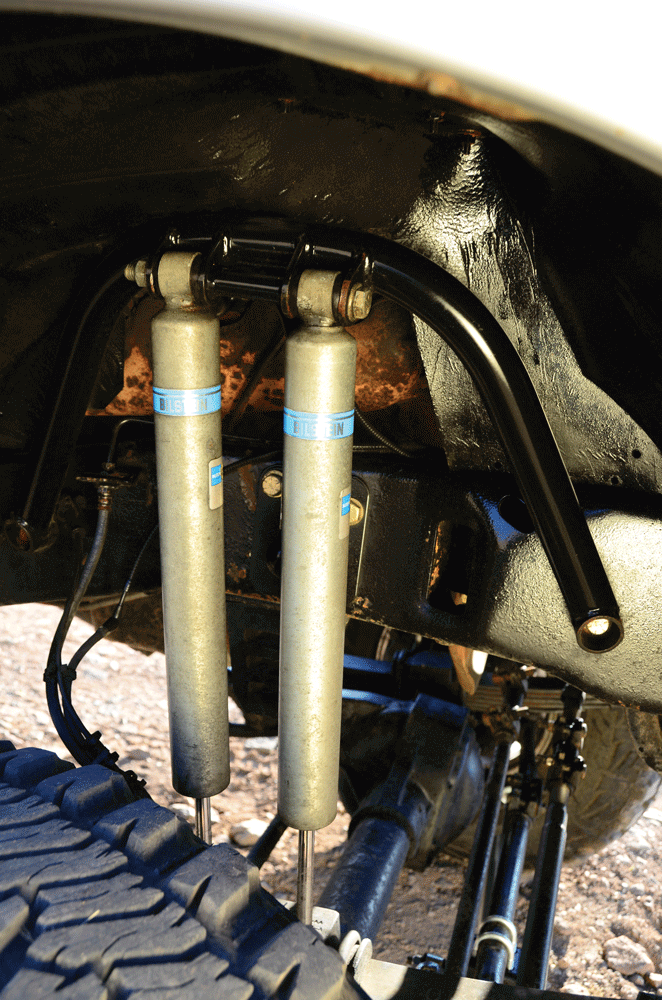 That would soon change as Verhoef began refining the raw ore of his Platinum. He began with the performance and towing ability first, adding a DP Tuner three-stage programmer. Turns out the engineer behind this unit had worked at Ford for many years and knew how to get the most out of a 7.3L Power Stroke. Verhoef also added an Airaid intake, aFe Blade Runner intake pipes, and Banks Power turbo outlet housing and impeller wheel, plus a 4-inch MBRP exhaust.
With all those mods, Verhoef says he's seen as much as a two-mpg increase in fuel efficiency, and a gain of about 150 hp. The lessons he learned from these mods along the way? "Get air in, get air out, and keep the heat down," he notes. "I can now hammer up a mountain pass with a trailer in tow and keep up with the traffic. It doesn't get hot, and I can keep pushing on."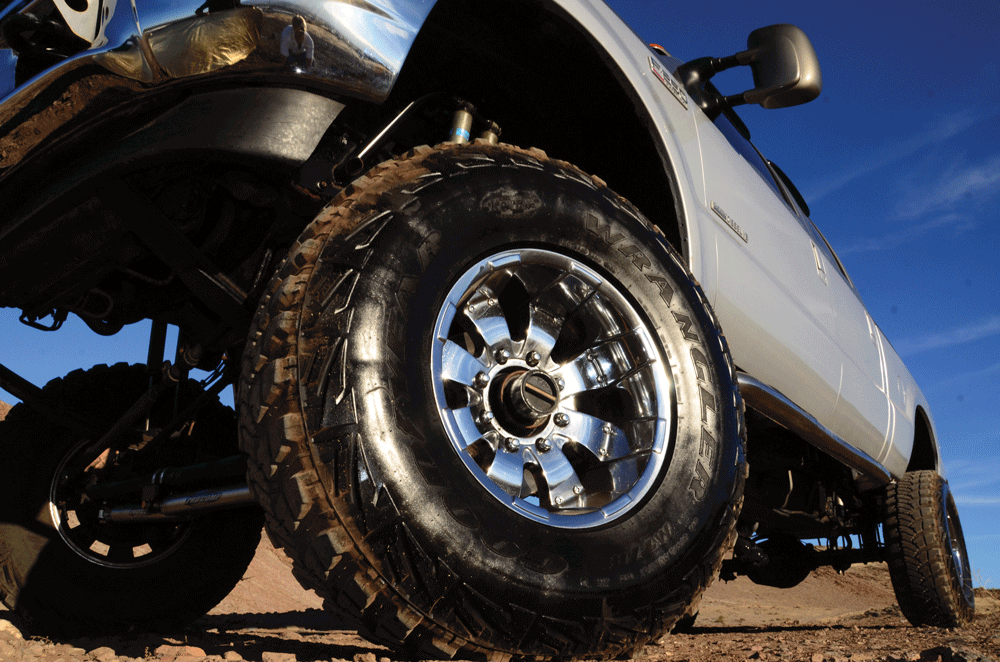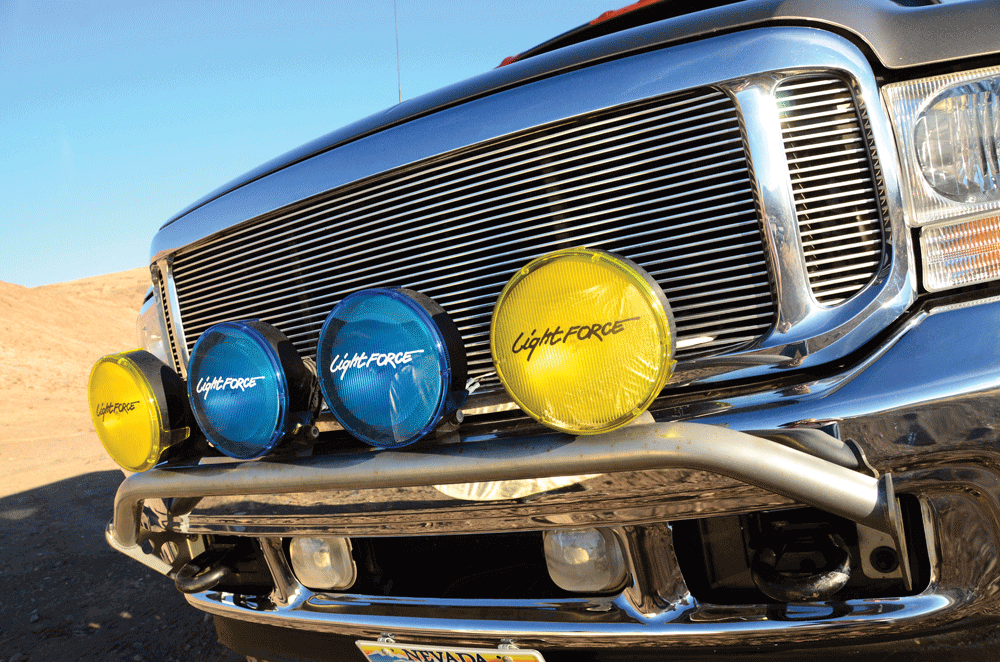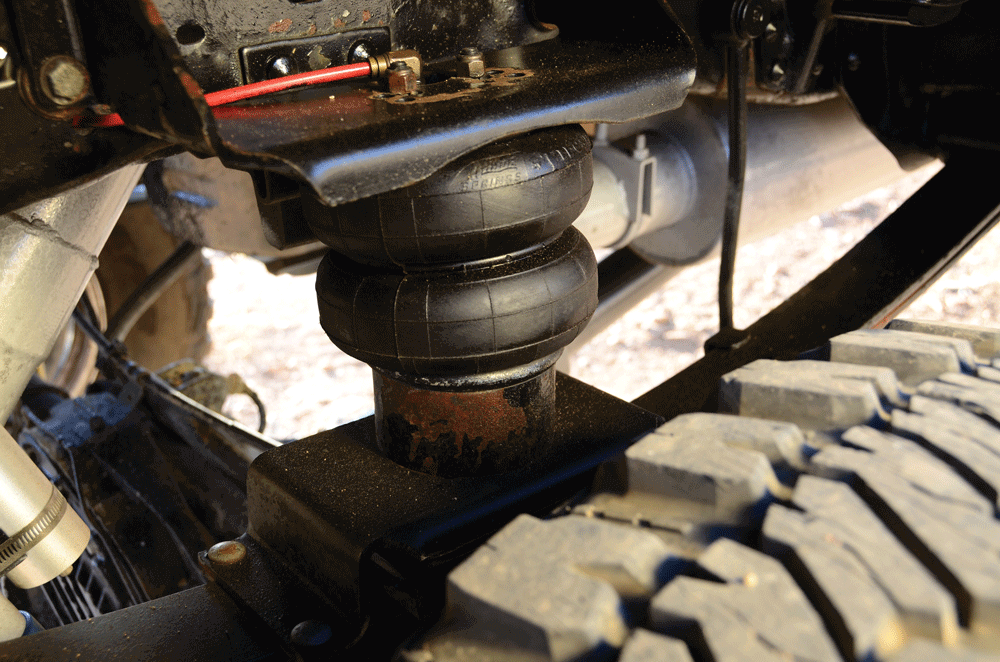 Next came the suspension upgrades, starting with a Pro Comp 6.5-inch lift. The five-leaf progressive-rate springs (replacing the stock two-leaf setup) make for a much softer ride, though it's still somewhat stiff. He increased this lift another couple of inches by adding drop brackets. The lift provides plenty of elevation to rise over a set of 37-inch Goodyear MT/R tires on 17-inch Mazzi Hulk chrome rims.
Steering response is improved with a Dual ProRunner stabilizer and adjustable track bar (for centering the axle in place), and enhanced the damping with a dual-shock hoop from Off Road Unlimited, fitted with Bilstein 5100 dual shocks, and Pro Comp's MX-6 remote-reservoir rear shocks in the rear. A set of Firestone air bags also keeps the truck level when a trailer is added.
Lastly, Verhoef put some extra shine on the Platinum with a KC Hilites light bar with four LightForce 140 lamps, backed by a Precision billet grille. The yellow-tint lights cut through thick fog, and the blue ones are for better vision in a blizzard. For even more illumination, in the rear are Recon LED taillights and tailgate bar. A Dee Zee EZ Down tailgate shock simplifies loading the cargo area, and Smittybilt nerf bars dress up the sides, and also make it easier to climb aboard the high-rise cabin. Inside, a set of Auto Meter Ultra-Lite pillar gauges monitors the diesel readouts, and there's switchgear for the lights and engine tuner.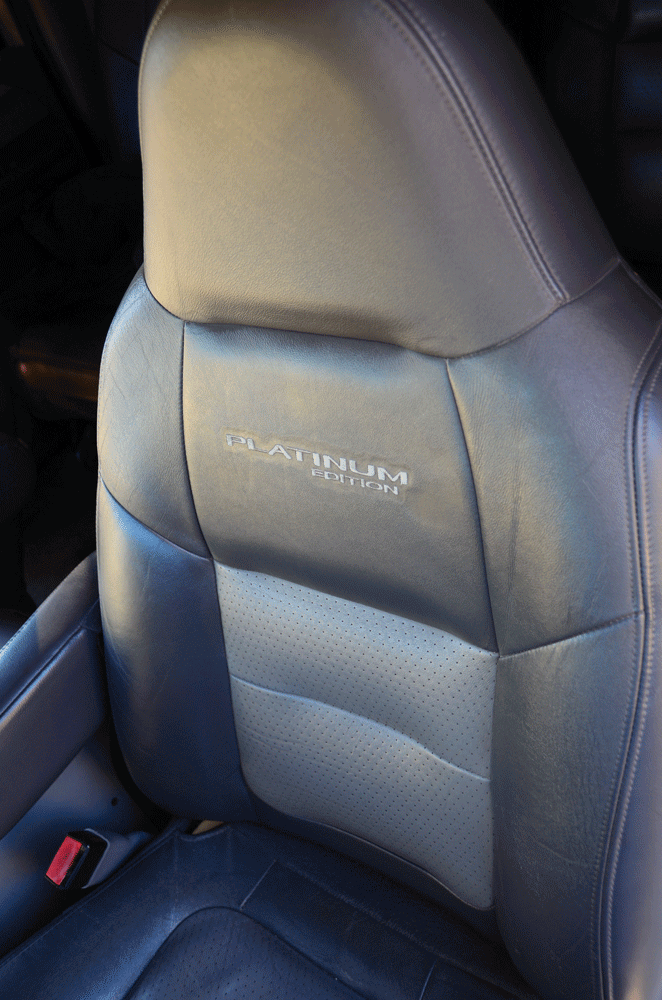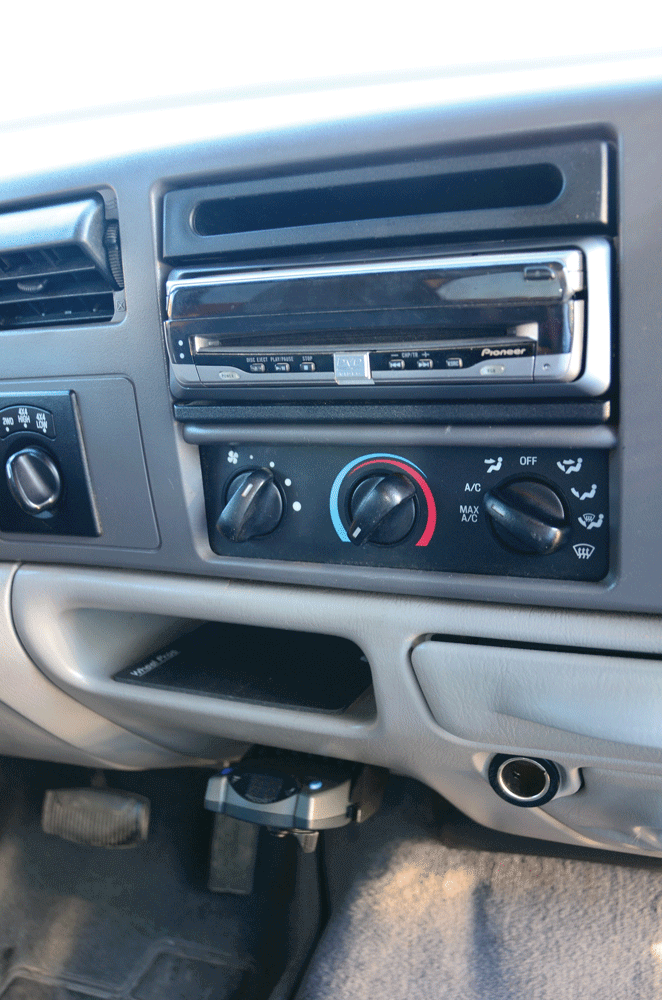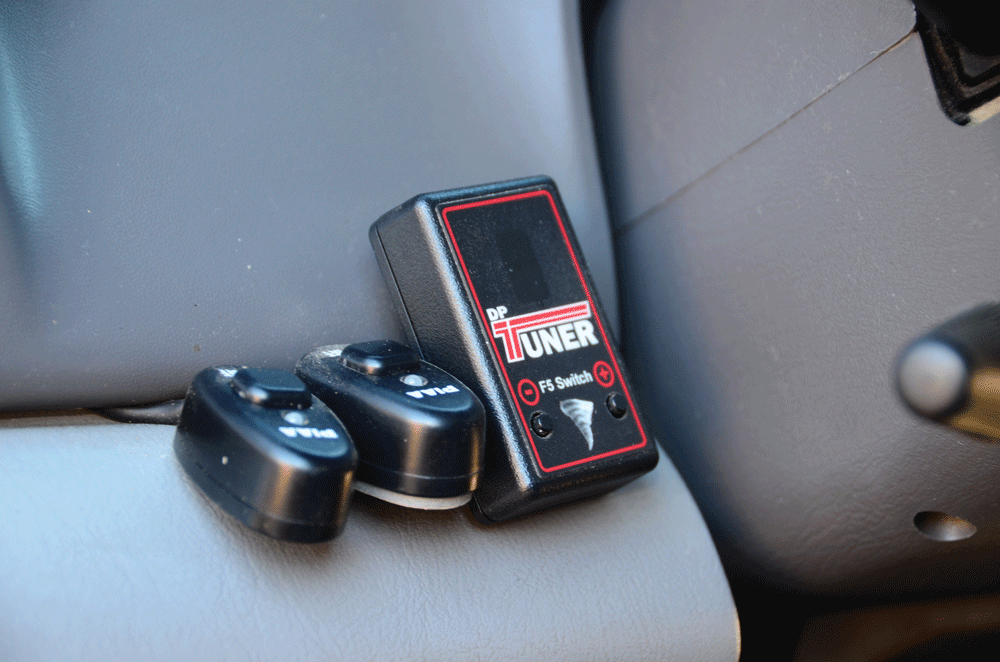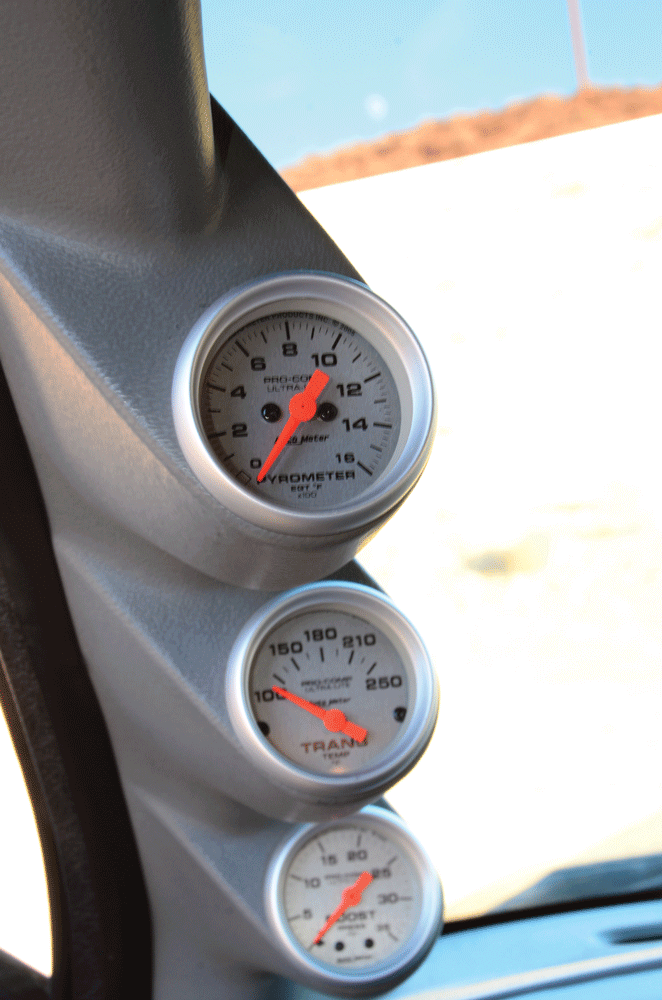 When it comes to using his rig, it was Verhoef's slog in a storm through Donner Pass that he really remembers. Even though it was dumping heavy snowfall, "We headed out because of this truck," he says with a note of pride, referring to the big tires, lift and lights that give him a good view ahead, plus plenty of grip in deep drifts. "I know I can make it through, whatever the mountain throws at us!" DW