The Big Three (Ford, GM and Ram) have been in a full-on diesel horsepower and torque war, with each company trying to outdo the other on a yearly basis. This means that the newest model trucks will often have the strongest frames, the best suspension, and the nicest interiors. Horsepower and torque are usually raised as well, which gives enthusiasts a great jumping-off point for added power. But, there are tradeoffs as many new truck owners are unwilling to modify their rigs past the basics of intakes, exhaust systems or programmers. 
This wasn't the case for Mike Dillehay of Moorpark, California, who came out swinging. His goal was to build up a brand new 6.7L Ford that could keep pace with all the modern muscle cars, despite its 7,980-pound curb weight. In factory form, the 6.7L powerplants are limited to around 450 rear-wheel horsepower even with a hot tune, and that wasn't going to cut it for Mike. So, he put his new truck under the knife with a goal of 12-second quarter-mile times, which would mean both the air and fuel systems would need to be addressed.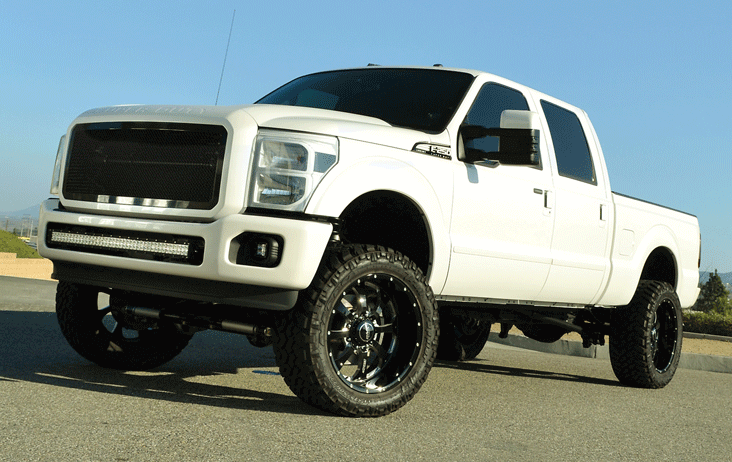 While the factory Power Stroke long-block remains stock, the rest of the engine has received numerous upgrades. An S&B intake system replaces the stock airbox for added flow, and sends air to a polished 64.5mm turbocharger from High-Tech Turbo, which was installed with a kit from Maryland Performance Diesel. The turbo then sends air through the factory intercooler, and into the engine via custom intakes from Elite Diesel.
On the fuel side of the equation, a second high-pressure supply pump is added in the form of a CP3 kit from H&S Performance. This pump works in unison with the factory Ford CP4 pump to ensure rail pressure remains rock solid. For programming, an H&S Mini Maxx with custom tuning from Elite Diesel works in conjunction with a TS MP-8 box to turn the truck into a rocketship. While the truck hasn't been on a dyno yet, it's conservatively estimated at 600 rear-wheel horsepower.
"With modifications to virtually every aspect of the vehicle, Mike's F-250 draws a crowd wherever it goes."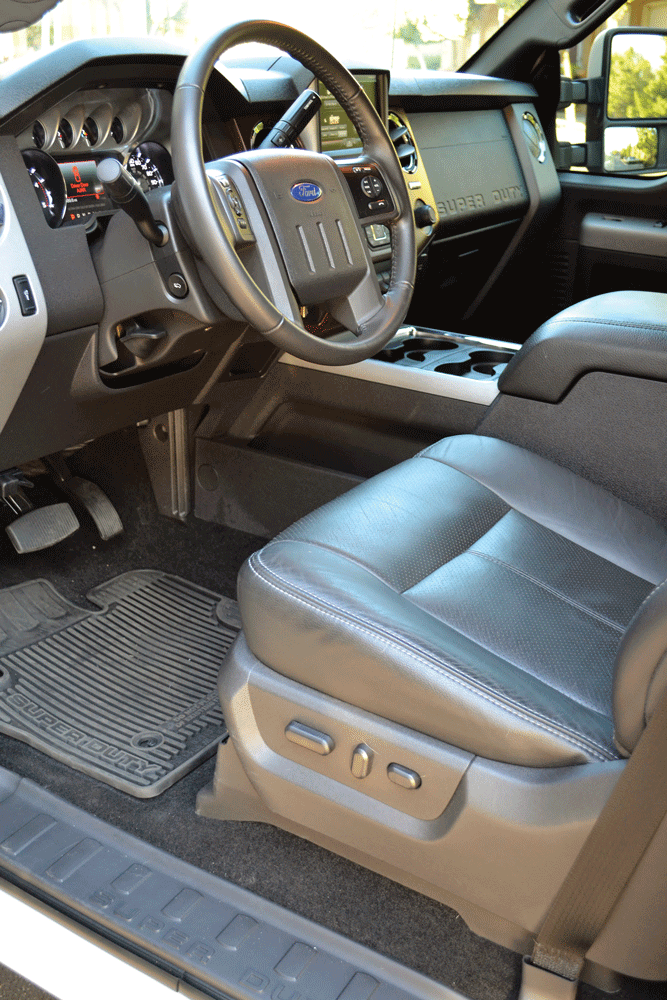 After Mike got the power number he was looking for, he then went about improving the truck's looks and non engine-related performance. First, a Stage 2 4.5-inch lift from Icon Vehicle Dynamics with Icon CDC piggyback shocks and dual stabilizers was installed, along with a host of suspension modifications from One Up Offroad. Out back, a set of OUO traction bars keeps axle wrap under control, while up front, a three-link conversion from One Up Offroad with an adjustable link arm keeps the front tires firmly planted to the pavement. Rounding out the chassis setup are four 325/50R22 Nitto Trail Grapplers, which are mounted on 22×10 BMF Novakane wheels.
With modifications to virtually every aspect of the vehicle, Mike's F-250 draws a crowd wherever it goes. Still, Mike has his eyes on a set of bigger injector nozzles and a larger turbocharger, proving there's plenty of room to grow on this one-of-a-kind Ford. Mike would like to thank Chad Saenz at Ultimate Truck, MPD, Elite Diesel, High-Tech Turbo, H&S, Icon, Amp Research, and One Up Offroad for all their help on the build. DW