'74 Bronco Beauty & Beast
This 1974 Bronco masterpiece is a story of diesel passion, and a project vehicle that sat for years. Paul Rutledge has always been a Bronco fan, and a forum thread by a guy back in 2003 who swapped a 4BT into a Bronco stirred Rutledge's imagination. That diesel swap project stuck in Rutledge's head for years until he finally found a Bronco with which to build his passion project in October of 2013.
The Beginning
The base truck only cost him $7,000, but he and his wife Naomi had to drive all the way to Oklahoma City from his home in Jasper, Texas, to get it—an 8-hour drive each way. The 1974 Bronco he found was just a shell of a vehicle; it wasn't running, it had cut-up fenders, and there was rust on the floors and other decay. The Bronco project sat in the back corner of Rutledge's diesel performance shop, Complete Performance, for years, as life, marriage, and owning a diesel shop kept him busy.
While the Bronco collected dust, Rutledge kept seeing amazing renderings and vehicle builds coming to realization over the years. In order to find the motivation to finish the Bronco project of his dreams, Rutledge turned to Kris Horton of Cars by Kris to create a rendering of his vision in May 2017. That rendering hung on Rutledge's fridge, a continual reminder that he needed to finish what he started.
Getting Started
One of the key features for Rutledge's vision was a custom set of Weld XT wheels. Specifically, he wanted to incorporate the new spin on an old-school Cheyenne wheel. A copy of the Bronco rendering was sent to Ryan Husted at Weld XT, who was instantly interested in helping get things moving—and to have the completed Bronco in the Weld XT SEMA Show booth.
It took from May to August to solidify a program and get moving on the build, which left only a few short months to put things together. Once Weld XT was all-in and the Bronco was to be featured at SEMA, a host of other sponsors jumped on board to turn Rutledge's vision into reality.
Just as the project was about to get going, Hurricane Harvey hit in late August, which set the project back a good three weeks with the massive flooding and the damage the storm created. Rutledge almost called off the build, but his brother and business partner Chris reminded him that the team at Complete Performance has pulled off bigger feats in the past and that they've never backed down from a challenge. The entire shop rallied to make sure the Bronco was ready for SEMA.
The Build
Most everything on this Bronco is custom built, from the frame to the engine and most of the accessories.  Rutledge's shop, Complete Performance, tackled the engine build and final assembly, with a host of other custom parts and projects on this build being left to other experts in the industry.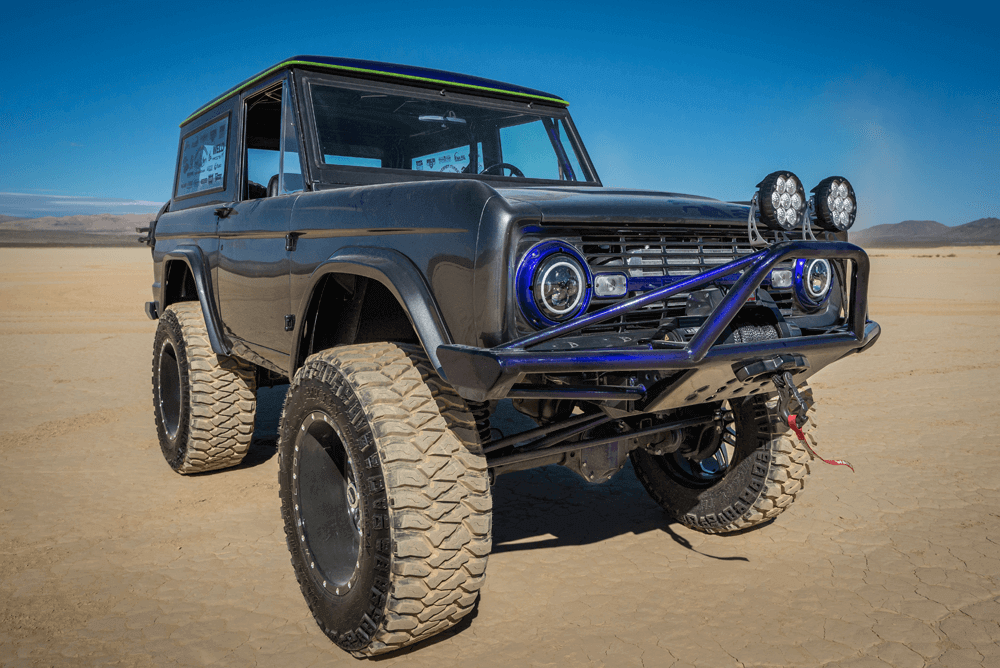 The project moved out of the back of Complete Performance and into Keen Customs. The project was too much of a distraction from the day-to-day work that keeps Rutledge's shop running, and the experts at Keen were able to devote the space and time to keep the project on schedule under the crazy tight SEMA deadline.
Powertrain
Complete Performance built out a truly one-of-a-kind performance 3.9L Cummins 4BT. The engine features Dynomite Diesel 90hp injectors, an Industrial Injection Boxer 58 Turbo with custom polished housing, an engine dress-up kit from Industrial Injection, a Steed Speed Custom 4BT manifold, Keen Customs intercooler and polished piping, Complete Performance polished injection lines, HUBB billet lifetime oil filter, and an AirDog DF-165 4G 100G lift pump. Besides making plenty of power and torque in anticipation of Rutledge's spirited driving, it also looks amazingly clean under the hood.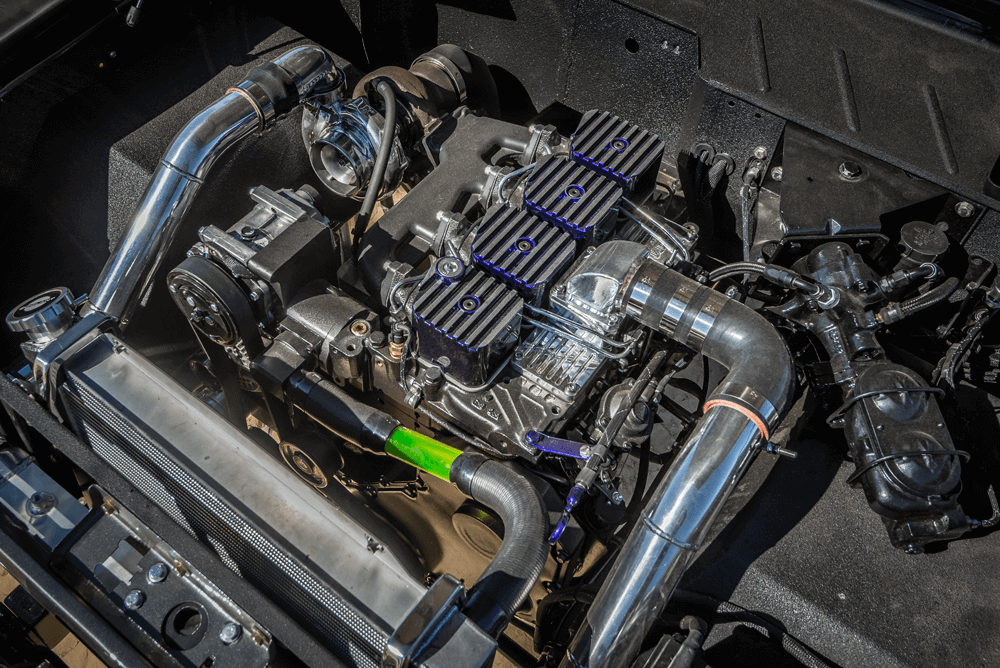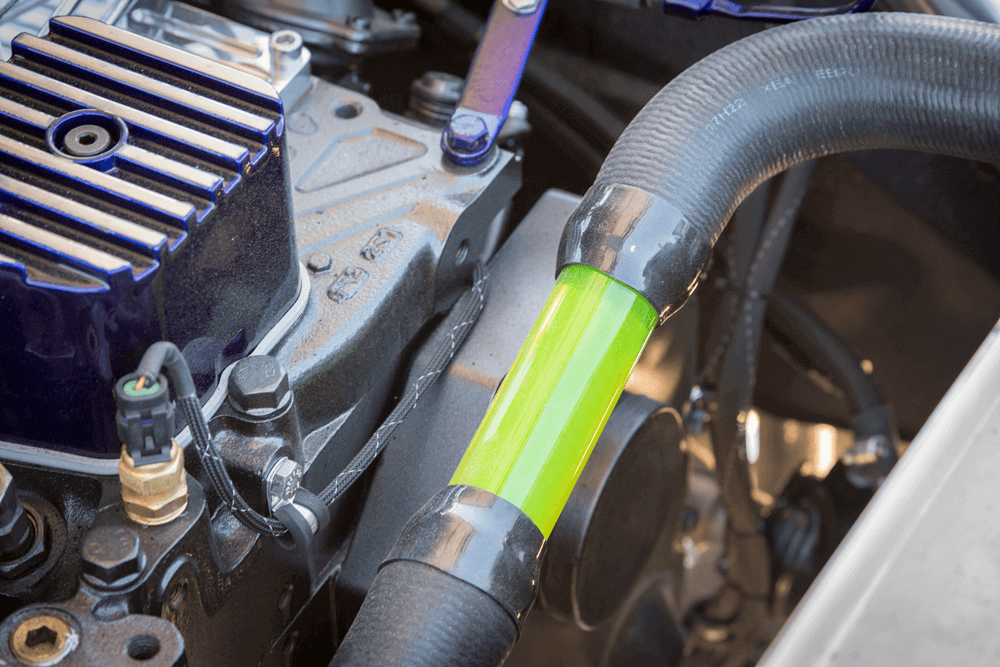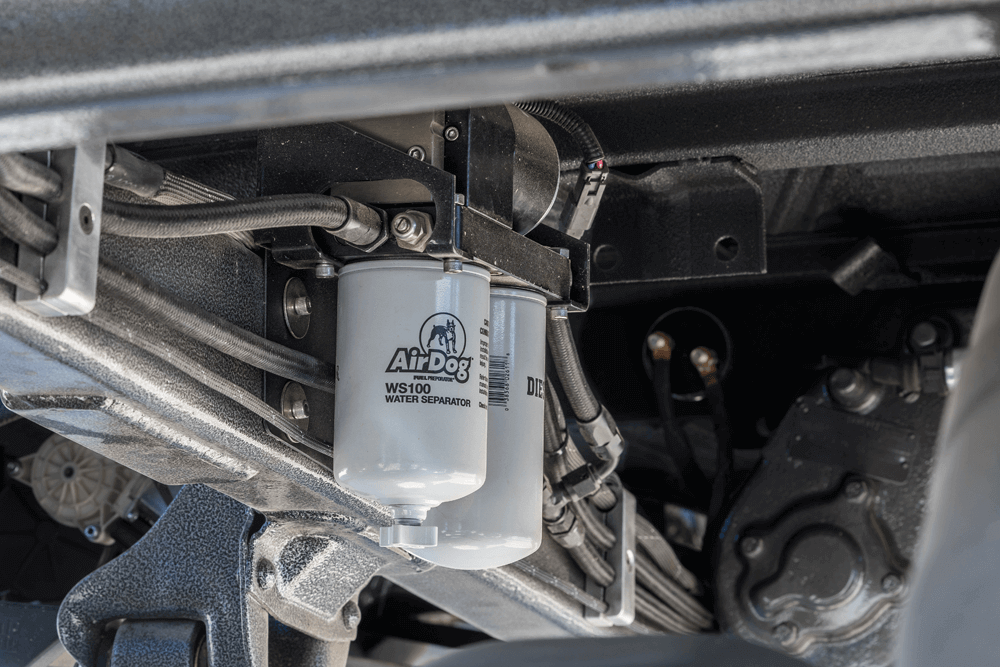 The transmission is a small-block Ford ZF5 mated to the original Dana 20 transfer case, as it has the best overdrive for highway driving along with the right ratios for the Cummins motor. To transfer the power to the ground, Rutledge utilized a custom-built clutch kit from Valair Clutches that was made to handle the power efficiently. This driveline is sure to be durable, fun and efficient.
Chassis
The frame wasn't in the best shape and needed to be fully upgraded to handle the diesel torque, rugged off-road terrain and new custom suspension. Rodney Keen of Keen Customs came to the rescue, boxing the frame ends, adding cross bracing, building custom motor mounts, creating a custom transmission cross member, and smoothing out all non-necessary holes. Custom suspension mounts were built to accommodate a 5.5-inch long-arm suspension kit with custom springs from James Duff. After the modifications were done, everything was sent to Fluid Industries, where Wade Abercrombie and his team spent countless hours powdercoating every piece, ensuring it could stand up to the harshest of conditions.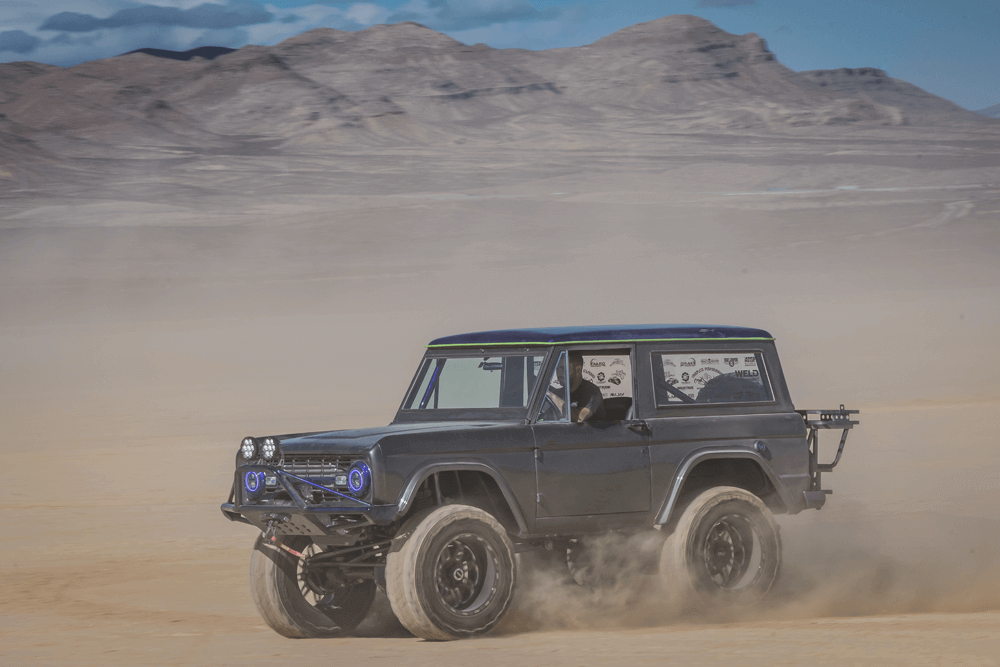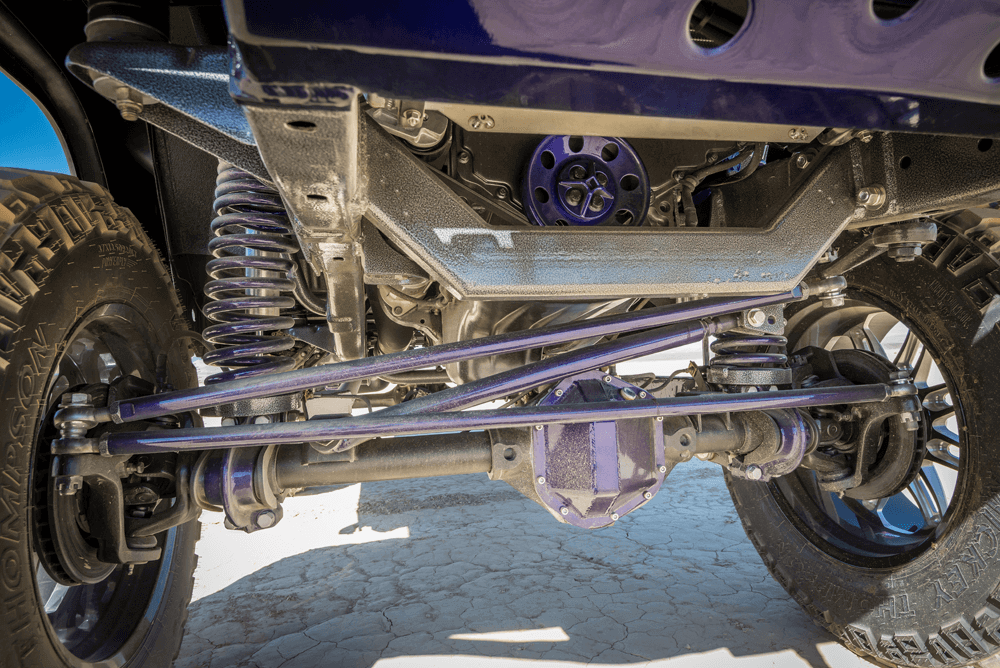 Factory axles, a Dana 44 up front and Ford 9" in the rear, were upgraded to better handle the Cummins power and geared to accommodate big tires and get the Bronco to stop on a dime. BC Broncos provided a four-wheel disc brake kit and the Bronco was re-geared with 5:13 cogs. A Bulletproof steering system with heims was also added to make this Bronco turn easily in any conditions.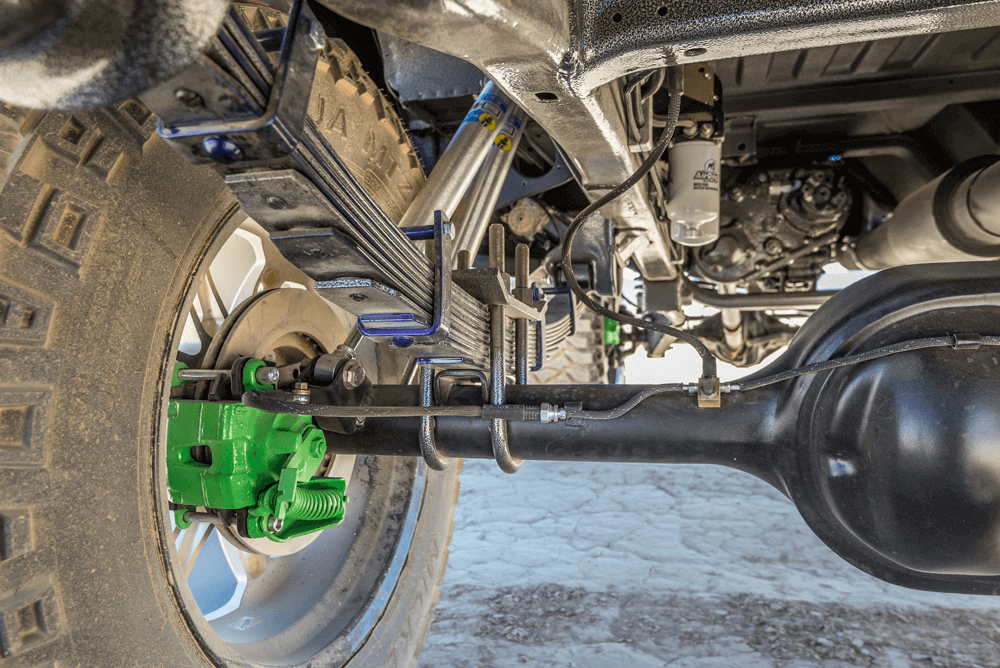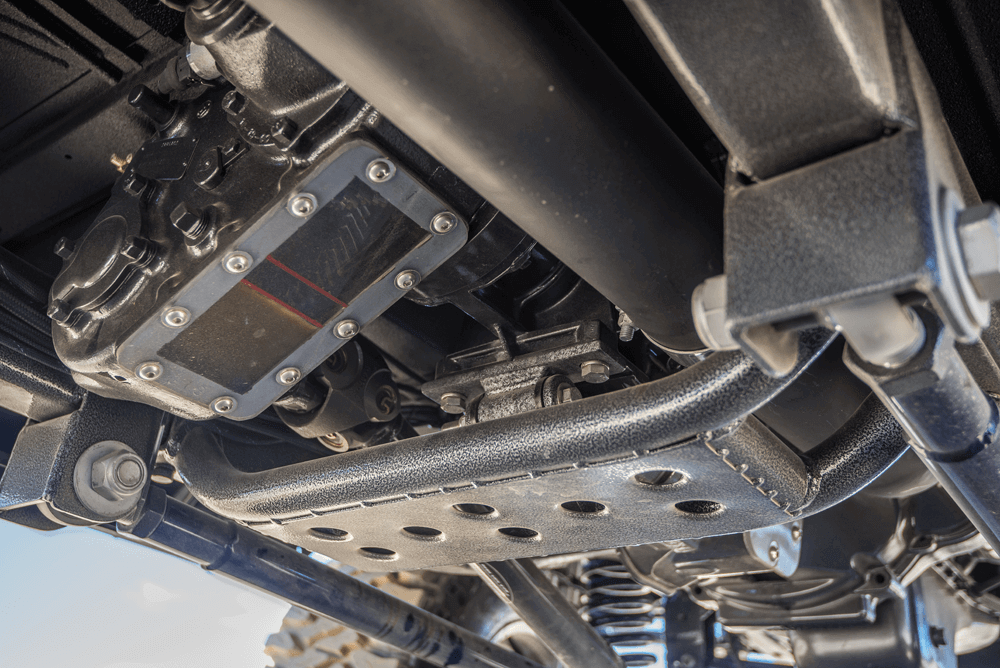 At the end of those customized axles are custom-cut Weld XT black and milled Cheyenne wheels with an 8-spoke design. Wrapping those beautiful modern interpretations of a classic wheel design are big 37×13.5" Mickey Thompson MTZ tires. This aggressive, bold package looks as good sitting still as it does crawling over boulders.
Exterior
The Bronco's body was in need of some serious work, as the fenders were cut up to make it a rock crawler by a previous owner and there were rusted areas and dents to address. Steeds Collision in D'Iberville, Mississippi, did all the body modifications and custom paintwork. Rutledge's gray, purple, and neon green paint scheme had many doubters, but the final look has impressed many.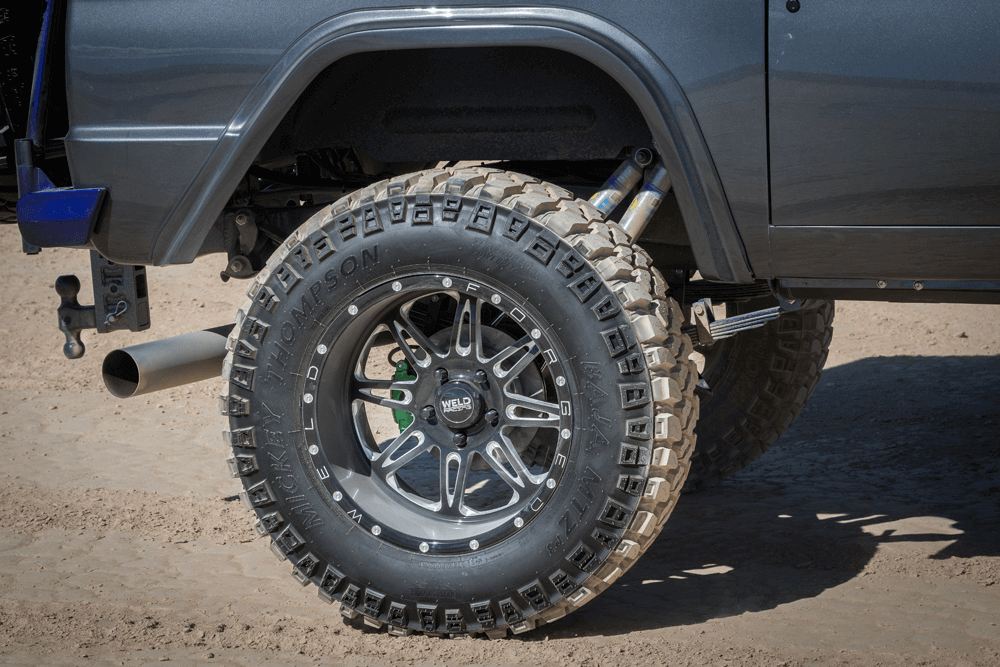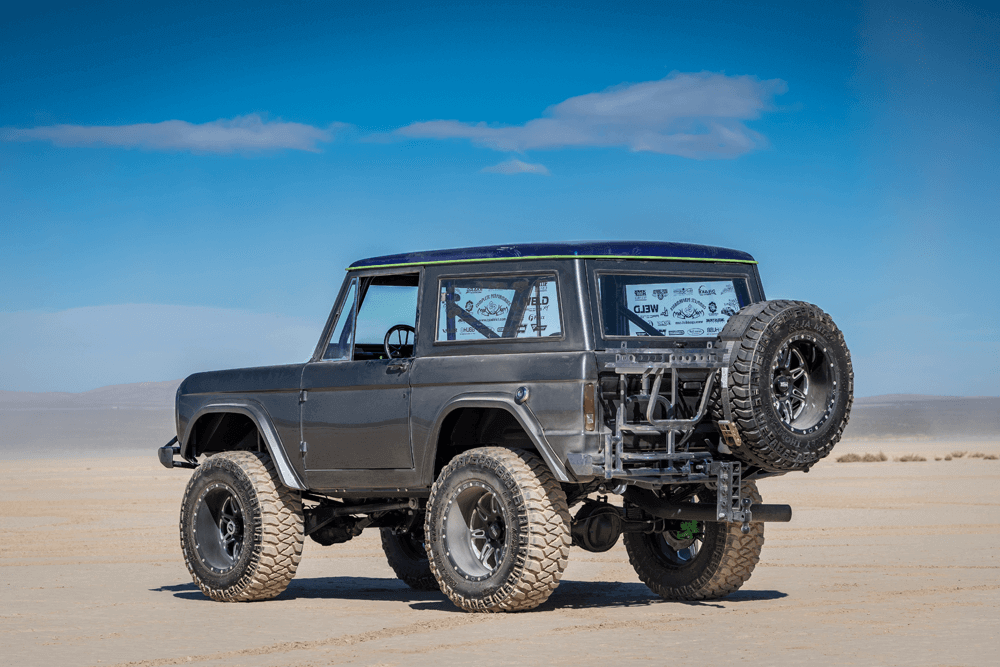 The bumpers were purchased used from a Bronco forum, but they were then fully customized by Keen Customs to Rutledge's specifications. The front bumper was modified to accommodate a Warn 9.5ti-S winch. The rear bumper was strengthened and modified to hold the 37-inch spare and a custom cooler and toolbox setup. A custom Gen-Y receiver hitch allows this Bronco to tow just about anything you can put behind it.
Interior
The inside of the Bronco is super tidy. The original Bronco seats have been re-covered in leather while the dash has been upgraded with a Dakota Digital instrument cluster, which works flawlessly with the diesel engine conversion and reduces gauge clutter. Finishing off the interior is a custom roll cage by Keen Customs.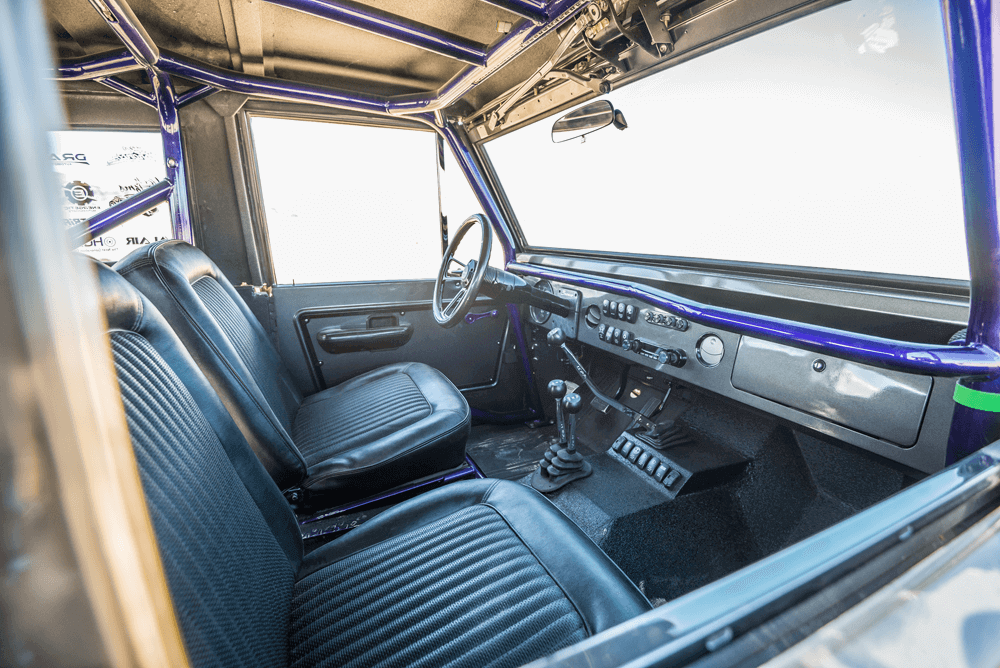 Finishing Touches
Attention to detail is key on a build like this, and under an insane SEMA deadline many things can get overlooked. Luckily for Rutledge, Christopher Nelson from Energetic Motorsports flew in from Colorado and lent a huge helping hand to bring everything together. Specifically, he did a full custom, super-clean wiring job on the whole truck, as well as ran brake and fuel lines. His tidy work not only brought the Bronco to life but also greatly enhanced the custom feel of the build.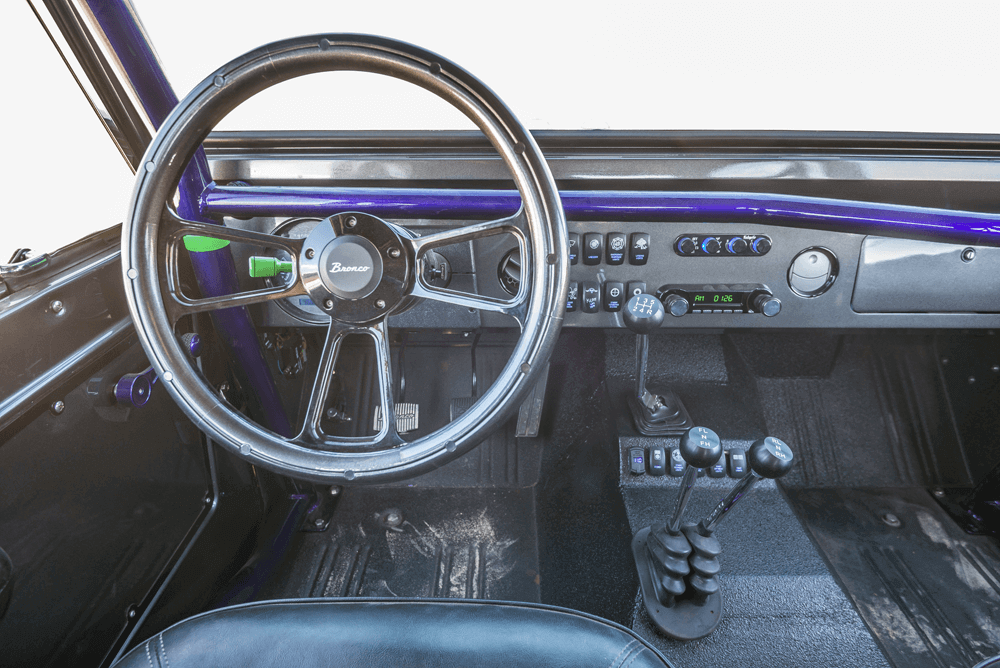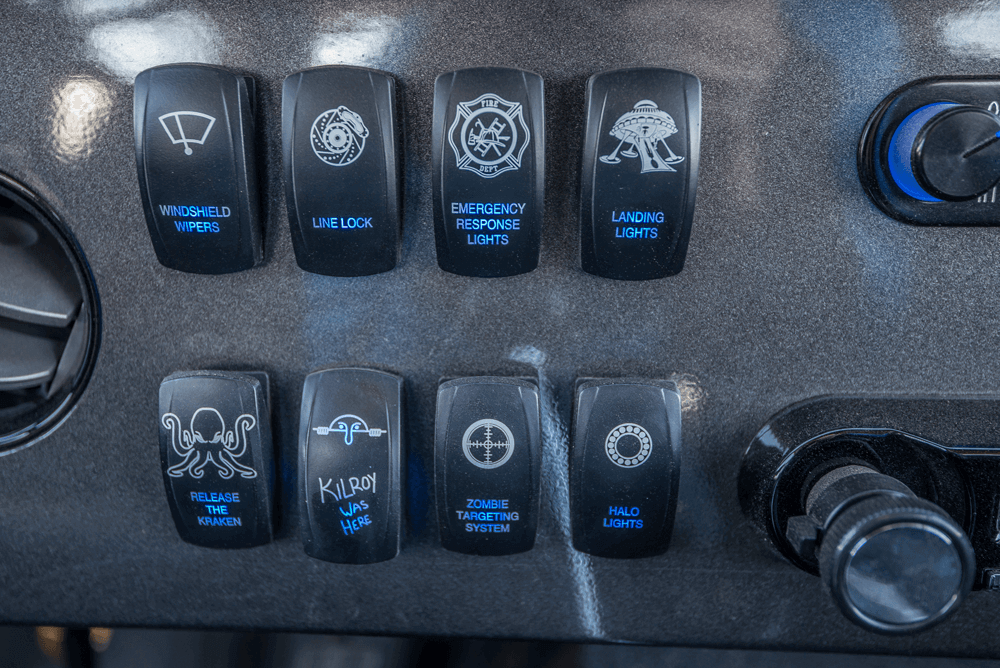 Part of that tidy wiring job was integrating a full compliment of LED lighting from Firewire LEDs. Headlights, taillights, rock lights and interior lights are all low-energy-consuming, high-output Firewire LEDs. A custom-mounted and modified set of powered AMP Research retractable steps—or as Rutledge calls them, "the wife mod"—make it super easy to get in and out of this lifted Bronco, while also not hanging down to get hung up on the trail.
Dream Come True
Rutledge's '74 Bronco dream project debuted to the world at the 2017 SEMA Show in the Weld XT booth. The whole project came together in only two short months after sitting idle for years. With the encouragement of his wife and family, harassment from his friends, and a host of amazing and generous sponsors, Rutledge was able to finally realize his dream diesel Bronco build.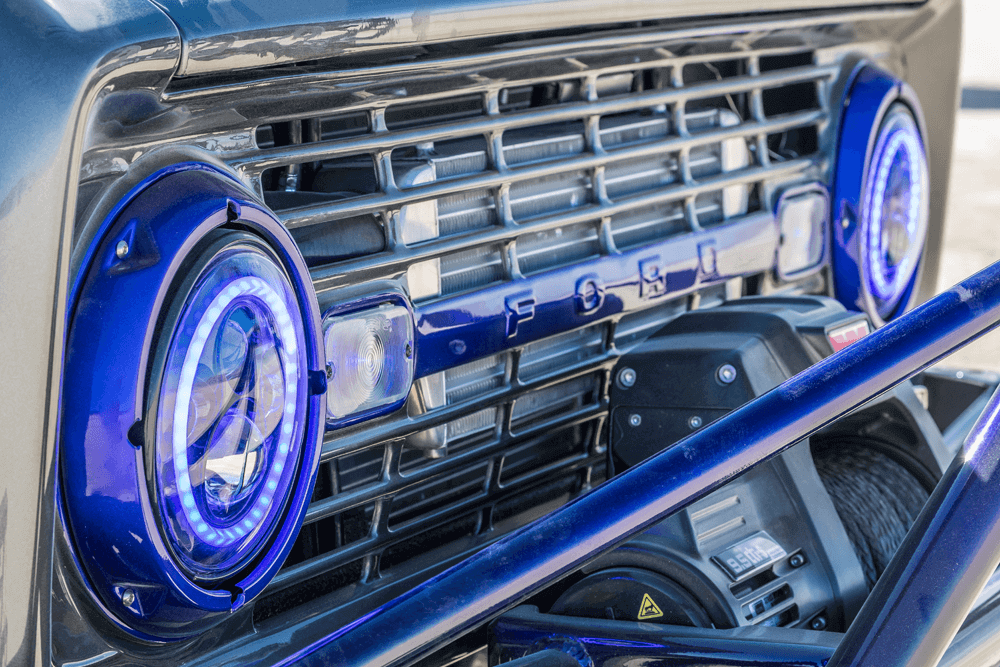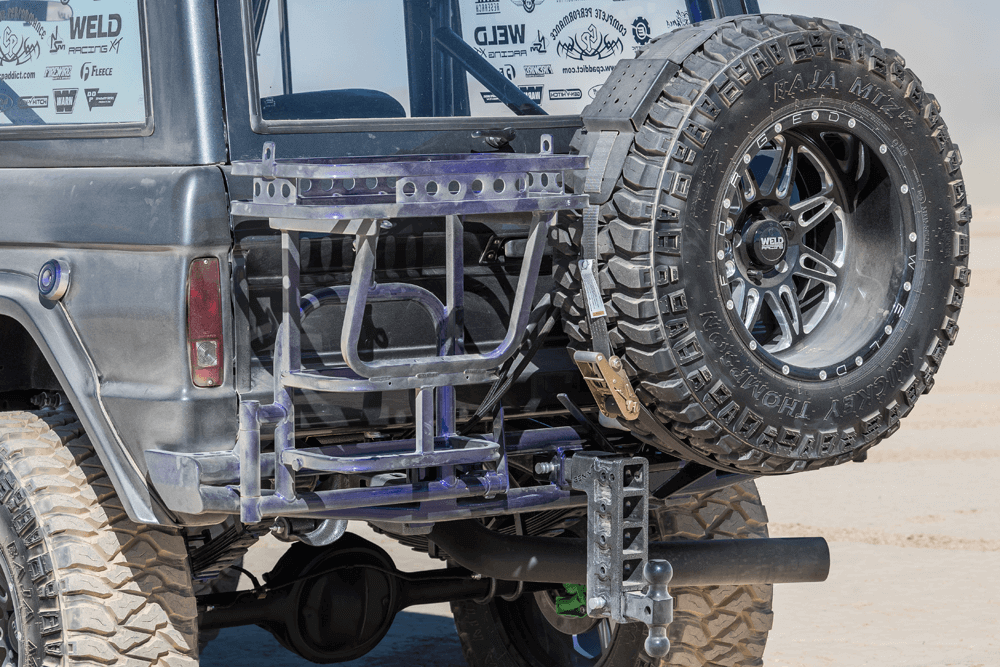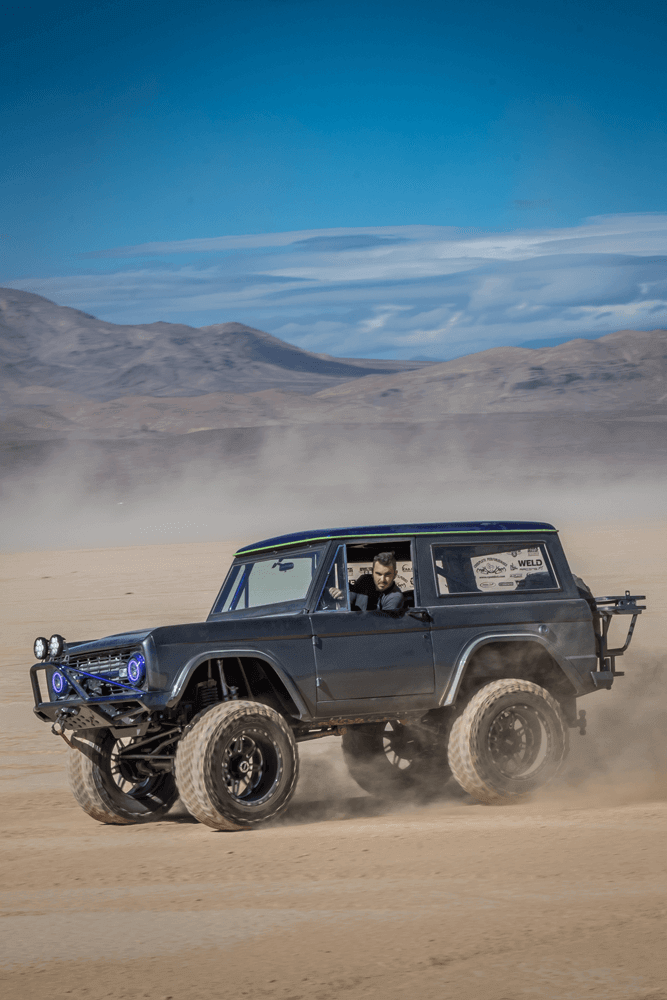 Since SEMA, the Bronco has received a few more finishing touches, like a custom-made S&B intake filter kit, and will be used primarily as a show truck over the next year. Rutledge plans to attend such shows as the Lone Star Throwdown, Carlisle All-Truck Nationals, ODSS events and many others. He also hopes to get the Bronco out on some off-road trails in 2019 and truly use the truck for what it was built to do.
[divider]  Specifications [/divider]
1974 Complete Performance Bronco
Engine: 3.9L Cummins 4BT, Dynomite Diesel 90hp injectors, Industrial Injection Boxer 58 Turbo (custom polished housing), Industrial Injection engine dress-up Kit, Steed Speed custom 4BT manifold, Keen Customs custom-built intercooler & polished piping, Complete Performance custom polished injection lines, AirDog DF-165 4G unit, Energetic Motorsports custom one-off wiring harness
Transmission: Ford small-block ZF5 w/ Dana 20 T-Case, Valair Clutches custom-built Ford small block to Cummins clutch kit for 400 hp
Axels/Brakes: Rebuilt Dana 44 & 9" axles with 5:13 gears, BC Broncos custom disc brake kit, Energetic Motorsports custom brake line setup
WHEELS & TIRES: Custom Cut Weld XT black & milled Cheyenne wheels w/ 8-spoke design (20×12, 51mm offset), Mickey Thompson MTZ tires (37/13.5/R20)
Suspension/Lift: James Duff custom long-arm 5.5-inch suspension w/ 2-inch billet body lift 
Interior: Factory re-covered black leather seats, Dakota Digital custom instrument cluster
Exterior: Custom body mods & paint by Steeds Collision, Firewire LED lighting (interior, taillights, headlights, rock lights, etc.)
off-road accessories: Warn 9.5ti-S winch, Modified off-road Bronco bumpers by Keen Customs, Krazy Beaver off-road shovel