Playing with trucks is an affliction that never ends. For most of us, we don't just build our trucks and then sit back and admire them. They're a constant work in progress with endless changes taking place throughout the course of ownership. No matter how good the truck looks or how well it runs, there is always a "next step."
John Thompson— a high-energy Duramax addict—illustrates this point to a tee. Over the past seven years his '08 Silverado 2500 HD has been lifted, lowered, sported large single-turbo setups as well as a compound arrangement, and has had parts combinations ranging from 600 to 1,100 rwhp thrown at it. Along the way, he's cracked a piston after pushing the stock LMM bottom end too far, snapped a crank at the 950hp mark, and been kicked off the dragstrip for going too fast. When it comes to pushing the limits, Thompson has definitely been there, done that.
After Thompson took past experiences with big horsepower (and the inevitable breakage that went along with it) and his desire to hook to the sled into consideration, he recently put the truck under the knife once more in order to find a happy medium. Reliability with respectable horsepower was the game plan. Thanks to the finished product sporting an overbuilt engine and driveline, this late-model Bowtie was successfully transformed into a competitive, 850hp 2.5 Class puller.
Billet, Forged, and Cast Parts
Built by Illini Outlaw Diesel, some of the industry's best aftermarket parts are put to use inside the LMM Duramax under the hood. A balanced rotating assembly consists of a brand-new crankshaft that's been keyed; R&R connecting rods; Diamond billet-aluminum, 15.5:1 compression pistons; and a Wagler Competition Products alternate firing order (keyed) camshaft, while an Industrial Injection girdle holds down the fort. A set of Wagler Competition Stage 2 heads, equipped with REV dual valve springs and incorporating Merchant Automotive's chromoly pushrods, clamp to the block via ARP Custom Age 625+ studs.
No Frills Fuel System
No competitive puller would be complete without copious amounts of fuel available, and a set of massive, 250% over injectors from Exergy Performance ensure that's always the case. The big sticks are supported by a Wehrli Custom Fabrication twin CP3 system that employs an Exergy 12mm stroker pump in the factory location and a stock LBZ pump up top. A Deviant Race Parts tank sump and a 220gph FASS system provide plenty of low-pressure fuel supply for the CP3s.
Innovative Turbo
As is the case in any air-limited pulling class, Thompson's Duramax is on the cutting edge as far as turbo technology is concerned. A competition charger from Diesel Technology Source incorporates a billet compressor wheel, ball bearing center cartridge, and an 87mm turbine wheel into a Garrett-based package. The turbo mounts to a Twisted T4 Pedestal from Wagler Competition Products and Wehrli Custom Fabrication intercooler piping routes boosted air in and out of a Banks Techni-Cooler intercooler.
Battle-Ready Allison
Just like the Duramax in front of it, the Allison 1000 was prepped for the rigors of sled pulling abuse by the folks at Illini Outlaw Diesel. A GMax-6 clutch kit from SunCoast along with billet input, intermediate, and output shafts reside inside the six-speed automatic, while a 2,800rpm stall Precision Industries tripledisc torque converter handles power transfer and brings the 2.5 charger to life at the right time. Thompson utilizes an AlliLocker from Fleece Performance Engineering to control converter lockup, and all ECM and TCM tuning was performed by DuramaxTuner, with the truck laying down 854 hp on the company's in-house chassis dyno.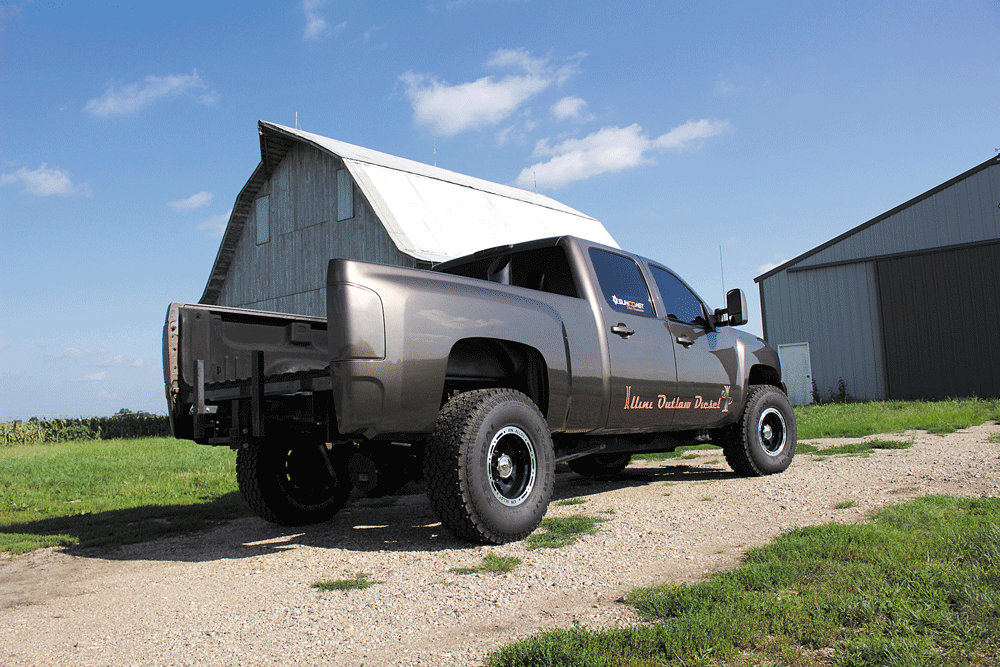 Dedicated
Despite owning a truck that's worn many hats over the years, Thompson tells us he's content leaving it set up as a dedicated 2.5 Class contender for the long-term. However, that doesn't mean he's done making changes. Before the 2017 pulling season gets underway, he plans to rework the rear suspension and install the latest and greatest 2.5 charger on the market. Like we said, no matter how good the truck looks or how well it runs, there is always a "next step." DW