Rodney "Smoke" Christine of York, Pennsylvania, has always been a motorhead. He campaigned a late model dirt car locally for years. To haul his dirt racers, he bought a 2006 Ram 3500 dually, and not being one to leave anything stock for long, he and his wife Julie, along with plenty of help from Young's Diesel Performance and Smokey Hollow Performance, started to customize the truck to fit their needs and wants. Today, the dirt racer is long gone but the diesel is alive and well.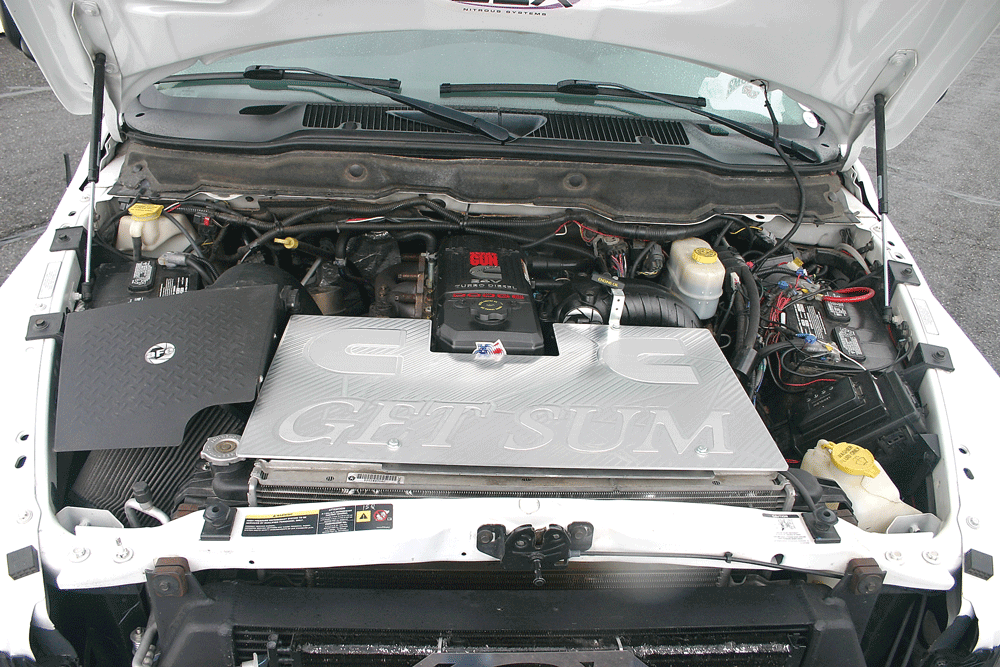 Smoke's dually rides at stock height, but is fitted with a set of 17-inch Ultra wheels wrapped with 35-inch Mud Claw rubber. Luckily, the truck boasts 3:73 gearing for better freeway mileage. Also helping with mileage and keeping the engine at the proper temps both in cold and hot weather is a set of Flex-a-Lite cooling fans that replace the power-robbing stock fan and fan clutch assembly.
Speaking of power, Smoke bought the truck because it came with the bulletproof 5.9L Cummins. And based on his knowledge of the relationship between modification and reliability, he opted to use tried and true methods to turn up the power on the Cummins. On the air side of things, the stock Holset turbo gets fresh air from an aFe intake system and intake manifold. Exhaust is routed out via a turbo-back aFe exhaust that culminates in a 5-inch stack.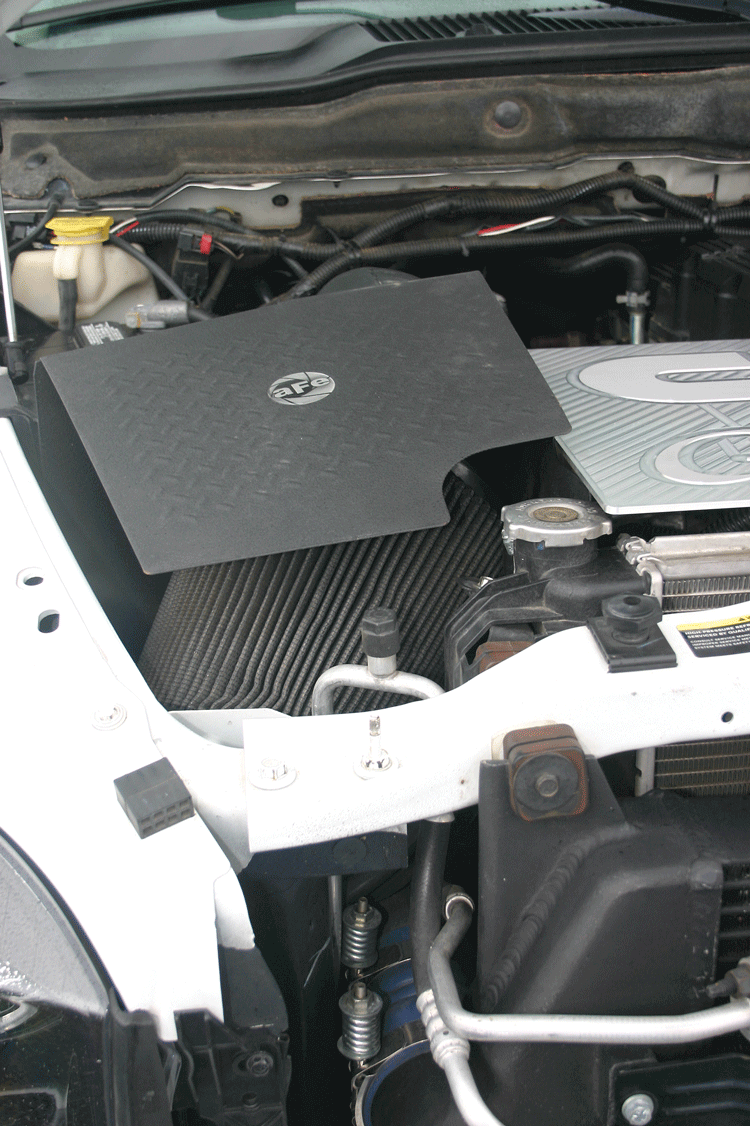 Fueling is courtesy of an AirDog system, which pushes clean fuel forward to an Industrial Injection CP3. From there, it goes into the engine via 120 horse injectors. To cut down on the smoke, and add another quick 300 horses, Smoke added a ZEX nitrous fogger system. A functional ram-air hood helps reduce under-hood heat while an electric water pump keeps a constant flow of coolant going through the engine.
Backing up the Cummins is an ATS trans installed and upgraded slightly by Young's Diesel Performance of Brogue, Pennsylvania. Young's also had custom front and rear driveshafts made for the Ram as extra added insurance during sled pulling.
"On the air side of things, the stock Holset turbo gets fresh air from an aFe intake system and intake manifold."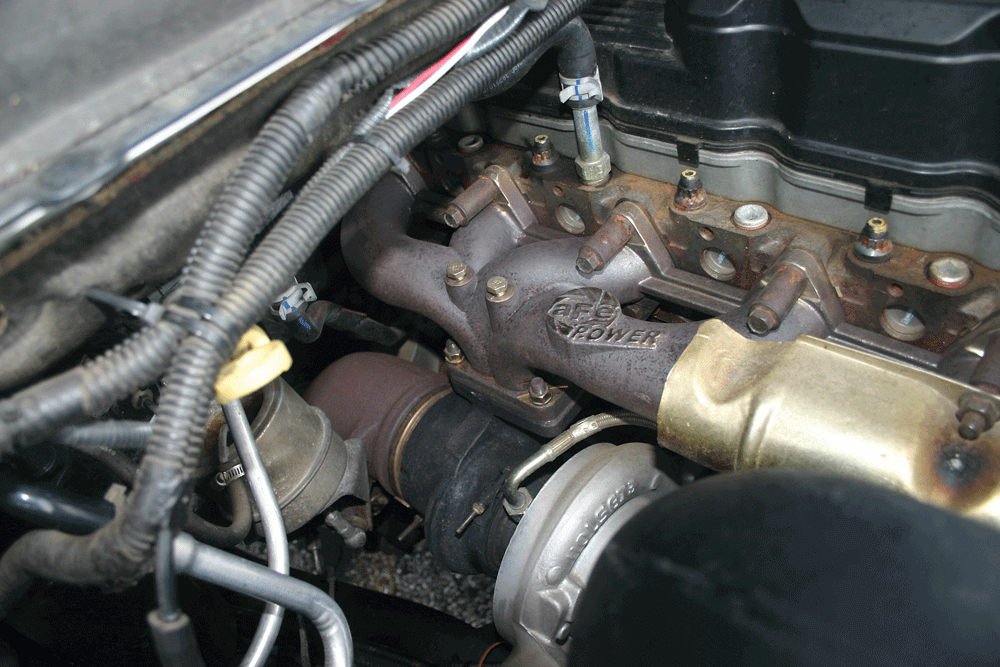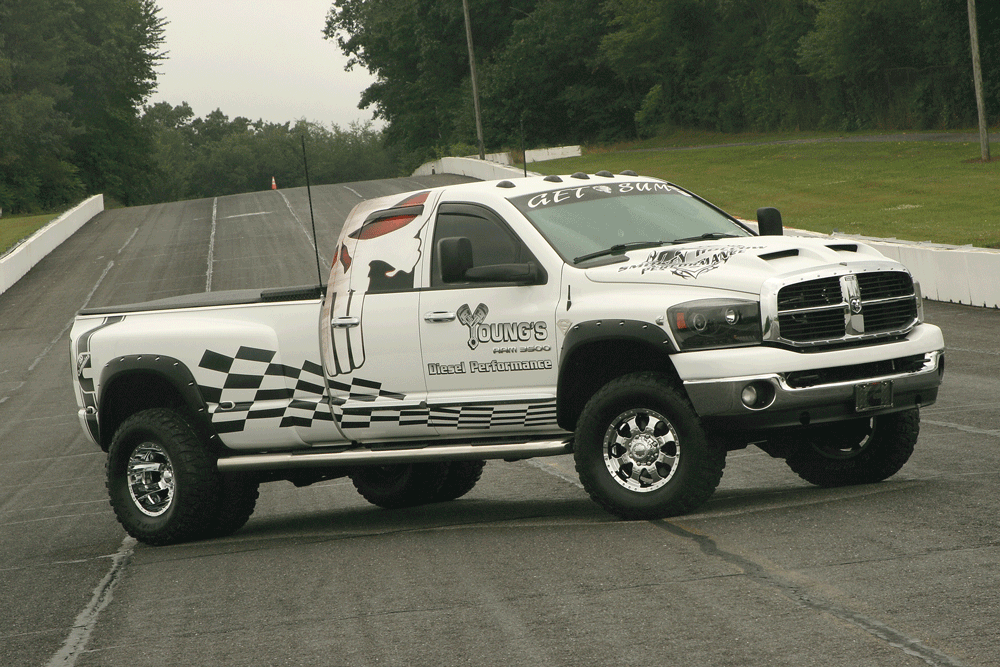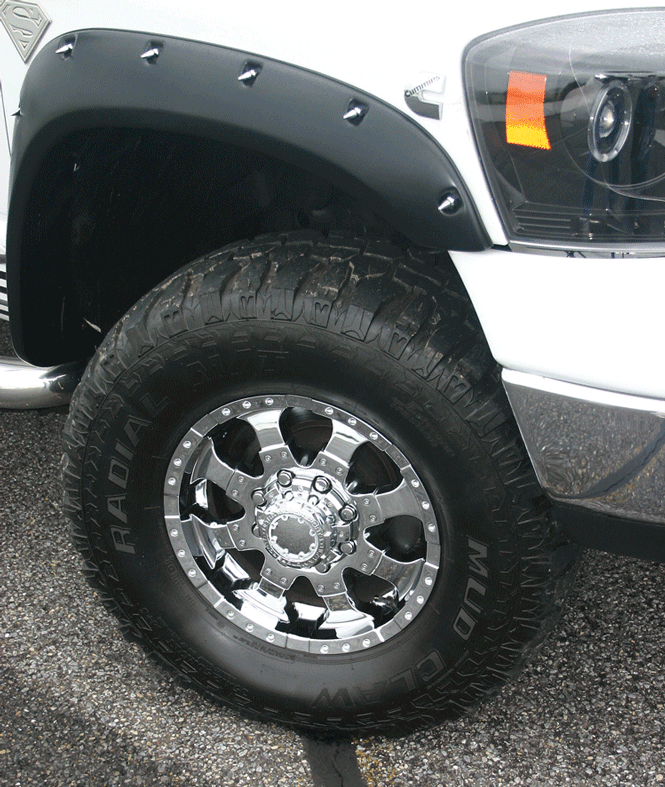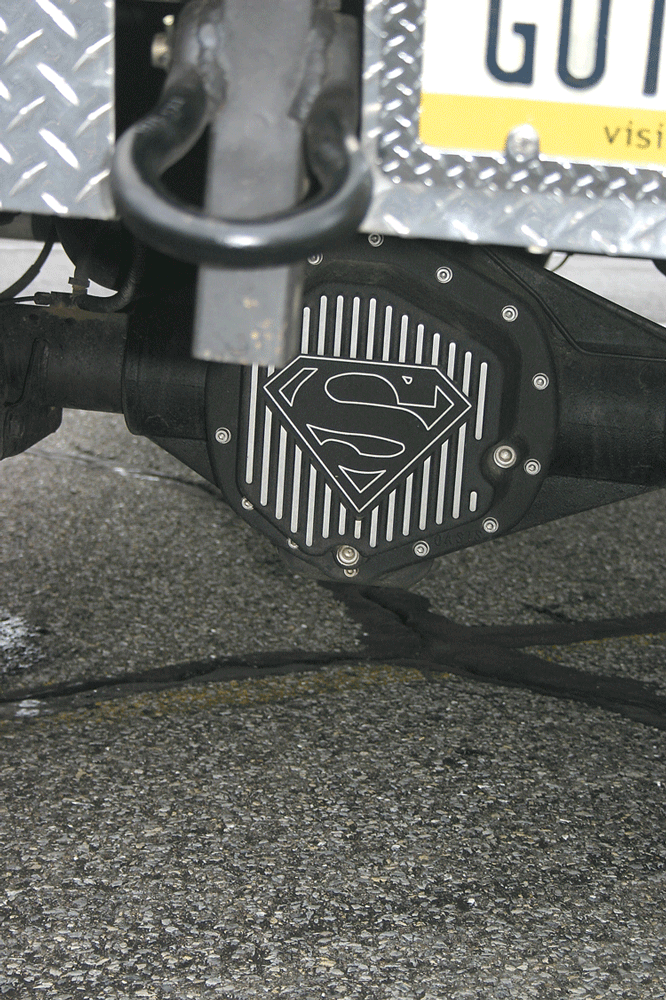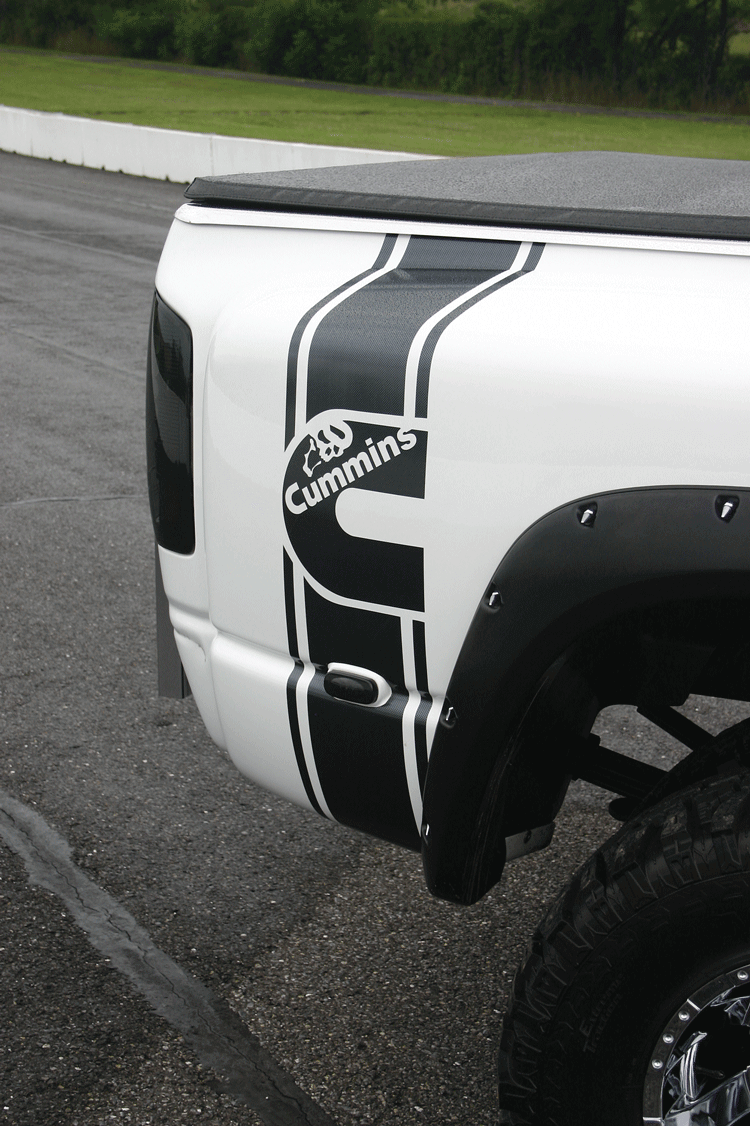 Visually, the truck is an eye-catcher, featuring a custom wrap and graphics package from Shaeffer Signs of York and Lambo-style doors courtesy of Smokey Hollow Performance. A fiberglass ram-air hood routes fresh air into the engine bay. There are plenty of subtle and not-so-subtle custom touches on the truck, including a polished aluminum engine cover under the hood, diamond plate roll pan and trick square-tube bumpers, Recon lighting all the way around and a tri-fold tonneau cover that works with both the in-bed toolbox and stack.
On the inside, things are just as custom. A billet pedal kit covers the stocker and billet switches are mounted in the dash to activate different systems on the truck, such as the NOS system and trans torque converter lock. A dash-mounted Edge tuner helps keep track of vitals and offers different power levels. Seating is custom two-tone leather, while a stock premium head unit pushes signals to a 2,000-watt amplifier, Infinity speakers and two 12-inch subwoofers.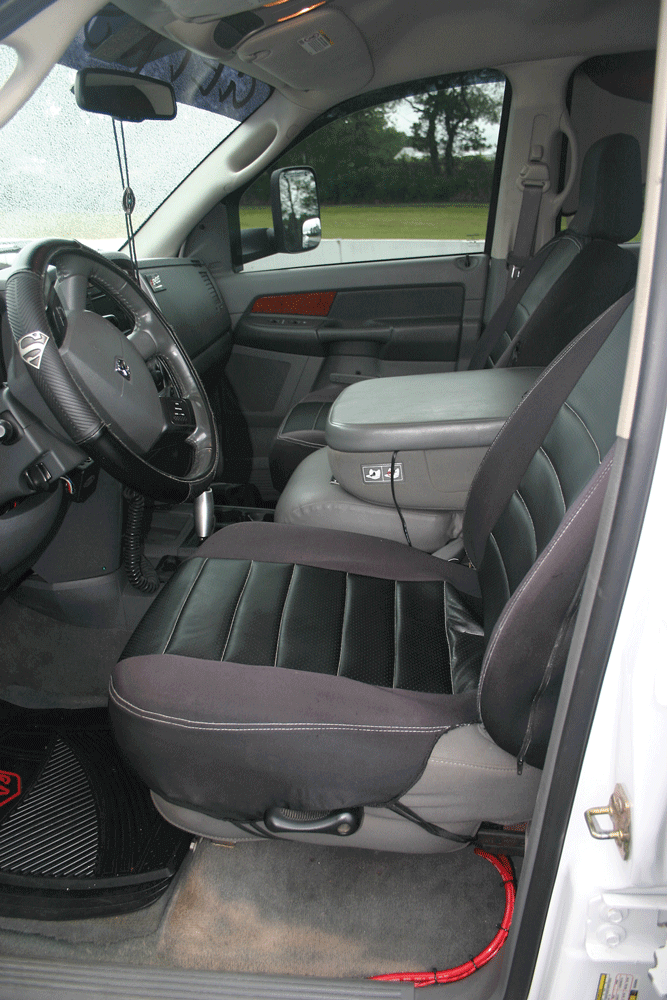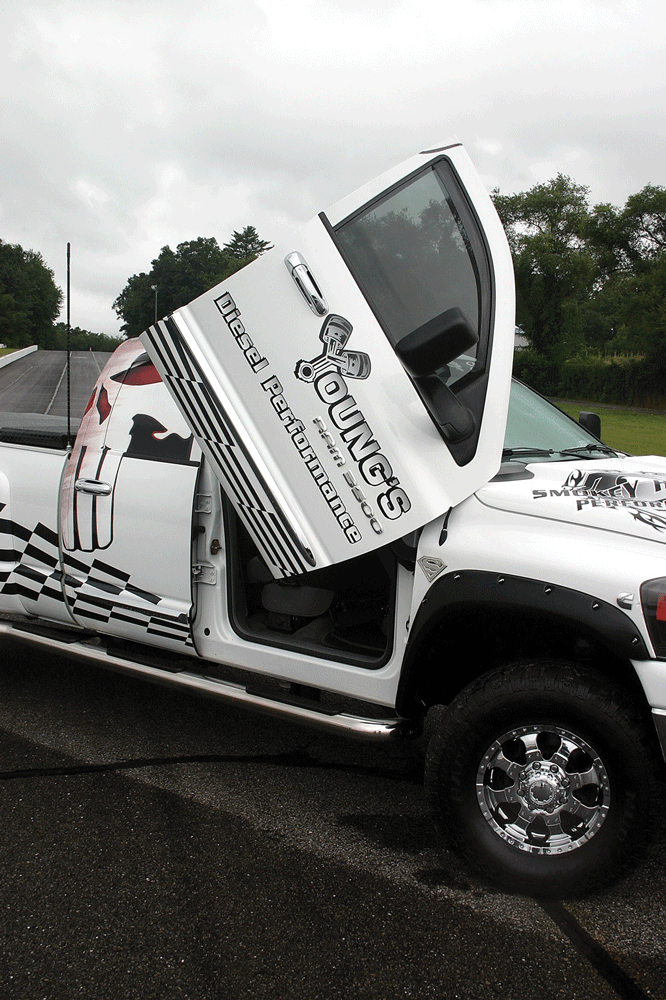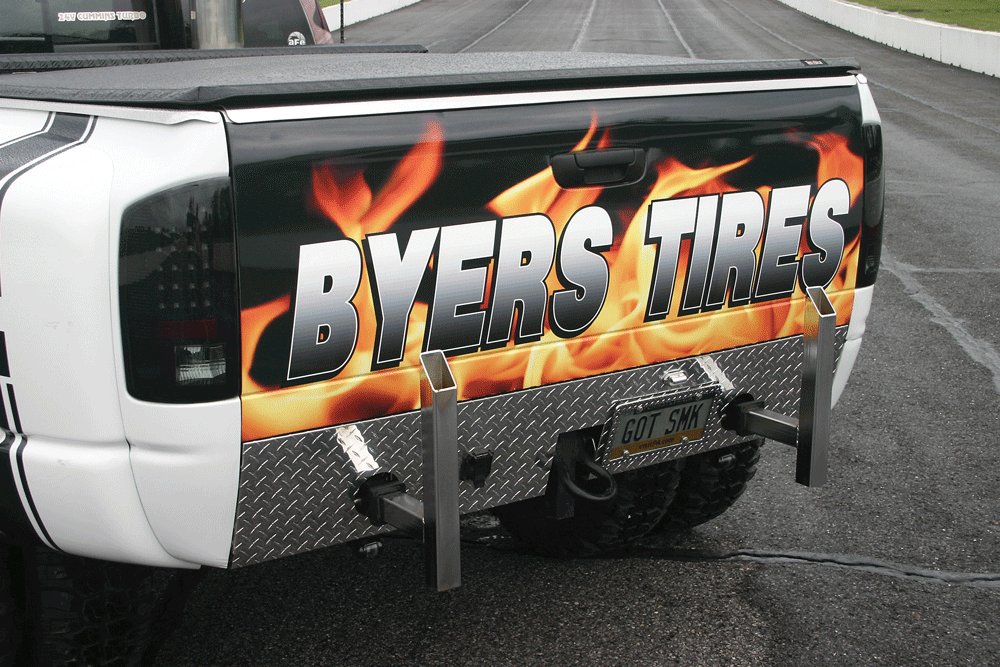 "I used to use this truck as my hauler for my late model dirt car," Smoke admits. "But now, it's just my daily driver and I use it for sled pulls on the weekend now and then." DW