Day Two: Drag Racing
The day following the dyno competition, it was time to put the power to the ground at Rocky Mountain Raceways. The competitors that were left would be pitting their rides against 1,320 feet of dragstrip, where not only power, but traction, shifting, weight, and strategy would all come into play. The competitors could switch tires from the dyno to the dragstrip, which meant we saw a number of pickups on slicks or drag radials.
We saw a number of trucks off to a slow start (literally) during the 4-hour session on the track, as it took a while for the drivers to dial-in both their trucks and themselves. Initially, Chris Rosscup had one of the faster passes with a low 11-second run, until "Idaho" Rob blasted off a low 10-second run. As the afternoon turned into evening, the participants got their launch strategies dialed in, their spooling and shifting issues sorted out, and started to bring on the power. When the dust cleared, we were left with one 8-second run, six 9-second passes, and a number of trucks in the 10s.
We also saw some shake-ups in the standings, as first place dyno winner Shawn Baca only managed a 15th place finish on the track. At the other end of the field were folks like Andrew Tovornik, who had been 18th on the rollers, but managed 2nd on the track. Lavon Miller, Derek Rose, and Ryan Milliken all had strong finishes, which meant it looked like a Cummins shootout as competitors made a mad thrash to get ready for the next event—the sled pull. DW
"When the dust cleared, we were left with one 8-second run, six 9-second passes, and a number of trucks in the 10s"
UCC 2016 Results:
1 – Lavon Miller – 8.50
2 – Andrew Tovornik – 9.37
3 – Derek Rose – 9.464
4 – Justin Hyatt – 9.468
5 – Rob Coddens – 9.49
6 – Ryan Milliken – 9.61
7 – Randy Reyes – 9.62
8 – Donavan Harris – 10.21
9 – Jesse Warren – 10.44
10 – Chris Rosscup – 10.48
11 – Ryan Landefeld – 10.78
12 – Aaron Rudolf – 10.93
13 – Zac Fuller – 11.09
14 – Dustin VanWingerden – 11.20
15 – Shawn Baca – 11.23
16 – Dan Madden – 11.41
17 – Shawn Ellerton – 11.44
18 – Aaron Wiebe – 11.52
19 – Craig Briggs – 12.45
20 – Daniel Pierce – DNF
21 – Chavis Fryer – 22.65
#21 Chavis Fryer–DieselSellerz.com
Duramax – 22.65 @ 37.43 mph
For the second day in a row, Chavis and crew had a tough time, with their '01 Chevy that just wouldn't co-operate. When the Duramax-powered ride rolled in late, we had high hopes that they had solved their transmission issues. It seemed that they had, but the truck never made and boost, and sounded like it was missing the whole way down the track. The drags were the last event for the DieselSellerz crew, who threw in the towel rather than sled pull their drag truck.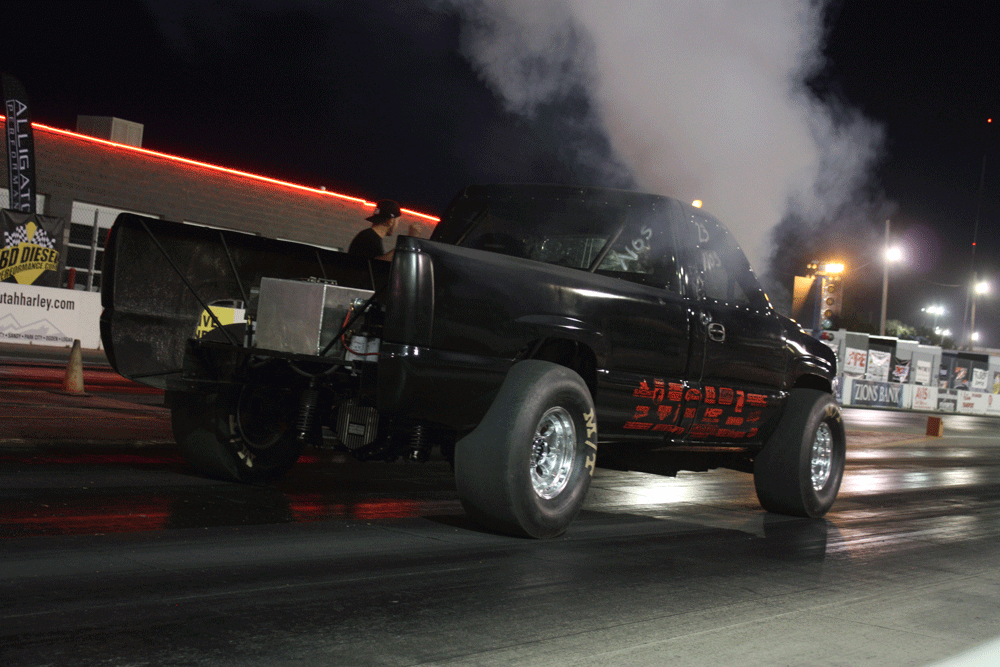 #20 Daniel Pierce–Power Source Diesel
Cummins – 21.84 @ 51.89 mph
After finding a new engine, rebuilding it, and fire ringing a new head after his "dyno mishap," Daniel Pierce actually wasn't looking too bad for UCC's dragstrip day. Unfortunately, one of the few things they didn't replace was the turbocharger, which ended up being damaged and not making any boost. Daniel trudged down the dragstrip to a second-to-last place finish.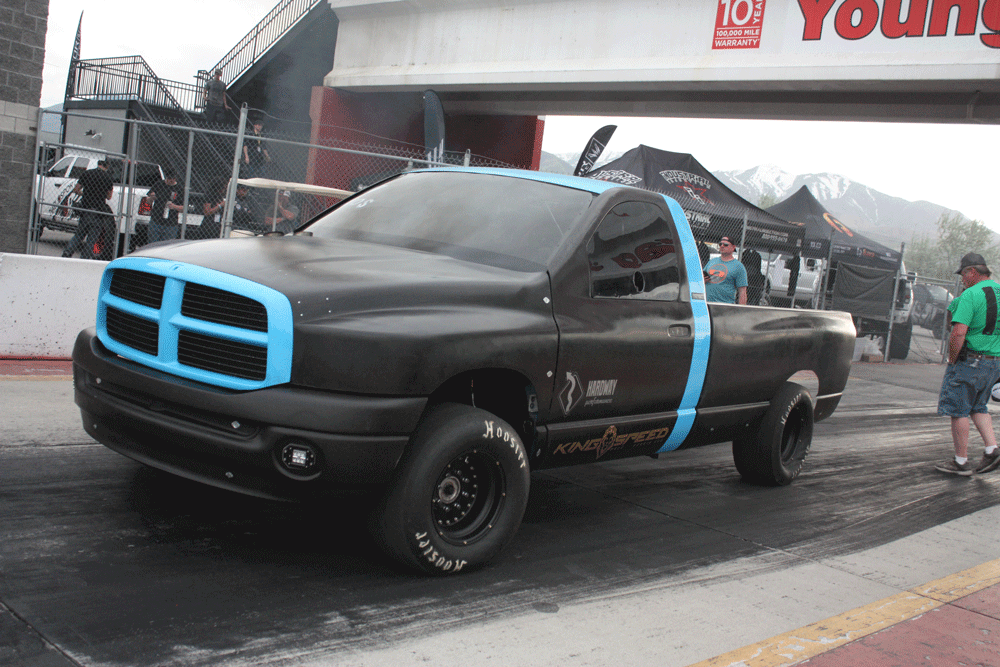 #19 Craig Briggs–Maryland Performance
Power Stroke – 12.45 @ 114.06 mph
Onto the trucks that were sort of, kind of running right, Craig Briggs snagged 19th place with his '11 6.7L Power Stroke. Running 114 mph in the quarter mile didn't mean the truck was healthy though, as Craig was miles away from what the Ford should have run. Since Craig knew the truck was hurt, he only made a couple of passes.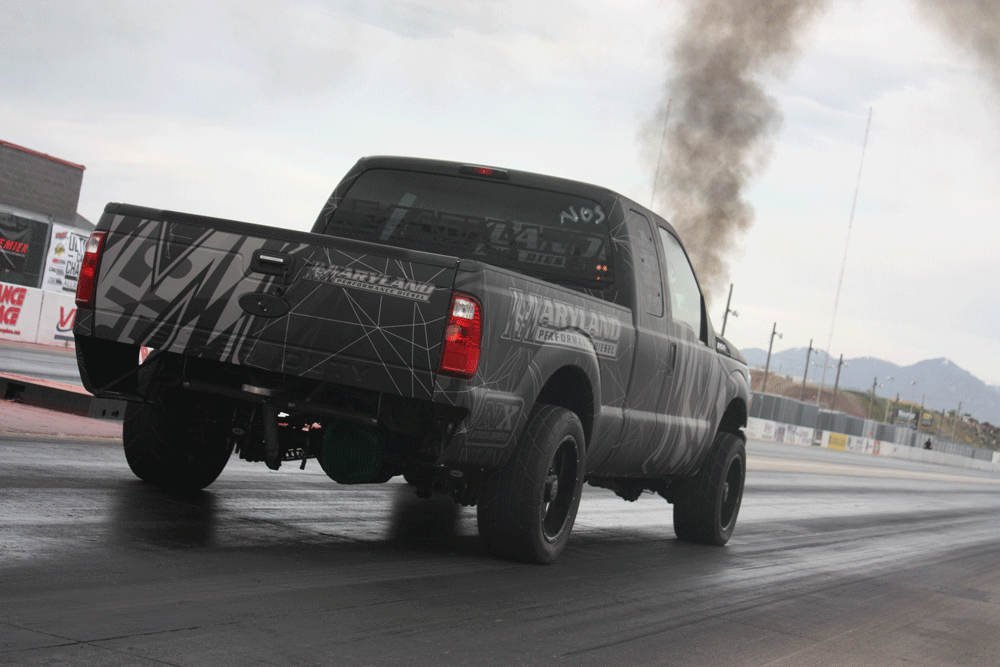 #18 Aaron Wiebe–All In Truck Performance
Duramax – 11.52 @ 122.00 mph
The shortbed Duramax-powered rig was a bit of a wildcard, as nobody knew how it might perform on the dragstrip. Although the conversion was lighter than some of the competition, the team still looked to be trying to figure the truck out, which led to "only" low 11-second ETs.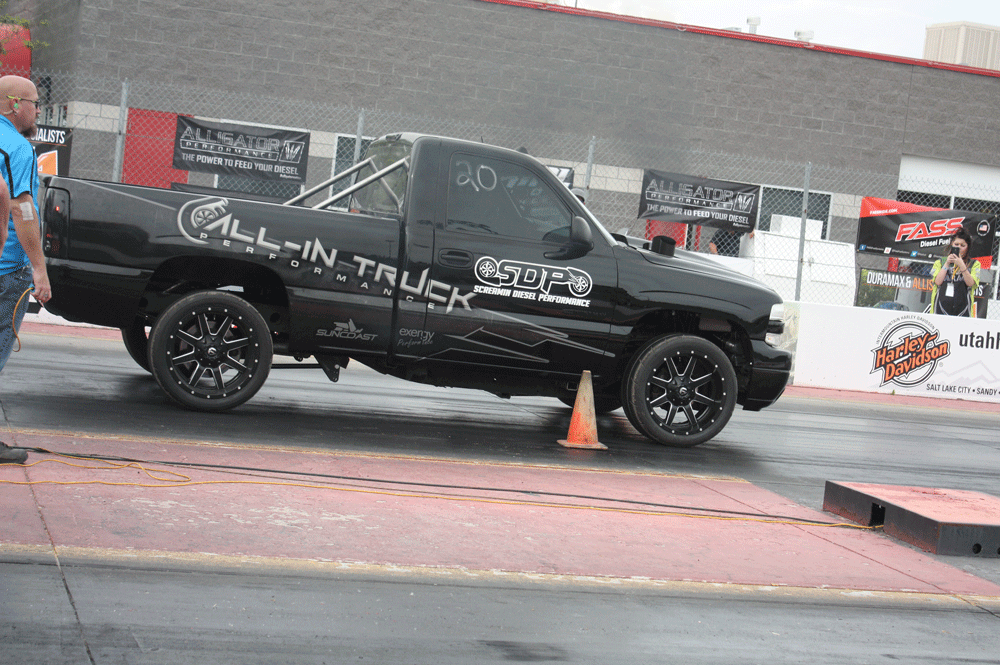 #17 Shawn Ellerton–Canadian Rednecks
Power Stroke – 11.44 @ 125.33 mph
Shawn was one of those shoulda-coulda-woulda cases who never put together a good pass. While the 11.44 E.T. and 125 mph speed looks about right, the truck has run 10.0 before, and was well on its way to a 10-second pass when a boot blew and Shawn quickly pulled over after the eighth-mile in case the turbo blew also. He never put together a solid pass other than the first 6-second eighth-mile, as shifting issues and a lack of lockup limited the F-250s ultimate potential.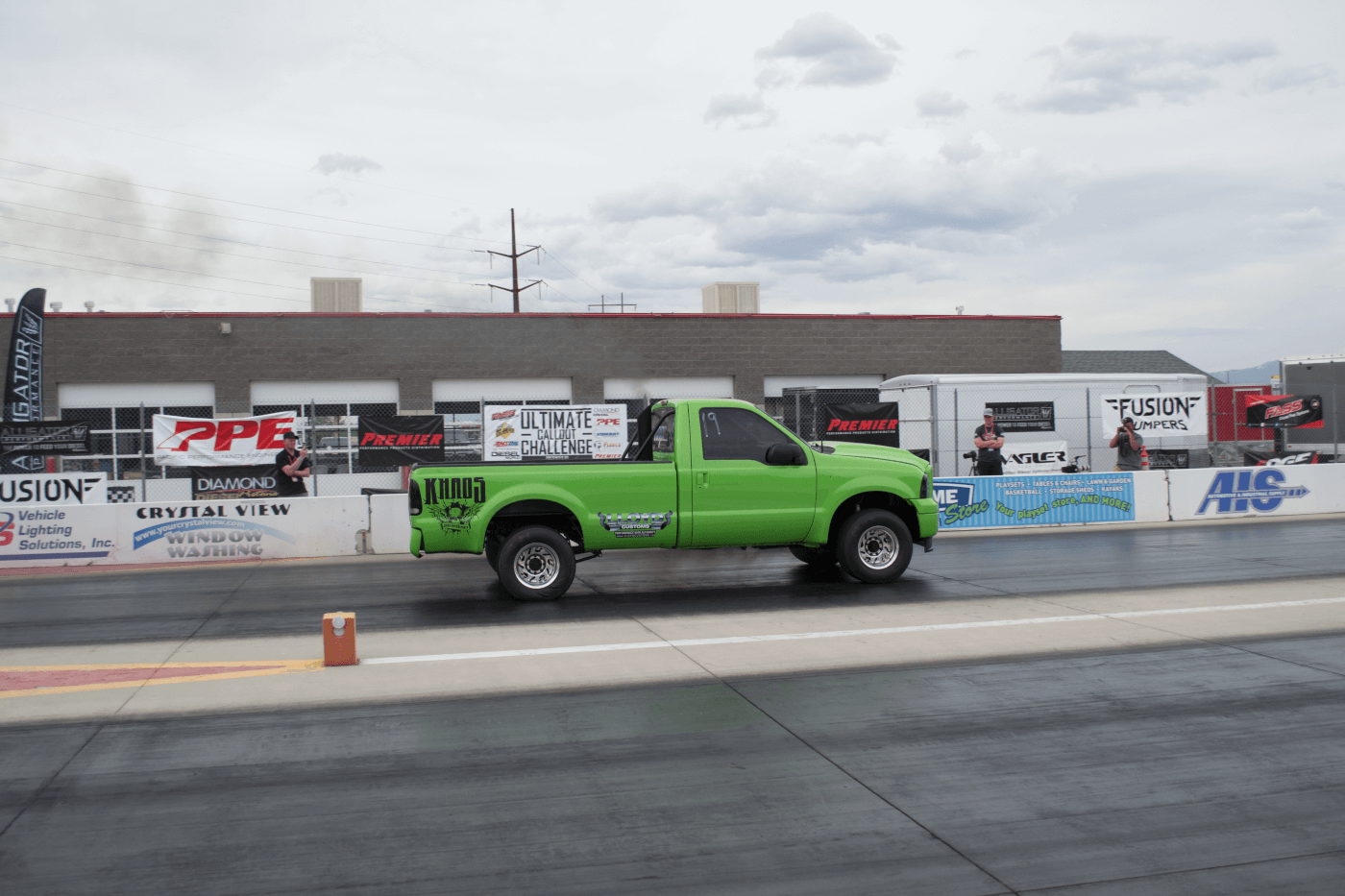 #16 Dan Madden–Diesel Pickup Specialists
Duramax – 11.41 @ 110.89 mph
If there was an award for the most passes, Dan Madden would have won, hands down. Dan didn't just make a few passes, he made at least a dozen—almost all of them in the 11s. Unfortunately, the big heavy no-nitrous truck was just outpaced at the drags, which meant a 17th place finish.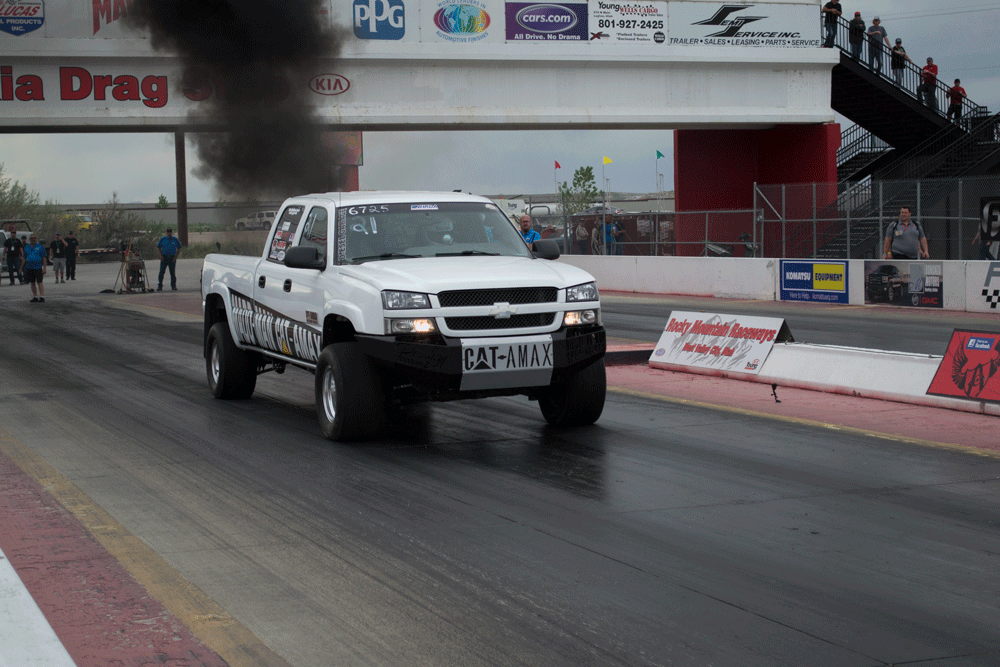 #15 Shawn Baca–Industrial Injection
Cummins – 11.23 @ 119.64 mph
After his First Place finish on the dyno, all eyes were on Shawn Baca to see how the big Dodge fared at the dragstrip. Unfortunately, Shawn was dealing with an untested track combination, and he paid the price. After leaving the line like a stocker, the Dodge would light the turbos and scream for an instant, until lock-up, where it would fall under the turbos. A final no-lockup pass with the engine screaming at 5,000 rpm the whole way at least put the truck into the low 11s.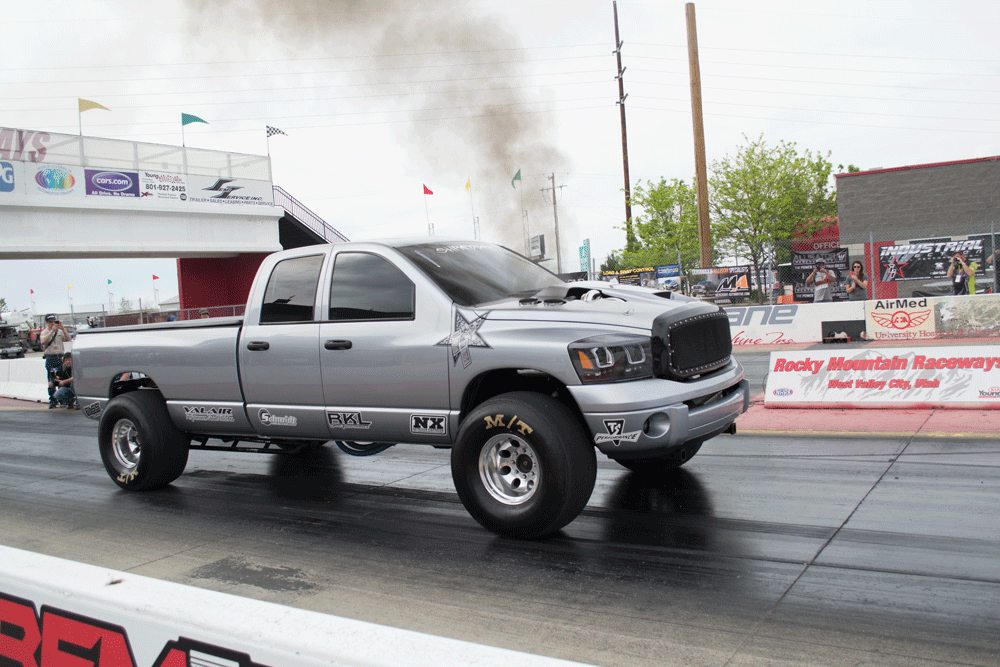 #14 Dustin VanWindergreen–SDP Twins
Duramax – 11.20 @ 130.07 mph
When it came time to hit the dragstrip, the heft of the big four-door GM combined with a milder tune than the dyno meant a 14th place finish for Dustin. While the Duramax came alive on the top end with a 130-mph trap speed, it didn't quite have enough momentum on the first part of the track for a top 10 finish.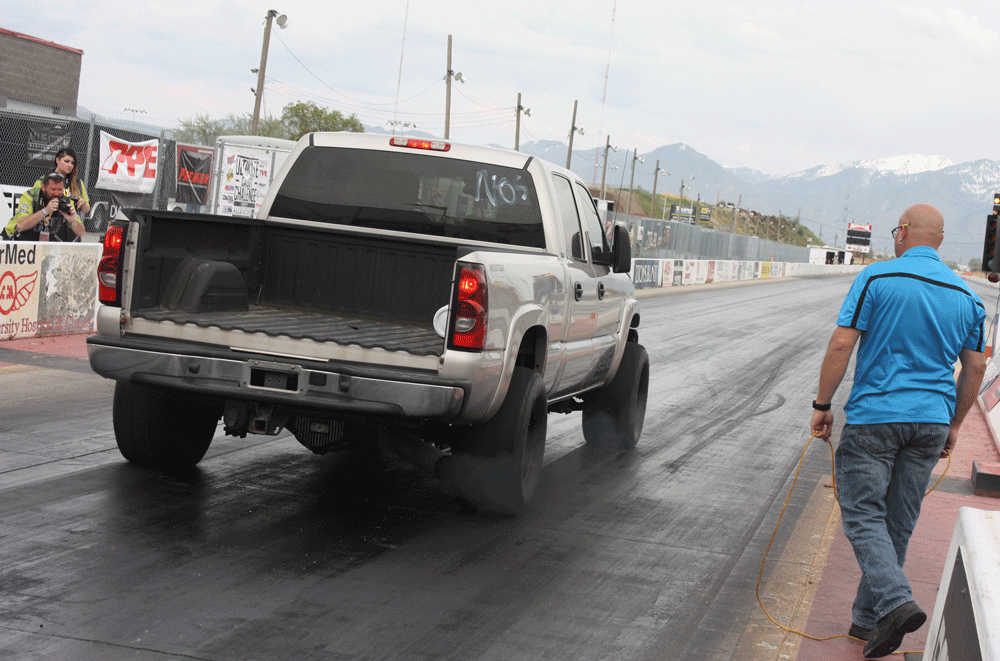 #13 Zach Fuller–Starlite Diesel
Duramax – 11.09 @ 131.38 mph
Zach Fuller was pouring the coals pretty hard to his dually based upon the 130-mph trap speed, but the truck's weight held the truck back a bit. Still, Zach was nearly able to crack into the 10s, which is really saying something in a truck that big.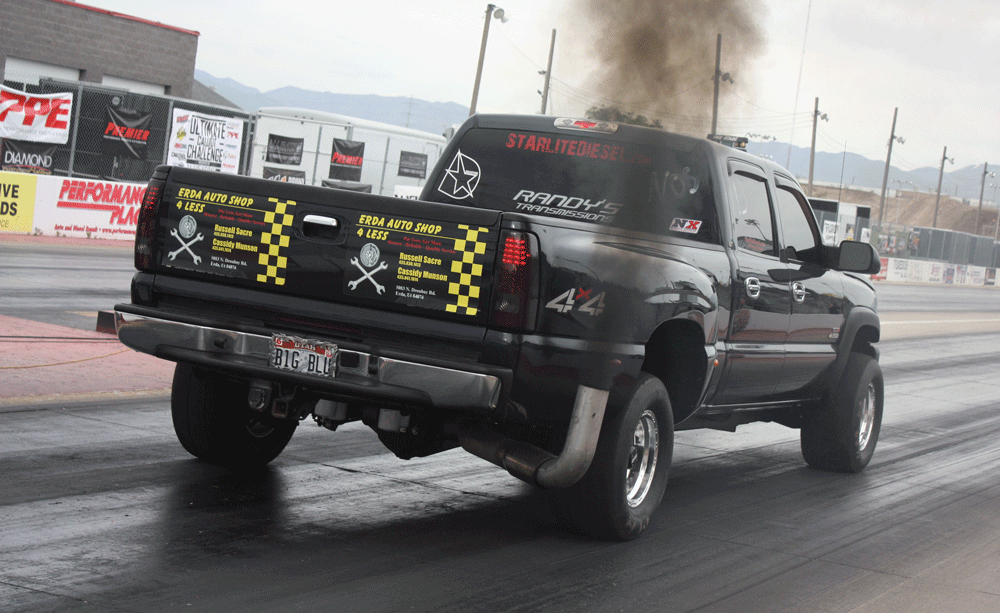 #12 Aaron Rudolf–Rudy's Diesel
Power Stroke – 10.93 @ 123.05 mph
Aaron Rudolf's '08 Ford was another untested vehicle, which unfortunately ended up biting Aaron at the dragstrip. While 10s in a diesel is impressive, Aaron's truck was built mainly to drag race, and should have had no problem running in the 9-second zone. After a 10.93-second pass on fuel, a number of issues sidelined the truck.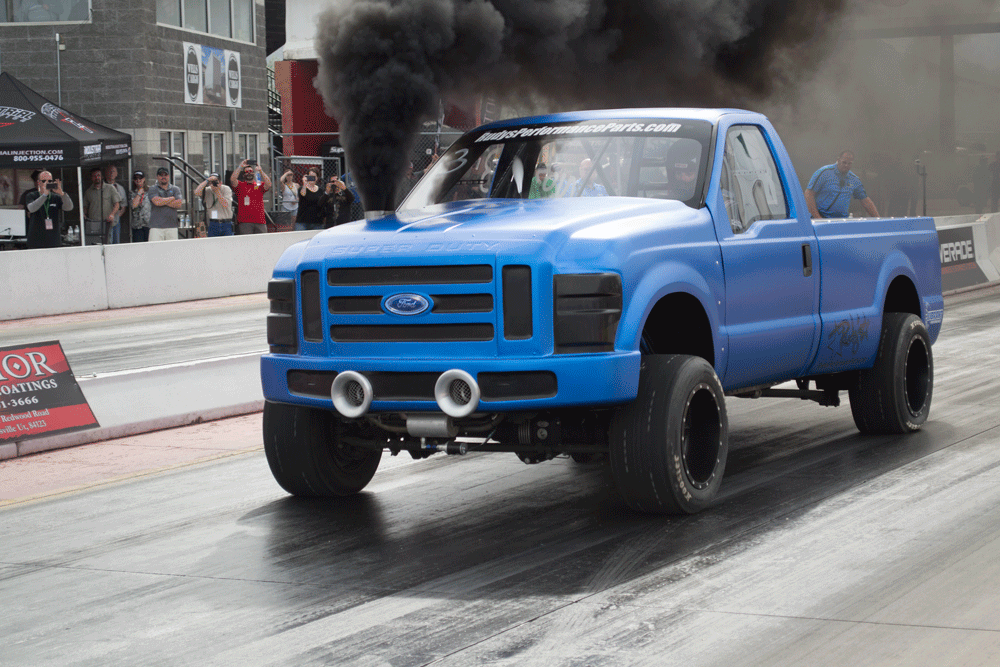 #11 Ryan Landfield–RKL Diesel
Duramax – 10.78 @ 119.87 mph
RKL's ride was one of the more interesting stories of the drag race. Pass after pass the truck would have issues with spooling, or shifting, or one thing or another. Then as the dragstrip closed, RKL finally made a solid run, and jumped from the back of the pack to right behind the top ten. The low trap speed indicates that it still wasn't a 100-percent clean pass, but it was good enough for an 11th place finish.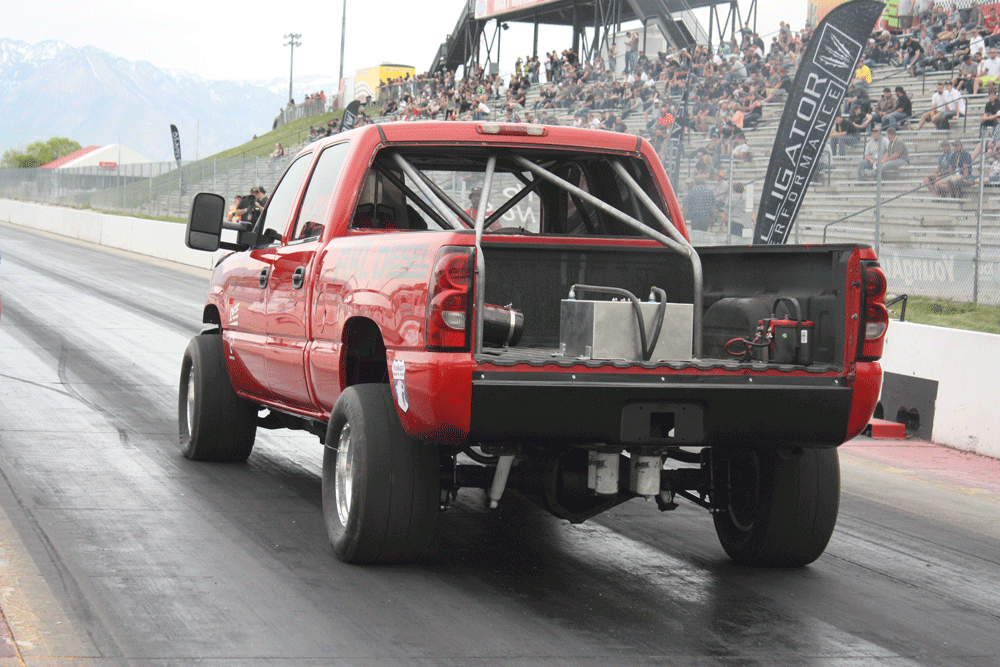 #10 Chris Rosscup–Deviant Race Parts
Duramax – 10.48 @ 137.40 mph
Perhaps the most improved competitor at the track Chris Rosscup was able to drop nearly a full second off of his performance at the dragstrip. After starting in the 11.20s, Chris refined his launch, tune, and nitrous tune-up to end up running mid 10s at the track, which was good enough for the 10 spot in the final standings.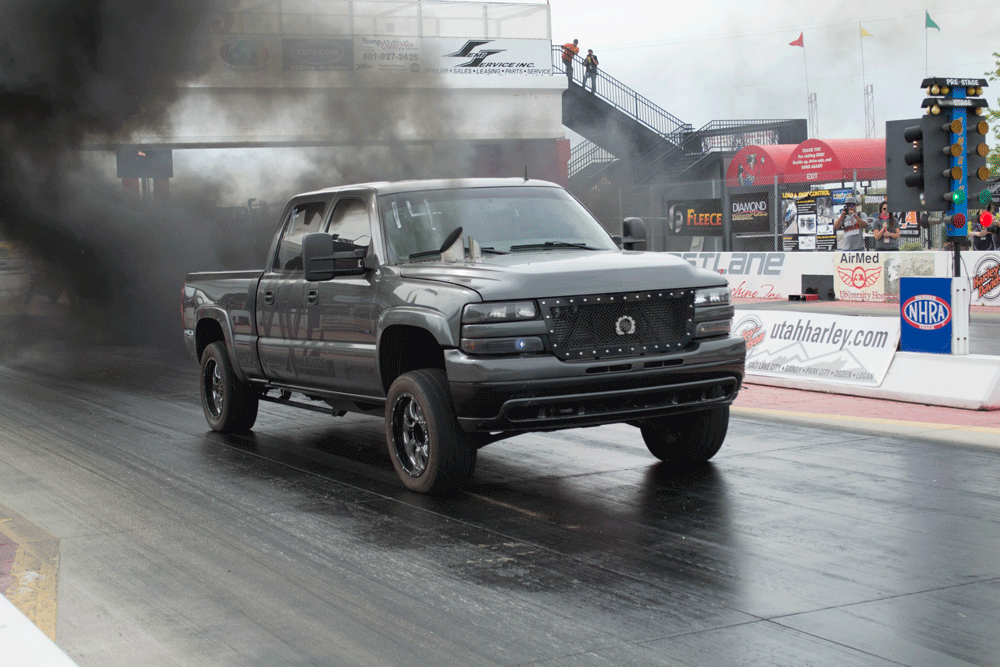 #9 Jesse Warren–Warren Diesel
Power Stroke – 10.44 @ 133.68 mph
There was a sub-battle for a 9-second 6.0L pass between Shawn Ellerton and Jessie Warren during UCC's dragstrip shootout, with Jesse ending up the closer of the two trucks to running the number. Like Shawn, he had his fair share of problems including a huge nitrous backfire, but in the end he got down the track with a 10.44-second pass, which was good enough for 9th place.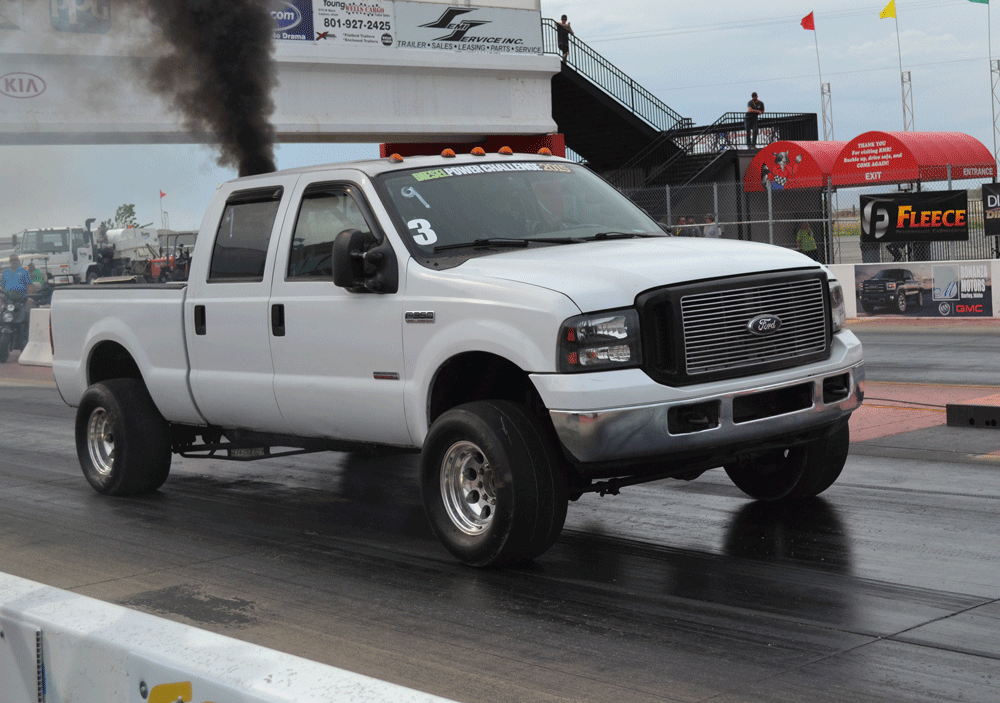 #8 Donnavan Harris–Armor Inc.
Cummins – 10.21 @ 134.81 mph
Donovan's Dodge had some of the cleanest passes of the track session. He'd pull the Ram up to the line, launch hard, and make a clean pass, as one can tell by his excellent 10.21 at 134.81 mph pass. While other trucks trapped more than 130 mph (all the way down to 13th Place), Donovan made the best of the front half of the track, and ended up in 8th Place.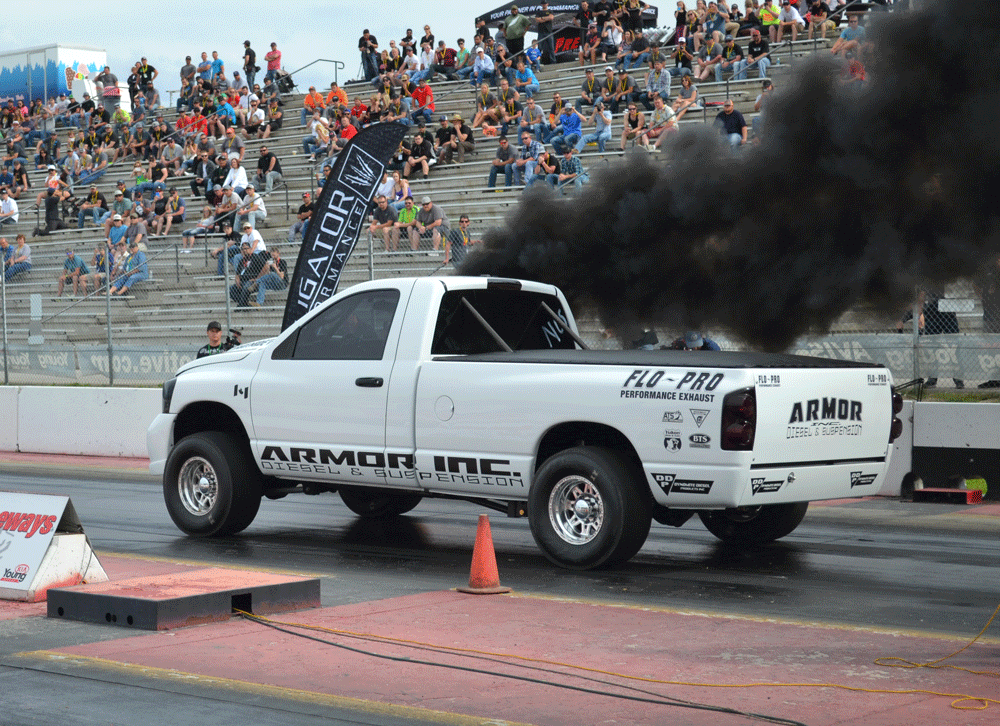 #7 Randy Reyes–Randy's Transmissions
Cummins – 9.62 @ 150.77 mph
7th place saw a jump from bottom 10s to mid 9s, which is huge in drag racing terms. Six out of seven of the 9-second trucks had the advantage of lightweight—around 6,000 pounds—or under. Unfortunately, for the rest of the competition, nobody told Randy that you can't run mid 9s (or 150 mph) in a 7,500-pound dually, which is a feat that just shouldn't be possible. Out of all of the competitors, Randy was probably putting the most power down to the track.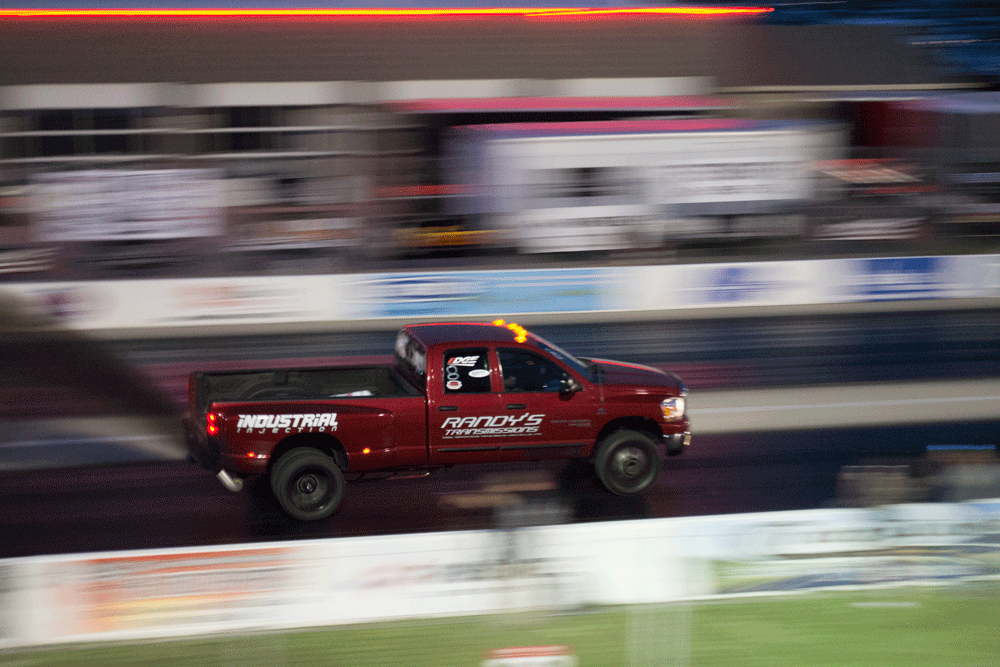 #6 Ryan Milliken–Hardway Performance
Cummins – 9.61 @ 144 mph
Since Ryan races an 8-second 2WD Pro Street truck, we figured he'd be right at home at the track in a 4×4 too. Ryan almost immediately dipped into the 9s, and might have run even faster, if a last minute leak hadn't stopped a grudge race between him and Randy Reyes. With another solid performance, Ryan was looking good heading into the sled pull.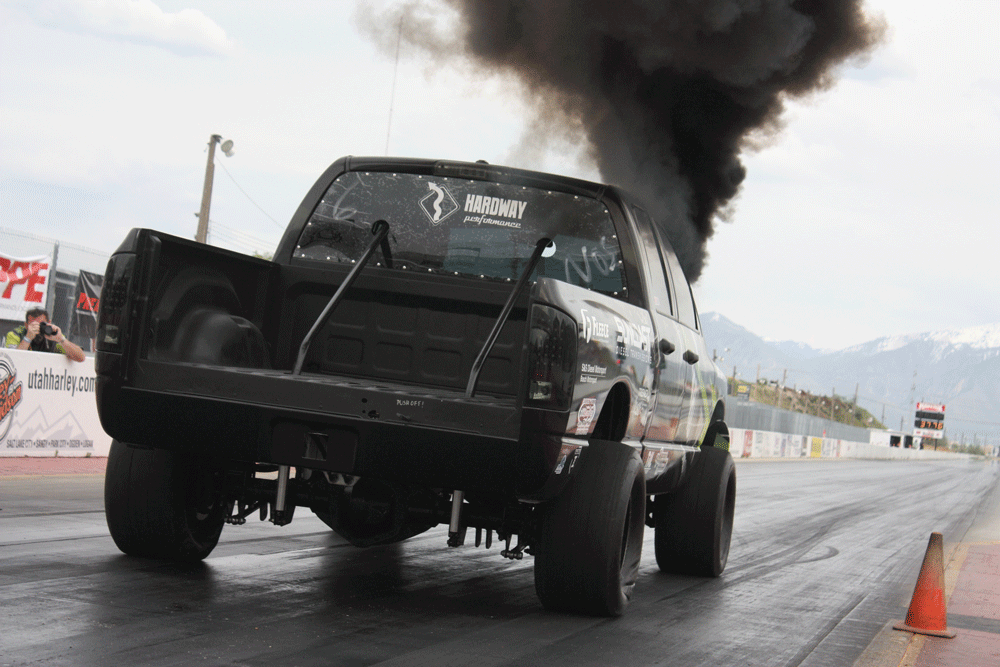 #5 Rob Coddens–ATP Trucks
Duramax – 9.49 @ 154.40 mph
"Idaho" Rob Coddens has been drag racing for years, so everyone expected him to do well in the event. "All I did was tint the windows a little since I knew I would be in the sun for so long over the course of the three days," laughed Rob. Rob was immediately off to a fast start in his Duramax with a Dodge transmission, and he eventually whittled his way all the way down to a 9.49 at 154 mph, which was about all that he was willing to lean on the truck.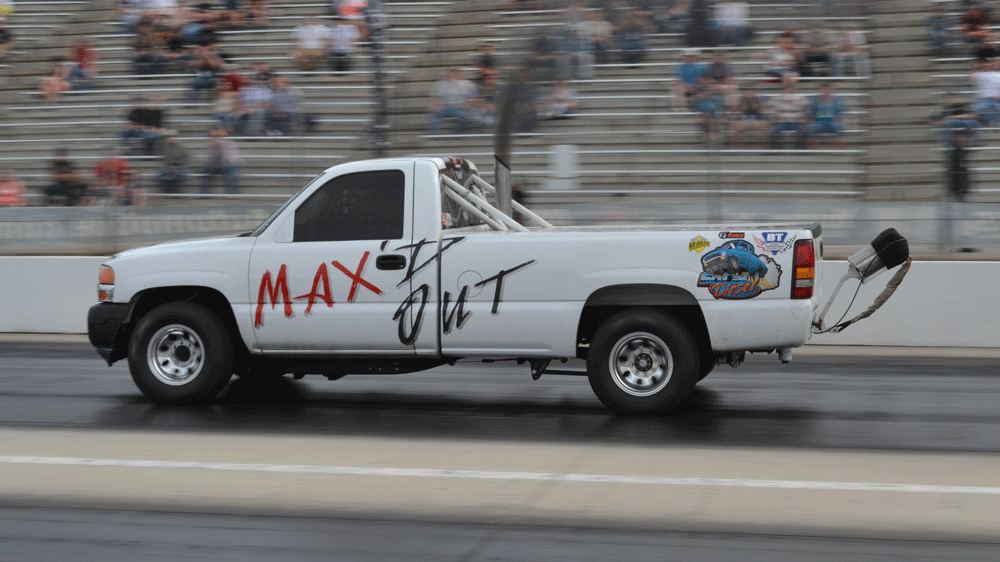 #4 Justin Hyatt–Husker Diesel
Duramax – 9.468 @ 155.17 mph
When Justin Hyatt started clicking off low 10s, we were duly impressed. Little did we know that the Duramax/Allison 1000 combination had a hole left in the tank. In fact, the GM that could came darn near the all-time Allison 1000 pickup record (9.36) with a 9.46 pass at 155 mph. Unfortunately, the Duramax engine received some major frying during the truck's last moonshot pass, and the team would be facing some major adversity before the sled pull.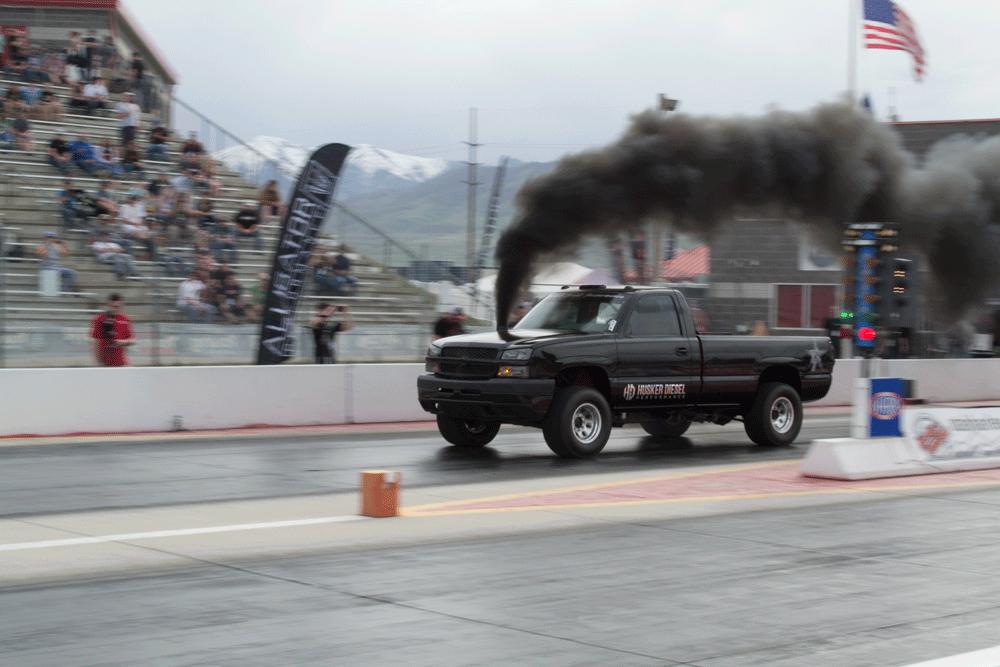 #3 Derek Rose–DNR Customs
Cummins – 9.464 @ 154.63 mph
Derek had a rough start to the drag day when he pulled up to the line and his truck wouldn't spool the turbo at altitude. Whoops. A little nitrous fixed that, and he was off to the races, save for some shifting issues that held him back. When he finally did get a good pass off, he jetted to the top of the pack with a 3rd place finish, proving he could get that dyno power to the ground and nudging out Justin Hyatt's run by 0.004 of a second!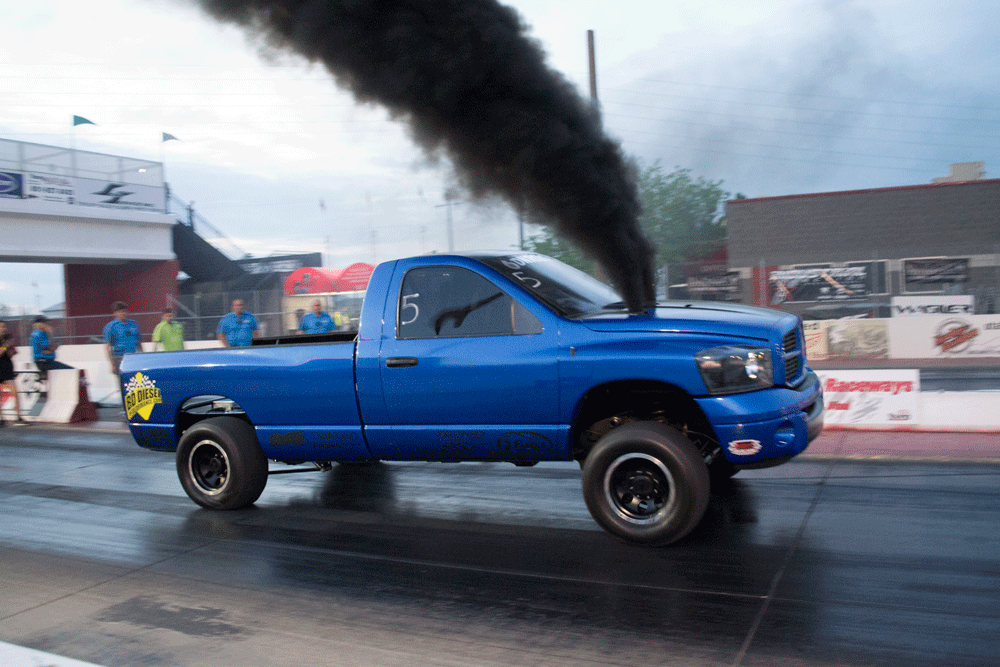 #2 Andrew Tovornik–Midgets Diesel
Cummins – 9.37 @ 150.67 mph
Perhaps one of the bigger surprises of the drags was the performance put in by Andrew Tovornik in the Midget's Diesel-sponsored Dodge. Andrew told us a wiring gremlin had left some power on the table and that he should put it a better performance at the track, and boy did he ever. Andrew immediately started off in the high 9s and made pass after pass until he was solidly in 2nd place, with an impressive (and still fuel only) 9.37 at 150 mph.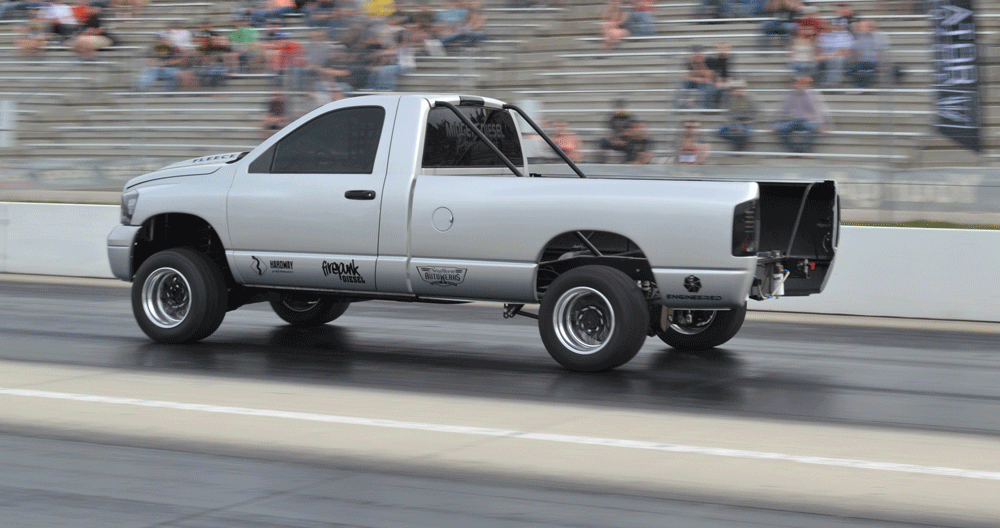 #1 Lavon Miller–Firepunk Diesel
Cummins – 8.50 @ 164.29 mph
If Shawn Baca was a heavy favorite in the dyno, Lavon Miller was a virtual shoe-in at the drag race. Weighing in at more than 1,000 lbs. lighter than the nearest competitor, Lavon had weight on his side, and had already ran a 8.27-second pass in testing. His first pass however, he missed a shift with his air shifter, indicating things might get interesting. Nope, next was an 8.73-second E.T., followed by an 8.50 at 164 mph, that put him nearly 9 tenths of a second ahead of the next fastest time. Lavon had come to UCC to dominate the dragstrip, and that's exactly what he did.