The sharp, clean lines of this 2009 Dodge are quick to catch the eye, as is the smooth, seemingly wet red paint. From the word go, this truck looks the part of something that should be capable of a neck-snapping sixty-foot and a blazing-fast quarter mile time. The owner, Evan Rusk, is quick to show that it has more than enough under the hood to back up its sinister exterior. When he started to modify the truck nearly four years ago, we're not sure he had the extensive build in mind that the truck now sports, but we're glad it turned out that way. The truck has slowly evolved over the years, getting faster as the modification list got longer.
PERFORMANCE FOUNDATION
Rusk spends his days as a technician working for Fleece Performance Engineering in Brownsburg, Indiana. Working for one of the companies on the forefront of competition engine building certainly has its perks, and what's under the hood of this truck is definitely a testament to that fact. Rusk's truck has been a testbed for several different fueling and turbo setups throughout its life. Currently it sports a factory 6.7 Cummins with a .020 overbore on the cylinders. Freedom Racing Engines took on the task of machining the block to accept fire rings, crucial in holding the high boost goals set for this configuration. The rotating assembly consists of heavy duty Carillo billet rods pushing factory QSB pistons. Another crucial part to the engine's success with spooling large turbochargers is the ported Fleece Performance Engineering (FPE) head with oversized valves installed. Hamilton Cams got the nod for a bumpstick to enable the high-flowing head and provided one of their 188/220 camshafts. This long block has proven to be a reliable setup on the street when paired with the correct fueling and turbocharging combination.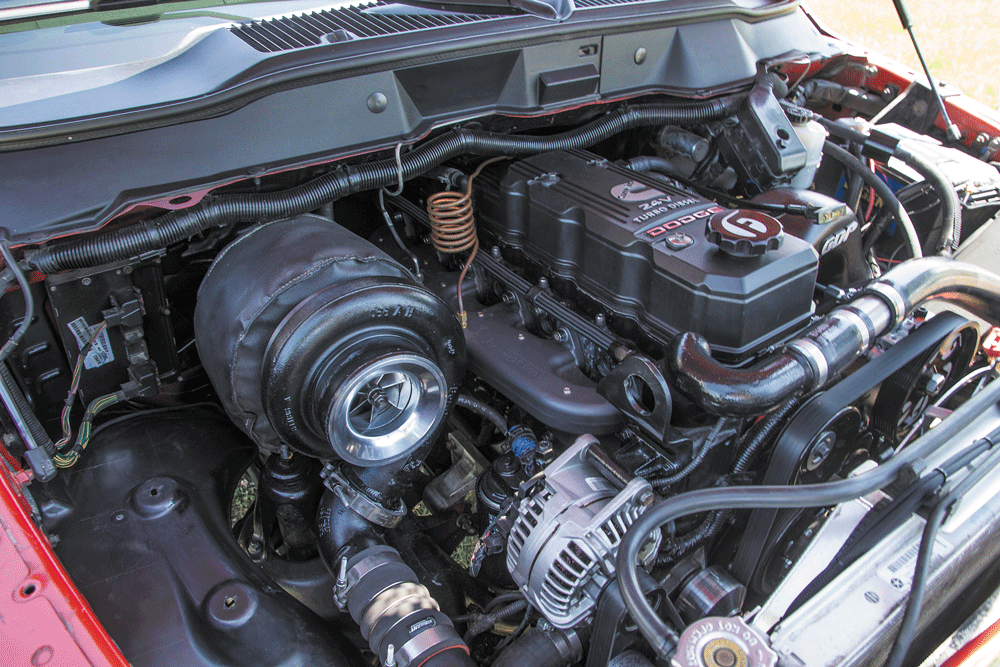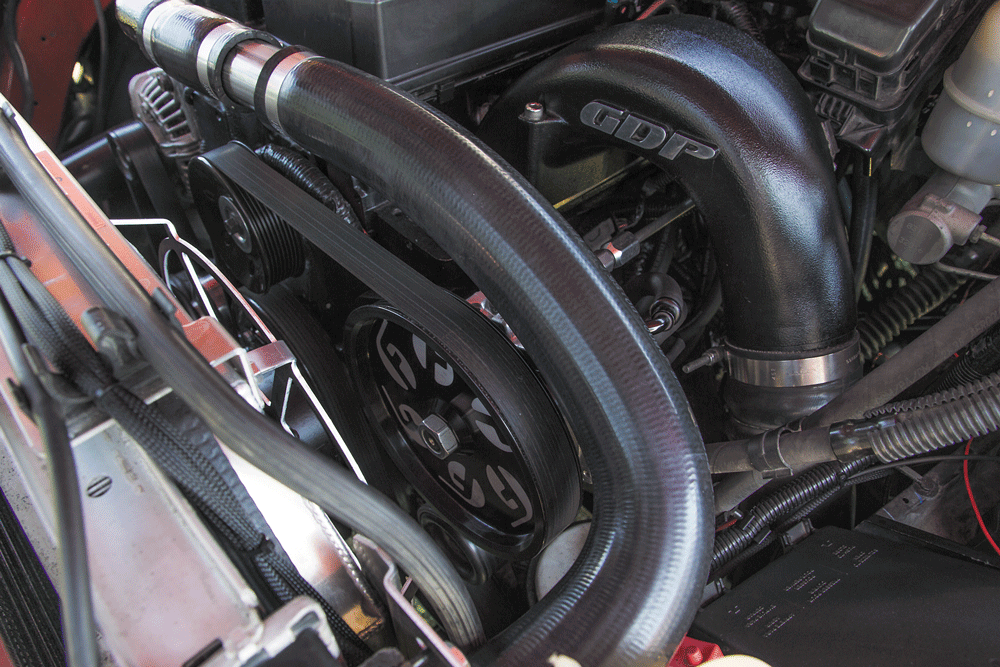 FUELING DUTIES
The fueling system that feeds this beast is as wild as the engine itself. Wanting this to be the fastest street truck in Indiana, Rusk wasn't bashful when it came time to buy injectors. S&S Motorsports was called on to build a set that would provide fuel for more horsepower than the owner would ever need. The bright minds there settled on a set of 400-percentover injectors that should be capable of pushing more than 1,500 hp with the right supporting modifications. The new set of injectors requires a considerable amount of fuel, so a pair of FPE PowerFlo 750 CP3s were selected for the high-pressure side, while an Airdog 4G 200 gallon-per-hour unit feeds those healthy CP3s. Between the low and high pressure sides of the fuel system you'll find a host of Fleece goodies offered for these trucks, one of the company's regulated fuel distribution blocks being among them.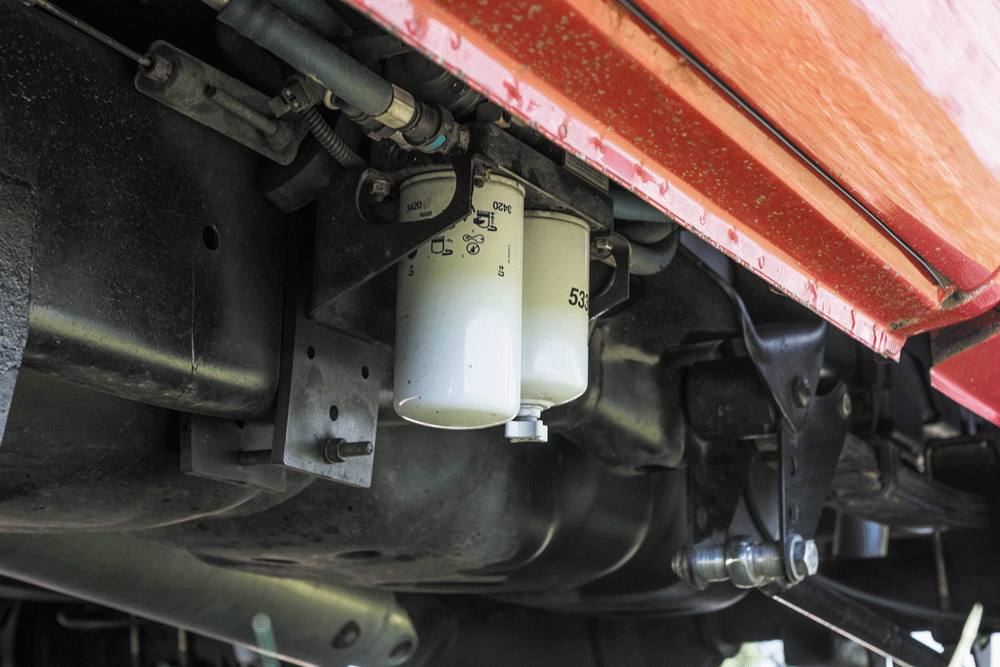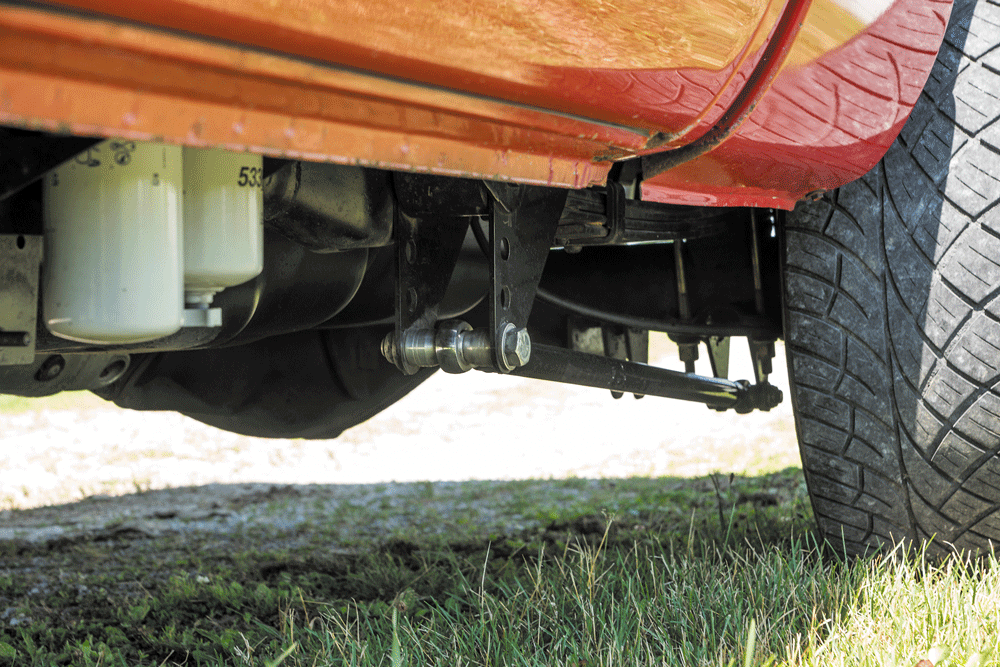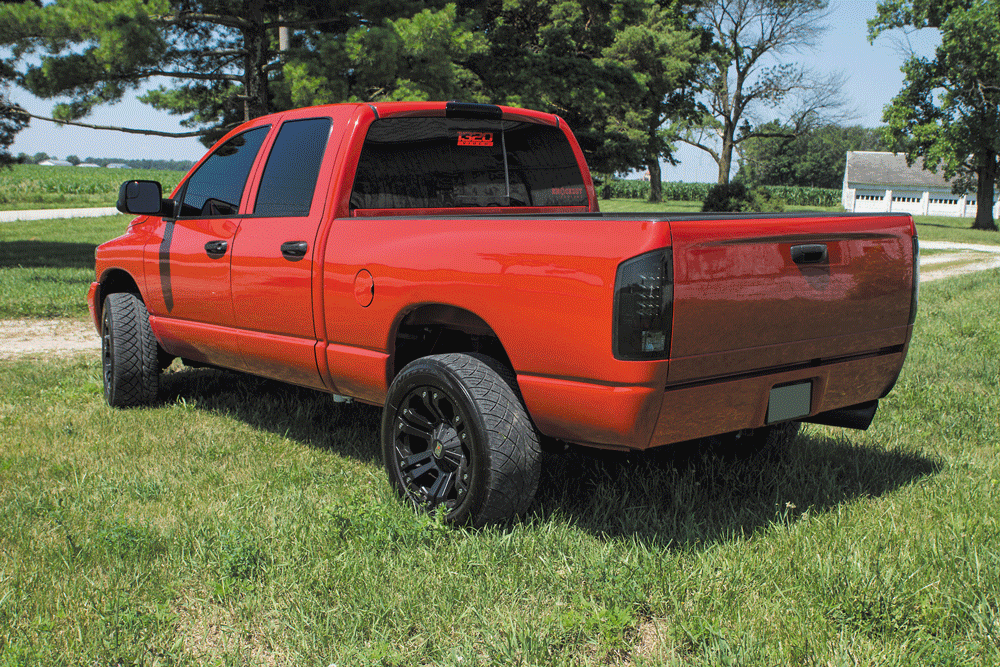 BIG SINGLE
With the block, head, and fuel system in place, Rusk and his partners, the Fleece brothers (Brayden and Chase), knew the engine needed a big lung to reach their intended goal. What you'll see hanging off the Steed Speed exhaust manifold is something you don't usually see in a single-turbo configuration. Wanting to test out the modified cylinder head's upgraded airflow, Chase Fleece spec'd out one of their Borg Warner-based billet S480s. What will look a little different to the discerning eye is the massive exhaust housing the truck is equipped with. Normally you'll see a smaller, T4-sized exhaust housing paired with an 83 or 87mm exhaust wheel. This charger has a T6 housing normally sized for compound turbo applications. Even though it may seem to be an odd setup to some, when matched with the increased airflow in the head the turbo spools fairly quickly for its size. The large exhaust housing provides amazing top end as well as low drive pressure. The configuration is estimated to be over the thousand horsepower mark easily. But all of the modifications would be for naught if the crew was not able to get it dialed in with an equally stout engine tune. Reining this beast in has been a joint effort between FPE and Ryan Milliken at Hardway Performance.
SLUSH BOX
Even the meanest engine can be brought to its knees if its output is routed through a transmission that isn't ready for the task, so the truck's original 68RFE was pulled in favor of a much stronger 47RE. Then Rusk, with the help of coworker Jake Richards, proceeded to beef up all of its internals. From the input shaft to the output, if a component's counterpart exists in billet it's been replaced. To control gear changes, a Suncoast Converters electric valve body was installed to allow the shift schedule to be automated. Not only does this help with drivability around town, it also assists consistency at the track compared to a manual valve body. The PCS module that controls the transmission is wired with an A program for normal driving, and a "Plan B" mode, as Rusk likes to call it, for when circumstances call for some rowdy driving.
FULL CIRCLE
Not much on this truck hasn't been touched at this point in time to either look better or perform better. The exterior features a host of color-matched components including a factory SRT-10 hood, Laramie bumper, and color-matched rollpan to smooth the rear end out. The truck sits on a set of XD Monsters wrapped in Nitto 420s. The tires do their best to maintain traction, and are aided in the task by a set of Calvert Racing Caltrac bars to assist in getting the rig down the track. The truck's interior has remained simple and works well—a full sport interior was pulled in its entirety from a donor truck. Aside from a few gauges, an Edge Insight CTS, and the "Plan B" switch, you'd never know the cabin didn't always look this way.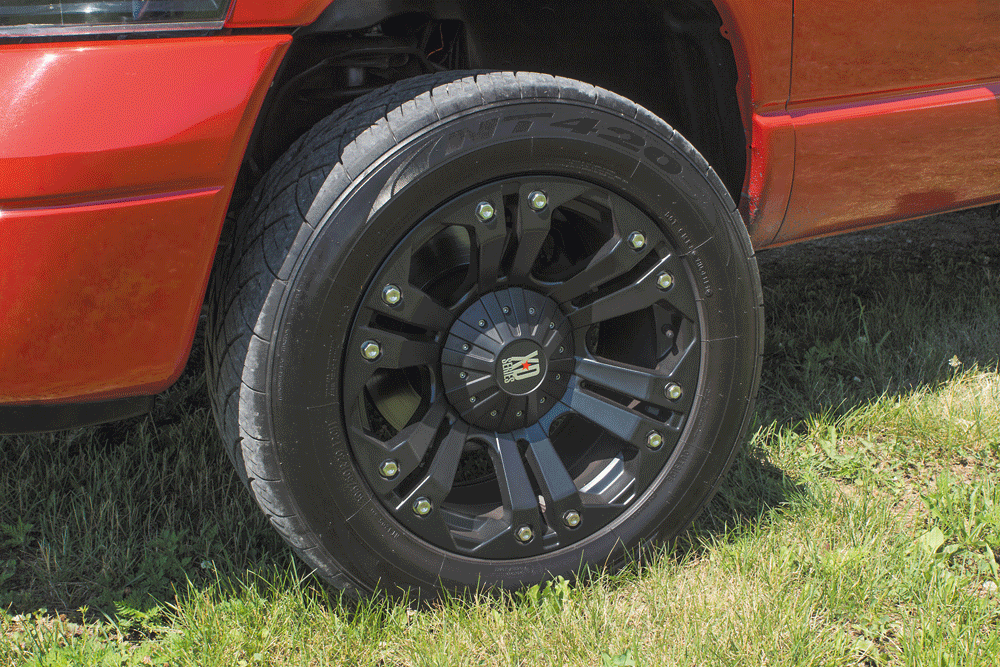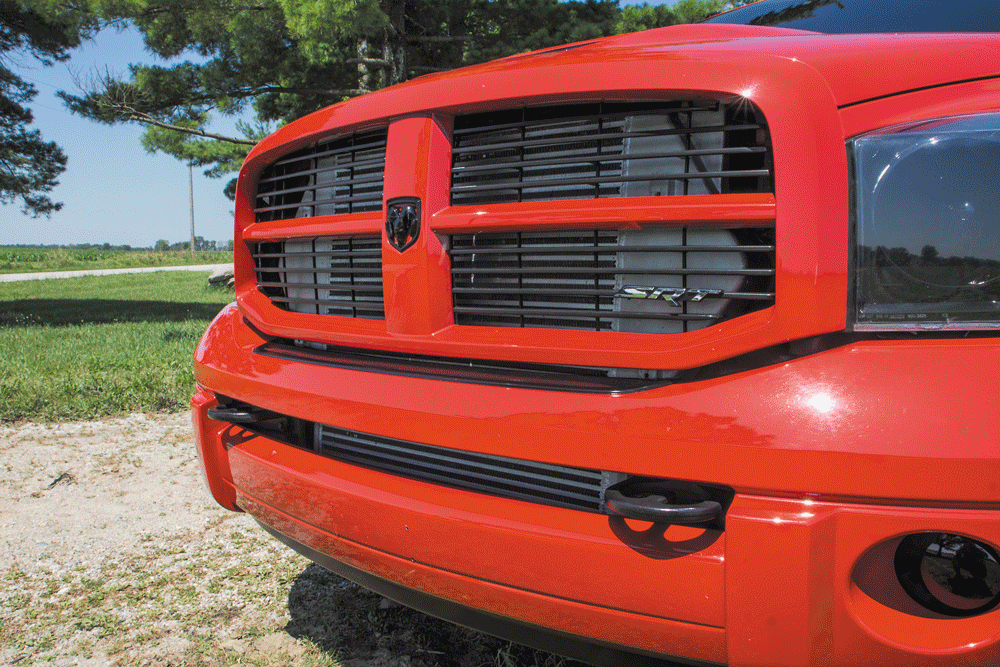 The Dodge has been transformed into a completely different animal than what it began its life as. When asked if he'd change anything so far, Rusk answers with a big smile and a resounding "No." His future plans do include even bigger and better things, though, since a truck like this is never truly "done." Shortly after we took our pictures, Rusk piloted it to an 11.01-second quarter mile on tune one of five. After the pass, it was driven home on the same tune, proving that this truck is one to not take lightly. Rusk also discussed future options for other turbo setups, as the fuel side is sufficient for now. The big single is likely to be replaced by a set of compounds to make the Dodge a little more trailerfriendly. With the compounds installed, we're sure to see even more impressive times on the track turned out by this monster. DW