Anthony Barraza from Fremont, California, used to enjoy driving BMWs. A couple of years ago, however, he wanted to experience something different and decided to check out the diesel truck market. He had always driven a vehicle that stood out in a crowd and his new truck was destined to continue that trend. He purchased a bigger than life diesel truck—a 2011 Chevrolet Silverado crew cab 3500 4×4. Of course, it had to have a Duramax 6.6L turbo diesel.
Next, Barraza started his quest to find a quality shop that would meet or exceed his expectations for building his dream truck. In doing so, he discovered NorCal Truck in Livermore, California. He met the owner, Nick Vasquez, and the truck build was on. The two of them collaborated, exchanging thoughts and ideas about what direction to go with the Silverado. After a year of construction and following Vasquez's guidance, the mighty Silverado was completed.
The build was awesome and Barraza was invited to join the NorCal Truck Club. He was also invited to attend the 2012 SEMA show as a member. As the club caravanned to the event in Las Vegas, Barraza noticed a lifted dually Silverado. He fell in love with the look of the truck. He was pleased with all the mods on his Silverado, but it was missing the one thing that he so admired. He decided he wanted a dually.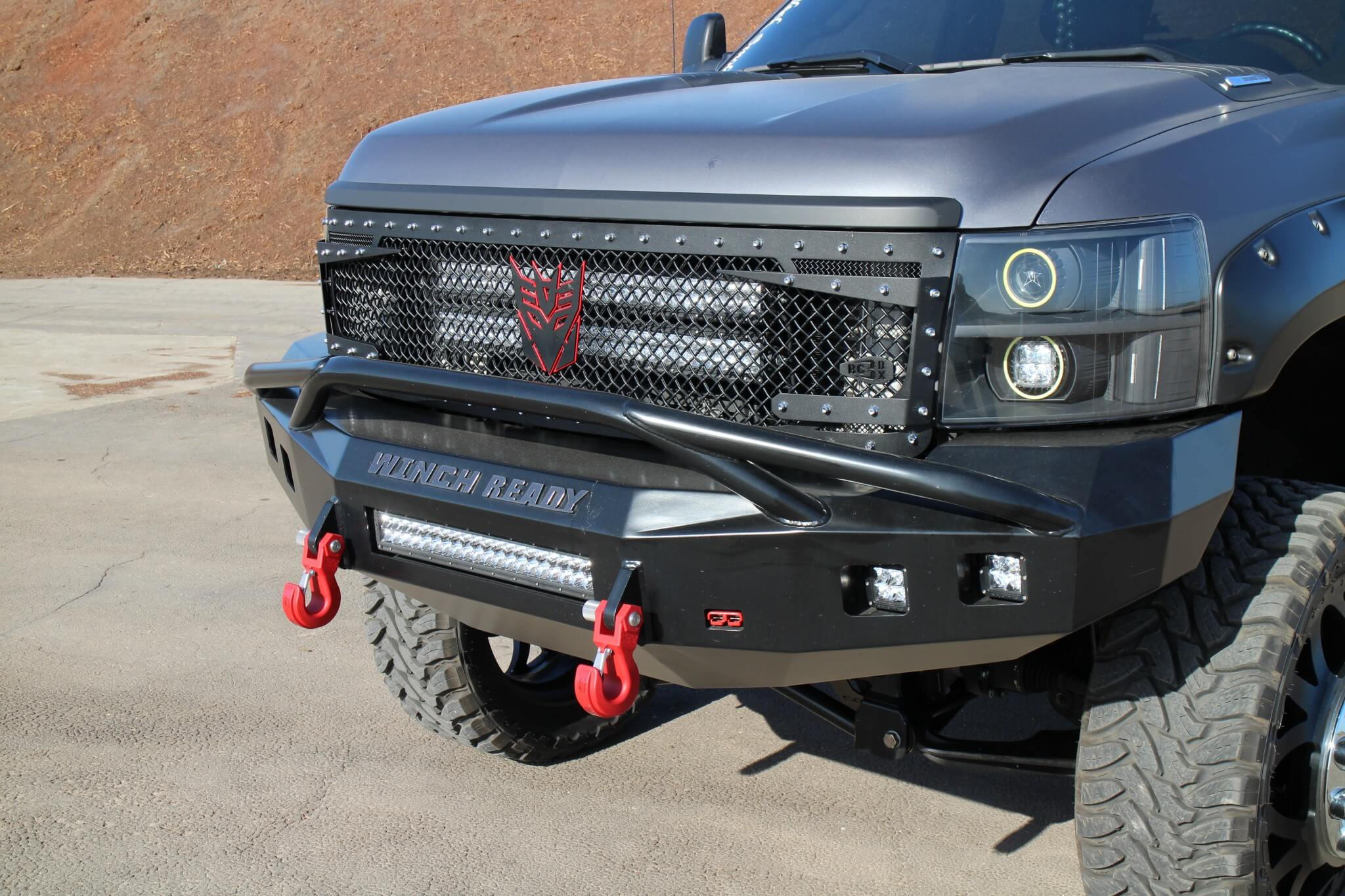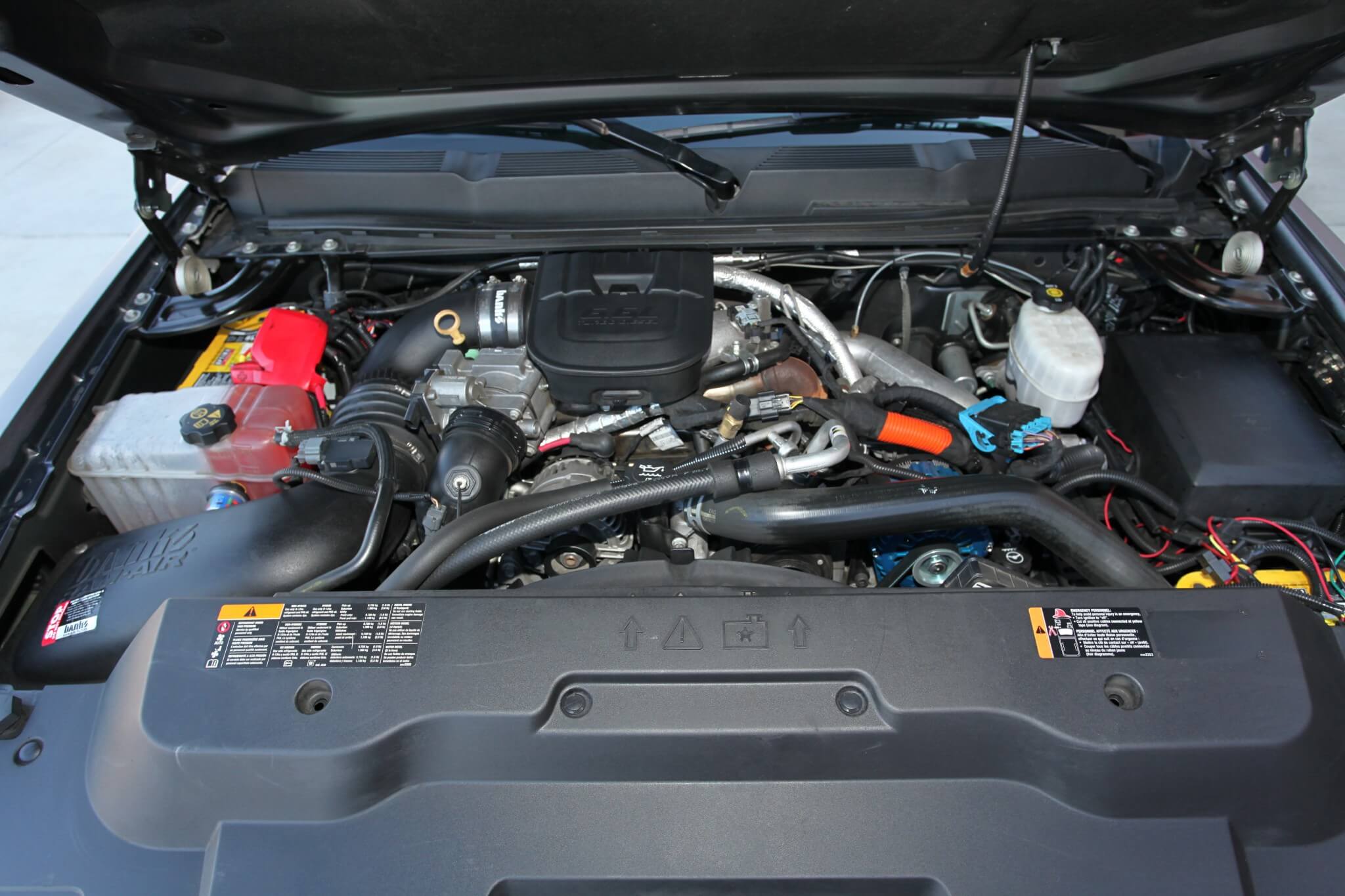 So upon arriving home from SEMA, the transformation began. With the help of Vasquez and his mechanic Jacob Howard, they pulled off a one-of-a-kind Silverado 3500 4×4 dually. You might say, why didn't Barraza just go down to the dealership and buy a Silverado 3500 Duramax diesel dually? It was all about the challenge of the dually transformation.
The strength of any truck begins with its foundation—the frame and suspension. The strong factory frame on this truck remained stock. To lift the front suspension, the team installed a Cognito Motorsports Stage 2 7-inch lift kit that utilizes a Cognito differential relocation cradle, front transfer case relocation mounting bracket, struts, front spindle, wheel hubs, upper control arms, torsion bar keys, and Fox shocks.
Barraza needed to purchase a GM dually rear axle housing complete with dually axles and 3500 HD brakes. An aFe finned aluminum differential cover was bolted on. After removing the Silverado single-wheeled rear end and leaf springs, a Kelderman pneumatic rear suspension was installed. The kit includes a frame rail and side plates pre-fitted with the appropriate welded-on suspension mounting brackets. A four-link and panhard bar anchors the rear end housing, while the rear sway bar and end links help eliminate rear body roll. A pair of Fox shocks helps dampen any rough terrain. Also carefully installed were Kelderman onboard air compressors, manifold, solenoids, valves, air tanks, electrical switches and gauges. Barraza's dually rolls on a set of six American Force Weapon 24×8 forged aluminum wheels with satin black centers, wrapped in Toyo Open Country M/T 37X13.5 rubber.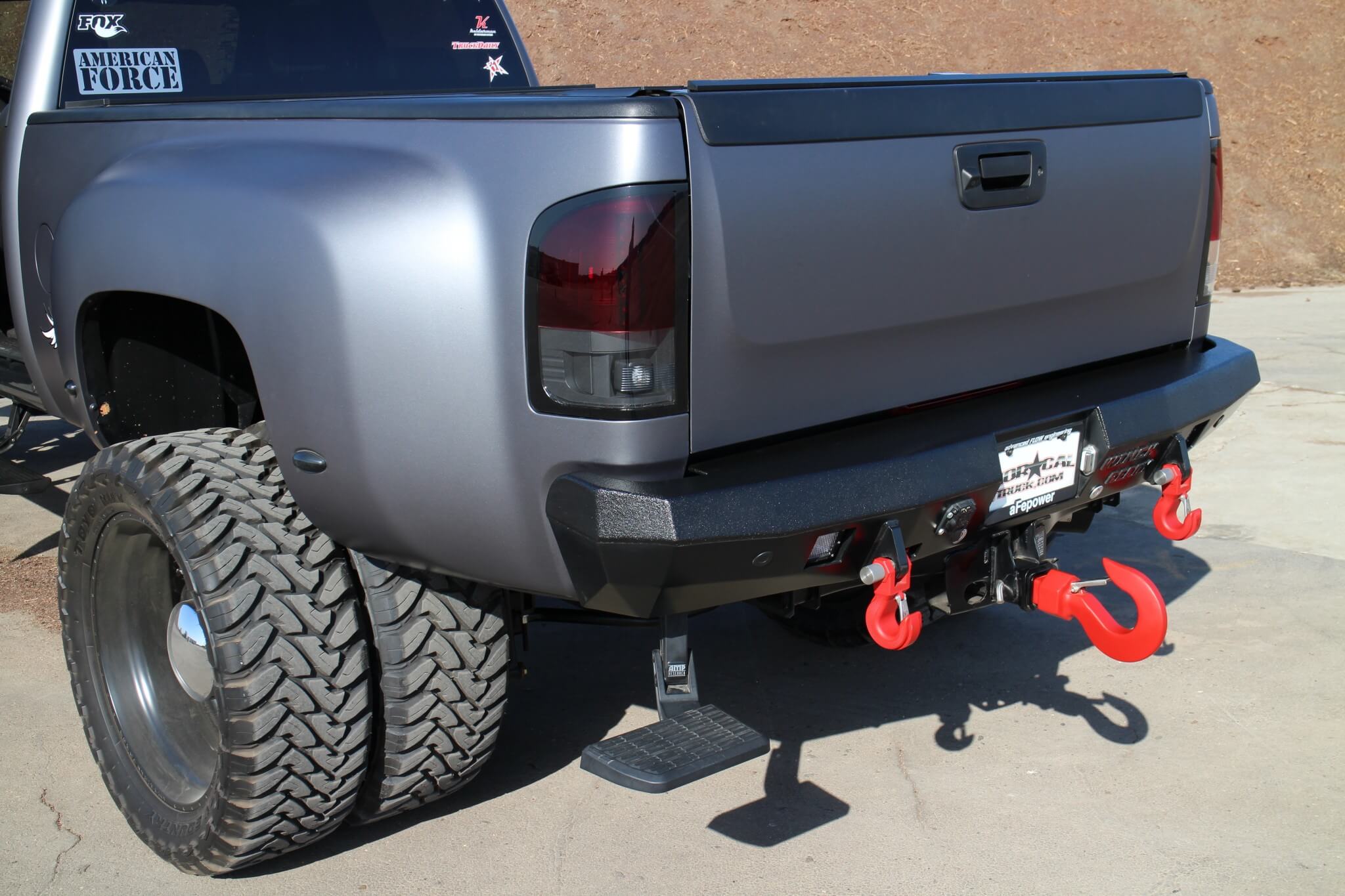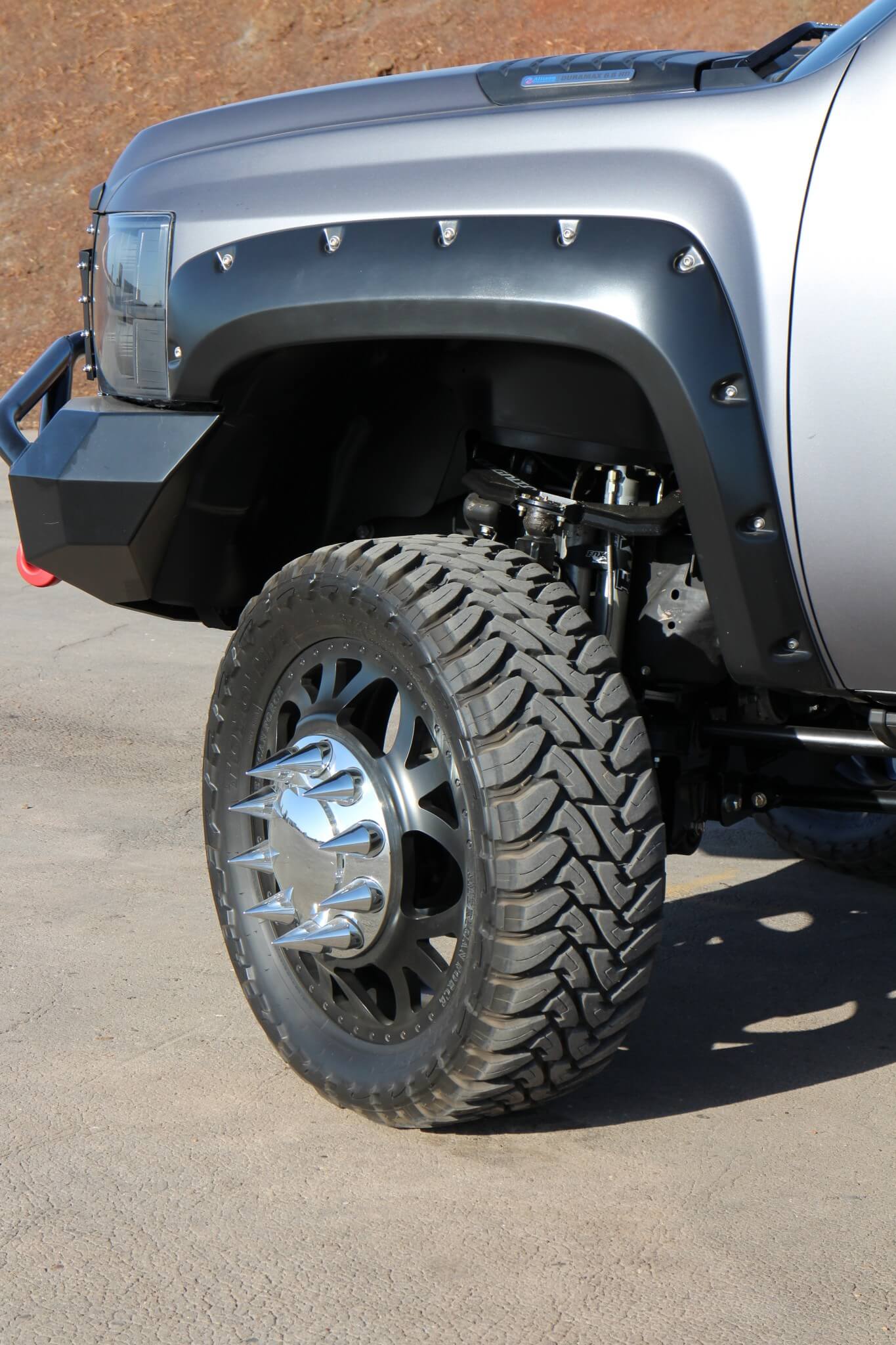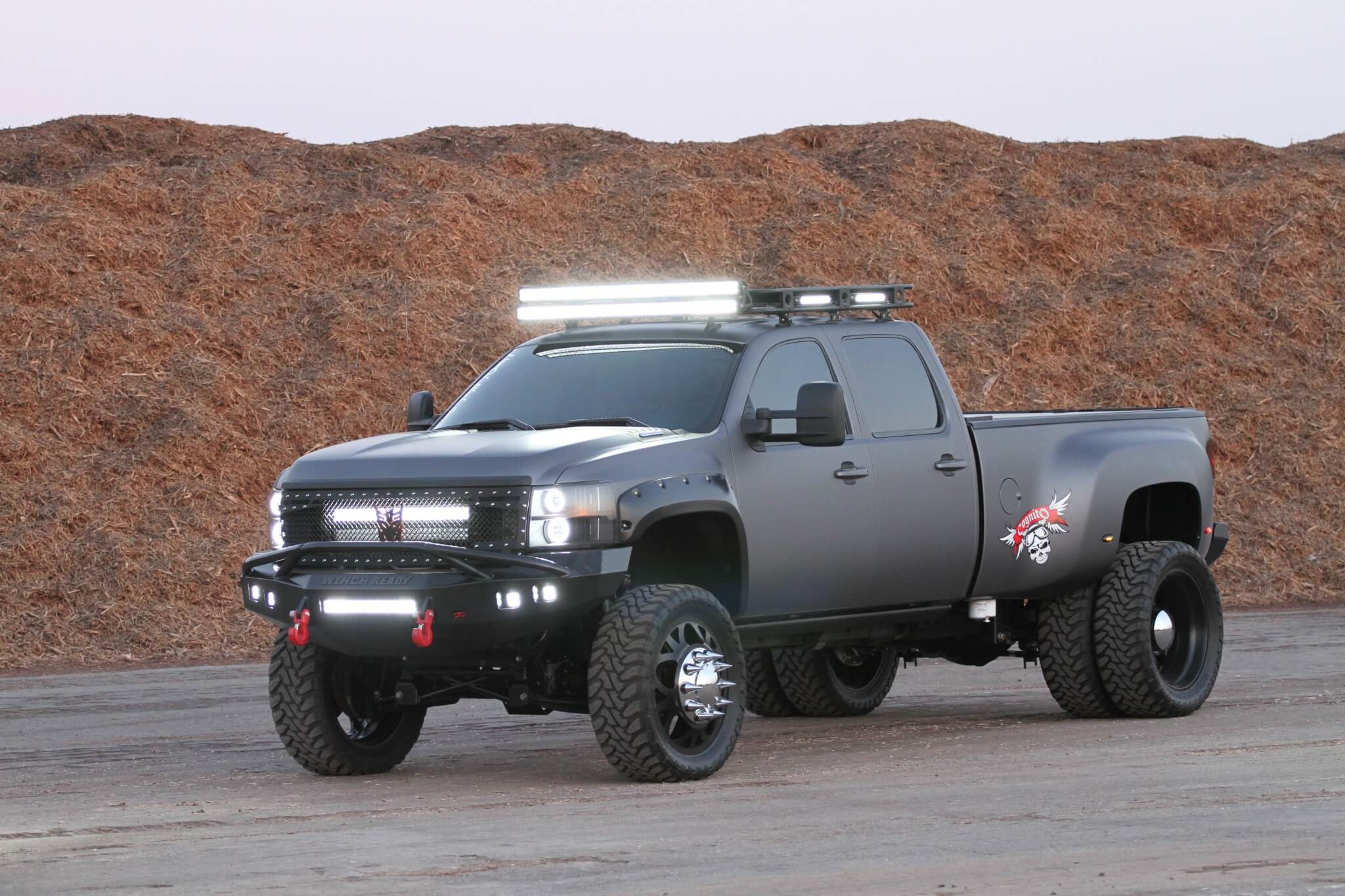 Under the hood, the stock Duramax 6.6L turbo diesel received a Banks intake manifold for improved performance. An aFe muffler muffles the 5-in. diameter exhaust. The engine was tuned with an H&S Performance Mini Maxx programmer.
Barraza scoured salvage yards in NorCal and trolled the Internet looking for a 2011 Chevrolet dually bed. Not one could be located. Luckily, Vasquez was going to convert his Silverado dually into a flatbed and Barraza was "given" the dually bed. The game changer dually bed was bolted onto the frame rails. To achieve an aggressive attitude, Winch Ready prerunner front and rear bumpers were installed. A Royalty Core RC2 grille insert is flanked with a pair of Plain an Simple projector/halo HID headlights. The rear bed corners received a pair of Plain an Simple taillights. The bed interior was given a Line-X coating and then secured with a USA retractable tonneau cover. Lucky 7 Graphics in Sacramento, California, covered the body skin with a durable 3M 1080 charcoal gray metallic matte wrap.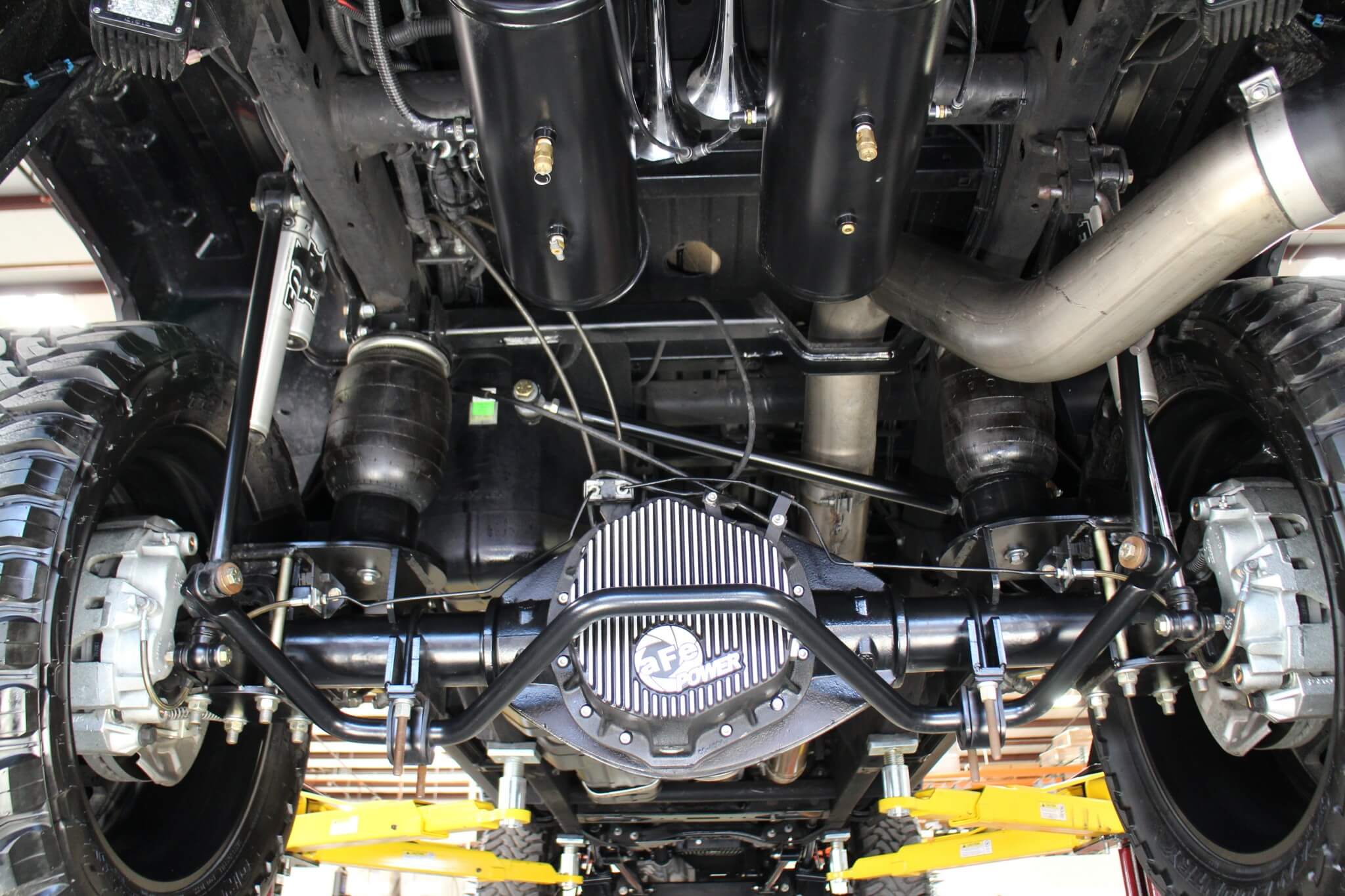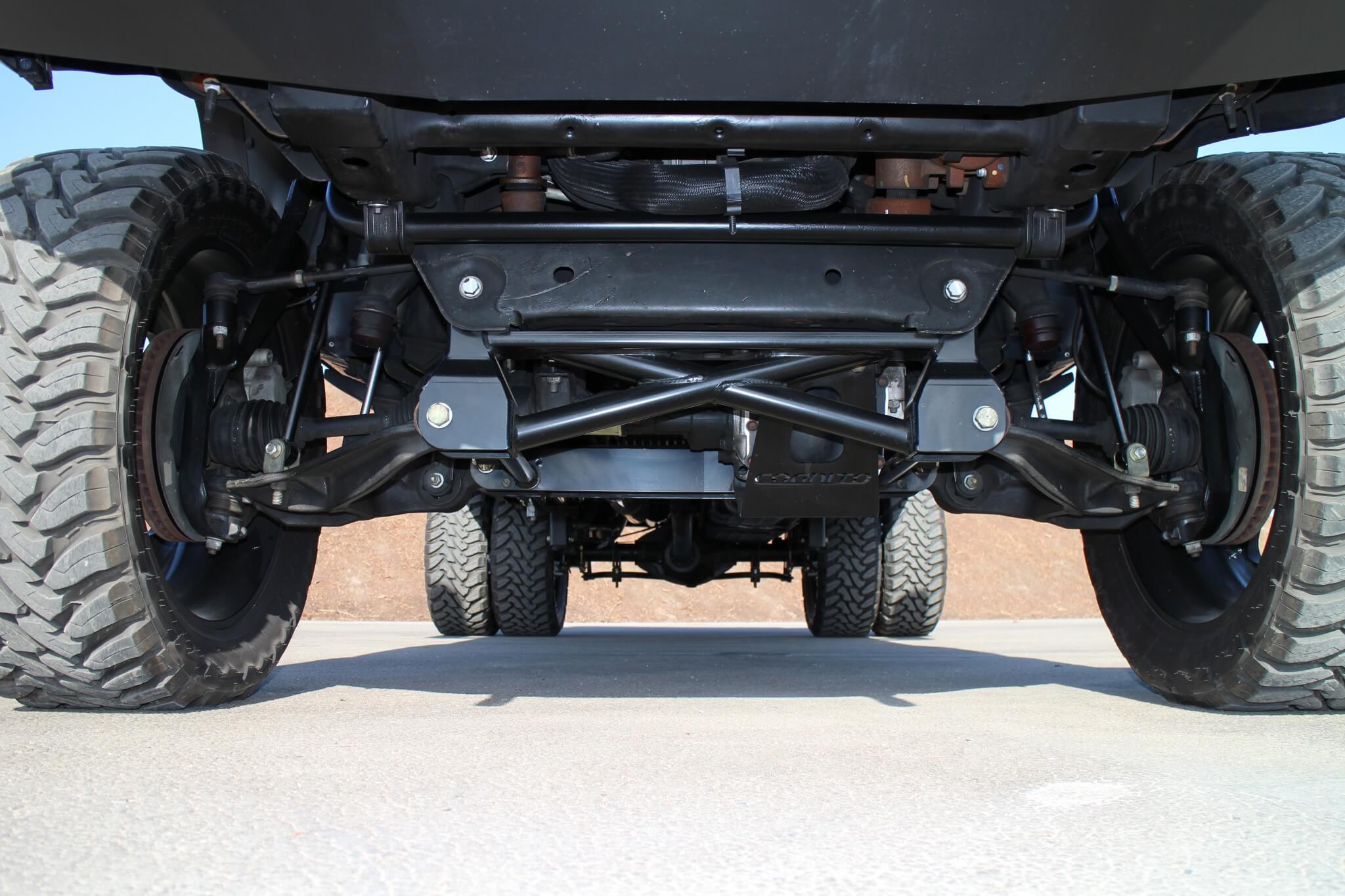 To light up the night sky, a Defender by Smittybilt roof rack was attached and then fitted with Rigid Industries LED light bars. In fact, a total of 24 Rigid Industries LED light bars were installed behind the grille, under the body, in the bed and elsewhere on the dually. Both front and rear bumpers were fitted with Monster Hooks recovery hooks along with the trailer hitch receiver hook. A pair of AMP Research Power-Steps makes entering and exiting the crew cab easier. To help get into the bed, an AMP Research rear bumper bed step was installed.
The spacious factory interior was upgraded with a suede headliner and matching door panels. A pair of Auto Meter Ultra-Lite silver-face gauges displays the engine's vital signs with turbo boost pressure and pyrometer gauges located in gauge pods in the driver-side A-pillar. The dash gauges received an RBP gauge insert. Sound Innovation in Union City, California, is responsible for installing the Alpine head unit that's powered by an Audison AV5.IK amp. The tunes exit via 6.5- and 10-in. speakers located in the door panels and under the rear seats. Video monitors are located in the front seat headrests.
This transformed dually is truly a showstopper. Barraza and his son Nicholas love rolling to shows and watching people admire their ride. Look for them and their distinctive dually at a truck show near you. DW