We all know that diesel trucks are designed to be strong and capable of pulling heavy loads. That doesn't mean that they can't look good doing so or even be customized for show. We've all heard or have seen in print all the smack talk on the Internet about how trucks that are modified to sit on the ground are useless. As you can see, this truck can prove all the haters wrong as it's fully functional and able to pull whatever it needs to.
Coming from the small town of Union City, Tennessee, Franklin Hawks has been doing things against the grain since he was in high school. Most truck enthusiasts in his area are into lifted versions capable of doing some sort of mudding. Since Hawks does things differently, he got into the lowered side of custom trucks. He's currently building a 1995 Chevy dually that will be planted flat on the ground in good time. However, this is a long-term project and Hawks knew he needed something strong to tow it with. He took a stab at building a lifted 2005 Chevy Silverado 2500HD for the task, and soon came to realize that the tall stance of the truck was not his style.
Through the Internet, Hawks found this 2001 Ford Super Duty F-350 and it was already set at a respectably lower height that suited him better. He and the previous owner, Billy Allen, were able to work out a deal and soon enough the trade was made. Hawks was thrilled to have a functioning truck that could tow and also be cleaned up for shows. What he got was a dually that's equipped with an air spring suspension that allows the truck to sit hard on the ground. When the air is released from the bags it's down to the stops. To accomplish this up front, a set of DJM Dream Beams were utilized. The coil springs were removed and custom mounts were made to hold the 2,600-lb Firestone air springs. For the rear, the leaf springs were ditched in lieu of a custom four-link and pan hard bar. The frame was also notched to allow the axle to travel up and a set of 2,800-lb Firestone air springs were mounted as well.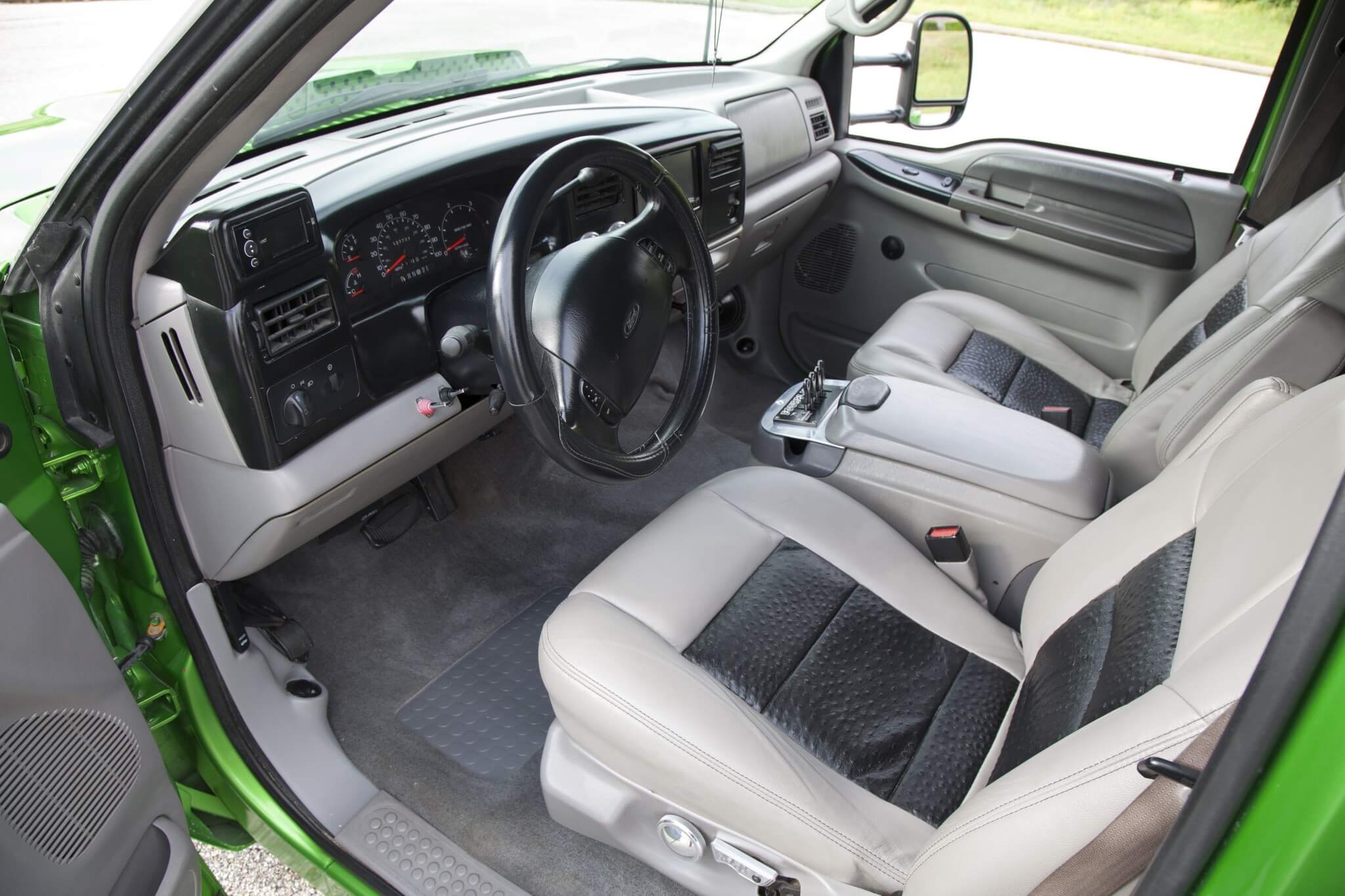 Obviously, what makes this Super Duty a true workhorse is the 7.3L Power Stroke under the hood. Helping to push out more power is a K&N air filter and a Swamp's high-voltage/high-frequency injection driver. In addition to this is, an Edge Products tuner and straight-pipe 4-inch exhaust add power. Behind the Power Stroke is a 4R100 transmission that was rebuilt with a Transgo kit. With these power parts in play, this beast was running fine and looking good. Or it was until someone carrying a busted-up shed started losing pieces of it on the highway. Hawks said that a big piece came off that he could not avoid running over. Bad luck made its way to him as the piece of the shed kicked up from under the truck, wrecking parts of the driver's side and the corresponding dually fender.
Since there was damage to be fixed, Hawks thought this would be the perfect time to do some upgrades. First thing on the list was to get a full set of 24-inch Evil Twin Verdict 10-lug wheels with 305/35R24 sized tires. To mount the rollers he used a set of Tennessee Wheel and Tire eight- to 10-lug adaptors. Up front, the Super Duty already had a 2005 front clip with Good Mark cowl induction hood. Replacing the damaged fenders are a pair of 4 ¼-inch wider than stock Street Scene Equipment dually fenders. These easily swallow up the big rig-style wheels.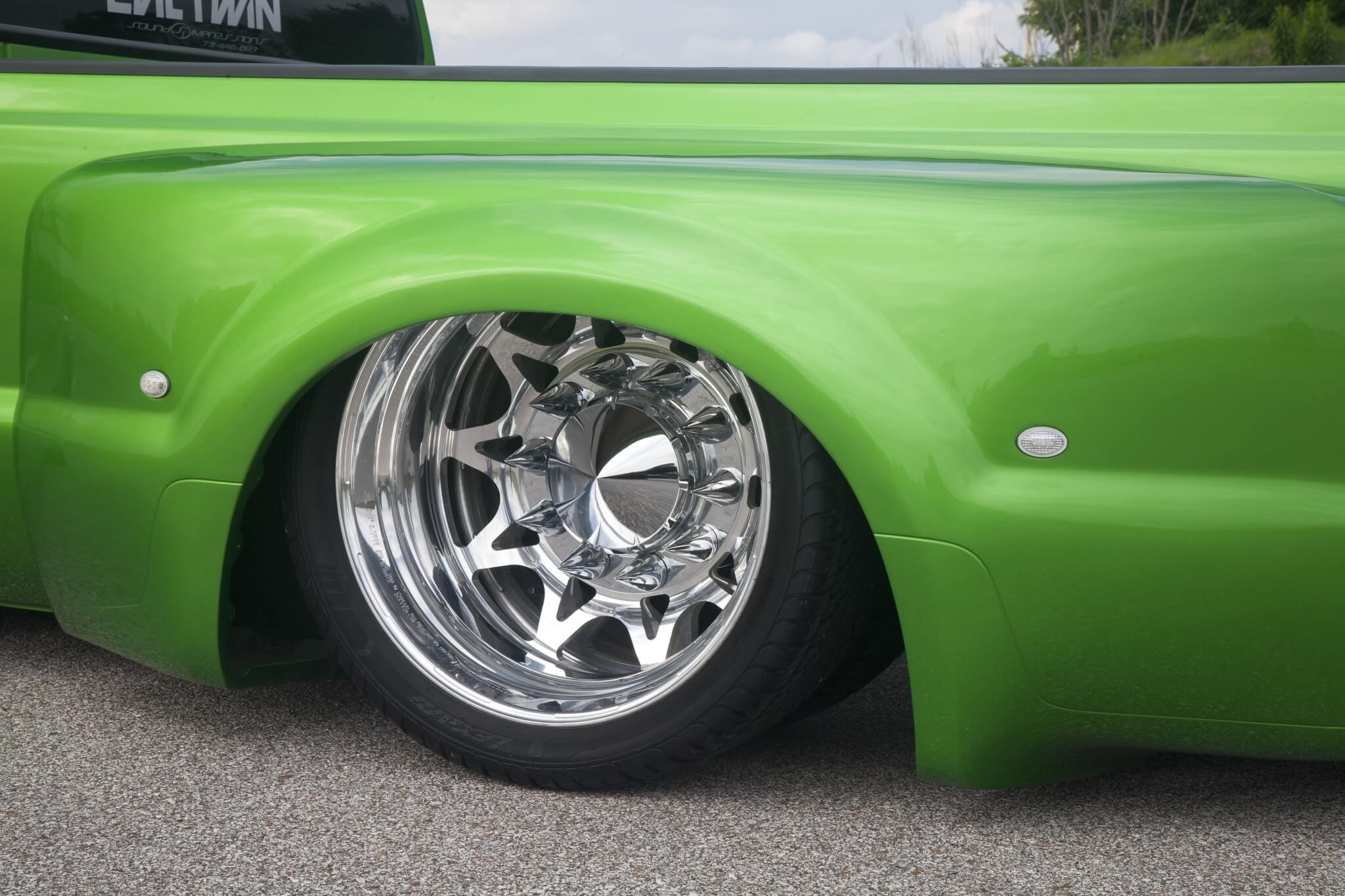 To clean up the look of the exterior, Matt O'Conner and Todd Faulkner of Davis Autobody in Union City shaved the emblems and tailgate handle. Afterwards, they sanded off two previous paintjobs for a good base to work with. Then the exterior was primed and coated in Chevrolet's Synergy Green. Hawks said a gallon of this paint costs so much it should have had real gold in it for flakes. Given how big this truck is, we're sure that the paint alone drove the project cost up quite a bit.
The interior had seen better days as the upholstery was worn down and a bit dirty. To spruce up the inside of the cab, Hawks replaced the original carpet with a kit from LMC Truck. Then, Roadwire gray leather and black ostrich covers were draped over the factory seats. To upgrade the sound system, the truck was taken to Sound Impressions where it first received a Pioneer DVD head unit with 7-inch screen.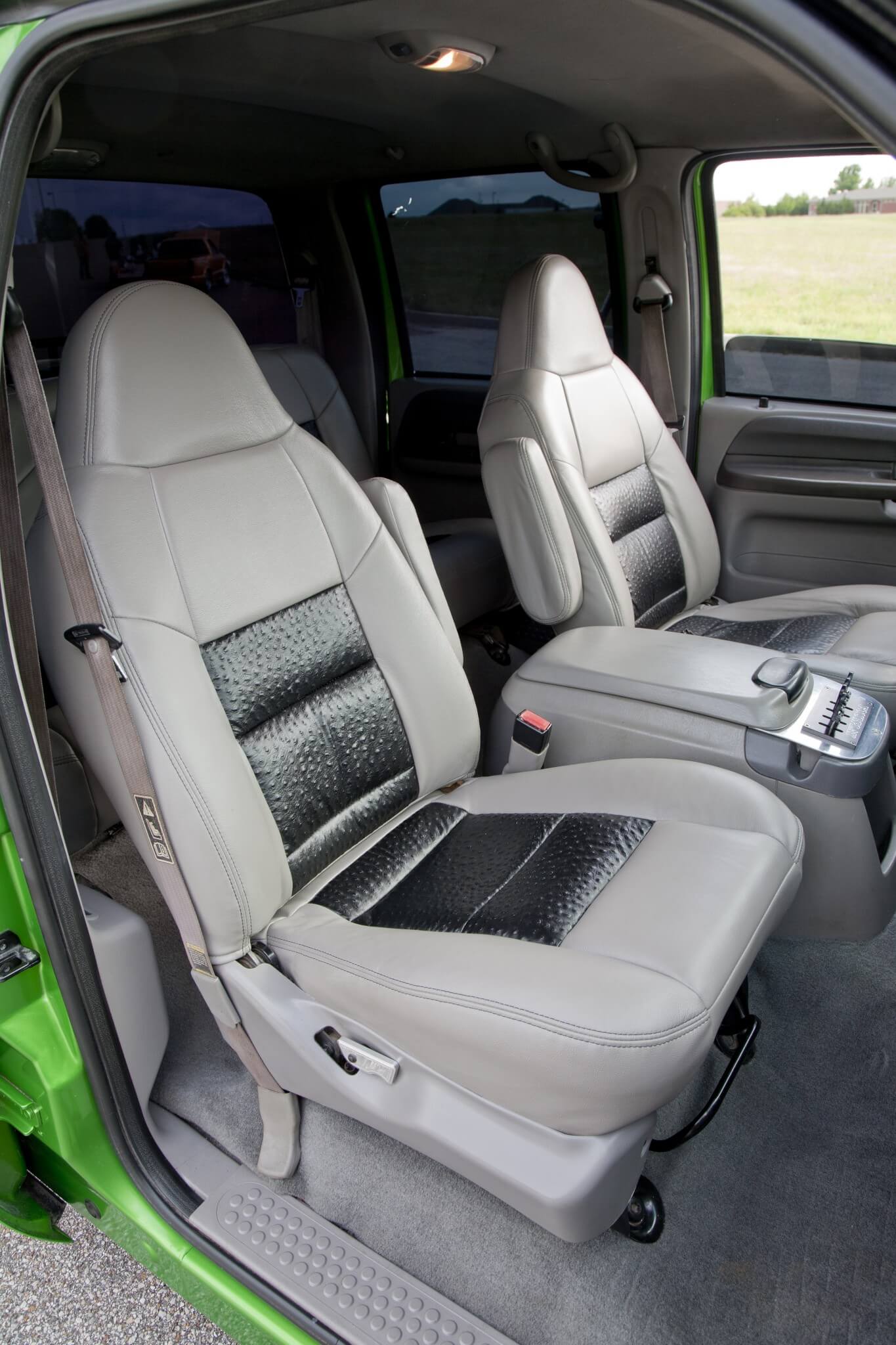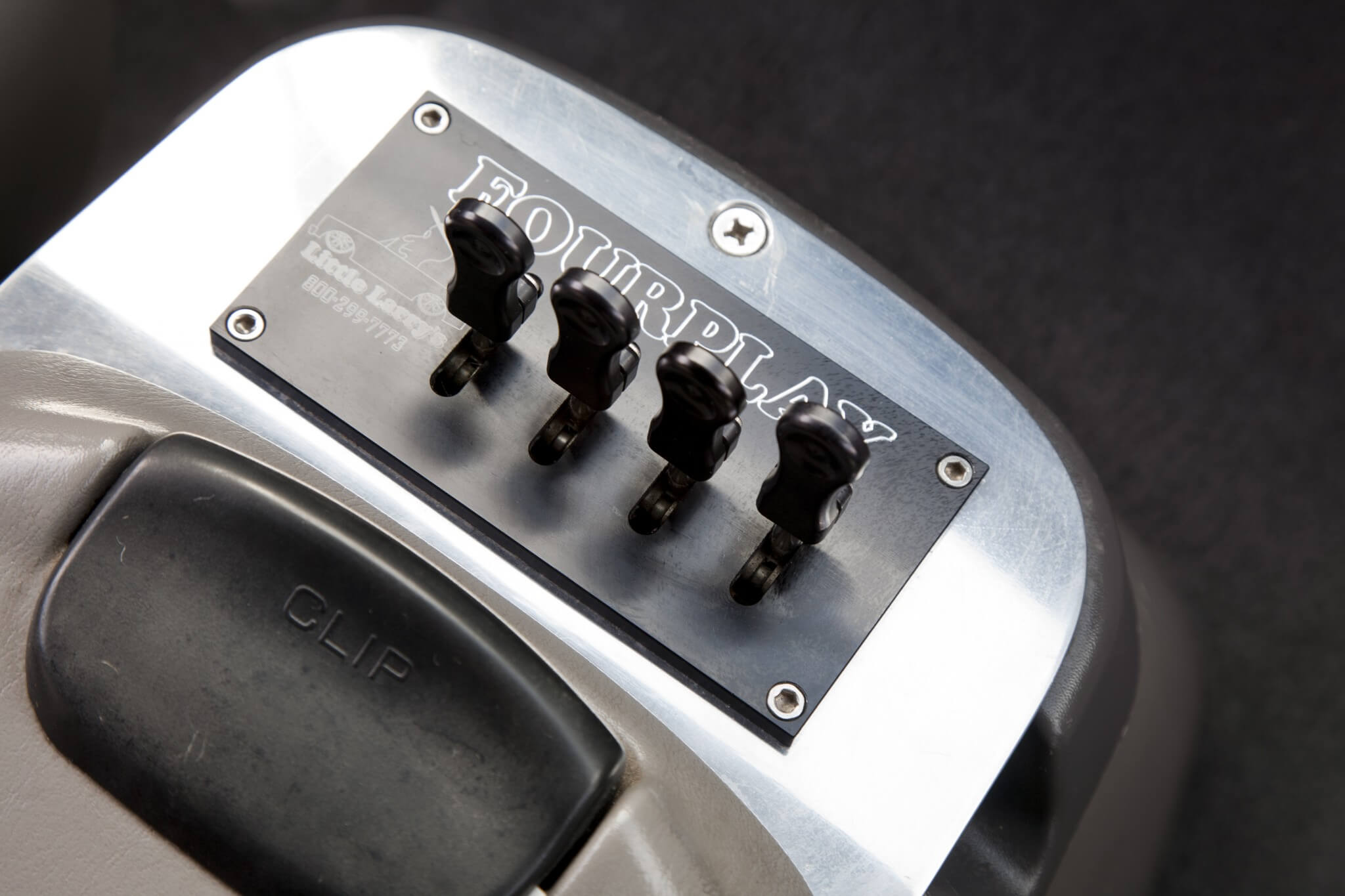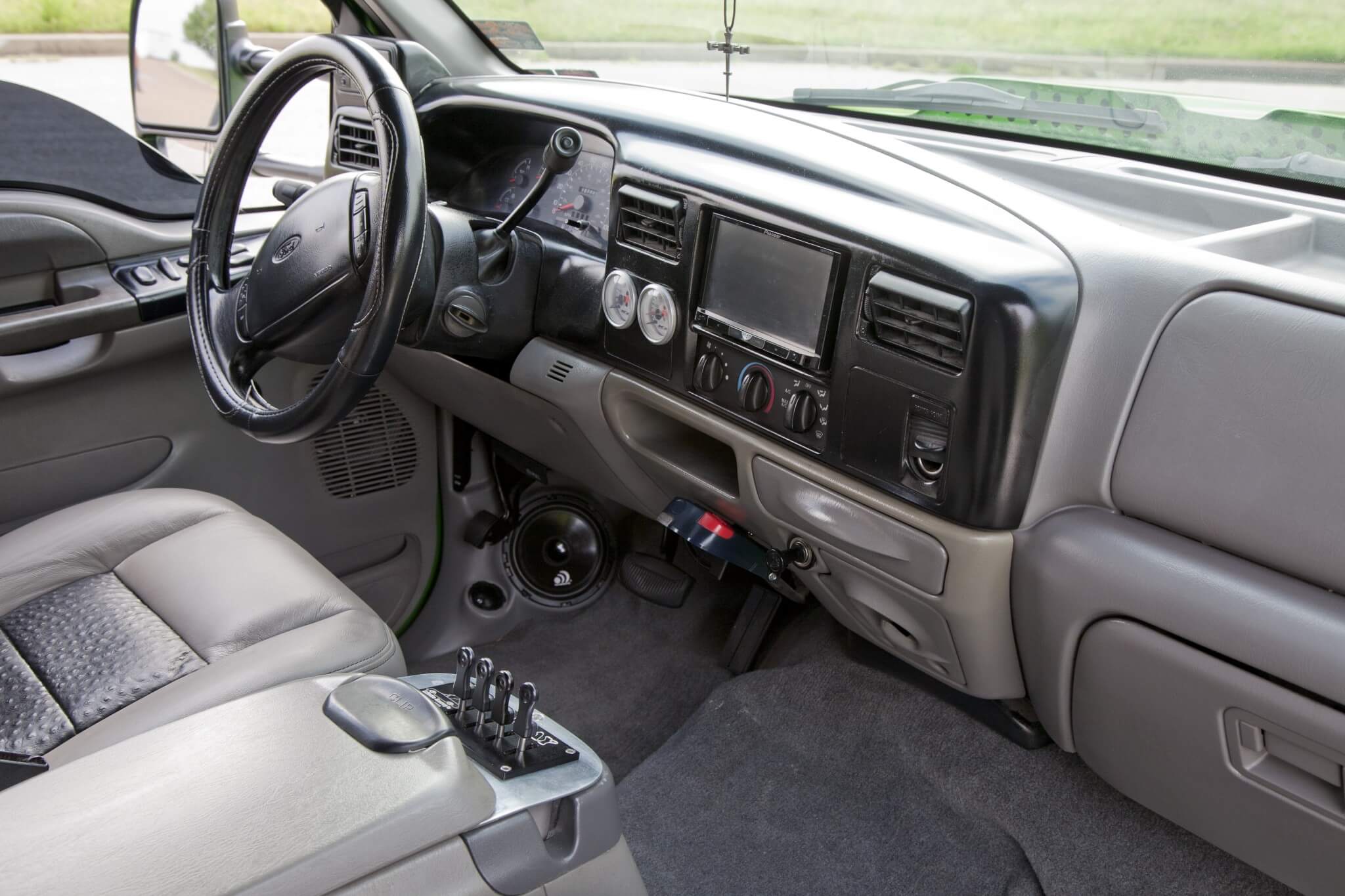 Tunes now pound out through the Massive Audio component speakers mounted in the doors and Q Logic front kick panels. The back of the cab was stripped to make space for a speaker box that's mounted in the bed. The box holds two 12-inch Massive Audio Summo subwoofers that deliver some extra punch. The new system utilizes Massive Audio N4 amp for the subs and an NX4 amp for the component speakers.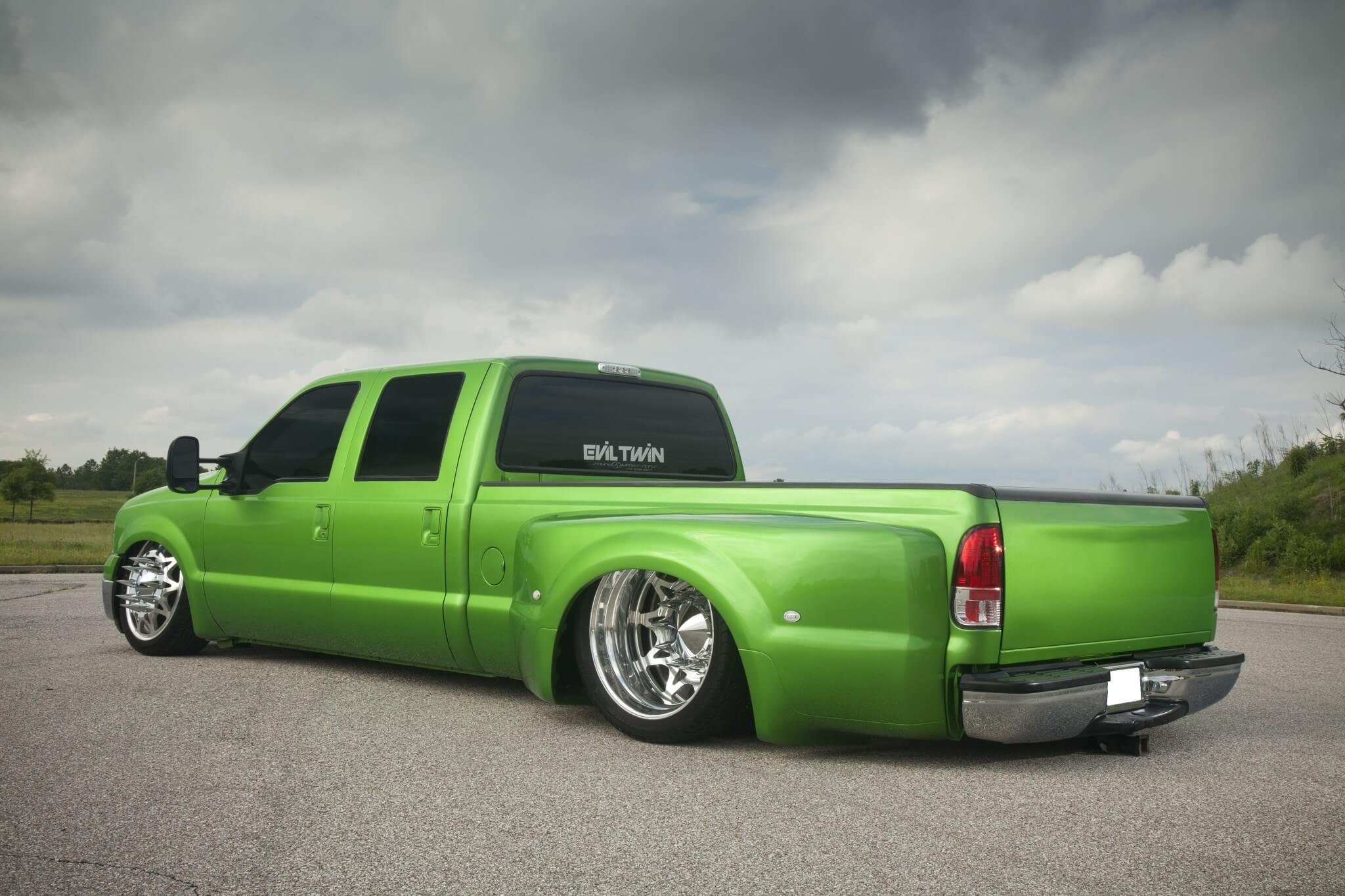 Now that the truck is complete, Hawks has no problems driving it around on a daily basis. He tells us that wherever he goes, he has to account for extra time because people either stop to ask questions about it or request to take pictures of it. His Chevy dually is not ready to be shown off, so he doesn't really get to tow it to shows yet, but this cool Ford is used to help his friends get their rides to events. Until the dually is ready, Hawks can rest assured that this Super Duty has already been road tested and proven for the long haul.
Hawks would like to thank his wife Abbie and their kids Cara, Nate and Jude as well as Brandon Rice at Sound Impressions, Matt O'Conner and Todd Faulkner of Davis Autobody, Gavin Stone at Evil Twin, Adam Campbell, Brian Nelson, Bubba Sullivan, Shane Rinks, and all the other guys in club Relaxed Atmosphere. DW