Bet you'd never guess this beautiful red 1996 Dodge has seen over a half-a-million miles in its day. Thanks to the unwavering love for the 12V Cummins, Casey Adams has worked hard to turn this 500,000 truck into a 700hp show stopper with an attention to detail you won't find in many trucks out there.
After getting the bug for diesel performance back in high school Adams has gone through a few different Cummins trucks all of which were turned into pretty potent performers, but his latest project dubbed 'Red Rush' has become his best one yet. Owner of Flatline Diesel out of Payson, UT and a marketing spokesman for Attitude Performance Products of Sandy, UT, turning an unsuspecting stock truck into a tire shredding monster without losing that daily driver versatility has become his specialty.
"Casey Adams has worked hard to turn this 500,000 truck into a 700hp show stopper"
New Life
This particular truck was purchased in 2012 from the original owner who had already put over 400,000 miles on the odometer. Surprisingly, the truck had been left virtually stock and made for a clean slate for Adams. Once cleaned up, the truck was in fairly clean shape and made it another 90,000 miles without major issue. Nearing the half-million mark, the motor started acting up and was showing heavy compression loss in two cylinders. Being a die-hard 12V Cummins man, Adams decided it was time to dive head first into the project and go all out with a complete rebuild and restoration from the ground up. The motor was pulled from the frame and the chassis went to the shop for a complete rework of the suspension and body over the winter.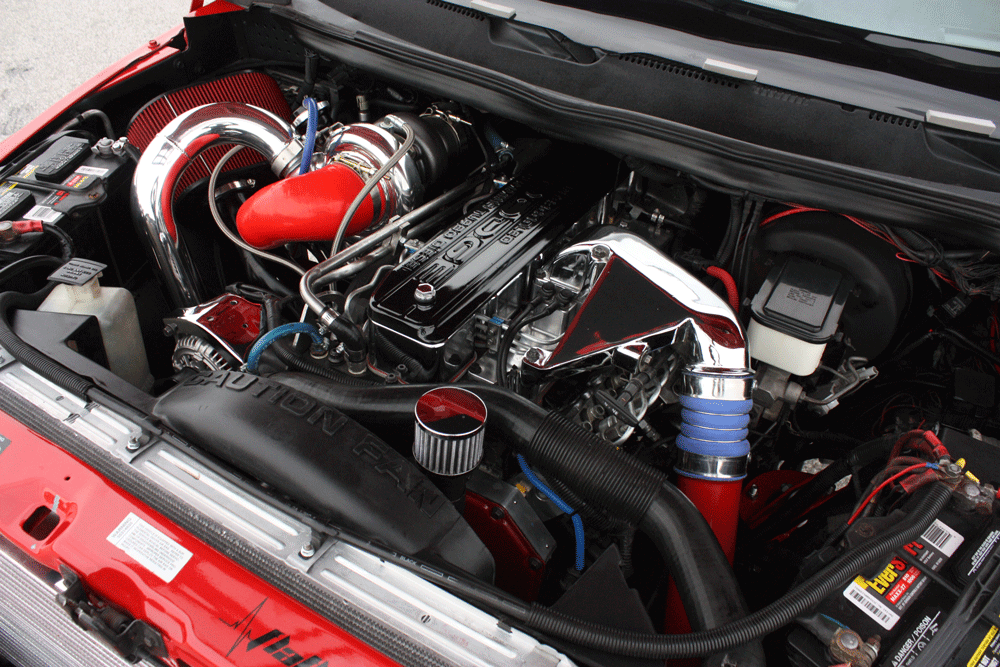 700HP 12 Valve
Knowing big horsepower was the final goal, the engine went through a complete overhaul with machining and balancing done by C&T Machine of Orem, UT. Adams assembled the engine himself with new .020+ Mahle pistons, a Hamilton 188/220 camshaft, 1.5 tappets, billet pushrods, beehive valve springs, a mild port and polish of the cylinder head, new rockers, billet oil squirters and freeze plugs from Attitude Performance, ARP head studs, killer dowel pin cover, new flex plate, Fluidamper damper and of course all new gaskets and seals.
Fueling
To fuel the newly built engine, Adams turned to Goff Injection of Salt Lake City, UT who modified the stock P7100 to their 12mm specifications with high flow Dynomite Diesel delivery valves, 4k Governor spring kit and an Attitude Performance rack cap. Once on the engine, Adams then added the all new Attitude Adjuster that allows in-cab control of the fuel plate position to adjust fueling from just 85cc of fuel in Level 1 to 550cc of fuel on Level 10. The adjustable fuel plate allows Adams to keep power and smoke output low for daily driving and mileage, but it can be cranked up to over 700hp at the turn of a dial while driving. For injectors, a set of Stage 3 Dynomite Diesel pieces were used and are fed by a 220gph Fass lift pump.
Turbo Duties
To supply air for all that fuel, a compound turbo pipe kit from Diesel Power Source was used to fit a pair of polished Borg Warner turbos built by High Tech Turbo of Salt Lake City, UT under the hood. The high pressure unit is a custom 63mm S300 with a Forged Mill compressor wheel, 68mm turbine wheel and 12cm wastegated turbine housing, the turbo also received a 360-thrust bearing and adjustable wastegate actuator. This 63mm is paired with a S475 that flows enough to support 700hp, this combo keeps great street manners at the lower horsepower levels and even allows for good towing performance when the Attitude Adjuster is dialed into level 3 or 4 (around 450hp). To help keep the 60+ pounds of boost cool, a polished High Tech Turbo high flow intercooler was also installed.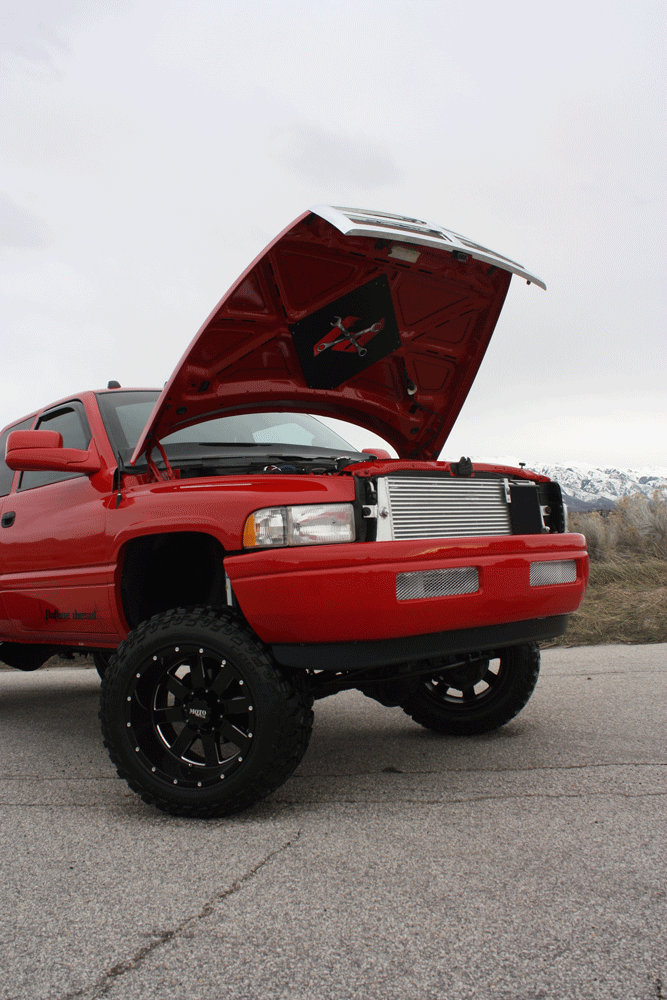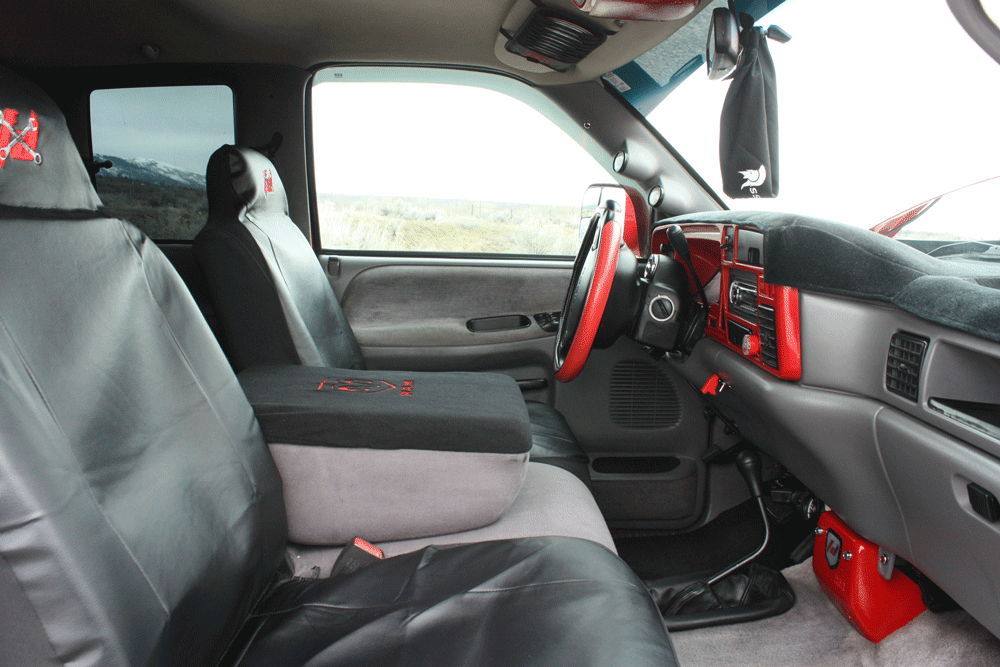 Body Work
Back to the chassis, Adams was able to do the body and paint work himself, which included countless hours sanding and prepping to lay down that flawless victory red paint. The front bumper was cleaned up with a Street Scene cover and the rear bumper was replaced with a smoothed out roll pan. The grille was replaced and is the only pop of chrome you'll find on the truck. The stock mirrors were replaced with late model tow mirrors that were also painted red to match. Smoked cab and taillights add to the trucks sleek look as well. The frame rails and suspension were all cleaned up and painted black with a fresh layer of undercoating.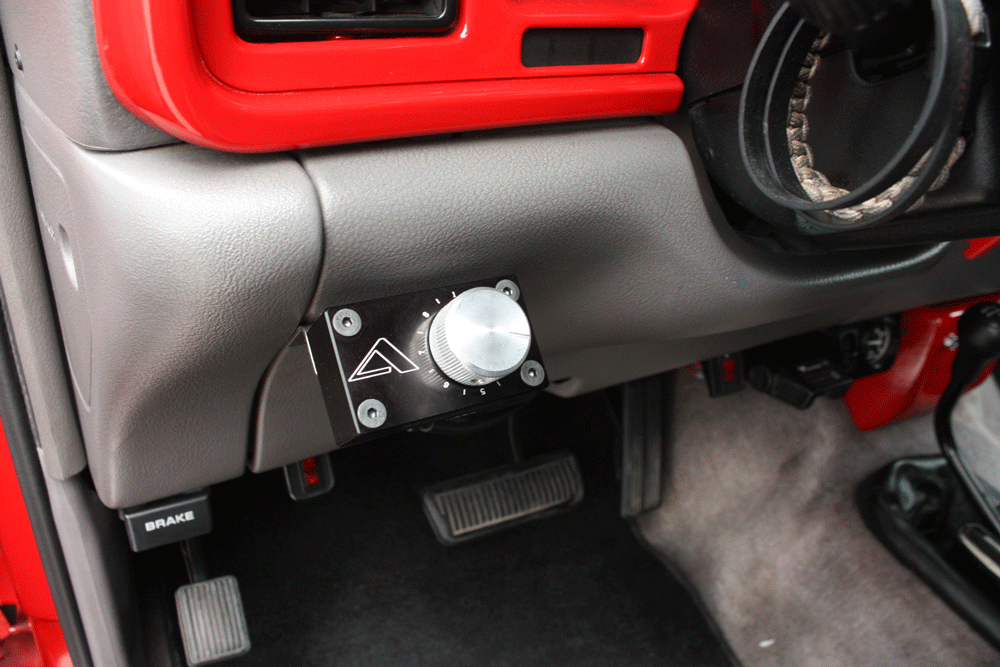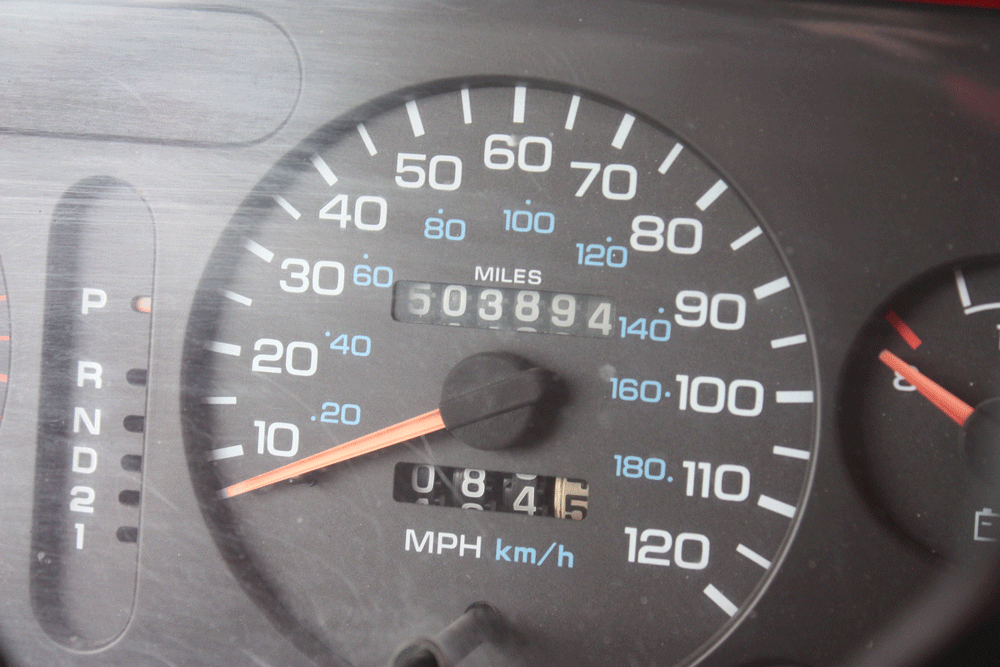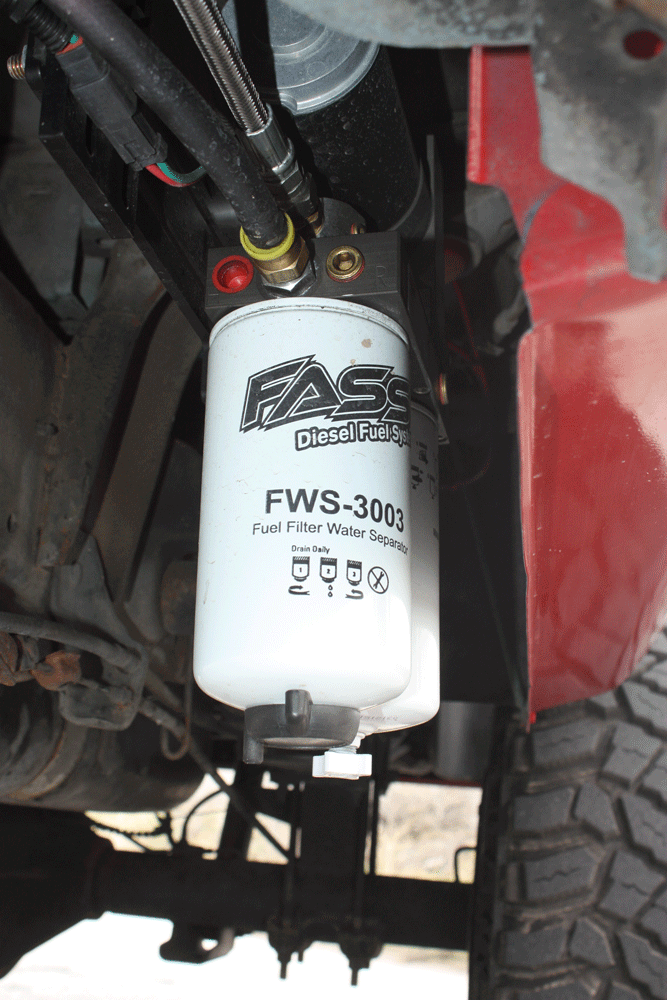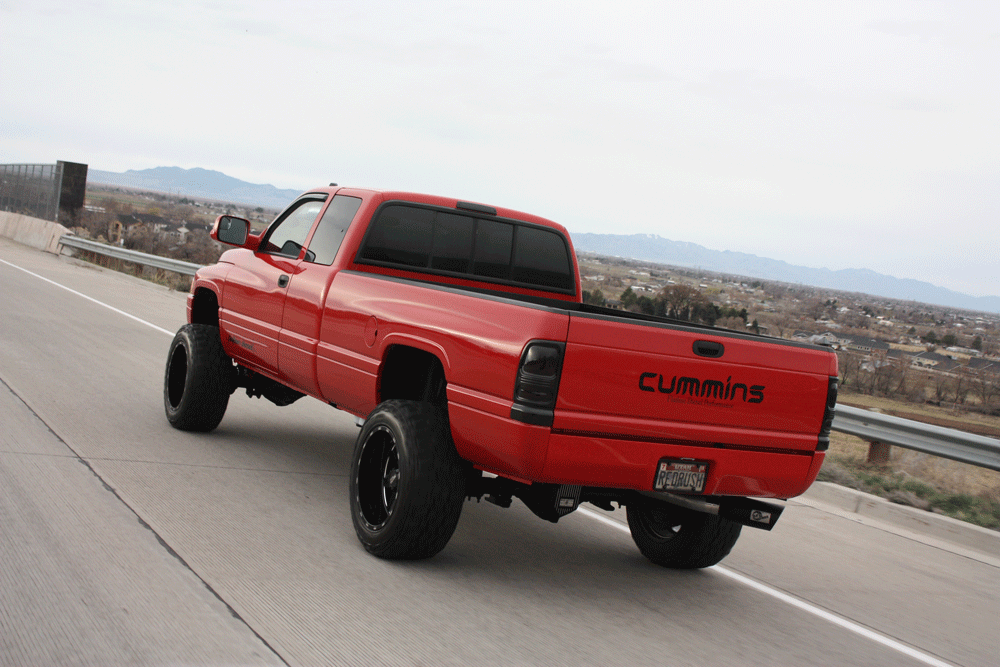 Suspension
For the suspension, the stance had to come up a bit from stock height to give the truck the aggressive stance Adams was after. So a custom front end level kit was put together that includes matching red coil springs and a dual shock bracket Adams fabricated himself. The truck sits on dual Bilstein 5100 shocks up front and matching Bilstein 5100's out back. For tires, a set of Cooper STT Pro 305/55 rubber is wrapped around a set of 20×12 Moto Metal black and machined wheels. Firestone Ride Rite airbags were also installed on the back axle to help keep the truck level while towing.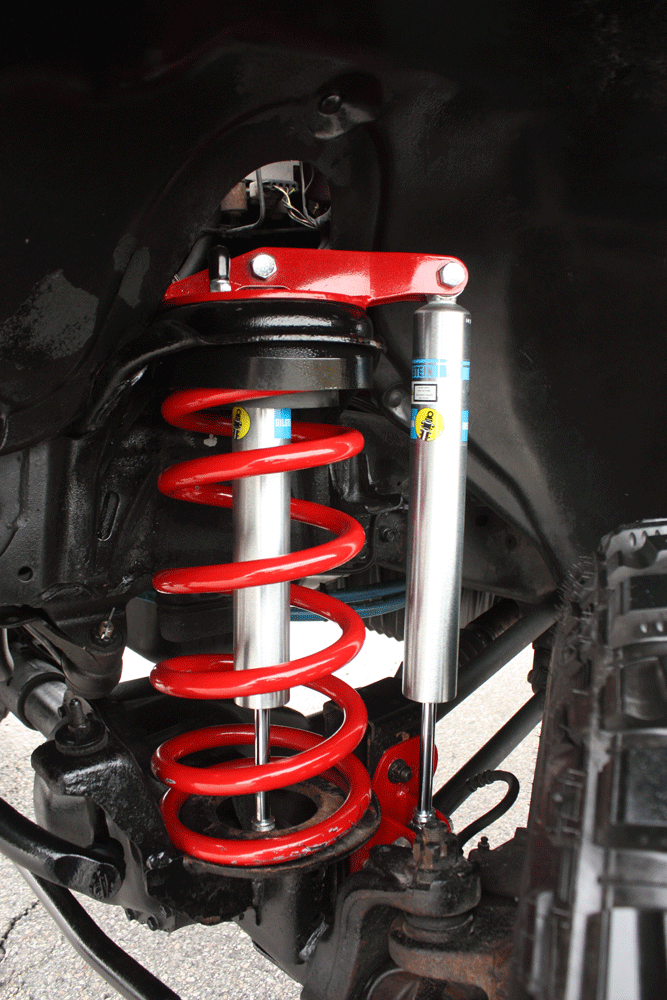 "17+ miles per gallon"
Power Transmission
To keep all-that horsepower getting to the tires safely, an ATS automatic transmission was installed along with one of their full five-disk torque converters and deep sump pan. The factory drivelines were overhauled with new u-joints and then balanced to keep the drivetrain vibration free. The stock 3.73 gears were retained as they offered great drivability and lower RPM's while cruising at highway speeds. The rear differential was capped off with a Mag Hytec cover.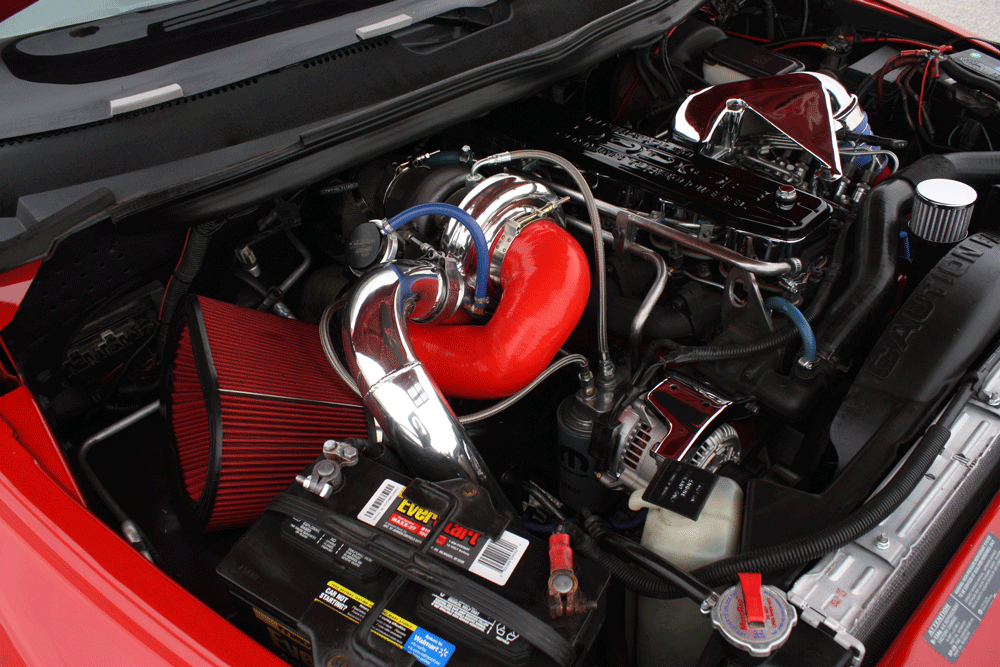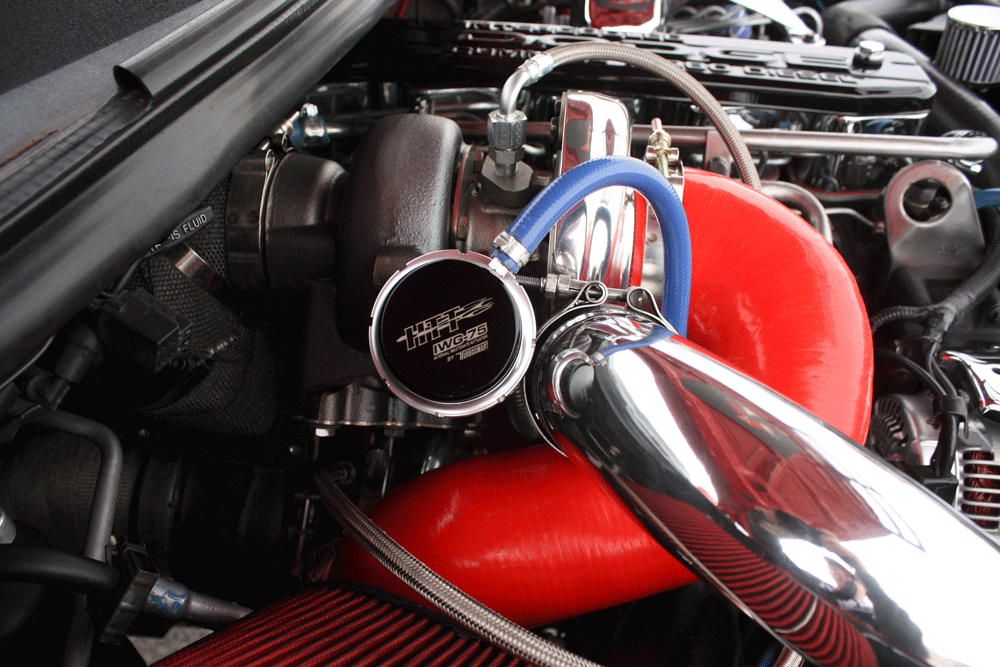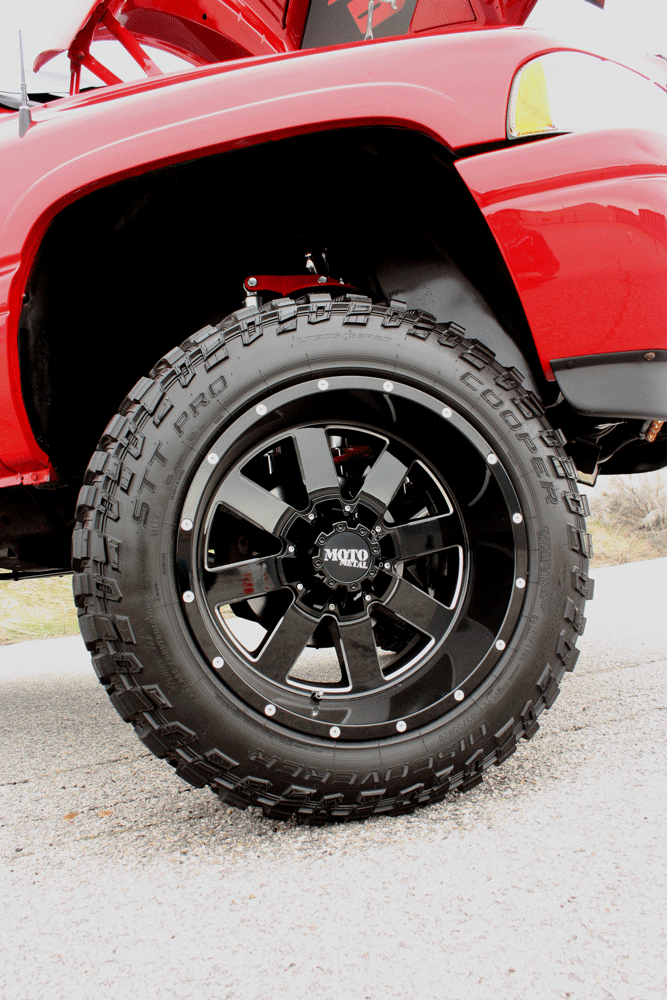 "60+psi of boost"
Since completing a near frame off restoration of the truck Adams has put about 4,000 miles on the truck and brought home a 2nd place Autorama 'Best Truck' trophy at Utah's largest car show. Adams loves to take his family out cruising back country roads of Utah and says his wife's support in this build has been incredible. The parts combination has worked flawlessly together and does everything he imagined it would. With 700hp and 1400lb-ft of torque, it's easy to see why he'd feel that way as having that kind of power on tap while still being able to tow and maintain 17+ miles per gallon on the highway makes it super versatile truck. Adams has no immediate plans to make any other changes to the truck, as the current power package is working together extremely well and should be good for another 500,000 miles.