A Pro Stock Dodge Packing Cut Tires and 1,850 HP
Believe it or not, nine years is a long time in the truck pulling game. A lot of folks get into and then back out of this sport in that amount of time—but not the Whalen's. Throughout the last decade, and year after year, they've remained determined to put their truck in the winner's circle. It all started in 2007 when the family brought home this '01 Dodge. Already having been converted to a dually, it was essentially purchased as a way for Rick Whalen to feed his son Ryan's thirst for sled pulling—yet keep him from hooking his daily driven Duramax to the sled. In the years that followed, Ryan gradually began sharing the driving duties with his younger brother, Daniel, who would eventually take over the reigns.
"Concrete-filled, 6.7L-based cast-iron block"
Over the course of the last nine years, the Whalen's have seen the explosion of engine, turbo, and fuel system advancements firsthand—with their own engine combinations doubling in horsepower during that time. Throughout the years, the truck's powertrain, chassis, and cosmetic appeal have all undergone major changes as well. By 2009, the P-pumped 24-valve Cummins was yanked in favor of a 12-valve, and by 2013 the truck was graced with an 8-foot bed, a longer wheelbase, and a fresh paintjob. Today, the truck sports a set of cut tires, a deck-plated Cummins, and makes more than 1,800 hp.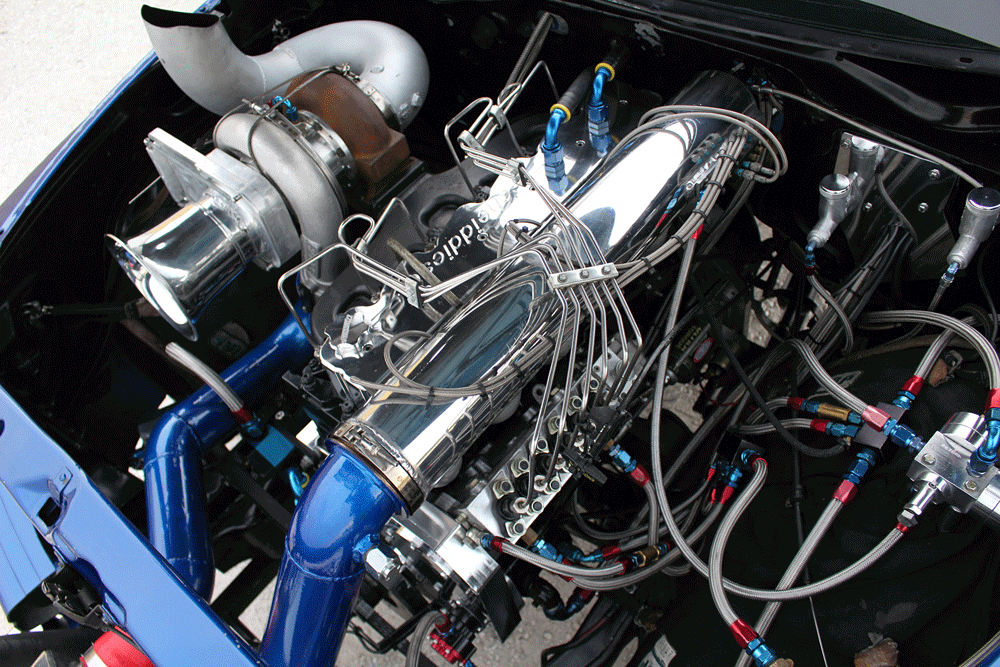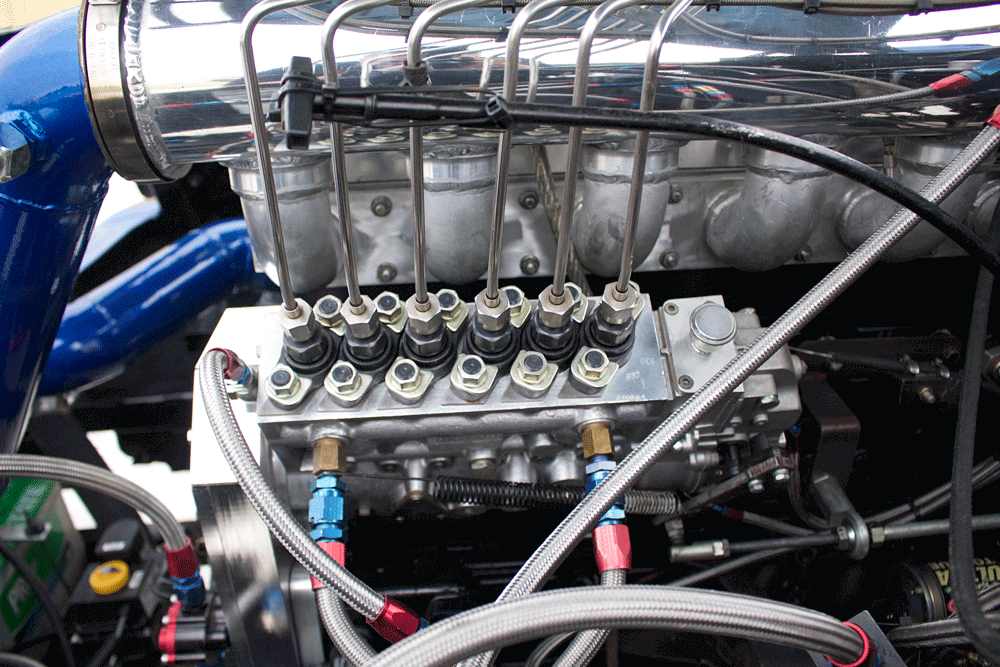 6.4L Cummins
At the heart of the Whalen's second-gen sits an engine built to both produce and survive big horsepower in the Pro Stock diesel truck class. Assembled by Flynn's Shop in Alexander, Illinois, the 391 cubic inch Cummins incorporates a host of proven parts from Scheid Diesel. Starting with a concrete-filled, sleeved cylinder, 6.7L-based cast-iron block, a factory 6.7L crank is utilized and secured via a girdle and 14mm main studs. Filling each cylinder is a billet-steel R&R connecting rod and valve-relieved Arias piston combination. Further strengthening the block—and a major factor in making the engine so reliable—is the employment of a 1-inch thick deck plate up top. A full, race-ready 12-valve cylinder head with extensive porting, oversize valves, competition valve springs, and chromoly push rods channels fresh air and spent exhaust gasses in and out of the cylinders.
Fuel System On Steroids
With the engine sporting an ultra-low 12.5:1 compression ratio, plenty of fuel can be injected in-cylinder. Sending an exuberant amount of fuel volume to the injectors through oversize 0.120-inch stainless steel lines is a 14mm P8600 injection pump from Scheid. A gear-driven DSR fuel pump ensures 50 psi worth of supply pressure is sent to the big P-pump. A massive set of 5 x 0.030-inch injectors (also from Scheid) utilize a triple feed design, heavy-duty SAC nozzles, and a custom spray pattern.
3.6-inch Smooth Bore Turbo
While the engine was equipped with a 3.0-inch inducer turbo for years, recent Pro Stock rule changes led to a 3.6-inch turbo being permitted in 2016. The catch is that no map width enhancement groove can be present anymore, which spawned the creation of a unique charger from Hart's Diesel. The massive turbo incorporates a true ("smooth") bore, proprietary 3.6-inch inducer compressor wheel, and a custom ball-bearing center section. Without a doubt, the smooth bore turbo rule eliminates a lot of the gray areas that used to exist in the class, simplifies the tech process, and—thanks to the upsize—allows trucks to make even more horsepower.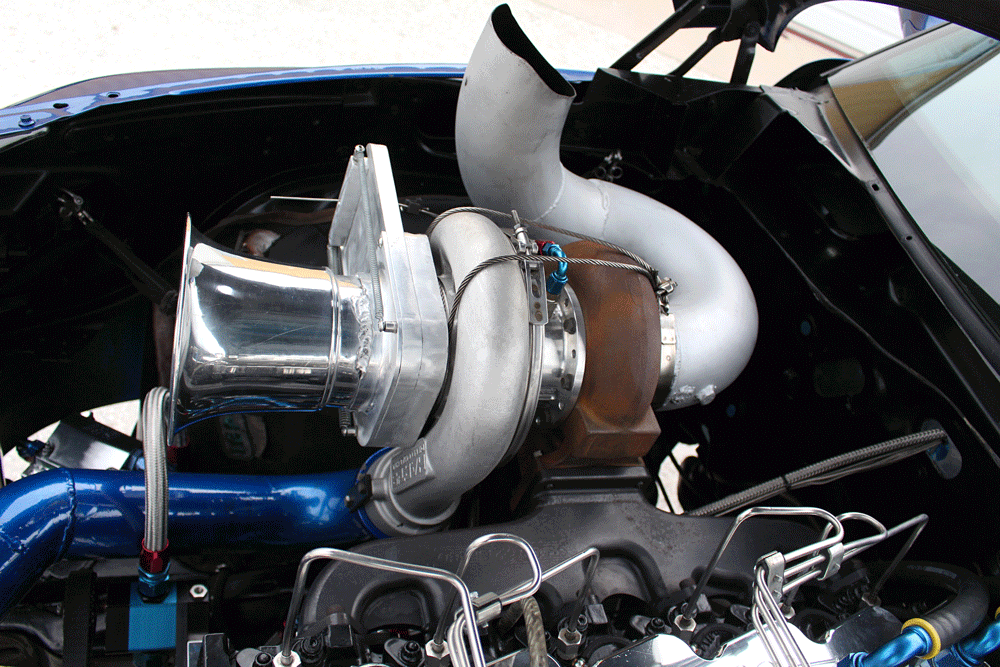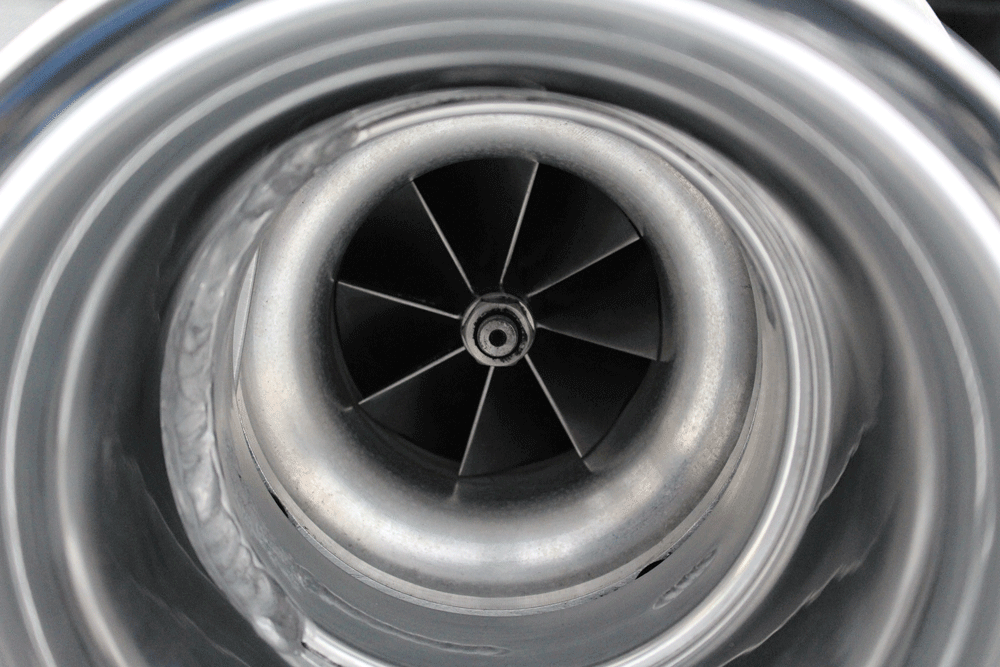 Although First Place finishes aren't easy to come by, the Whalen's experienced a wave of success in 2015. After opening the season with a win at the TS Performance Outlaw Pull, they racked up seven wins in their local pulling circuit, and ultimately won the points championship. Seeing it all come together for a crew that's been grinding it out for years was rewarding, but almost immediately the Whalen's got busy readying the truck for the cut tire, 3.6-inch turbo, and revamped engine package it's currently campaigning. By the time this issue of Diesel World hits the newsstand, they'll already be in the midst of defending their title—a challenge we know they look forward to. DW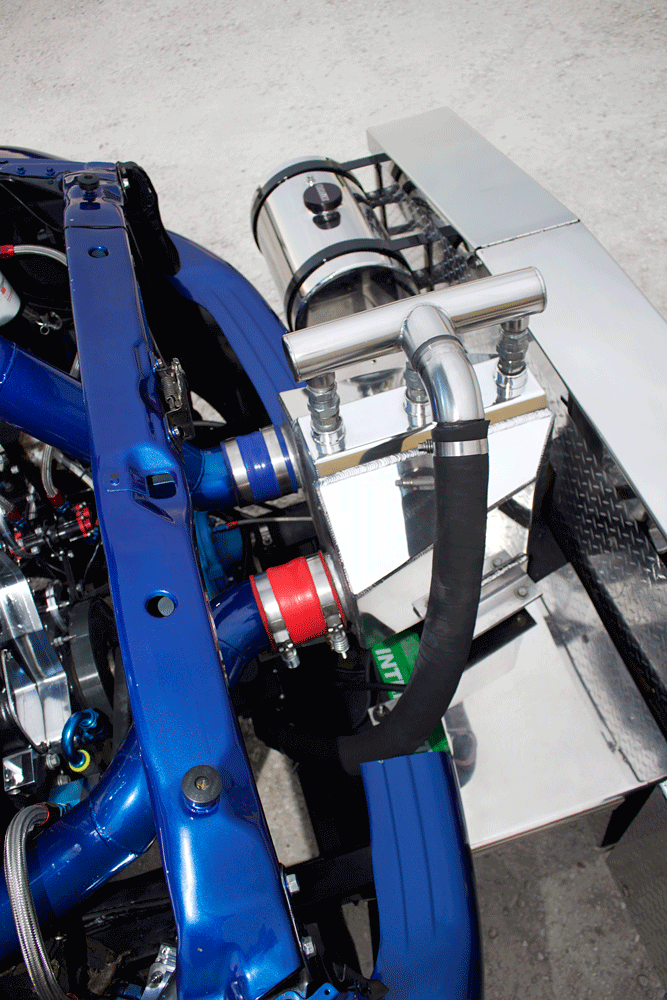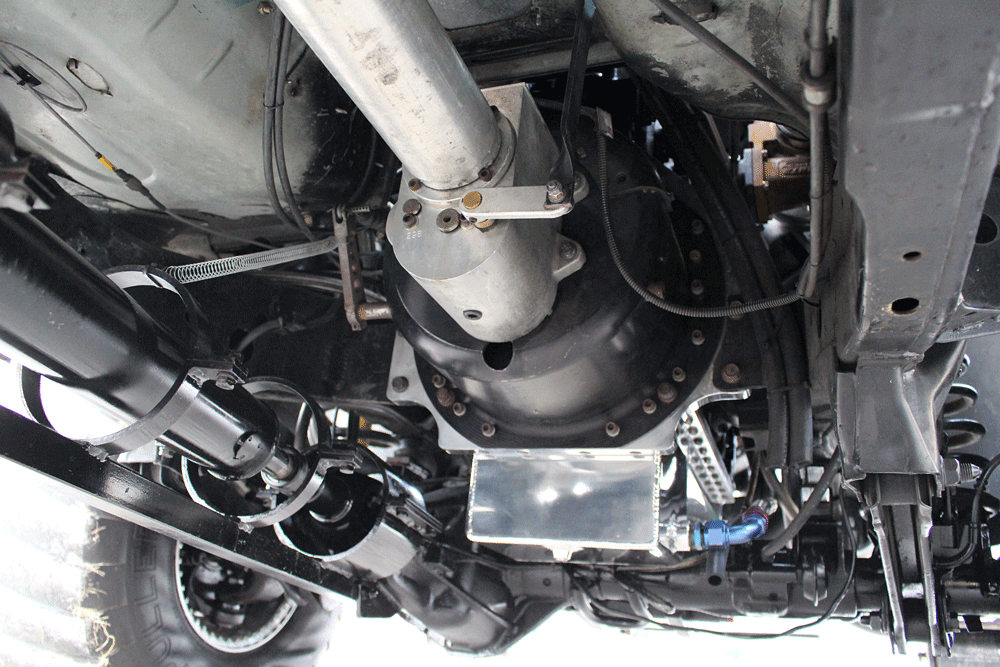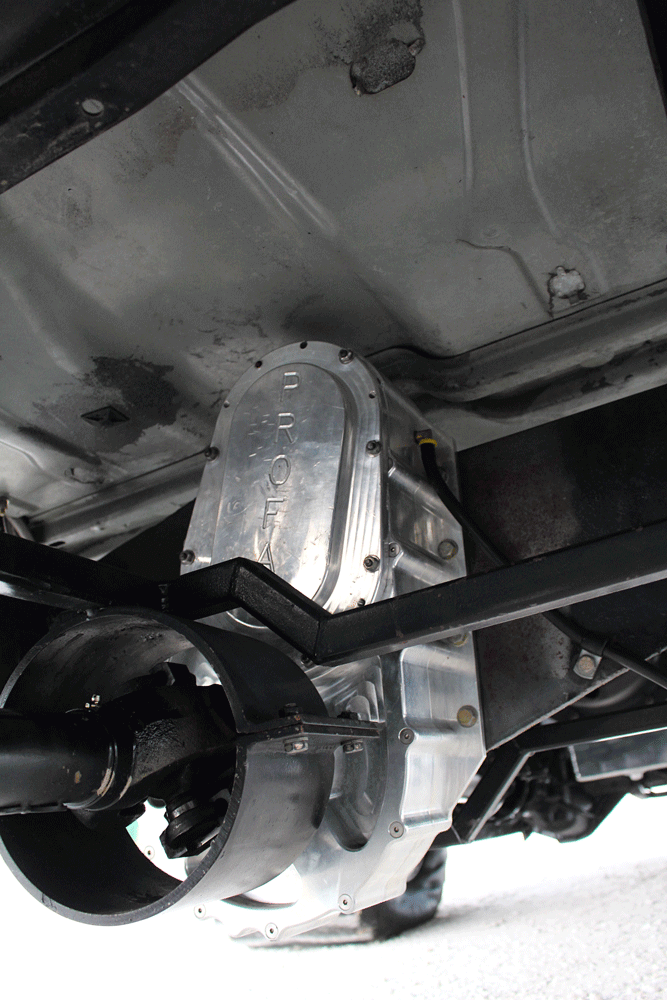 [divider]Specs[/divider]
Year/Make/Model: 2001 Dodge Ram 2500
Owner: Daniel and Ryan Whalen
Hometown: Franklin, Illinois
Odometer: 80,000 miles
Engine: 6.7L-based 391 ci Cummins
Short Block: Concrete filled block, stock 6.7L crank, Kenny's Pulling Parts & Machine girdle, 14mm ARP main studs, R&R Racing Products billet rods, Arias valve relieved 12.5:1 compression pistons, fire-ringed block, 1-inch deck plate, Scheid Diesel billet-steel roller cam and roller lifters, SFI-rated Fluidampr
Head: Competition 12-valve cast-iron head with extensive porting, Inconel oversize intake and exhaust valves, roller rockers, chromoly pushrods, ARP head studs
Fuel: Scheid Diesel 14mm P8600 P-pump with RSV ("Ag") governor, triple-feed 5 x 0.030-inch injectors, DSR gear driven lift pump supplying 50 psi
Oil: R&R Racing Products extruded billet-aluminum wet sump oil pump supplying 110 psi
Air: Hart's Diesel custom 3.6-inch smooth bore turbocharger with ball bearing center cartridge, Precision Turbo & Engine 3-core water-to-air intercooler
Transmission: Profab Machine one-speed Reverser with Crower 4-disc clutch and Quick Change transfer case
Horsepower: 1,850 hp (estimated)
Tires: 34×18-15 Pioneer Giant Pullers (front), 34×22-15 Pit Bull Super Pullers (rear)
Wheels: 15×18-inch Real Racing Wheels (front), 15×22-inch Real Racing Wheels (rear)
Axles: Rear Profab Machine SQHD with gun-drilled 2.5-inch axleshafts, spool and 6.20 gears, front Dana 60 with Yukon Grizzly locker, 35-spline chromoly axleshafts and Yukon 6.17 ring and pinion