The Colorado Elevated
Titan Tanks is a company full of enthusiasts—automotive, off-road, adventure and camping enthusiasts. They've built some truly impressive rigs over the years, both gas- and diesel- powered, but wanted to find a way to one-up themselves and build the ultimate do-anything off-road/overland rig. A tall order, but this 2017 Chevy Colorado ZR2 build is what they came up with. Somehow they managed to put it together in just three months to have it ready for its debut at the SEMA Show 2017.
The concept was pretty simple, but making it happen was quite the challenge. The ZR2 didn't hit dealer lots until summer 2017, and most had been pre-sold. The Titan team wanted a pretty specific model as well, requiring the diesel-powered 4-door version. After searching and calling every dealer within 1,000 miles of their Idaho Falls facility they thought hope was lost. Luckily, at the last moment their local dealer, Smith Chevrolet, called about a customer pre-ordered truck that the buyer had backed out of, and which matched Titan's specifications exactly. The crew at Titan bought that truck within an hour of the phone call.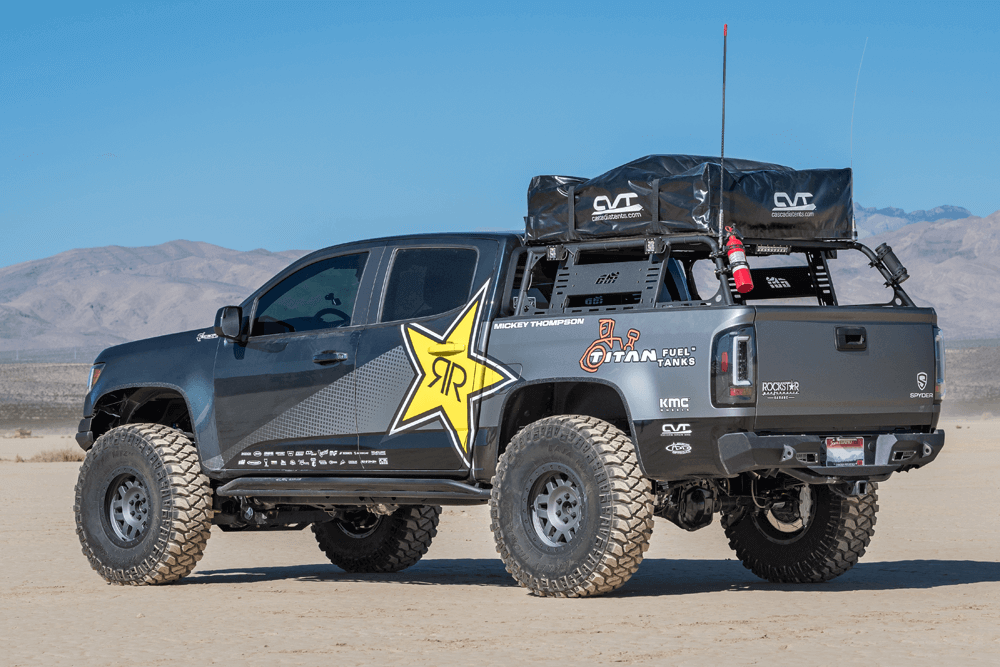 THE DREAM
With the truck secured, the team had only three months to prepare it for SEMA. They wanted to go a bit crazy with the build, but also wanted to keep it a ZR2 at heart, as it's a very capable and recognizable off-road truck right off the dealer lot. They really wanted a truck that could be enjoyed through all aspects of off-road adventure. The truck needed to be able to tackle technical trails, run at speed across vast desert expanses and also serve as a great overland camping rig that could traverse wide swaths of land, whether paved or not. Sure, it is pretty impossible to make one perfect truck that is a competent pre-runner and that can still rock crawl and remain comfortable enough for long-distance travel. The Titan team was realistic in their expectations however, and figured they could find a compromise that was best for the truck and the adventures they had in store for it.
THE BUILD
While the Titan team would have loved to do the work themselves on this build, the looming SEMA deadline and normal 40-hour workweeks really wouldn't allow them to put in the time required. The first call was to Nic Ashby at Rockstar Garage. Rockstar Garage has built out a wide range impressive off-road vehicles over the years, and are known for functional builds that perform as good as they look. After a quick call with Ashby it was clear that his was the team to do this Colorado build right, and on time, so it was loaded up and driven out to their Temecula, Calif., shop.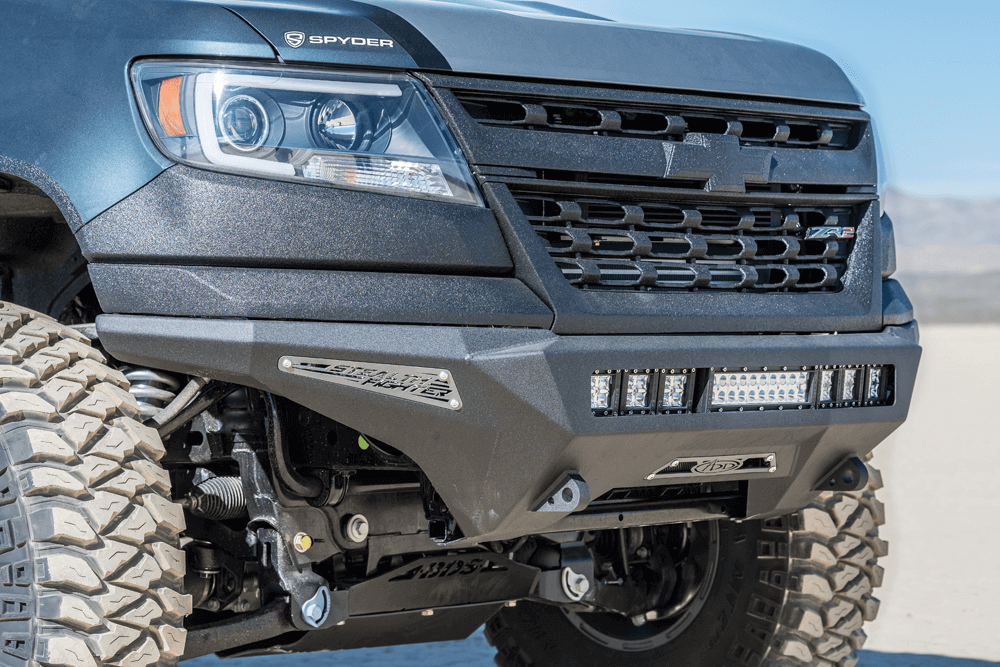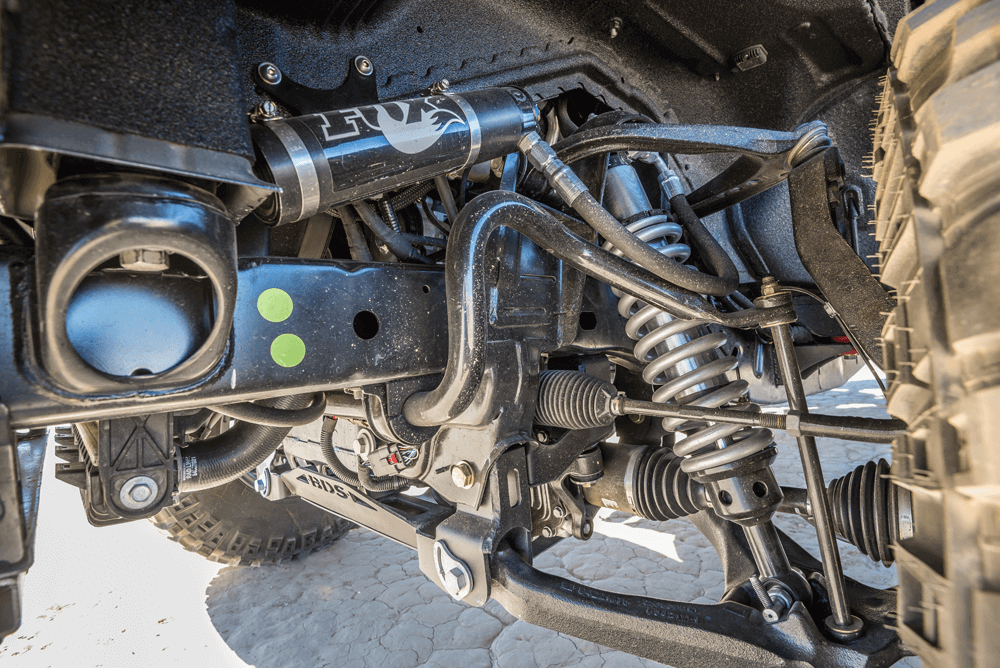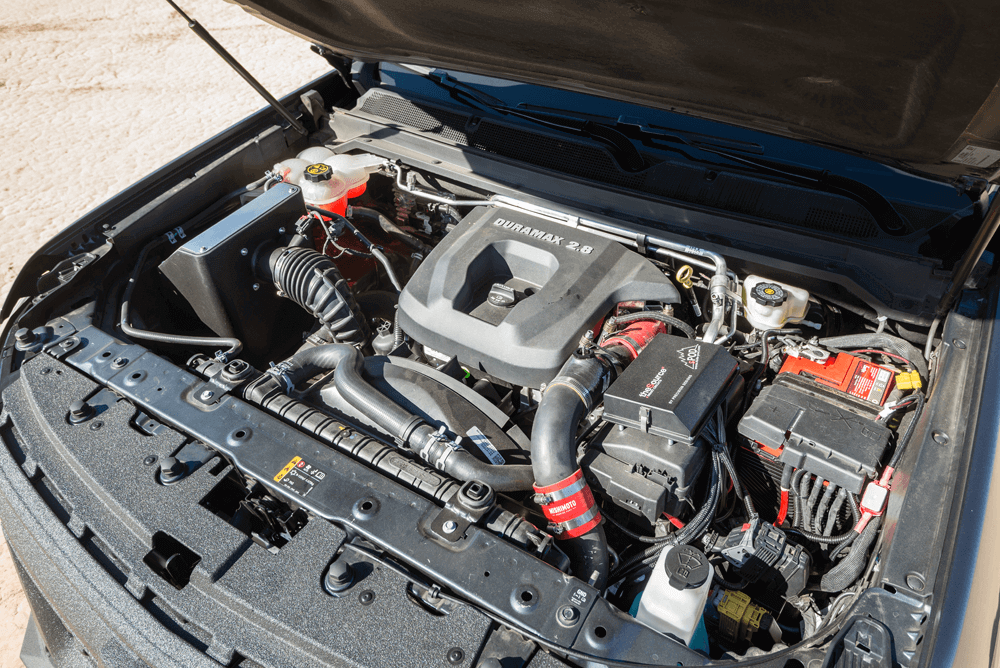 THE RIDE
Of course, the first thought was going nuts and converting the truck to a solid front axle, but that would have taken away from some of the ZR2's road manners, ride comfort and high-speed, off-road capabilities and comfort. Instead, the team at Titan decided to work with the quality truck that the ZR2 already is. The Rockstar Garage team was able to dial in the suspension and ride through the use of custom Fox 2.5-inch remote reservoir shocks, Atlas leaf springs, a 5.5-inch BDS High Clearance System suspension lift, Zone Offroad 1.5-inch body lift and 37-inch tires.
In order to get those meaty 37-inch Micky Thompson MTZs to fit in the wheel wells a LOT of trimming and a bit of modification was required. But the Rockstar Garage team is extremely talented, and with more than 3 inches of trimming and flaring the whole setup looks like it could have possibly come that way from the factory. The forward cab mounts also caused a clearance issue, so they were moved a half inch back on the frame. Custom fabrication is seen throughout this build, but largely goes unnoticed due to its the impressive craftsmanship.
The end result of all the lifting, trimming, flaring and fabricating is an extremely capable mid-sized pickup. It is very stable at high speeds and easily crawls over impressively large off-road obstacles while still being easy to drive on the pavement. The plush suspension can be fine-tuned in the field without tools, and through air pressure modulation in the massive tires the ride, traction and flotation can be dialed in on the go. A Viair Dual 450 on-board air system and a bed-mounted Powertank make adjusting tire pressures super easy.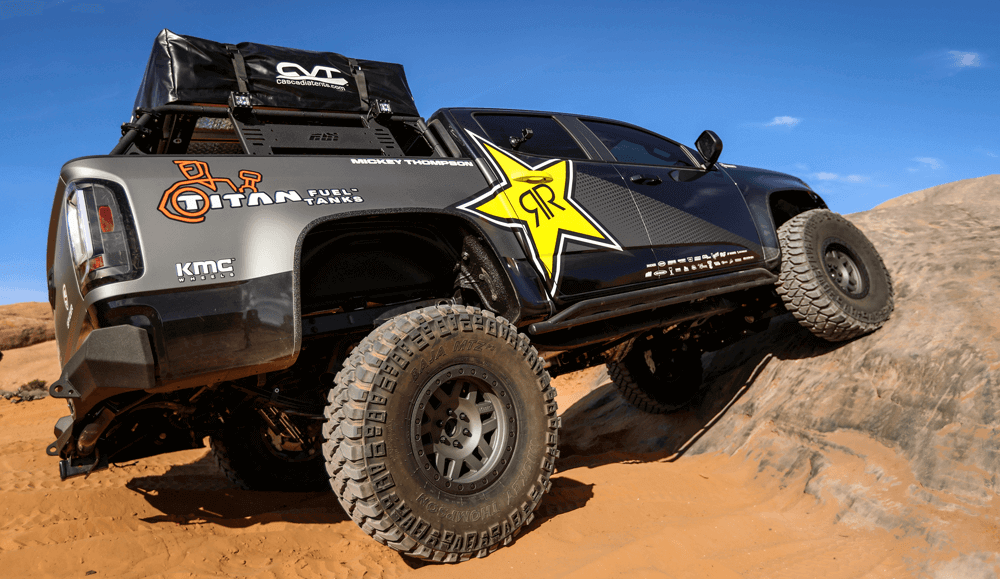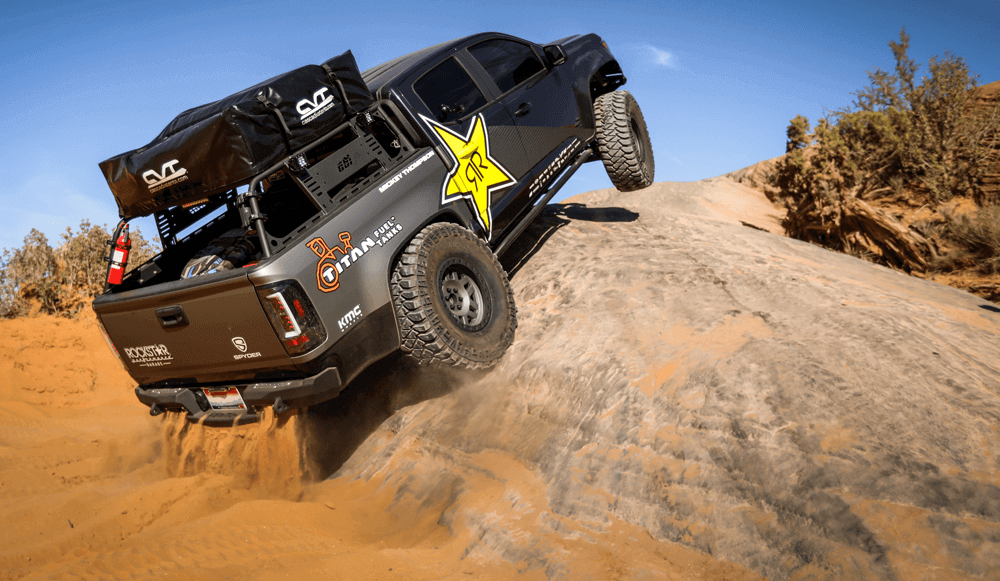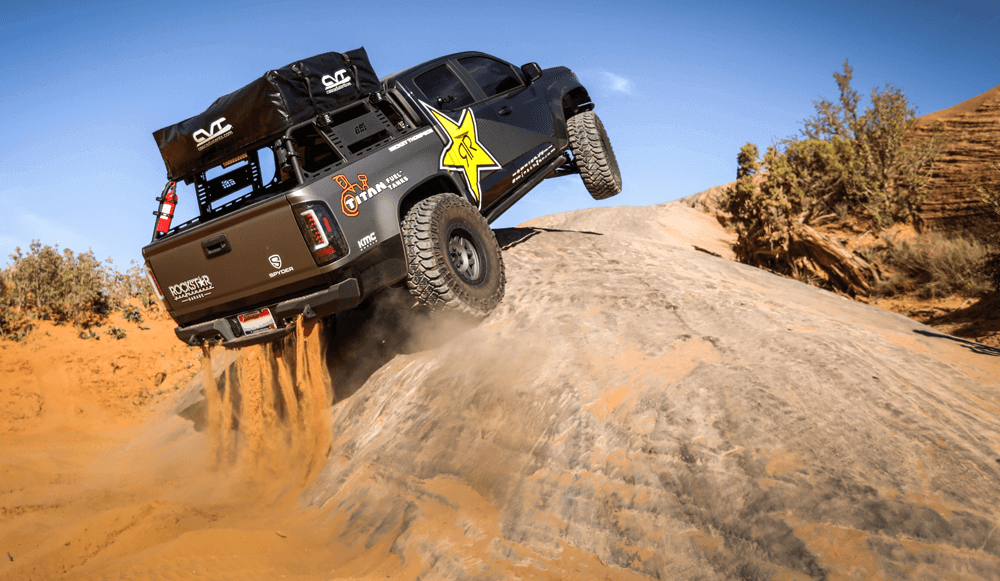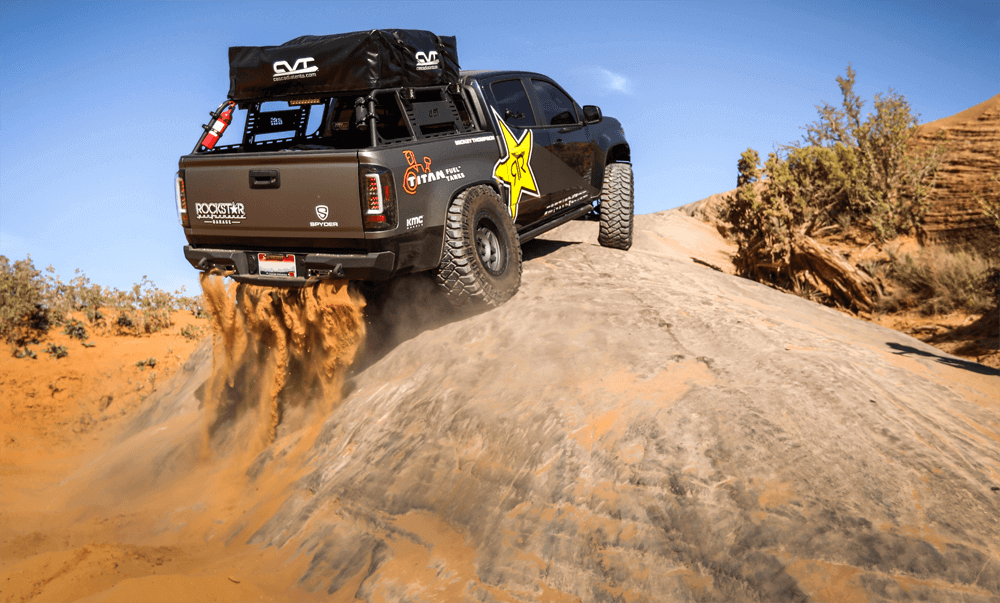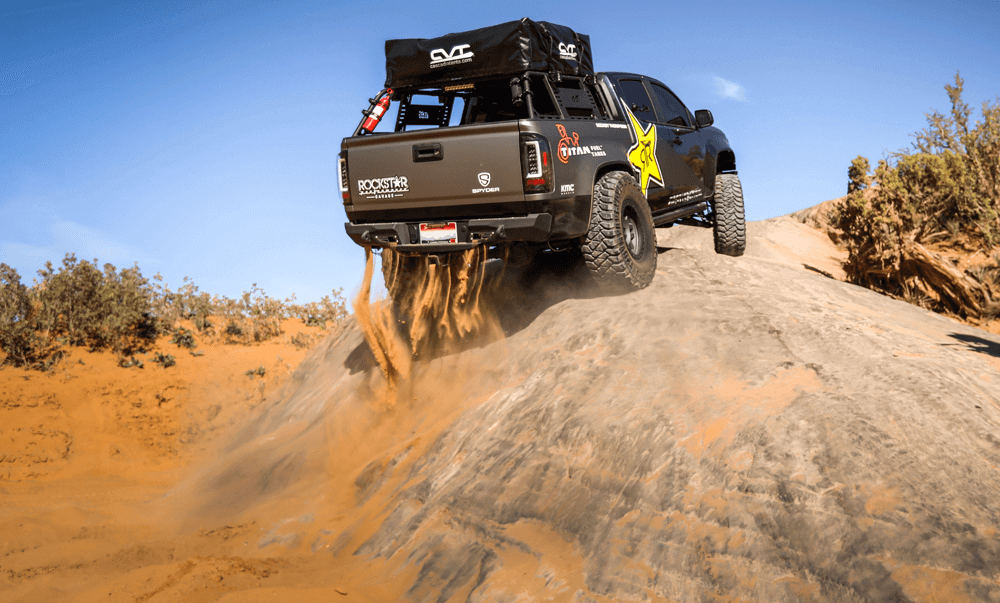 HIGH CAPABILITY
Of course, a highlighted feature on this truck is the new Titan in-bed 40-gallon Travel Trekker auxiliary fuel tank system. This system is plumbed to the factory 21-gallon tank and can transfer fuel on the fly. With the diesel ZR2 getting around 30 mpg on the highway, this build's range went from 600+ to around 1,800 miles. When exploring truly off-the-beaten-path locations this range and capability is crucial.
Being capable off the road requires more than just big tires and quality suspension. It also requires armor, reinforcements and recovery points. To protect the engine, trans and diff from impacts, Rockstar fabricated custom aluminum skid plates for this build. The frame was reinforced and firmed up with three new welded-in cross braces and a number of 90-degree gussets. Front and rear Stealth Series ADD bumpers provide impact protection, improve entry and departure angles and offer solid recovery points.
With all that extra weight and rolling mass it was also important to upgrade the truck's stopping power, and to make sure the engine breathes properly and stays cool in the harshest environments. The brakes were upgraded with a beefy R1 Concepts disc brake system. The engine takes in more clean air through an AirRaid intake, while expelling spent gas through a DPF-back exhaust system from Magnaflow. A RIPP intercooler with a full custom Mishimoto tubing setup makes sure that the engine doesn't overheat, no matter the harsh conditions this truck is sure to find itself in. To top off the performance mods, the truck was custom-tuned by OZ Tuning. The tune of course bumped horsepower, but more importantly increased torque to 660 lb-ft.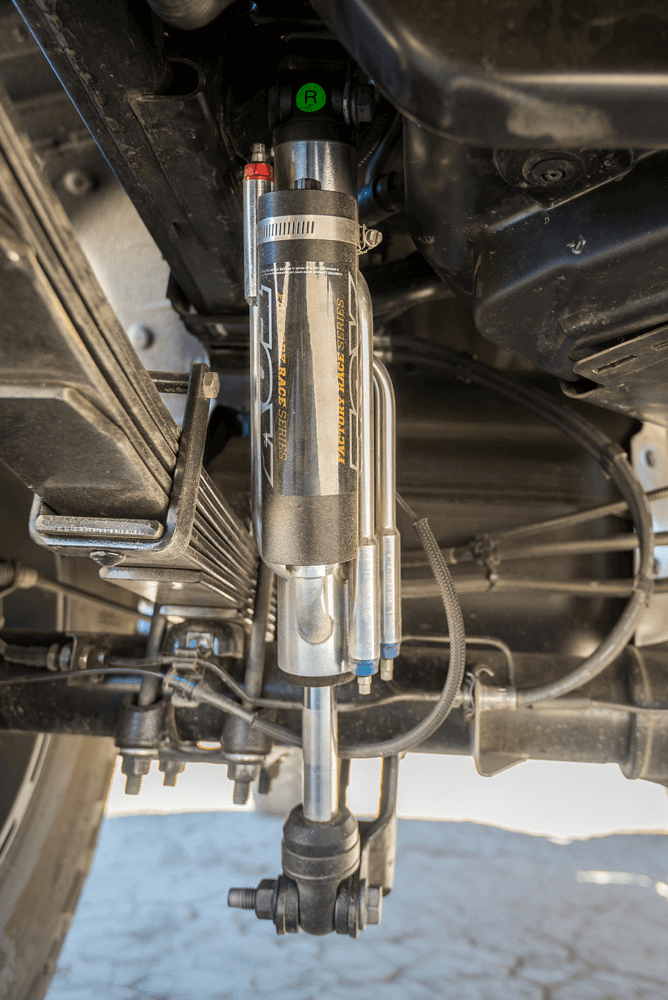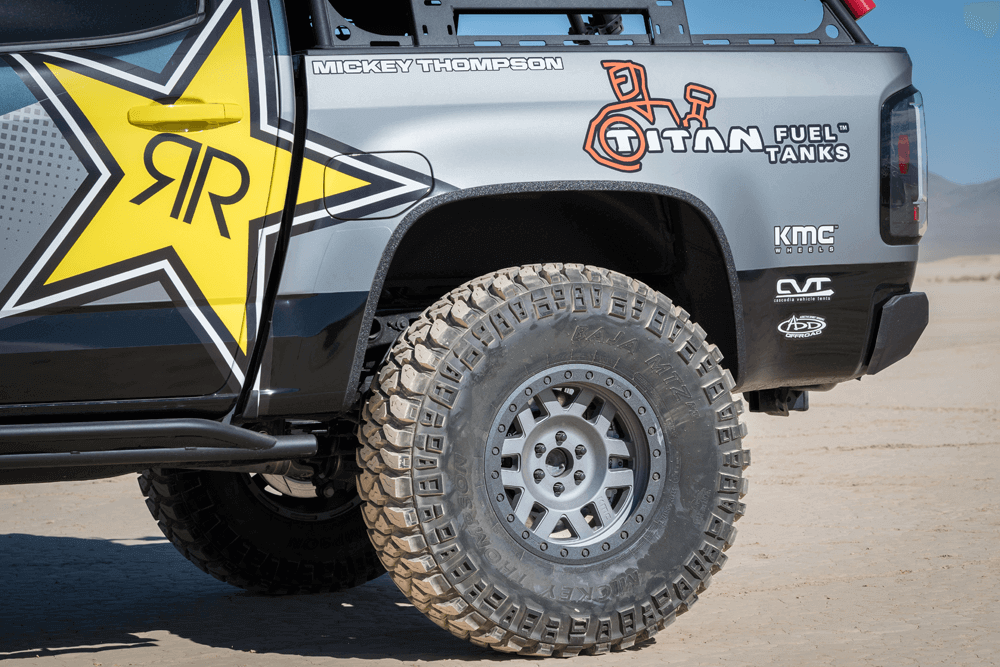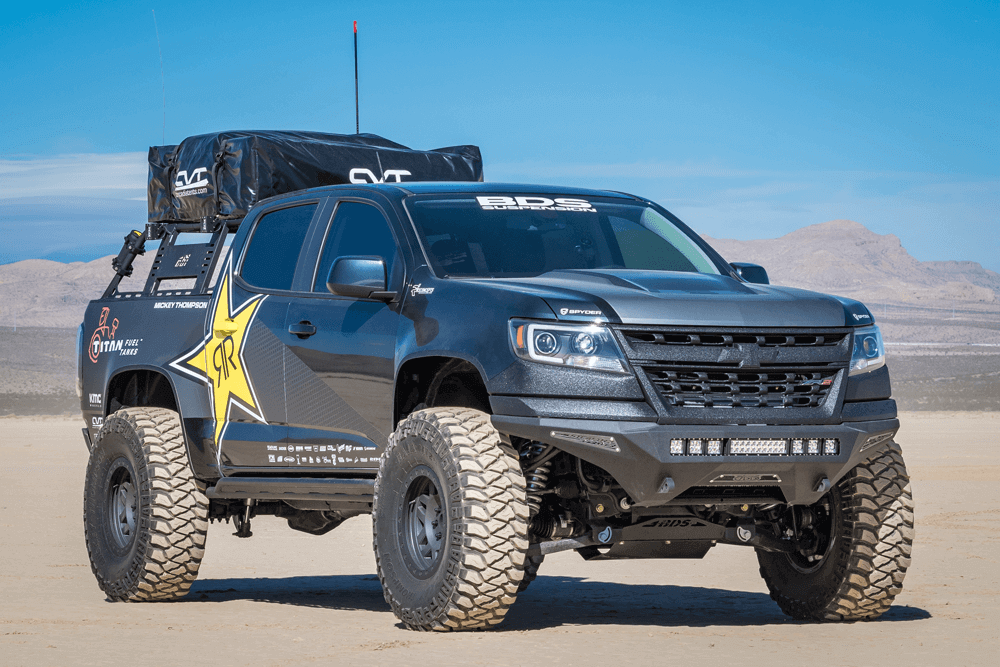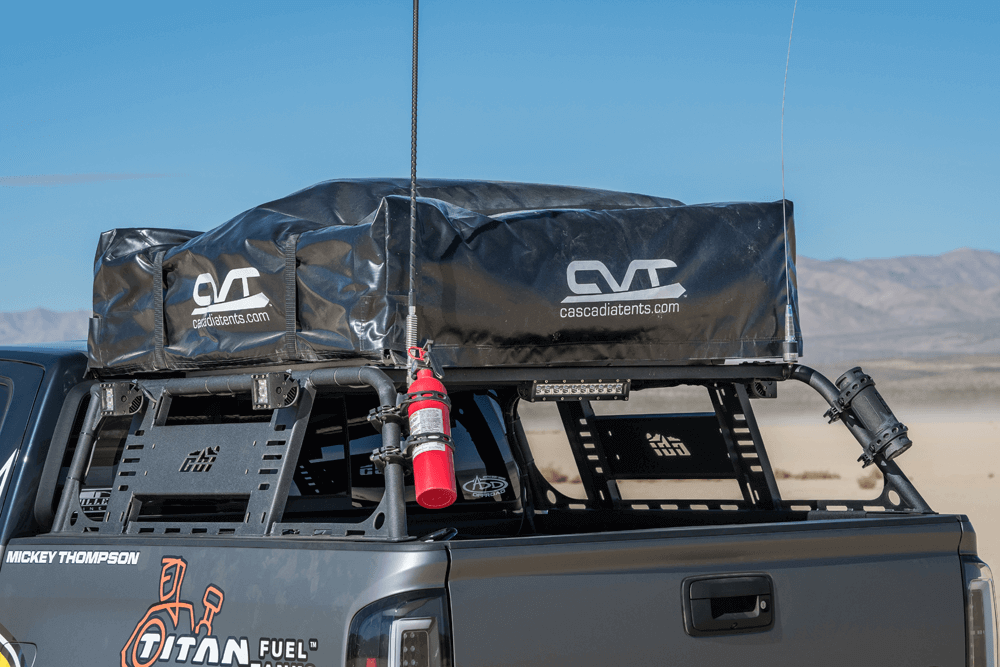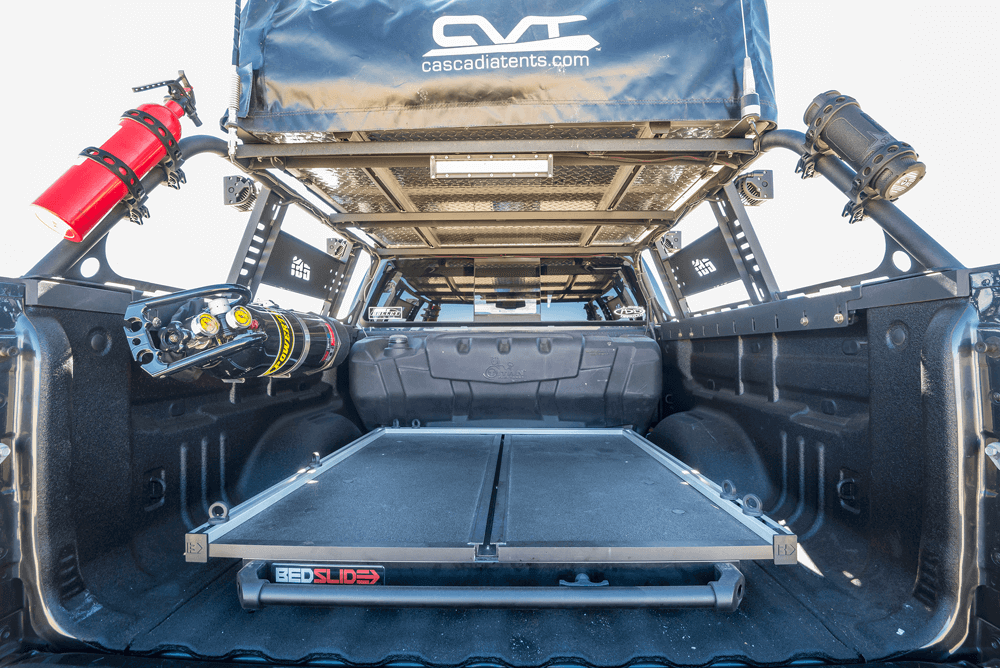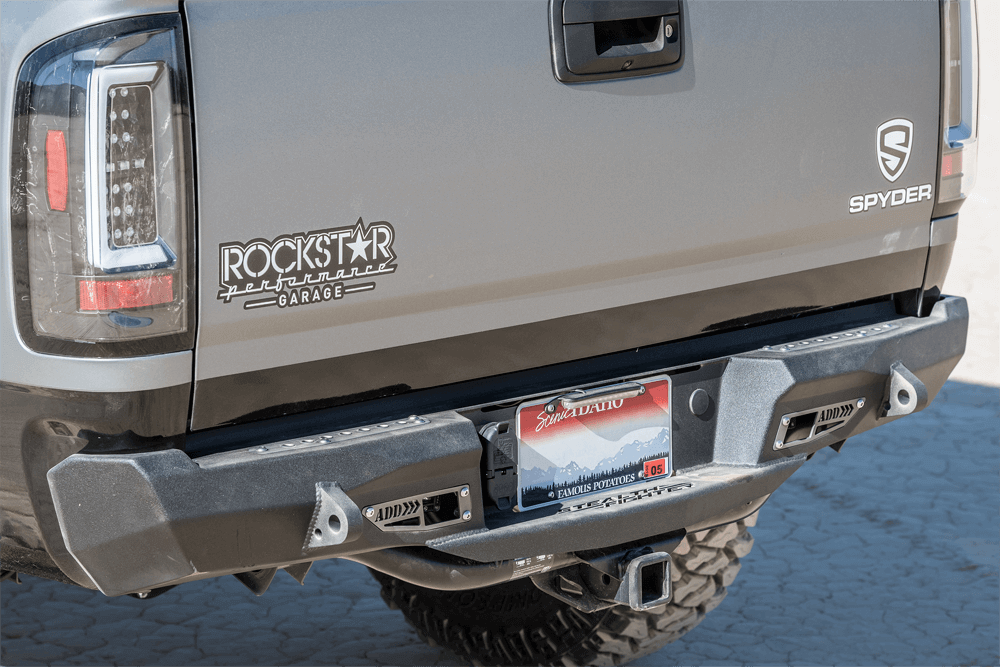 EXTREME COMFORT
It's important for an overland vehicle to be comfortable both while putting in long hours behind the wheel as well as around camp. To improve the look, feel and durability of the interior, the stock seats were covered in a custom Roadwire leather kit. To keep the tunes blazing a full compliment of Scosche portable speakers and mounts were installed inside and out. In order to make this ZR2 comfortable and functional around camp, a CBI Offroad bed rack was installed both to mount a CVT Mt Bailey RTT and to create functional room in the bed for gear. A BedSlide sliding truck tray makes accessing gear even easier.
Of course, as with nearly everything on this build, the bed rack wasn't just a bolt-on job. No one had yet made a bed rack of this style for the Colorado, although many are now available since SEMA. The Rockstar crew was able to make some modifications to a Toyota Tacoma CBI Offroad bed rack for this build, making it fit the ZR2 perfectly.
FUTURE
You can expect to see this impressive Chevy Colorado ZR2 build at a wide variety of overland and off-road events across the West in 2018. Expect it everywhere from Overland Expo to Easter Jeep Safari to King of the Hammers, and so much more. You'll see it looking pretty in the Titan Fuel Tanks booth at these events, but you can also expect to see it out in the mountains, deserts and forests hitting the trails hard and camping in remote corners of the western USA.
No build like this is without speed bumps. The big one Titan has had with this ZR2 build is the failure of the rear locker. The OEM front and rear lockers are standard on the ZR2 and aren't liking the big tires and serious off-road use. Sadly, no one currently makes an aftermarket locker for the ZR2, which has resulted in a lot of trial and error to fix the issue. Fortunately, the team at Titan and the industry people they surround themselves with are extremely seasoned off-roaders and fabricators, resulting in some creative solutions tried and others in development
Wanting to build something new, interesting and properly usable comes at a cost. When you are working with a new truck like the ZR2 there just aren't off-the-shelf parts to address many of the desired upgrades. The Titan team did a great job at finding top build partners and parts suppliers that were able to build or modify the right parts to make this ZR2 what you see here. It's always fun to see a dream come true, especially when you can turn that dream into epic adventures with your team..
[divider]Specifications[/divider]
2017 Chevy Colorado ZR2 Crew Cab Diesel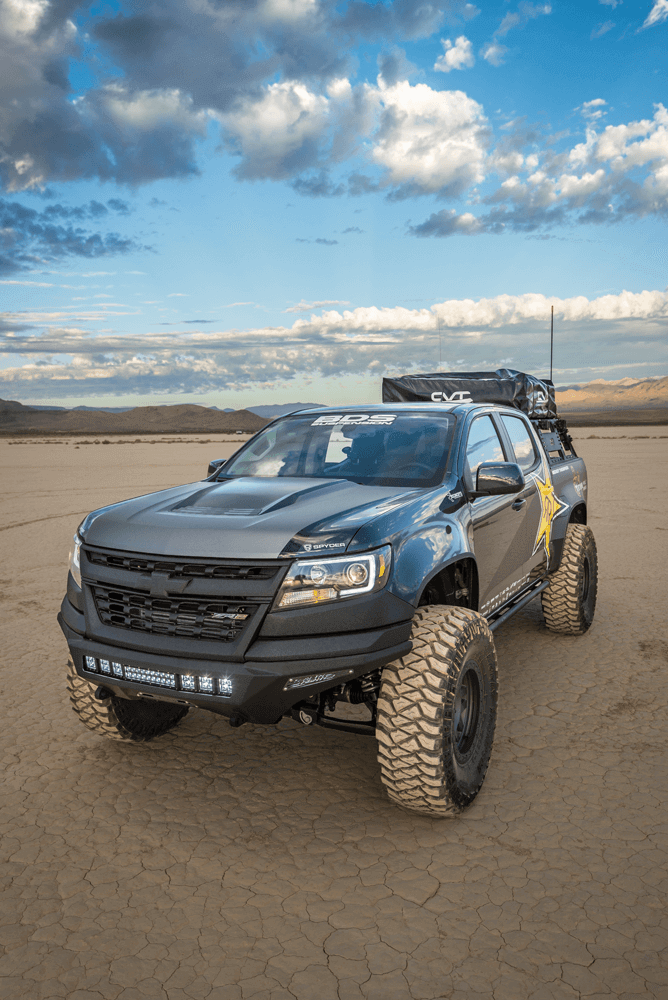 Suspension: Fox 2.5" remote reservoir shocks, Atlas leaf springs, BDS 5.5" High Clearance System, Zone Offroad 1.5" body lift
Wheels & Tires: 17" KMC Machete beadlock wheels wrapped in Mickey Thompson MTZ P3 tires (37×12.5×17)
Electrics: Odyssey Extreme Series batteries, sPod, Kicker VSS subs
Armor: ADD Stealth Series front & rear bumpers, gusseted & reinforced frame, Custom Rockstar Garage aluminum skid plates (engine, transmission, center diff)
Performance: R1 Concepts disc brake system, AirRaid intake, RIPP intercooler w/Mishimoto tubing, OZ Tuning custom software, Magnaflow DPF-back exhaust
Lighting: Spyder headlamps & taillights, Bulldog Offroad LED lighting (front & rear bumper, bed & rock lights)
Overland Gear: 40-gallon Titan auxiliary fuel tank, CVT Mt. Denali RTT, CBI Offroad overland rack, Bullet Liner bed liner applied to bed/grille/fender wells, Viair Dual 450 compressor, Powertank, Bedslide in-bed slider
Misc: Roadwire leather seats, Scosche audio & phone mounts throughout, ADD custom grille insert