OLDIE BUT GOODY
Michael Gagnon wrote to us about his father-in-law Shawn Teasley's classic Dodge truck. It seems that Teasley is the proud owner of a unique Cummins-powered classic Dodge: a 1941 WF-32. With a little help from family and friends, the following build took 14 months to complete.
Teasley and Gagnon did most of the work of restoring and upgrading this classic Dodge; but they also enlisted Gagnon's step-father, Mac McCullough, and the crew at McCullough's shop, The Car Barn. The team worked to remove what was left of the stock driveline, cleaned and painted the frame, then smoothed out the body. While it looks to be primer gray, the paint is actually a high-gloss Machine Gray color.
The crowning achievement was fitting this classic Dodge with a late model driveline. An '03 1-ton served as the donor truck for the modern 4×4 axles, T-case and 5-speed manual. Of course, a 24-valve Cummins was in front of these components and now powers this cool, pre-war classic Dodge.
HISTORY NOTES:
Research tells us that the Dodge Brothers introduced this sleek style truck in 1939. It features a sloped windshield, long front end and rear fenders and a sharp "V" shaped grill. It was offered in ratings from half-ton to 3-ton. An L-head I6 was the engine of choice, with 70hp, 210 CID mills in the half-ton trucks and 75hp, 218 CID engines in the ¾ and 1-ton trucks. A 1-1/2 ton version was also offered from 1939-42. It was essentially the 133-inch wheelbase 1-ton with a 9-foot box and larger wheels and tires.
In addition, during the war years, the 1-1/2 ton, 160-inch wheelbase version of the WF-32 was sent in mass to Russia under the Lend-Lease Act. Russia received around 9,500 of them in 1942 and 1943.
We're not sure exactly which pre-war version Teasley's rusty old barn started out as, but the competed truck is a one-of-a-kind custom rig.
"Research tells us that the Dodge brothers introduced this sleek style truck in 1939. It features a sloped windshield, long front end and rear fenders, and a sharp V-shaped grille."
Fuel-Sipping Ram
Scott Sherlow, from Jasper, AB, Canada, is the proud owner of the newest Ram Diesel to hit the market: a 2014 Ram 1500 EcoDiesel. Sherlow tells us that he's a "heavy duty" (diesel) mechanic. So of course, he knows the advantages that direct injection gives to the trucking world, namely improved power, performance and mileage.
At the time of his letter, he had owned his EcoDiesel for just under six months. He points out that while not even broken in yet, the "new Italian power plant in the 1500" is turning in an impressively frugal MPG consumption. "I have just over 7500 km (4660 miles) on it and the best fuel economy I've seen has been 6.3L per 100km (37.34 mpg)—most of that was downhill!"
Sherlow reports that he regularly sees 10-11L per 200 km (21.38- 23.52 mpg). These numbers generated "without much effort to regulate [his] right foot". Impressive and cool information.
We look forward to hearing from Sherlow as he upgrades his little oil burning Ram Truck, and more updates on the mileage from.
Thanks Scott. Keep up the good work!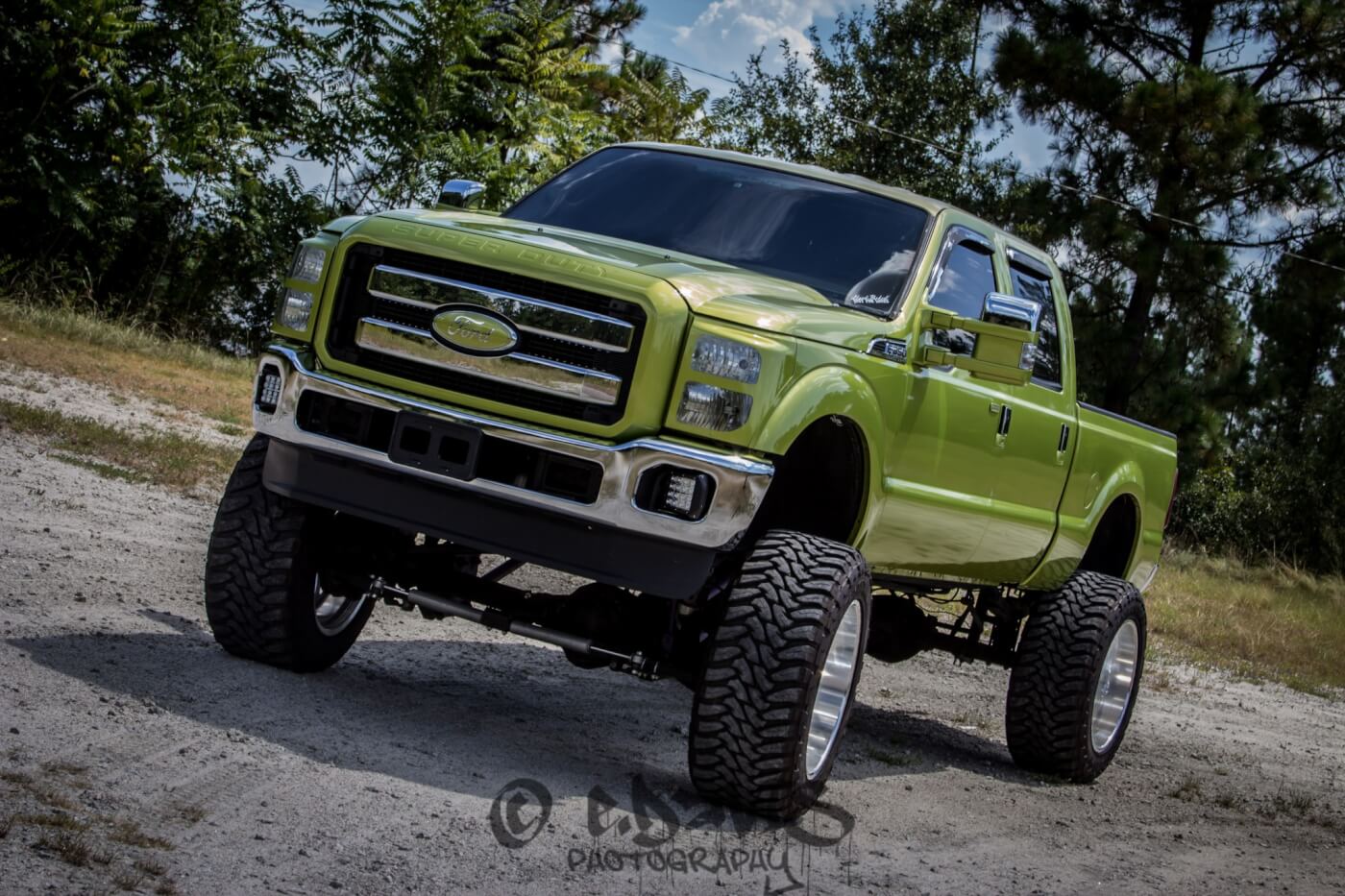 Big Green Ford
Earvin Davis, from Augusta GA, owns this tall red Ford. His 2006 F350 is outfitted with a full 12-inches of suspension lift. This helps with the fitment of the Toyo 40×15.50×24 tires that are mounted on American Force Blade SS8, 24×14 wheels.
The venerable Power Stroke diesel engine drives this rig down the road, with power transferring to the wheels though a pair of installed 2012 axles. Davis has also installed a set of HornBlaster air horns, as well as LED fender lights, a compressor and an air tank.
All looks relatively stock under the hood, with just a coolant filtration kit and aFe cold air intake up front. A 5-inch Magnaflow exhaust carries exhaust out the back and expels it from an 8×36-inch tip. Tuning and engine monitoring is done with a SCT Livewire.
After some repairs and upgrades, the body panels didn't quite match in color. He had Burk County Auto Works in Waynesboro, GA spray everything for a new matching look.
At the time of this letter, the interior is under construction: A mint condition Harley Davidson package interior will swap in to replace the tan Lariat package leather. Other upgrades planned are a dual 40-inch light bar pack in the front bumper and some LED fog lamps. This is one clean and cool daily driver.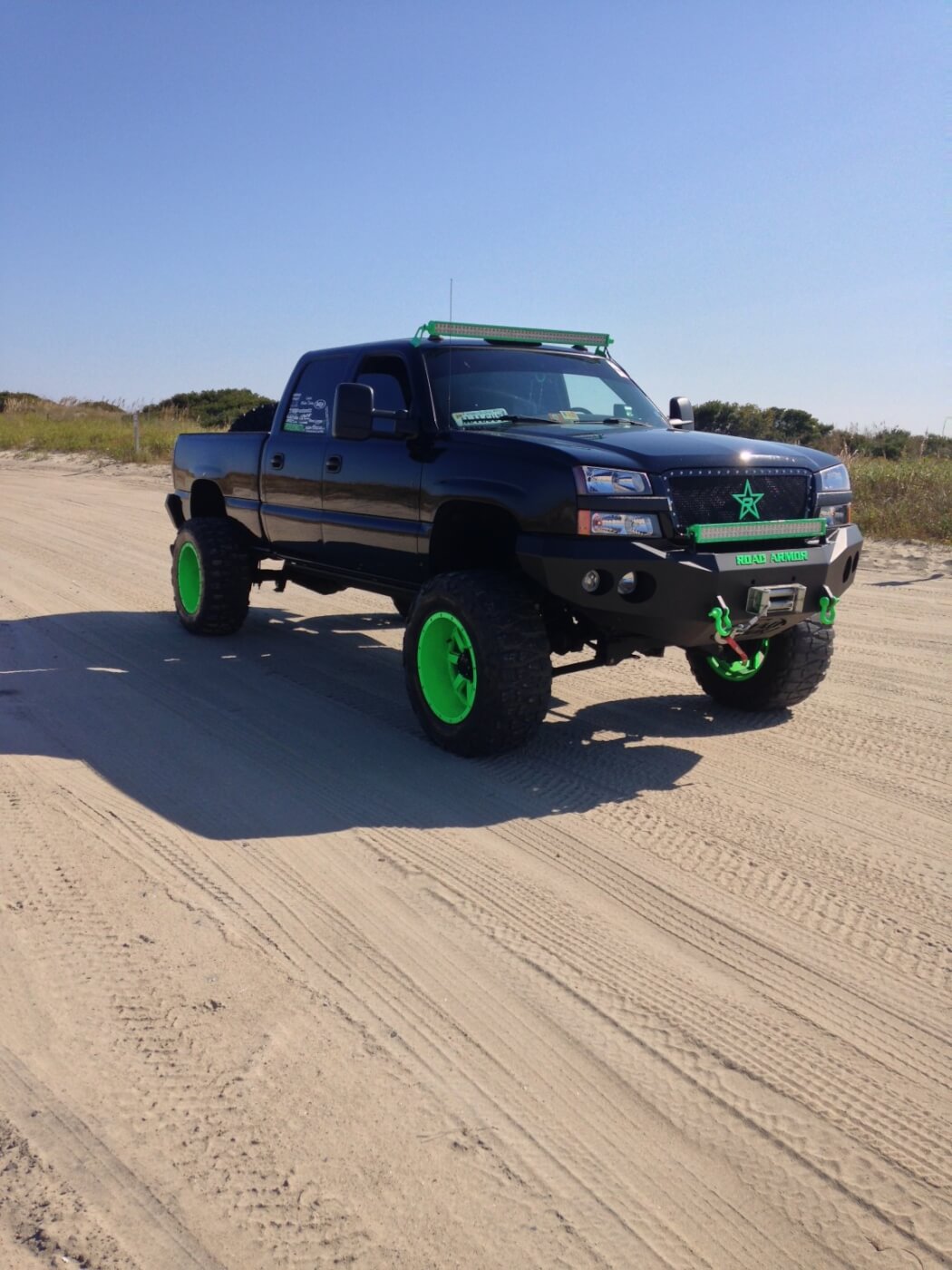 Not Your Average Daily Driver
Brian Huff's daily driver is a 2004 Chevy and, of course, it has a Duramax diesel under the hood. When the snow melts, he hits the East Coast diesel circuit on weekends. Perhaps you've seen his rig at the Numidia Diesel Nationals and Carlisle All Truck Nationals? Brian is all about being seen on the weekends: he attended 24 shows in 2014. If you missed seeing it in person, here is a quick overview of his fine GM diesel.
Modifications and upgrades include a 7-inch BDS High Rise Lift; Gear Alloy wheels with a monster green finish are fitted with 37x1350R20 Nitto Mud Grappler tires. A set of 2-inch wheel spacers was used to give it a wider stance to set it apart from others. The front and rear bumpers are from Road Armor steel plate units, with a warn winch behind the forward bruiser and a Monster hook is on the rear.
The front grill is from Rolling Big Power (RBP). He also has PIAA fog and bumper lights, both front and rear. Under the truck, you'll find a set of HornBlaster train horns, ATS diesel rear differential cover and an MBRP 5-inch turbo back exhaust with a 7-inch MBRP exhaust tip.
Interior upgrades include an Edge CTS Programmer with a backup camera, an 8-inch Double DIN TV and a custom sound system behind the seats that uses JL Audio subwoofers and amps. The custom interior was painted to match the black and green theme outside, while a black suede headliner and Chip Foose Regency interior seats—front and rear—round out the interior upgrades.
Other upgrades include a set of AMP Research steps, a Rhino Lining bed liner and a pair of Night Break light bars—also painted to match the truck—measuring 50 and 32 inches.
Huff built this truck and dedicated it in the memory of two good friends that tragically lost their lives in two separate motorcycle accidents. He remembers his friends, Brandon Deming and T.J Mullins, every time he hops into this unique driver. DW