It all started out when Josh White opened a business named Arkansas Direct Auto (ADA Offroad) dealership in Conway, Arkansas. The business started out selling late-model 4×4 trucks to their clients but slowly started moving towards lifted trucks as its main inventory. Then, after buying lifted trucks for 6-7 months, Josh decided that they'd start lifting their own trucks in house. This became their new passion, and it freshened up a business.
In January 2014, Josh opened up the shop for the general public and named the business ADA Offroad. ADA Offroad is a full-service facility in Conway, Arkansas, where you can either purchase a completely built and lifted truck, or you can bring in your own truck and have them lift it for you. While showing off their talents last summer, Josh attended a local car show where he saw some built trucks that came from Texas. This gave him the spark that started the plan: He could build a show-winning truck, bigger and better than what had been in attendance at this show. The challenge was on.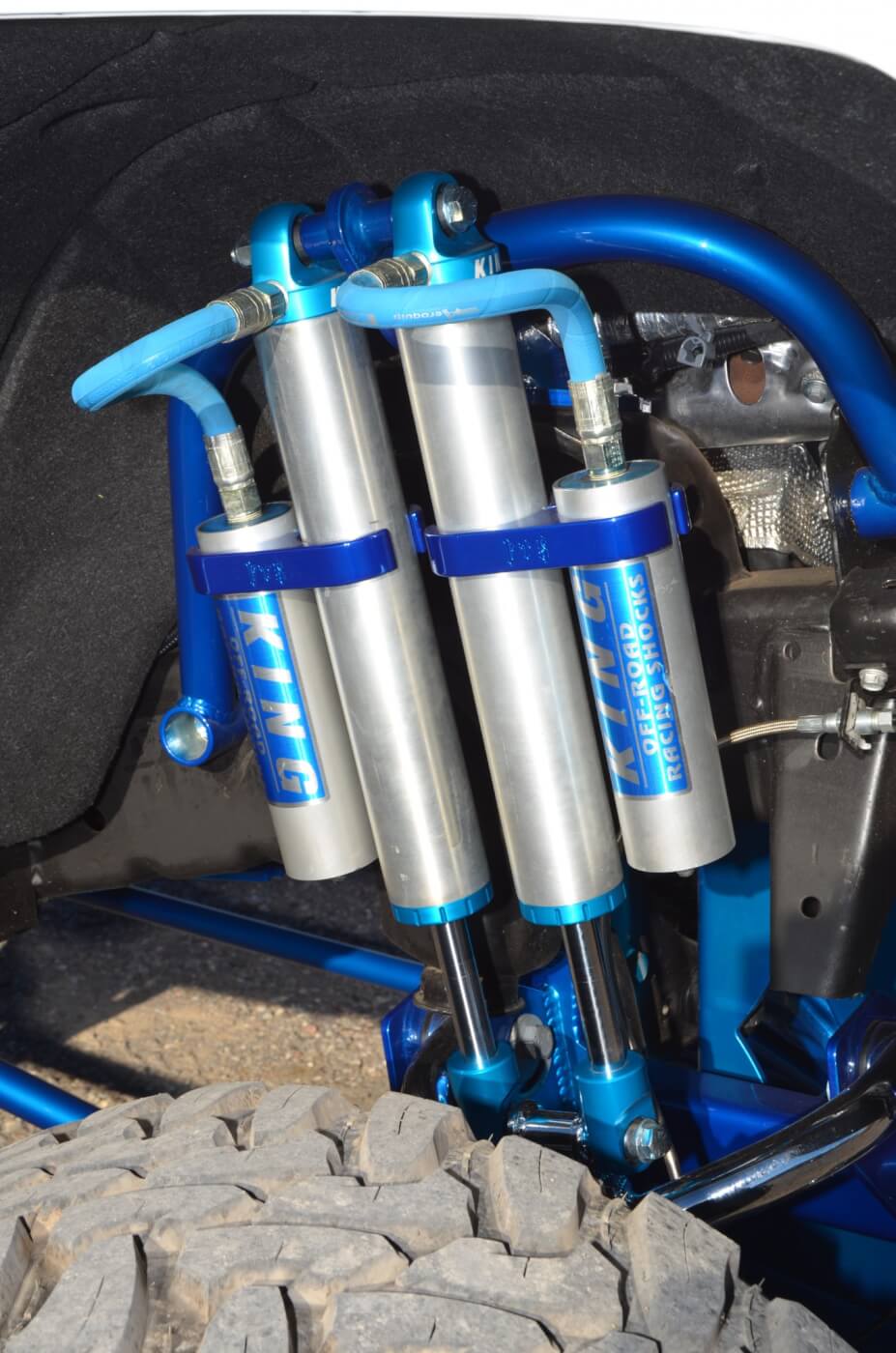 FROM CONCEPT TO REALITY
He began by contacting Robbie Bryant and Brian Fields at Keg Media, who created a rendering from Josh's concepts for this SEMA truck. Getting it from the mind and onto paper for a great rendering is their specialty—it's sort of like mind reading. After purchasing a 2015 Chevy 2500HD in late September 2014, the build was on for Josh and his build team, which included Even Pettit and Brandon Rodgers; they had just a month to finish the truck to be at the SEMA show.
Since the truck was new and Josh was going more after the show look in a short time, he left the engine and transmission stock. He did open up the exhaust though, by removing the stock exhaust and installing a MagnaFlow bolt on kit. He also replaced the stock diff cover and transmission pan with Mag-Hytec units. These he had Snyder's Customs powdercoat in blue for the truck's planned color scheme.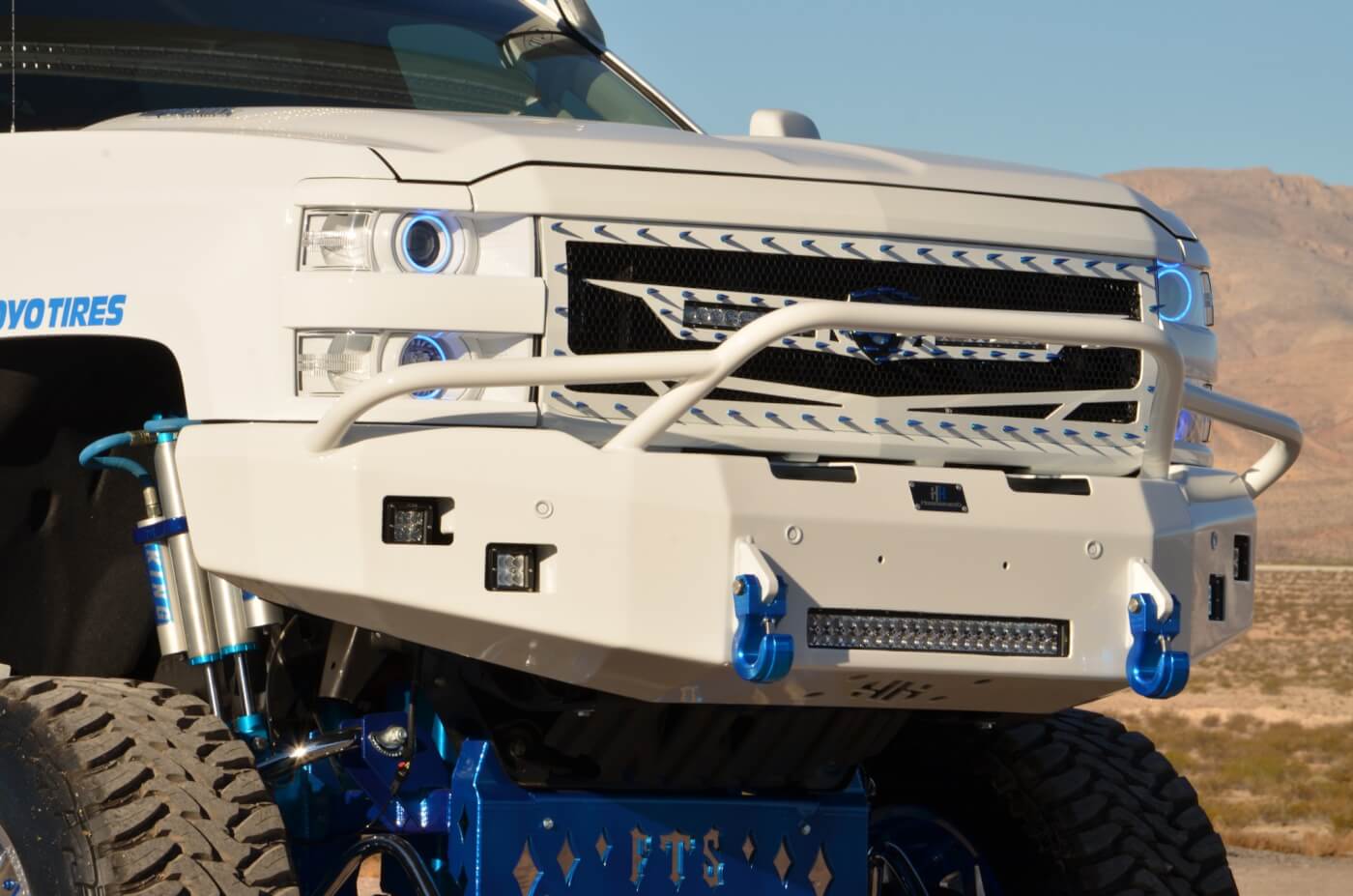 BIG LIFT
For the first modification, he contacted James Bertao at Full Throttle Suspension and asked him what they had for the new 2015 Duramax. He found out they were working on a new 15-inch lift with a rear 4 link. So, the build started with the addition of a 15-inch Full Throttle suspension lift kit, with King coil over springs in the rear and King 2.5 pure race coil over shocks, along with adding the Full Throttle rear 4-link. For the front, he replaced the stock shocks with King 2.5 performance reservoir shocks. The complete lift kit and 4-link were also powder coated blue by Snyder's Customs in Arkansas. While doing these modifications, Josh also replaced all the brake lines with stainless steel braided lines for the added look and off-road durability.
After completing the lift, he needed to add new tires and wheels. He went with the American Force 24×16 2-piece Brawler wheels front and rear and installed 40×15.50×24 Open Country M/T Toyo tires all around. This is a big tire package, but with the 15-inch lift, it was a perfect match for the monster-truck-style look.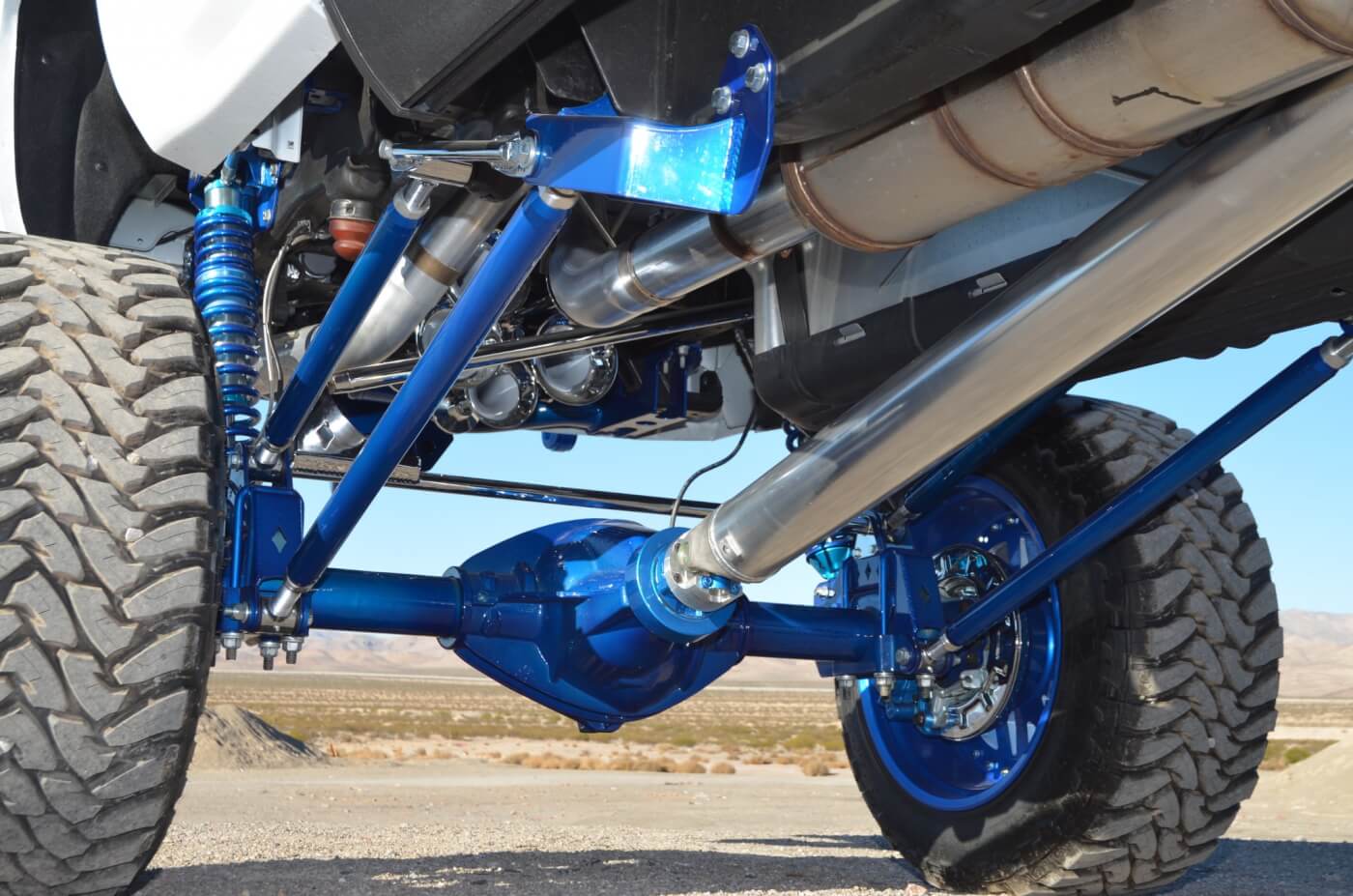 TOUGH LOOK
To add to this tough look, he removed the stock bumpers, and for the front, he installed a Hammer Head Armor pre-runner bumper. Then he installed a custom grille insert designed by KEG Media and built for him by Luis Reyes from Gravel Empire custom. For the rear bumper, he also decided to go with the Hammer Head Armor unit. The bumpers and grille were custom painted by Maurice McClure. The Monster hooks and hitch that add to the overall effect of this truck were powder coated in blue by Snyder's Customs. For the truck bed, he unfurled a Bed Rug for a finished bed look. The bed also has a pair of swing cases for storage along with an Under Cover bed cover to top it off. For the outside, he added the Amp Research power steps to assist in getting in the rig.
For lighting, he replaced the stock headlights with plainANsimple headlights with color shift oracles and used a Rigid R1 for the high beams. For the taillights, he used the Go Recon tail lights—also manufactured by plainANsimple. As if that wasn't enough lighting for this rig, he also added OffRoad LED bars all over, using two 50-inch curved bars on the roof, one 20-inch bar in the front bumper, four 3-inch cubes in the front bumper, six 3-inch cubes under the truck, and in the fenders for lighting, two 10-inch single row bars in the grille. Now this truck can light up any place it's at, day or night.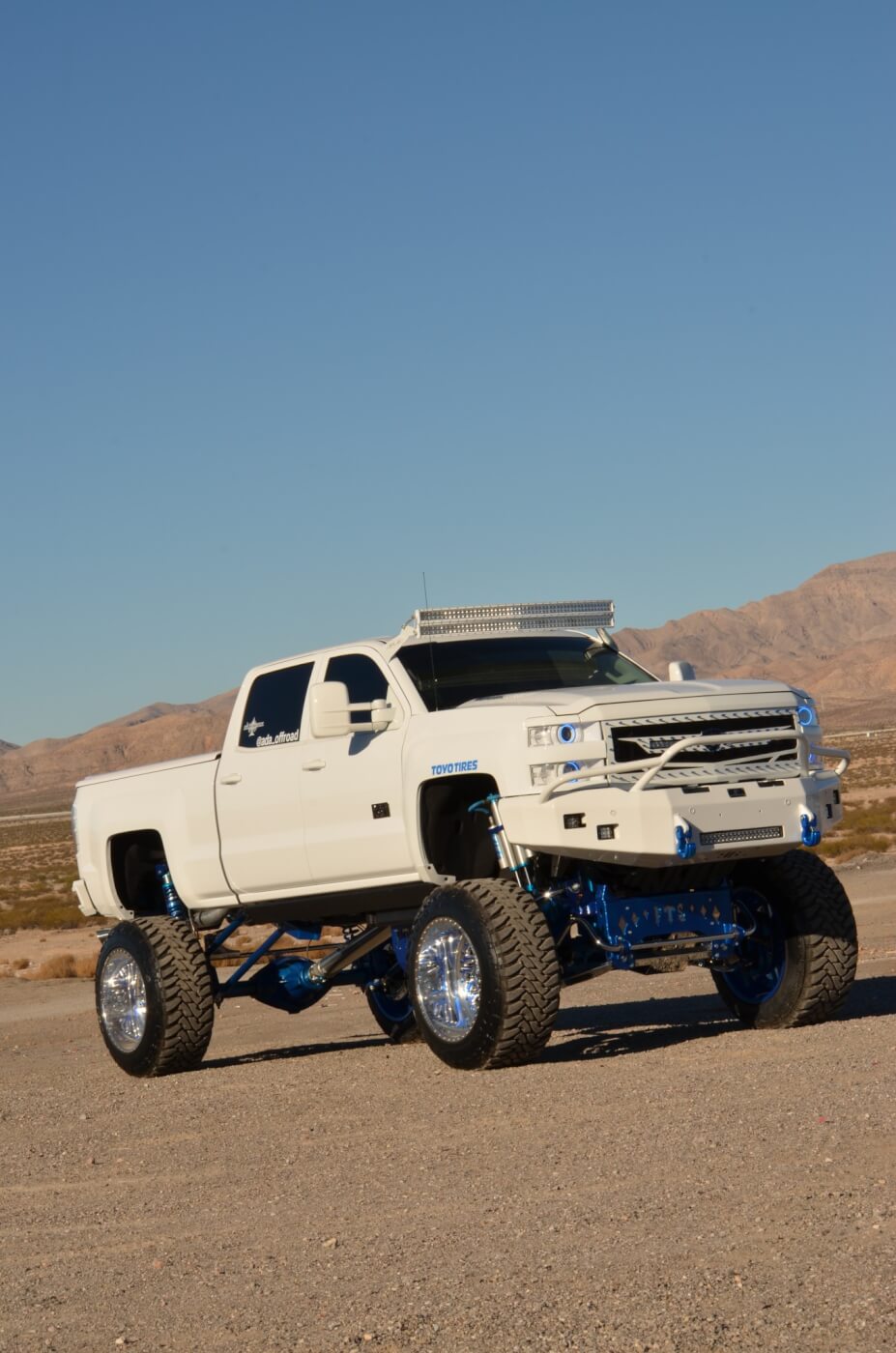 For the finished look, he had Maurice McClure paint the door handles, mirrors and drop sill moldings to match the truck paint. Then, for the glass, he went with the 15-percent tint. The final finish to this rig was the addition of the Horn Blaster Admiral Marine chrome horns hidden under the front end. It is powered by none other than a VIAIR compressor feeding a 1.5-gallon tank that was also powder coated blue at Snyder's Customs.
The truck was finished in less than 30 days. The build crew had many late nights, but in the end, they pulled it off. Saturday night before the SEMA show, it was detailed by Killer Wax in Las Vegas before joining the competition in the outdoor American Force booth. This truck was a crowd pleaser at the SEMA show, and since going home, has also been a great daily driver for Josh to cruise around Conway. It is the perfect tool to show off the talent for building show trucks at ADA Offroad. DW