2006 Dodge Ram 3500
Justin Clapp of Mayfield, Kentucky, was almost apologetic when he submitted his 2006 Dodge Ram 3500 to Diesel World, writing that his Mega Cab was really "nothing special." Perhaps, the young man was just being modest. The truth is we found a lot to like about what we saw—the red Dodge is certainly photogenic and the list of modifications proves that the truck has come a long way from its stock origins.
The Cummins engine was modified with an aFe Stage 2 cold air intake. Throw into the mix an H&S Performance programmer, 5-inch Flo-Pro turbo-back exhaust with 8-inch tip, and a rebuilt trans, and you know that this Dodge Ram has more than adequate power. In fact, Justin tells us his truck put up 455 horsepower and 900 lb.-ft. of torque on a non-loaded dyno at last year's Scheid Diesel Extravaganza.
The exterior was upgraded with a 2.5-inch Rough County leveling kit, black headlights and taillights, black mesh grille, and color-matched grille shell, bumpers and mirrors. Rounding out the pretty package is a set of 22×12 KMC XD Bomb wheels mated to 35×12.50×22 Toyo MT Open Country tires.
All of these modifications and upgrades add up to a truck that's far from ordinary. Nothing special, you say? We beg to differ.
Daily-Driven Duramax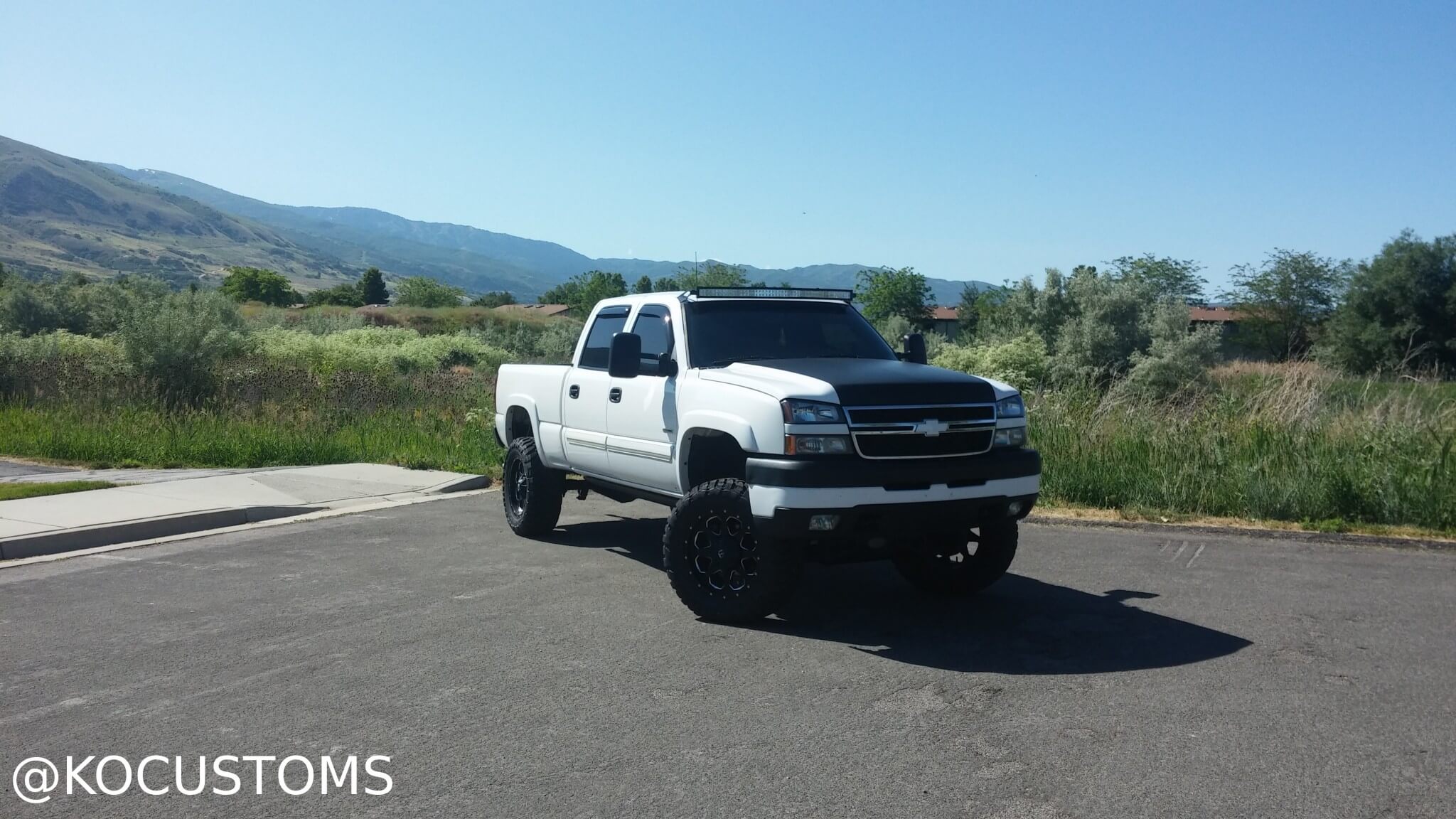 Kyle Ostler is a field service contractor operating out of Bountiful, Utah. As the owner of his own business, KO Customs, he needs a vehicle that can deliver him to any jobsite across the region, while also being ready for whatever weekend fun he can get up to in the rugged outdoor expanses that Utah has to offer.
Kyle's 2007 Chevy Silverado 2500 HD
is more than up to those tasks, thanks to a few select upgrades. The 6.6L LBZ Duramax V-8 was fitted with an aFe intake and 4-inch MBRP turbo-back exhaust. The Duramax and Allison transmission combo provide Kyle with horsepower and torque. Kyle claims 480 hp
and 800 lb.-ft. of torque. The Duramax has a custom EFILive DSP5 "Idaho Rob" tune.
Kyle's Silverado rolls on 20×9 MHT Fuel Boost
wheels wrapped with 35/12.50/R20 Toyo MT
tires. The truck also sports a 50-inch curved LED bar, Rough Country 6-inch lift kit and AMP Research PowerSteps. The flat black wrapped hood was done at Tint And Vinyl City in Woods Cross, Utah.
"My Duramax serves as my work truck, play truck and personal truck," Kyle explains. "It hauls my dirt bike and pulls my flatbed for work. It reliably travels five states for work." And it does so in style, we might add. DW