When the Jeep Grand Cherokee with the EcoDiesel V-6 engine was first introduced, we brought our readers the story on this new addition to the Jeep family. The diesel has proven ideal for use on the road and off, but then what else would you expect from a Jeep? While a factory-spec Grand Cherokee is quite good off the pavement, we knew it could (and would) be outfitted to perform even better.
A short while back we had the chance to drive the Jeep EcoDiesel Trail Warrior concept rig. Now, it's not often a manufacturer lets anyone drive one of their concepts; usually you just see them on display at the auto show, sitting on a red carpet. Naturally, we jumped at the opportunity.
Being a Jeep, just puttering around on the pavement would not have done justice to a stock Grand Cherokee, let alone one outfitted for the trail. Jeep and Mopar let us spend some time in the dirt, rocks and sand just outside of Moab, Utah – known as the "Mecca" for four-wheelers.
First off, the 3.0-liter V-6 turbo-diesel engine offers plenty of power on the road and trail. It delivers 240 horsepower and 420 lb.-ft. of torque. The result is plenty of power on the pavement or graded trails when getting away to your favorite backcountry location.
Once you hit the less than maintained sections of trail, you'll be even more pleased with the Grand Cherokee's off-road capabilities. As we mentioned in our initial drive, the Grand Cherokee is trail-ready off the lot and capable of more off-road travel than most any other 4×4 in the world, and certainly among those sold here in the U.S.
The PR folks at Jeep like to point out that the "legendary Jeep capability comes courtesy of three 4×4 systems, Jeep's Quadra-Lift air suspension, Selec-Terrain traction management and an improved crawl ratio of 44.1:1." This is true, but this concept shows that some post assembly line upgrades can make it even better.
The Grand Cherokee EcoDiesel does sit higher than average, thanks to its Quadra-Lift air suspension at max height settings. But some additional height and clearance is also gained from the 33-in. BFGoodrich All-Terrain KO tires mounted on some cool-looking cast aluminum wheels in Satin Black. We drove on prototype wheels, but you can be sure that both Mopar and the general aftermarket will have a wide selection of wheels to choose from.
The trail-rated Grand Cherokee EcoDiesel Trail Warrior has some parts on it from Jeep Performance Parts (JPP) and Mopar accessories that don't come off the line, but can be ordered from your dealer. These include JPP rock rails, pedal kit, cargo mat and more. We especially like the prototype roof rack/basket. This basket, mounted on production cross rails, provides plenty of space to transport gear and provisions.
Some paint tricks were used to enhance the EcoDiesel Trail Warrior's looks. This amounted to having the Mojave Sand exterior color dressed with Satin Black accents on the grille, hood, lower front fascia, door handles, mirror caps, wheel flares and badging.
On the inside, we found that the black and tan two-tone scheme was complemented by gloss-black accents found on the instrument panel. The steering wheel and the air conditioning system's bezels also received this treatment. On the accessory front, Mopar all-weather floor mats, lighted Jeep logo sills, custom pedals and a cargo tray were present. Again, all stuff you can get from your dealer.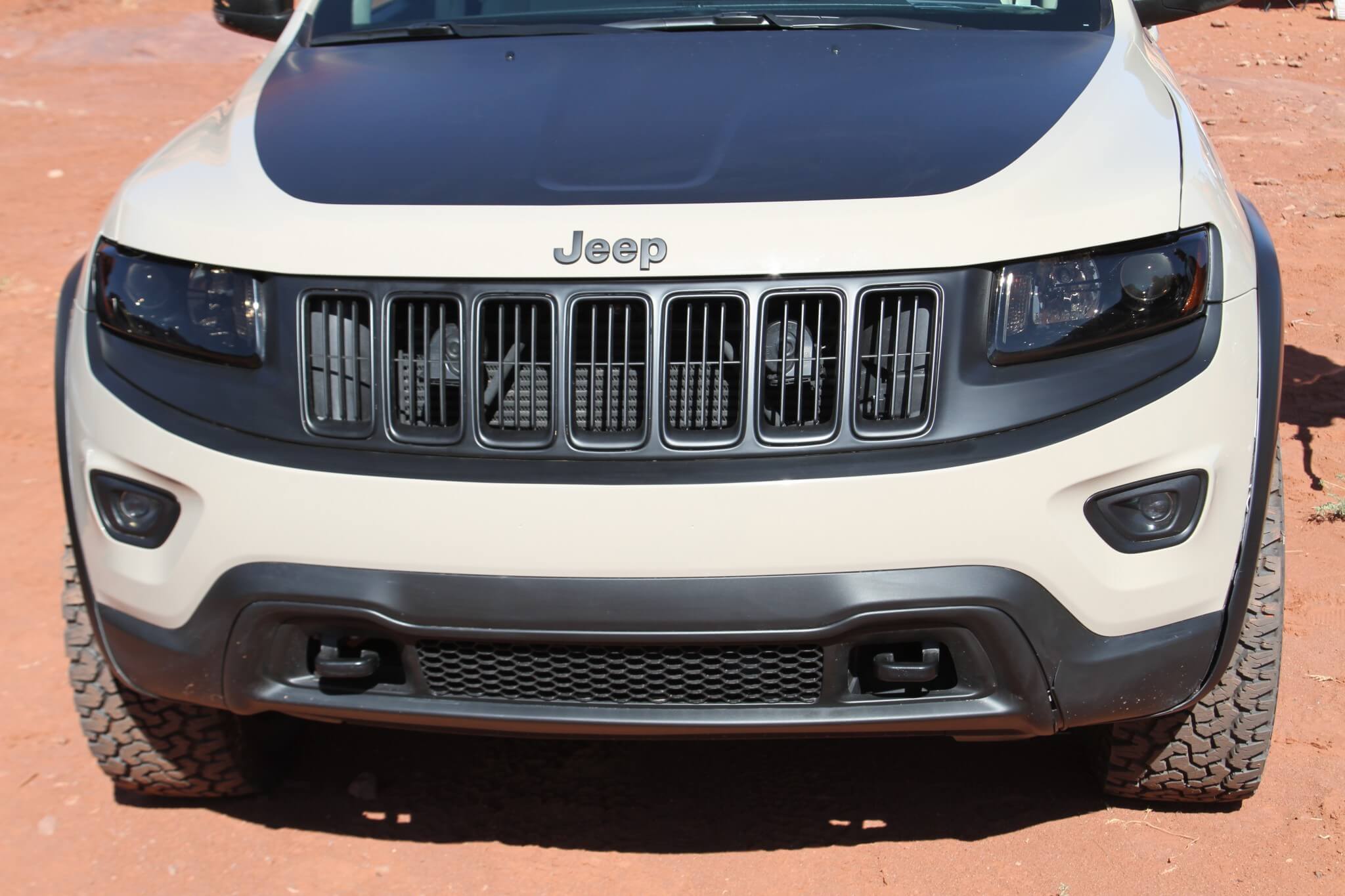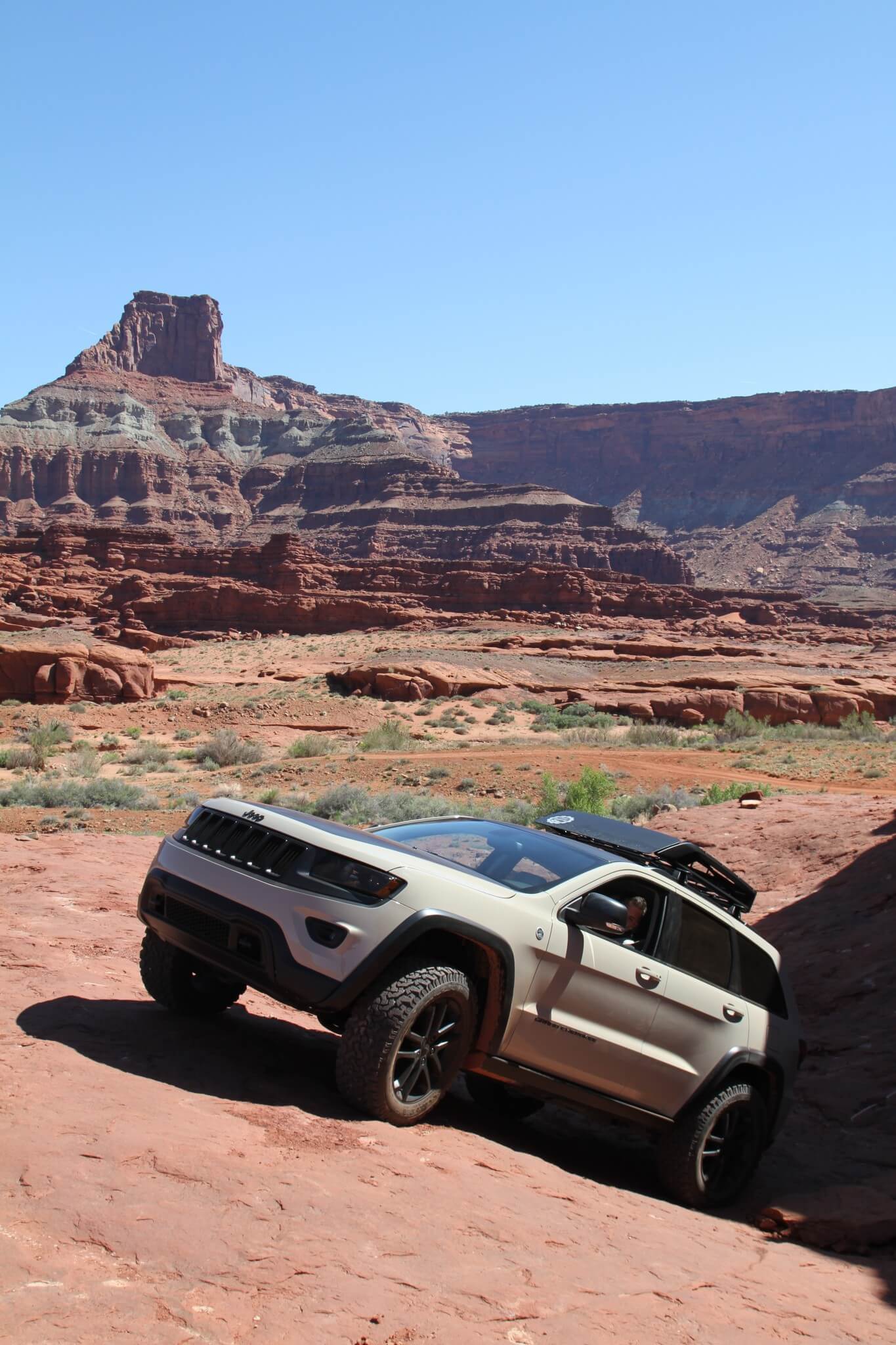 In closing, we were impressed by the Jeep Grand Cherokee EcoDiesel Trail Warrior concept rig. It looks great, was comfortable on the pavement and trail, and had all the capabilities we've come to expect from a Jeep, on pavement and off. Best of all, the little diesel sips fuel, compared to any gas model. Whether in 2wd or 4wd, high or low range, it offers more range than any gas rig fitted with a stock-capacity fuel tank. The best-in-class 30 mpg offers a driving range of more than 730 miles on pavement, and that's a number you can take on the trail.
There is perhaps one 4×4 you can buy new in the U.S. that's more capable than the Jeep Grand Cherokee, but it doesn't offer a diesel engine option. Of course, this would be the Jeep Wrangler. We look forward to seeing that diesel option come to market soon. DW