A 2010 RAM 2500 BUILT FOR OFF-ROAD DOMINION
Everybody is selling something. Grandpa used to say it all the time, and you know what? He was dead right.
The fact of the matter is that each new generation of car or truck does offer a buffet of technical and technological improvements. The dark side of this deal is that many improvements are often to problems that didn't necessarily exist. And if your dealer could sell you a new truck every single year, he would.
Having said that, a brand-new truck is something everyone can appreciate, but a brand-new Ram HD is not what would fit the bill for Cole Comenksy of Bellflower in sunny Southern California. Comensky is the owner of CJC Off Road, a company he founded as an off-road enthusiast for off-road enthusiasts. CJC stocks all manner of performance-enhancing hardware aimed at those to whom the edge of the pavement calls. They stand by their work and the products they sell; after all, as they say, "If we sell it, chances are we run it."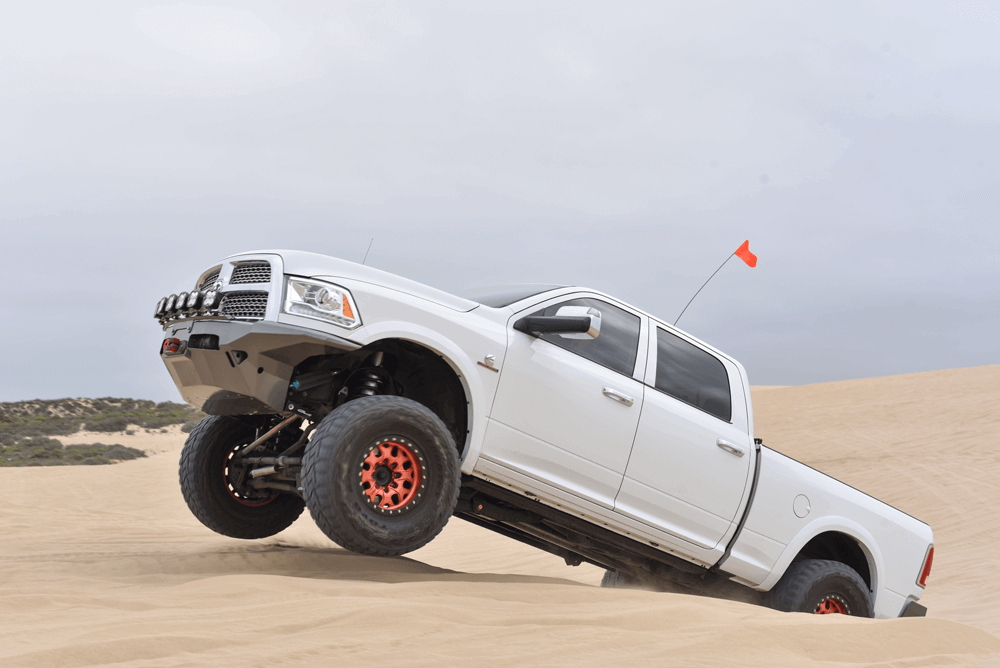 We should also mention, with no small about of bias, that Southern California is home to some of the best off-road terrain in the lower 48 states, if not the world. Dirt wheeling, rock crawling, hill climbing—if you thirst for it, SoCal has got it.
Comensky and CJC have experience with the heavy-duty Dodge platforms, having built several examples from 1994 onward. And Comensky prefers the older models to the new. He explains: "With the older, pre-radius-arm suspension on these trucks, it's possible to fit 3.5-inch diameter shocks under the truck with minimal modification. On the newer radius-arm trucks, you're limited to 2.5 diameter shocks unless you perform significant modifications to the truck's frame."
Comensky also felt that the older truck allowed for a better platform to showcase CJC's suspension and steering products. When this truck was purchased, options for the newer models were scarce.
That truck: It's a 2010 Ram 2500 he located in the primordial rain forests of Central Oregon. He and his wife, Lauren, flew to its location and proceeded to drive it down the winding West Coast.
Comensky and CJC have a special working relationship with Carli Suspension, and this project truck was born partially out of that partnership. "Carli was also looking for a truck to prototype their long-arm system," Comensky says. "And this truck was the perfect candidate." This project marks the fourth time CJC has been involved in the prototyping R&D process. The first stop was at Carli's Corona, California, headquarters, a long freeway slog from CJC's Bellflower HQ.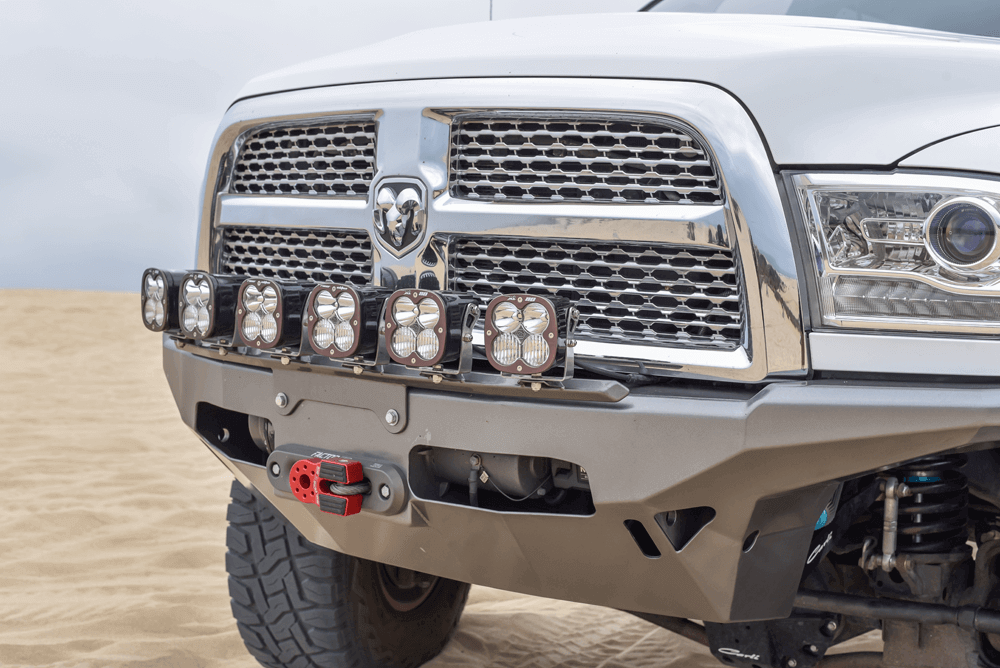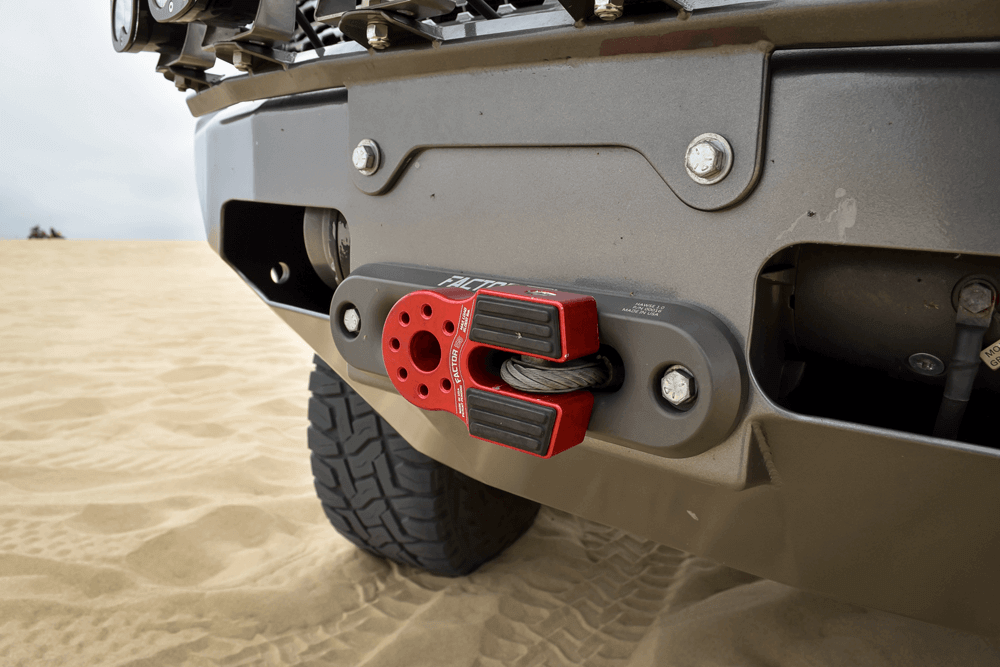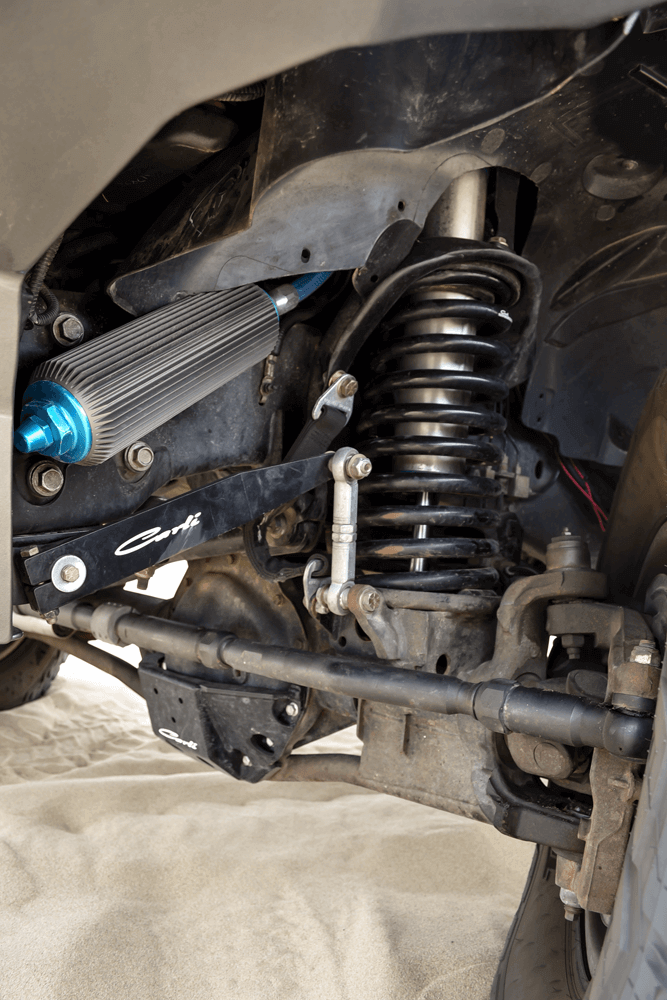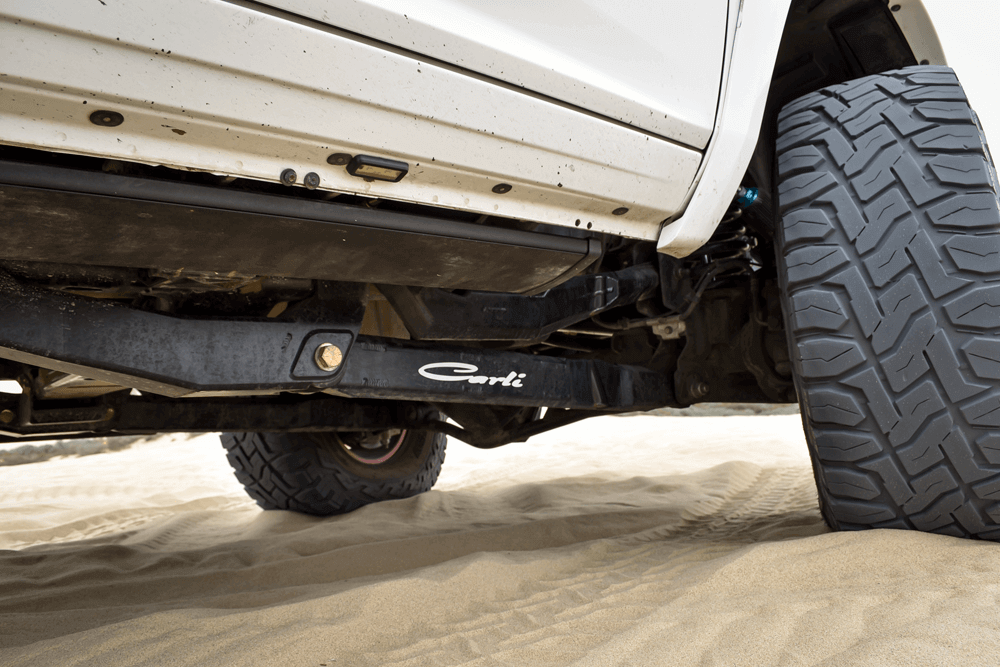 The suspension setup consists of Carli 3-inch linear-rate coil springs up front sheathing custom-tuned King 3.5-inch remote reservoir shocks. The rear is suspended by Carli full progressive leaf springs (manufactured by Deaver), which are damped by custom-tuned King 3.0 quad-tube bypass shocks. These dampers are attached to the frame via Carli-fabricated upper shock mounts welded directly to the chassis.
According to Comensky, the most challenging and tedious, but also the most rewarding, part of the build was dialing in the shock tuning. CJC and Carli made numerous treks south and east to Ocotillo Wells to perform the in-action parts of the R&D. Remember when we said SoCal offers some of the best off-roading terrain on the globe? Ocotillo Wells is a well-known destination for hardcore off-roaders. It's a harsh desert environment that serves up myriad terrain configurations and is very near to the Anza Borrego State Park, yet another beautiful yet punishing destination for off-road enthusiasts of all stripes. "It was very exciting seeing the progression in the truck's ride and handling as the shocks were being adjusted," Comensky says. "Every little change in the shocks resulted in a noticeable change in how the truck drove."
The wheels this truck wears were provided by Performance Machine and feature forged beadlocks with OMF rings, and are wound with off-road standard Toyo Open Country R/Ts sized 37×13.5. EMF rod ends and Carli ball joints were added up front to keep the steering responsive after the raft of suspension modifications. A Mopar "Big Box" steering upgrade was also added to preclude failure of the notorious factory unit. Behind the wheels, EBC brakes fed by Carli braided lines provide for emergency speed modulation.
Notably, the 6.7L has not been subjected to any mechanical alterations aside from an S&B air filter and 4-inch Flo Pro exhaust. Yet, anyway. The drivetrain did receive a transmission upgrade in the form of a Revmax 550 gearbox with billet torque converter and input shaft. Comensky relates that all of this is to keep it as reliable as possible for long trips and to let the truck cope with the inevitable off-road abuse and 37-inch tires. After all, it is not advisable to become stranded in the climates and terrain in which this truck was shaken down.
The engine programming has been tapped by an H&S Mini Maxx tuner with Altered Diesel Works custom data—also to enhance running reliability. "Our goals with the engine's custom tuning were to keep temperatures as low as possible and to minimize potential issues," Comensky explains. He reports little smoke and cool EGTs despite the Ram's obvious improved terrain negotiation, which enables drivers to push the chassis and the 6.7L to the absolute edge.
Aesthetically speaking, there is a lot of understatement to this build. The factory bumpers were replaced with Mercenary Offroad units front and rear (also prototypes, incidentally). The grille was updated to a 2013+ unit, and the head- and taillamp clusters were brought in from the same era. Forward lighting is augmented with a six-lamp Baja Designs XL80 array; the rear features S2 dust/reverse lamps from the same company. Amp Research PowerSteps were added at the rocker panels to assist entry and exit and then to GTFO of the way when not in use. A Warn M12000 winch and Factor 55 FlatLink shackle mount reside up front (for emergency use only, of course). Exterior paintwork on the body updates is credited to Tony Ananyan at Autobahn Collision Center in Torrance, Calif.
The truck debuted at the Off Road Expo in Pomona, Calif., in 2015—imagine a SEMA for those who prefer to do their business in the dirt. Cole Comensky is quite thrilled with the way it turned out. "I'd say that we were successful in pushing the limits of what a ¾-ton diesel truck can do off-road," he says. "The fact that this truck could handle 70 mph through large whoops and stay composed was pretty impressive in my opinion. The truck's suspension is capable of doing more off-road than what I'd say is safe without a roll cage."