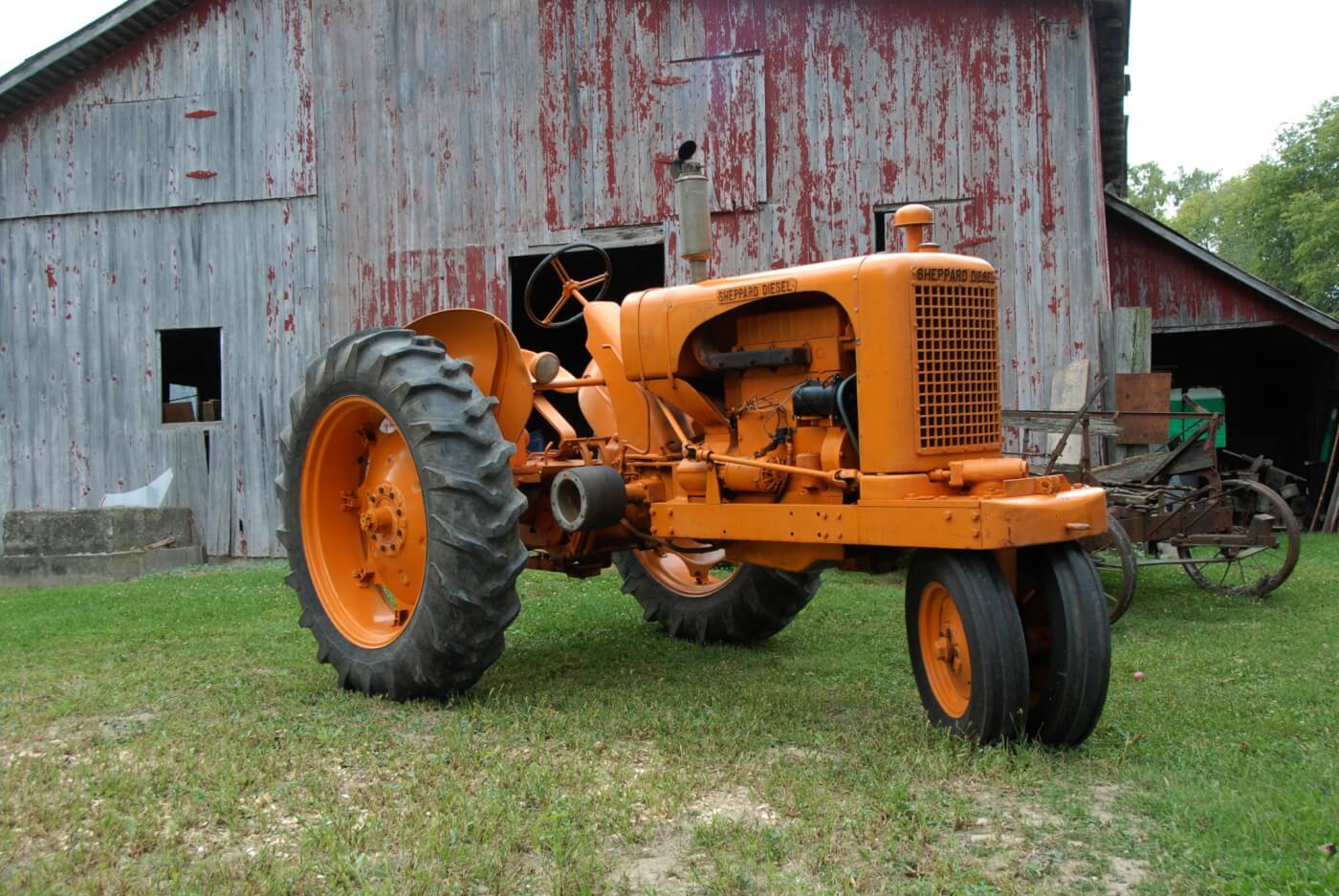 In the late '40s and early '50s, diesel-powered tractors were just starting to increase their market share against gasoline and distillate (kerosene) power tractors. It was a good time to jump in and gain a foothold in that market and Richard Sheppard did just that by incorporating his own Sheppard diesel engine into a tractor designed at the Sheppard engine factory in Hanover, Pennsylvania.
SHOEMAKER'S DIESEL
The story begins in 1933, when Sheppard opened a small engineering and manufacturing company in his home town of Hanover shortly after graduating from Dickinson College. Robert was one of "The" Sheppards, a family well known in the area for owning and operating the gigantic Hanover Shoe Factory. Among other things, Robert's company manufactured wire screens for sieves used in flower sifting as well as manufacturing small gasoline generators for use on farms. Sheppard had a particular fascination with the diesel engine and strove to design and build a low cost diesel. By 1937, he had succeeded well enough to reform his company into the R.H. Sheppard Company for the manufacture of diesel engines. These were mainly for use as generators and to power refrigeration units, but also for marine use and as stationary power. Eventually, 20 different models were produced, from 5 to 100 hp and with one to six cylinders.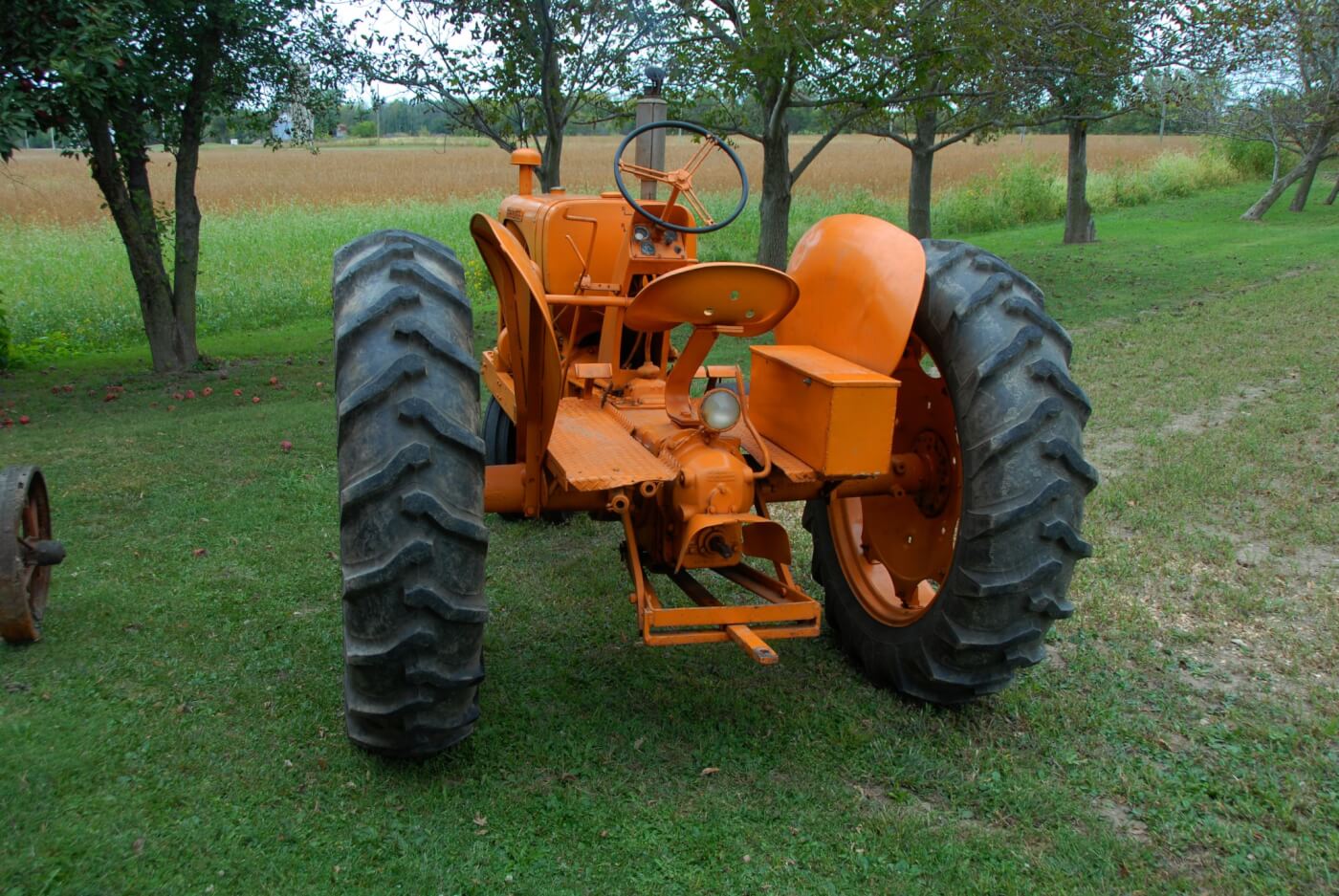 REPOWER KITS
Like other manufacturers, World War II would send Sheppard into a frenzy of building for the war effort. This would mainly be lightweight one-cylinder diesel marine power units for lifeboats, and Sheppard built thousands of them, along with generator sets. After the war, the engine business continued as usual but Sheppard became more and more interested in furthering the cause of diesel power in tractors. To that end, he began developing a tractor line but also a repower kit for existing tractors, both debuting in 1949.
The repower kit was developed for the International Harvester Model M, which had started production in 1939 and was the larger rowcrop tractor in the IH lineup. It had a 247 ci I4 fueled by either gas, distillate or diesel, making 36 PTO hp in gas form and 35 hp in diesel. The 3-cylinder, 188 ci diesel for the conversion was rated at 32 belt hp. It was claimed the conversion could be installed in less than a day but most experts think that could happen only with an experienced person doing it. Sheppard advertised a 75 percent fuel savings but the power drop was significant. It isn't clear if other kits were planned but, at $1,200 a pop, they didn't sell many of the Model M repower kits and the idea was quietly dropped.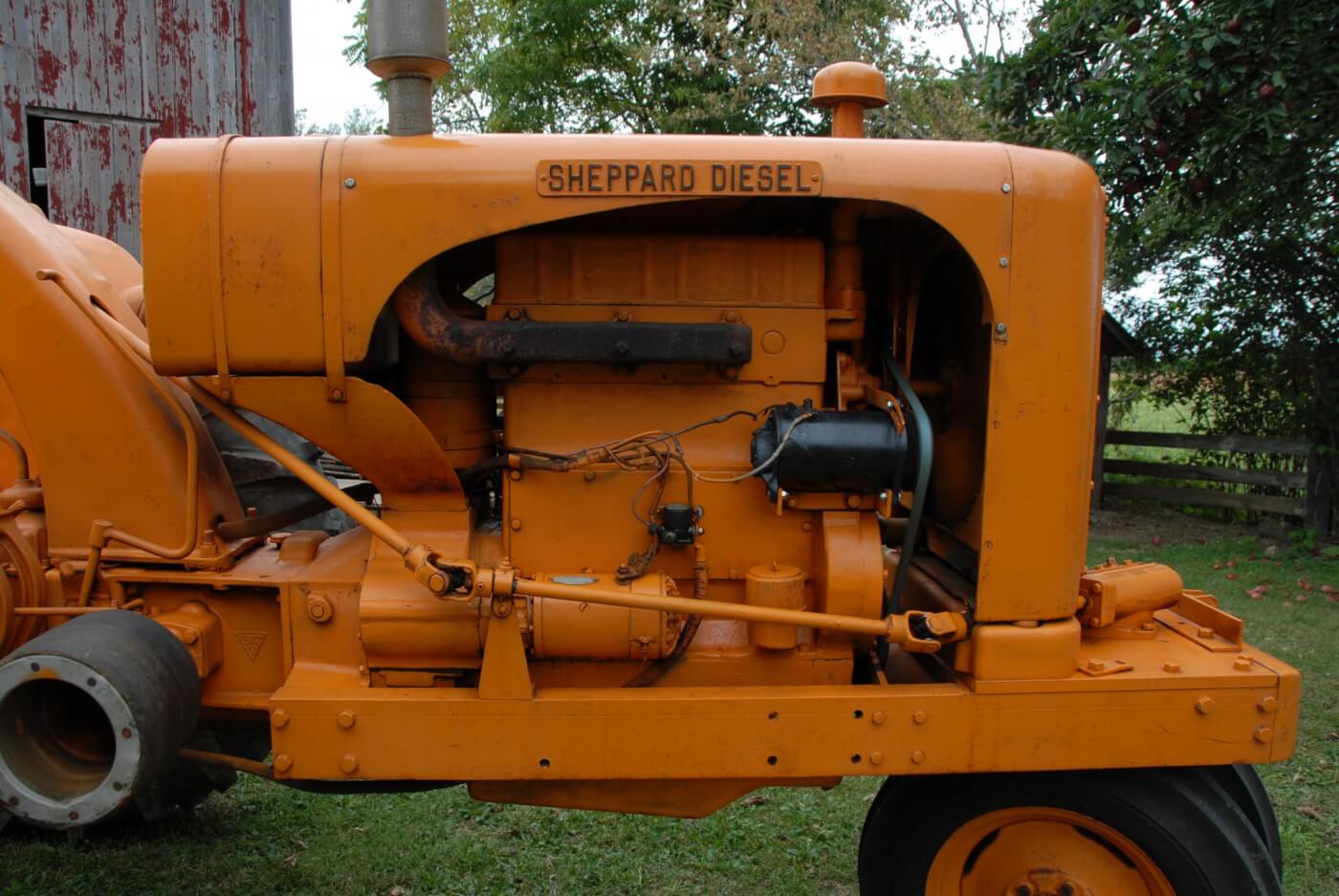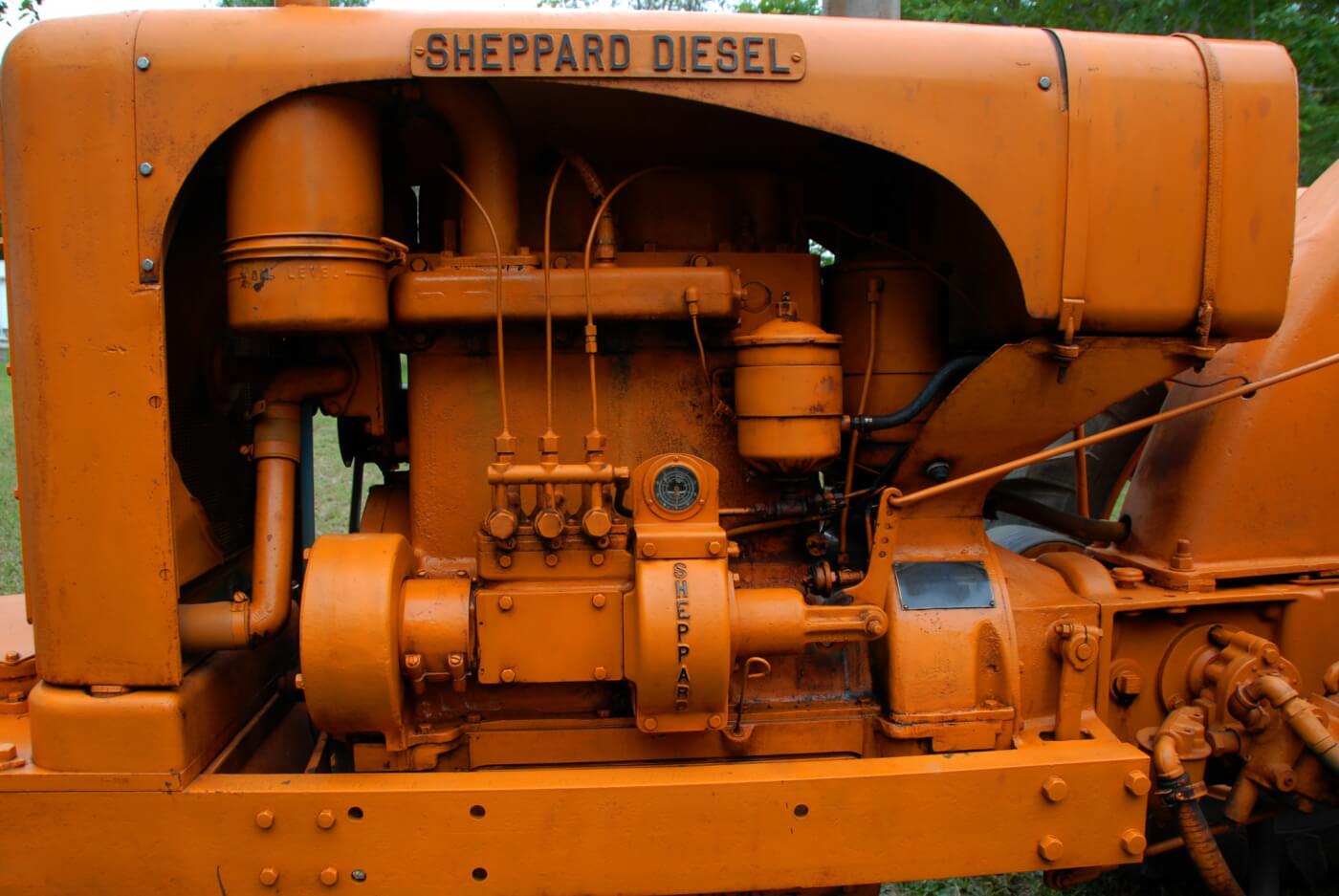 NEW LINE
At nearly the same time, Sheppard introduced his own line of tractors in one, two and three cylinder varieties making 5.4, 24 and 32 flywheel hp. The one-lung SD1 came only in '49 to the tune of 10-14 tractors only. In '53, the four-cylinder, 51 hp SD4 was introduced. In between were the two-cylinder, 24 hp SD2 and three cylinder, 32 hp Sheppard SD3.
The tractors were only moderately successful, due mostly to financial elements. To start, Sheppard did not offer a financing deal to its small network of dealers around the country. It was cash and carry and not one tractor rolled off the line unless it was paid for in full. Secondly, the retail prices of the tractors were above the market in their classes. At $1,095, the SD1 was very much priced out of the market. The SD2 cost $2,695 and faced the same obstacle. The Sheppard SD3 was $2,995 and was priced just about right for its segment. The later SD4 was around $4,200 and, again, was priced above the market in its class. In terms of features, the Sheppards compared well to similar tractors on the market, though they were a little light on power in their class. One feature that appeared on the SD4, and made it standout, was power steering. Sheppard wanted to offer that feature in tractors from day one but couldn't find anything applicable… so he built his own system. This would signal a new direction for the R.H. Sheppard Company later in the '50s.
The Sheppard SD2 and Sheppard SD3 shared most features, including a final drive from Timken-Detroit Axle and are reputedly the same as used in Cockshutt tractors. They came standard with a 4-speed transmission but a two-speed range box was optional. Live hydraulics and two PTOs were also optional. They were offered with a narrow front or an adjustable-track wide front, in a wheatland-style fixed tread, an orchard model or an industrial configuration. The SD1 and SD4 used a powertrain designed by Sheppard.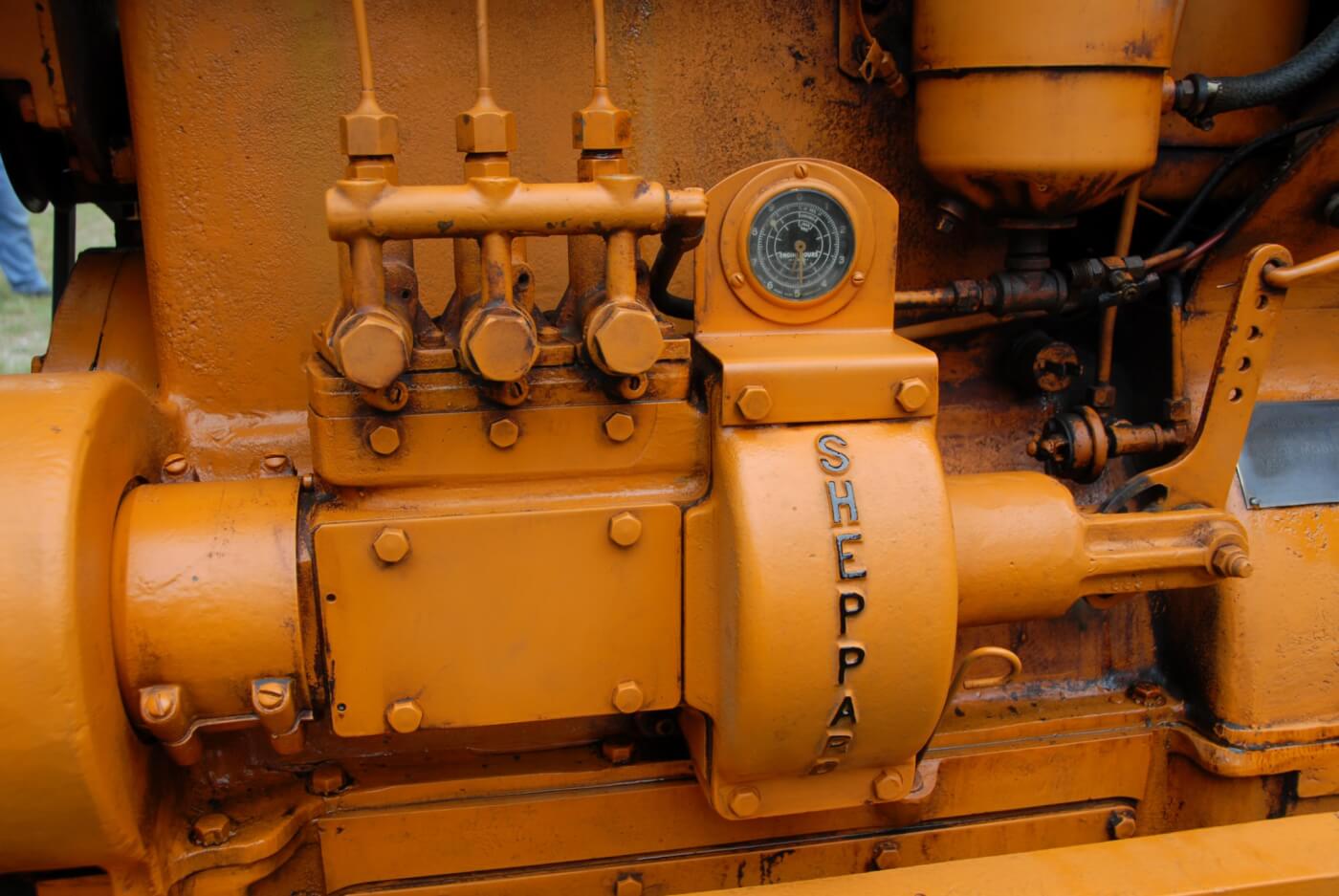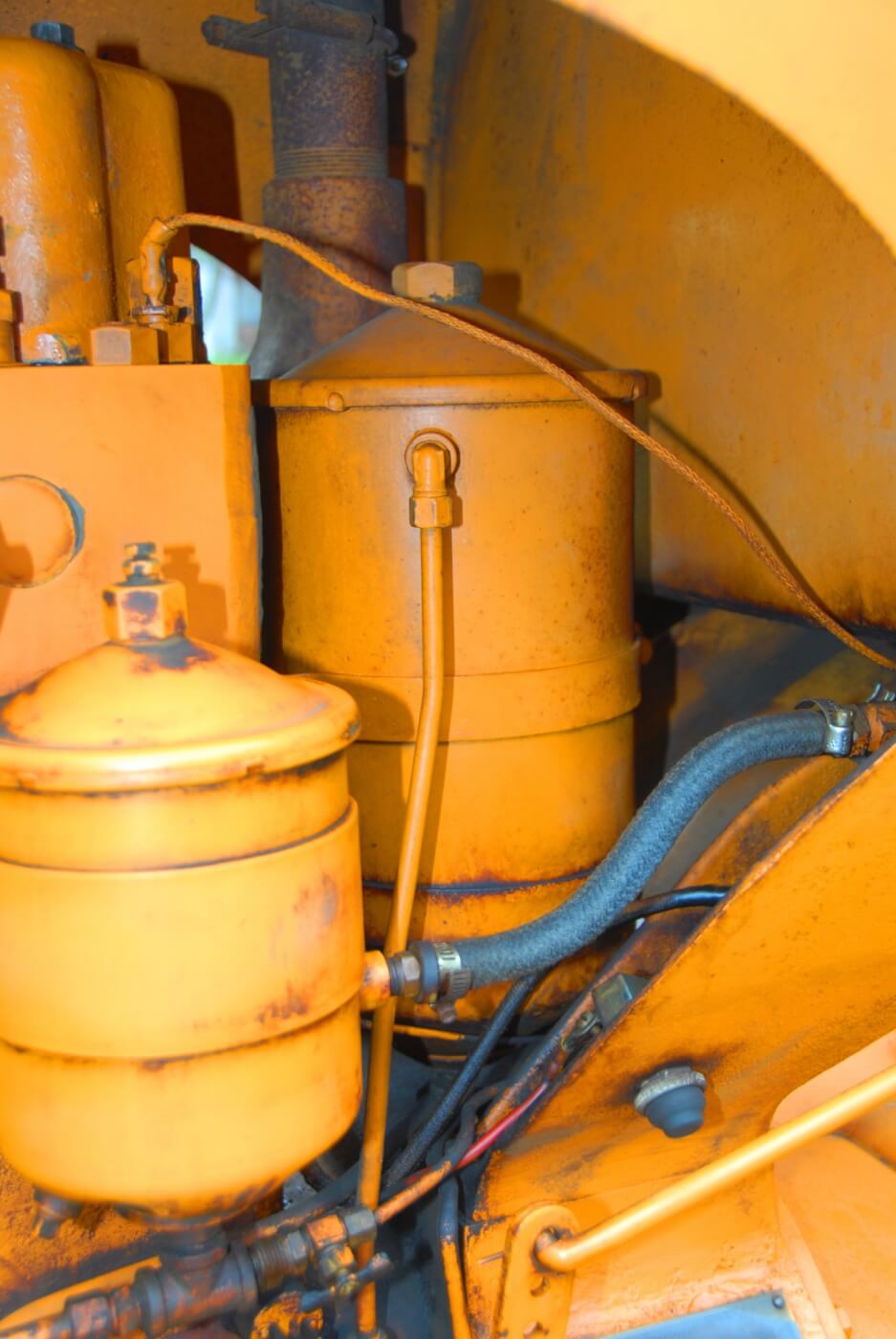 POWER PLANTS
The tractor engines all shared a 5-inch stroke and had either a 4-in. or a 4.25 in. bore. The early two-cylinders were listed at 125.6.9 ci from a 4 x 5 bore and stroke. The standard Sheppard SD3 engine 188.5 ci from three 4 x 5 in cylinders, but had a "big-bore" option with a 4.25 in. bore delivering 212.8 ci. Later, the SD2 was offered with the 4.25 x 5 in. cylinder as standard, making 141.7 ci. The spec books we saw don't list how much extra power was available with the larger displacement engines vs the smaller. The SD4 tractor used the 4.25 x 5 in. bore and stroke and made 318 ci from four cylinders. The Sheppards never had a completed Nebraska test. Reportedly, an SD4 was sent for tests but when it didn't make the expected 60 hp, it was withdrawn.
The Sheppard diesels were all indirect-injected diesels with a low pressure injection system designed to be a simple as possible. Because they used injectors with a single-hole nozzle, had a high compression ratio (22:1) and had late injection timing, they could use a variety of fuels, including furnace oil and all grades of diesel. The inline pump and injectors were made by Sheppard and each plunger on the pump was individually adjustable to tune injection volume.
The engine was huge and heavy, a bare Sheppard SD3 engine weighing 1,660 lbs. It developed maximum power at 1650 rpm, though the engine was capable of a little more. Today, the part supplies are about exhausted but if you have salvageable castings, most everything adapted from other parts or fabricated. It's definitely not a casual overhaul but the engine is brick-simple and that allows for a lot of inventive adaptation if you have a machinist on call.
The Sheppard tractors were unveiled at the Pennsylvania Farm Fair in January of 1949 and discontinued at the end of 1956.
STEERING GEAR
The Sheppard tractors were unveiled at the Pennsylvania Farm Fair in January of 1949 and discontinued at the end of 1956. Engine production continued into the '60s but eventually R.H. Sheppard transformed from an engine and tractor manufacturer to a power steering gear manufacturer and has enjoyed great success in that field to this day. Their primary product lines are for big truck and tractor applications. They also manufacture specialty products to order.
In seven years, Sheppard made only a few over 1,600 tractors. With 1,209 built, the Sheppard SD3 was the most numerous and also has the most survivors. The tractor you see here belongs to the Biller Family of Rimer, Ohio. The Billers have a history with Sheppards. When Dorman Biller started farming in the original family home of New Washington, Ohio, they started with a new '51 Sheppard SD3. They farmed with this tractor for about seven years and traded into a new IH tractor. Around 1984, Dorman got a little nostalgic for the Sheppard, found another SD3 and restored it and this one has been in the family ever since. Dorman passed away early in 2015, so now the tractor has become one of his family legacies. DW