Jake Bosie always wanted a common-rail 5.9L Cummins, but they were usually a step or two out of his price range. That is, until a good friend's truck came up for sale at a hard-to-beat price (roughly 66% the going rate). But even though the single rear wheel '05 Dodge Ram 3500 had been modified substantially by the time Jake got his hands on it, it didn't bother him. "I didn't mind all the performance stuff being on the truck because I knew all the work was done at Flynn's Shop—a trusted shop in my area," he told us. "And it already had an NV5600 (manual trans) in place of the G56, which was a big deal, in my eyes."
Big Beginnings
With plans to add lots of fuel, as well as sport a compound turbo arrangement at some point, the truck's previous owner (Justus Poteet) had pulled the head and sent it to Scheid Diesel to be cut for fire rings. While under Scheid's care, it was also fitted with 5,000-rpm valve springs. The fire-ringed head is anchored to the block with top-of-the-line Custom Age 625+ head studs from ARP.
"It already had an NV5600 in place of the G56, which was a big deal, in my eyes." —Jake Bosie
Kicking off fuel supply is a 150-gph AirDog system, which was one of the first add-ons to make it onto the truck. A PPE Dual Fueler system employs two stock displacement CP3s, one in the factory location and one belt-driven, to maintain a steady supply of rail pressure. The twin CP3s feed high-pressure fuel to a set of 80-percent over injectors from Exergy Performance. Dialing in the injection system's timing and rail pressure is left in the control of a Smarty Touch S2G programmer.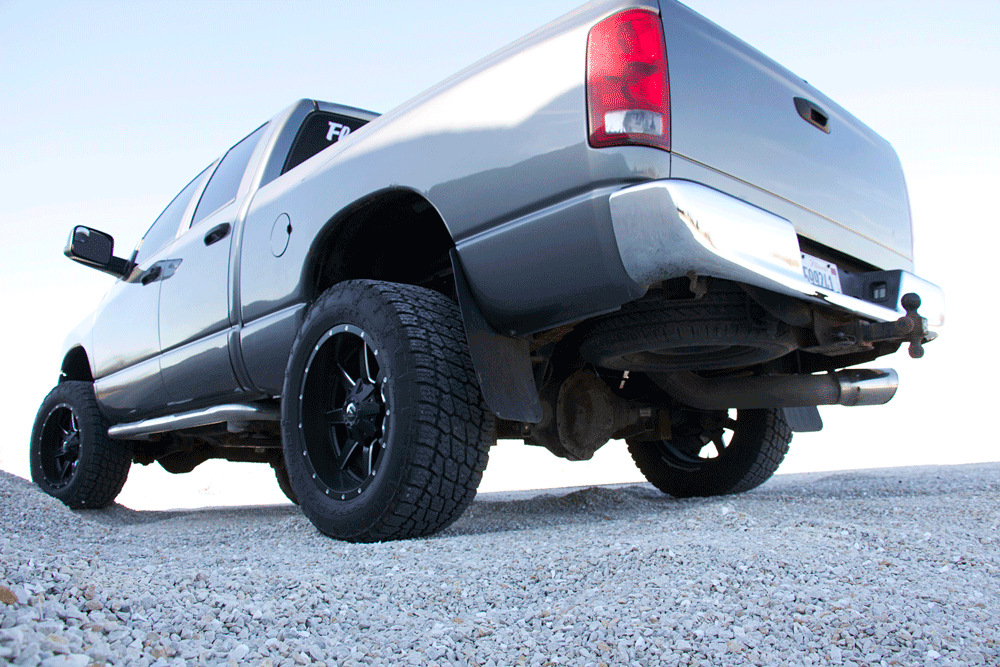 Air Supply
Not long after Jake bought the truck—the 64mm S300 it came with—bit the dust, so (of course) the decision to go bigger was the only option. Sticking with a direct bolt-on style turbo to retain the factory exhaust manifold, the time-tested PhatShaft 66 from Industrial Injection got the call. While it lags a tad bit more than the 64mm version it replaced, the 66mm charger's spool up is very respectable; it hits hard in the midrange and still has a bit left in the tank in the upper rpm range. While Jake has kicked around the idea of adding an S480 (or larger) in front of it, the single turbo aspect of the truck is one reason why the 228,000-mile stock bottom end is still in one piece.
El Manuel
Like so many other '05-present Rams equipped with the G56 six-speed manual, Jake's Dodge has killed a few gearboxes in its day. After the fourth hand-shaker let loose, a cast-iron NV5600 transmission was sourced to solve the issue once and for all. While the New Venture gearbox can't be shifted quite as quickly as the G56, it has proven much more reliable, hence why it's such a common swap throughout the diesel industry. Transferring horsepower and torque from the engine to the NV5600 is a 3850 competition dual disc clutch from South Bend.
"Used as a daily commuter, Jake tells us he sees 19-mpg on a regular basis—not half bad for a 650 to 700-hp truck"
In an age where '03-'07 Ram 2500 and 3500s can go for well over $20,000, we love seeing someone get a deal on one. And while there is really nothing over the top about Jake's parts combination, it's proof that you can have a mildly built common-rail Dodge on a blue-collar, working man's budget. Used as a daily commuter, Jake tells us he sees 19-mpg on a regular basis—not half bad for a 650 to 700-hp truck. DW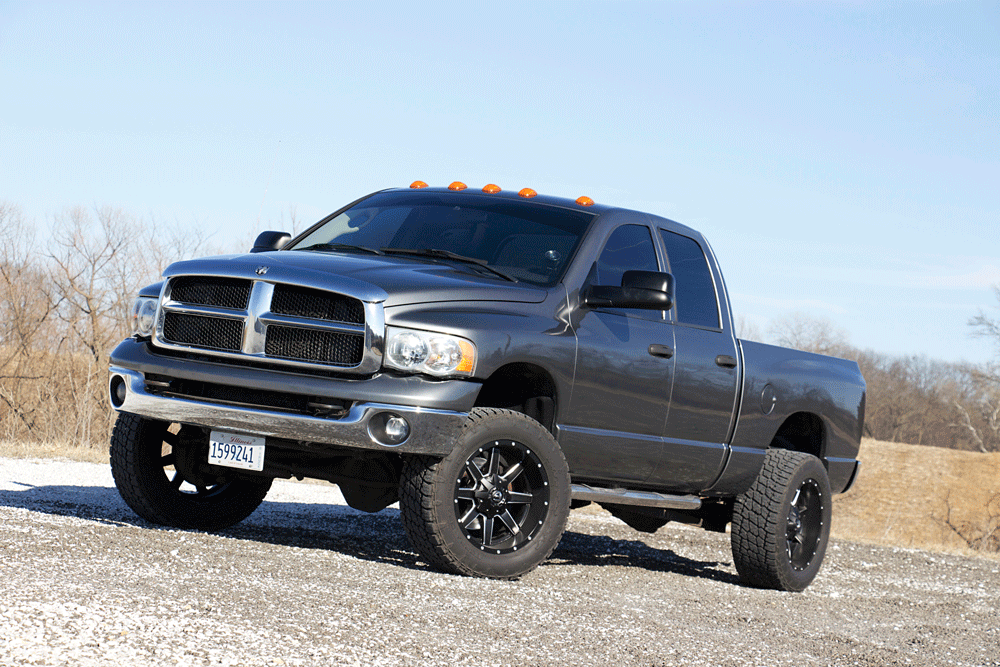 Year/Make/Model: 2005 Dodge Ram 3500 SRW
Owner: Jake Bosie
Hometown: Cantrall, Illinois
Odometer: 228,000 miles
Engine: 5.9L common-rail Cummins with Scheid Diesel fire-ringed head, 5,000-rpm valve springs, ARP Custom Age 625+ head studs
Fuel: Exergy Performance 80-percent over injectors, PPE Dual Fueler CP3 system, AirDog 150-gph lift pump
Air: Industrial Injection PhatShaft 66 (66/74/14), CFMPlus intake elbow, K&N cold air intake
Tuning: Smarty S2G with Smarty Touch monitor
Exhaust: Flo-Pro 5-inch turbo back system with 6-inch tip
Transmission: NV5600 with cryo'd internals from Zumbrota Bearing And Gear (ZBAG), South Bend 3850 competition dual disc clutch
Horsepower: 650 hp (est.)
Torque: 1,300 lb-ft. (est.)
Tires: 305/55R20 Nitto Terra Grappler G2
Wheels: 20×10 Fuel Mavericks
Suspension/Steering: Homemade traction bars