The Hottest Products from the 2017 Performance Racing Industry Trade Show
At the PRI Show, we're privy to seeing a whole wave of new performance parts that are poised to infiltrate the diesel industry. From cutting edge turbochargers to complete, race-ready engines, the products here are either on the cusp of coming to market, or have just been made public—and everything is geared toward advancing the diesel agenda. PRI is either a company's launching pad or part of a 1-2 (SEMA-PRI) marketing punch that's used to garner attention for brand-new products. Last December proved no different, as dozens of hot-off-the-press parts were introduced at the 30th annual hosting of the Performance Racing Industry trade show.
Thanks to big names like Carrillo, Scheid Diesel, and Diamond Racing, there was no shortage of freshly forged or machined billet hard parts to gawk at while combing the grounds of the Indiana Convention Center. Revered transmission shops like Sun Coast and Neal Chance Racing Converters had their latest and greatest components on display as well. But the discoveries didn't end there. By the end of the weekend, we'd spotted two ground-breaking lift pump designs, a true twin-turbo arrangement aboard a deck-plated Cummins, EFI Live's newest tuning platform, and BorgWarner's largest S300 to date. Amid the sea of bar-raising, problem-solving, and mind-blowing products on hand, we've narrowed it down to the top 20 we came across at this year's show. Look for the following parts to make a difference at a track near you in 2018.
Exergy Performance: Performance Fuel Rail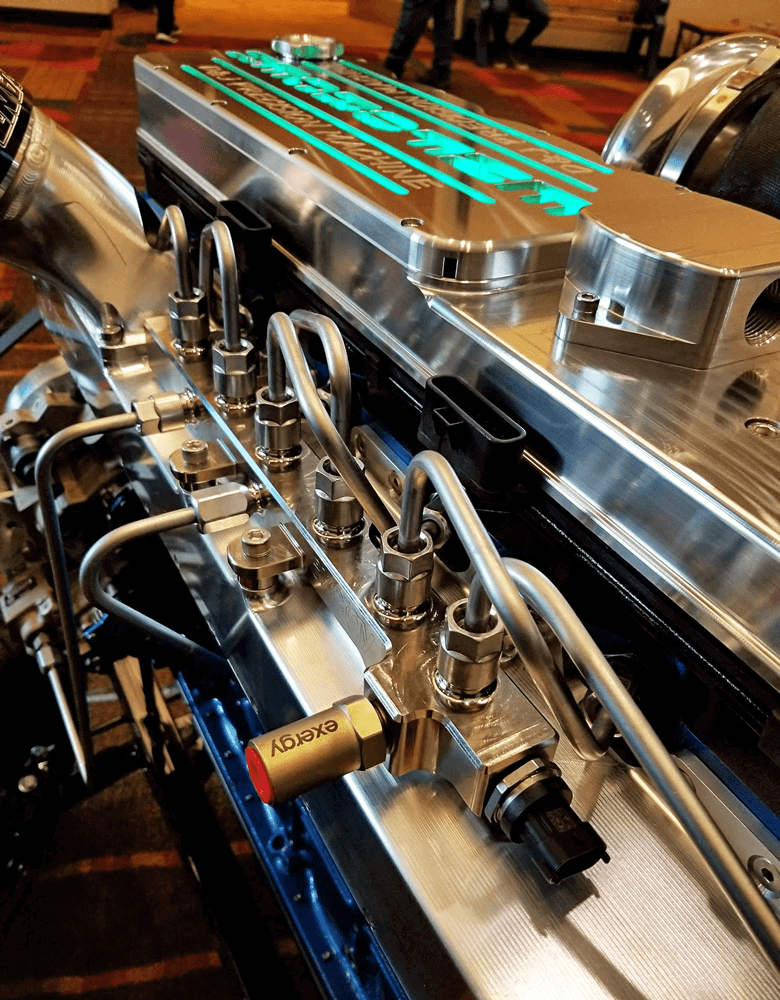 What could be better than one of diesel's most prominent common-rail injector and pump builders designing their own rail? As of December, 2017, Exergy Performance had several prototype rails like this in testing, with a release date planned for spring, 2018. Having more fuel volume present in the rail is a great way to get the most out of modified injection pumps and larger injectors. If Exergy's performance rail is anything like its injectors and pumps, it will be worth every penny.
Fleece Performance Engineering: PowerFlo Lift Pump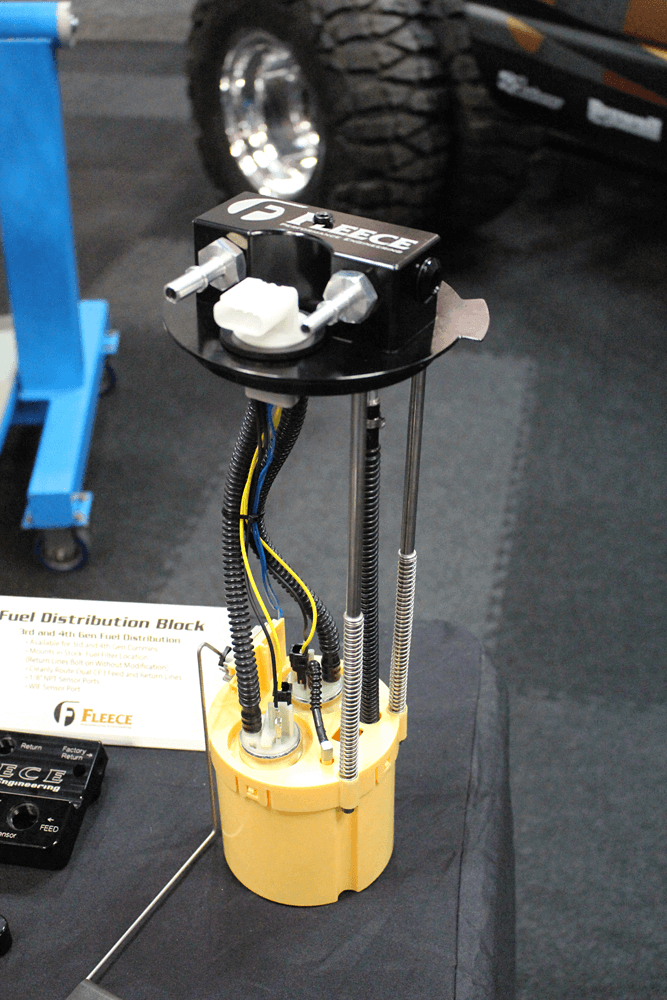 The Fleece Performance Engineering camp was full of product debuts this year which include its PowerFlo lift pump that caught our attention (make sure to also check out the company's new exhaust brake for fixed geometry turbo-swapped 6.7L Cummins owners in our PRI event coverage). Designed for '03-'18 5.9L and 6.7L Cummins applications—Duramax and Power Stroke versions on the way—its in-tank installation allows for silent operation, while its utilization of the factory quick disconnects eliminates chassis-mounted fuel lines, wiring, and hardware. An active fill bucket also rules out the need for a draw straw or tank sump, and the gerotor pump that's employed passed a 12,000-hour durability test with flying colors. Capable of flowing 168-gph at 15 psi, Fleece's PowerFlo lift pump is capable of supporting dual CP3's, and it may very well revolutionize the aftermarket lift pump segment.
BorgWarner: S372 SX-E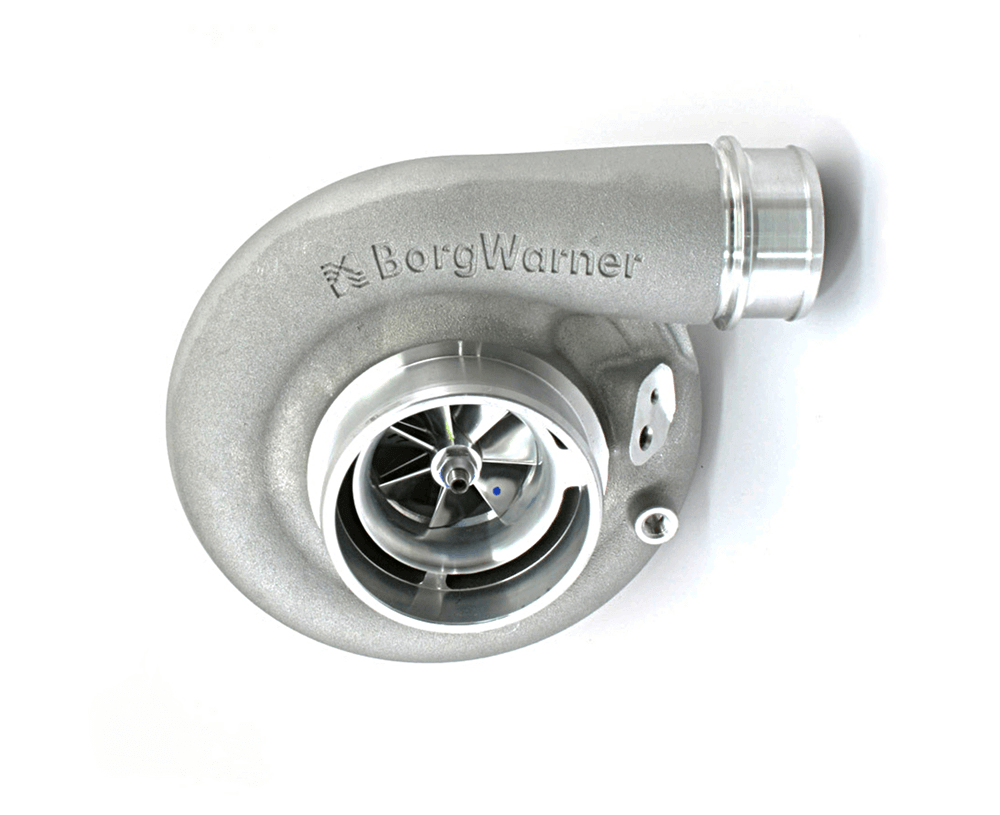 Just when we thought the S300 SX-E line couldn't get any better (or bigger), the folks at BorgWarner released a 72mm version. The T4 flanged charger comes standard with a 360-degree thrust bearing assembly, a speed sensor port in the compressor housing, and is capable of supporting more than 1,100 hp. We haven't seen a map yet, but with the S369 SX-E flowing 98 lbs per min, you can bet the 72mm forged milled wheel compressor flows well over 100 lbs/min (1,430-plus cfm).
Sun Coast: Adjustable Billet Stator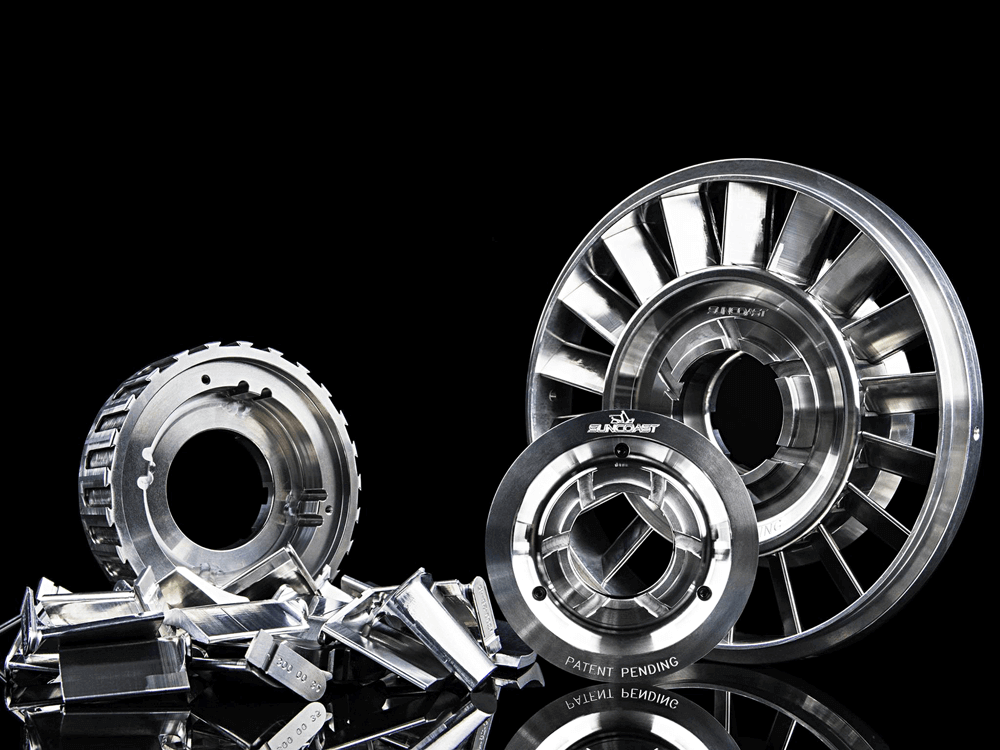 With so many different parts combinations available these days (big singles, compounds, triple turbos, etc.), the guys at Sun Coast have taken extra steps in their new billet stator design to ensure you're completely satisfied with your performance transmission. The blades are interchangeable so the end-user has the ability to adjust and try different angles until reaching the stall he or she likes. Then, once the customer finds the angle that works best for their specific application, they can send it back to Sun Coast to be brazed and made permanent.
Racepak: Vantage CL1 Data Logger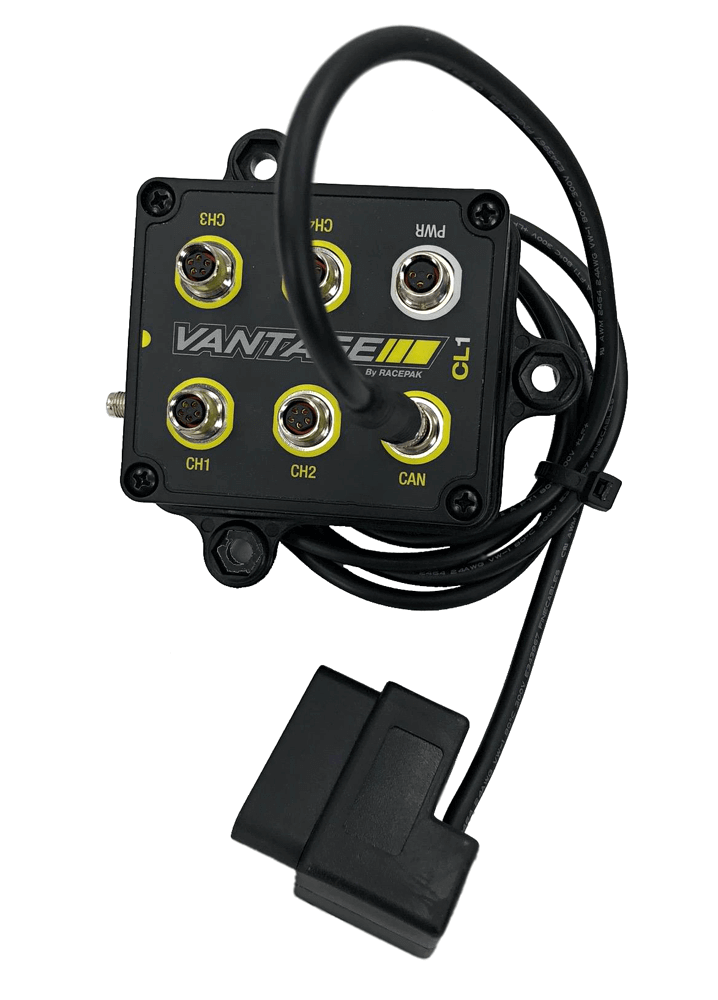 Data-logging from your smartphone? Why not. Racepak's Vantage CL1 merges mobile data collection and instrumentation technologies into one, easy-to-use system for analyzing and then improving your performance at the track. There is no need to connect a laptop to your vehicle, and no downloading files and then emailing them to your tuner—all data can be viewed and analyzed in real time, or at any time, as infinite space is available for saved data being that the system is cloud-based. Although it was initially intended solely for the karting crowd, representatives from virtually every form of racing are chomping at the bit for this kind of technology. Thanks to popular demand, Racepak announced its intentions to expand the Vantage CL1 system to include other forms of racing in the near future.
Scheid Diesel: Billet-Aluminum 5.9L Cummins Block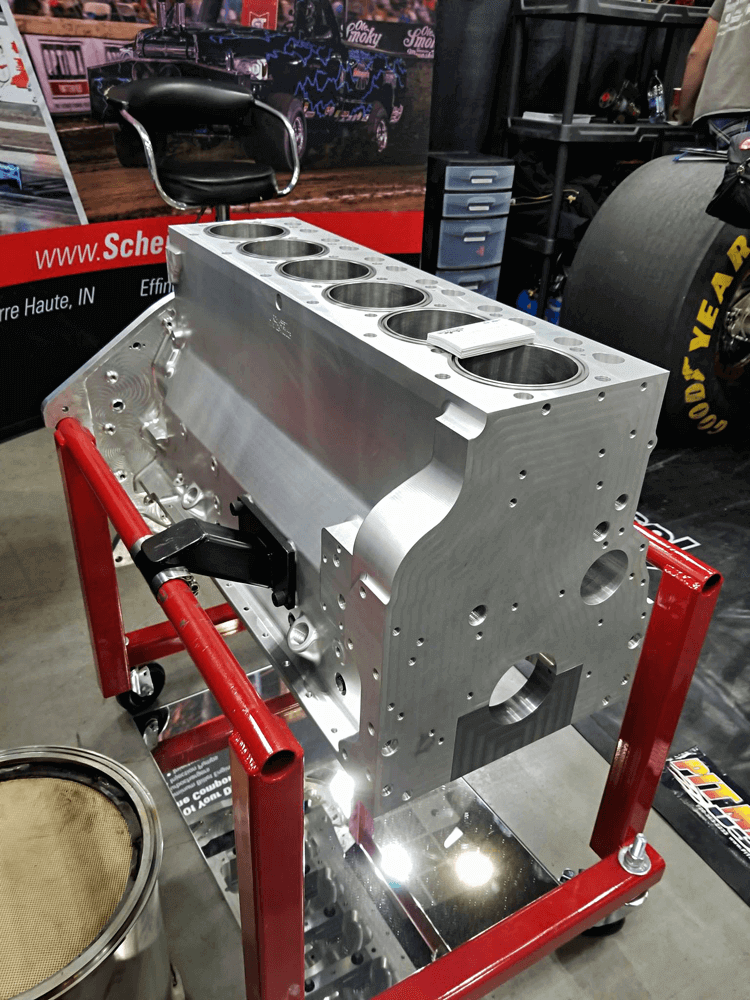 No longer sourcing its billet Cummins crankcases from LSM Systems Engineering, Scheid Diesel has taken its billet block program in-house. Scheid tells us the move was made in an effort to speed up the manufacturing process of its billet-aluminum blocks, and as you might've guessed, Scheid's new machine shop (built at the company's Terre Haute, Indiana location) will also likely see its fair share of cylinder head work. The 5.9L billet-aluminum block shown here was the first production block produced at Scheid's new facility.
Industrial Injection: Twin-Turbo Shredder Series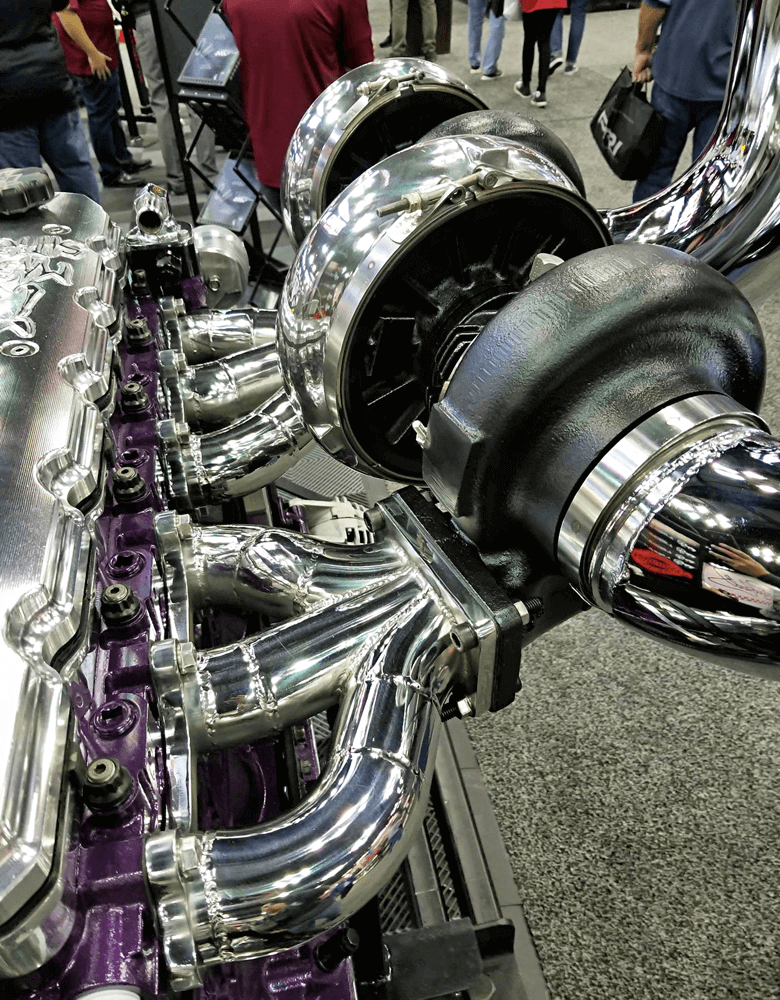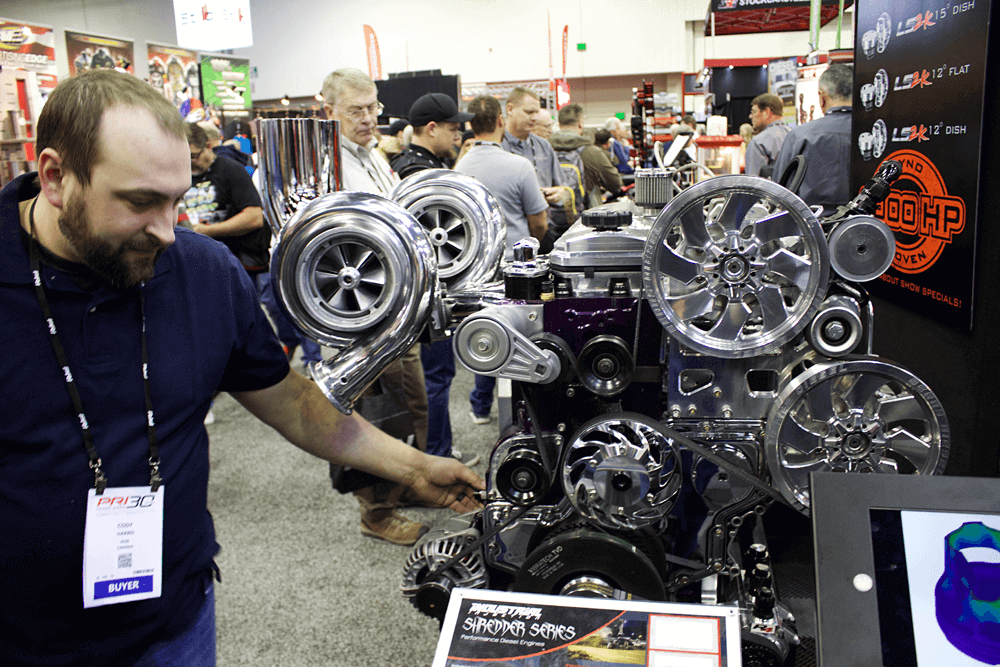 Twin turbo arrangements have often been thought of as a no-no in the Cummins segment, but if properly spec'd they can match or even exceed the performance gleaned from staged configurations. Judging by this twin-turbo Shredder Series Cummins put together by Industrial Injection, the latter seems to be the case. While using just three cylinders' worth of exhaust to drive each massive turbo might not yield the greatest drivability, we have no doubts that it will make some serious horsepower up top.
Precision Turbo & Engine: Gen 2 PT7275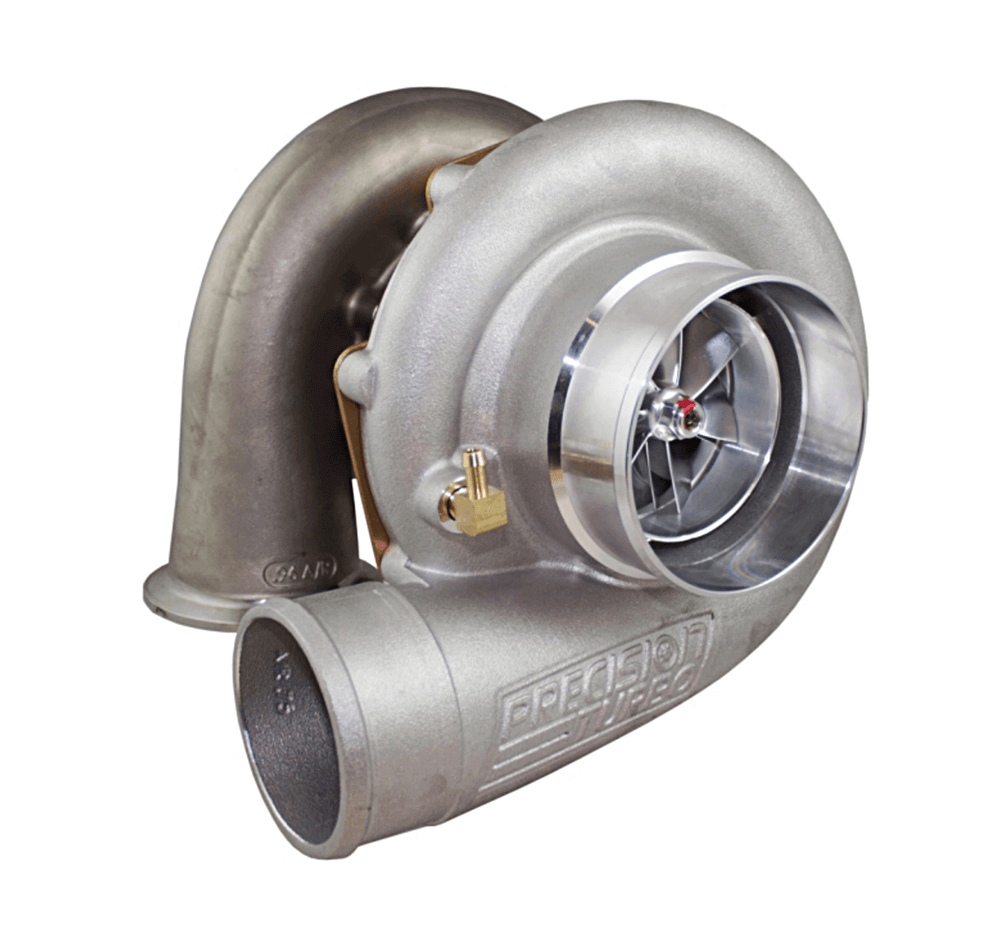 This might not be Precision's drool-worthy, no-frills 94mm Gen 2 Pro Mod charger, but it's easily capable of supporting 1,200 hp. Released last November, the Gen 2 PT7275 wields a 2618 forged-aluminum 72mm CEA (competition engineered aerodynamics) compressor wheel (inducer), 75mm (exducer) turbine wheel, is available with either a .81 or .96 A/R T4 flange exhaust housing, and can be had with a dual ceramic ball bearing center section or a journal bearing system with a 360-degree thrust bearing.
Diamond Racing: HD Street Diesel Series & Custom Pistons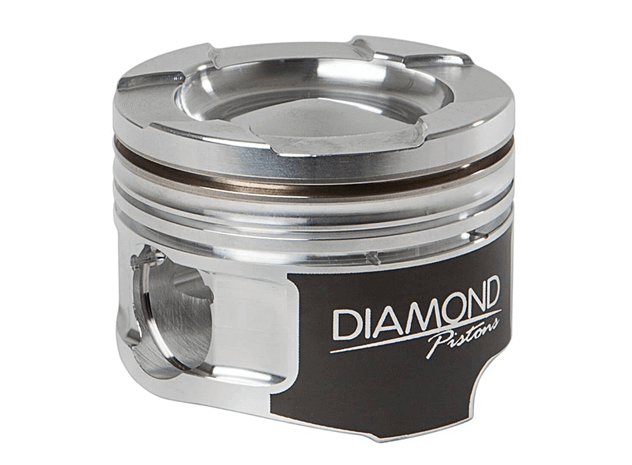 It's no secret that Diamond pistons are in right now in diesel performance. And why not? After all, not only does Diamond offer an HD Street Diesel Series piston for Cummins, Duramax and Power Stroke mills, but the company will also manufacture custom pistons on an individual basis (i.e. any fuel bowl, compression, ring package, or bore you want). Diamond's forged-steel ring land first made waves roughly a year ago, and has since become a huge selling point in high horsepower engine builds.
Dynocom Industries: 15000 Series Chassis Dyno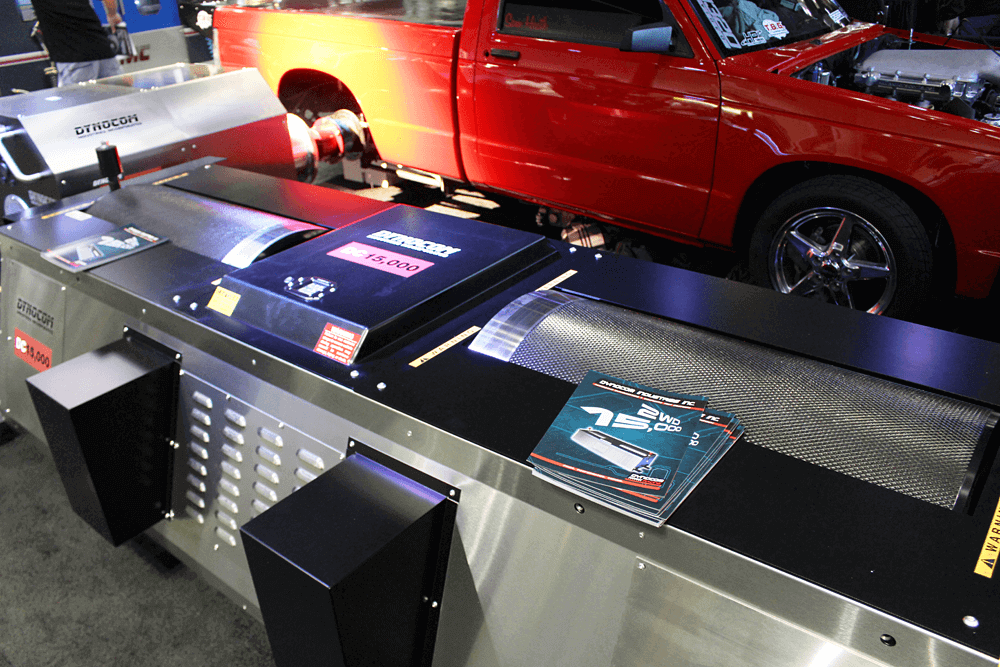 Thanks to its highly affordable price point ($24,995 to start), Dynocom has become a household name in the diesel industry. The company's 15000 series chassis dynos support more than 240 mph wheel speeds and 2,400 hp. These units can easily be outfitted with an eddy brake (rated for 3,000-plus lb-ft of torque) for steady-state testing and better loading of diesel pickups. The best part about Dynocom's eddy brake unit for 15,000 series dynos is that it mounts directly on the shaft in between both rollers, which rules out the need to couple it via belt or universal joint.
Fleece Performance Engineering: Billet Side Draft Intake Manifold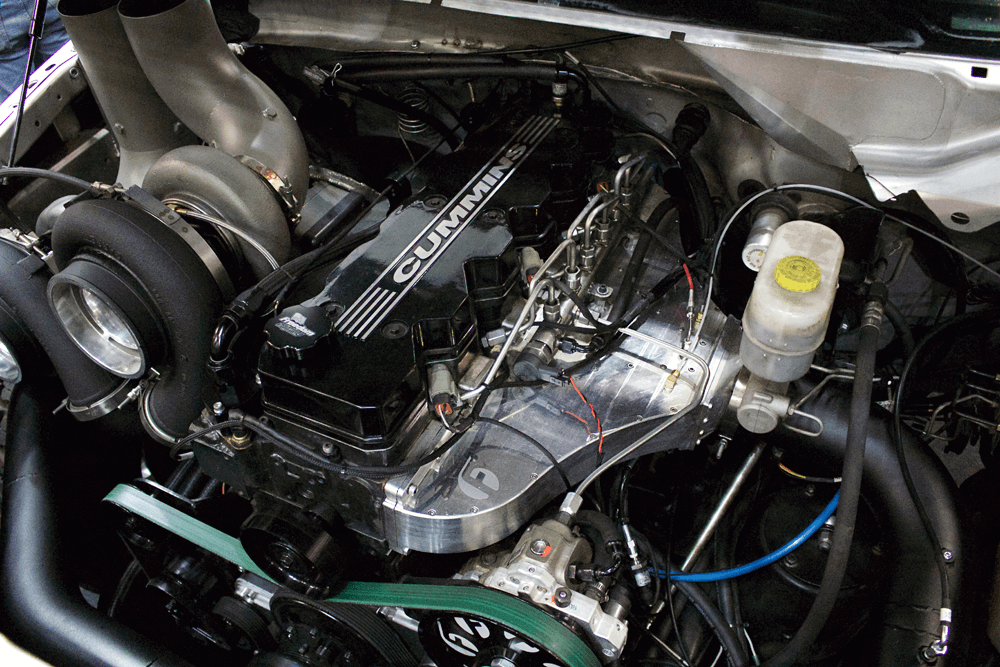 When big horsepower is on the table, you can't let an intake manifold bottleneck airflow. Fleece Performance Engineering's billet side draft intake incorporates built-in internal dividers that ensure an equal amount of air makes it to each cylinder of your common-rail Cummins. No more air-starved number 1 and 6 cylinders. This particular intake sits aboard Fleece's triple-turbo'd, 7.0L Cummins monstrosity built to compete in the Ultimate Callout Challenge—and works in perfect harmony with a Stage 3 Freedom Racing Engines cylinder head.
Neal Chance Racing Converters: TH400 12-inch Lockup Converter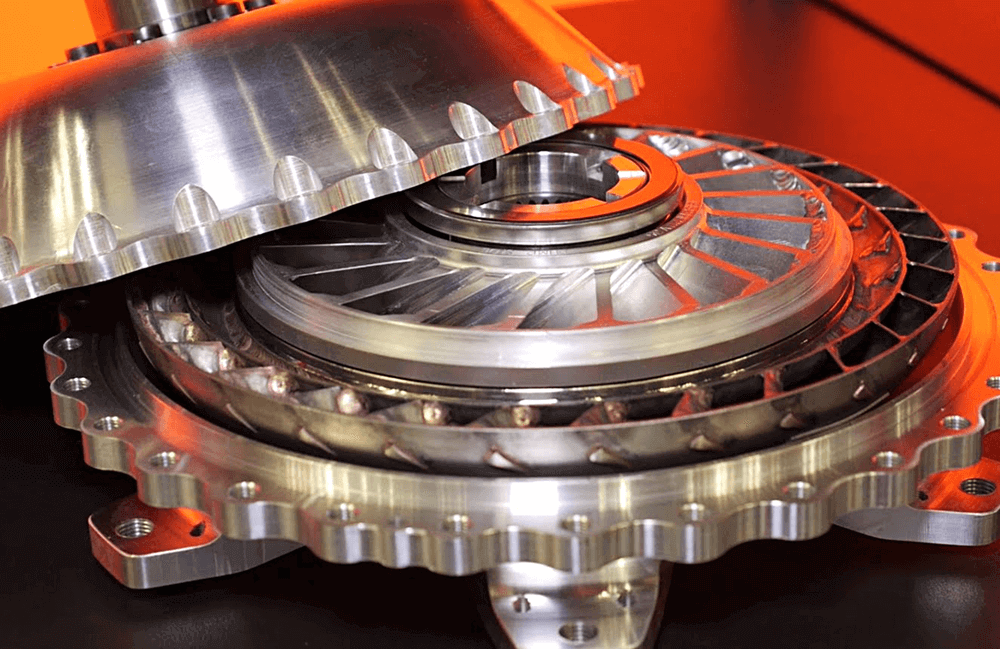 Pure bred drag racers are turning to Turbo 400 automatics these days, and many of them are relying on Neal Chance Racing Converters' 12-inch, billet lockup converters to get them down the track quicker and more reliably. These converters feature as many as 12 clutches for ultimate clutch drag in high torque applications. They're advertised as lockup converters for heavy hitters—and that's exactly what they are. Case in point: Pro Street racer Dustin Jackson runs one in his low-8-second, Cummins-powered Lightning, Matt Kubik makes use of one in his P-pumped 7.3L-equipped Mustang, and Rawlings Barnes' 6.4L broke into the 4's in the eighth-mile while running one.
Aeromotive: Brushless A1000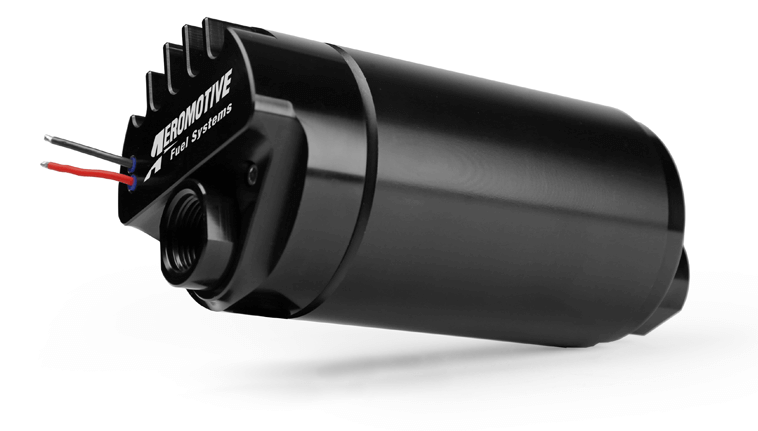 Aeromotive's A1000 pump has long been popular in the diesel segment for its ability to support four-digit horsepower, but now its highly revered pump has come full circle. By making use of a brushless motor, the A1000's reliability will be improved, tremendously. In addition, the brushless A1000 is quieter and lighter than the original A1000, and also features an integral, external brushless controller for a clean installation and cooler fuel. The new A1000 is also said to reduce current draw under higher pressures.
QA1: Pro Coil Shock Systems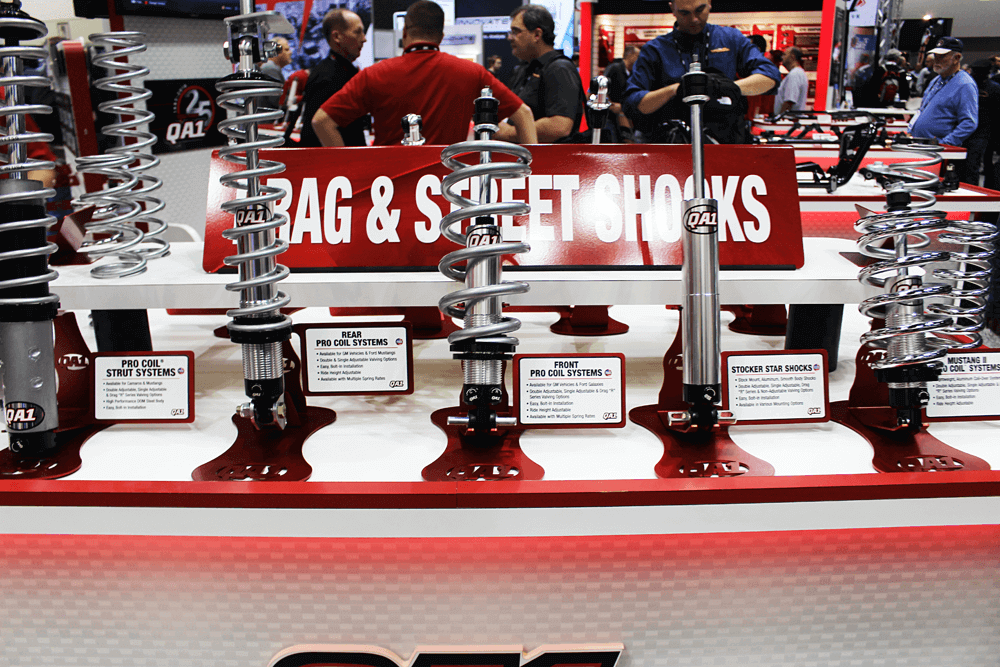 QA1's adjustable coil over shocks have found a home on various diesels destined for the drag strip. The company's coil-over shock conversion products can be had in multiple spring rates, allowing you to make a host of ride height adjustments, and are available with double and single adjustable valving options. QA1 also offers Drag series ("R") adjustable units for track-specific applications, and non-adjustable (steel) economy units for folks on tighter budgets.
D&J Precision Machine: Enforcer Series Cummins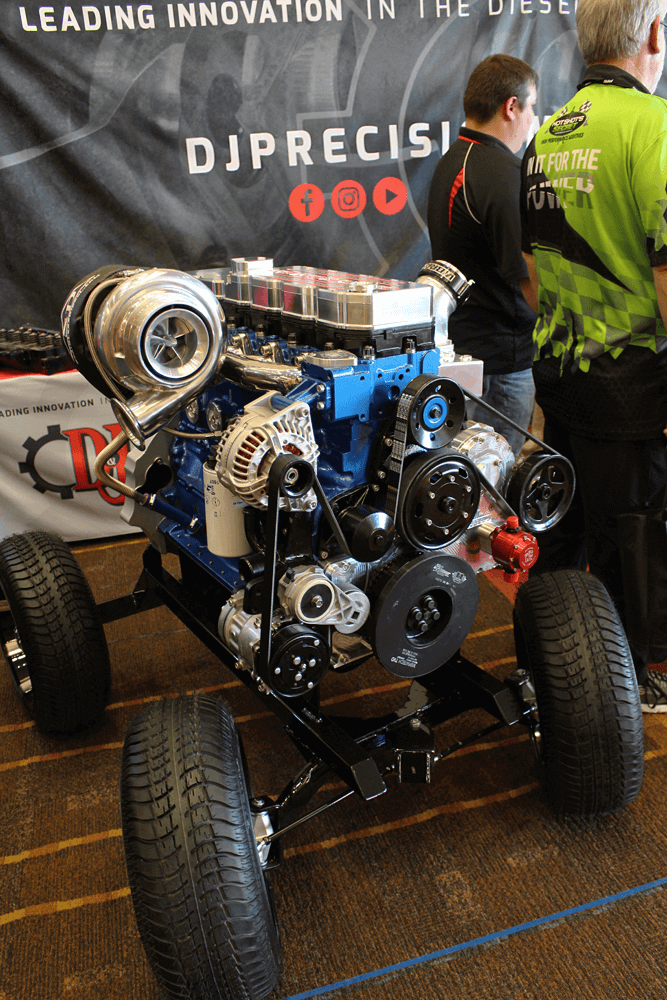 For an up close and personal look at a turnkey, sleeved, and deck-plated Cummins that's been thoroughly proven both on the street and in competition, look no further than D&J Precision Machine's Enforcer series Cummins. The Enforcer gained national recognition after being campaigned (with great success) by Firepunk Diesel's Lavon Miller. Each blueprinted and balanced Enforcer features a sleeved, CNC-machined, and line honed 6.7L block fitted with D&J's girdle, X-beam (1-inch longer) rods, and FSR billet pistons. A deck plate sits between the fire ringed block and Stage 3 cylinder head. The head, which is also fire-ringed, receives a 5-axis CNC port job, super alloy oversize intake and exhaust valves, 115-ppi valve springs, and flows 300 cfm on the intake side.
Stainless Diesel: The Godfather (S485)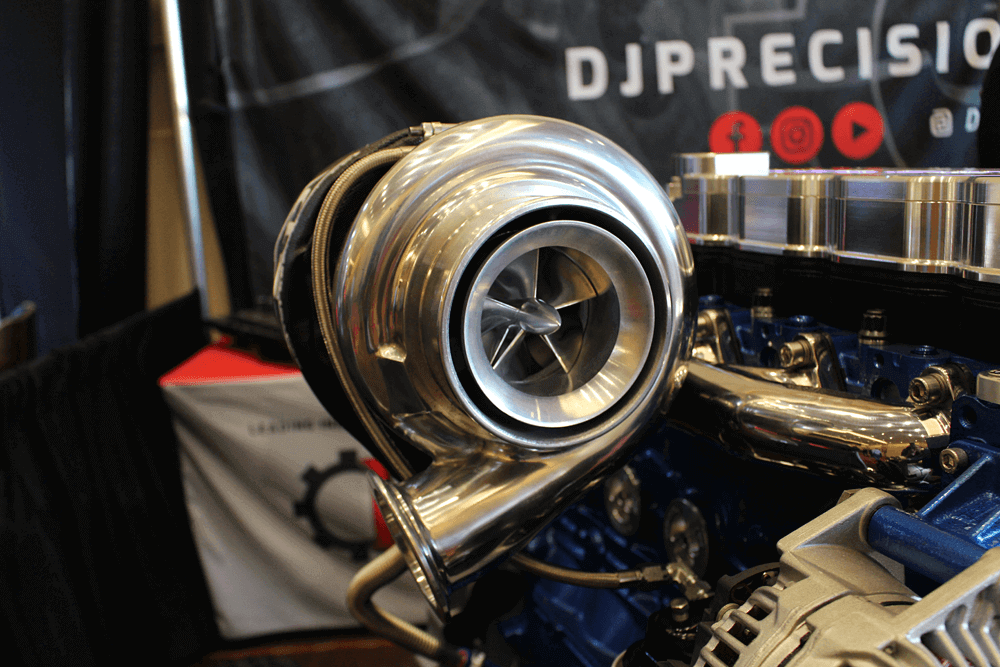 Most wouldn't know it, but for more than three years Stainless Diesel has offered a ball bearing center section option for its 5-blade S400 turbochargers. The dual, ceramic ball bearing center cartridge was designed for the purpose of improving turbo longevity in truck pulling applications. In addition to accomplishing that, it also frees up extra horsepower, and provides better transient response over journal bearing chargers. The company's ball bearing S485 (with one of its proprietary 5-blade billet compressor wheels) known as "The Godfather" is shown here, attached to the aforementioned D&J Precision Machine Enforcer Cummins by way of a Stainless Diesel T6 exhaust manifold. Per Stainless Diesel's engine dyno records, the Godfather is capable of supporting 1,530 hp.
CP-Carrillo: 2.8L Duramax Rods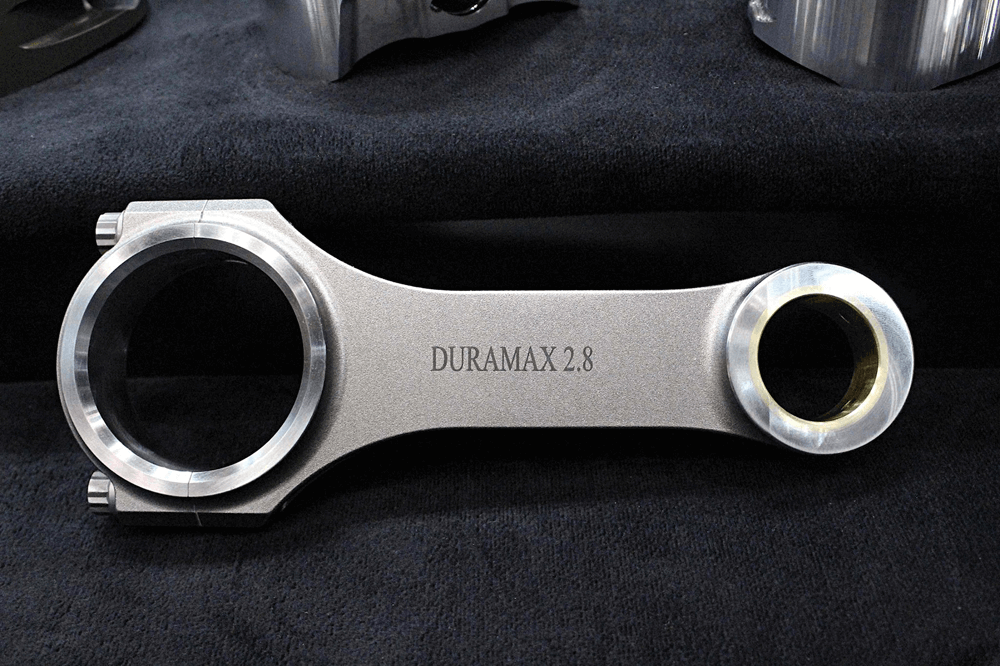 With factory connecting rod failures occurring on several tuned and compound turbo'd 2.8L Duramax engines, Carrillo has answered the call for the compact Bow Tie owner who wants to make more power, safely. Developed in conjunction with SoCal Diesel—a well-known leader in the 6.6L aftermarket—the aftermarket rods are forged from 4330M alloy and should be the ultimate fix for the 2.8L's weak factory hardware.
Air Lift Company: Universal Air Spring Spacers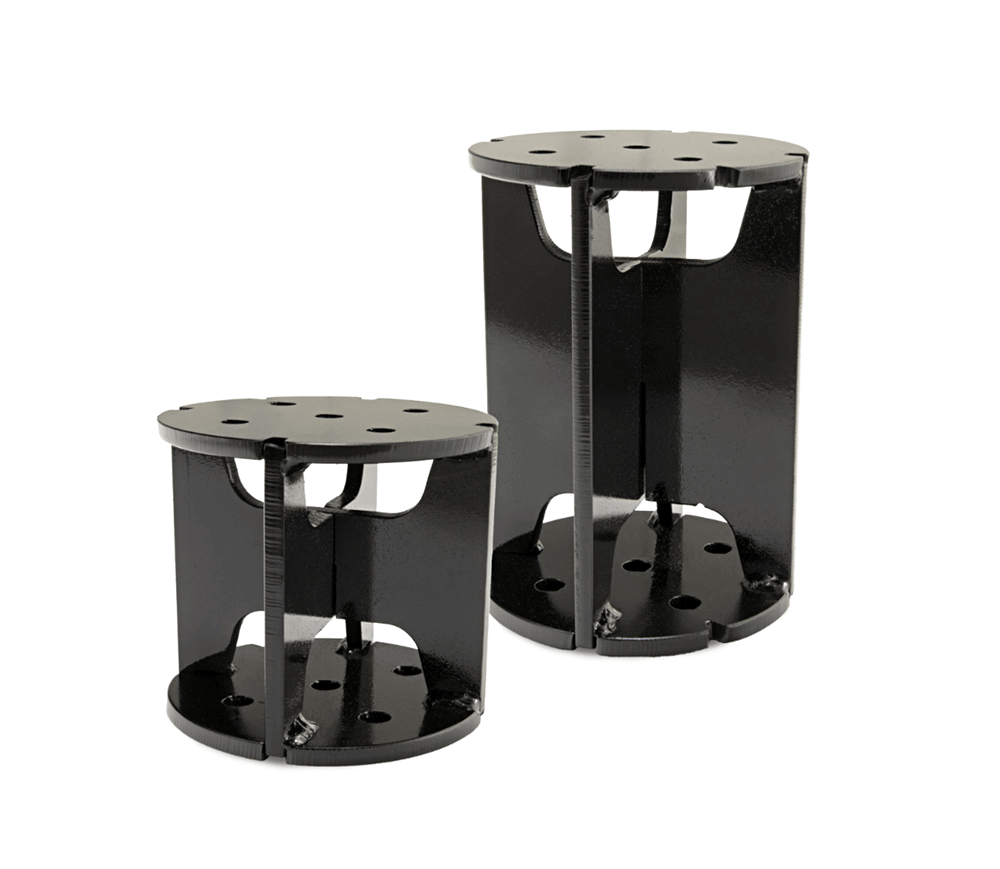 Thanks to Air Lift's universal air spring spacers, you can seamlessly run the company's 5000 or 7500 series Load Lifter air spring systems in conjunction with a 4 or 6-inch lift. They can be added during a complete air spring system installation, or you can integrate them into your truck's existing air spring system. Constructed from high-grade, ¼-inch steel rated to handle more than 10 tons of force, the spacers are compatible with all brands of bellow-style air springs. They're available in 4-inch straight or angled, and 6-inch straight or angled heights, and feature a spiral design that simplifies the installation process.
Harland Sharp: 6.0L D-Force Rockers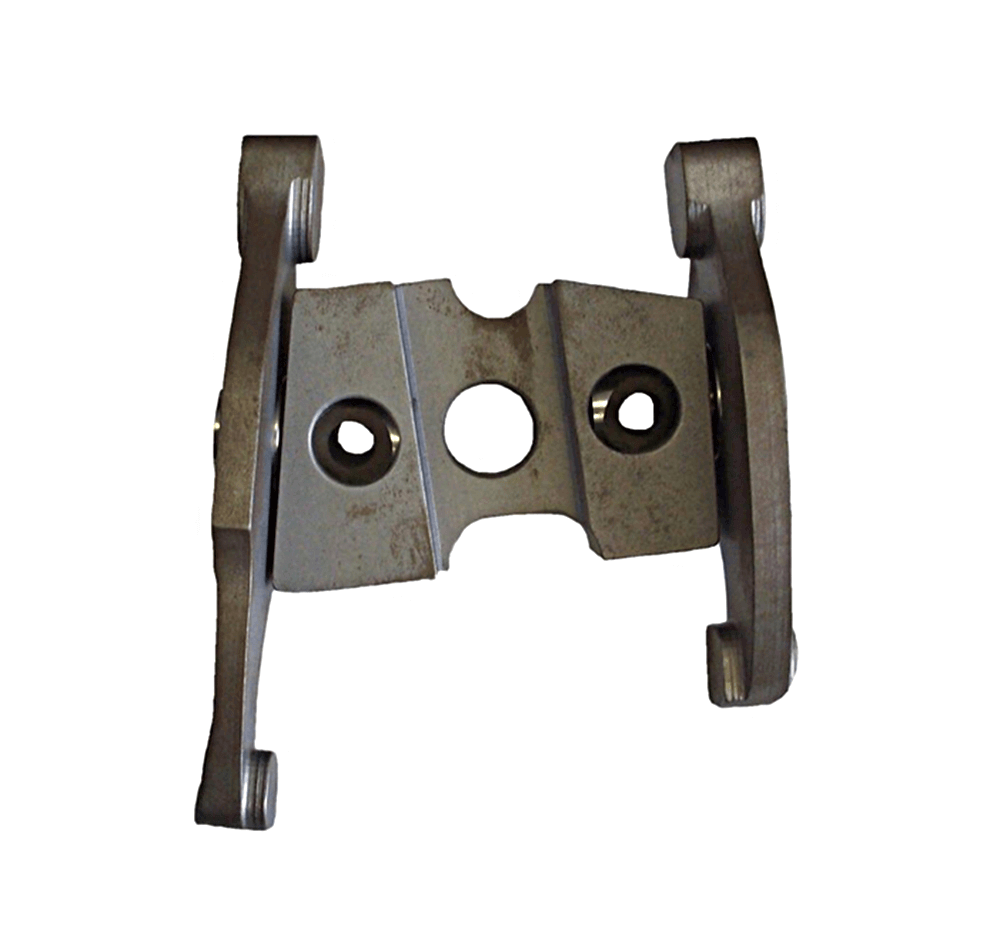 Between ProMaxx Performance's new aluminum cylinder heads (see our PRI Show coverage in this issue), Justin Gilliland's 1,000hp 2.5 Class engine, and these billet-steel rockers from Harland Sharp, there is no question that the 6.0L is a viable platform to make power with. At the very least, it's nice to see the aftermarket still introducing groundbreaking parts for these often-hated Power Strokes. Harland Sharp's D-Force rockers feature new billet-steel shafts and stands, needle bearing fulcrums, include 3/8 ball adjusters, and are available in increased or factory ratios.
EFI Live: HD Cummins Tuning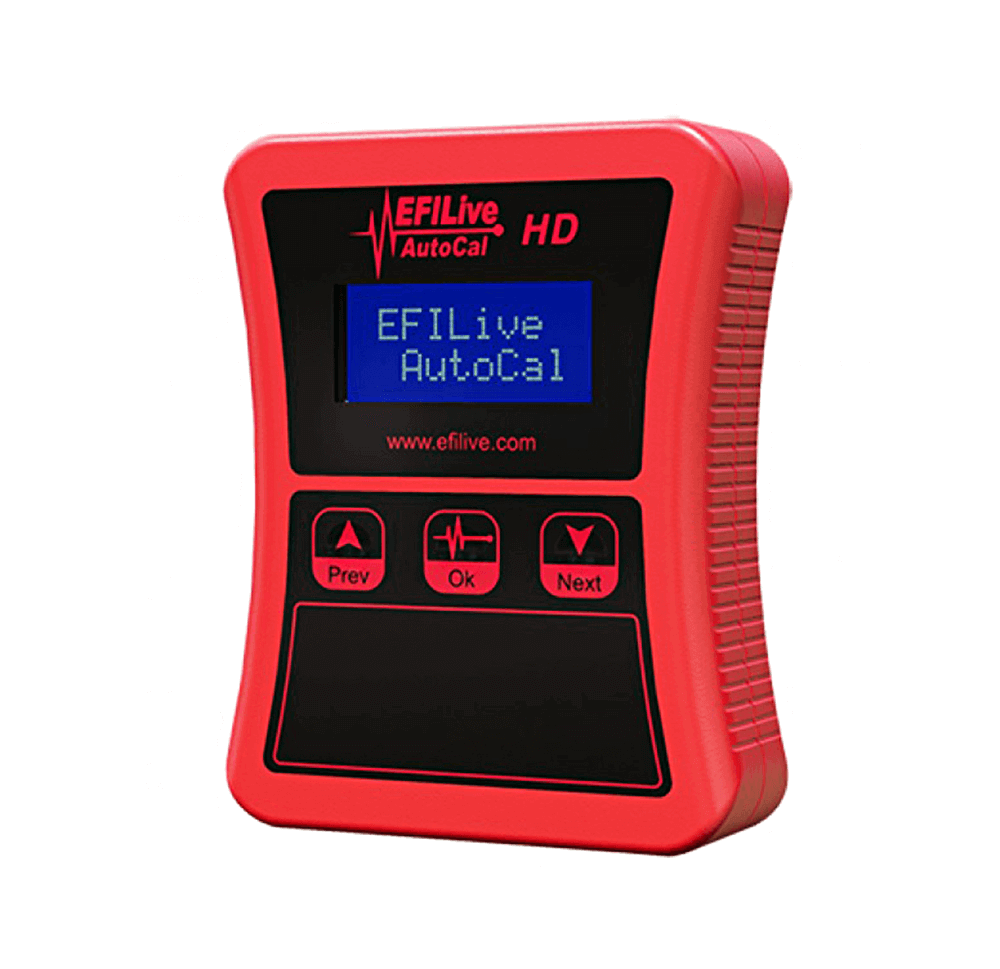 EFI Live divulged some exciting news for the Class 8 segment at the PRI Show: tuning for various 2010-2017 model heavy-duty Cummins engines. Distinguished by their red case and custom labeling, both the FlashScan HD and Auto Cal HD will function similarly to the traditional handheld FlashScan V2 and Auto Cal devices for pickups. No back-door programming is required, simply plug and play. The Cummins ISX15 (14.9L) and ISX12 (11.9L) are among the list of supported engines, with 16 other on-highway and off-highway mills being tunable.