Annual Utah Event Has Become A Staple Of The Diesel Industry
Edge Product's annual Weekend On The Edge (WOTE) event is one of the largest diesel events in the West, drawing enthusiasts from all over the country to run on the dyno and compete in the sled pull. Held at the Golden Spike Event Center in Ogden, Utah, with the sled pull taking place at nearby Weber County Fairgrounds, the event is the last pull of the United Pullers Edge Pulling Series, and therefore the place where season winners are determined.
DYNO COMPETITION
Edge kicked off the event by running their two in-house dynos virtually non-stop before the start of the sled pull. More than 100 trucks were waiting in line, everything from basic daily drivers and tuner trucks to competition twin-turbo and nitrous-injected horsepower junkies. A handful of 1,000-plus horsepower trucks hit the rollers, but when the smoke cleared it was Dustin Hembury of Industrial Injection who had spun the dyno the hardest; his LB7 Duramax-powered drag truck put down 1,550 hp and 2,240 lb-ft with help from a little nitrous.
Second place also went to an LB7, with Dmitri Millard's Duramax delivering 1,490 hp on a fuel-only run. Duramax powerplants went on to land four of the top five spots; the only non-GM prize going to Nick Zichska's 5.9L Cummins, which took third place at 1,016 hp. Other notables in the chassis dyno contest were Chris Rosscup's twin-turbo Duramax at 959 hp and Justin Tyler's 6.4L Power Stroke, which broke into the 700-hp club.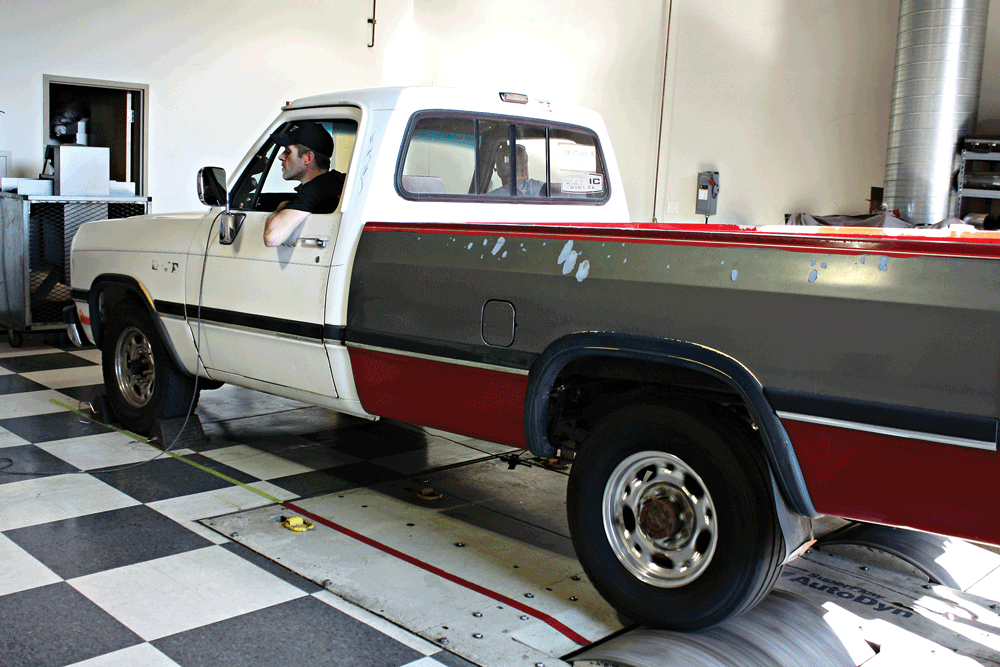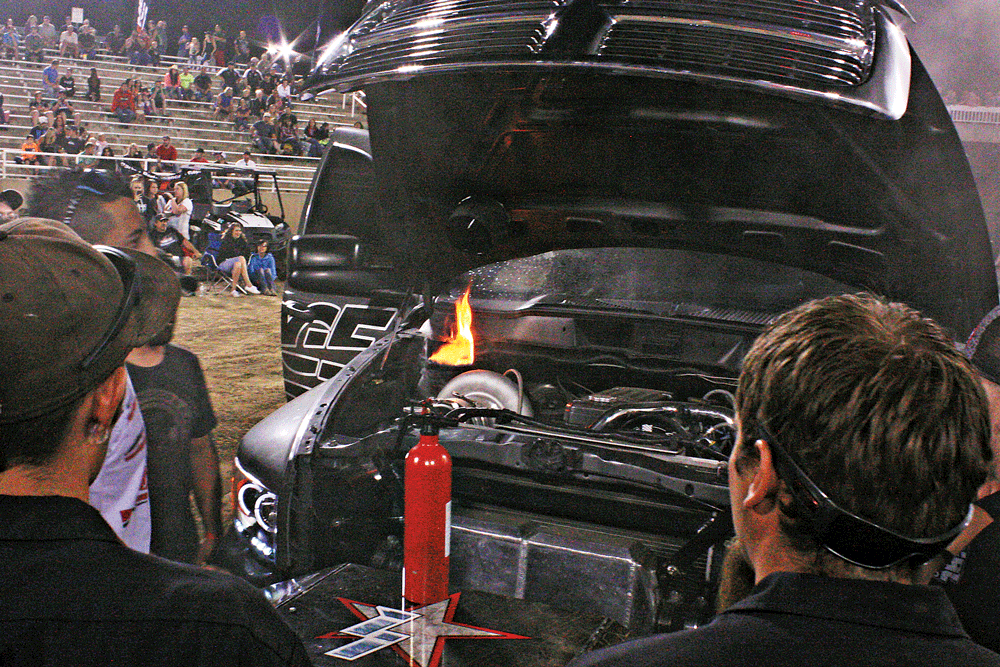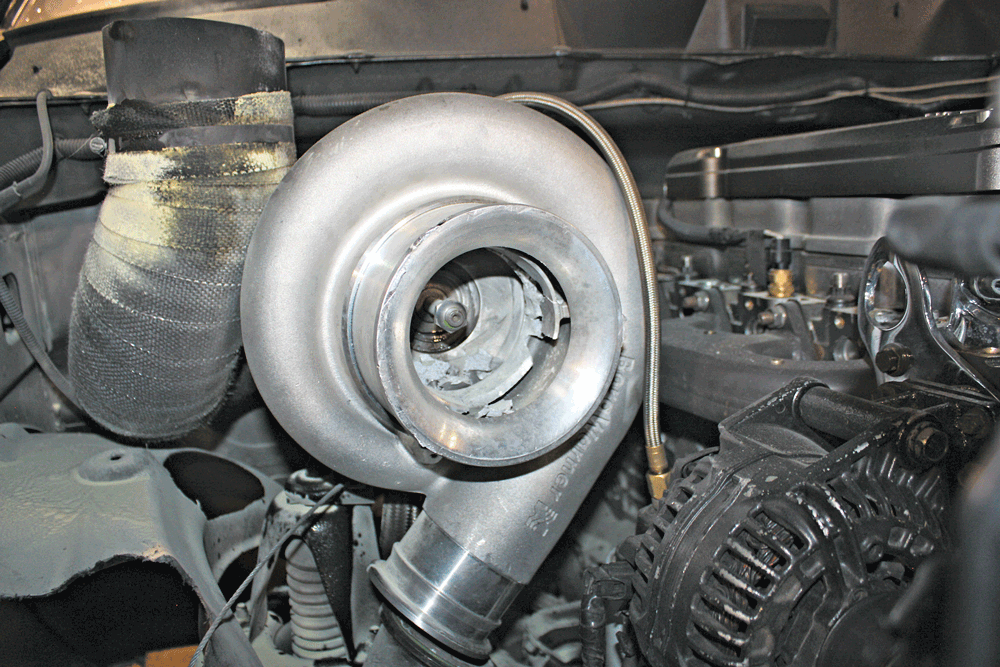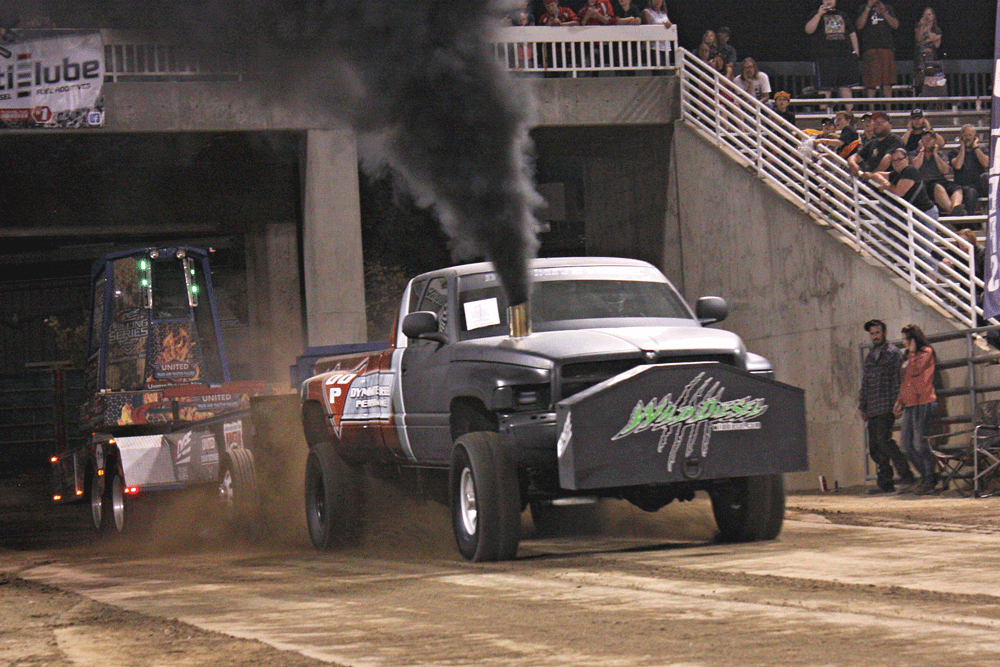 SLED PULL
With dyno runs complete, the Edge Products crew moved the party over to the nearby Weber County Fairgrounds facility in Ogden for the United Truck and Tractor Pullers sled pull event, which would wrap up the 2014 Edge Pulling Series circuit. Having outgrown the event's previous venue, the outdoor arena on the fairgrounds offered an ideal atmosphere for both spectators and competitors. A newly formed track and soft dirt threw a curveball at all the pullers, who had to ensure that their trucks were set up just right to get power to the ground effectively.
The Edge Pulling Series has grown rapidly over the past couple of years and both the 2.6 and 3.0 Inducer classes have become extremely competitive. Dedicated pulling trucks following the circuit all over the West have made for a very tight points race this season, and the Weekend On The Edge event determined the series point's champions in almost every class.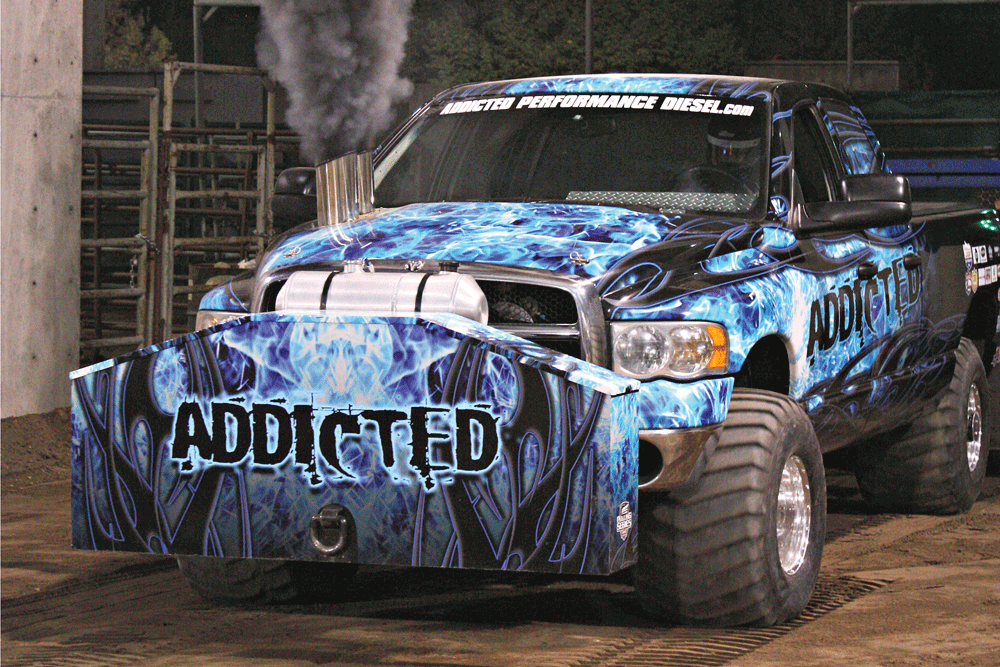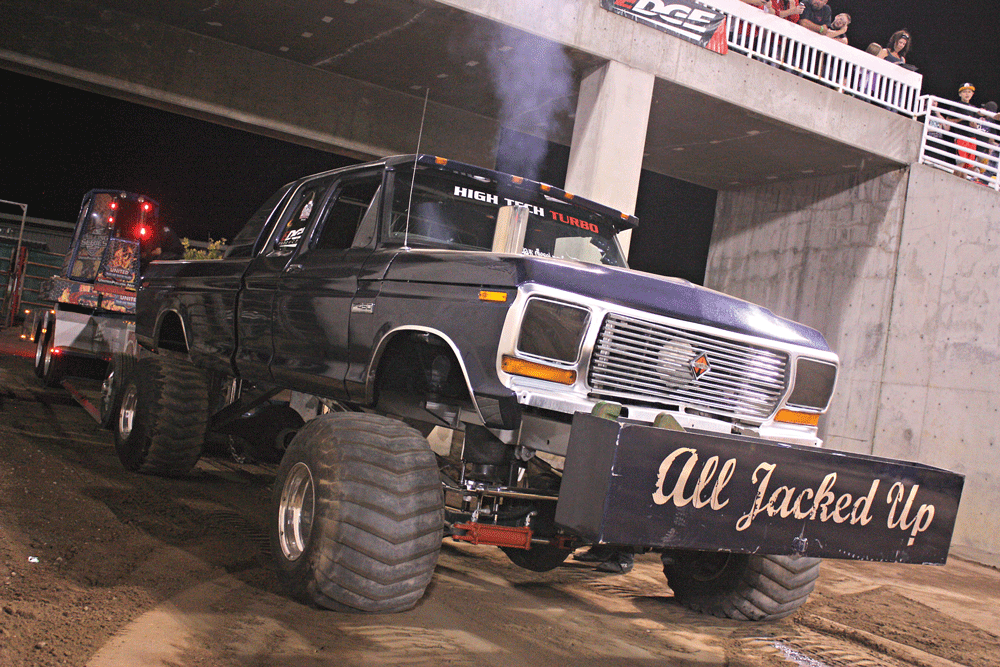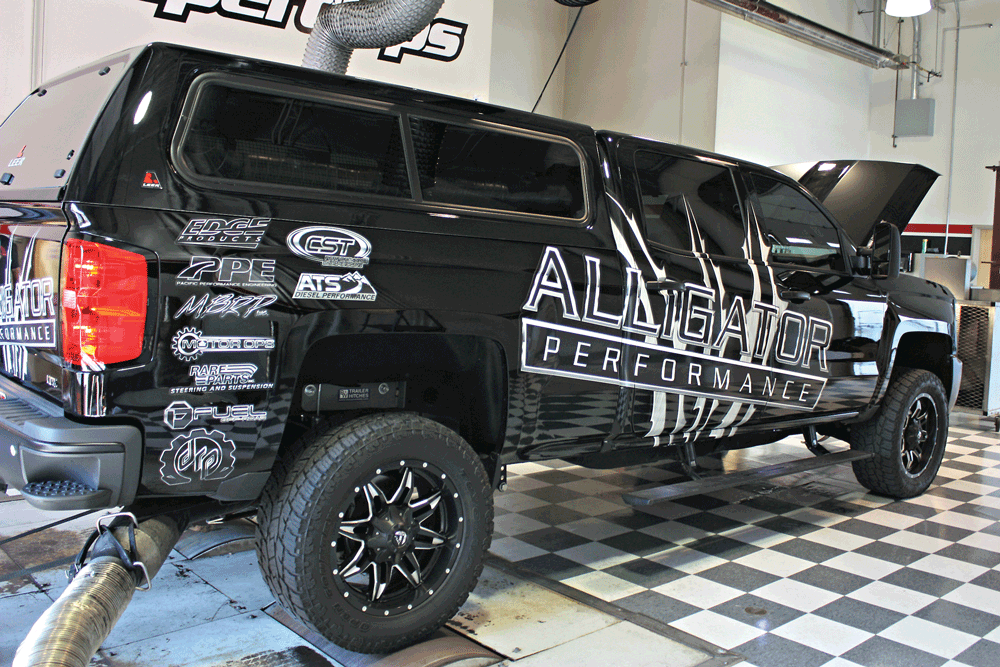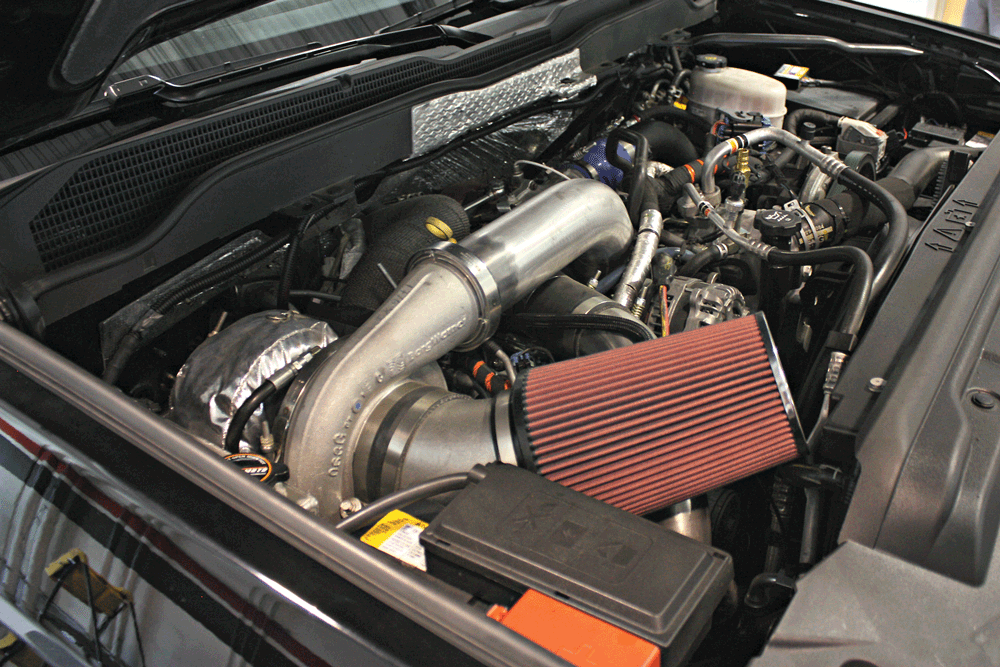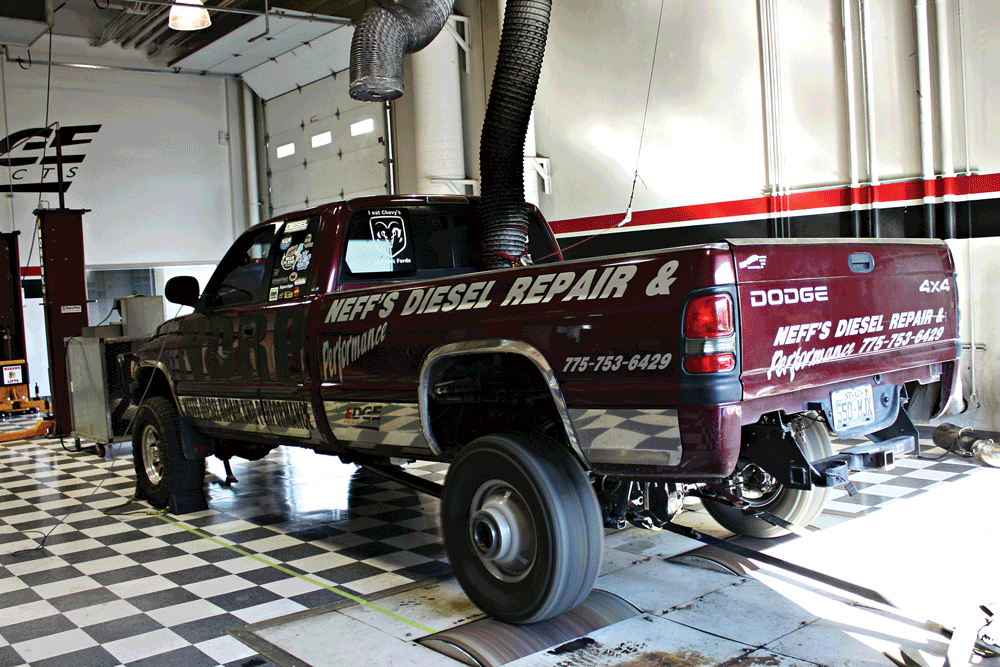 The 2.6 championship came down to Adam Hulse and 2013 champion Weylin Richards. With a four-point lead going into the event it appeared to be an easy win for Richards, but a miscalculation on gear selection landed him a
seventh place finish, opening the door for Hulse who pulled off a first place hook of 294 feet. After points were tallied, both drivers had 77 total points for the season, so a pull-off was needed to crown the class champion. Less than 2 feet separated the two trucks, but it was Richards in his Cummins-powered "Drag n Fly" that edged out "The Nameless One" driven by Hulse.
The 3.0 Inducer class had multiple trucks with a chance at pulling off a win on any given track throughout the season. Coming into the final pull, the 5.9L "Oh, Mega" Cummins driven by Nick Adamson seemed to have the championship wrapped up, and being sponsored by Bully Dog, a win at Edge's big season-ending party would have provided serious bragging rights. But there was a surprise upset, with the second-gen common-rail Cummins owned by Bob Millican and driven by Jackie Millican making a 276-foot pull, putting more than 4 feet on Adamson and relegating him to second place. Third place prize money went to Trevor Larkin who came in just inches short of Adamson.
In the 3.2 Inducer class, trucks aren't limited to single turbochargers, so compounds (atmosphere turbos limited to 3.2 inducers) are found on most entries. Though the event's 3.2 win went to Jeremy Neff with a 276-foot pull, the points championship for the season came down to the Edge-sponsored driver, Ryan Thain, in his 2006 5.9L Mega Cab, and Kortney Neiffenegger of nearby Outlaw Diesel and his monster 12V Cummins. Unfortunately, an electrical gremlin in Thain's truck ended his pull prematurely, so Nieffenegger's second place finish cemented his win of the season trophy.
The Pro Mod Diesel class is where the big boys come to play, with triple turbos and cut pulling tires putting power to the ground. Here, Jason Stott's "Addicted" 12V Cummins took the win for both the night and the season with a 40-plus-point lead.
After 14 consecutive years, Weekend On The Edge has become a staple of the diesel industry and is an event you can count on growing year after year. With the formation of PowerTeq and the company's commitment to the diesel industry, along with the help of the United Pullers Association, Weekend On The Edge will continue to be a "must see" event. DW
DYNO RESULTS:
1.  Industrial Injection    LB7 Duramax    1,550 hp/2,240 lb-ft
2.  Dmitri Millard    LB7 Duramax    1,490 hp/1,800 lb-ft
3.  Nick Zischka     5.9L Cummins    1,016 hp/1,552 lb-ft
4.  Chris Rosscup    LB7 Duramax    959 hp/1,612 lb-ft
5.  Verlon Southwick    LBZ Duramax    870 hp/1,437 lb-ft
6.  Ken Hernandez     5.9L Cummins    833 hp/1,071 lb-ft
7.  Greg Crawford     6.7L Cummins    829 hp/1,274 lb-ft
8.  Randy Reyes    5.9L Cummins    784 hp/1,497 lb-ft
9.  Jeremy Neff    5.9L Cummins    777 hp/1,385 lb-ft
10.  Jared Venz    5.9L Cummins    774 hp/1,465 lb-ft
SLED PULL RESULTS:
Work Stock
1.  Liz Stott    "Relapse"    351.42 ft.
2.  Kyle Messerly    "Black Beauty"    339.17 ft.
3.  Will Richards    "Always Behind"    338.16 ft.
4.  JD Bailey    "Unforgotten"    337.70 ft.
5.  Joe Harrell        330.33 ft.
2.6 Inducer
1.  Adam Hulse    "The Nameless One"    294.02 ft.
2.  Josh Lacey    "Chain Smoker"    271.63 ft.
3.  Isaac Fronk    "Compensating"    266.33 ft.
4.  Chad Younkin        263.73 ft.
5.  Jaime Ordonez    "RMI"    259.35 ft.
3.0 Inducer
1.  Jacky Millican    "13"    276.63 ft.
2.  Nick Adamson    "Oh, Mega"    272.37 ft.
3.  Trevor Larkin    "Up In Smoke"    272.28 ft.
4.  Trevor Nieffenegger    "Bad Intentions"    270.49 ft.
5.  Kaleab Hales    "Gone Broke"    255.44 ft.
3.2 Inducer
1.  Jeremy Neff    "Rolling Billboard"    275.98 ft.
2.  Kortney Neiffenegger    "Total Chaos"    270.29 ft.
3.  John Perkins    "Little Red Wagon"    247.61 ft.
4.  Ryan Thain    "Moonlight Madness"    165.83 ft.
5.  Tom Hansen    "The Hybrid"    125 ft.
Pro Mod Diesel    
1.  Jason Stott    "Addicted"    276.34 ft.
2.  Ed Boyles    "Get U Some"    275.4 ft.
3.  Russ Prescott    "All Jacked Up"    185.14 ft.