An Owner-Built '47 Fargo Rat-Rod Packing Cummins Power and Compound Turbos
Winner of this month's Shell Rotella Truck Of The Month Goes to Warwick Andrews.
What are you willing to do to chase your dream? Would you sell off all your toys to pursue it? Would you spend every waking hour thinking about it or working on it? Would you be willing to sleep on the shop floor until it's complete? Warwick Andrews did that and more to see his vision of the ultimate rat-rod—a '47 Fargo FL1 wrapped in welded chains— come to life. After locking himself in his shop for months on end leading up to the 2019 SEMA Show, Chain Smoker 1.0 turned plenty of heads when it debuted in Vegas. But never satisfied, Warwick put the truck under the knife again soon after, effectively transforming it into the work of art it is today. "It's an 'art rod,' not a rat-rod," he tells us. "It's a work of art at this point." We agree, 100-percent.
Found By Chance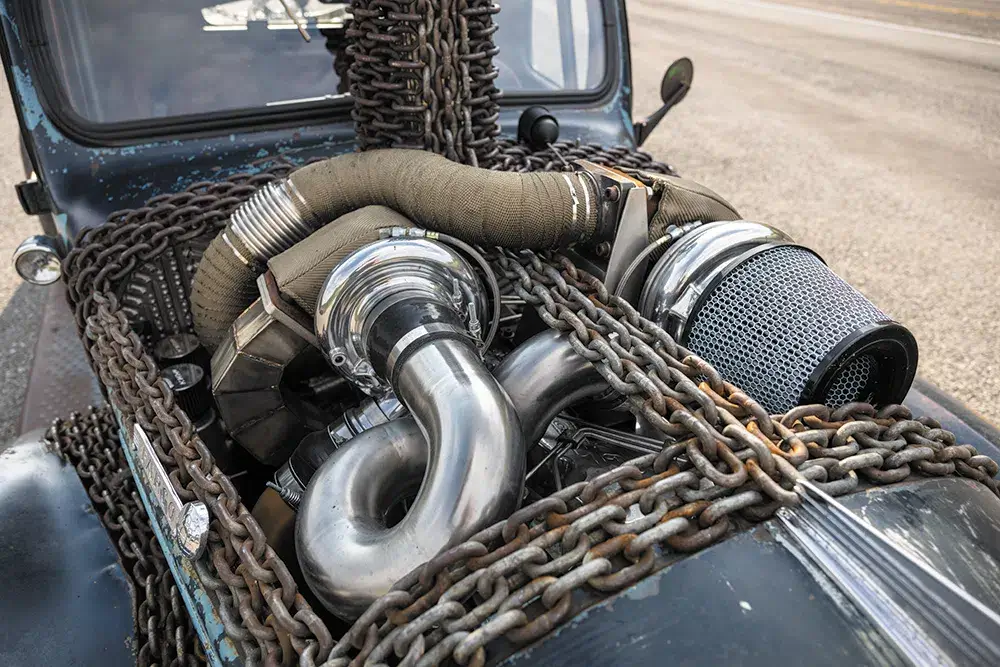 It all started years ago when Warwick was passing through Montana and ran out of fuel. He pulled into a closed gas station and slept until they opened for business the next day. As fate would have it, the Fargo was sitting in a field across the road. Every panel had matching Patina—a perfect starting point for his personal take on what a rat-rod should be. He promptly bought it from the farmer who owned it, but had to wait more than four years before the proper funds were in place to get the project underway.
Second-Gen Parts And A Lot Of Fabricating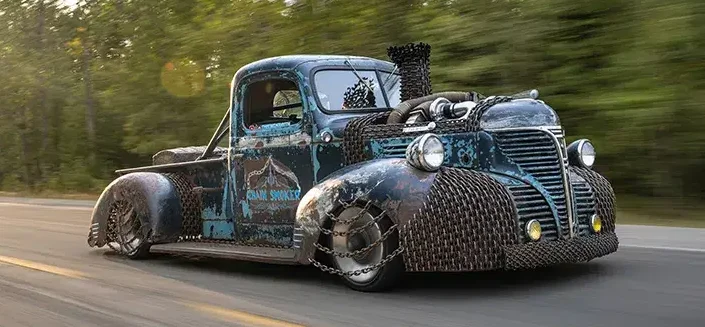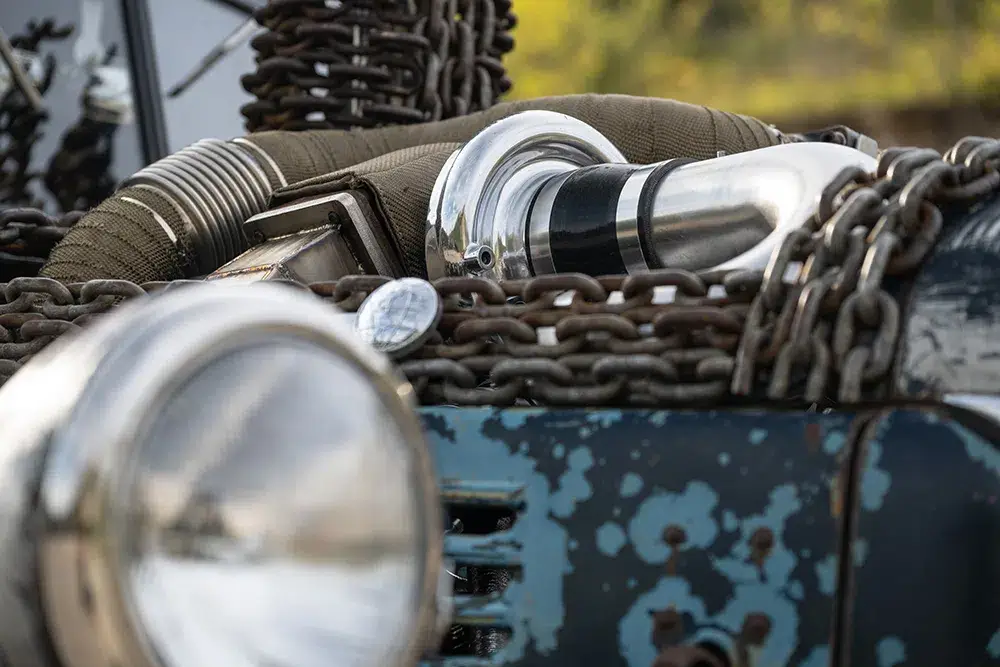 Thanks to securing a '96 Dodge Ram 2500 for a donor vehicle, Warwick had a solid frame, the trusty NV4500, and the bulletproof Dana 80 to work with. After buying the only available production C-notch frame and air spring suspension kit online for a second-gen, he removed the original body mounting points from the frame and sandblasted everything. New body mounts, a floor pan, and a transmission tunnel would all have to be fabricated, and Warwick then channeled the body on the frame by way of cutting into the rear of the cab (the floor having already been redesigned to accommodate this) so that the cab could sit as low as possible.
Custom Chassis And Suspension Work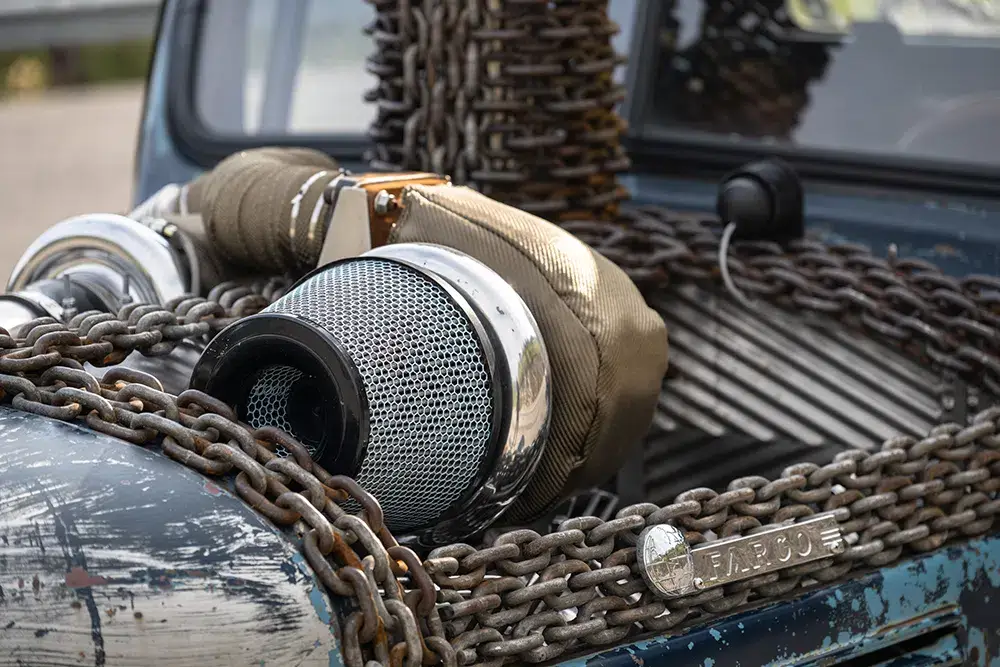 Rearward of the cab, the frame rails were cut off and boxed sections were custom-built—and in doing this the wheel base was also shortened 41-inches. The implementation of the C-notch also dropped the frame 14-inches. To handle to Cummins' plan for power, a four-link rear suspension was installed to quell axle wrap and keep the rear tires digging, along with a Watts link helping to keep the Dana 80 centered. The 11.25-inch rear axle would be treated to a disc brake conversion, with all-new EBC hardware present front and rear. To keep things as clean as possible, all fuel and brake lines were plumbed through the boxed sections of the frame.
Roll Cage And A Body Wrapped In Chains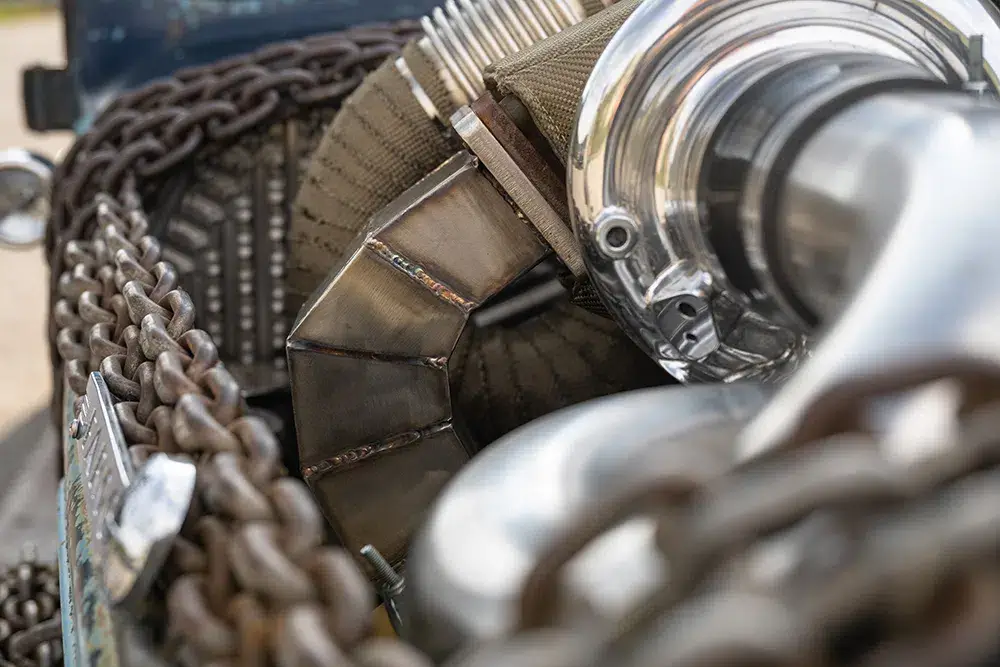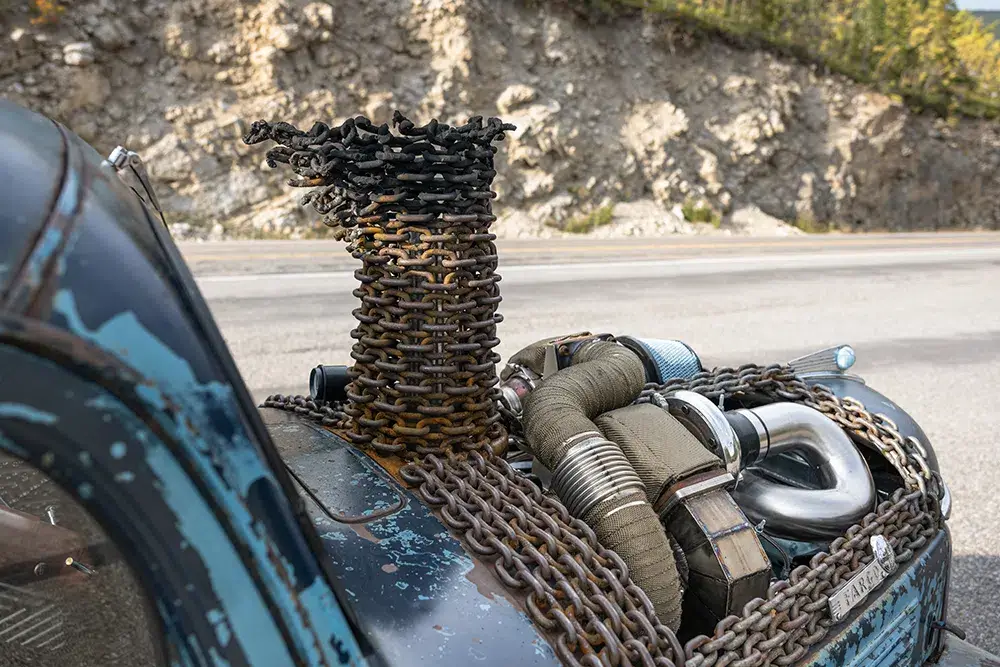 With big horsepower comes higher safety requirements, and although Warwick doesn't plan to hit the drag strip he does plan to make well north of 1,000 hp. To keep things safe, a full roll cage was fabricated by his friends, Cory and Dave. The tubes passing through the cab represent the only modifications made to the original sheet metal, and the swing out door bars allow for easy entry and exit. The chains are a story unto themselves, but after being inspired by some chain art he'd spotted in Las Vegas Warwick's catchy "Chain Smoker" theme came to life. He has hundreds upon hundreds of hours wrapped up adding the chains to the truck. In fact, more than 5,000 group hours were poured into the original build (2019), with Warwick contributing more than 2,000 hours himself.
Beefy Hard Parts And Big Fuel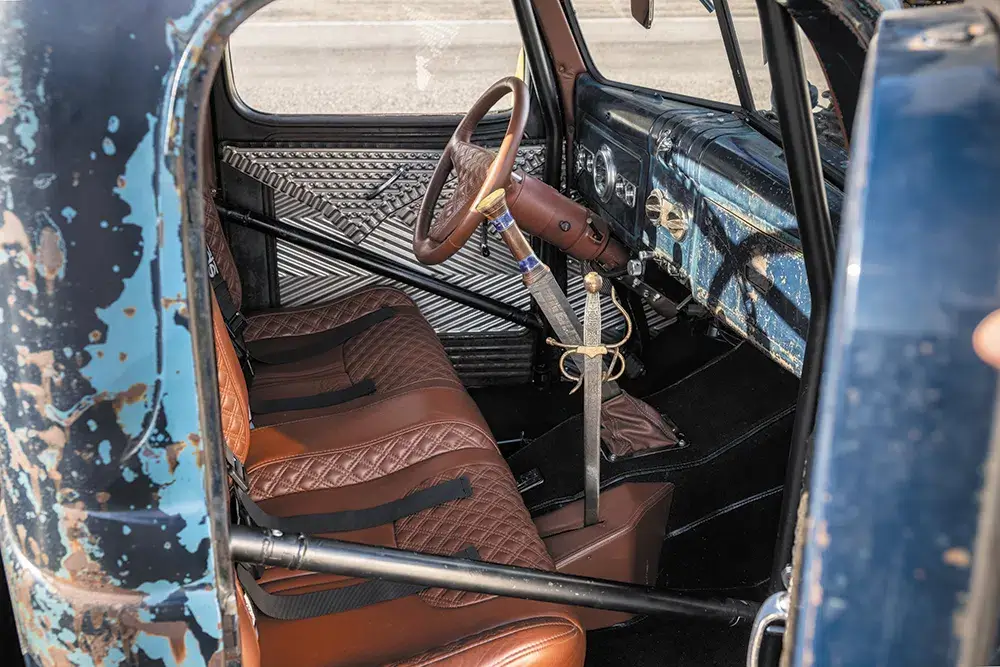 Although Warwick's second-gen donor came with a usable core 5.9L, a friend tipped him off on a built 12-valve for sale locally. The original build sheet topped $39,000 and, after some negotiating, Warwick scored the B-series Cummins for a fraction of that price. And while (for unknown reasons) this engine didn't last, Warwick essentially had all the parts required for the rebuild that recently commenced at Cutterup Auto Machine. A gorilla girdle with ARP main studs, hardened 12-valve forged-steel rods and ARP rod bolts, and a ported head anchored via ARP head studs are all part of the long block. A healthy diet of fuel is on tap thanks to a CPP Diesel Hot Street 12mm P-pump, which feeds a set of 5×0.024 injectors. The benched P7100 receives ample low-pressure fuel supply from a 220-gph FASS system, which pulls fuel from the truck's bed-mounted 64-liter polished fuel cells.
S300 Over S400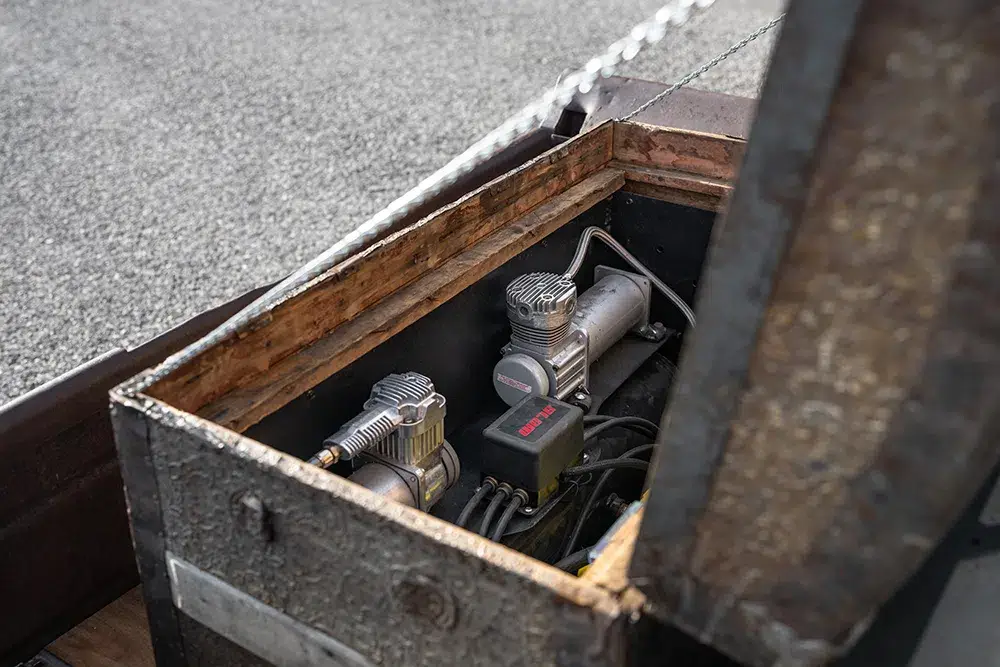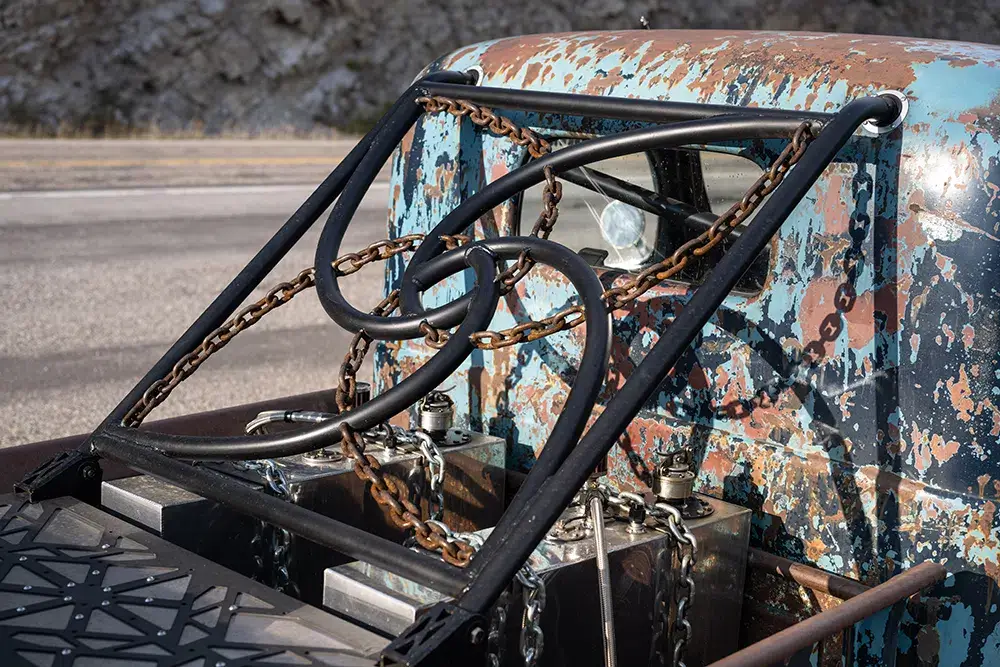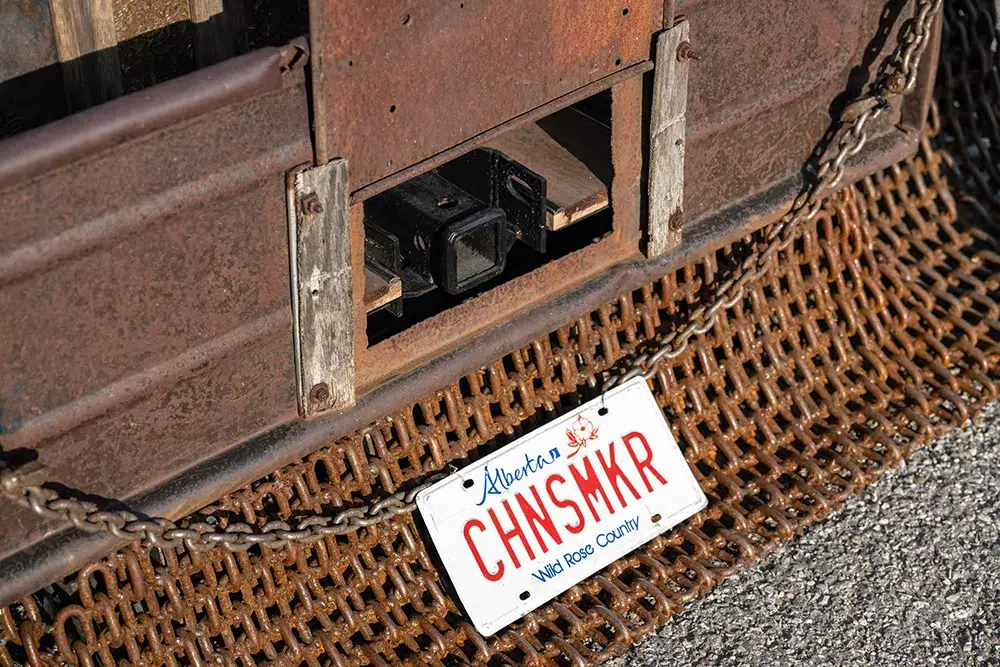 Big air, in the form of compound turbos, is a huge part of Chain Smoker's appeal (other than the chains). For version 2.0 of the truck, the chargers were repositioned on top of the engine for all to see. The Stainless Diesel-sourced configuration gets started with an S366/73/.91 on a T4 exhaust manifold. Once the S366 brings things to life, a massive S485/96/1.32 (a charger Stainless Diesel calls the Godfather) joins the party. Of course, the chain theme surrounds and even runs right through the engine bay, on its way to the hood stack, which is comprised of dual side-dumps enclosed in chain.
More To Come
Full air ride, an interior with high-quality leather appointments in all the right places and antique blades throughout, and a bed boasting a 19th century treasure chest provide even more reasons for bystanders to stop dead in their tracks. Warwick's Chain Smoker has been invited to two SEMA shows so far, and will likely make the trip back again. In fairer weather he's also known to hit a few truck shows, where the chain-wrapped Fargo is effectively swarmed by people with curious minds and an appreciation for automotive art. With more than one Fargo now in his possession, don't rule out the possibility of Warwick builder another one, either—or debuting the tag-along rat-trailer he told us he'd like to put together. We can already picture that one-of-a-kind combination being hauled down the highway…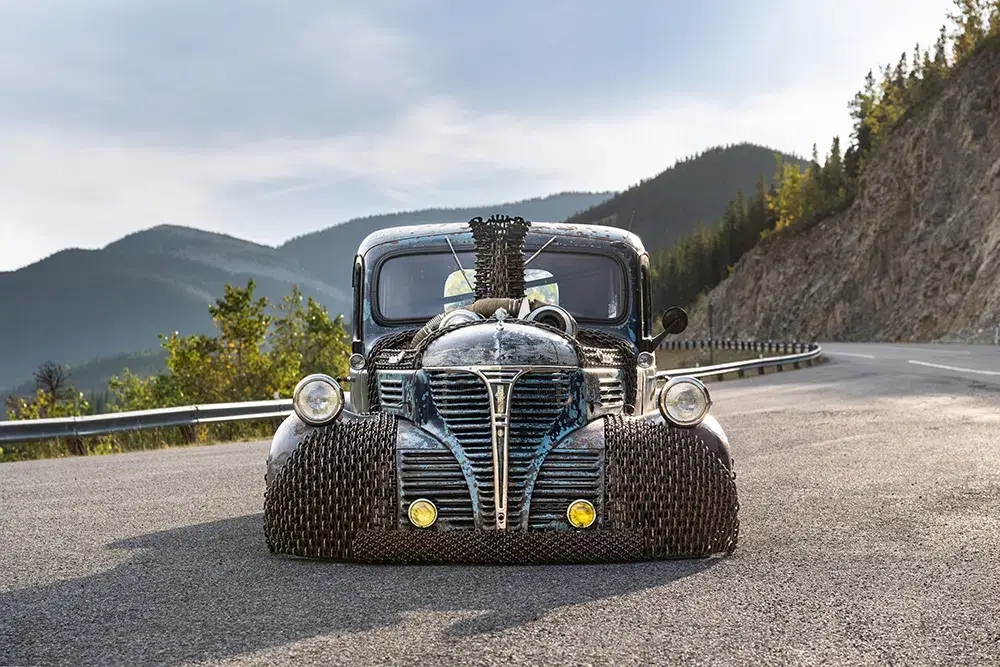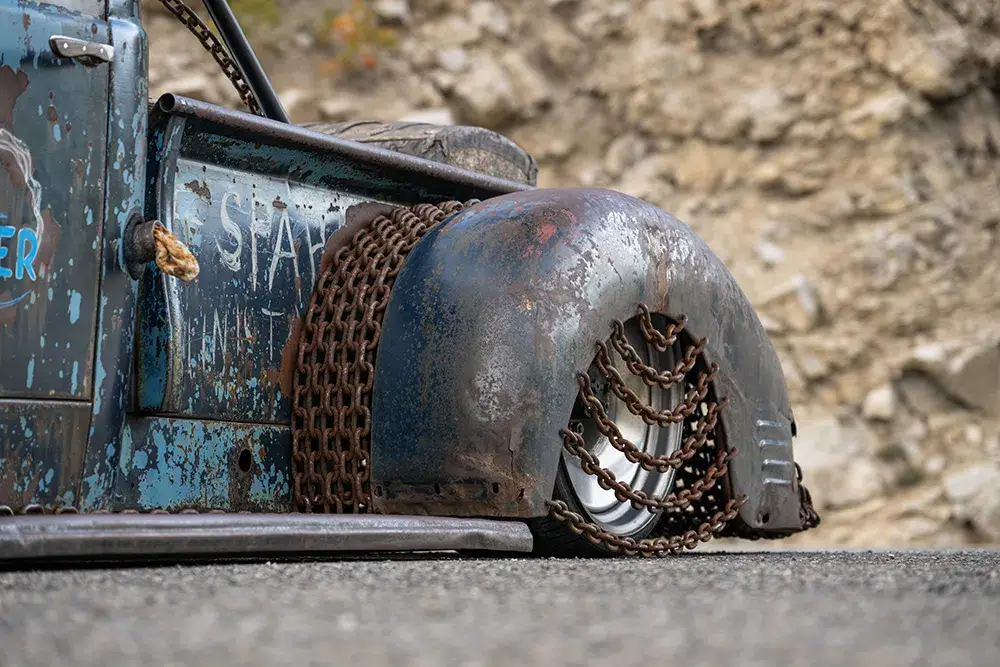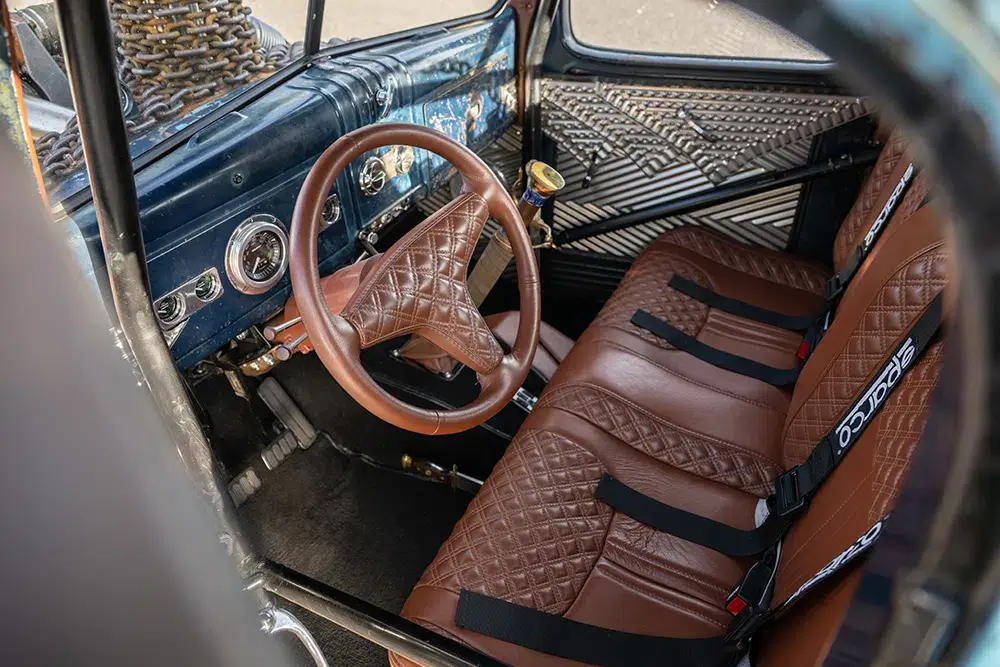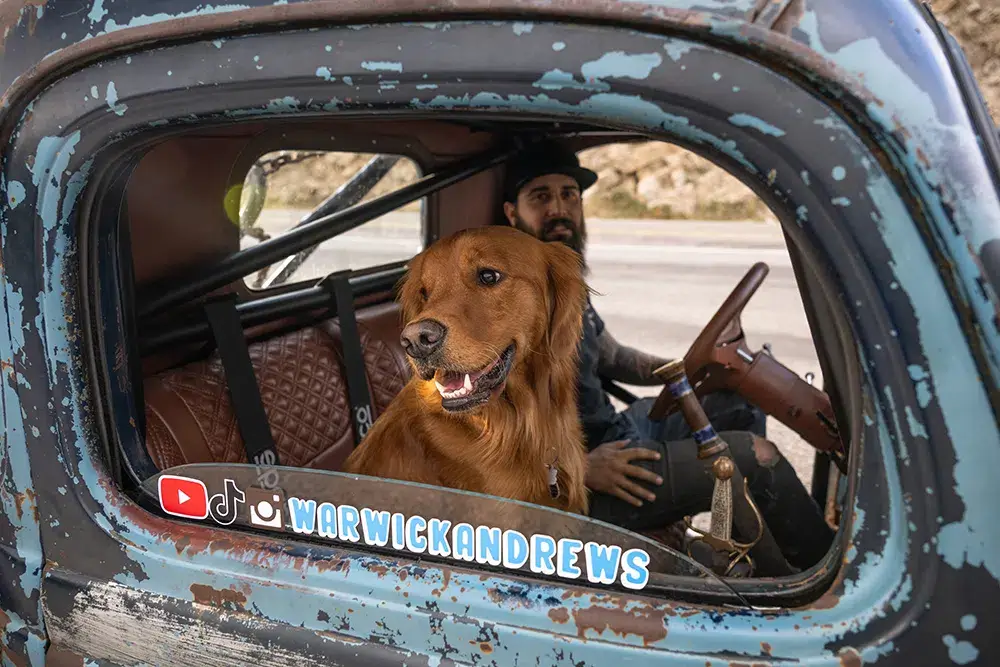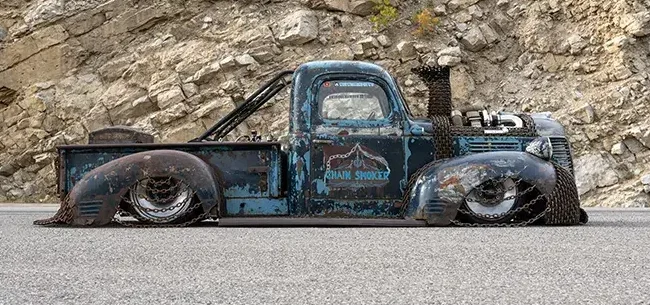 ---
Instagram Handles